Activision details Black Ops Cold War & Warzone integration
Activision Blog has posted details on how Black Ops Cold War and Warzone will be integrated.
Call of Duty: Black Ops Cold War will be available on November 13.
The new blog post details that Black Ops Cold War, along with Warzone, will have cross-play & cross-progression across all platforms.
Here's the details from Activision:
Cross-Play, Cross-Progression, Cross-Generation
For the first time in franchise history, all fans will experience the next generation of global combat as one community, regardless of the platform or console generation on which they play Black Ops Cold War.
With Black Ops Cold War, an entire Multiplayer party could be comprised of up of to five players who are playing the game across the available five platforms, including next and current generation consoles as well as PC.
Alongside cross-platform and cross-generation play, players will have their profile, progression, and statistics tied to their Activision account. This allows them to switch between platforms, if they choose to do so, without losing in-game progress or identity.
Battle Pass, Store, and Armory Integration with Warzone
Warzone will continue to evolve after the launch of Call of Duty: Black Ops Cold War, interweaving some of Black Ops Cold War's themes, weapons, and operators into this blockbuster free-to-play Battle Royale experience.
Specifically, both games will share post-launch seasonal content through the return of the Battle Pass system and the Store, as well as share a progression system. At launch, Black Ops Cold War is set to include a brand-new leveling journey that will later connect to Warzone, allowing players to unlock new functional content to be used in both titles. In addition, both games are set to share post-launch seasonal content through the return of the Battle Pass system and the Store.
On top of all new Black Ops Cold War content, Warzone players will still have access to previously earned content: Weapons, Operators, Blueprints, Equipment, Cosmetics, and so on, that they earned during their experiences in Modern Warfare. Please note that previously earned Modern Warfare content is only available and usable in Modern Warfare and Warzone.
This means:
Those who earned Modern Warfare items in Modern Warfare or Warzone will retain their content when Call of Duty: Black Ops Cold War arrives this November.
All new Black Ops Cold War functional content, such as base weapons and attachments, can be unlocked by playing Black Ops Cold War and Warzone.
The Battle Pass System will continue to include free tiers, similar to the Modern Warfare Battle Pass system, which will include new base weapons in addition to other categories of items players can earn simply by playing the game
Battle Passes will launch in tandem with post-launch live seasons, which will include themed content that matches each season's narrative.
Players can see the content they will earn or buy through the Battle Pass or Store.
The Battle Pass and Store will feature a variety of cosmetic content, including Operators, Weapons, Blueprints, Player Identity items, and more.
There will not be a Season Pass model. Post-launch Multiplayer maps and modes will be free and given to all players simultaneously on all platforms.
Call of Duty: Black Ops Cold War will continue this concept through a collaborative effort across multiple studios: Treyarch and Raven Software, along with additional support from High Moon Studios, Beenox, Activision Shanghai, Demonware, and Sledgehammer Games.
SOURCE: Activision
Cranked Zombies Tips – Black Ops Cold War
Black Ops Cold War has added a new game mode to zombies called "Cranked." Here are a few tips to dominate.
Cranked Zombies is a new mode added to Black Ops Cold War Zombies for Season 1.
For the midseason update, Treyarch has released Cranked Zombies as a limited-time mode. This is a fast-paced and intense mode that was originally released alongside Call of Duty Ghosts and has long been a tradition in Infinity Ward games. Now, Treyarch has adopted the mode for Zombies.
What is Cranked?
Cranked is a mode where kills are key. Once you score your first kill, a timer will start and your player will receive increased reload speed and running speed. This timer will be a 30 second timer, ticking down. If you fail to score a kill before the timer hits 0, you'll blow up. Each new kill will refresh the timer.
For Zombies, as time continues, zombies will spawn faster and the cranked timer will continue to reduce as the game progresses. It will start at 30 seconds, then drop to 25, 20, and 15, before settling at 12.5 seconds.
Tips to Survive
Big magazines, high damage – Be sure to drop in with a Light Machine Gun or high capacity Assault Rifle. You'll need it for all the zombies constantly bombarding you.
Explosives are key – Pack C4, and be sure to pick up every War Machine boss zombies drop. You'll need these as emergency tools for quick and easy kills when time is running low.
Pack FAST! – Pack-a-punch is unlocked automatically as soon as the power is turned on. Make sure you get your weapon upgraded as fast as possible.
Brain Rot OP – Brain Rot is an ammo upgrade for pack-a-punch weapons that turns a hostile zombie into a friendly teammate. Be sure to utilize this for quick timer resets while reloading or traveling around the map.
Ring of Survival – The Ring of Fire field upgrade is a must use in Cranked. Line up large waves of zombies, then activate the ring of fire for easy kills. We recommend saving your ring of fire charges for boss zombies.
Be a Menu Master – Using the upgrade station and weapons bench will cost you time. Be sure to have the menus memorized to get what you need before you explode.
Perk Up! – While being Cranked gives you additional reload and movement speed, Stamin-Up and Speed Cola also stack on these effects, making you even faster.
These tips should get you rolling through Weapon levels and Zombie hordes in no time. Now get out there and slay some zombies!
Image Credits: Activision
Black Ops Cold War Zombies Updates: Firebase Z, New Perk, and more
To celebrate 115 Day, Treyarch has shared a new blog post highlighting some of what's coming to Call of Duty: Black Ops Cold War soon.
The new Zombies map, Firebase Z, arrives on February 4 for free.
In their blog post, Treyarch goes in depth on the narrative origins of Firebase Z map, reveals the new Tombstone Perk, provides updates on the Onslaught mode, and more.
Firebase Z" will arrive on February 4th during Season One, free for all Black Ops Cold War players.
Today, we're excited to debut the official logo and new narrative details for our next Zombies map.
In less than three weeks, "Firebase Z" will introduce Zombies fans to an all-new location set in the jungles of Vietnam, along with new characters, new enemies, new gameplay mechanics, and much more. And, in keeping with Zombies tradition, a badass new Wonder Weapon awaits.
Now – without spoiling too much – let's get into the story so far.
REQUIEM VS. OMEGA
Dimensional breaches continue to open around the world. As both Omega and Requiem work in the shadows to ensure the secrecy of their discoveries, the greater public remains blissfully unaware of this deadly new arms race between East and West.
As the two sides continue to study the Dark Aether dimension and the Aetherium Crystals found within, each strives for an advantage over the other in the ongoing Cold War. The bad news? Requiem has fallen behind.
Omega Group's newest research outpost represents their resounding successes in harnessing Dark Aether technology for their own gains. Equipped with an on-site dimensional gateway, they've acquired the ability to send soldiers and other "conscripts" into the Dark Aether to harvest Aetherium Crystals straight from the source.
As a result, Omega Group's scientific breakthroughs in the last several months have far surpassed anything Requiem could have imagined.
DESTINATION: OUTPOST 25
With the destruction of the "Projekt Endstation" anomaly site in their wake, Grigori Weaver and the agents of Requiem turn their attention to a far greater threat: a new Dark Aether outbreak site in Southeast Asia.
After learning Agent Maxis has been captured by Omega Group, Weaver deploys Requiem's strike team to infiltrate the facility where she's reportedly being held: Outpost 25.
Against all odds, Requiem forces will infiltrate the outpost to rendezvous with an Omega Group informant, save Samantha Maxis, and above all else, survive the new horrors that await them in this abandoned research facility.
In the coming weeks, we'll have more "Firebase Z" story details, new intel reveals, and the official gameplay trailer to share in the lead-up to launch. In the meantime, let's dive into the additional content coming to Zombies as Season One continues.
NEW PERK: TOMBSTONE SODA (FEB. 4)
As we may have not-so-subtly hinted on New Year's Eve, we're bringing a seventh Perk to Black Ops Cold War Zombies alongside the launch of "Firebase Z": Tombstone Soda.
"But Treyarch," you ask, "what's so new about Tombstone?" Thanks for asking. Great question.
When deciding on the next Perk to introduce to Zombies, the design team reviewed the full history of every Perk and ability from the past that centered around death, and ultimately rolled them into an incredibly useful Perk for Black Ops Cold War. Tombstone Soda is all about manipulating and cheating the consequences of death, and you'll need it against the forces waiting for you in Vietnam.
Unlike its first incarnation in Black Ops II, the new-and-improved Tombstone Soda will now transform the player into a shadow within the Dark Aether after being downed. In this shadow form, you'll be equipped with weapons to help give you a fighting chance to revive yourself. However, if your health is reduced to zero while in shadow form, you're dead.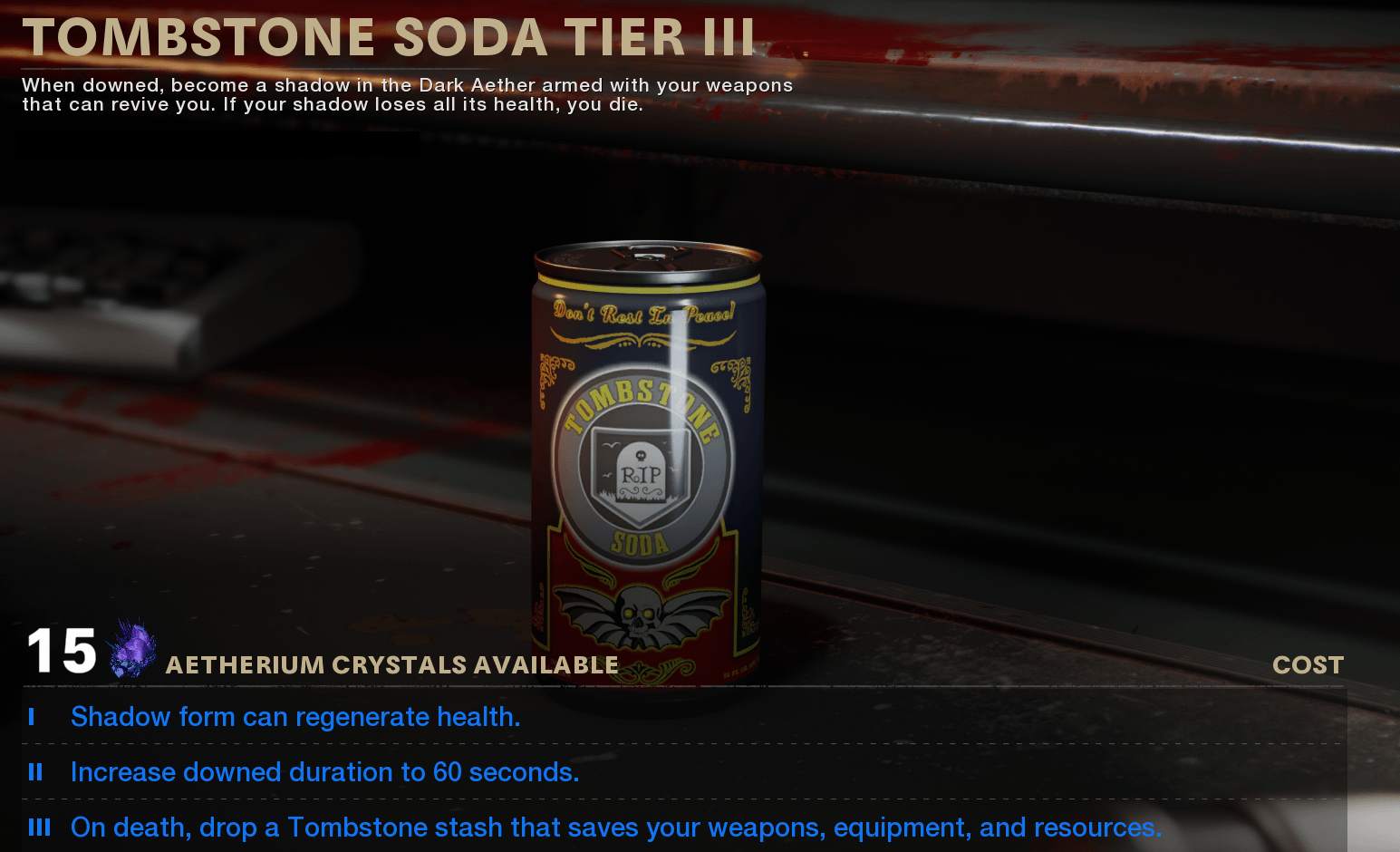 Fortunately, Tombstone's benefits only get better from there. Each Perk comes with its own set of upgradeable Skills in Black Ops Cold War, and this one's no different. By investing Aetherium Crystals into your Tombstone Perk Skill, you'll unlock the following upgrades:
Tier I – Shadow form can regenerate health.
Tier II – Increase downed duration to 60 seconds.
Tier III – On death, drop a Tombstone stash that saves your weapons, equipment, and resources.
You'll be able to grab a can from the Tombstone Perk machine in "Firebase Z," and you'll also find it in the Der Wunderfizz machine in "Die Maschine" on Feb. 4th. When in doubt, just remember those timeless jingle lyrics: Rest in pieces, down for the count…
NEW SUPPORT SCORESTREAKS AND INTEL (FEB. 4)
February 4th will also bring two new Support Scorestreaks to call in against the undead: the devastating Artillery and always-satisfying Napalm Strike. When the action gets a little too hot, head over to the Crafting Table and turn the heat even higher.
Ahh, we love the smell of crispy zombies in the morning.
And of course, a new Zombies map means new in-game Intel. Keep an eye out for new audio logs, documents, radio communications, Dark Aether dispatches, and artifacts hidden throughout "Firebase Z" starting on Feb. 4th. You never know what you might find.
Friendly reminder: if you haven't discovered 100% of the in-game Intel hidden within "Die Maschine" and Onslaught yet, now's the time to complete your collection before the story continues!
SOURCE: Treyarch
5 best Gunfight tips in Black Ops Cold War
Gunfight is a terrifically tense mode and requires proper skill. So we've come up with 5 great tips to make the mode even more fun in BOCW.
Gunfight is an extremely tight affair. The enclosed environments in BOCW make for some thrilling back-and-forth contests. But if you want to perform better and increase your chances of winning, then here are 5 of our best tips to improve.
The dynamic of Gunfight is vastly different from that of a normal game of Team Deathmatch. The greatly reduced numbers on each team combined with the smaller, more claustrophobic nature of the maps means that Gunfight needs a whole new way of thinking.
A more measured and tactful approach should be considered. If not, it's easy to be overrun by your opposition round after round until you succumb to a crushing defeat. Take these tips and learn how to adapt to your surroundings.
BOCW best Gunfight tips
Not all of these tips may necessarily complement your playstyle, but you sometimes need to adapt to win.
Furthermore, these tips aren't map-specific, so try and bear this in mind when you're reading them as there isn't one that will absolutely apply to Game Show or ICBM, for example.
1. Be aggressive
Airing on the side of caution is likely to get you killed in Gunfight due to its frantic nature. The rounds are short. The map is small. The likelihood of combat is certain.
You need to make sure you're either part of it or the instigator of it. Unless you're 0-5 down and clearly being outclassed, then offense is the best form of defense. Be on the front foot and catch your foes unaware. Be the hunter.
2. Watch the timer, be near the middle
You'd be amazed at how many rounds you can snatch by just simply being in the right place at the right time.
Some games can become cagey affairs. If this happens to you, at least make sure you stay somewhere near the middle of the map. Once the opportunity to claim the flag in the middle arises, you want to be in the prime position – either to claim it or to kill your opponent(s) going for it.
3. Inspect your loadout
When you're thrust into a new game, you get a new loadout every two rounds. Quickly absorb all the information presented to you on your HUD before the round starts.
Otherwise, you might come face-to-face with the enemy team, having the advantage, and unload a round of burst fire into them. But because you think it's a machine gun, you're just holding the trigger, not firing, and now you're dead. Always check what you're given.
4. Teamwork and communication
Chances are that if you're playing Gunfight then you're doing so with a friend. Both of you having a headset is a must, but constant communication can also win rounds ahead of any discernible skill or ability.
If one of you has just killed an enemy, or you're in a skirmish with someone, let the other person know. It doesn't matter if it appears in the killfeed or anything like that. Keep talking. If it's 2v1 and one of you knows where the final person is, speak up, hunt them down, and claim your round win.
5. Listen to the audio
In those fleeting moments of silence, make sure your headset is turned right up. If you have the Superhuman hearing function on your headset then that's a bonus.
Again, due to the limited space, you can easily hear enemy footsteps near your position.
With these tips safely ensconced in your brain, Gunfight should now be an even more exciting prospect for you. Show more aggression, make use of your headset, and be alert.
All these are big factors in conquering and dominating Gunfight. May our advice serve you well.
Image credits: Treyarch