Activision reveals new details on Call of Duty: Mobile Battle Royale mode
Activision has dropped a large blog post announcing a ton of details on the Battle Royale mode for the upcoming free to play Call of Duty: Mobile game.
Here's the details:
Overview
We couldn't be more excited today to show you a first glimpse into the second major mode of Call of Duty®: Mobile – Battle Royale. This is a unique take on the genre, custom-built for mobile with Call of Duty®'s signature gameplay, that thrusts the adrenaline-pumping survival mode into a colossal map that features iconic locations from across the Call of Duty universe.
It's standalone from other Battle Royale experiences in Call of Duty. So, those familar Call of Duty®:Black Ops 4's Blackout mode may find some familiarity, but ultimately this experience is unique to Call of Duty®: Mobile. So prepare for some thrilling and exciting gameplay on the go as you deploy, scavenge and survive in any way you can.
Call of Duty®: Mobile – Battle Royale: Overall intel:

* Up to 100 total rivals on a large-scale, sprawling Battle Royale map.
* Single, Two-person, or Four-person playlists are currently being playtested, so you can choose a match and play individually, as part of a pair, or as a team of four.
* Choose from one of six initial classes, each with their own ability and skill.
* The mode features similar rules to Call of Duty: Black Ops 4's Blackout map; drop in from above, find weapons and gear, survive on the ground, and eliminate all to win!
* Reviving teammates introduces a dog tag retrieval, with successfully-healed friends dropping in from a cargo plane once they are healed.
* The game can be played in either a third or first-person perspective, which you decide on before the match begins.
* The massive map features a wide variety of new territory to explore, as well over a dozen settings from previous Call of Dutytitles, including Call of Duty® 4: Modern Warfare, Call of Duty®: Modern Warfare 2, Call of Duty®: Black Ops, and Call of Duty®: Black Ops II.
Note Call of Duty®: Mobile is still early in development and testing, so information is subject to change.
When you first begin Battle Royale, you're presented with a quick overview detailing the important game details, designed to get you into the action as quickly as possible, but with an overall understanding of the actions to undertake and the threats to face.
Here's what to expect: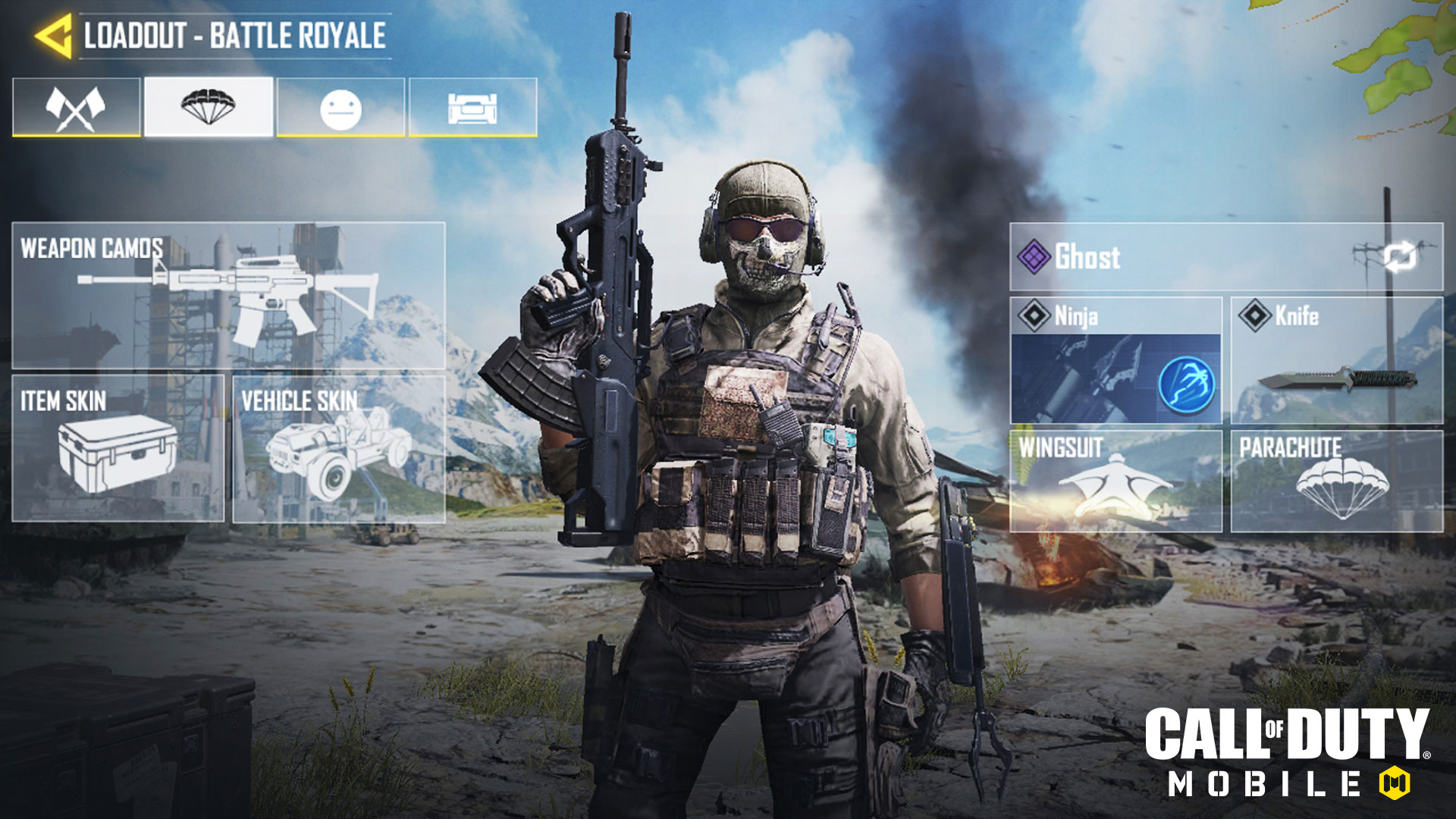 Prior to each match, you're able to pick from a variety of Loadout elements, including the choosing of your Class, camos, and skins.
Battle Royale Preparation

Before each match, you can quickly head to the deployment zone, or take a moment to make some adjustments and learn the following onboarding information:
Basic Actions
There are six basic actions to undertake as a Battle Royale match occurs:
Choose Class: Firstly, you pick the class you want to play as; each with a an Ability and Class Skill designed to match your style of play.
Parachuting: Secondly, as the match begins, you and up to 100 other rivals utilize a wingsuit, dropping out of an aircraft and steering toward a favored part of the sprawling Battle Royale map, before pulling the ripcord and landing by parachute.
Searching: Next, the scavenging begins! Without equipment or armaments, you need to find items dotting about the map, usually in buildings or supply caches. When you're tooled up sufficiently, it's time to engage. Or hide.
Move Fast & Hide: It's usually recommended to push to a relatively-safe area, encroaching on a building and positioning yourself out of view of any rivals. Then you can play an offensive or defensive game, depending on the variables of the match in question.
Revive Teammate: If you're playing Duos or Quads, expect to dash to the aid of a fallen friend; reviving them if they've been neutralized by a foe; naturally you need to keep your wits about you so you aren't tagged too!
Fight: Obviously, you're spending the rest of the match battling for supremacy of the map, aiming to be the last person standing. Use all methods to stay alive until the end of the game!
Control
We've previously detailed the various control methods and how they translated to mobile devices. During Battle Royale, some additional control functionality unique to the mode is added. You can access the Backpack (allowing access to health, armor, and other equipment) as well as your class skill. Furthermore, you're taught the more ubiquitous maneuvers, such as crouching and going prone, jumping and mantling over objects, and marking a position on the Battle Royale map. The straightforward access to these control elements further adds to the ease of movement during gameplay.
Classes
Whether you're on a team or not, you now choose a particular Class of character from the initial six on offer. Each class brings a set of particular talents to the combat zone. Choose from:
Defender: With the ability to place a deformable Transform Shield, this class also is Reinforced, raising resistance to all damage except bullets.
Mechanic: Able to call an EMP Drone to create electro-magnetic interference on hostile forces, this class also features the Engineer ability, granting augmented sight to vehicles, hostile traps, and other equipment.
Scout: Utilizing the Sensor Dart that can view hostile positions in the immediate area of the radar map, this class also benefits from the Tracker ability; allowing you to see fresh footprints of hostiles.
Clown: A master of distraction and friend of the undead, this class has a Toy Bomb to detonate, summoning zombies that only attack hostiles near to them; due in part to the Clown having the Anti-Zombie ability, which reduces the zombies' aggression distance.
Medic: This class can place a Medical Station that continuously heals the Medic and associated allies in the immediate vicinity. In addition, the Master Healer ability allows a Medic to heal more quickly, and reduces the time it takes to revive teammates.
Ninja: Lastly, this clandestine class has a Grapple Gun that fires a hook, allowing you to propel yourself up and onto target buildings or across the landscape at speed. Movement is quiet too, due to this class having the Dead Silence ability.
Reviving
Before you drop, you receive instructions on the revival of teammates: If a friend is taken out, they leave a dog tag behind. Move to and pick up this dog tag, and the teammate can be revived, which is attempted using the revive button. If you're not interrupted during the revival, the teammate can rejoin the fray. This doesn't happen immediately; they appear on a plane and drop back onto the battlefield.
Loadout Menu
With your onboarding complete, you can make changes in the Battle Royale loadout menu, allowing you to invite friends, switch character classes, choose your favorite Weapon Camos, Item Skins, and Vehicle Skins, make adjustments to your knife, wingsuit, and parachute, choose emojis, and make a number of other adjustments before the game begins.
Camera Type

Once you've completed the debriefing, you're able to pick the perspective of the camera: Choose either First-Person Perspective (FPP) or Third-Person Perspective (TPP). As you'd expect, FPP view shows your weapon, but not your character, and is the viewpoint you're used to from Call of Duty games. However, TPP shows your entire character, with the camera behind you a few feet away; similar to the viewpoint when you're driving a vehicle in Blackout.
Naturally, as players can have a TPP have a slight advantage (they can peer around corners without physically having to step out of cover), games will be matched to the camera type you choose (so there aren't current plans to have TPP and FPP together in the same game).
One, Two, or Four-Player Teams
Currently, there are three Battle Royale game playlists being tested: There's single-player (everyone for themselves!), two-person (teams of two), and quartets (teams of four). While you're waiting on the map for the game to begin, you can make some last-minute changes (switching classes, for example), before deployment begins!
Welcome to Battle Royale!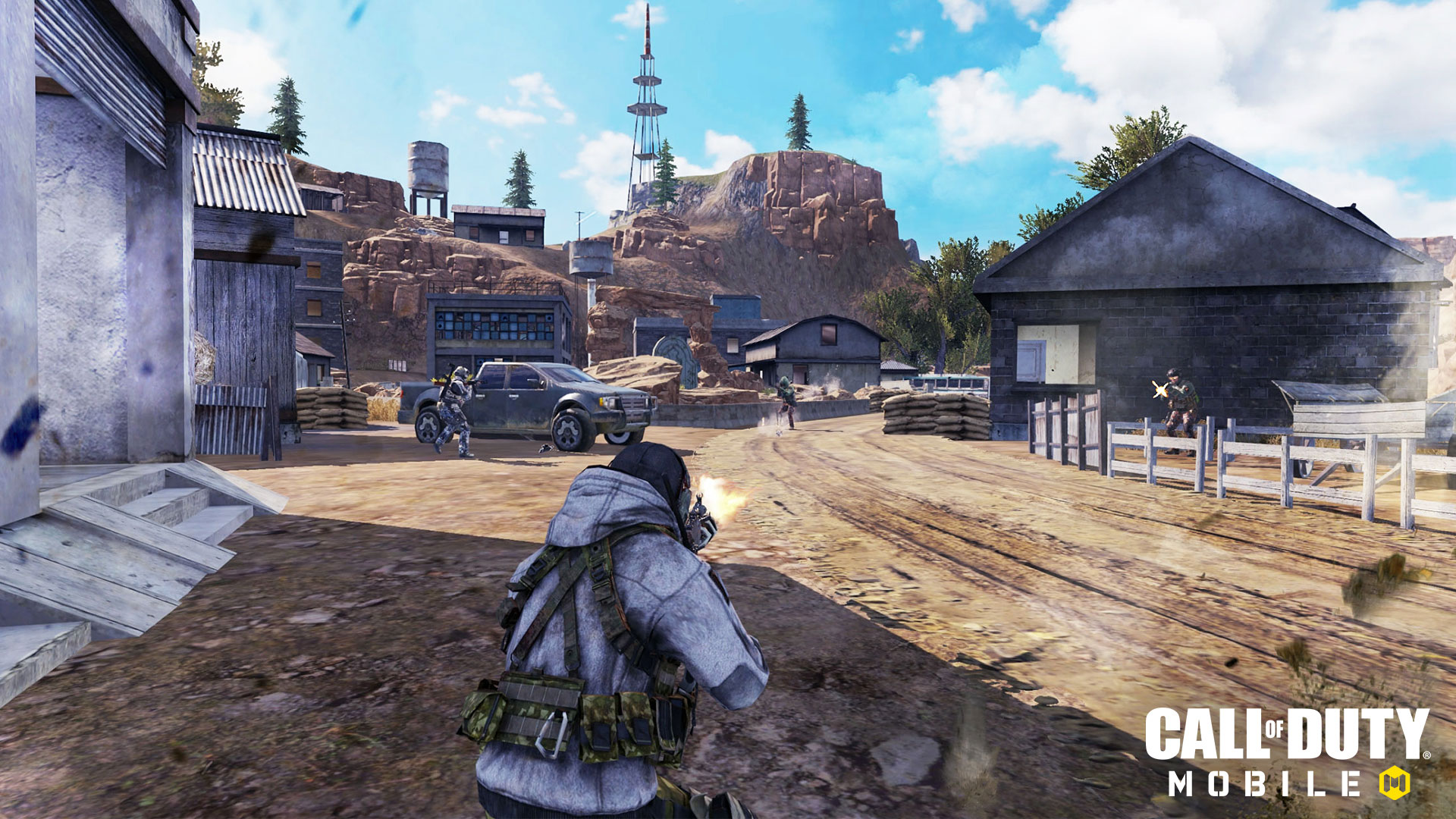 Upon landing, you've moments to seek cover, gather gear, and tackle enemies across a massive environment of locations both familiar and new.
Battle Royale Begins: A Descent into Chaos
As the 100 rivals start to descend from transport aircraft high above the battlefield, you're able to time your drop, steering to a preferred area of the map using your wingsuit and parachute, hoping your teammates are in the vicinity and enemies are sparse until you're tooled up with preferred weapons, and ready to fight. Then it's a fight until you (or your team) are the only ones standing!
Upon landing, you initially need to scramble and loot the area for armaments, health kits, armor, ammo, weapon attachments, and avoid any roaming zombies as well as other rivals. The game auto-gathers the best equipment for you, but you're still able to grab and utilize your preferred items easily. Doors are auto-opened when you step to them, and you can smash through windows and mantle using the jump button, climb ladders, and (if you have it) utilize the Grapple Hook, as you'd expect.
Expect intermittent supply crates dropped from above, as well as beacons marking the location of Class Upgrade items, augmenting your particular set of skills, with some only becoming accessible once the instructions on the cache are completed. This usually involves the clearing of the immediate area of zombies. Expect areas with high-value equipment to be swarming with foes en route to claim these advantages too, meaning forethought and planning is needed to ensure you're not overrun by enemies, all intent on gathering these advantages for themselves.
Faster deployment around the map plays an important role in Battle Royale too, with four different controllable vehicles currently accessible:
ATV: A two-person quad-bike with speed but little protection.
Light Helicopter: With room for three including the pilot, allowing you to rain down fire from above.
SUV: An armored troop carrier with room for four, offering more ponderous mobility, but the extra protection compared to the ATV.
Tactical Raft: Take to the waters (including an ocean and rivers) in this fast boat, but watch for snipers!
As the game progresses, the circle collapses, forcing you to a smaller and smaller area of the map on a collision course with the enemy. As time and territory whittles down, it becomes increasingly important to know the terrain, and how to best utilize it in the remaining moments of a match.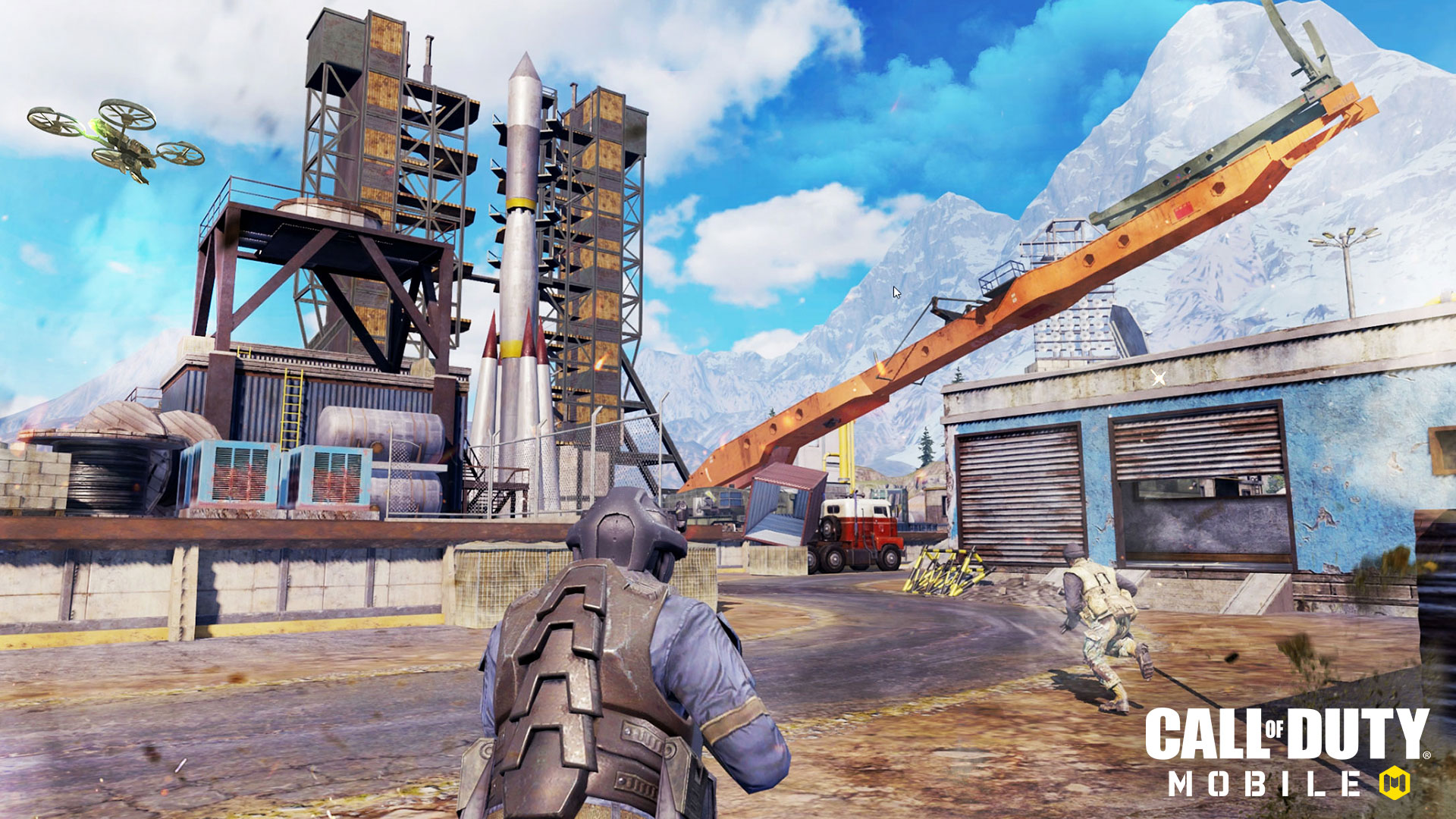 Call of Duty®: Mobile introduces a third-person perspective during Battle Royale matches; though the ubiquitous first-person viewpoint is also a choice.
Battle Royale: Navigating the Map
The map itself offers a large variety of topography to fight through, including all-new hills, mesas, settlements, rivers, and bridges, as well as a host of familiar locations from previous Call of Duty titles dotted throughout the environment. Though this isn't the complete list of locations, expect the map to include the following settings:
Countdown: The hangars and missile silos; elements from the map that appeared in Call of Duty® 4: Modern Warfare.
Crash: The war-torn settlement with a downed helicopter in the middle, from Call of Duty® 4: Modern Warfare.
Diner: The infamous eatery from Call of Duty: Black Ops II.
Estate: The hilltop house and grounds, inspired by the map in from Call of Duty®: Modern Warfare 2.
Farm: The foreboding rural nightmare from Zombies Survival mode, from Call of Duty: Black Ops II.
Firing Range: The military practice facility, versions of which were seen throughout the from Call of Duty®: Black Opsfranchise.
Killhouse: The small, symmetrical warehouse of mayhem from Call of Duty 4: Modern Warfare.
Launch: The cosmodrome and launch pad from Call of Duty®: Black Ops.
Overgrown: A large, rural farm and fields from Call of Duty 4®: Modern Warfare.
Nuketown: The iconic suburbs with a subterranean secret, as seen in all the Call of Duty®: Black Ops releases.
Pipeline: The grimy and overgrown railyard from Call of Duty 4: Modern Warfare.
Seaside: The coastal multiplayer map originally from Call of Duty 4: Black Ops 4.
Shipment: The crammed cargo docks from Call of Duty 4: Modern Warfare.
Standoff: The border town map from Call of Duty®: Black Ops II.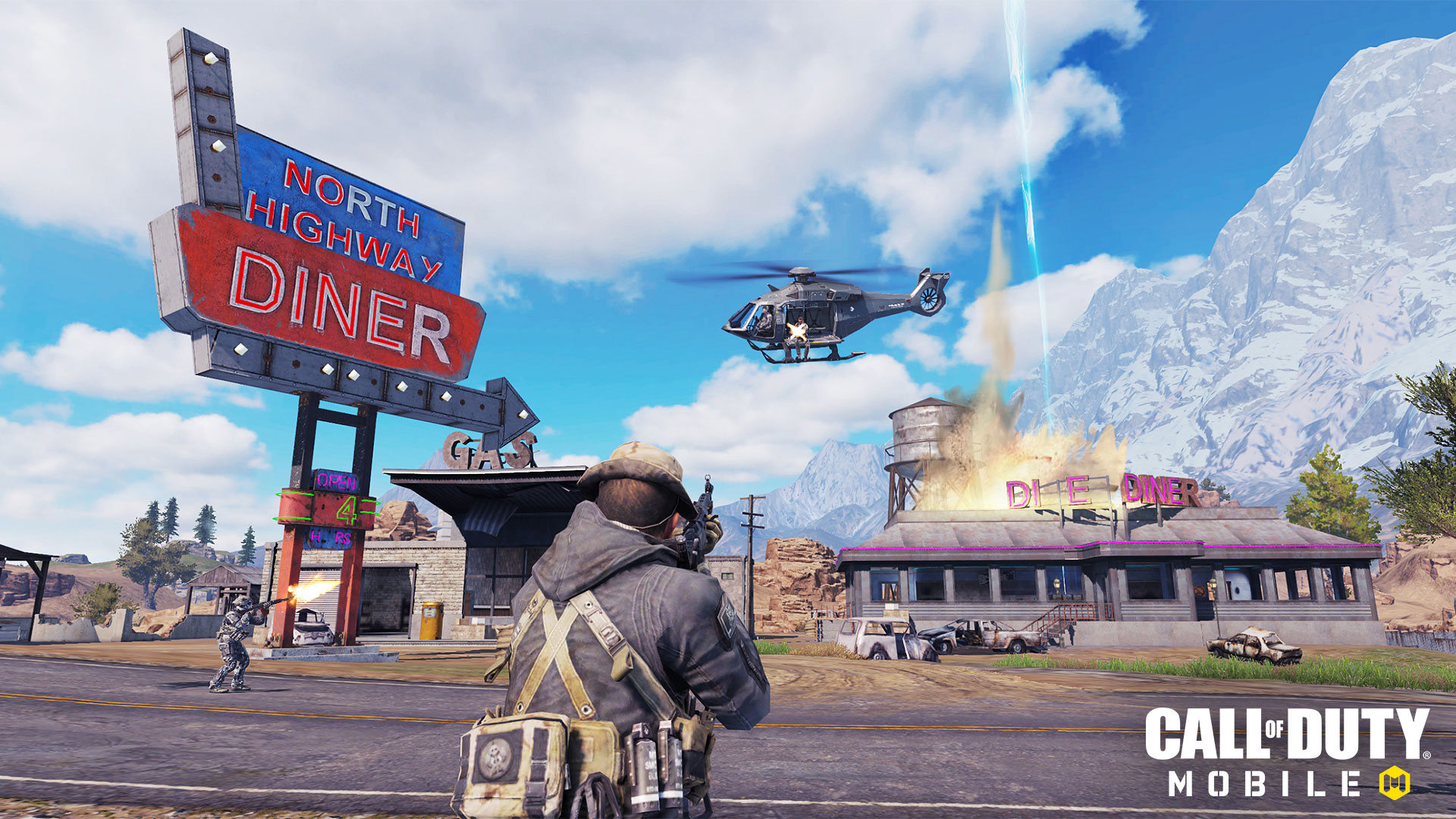 Fight your way through environments that span the Call of Duty series, with Battle Royale map locations from Modern Warfare and Black Ops.
Other Modes

Battle Royale is one mode to play as part of the entire Call of Duty: Mobile gaming experience. Consult previous Activision Games Blog posts to discover more about the menus, loadouts, characters, and multiplayer maps, and look for further information in the coming weeks.
Pre-Registration is Open!
Pre-registration for Call of Duty: Mobile is now open in select regions, including North America, South America, Europe, and other territories. Sign up and pre-register for Call of Duty: Mobile on Android and iOS at www.callofduty.com/mobile to receive all the latest game updates, information, and access to the public beta available soon in select regions. In addition, pre-registration is also open in China; go to codm.qq.com to sign up within this region.
The first limited-scale closed Beta test began recently in India, and a regional Beta test will kick off soon in Australia, with more territories coming online in the coming months.
Call of Duty: Mobile Season 9 Conquest Patch Notes
The newest update for Call of Duty: Mobile deploys on August 16 at 5PM Pacific time, and the team has shared the patch notes for the new update.
This update debuts the newest season for the Mobile game, Season 9 Conquest. This Season brings the new Gunsmith weapon customization feature, new MP Map, new Battle Royale map expansion, and more features.
Dive into what's new with the patch notes below.
It is late in the night for many folks but our update is finally here and with that comes Gunsmith, Shipment 1944, a new Ranked Series, and so much more. If you don't see the update available in your Google Play or Apple Store right now then don't worry, it is a rolling update that goes region by region so eventually it will reach you. Just have patience and keep checking back.
As per usual, everything listed in the patch notes won't be available right on launch since some content will be rolling out later during the season, like 10v10 mode and the Battle Pass. Speaking of that Battle Pass full of war torn relics, that is coming out tomorrow as a part of our Season 9: Conquest release! That will be landing at exactly 5 pm (PT).
We'll have plenty of posts about that on social media as we get closer to that release and a Season 9: Conquest release trailer. For now, check out all of the updates notes below, start trying out new features.
The Gunsmith system is here!
Players can choose from more than a hundred attachments to customize their weapons! Update your favorite weapon with new visual and functional upgrades for a completely unique experience!
Each weapon has up to nine attachment slots and more than 50 attachments and gun perks available
Earn attachments by upgrading your weapon level.
Legendary and Epic weapons are now Blueprints. Blueprints are variants of the base weapons that come with various cosmetic differences as well as curated pre-equipped attachments. These attachments are pre-equipped on each specific blueprint without needing to level up the base weapon to unlock them.
Rare and Uncommon weapons are now camo options that can be equipped on base weapons
Highest weapon level is shared across all unlocked weapons and Blueprints of that type. No more needing to level each and every weapon you receive!
Show off your own personal style with charms, stickers, reticles, and grindable camos
Save your newly designed weapon as a customized weapon to equip in your Loadouts
Too complicated? Try the recommended blueprints. Players can see the changing stats while modifying weapons. Weapon stats reflect the actual performance of the weapon
Rank Series 6 runs from 8.2020 – 10.2020
New ranked mode seasonal rewards
New epic blueprint: QQ9 – Eye Candy
New epic soldier: Tengu – Undead Crusade
New epic frame: Bomber Frame
New Battle Pass available August 16th (UTC)!
New Premium Battle Pass Rewards
New Epic soldiers: Reznov, Nikto – Stronghold, Richtofen, Lev Kravchenko – Soviet Dragon
New Epic Blueprints: Chopper – Fortress, Kilo Bolt-Action – Lazarus,QQ9 – Trendsetter,Striker – Aeronaut
New Legendary Calling Card: Take Cover
New "Battle Dressed" themed items
New Free Battle Pass Rewards
New base Marksman Rifle: Kilo Bolt-Action. A lethal lightweight marksman rifle that can take the enemy down in one-shot
New Scorestreak: Shield Turret. A manual operated shielded turret that can be deployed on most surfaces
New Event Rewards
New challenges and missions with new rewards
New Lethal equipment: Thermite. Sticks to any surface and burns over time upon impact
New Solider: Nikolai Belinski
New Epic blueprints: MSMC – Rosie, ICR-1 – Retro Nuclear
New Perk: Amped – Take advantage of faster primary weapon swap and launcher reload speed (excluding swapping to pistol and melee)
MULTIPLAYER
New Featured Game Mode
10v10 mode
Available for Team Death Match, Domination
Available on Shipment, Takeoff, Meltdown, Crossfire
New map
Shipment, a Call of Duty classic, is now available! Dash through cargo containers in this action-packed fan favorite.
Available for: Team Death Match, Domination, Free-For-All, Hardpoint, Gunfight, Ultra Rapid Fire, 1v1, Kill Confirmed, Team Death Match 10v10
Other
Training Mode – Movable targets and new challenge added
Domination – Capture progress will pause when players are not in the objective area.
Domination – Tunisia has been removed from Domination map list on normal MP
Domination – Meltdown has been removed from Domination map list on ranked MP
Hardpoint – The next hardpoint in Hardpoint mode will be shown on map, but cannot be captured until it is unlocked
BATTLE ROYALE
With the new Gunsmith system, all weapons in Battle Royale now perform the same as their Multiplayer versions. Players can modify and customize their weapon in Battle Royale loadout and acquire them from airdrops. Look for brand new weapons on the battlefield with various styles and attachments.
New airdrop
Players now can acquire loadout customized weapons from airdrop. Every airdrop allows four players to choose one of their customized weapons from their loadouts. (one weapon per player/per airdrop)
New Areas
Check out the four new areas added to Battle Royale: Radar Base, Dormitory, Outpost, and Camp
New Weapons
New Battle Royale weapons of all rarities added. The higher the rarity, the more attachments. Attachments cannot be dropped or equipped to another weapon
New Attachments
Augment your Battle Royale weapons with Gun Mods. More than 10 new mods to try. Gun Mods can be dropped or equipped to other weapons
New Items
Armor Plate: Recover armor durability by 50%. Use armor plates to repair your vest
Ammo types now match to corresponding weapon class
IMPROVEMENTS & OPTIMIZATIONS
Multiplayer
Increased Death Machine long-range damage, slightly increased fire rate, increased spin up time after moving.
Increased Sparrow drawing speed. Increased range when drawing Sparrow back for a shorter amount of time.
Increased War Machine's grenades area of effect. Decreased damage on player using War Machine. Optimized animation.
Decreased Annihilator reloading speed after firing. Slightly decreased fire rate.
Slightly decreased Gravity Spikes area of effect.
Molotov Cocktail is now lethal equipment.
Significantly increased Molotov Cocktail damage.
Katana's name and model updated.
Deploying Stealth Chopper and Cluster Strike will activate a one-time UAV map scan and reveal current locations of enemies.
Optimized reloading animation
Optimized firing animation
Optimized visuals and behavior of laser sight attachments
Optimized bolt pulling animation of bolt-action sniper rifles
Extended time limit for squad filling in the middle of a ranked multiplayer match
Fixed an issue where the SMRS and War Machine can shoot through walls
Fixed an issue that UAV shows enemy movement instead of current location
Fixed an issue where players FOV is narrowed when using Katana
Fixed an issue that prevented players from crouching or going prone
Fix an issue with incorrect models in Attack of Undead
Battle Royale
Poltergeist: Increased invisibility for the first two seconds after activating Active Camo, regardless of distance
Trap Master: Decreased Electric Trip Wire's damage and effect on enemy's movement speed
The first safe zone appears earlier in game and collapse slower. Players have more time to reach the first safe zone
Optimized water visual effect. Water Reflection available in "Very High" graphic quality.
Decreased tank's side armor. Adjusted tank's firing trajectory
Tank is now equipped with an electronical thermal imaging system
Tank airdrop is now a random event
Area names are visible while jumping. Areas with better loot are displayed with orange names
Optimized the ragdoll physics when being hit by vehicles
Optimized character movement animation
Optimized ladder climbing animation
Optimized player animations when moving along walls
Optimized health and armor UI
New opening animation on the jump plane
New armor penetration feedback
New jump plane audio indicators
Fixed an issue with tank spawning in unusable locations
Fixed an issue where item models would disappear occasionally
Fixed an issue where gunfire indicator would be the wrong direction on compass
Fixed an issue where audio would cut out
Ranked Matches
Optimized score logic for Ranked Multiplayer
Optimized matchmaking logic for Ranked Multiplayer
Optimized match report details
Players in rank protection lose fewer rank points after a loss
New squad view when loading into a match
Optimized Ranked Battle Royale score logic
Optimized matchmaking logic for Ranked Battle Royale
New match report UI
New animation for reaching each higher rank after Pro I
Fixed an issue where players in rank protection were recognized as lower rank
System
Players can unlock most weapons, perks, Operator skills and Sorestreaks before level 55.
ICR-1, Cordite, HVK30, GKS, KN-44, Locus, Pharo, KRM262, HBRa3, Man-O-War and Razorback are now player level rewards. Other base weapons can be unlocked by completing challenges in Gunsmith system or within the free Battle Pass
Molotov Cocktail and Combat Axe are now player level rewards
Players can have up to 10 Loadouts in Multiplayer. Loadouts 1-5 are unlocked immediately. Loadouts 6-10 are unlocked through level progression.
Players now have 5 Loadouts for Battle Royale
All new player level rewards will be unlocked after upgrading to the new version.
All new UI for Multiplayer and Battle Royale lobbies. Players can see recommended events and claim rewards before starting a match
Players can display calling cards, sprays and emote in Multiplayer and Battle Royale team lobbies
Calling cards can be configured on in game HUD in Control Layouts in Settings menu
Most event rewards will be claimed automatically during after match report
New after match summary and sharing UI for Battle Royale winners
New bug report system
Optimized in-game HUD
Optimized UI and user experience for Battle Pass
Optimized ladder-climbing UI and customization option
Call of Duty: Mobile Season 8 The Forge Live Now
The latest season of Call of Duty: Mobile is live now! Season 8 The Forge is going live now on iOS and Android, and brings a variety of new content for players.
The new content includes High-Rise MP map debuting from MW2, new MP modes, new weapons, and more.
Available at launch is:
New MP Map: Highrise
New MP Mode: Juggernaut
New Perk – Shrapnel
New Weapons: HBRa3 and DRH
Here's the roadmap:
Call of Duty: Mobile – July 9th Community Update
Greetings Call of Duty: Mobile Community, we are thrilled and delighted to finally share that our brand-new season is called The Forge and it is available right now! Check out the release trailer:
This brand new post-apocalyptic season is filled with characters, items, and events all focused around surviving in the wasteland. We'll go over all of those specifics below for the new Battle Pass, new events, and the wide variety of new content releasing right now or throughout the season.
Let's jump into the update below and go over all of those specifics for Season 8: The Forge.
Here is the full look at most events currently running or coming soon in COD Mobile**:**
7/10 – 7/16 ~ One Shot One Kill
7/10 – 7/16 ~ Gun Game Team Fight
7/10 – 7/16 ~ Highrise Brawl
7/10 – 7/16 ~ Juggernaut Mania
7/17 – 7/30 ~ Solstice Awakened
7/10 ~ New Seasonal Challenges
7/10 ~ Credit Store Update
All Month Long ~ Juggernaut Mode
All Month Long ~ Training Mode
All Month Long ~ Kill Confirmed
*All Dates UTC
While we aren't listing those notes here, you find some update notes upon launching the game or on the App Store or Google Play Store under the "What's new section". However, outside of smaller details most of that is covered here and if you have any questions about any events or new pieces of content then please feel free to reach out.
Season 8 – Roadmap
We are back with a brand-new season and a brand-new Roadmap! As per usual, this doesn't contain everything coming out in the season but it is meant to give a general look at some of the major pieces of content coming out alongside an estimation of when they might be releasing. Have a look.
Season 8 – Battle Pass
While there are a large number of items available to acquire in the free and premium versions of this season's Battle Pass, many of which are themed exclusively around this season's post-apocalyptic theme, we do have a few standouts in each portion of the pass. Here is a quick summary.
Free Battle Pass
Perk – Shrapnel (tier 14)
New Weapon – DR-H – Common (tier 21)
PDW-57 – Desperate Measures (tier 41)
RUS-79U – Desperate Measures (tier 50)
Paid Battle Pass
Tank Dempsey – Wrecker (tier 1)
KN-44 – Living Rust (tier 1)
Tank – Wrecked (tier 1)
Reaper – The Grinder (tier 12)
Prophet – Dust Bowl (tier 30)
AK117 – Kit Bag (tier 40)
Emote – Rage Quit (tier 49)
Kreuger – Reaper (tier 50)
DR-H – Chained (tier 50)
Legendary Calling Card – Hot Metal (tier 50)
This Battle Pass contains a few firsts, like the first skin for the (love it or hate it) Tank BR vehicle, the newest assault rifle, the DR-H, and the Perk, Shrapnel. We also have multiple characters in the pass, including Tank Dempsey, Reaper, Prophet, and Kreuger. Lastly, due to community feedback we've brought emotes back into the Battle Pass with Rage Quit at tier 49.
Lastly, there is the extra benefit to the Premium or Premium+ Battle Pass: a season long BP XP bonus. Purchase either of those versions and receive a 25% bonus to XP earned from matches played.
For more information on that and the whole seasonal release, including the Battle Pass, take a look at our newest Activision Games Blog post: ATVI – S8 Blog
Juggernaut Mode & Challenge
The newest mode to land in Call of Duty: Mobile is the Multiplayer mode – Juggernaut. This classic Call of Duty mode from Modern Warfare 3 is all about 5 vs 1 gameplay with five players attempting to take down the Juggernaut for guts, glory, and of course the highest score.
This old mode has been revamped with a few new mechanics to make it unique to COD: Mobile. First off, the Juggernaut is the X-51 Goliath (the scorestreak) equipped with the death machine and plenty of armor. There are no loadouts and instead you'll able to find and use armament boxes that provide operator skills or buffs.
Here are the basic details for Juggernaut mode:
Total Players: 6
Any player that takes down the Juggernaut becomes the Juggernaut
No Loadouts, Operator Skills (outside of armament boxes), or scorestreaks are available
The first player to reach the score limit wins
In addition, we have an event running alongside the mode called Juggernaut Mania. Running until July 16th, this event offers you a variety of rewards for playing Juggernaut mode while completing various tasks and earning some sweet victories.
For completing these tasks, you can acquire the M4LMG – Sight Unseen, Gravedigger Frame, J358 – Stream, or other rewards. It is all live now, so check it out in-game.
Highrise Map & Challenge
This fan-favorite map from Call of Duty: Modern Warfare 2 makes its way to Call of Duty: Mobile as a part of this newest release! This mid-size Multiplayer map offers a wide variety of engagements across an open roof-top, close quarter offices, and throughout a multi-tiered layout that challenges you at every turn. Smgs, shotguns, and assault rifles will be at home here and adaptable to most scenarios.
This map is available on a wide variety of permanent and limited modes, including Juggernaut, Attack of the Undead, Kill Confirmed, Team Death Match, Search & Destroy and Domination. Get a tour of Highrise in our latest flyby video on YouTube: https://youtu.be/ZkCtQpbLFoI
In addition, if you are looking for the real low-down of the map alongside some tips, tricks, and loadout recommendations then look no further than our Highrise Map Snapshot.
Of course, Highrise comes with its own event tied to it as well called Highrise Brawl. As you might expect, this challenge is focused purely around just playing this new map. By doing that you can earn credits, Knife – Stream, and the LK24 – Persisted. Complete that before July 16th to collect all of the rewards.
Seasonal Challenges
Another new season means another new set of seasonal challenges! This time around we have plenty of new gear to grab – not just weapons – and we'll give some brief information on all three of those seasonal challenges below alongside highlights of some of the rewards available.
Survival of the Fittest
This six-part seasonal challenge is for all of you Battle Royale fans! Complete a wide variety of tasks, like shooting down helicopters, using the tank, or just playing BR matches and you'll have an array of different gear to earn.
(Uncommon) Motorcycle – Arctic Digital
(Uncommon) ORV – Wasteland Red
(Uncommon) RUS-79U – Arctic Digital
(Rare) Calling Card – Reclaimed
(Rare) Pharo – Sight Unseen
Master Operator
This four-part seasonal challenge has you completing tasks focused entirely around Operator Skills and in particular showing your dominance with Gravity Spikes, the H.I.V.E., the Sparrow, and the Purifier. Complete these tasks and you'll earn Battle Pass XP and credits, but also the following:
(Uncommon) DL Q33 – Arctic Digital
(Rare) Calling Card – Take Off
Maximum Efficiency
This eight-part seasonal challenge has the toughest tasks of these initial three challenges, but it also has the most rewards. These tasks require you to use a variety of different weapons to get kills in specific circumstances or scenarios, like by using specific attachments only. However, this is also the first way, outside of Ranked, to earn the long sought after HBRa3.
This one has a huge number of rewards to earn, like more Battle Pass XP, but here are the main rewards:
(Uncommon) AK-47 Arctic Digital
(Rare) Calling Card – Inferno
(Rare) ICR-1 – Persisted
(Common) HBRa3
(Rare) HBRa3 – Persisted
We'll have more seasonal challenges starting later on in the season, like usual, and with more weapons, items, and general gear to earn. Keep an eye out for those details in future updates.
Credit Store Update
What's another seasonal release with another credit store update 😉? Well, this one is nearly entirely weapon focused so if you've been missing out any of these specific weapon types now is a good time to jump in and start trying it out. Here are all of the items releasing today.
(Epic) RUS-79U – Moonstone
BK57 – Strapped
Striker – Riveted Green
AK-47 – Dark Fiber
Backpack – Ashen Viper
Operator Skill – Katana
While this operator skill isn't releasing alongside the season release (it is actually releasing late in the season) we still would like to highlight it and show the specifics of how you can slice through your enemies with this new skill.
This Operator Skill is straight-forward: activate it, lock onto nearby enemies (even through smoke), and slice away with lethal one-shot melee attacks. You'll go into third person while this skill is activated, which will help you stay alert, but you'll still be just as vulnerable as normal to enemy gunfire. Check it out in action.
0:000:15
This will be available to be earned through an event called Katana Kill towards the end of July/beginning of August. Keep an eye out for that exact date in future community updates.
Solstice Awakened Event
This post-apocalyptic event will have you collecting items while playing various maps. All of these items are based around resources that have to be gathered using featured playlists and each playlist will offer different resources. You'll just need to get kills in these playlists and you'll automatically acquire resources, which you can then exchange for rewards.
This mode comes out on July 17th so we'll have more specific details then on how it will work, but get ready for some more earnable weapons, like a S8 themed epic Man-O-War assault rifle
Days of Summer Event
While Solstice Awakened is coming rather soon Days of Summer will be hitting the beaches in the later part of the season. This wet and wild event will offer a variety of unique Summer themed rewards alongside a variety of general tasks. Most importantly, what is in for you? Well, just some entirely new and unique items that have never been released before 😉.
We'll have our very first skin for an Operator Skill releasing in this event for the Purifier and a brand-new character. Some of those items will be coming in the form of grindable challenges while other items may be paid content. We will be sure to share plenty more about that as we get closer to that event!
Public Test Build
Shortly after the release of this season we'll have another public test build coming and with some early content for our next update. We'll have a unique post up just for that release and just a reminder that this build will be only for Android devices, and it is a separate app that will not interfere the current version of Call of Duty: Mobile.
It will feature some unique content from that future update and it is something we are eager to get your feedback on as early as possible. That feedback will go towards shaping how this feature releases in August. In addition, we may have more public test builds release after the first with more S9 content.
Please check back early next week for a separate post all about that and thanks to everyone in advance who jumps in to help us test this content.
Newest Weapon – DR-H
The most recently added weapon to the game is an assault rifle, the DR-H. This short to mid-range weapon has unique attachments and a strong damage output, but you'll have to contend with a high recoil.
The OTM is a new attachment for this weapon and it increases any shots that hit an enemy player's body. Additionally, the damage drop off is unique to assault rifles in regard to how long it takes for damage to decrease over range. Check that all out in our newest video highlighting this weapon.
You can find this new weapon specifically in the S8 Battle Pass and with free and premium options.
Final Notes
While there is so much releasing today, like that jam-packed character driven Battle Pass, there is also so much more coming throughout the season, like two unique seasonal events (Days of Summer and Solstice Awakened), seasonal challenges, limited time modes, more World Championship events, and a wide variety of giveaways and events going through our social media or community channels.
Keep an eye out for all of that releasing through the season and please keep on sharing your feedback, any bug reports, and your wonderful creative designs for weapons, character art, and everything else. Let the memes roll!
See you all next early next week for another post about the Public Test Build and enjoy the new Season!
SOURCE: The Call of Duty: Mobile Team
New Call of Duty Endowment Pack available in CoD Mobile
Activision has announced a new customization pack is now available in Call of Duty: Mobile on iOS and Android that supports the Call of DUty Endowment.
The Call of Duty Endowment Freedom Pack is now available in-game and only available until July 16. 100% of Activision's profits will be donated to the endowment charity, which helps veterans find jobs.
Here's what the Freedom Pack includes:
The Freedom Pack contains seven items that players can equip for Multiplayer and Battle Royale matches. All items feature a red, white, and blue camo displaying a distinct Endowment design. Purchasing this pack directly supports veterans looking for high quality jobs.
· M16 – Hot and Cold: Sport this cool camo while exceling at mid-range engagements with the M16.
· MW11 – Hot and Cold: A strong secondary, get the MW11- Hot and Cold for a quick swap when your primary runs dry.
· Parachute: Equip this distinct parachute for your drop into the expanded Battle Royale map. Show off your support as you sail through the skies, then land and show the enemy you mean business.
· Wingsuit: Soar for freedom with the Freedom Pack wingsuit.
· Frag Grenade – Hot and Cold: Throw your support behind veterans and equip the Hot and Cold camo, before you toss this equipment at the enemy.
· Calling Card: Show your support in the lobby with this Endowment calling card.
· Emblem: This emblem includes the Endowment's signature logo.
The Call of Duty Endowment Freedom Pack is available in Call of Duty: Mobile starting on July 1 at 5 PM PT. This is a limited time offer that will end July 16 at 12AM UTC. 
Load up the game on your phone now and support the Endowment!
SOURCE: Activision