All locations on Rebirth Island in Call of Duty Warzone
A full guide on all the POI's in the newest Call of Duty Warzone map, Rebirth Island.
Warzone's newest map "Rebirth Island" drops with the launch of Season 1 for Black Ops Cold War.
Rebirth Island features tense trios and quads gameplay on an insland, much smaller than Verdansk. The map offers 32 unique points of interest, all worth visiting to get the full experience of the island. Since this is a reimagining of Blackouts Alcatraz map, the flow of the map will feel familiar, while also bringing brand new experiences to players.
At the center of the island lays a large prison, and across from the prison to the north lays a massive Nova 6 bioweapons factory. Explore the map and uncover the truth. Here's a rundown of all 32 points of interest.
1 – White Shed & Jetty
2 – Bioweapons Labs
The bioweapons lab is a three story, sturdy building with plenty of sightlines and secrets. This is one of the tallest buildings on Rebirth Island, so take advantage of the rooftop angles it offers.
3 – Decontamination Zone Building
A large concreate structure with plenty of combat inside and outside. Large open rooms with railing and pallets as cover. Will be a hot spot at launch due to its advantageous position for quick rotations to Bioweapons lab or the Prison Block after looting up.
4 – Chemical Engineering Factory
5 – Chemical Engineering Office
4 story building divided into lower and upper floors that can be accessed via a small bridge. This area will be a familiar sight for players who played Blackout in Black Ops 4.
6 – Hilltop and Water Tower
The king of Rebirth Islands' sniping positions. Once on top, you'll have the ultimate view of other players at a high vantage point. Just be on the lookout on your way up, since you'll be completely exposed to enemy fire.
7 – Power Room and Lookout
8 – Recreation Yard
A wide open area for medium – long range gunfights just outside of the main prison. Be sure to watch out for incoming fire from the rooftops as you cross through this area.
9 – Terrace and Morgue
The Terrace and Morgue area is located outside of the Recreation Yard and gives staircase access to the main level of the prison. Use the Morgue as a building to lay low in, or travel to the external staircase attached to the prison to access a rooftop ascender.
10 – Chemical Engineering Power Station
11 – Prison Block (Basement Level)
Located below the Prison is the Showers, Tunnel and Electrical Room. Loot down here to be protected from any surprise attacks from afar, and escape via one of the Tunnel ladders to the cliffs outside the Prison.
12 – Prison Block
Located in the middle of Rebirth Island is the main attraction – The Prison. Explore 2 large main floors, complete with a cell block, infirmary, cafeteria and catwalk. Additionally, the rooftop is also available for looting and serves as a solid sniping position.
13 – Warden's Entrance
14 – Supplies, Helipad & Watchtower
Looking for ammo? This area is ideal for some extra loot when traveling across the main road outside the prison. Has a chance to spawn a Helicopter by the shore.
15 – Communications Office
16 – Harbor Warehouse
Located near the shore is a 3 story warehouse with plenty of loot, but scarce cover. Each floor must be accessed via its own entrance. You cannot travel between floors from the inside.
17 – Construction Site Sheds & Jetty
18 – Construction Site
Before Rebirth Island was raided by the CIA, this was slated to be the final building on the Island. Now, it just lays unfinished.. and dangerous. Watch out for fire from surrounding buildings, as the cover is minimal. Be sure to watch your feet while walking around here too, you may just find yourself falling down a hole….
19 – Headquarters Surveillance Tower
A tall tower attached to a beautifully furnished command office. CQC fights will be the focus in here, with the victor claiming control of the tower vantage point.
20 – Headquarters Command Center
The communications center of the island, used to send broadcasts back and forth to Russia. This building has 2 circular floors that gives a call back to the design of the Satellite tower on the Black Ops 1 map "Array". The roof also gives a good counter-sniping position to those on top of the main prison.
21 – Headquarters Garrison
22 – Staircase & Garden
23 – Factory
The largest building towards the shoreline lies this 3 story factory, complete with a basement and accessible rooftop. All floors are connected via a large main staircase. The main floors are filled with computers, and the basement is more of a wide-open storage area. Be sure to bring a trusted SMG, Shotgun or Assault Rifle with you here.
24 – Dockside
Perhaps one of the lowest areas of the island, the Dockside gives plenty of cover while looting around the shipping containers, cranes and barrels. If you're feeling daring, take the Tram Car from here to the roof of the prison block to get right into the center action.
25 – Base Camp
A large assortment of tents and medical stations laying at the bottom of a hill by the Headquarters. The cover is scarce, but the density of loot spawns in such a small area may be worth the tradeoff, if you go in guns blazing.
26 – Living Quarters Number 9
27 – Living Quarters Row
A series of 4 small apartments in close proximity. Each building should supply enough loot to get a player started. In quads, this will easily provide for your entire squad, assuming you are not followed here.
28 – Shipping & Receiving
Located near the shore on the south end of the island sits a small Shipping & Receiving building with 4 rooms. This spot may see less action at launch, so if you want a rather peaceful drop, here's a good bet.
29 – Switchbacks, Storage & Jetty
30 – Security Area Crater
A massive explosion sent a security convoy flying to their demise during the CIA raid on the island. The crater is large enough to be used for cover, and the flipped vehicles are solid pieces of cover during a firefight.
31 – Security Area Communication Station
32 – Security Area Watchtower & Helipad
A small area with limited loot locations. The real prize here is the chance for a helicopter spawn. Don't be surprised if you come in contact with several other teams if you attempt to land here when a helicopter spawn is active.
Cranked Zombies Tips – Black Ops Cold War
Black Ops Cold War has added a new game mode to zombies called "Cranked." Here are a few tips to dominate.
Cranked Zombies is a new mode added to Black Ops Cold War Zombies for Season 1.
For the midseason update, Treyarch has released Cranked Zombies as a limited-time mode. This is a fast-paced and intense mode that was originally released alongside Call of Duty Ghosts and has long been a tradition in Infinity Ward games. Now, Treyarch has adopted the mode for Zombies.
What is Cranked?
Cranked is a mode where kills are key. Once you score your first kill, a timer will start and your player will receive increased reload speed and running speed. This timer will be a 30 second timer, ticking down. If you fail to score a kill before the timer hits 0, you'll blow up. Each new kill will refresh the timer.
For Zombies, as time continues, zombies will spawn faster and the cranked timer will continue to reduce as the game progresses. It will start at 30 seconds, then drop to 25, 20, and 15, before settling at 12.5 seconds.
Tips to Survive
Big magazines, high damage – Be sure to drop in with a Light Machine Gun or high capacity Assault Rifle. You'll need it for all the zombies constantly bombarding you.
Explosives are key – Pack C4, and be sure to pick up every War Machine boss zombies drop. You'll need these as emergency tools for quick and easy kills when time is running low.
Pack FAST! – Pack-a-punch is unlocked automatically as soon as the power is turned on. Make sure you get your weapon upgraded as fast as possible.
Brain Rot OP – Brain Rot is an ammo upgrade for pack-a-punch weapons that turns a hostile zombie into a friendly teammate. Be sure to utilize this for quick timer resets while reloading or traveling around the map.
Ring of Survival – The Ring of Fire field upgrade is a must use in Cranked. Line up large waves of zombies, then activate the ring of fire for easy kills. We recommend saving your ring of fire charges for boss zombies.
Be a Menu Master – Using the upgrade station and weapons bench will cost you time. Be sure to have the menus memorized to get what you need before you explode.
Perk Up! – While being Cranked gives you additional reload and movement speed, Stamin-Up and Speed Cola also stack on these effects, making you even faster.
These tips should get you rolling through Weapon levels and Zombie hordes in no time. Now get out there and slay some zombies!
Image Credits: Activision
Black Ops Cold War Zombies Updates: Firebase Z, New Perk, and more
To celebrate 115 Day, Treyarch has shared a new blog post highlighting some of what's coming to Call of Duty: Black Ops Cold War soon.
The new Zombies map, Firebase Z, arrives on February 4 for free.
In their blog post, Treyarch goes in depth on the narrative origins of Firebase Z map, reveals the new Tombstone Perk, provides updates on the Onslaught mode, and more.
Firebase Z" will arrive on February 4th during Season One, free for all Black Ops Cold War players.
Today, we're excited to debut the official logo and new narrative details for our next Zombies map.
In less than three weeks, "Firebase Z" will introduce Zombies fans to an all-new location set in the jungles of Vietnam, along with new characters, new enemies, new gameplay mechanics, and much more. And, in keeping with Zombies tradition, a badass new Wonder Weapon awaits.
Now – without spoiling too much – let's get into the story so far.
REQUIEM VS. OMEGA
Dimensional breaches continue to open around the world. As both Omega and Requiem work in the shadows to ensure the secrecy of their discoveries, the greater public remains blissfully unaware of this deadly new arms race between East and West.
As the two sides continue to study the Dark Aether dimension and the Aetherium Crystals found within, each strives for an advantage over the other in the ongoing Cold War. The bad news? Requiem has fallen behind.
Omega Group's newest research outpost represents their resounding successes in harnessing Dark Aether technology for their own gains. Equipped with an on-site dimensional gateway, they've acquired the ability to send soldiers and other "conscripts" into the Dark Aether to harvest Aetherium Crystals straight from the source.
As a result, Omega Group's scientific breakthroughs in the last several months have far surpassed anything Requiem could have imagined.
DESTINATION: OUTPOST 25
With the destruction of the "Projekt Endstation" anomaly site in their wake, Grigori Weaver and the agents of Requiem turn their attention to a far greater threat: a new Dark Aether outbreak site in Southeast Asia.
After learning Agent Maxis has been captured by Omega Group, Weaver deploys Requiem's strike team to infiltrate the facility where she's reportedly being held: Outpost 25.
Against all odds, Requiem forces will infiltrate the outpost to rendezvous with an Omega Group informant, save Samantha Maxis, and above all else, survive the new horrors that await them in this abandoned research facility.
In the coming weeks, we'll have more "Firebase Z" story details, new intel reveals, and the official gameplay trailer to share in the lead-up to launch. In the meantime, let's dive into the additional content coming to Zombies as Season One continues.
NEW PERK: TOMBSTONE SODA (FEB. 4)
As we may have not-so-subtly hinted on New Year's Eve, we're bringing a seventh Perk to Black Ops Cold War Zombies alongside the launch of "Firebase Z": Tombstone Soda.
"But Treyarch," you ask, "what's so new about Tombstone?" Thanks for asking. Great question.
When deciding on the next Perk to introduce to Zombies, the design team reviewed the full history of every Perk and ability from the past that centered around death, and ultimately rolled them into an incredibly useful Perk for Black Ops Cold War. Tombstone Soda is all about manipulating and cheating the consequences of death, and you'll need it against the forces waiting for you in Vietnam.
Unlike its first incarnation in Black Ops II, the new-and-improved Tombstone Soda will now transform the player into a shadow within the Dark Aether after being downed. In this shadow form, you'll be equipped with weapons to help give you a fighting chance to revive yourself. However, if your health is reduced to zero while in shadow form, you're dead.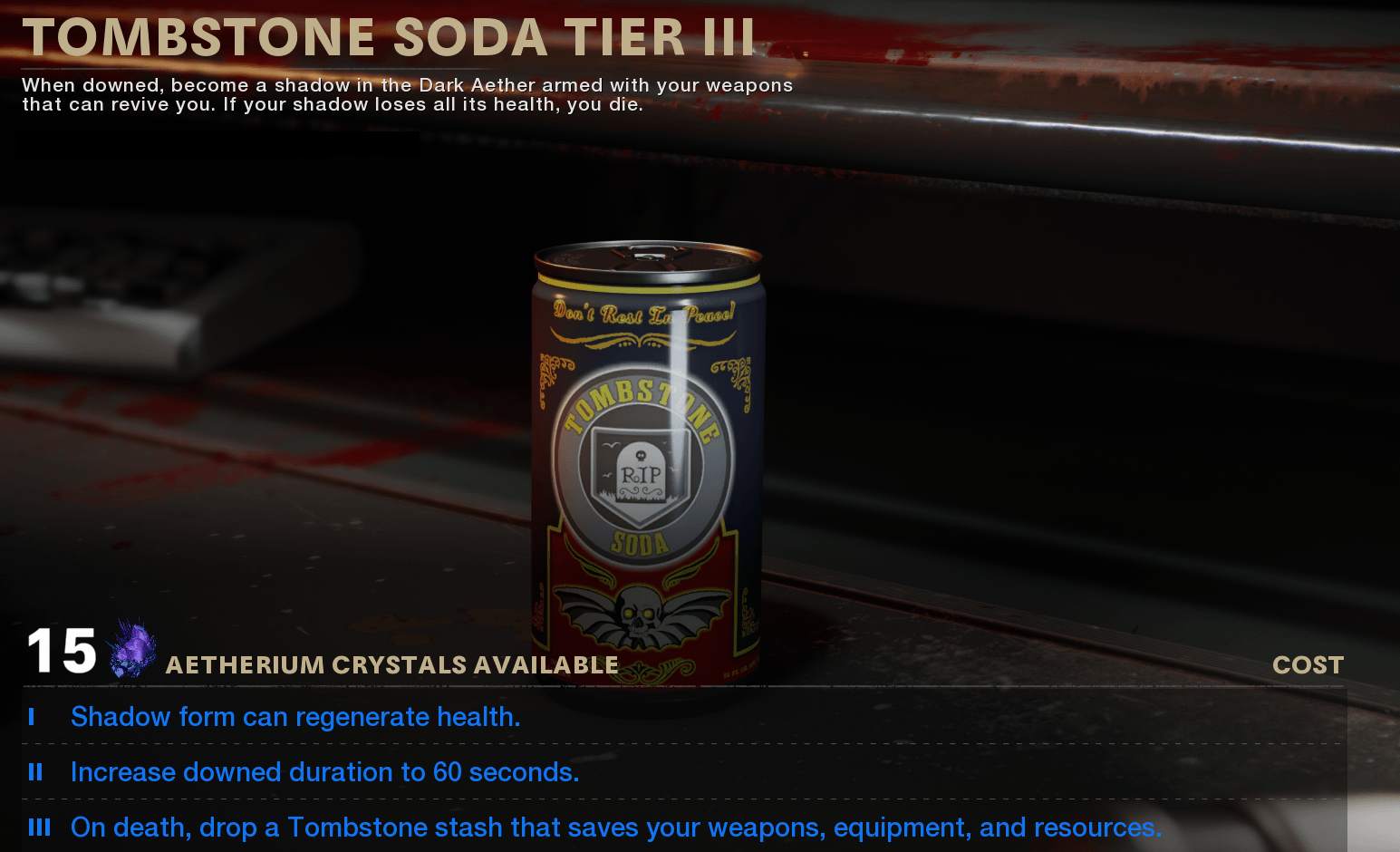 Fortunately, Tombstone's benefits only get better from there. Each Perk comes with its own set of upgradeable Skills in Black Ops Cold War, and this one's no different. By investing Aetherium Crystals into your Tombstone Perk Skill, you'll unlock the following upgrades:
Tier I – Shadow form can regenerate health.
Tier II – Increase downed duration to 60 seconds.
Tier III – On death, drop a Tombstone stash that saves your weapons, equipment, and resources.
You'll be able to grab a can from the Tombstone Perk machine in "Firebase Z," and you'll also find it in the Der Wunderfizz machine in "Die Maschine" on Feb. 4th. When in doubt, just remember those timeless jingle lyrics: Rest in pieces, down for the count…
NEW SUPPORT SCORESTREAKS AND INTEL (FEB. 4)
February 4th will also bring two new Support Scorestreaks to call in against the undead: the devastating Artillery and always-satisfying Napalm Strike. When the action gets a little too hot, head over to the Crafting Table and turn the heat even higher.
Ahh, we love the smell of crispy zombies in the morning.
And of course, a new Zombies map means new in-game Intel. Keep an eye out for new audio logs, documents, radio communications, Dark Aether dispatches, and artifacts hidden throughout "Firebase Z" starting on Feb. 4th. You never know what you might find.
Friendly reminder: if you haven't discovered 100% of the in-game Intel hidden within "Die Maschine" and Onslaught yet, now's the time to complete your collection before the story continues!
SOURCE: Treyarch
5 best Gunfight tips in Black Ops Cold War
Gunfight is a terrifically tense mode and requires proper skill. So we've come up with 5 great tips to make the mode even more fun in BOCW.
Gunfight is an extremely tight affair. The enclosed environments in BOCW make for some thrilling back-and-forth contests. But if you want to perform better and increase your chances of winning, then here are 5 of our best tips to improve.
The dynamic of Gunfight is vastly different from that of a normal game of Team Deathmatch. The greatly reduced numbers on each team combined with the smaller, more claustrophobic nature of the maps means that Gunfight needs a whole new way of thinking.
A more measured and tactful approach should be considered. If not, it's easy to be overrun by your opposition round after round until you succumb to a crushing defeat. Take these tips and learn how to adapt to your surroundings.
BOCW best Gunfight tips
Not all of these tips may necessarily complement your playstyle, but you sometimes need to adapt to win.
Furthermore, these tips aren't map-specific, so try and bear this in mind when you're reading them as there isn't one that will absolutely apply to Game Show or ICBM, for example.
1. Be aggressive
Airing on the side of caution is likely to get you killed in Gunfight due to its frantic nature. The rounds are short. The map is small. The likelihood of combat is certain.
You need to make sure you're either part of it or the instigator of it. Unless you're 0-5 down and clearly being outclassed, then offense is the best form of defense. Be on the front foot and catch your foes unaware. Be the hunter.
2. Watch the timer, be near the middle
You'd be amazed at how many rounds you can snatch by just simply being in the right place at the right time.
Some games can become cagey affairs. If this happens to you, at least make sure you stay somewhere near the middle of the map. Once the opportunity to claim the flag in the middle arises, you want to be in the prime position – either to claim it or to kill your opponent(s) going for it.
3. Inspect your loadout
When you're thrust into a new game, you get a new loadout every two rounds. Quickly absorb all the information presented to you on your HUD before the round starts.
Otherwise, you might come face-to-face with the enemy team, having the advantage, and unload a round of burst fire into them. But because you think it's a machine gun, you're just holding the trigger, not firing, and now you're dead. Always check what you're given.
4. Teamwork and communication
Chances are that if you're playing Gunfight then you're doing so with a friend. Both of you having a headset is a must, but constant communication can also win rounds ahead of any discernible skill or ability.
If one of you has just killed an enemy, or you're in a skirmish with someone, let the other person know. It doesn't matter if it appears in the killfeed or anything like that. Keep talking. If it's 2v1 and one of you knows where the final person is, speak up, hunt them down, and claim your round win.
5. Listen to the audio
In those fleeting moments of silence, make sure your headset is turned right up. If you have the Superhuman hearing function on your headset then that's a bonus.
Again, due to the limited space, you can easily hear enemy footsteps near your position.
With these tips safely ensconced in your brain, Gunfight should now be an even more exciting prospect for you. Show more aggression, make use of your headset, and be alert.
All these are big factors in conquering and dominating Gunfight. May our advice serve you well.
Image credits: Treyarch