Best Groza loadout for CoD: Cold War Season 5
The Groza is a fantastic Assault Rifle, and you can make it even powerful with a few attachments in Black Ops Cold War Season 5.
Black Ops Cold War Season 5 gives you the opportunity to try out various different weapons, and the Groza Assault Rifle is a buffed contender. Here's how you can improve it with the right Perks and attachments.
We've come a long way since the Groza was introduced into Black Ops Cold War in Season 1. The Assault Rifle meta has been pretty stellar throughout the game's lifespan with the Krig 6 showing what a true AR looks like, and other beasts like the AK-47 and Season 5's EM2 fighting for supremacy.
Yet, thanks to some neat Season 5 buffs, the Groza is once again in the conversation, and many people are adding it to their Cold War loadouts. It's even had a handy quality of life upgrade to enhance its performance too!
Here's how you can make the Groza a brilliant gun in Black Ops Cold War Season 5.
Best Cold War Season 5 Groza attachments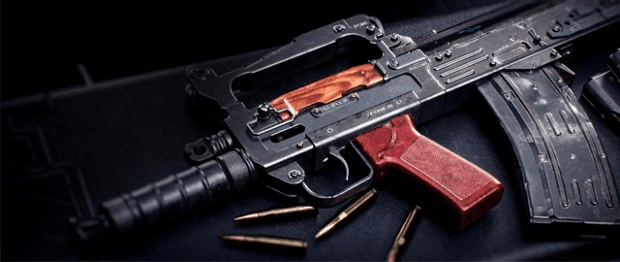 Muzzle: KGB Eliminator
Underbarrel: Spetsnaz Grip
Barrel: 16.7" VDV Reinforced
Handle: GRU Elastic Wrap
Magazine: 40 Rnd Speed Mag
We'll start off this loadout with the KGB Eliminator, which will keep you off your enemy's radar when firing with a suppressor. It will also give you improved vertical recoil control at the cost of some horizontal recoil.
Luckily, the Spetsnaz Grip will make up for the horizontal recoil control that you lost. It will also reduce some shooting movement speed, that's not too noticeable when using an AR, and the GRU Elastic Wrap is perfect for quicker ADSing.
We picked the 16.7" VDV Reinforced Barrel because it will give a gigantic boost to the weapon's effective damage range, while also improving the bullet velocity. This prepares it for those long-range encounters where you want to pick off enemies from a distance.
We'll cap off this loadout with the 40 Rnd Speed Mag which will increase both your starting ammo and maximum ammo capacity. It will also give a slight boost to your reloading speed, which allows you to fire continuously.
Best perks for the Groza loadout
Perk 1: Flak Jacket & Tactical Mask
Perk 2: Gearhead & Assassin
Perk 3: Ghost & Ninja
The Flak Jacket will grant you resistance to thrown, explosive projectiles and equipment, whereas the Tactical Mask provides complete immunity to gas. Needless to say, this will come in handy at various points during a match.
Gearhead speeds up the recharge rate of equipment, and Assassin helps us greatly in the quest to attain higher Scorestreaks.
Finally, we recommend Ghost to keep you off those pesky UAVs, and Ninja is a timeless classic that limits the noise you make.
Most recent C58 buffs and nerfs in Cold War
The Groza was updated thanks to the Season 5 weapon patch notes for Black Ops Cold War, here are its changes.
You can see the full list here:
Reduced vertical recoil by 15%.
Reduced weapon movement when walking in ADS.
Moved Iron Sights view farther away from the player camera.
Increased Horizontal Recoil Control bonus on Spetsnaz Grip from +17% to +25%.
Increased Vertical Recoil Control bonus on Spetsnaz Grip from +7% to +15%.
Increased ADS Time bonus on Spetsnaz Field Grip from +15% to +30%.
Reduced Flinch Resistance mitigation on Spetsnaz Field Grip from +80% to +70%.
Increased Sprint to Fire Time bonus on KGB Pad from +30% to +50%.
Reduced Hip Fire Accuracy penalty on KGB Pad from -30% to -20%.
How to unlock the Groza in Cold War Season 5
Unlocking the Groza Assault Rifle is easy enough in Cold War Season 5 as you just need to clear its requirement.
Here's how to unlock the Groza Assault Rifle:
In Cold War multiplayer / Warzone: Using Assault Rifles, get kill without dying in 15 different matches
In Cold War Zombies: Using Assault Rifles, kill 250 zombies with an Assault Rifle while they're stunned by Stun Grenades or Dead Wire
Best alternatives to the Groza
The Groza will get the job done, but if you want some variation or something else to try, the new TEC-9 is a fun alternative. Also, the XM4 is another weapon that's been buffed significantly, so make sure to give it a whirl, especially with its secret attachment!
---
With this loadout, you'll be able to use the Groza AR to dominate medium and long-range conflicts. You can also try out different attachments and perks to see if they serve you well in the latest season.
Also, see where the Groza stacks up against the rest of Cold War's weapons and check out Charlie INTEL's best Groza loadout for Call of Duty: Warzone Season 5 too!
Image Credit: Activision / Treyarch
When is the next Cold War & Warzone Double XP event?
We have the dates and times for the next CoD: Cold War and Warzone Season 6 Double XP event to help you rank up weapons and Battle Passes.
With so many Prestige levels, different weapon levels, and Battle Pass levels in Cold War and Warzone in Season 6, it's only natural to want more XP. Here's when the next CoD Double XP event is going to be.
XP has been a vital component of Call of Duty's multiplayer for many years. It's the quintessential upgrade mechanic that allows you to increase your in-game level and provide you access to better gear and attachments.
Black Ops Cold War and Warzone Season 6 has already offered Double XP since it started, allowing players to level up the various aspects of the game faster.
It's now time for another one where players will be able to level up all of the new content at a much faster pace.
How to get Double XP in CoD: Cold War & Warzone Season 6
It's been announced that Call of Duty's next Double XP promotional event will be for Warzone and Black Ops Cold War and will officially start on October 29 and end on November 1.
This event will help players earn plenty of extra XP to level up during Warzone Season 6 and Black Ops Cold War Season 6.
What time does CoD: Cold War & Warzone Double XP start?
Here's a full list of the Double XP event's start time & dates in some of the key timezones:
EST – 1:00 PM
CST – 12:00 PM
PST – 10:00 AM
GMT – 5:00 PM
These special Double XP Events usually occur during a weekend, as it naturally gives players the most free time as it's away from school hours and generally when people are off work.
This will be a great way to level up the new Season 6 Battle Pass to earn the new Grav Assault Rifle and .410 Ironhide Shotgun weapons and get them ready to use in all of your future Cold War and Warzone battles.
Also, check out all the details on Call of Duty: Vanguard, including its release date, gameplay, and more.
Image Credit: Activision / Treyarch / Raven Software
Vanguard devs explain why game size will be much smaller than Warzone & Cold War
Thanks to new tech, Call of Duty: Vanguard's file size is set to be much smaller than Warzone and Cold War at launch.
Call of Duty players have grown increasingly frustrated with Warzone and Cold War's massive file size, but Activision has explained why the problem will be fixed in Vanguard.
As Modern Warfare, Warzone, and Black Ops Cold War continue to update, the games' file sizes have kept growing. Black Ops Cold War is now sitting at around 200 GB, with Warzone adding at least another 50 GB. If you have a smaller hard drive, Call of Duty doesn't leave much room for anything else.
Activision already allows you to uninstall certain aspects of the games such as Campaign and Zombies, but they have plans to significantly reduce Vanguard's file size at launch.
"Good news for hard drives everywhere," tweeted Call of Duty on October 26. "Vanguard's install size at launch will be significantly below previous Call of Duty releases."
They didn't reveal Vanguard's exact file size, but players can expect to "save up to 30%-50%+ on next-gen console and PC hard drive disk space." Although last-gen consoles weren't mentioned, next-gen editions take up significantly more room, so this should bring the sizes more in-line.
This will be done through "new on-demand texture streaming tech," which is already available in Modern Warfare and Warzone for PC. Rather than taking up space on your hard drive, textures are downloaded on the go. Warzone players previously saved around 25 GB when it was introduced, but their new tech appears to be more effective at reducing file size.
Of course, this could cause issues for players with a poor internet connection, so it remains to be seen if it'll be optional.
This also lines up with the Microsoft Store listing that Vanguard will be 75 GB on Xbox One, and 95 GB on Xbox Series X|S. These early sizes are much smaller than Cold War's 133 GB launch size.
Warzone and Vanguard will integrate later this year, bringing the new RICOCHET anti-cheat and new Pacific map. Warzone is currently tied to Modern Warfare, but it's expected to shift over to Vanguard with Season 1. This could bring across the new tech, but we'll need to wait for official confirmation.
We're less than a fortnight away from Vanguard's November 5 release, so we expect to find out more details before launch.
---
For more Call of Duty: Warzone, you can check out YouTuber JGOD's best weapons ahead of Vanguard's integration.
Image Credit: Activision
Overwolf respond to Warzone & Cold War Windows 11 player bans
Overwolf have responded to reports that Warzone and Cold War players are getting permanently banned for using it alongside Windows 11.
Call of Duty PC players have reported that using a combination of Windows 11 and Overwolf software is getting them permanently banned from Warzone and Cold War, and Overwolf have now responded to the issue.
Call of Duty devs have been waging an ongoing war with hackers and cheaters, with one dev saying that they are "ruining some of the best work" of his life. Over 800,000 accounts have now been banned, but perhaps not all bans are fair.
Cold War and Warzone PC players are claiming that upgrading to Windows 11 and using it alongside Overwolf is causing them to be permanently banned. Overwolf have now acknowledged the issue and put measures in place to prevent these wrongful bans.
Overwolf is a platform used to create and install in-game apps, such as 'Outplayed' which allows players to record their footage. However, this Overwolf app is reportedly causing permabans when used alongside Windows 11.
Several users, including Reddit user WraithGG, claimed they were permanently banned from Warzone after attempting to open Cold War on an Insider Build of Windows 11, with Outplayed from Overwolf open. WraithGG said that this is a "well known and apparently rather common issue," and both Activision and Overwolf are "refusing" to lift the ban or help.
"I have finally received a response from Activision telling me that despite being innocent, they cannot unban my account," said WraithGG. "They have acknowledged the error in the ban, but are refusing to lift the ban as all bans are final."
Overwolf have now responded to the issue. In a blog post, they said that "we are aware of a number of users who have been banned after playing Cold War and Warzone on Windows 11 while using Overwolf."
"While we are not responsible for the bans, Support Main is one of our core values and we immediately began to look into the issue to protect gameplay and our community," they continued. "For background, Cold War has been supported on Overwolf for months without any bans or issues."
They then outlined the steps they've made since:
"We have released an update to our games list to change the way the Overwolf overlay works and will no longer trigger a ban from Activision while using Windows 11. It's important to note that in the 24 hours following this change, we have not had any new ban reports.
We're working closely with the very top levels at Activision, and we'll do whatever we can to help those whose accounts have been banned. We can't promise it will work, but we'll give it our best shot."
Overwolf said they will keep the community updated if they have any more information to share.
Now that the issue has been officially acknowledged, Activision may change their stance and unban players flagged for using Windows 11. This could be a similar story to Cold War Zombies players who were unfairly banned by the Sail 630 Nuclear Bug, and later had their accounts restored.
These reports have made some users worried about Vanguard's upcoming kernel-level RICOCHET anti-cheat, which launches with its Warzone integration.
Image Credit: Activision