Best landing spots in Fortnite Season 5 by chest count
Fortnite Island has gone through some changes for Season 5. Here are the best landing spots based on how many chests spawn in each location.
The Fortnite map has gone through several changes in Chapter 2, Season 5. This means that there are brand new areas filled with chests. You'll find more chests in certain locations and fewer and others. Here are the best places to land.
After the epic conclusion of Fortnite's Marvel-centric Season 4 with the Galactus live event, The Mandalorian headlines Season 5 with brand new skins, cosmetics, and missions.
The map itself is considerably different, with new additions such as the Stealthy Stronghold and Hunter's Haven. We've also seen the return of Tilted Towers, which is now called Salty Towers, as a combination between Tilted Towers and Salty Springs.
This means that you'll find more chests in a few key areas. Here are the best Fortnite Season 5 locations that have the most chests.
Where to find the most chests in Fortnite Season 5
In Seasons 3 and 4, you would find the highest amount of chests in Misty Meadows, but after the latest map changes, this is no longer the case. Thanks to the Fortnite stats site LootLake, we can track the total amount of chest spawns in Chapter 2, Season 5.
Lazy Lake is the richest location in terms of chests with 41 possible chest spawns. Sweaty Sands comes in second place with the total possible amount being 34, and Misty Meadows closely follows with 33. These are the areas you'll want to visit first in Season 5.
Now we'll come to the new additions on Fortnite Island. Hunter's Haven is located near the center of the map and is among the richest areas of chest spawns. You can find 21 chests, and you have a chance of getting 15 more from the surrounding area. This makes the location a hotspot for players to land, so be ready for a fight.
After visiting Hunter's Haven, make your way to Colossal Coliseum. This new location isn't as big as the others, but the loot is concentrated in one area as a result. You can find plenty of chest spawns across the entire Coliseum and that makes this a very popular location.
Stealthy Stronghold is also a great landing spot. You can find this area just north of Pleasant Park. There at least 16 chest spawns within this enclosure, with the possibility of more being in the nearby area.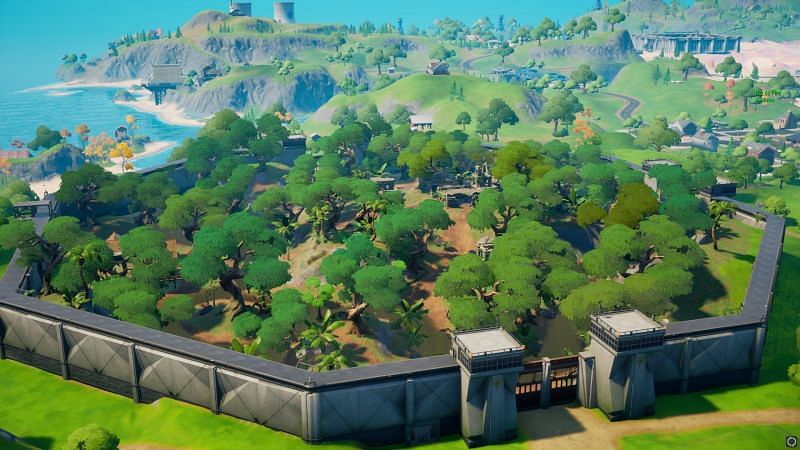 You can find the most chests at Lazy Lake, making this the best landing spot in Season 5. Once you've collected your fill, you can rotate to the other locations we listed. A few of these are near each other so that makes things a bit easier.
That covers all the best landing locations for collecting chests in Fortnite Chapter 2, Season 5. Just know that you won't be the only one coming to these searching for loot, so keep your weapon ready.
Fortnite leak claims skateboards coming soon as new movement mechanic
A new leak has emerged, suggesting that Fortnite Chapter 3, Season 3 will add a skateboard and skating mechanic.
According to new Fortnite leaks, Epic Games are planning to add skating mechanics and a new skateboard vehicle in Fortnite Chapter 3, Season 3.
Epic Games brought plenty of new content for players to explore in Fortnite Chapter 3, Season 3, including the addition of the Indiana Jones cosmetic skin and new mechanics such as Runaway Boulders.
The developers always keep the game fresh with new content, and a new leak suggests that they're currently working on a new mechanic and vehicle that will be introduced in Chapter 3, Season 3.
Notable Fortnite leaker 'HYPEX' claims that Epic Games are developing new skating mechanics that will make way for the addition of skateboards or roller skates in the battle royale title.
The leaker stated that this new mechanic will be similar to the in-game sliding, as you'll be slower when going uphill and faster coming down. If this leak is accurate, then players will have a new way to get around the map.
Another leaker with the name 'InTheShade' tweeted a gameplay video showcasing this new mechanic in action. While the video is obviously just a rough test, it shows the Fortnite player sliding across the map without crouching.
The character also moves faster when going downhill and is able to kick the board to pick up some speed. Moreover, it seems like jumping from heights with a skateboard will allow you to avoid heavy fall damage.
At the time of writing, it's unclear if this mechanic will actually make its way into Fortnite, as this information is based purely on leaks. We'll need to wait for Epic Games to confirm whether or not players will be able to skate in the game.
The developers have added skating-themed summer cosmetics in the Item Shop before, so it would make sense for them to add skateboards as well as a new POI that resembles a skate park.
---
For more Fortnite content, check out the v21.10 Fortnite update patch notes and how to get Fortnite's new Ripsaw Launcher.
Image credits: Epic Games
How to unlock free Naruto Fortnite cosmetics with Nindo challenges
Here's how you can complete the Nindo challenges and earn rewards in the new Fortnite and Naruto collaboration.
There is a new set of Naruto cosmetics available in Fortnite, and you can get your hands on them by completing the Nindo challenges for Itachi, Hinata, Gaara, and Orochimaru.
Fortnite Chapter 3, Season 3 features a ton of fun crossover content, and the new Naruto collaboration has added plenty of brand-new cosmetic items along with challenges for you to complete.
Tackling these Nindo challenges will allow you to redeem new Naruto cosmetic items for free. We'll go over each Nindo challenge that you need to complete along with the rewards that you can earn.
How to complete the Fortnite Naruto Nindo challenges
In Fortnite Chapter 3, Season 3, there are Nindo challenges available from June 21 to July 7, and you'll need to sign in with your Epic Games account on the Fortnite website to track your progress.
There are different paths for the characters Itachi, Hinata, Gaara, and Orochimaru. These require you to complete tasks such as catching fish, scoring eliminations, and surviving storm circles.
Here's a breakdown of all character paths along with their respective rewards.
| | | |
| --- | --- | --- |
| Character Path | Reward | How to unlock |
| Itachi | Shocked Itachi Emoticon | Finish in the Top 6 a total of five times |
| Gaara | Focused Gaara Emoticon | Survive 24 storm circles |
| Hinta | Byakugan Hinata Emoticon | Catch 20 fishes |
| Orochimaru | Orochimaru's Smile Emoticon | Get 18 eliminations in total |
Successfully completing any character's path will grant you the Akatsuki Weapon Wrap along with 20,000 XP. You can complete all four paths in order to earn a total of 80,000 XP along with the free Manda glider.
After you've signed in with your Epic Games account on the Fortnite website, it will track the in-game points that you earn by completing these challenges and then deliver the rewards directly to your account.
---
For more Fortnite content, be sure to check out how to get the Ripsaw Launcher in Fortnite Chapter 3, Season 3 as well as everything we know about Juice WRLD coming to Fortnite.
Image credits: Epic Games
How to get the Ripsaw Launcher in Fortnite Chapter 3, Season 3
The Ripsaw Launcher is a brand-new weapon in Fortnite Chapter 3, Season 3, and here's how you can get your hands on it.
The Ripsaw Launcher is a new weapon that you can unlock in Fortnite Chapter 3, Season 3, and we'll go over its location on the map as well as how to use it.
Fortnite Chapter 3, Season 3 features a plethora of fun content for players to unlock, including cosmetic skins of popular characters like Indiana Jones as well as powerful weapons like Darth Vader's Lightsaber.
Now, Epic Games have added another weapon for you to get your hands on, and we'll go over everything that you need to know about the Ripsaw Launcher, including its location on the Fortnite map.
How to get the Ripsaw Launcher in Fortnite
The Ripsaw Launcher can be found at a factory that's located northeast of Logjam Lotus on the north end of the Fortnite map. Go inside the factory and the weapon will be hanging on a wall, just waiting to be collected.
Once you've gotten your hands on the weapon, you can use it to shoot a blade that is capable of shredding through builds, dealing 25 damage to buildings, 60 to players, and 100 to vehicles.
The launchers can hold up to 10 blades, and these continue to dish out damage for a total of 10 seconds when fully charged. You can charge it by simply holding the 'shoot' button for three seconds.
Since the Ripsaw Launcher is currently only found at one location, you might encounter heavy opposition from enemy players after arriving there, so we recommend collecting high-tier weapons and healing items before you go.
Once you acquire the weapon, you can also use it in combination with some of the other Chapter 3, Season 3 additions like the Grapple Glove to swing around the map and destroy enemy builds.
---
For more Fortnite content, check out our list of the best Fortnite landing spots as well as how to unlock Super Styles in Fortnite Chapter 3, Season 3.
Image credits: Epic Games