Best landing spots in Fortnite Season 5 by chest count
Fortnite Island has gone through some changes for Season 5. Here are the best landing spots based on how many chests spawn in each location.
The Fortnite map has gone through several changes in Chapter 2, Season 5. This means that there are brand new areas filled with chests. You'll find more chests in certain locations and fewer and others. Here are the best places to land.
After the epic conclusion of Fortnite's Marvel-centric Season 4 with the Galactus live event, The Mandalorian headlines Season 5 with brand new skins, cosmetics, and missions.
The map itself is considerably different, with new additions such as the Stealthy Stronghold and Hunter's Haven. We've also seen the return of Tilted Towers, which is now called Salty Towers, as a combination between Tilted Towers and Salty Springs.
This means that you'll find more chests in a few key areas. Here are the best Fortnite Season 5 locations that have the most chests.
Where to find the most chests in Fortnite Season 5
In Seasons 3 and 4, you would find the highest amount of chests in Misty Meadows, but after the latest map changes, this is no longer the case. Thanks to the Fortnite stats site LootLake, we can track the total amount of chest spawns in Chapter 2, Season 5.
Lazy Lake is the richest location in terms of chests with 41 possible chest spawns. Sweaty Sands comes in second place with the total possible amount being 34, and Misty Meadows closely follows with 33. These are the areas you'll want to visit first in Season 5.
Now we'll come to the new additions on Fortnite Island. Hunter's Haven is located near the center of the map and is among the richest areas of chest spawns. You can find 21 chests, and you have a chance of getting 15 more from the surrounding area. This makes the location a hotspot for players to land, so be ready for a fight.
After visiting Hunter's Haven, make your way to Colossal Coliseum. This new location isn't as big as the others, but the loot is concentrated in one area as a result. You can find plenty of chest spawns across the entire Coliseum and that makes this a very popular location.
Stealthy Stronghold is also a great landing spot. You can find this area just north of Pleasant Park. There at least 16 chest spawns within this enclosure, with the possibility of more being in the nearby area.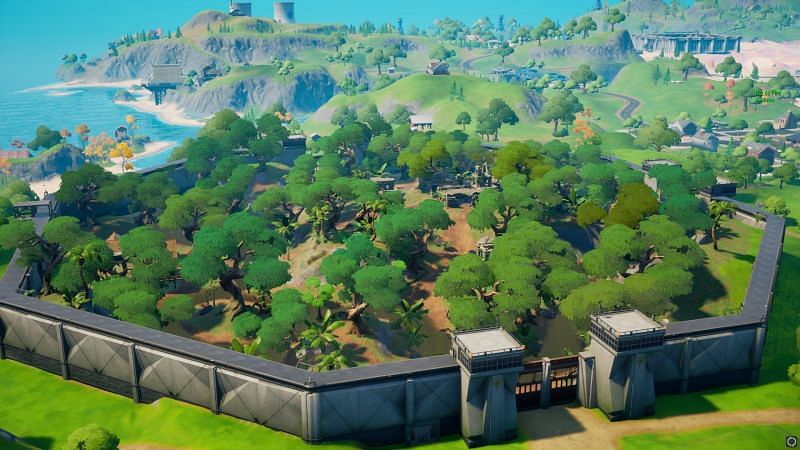 You can find the most chests at Lazy Lake, making this the best landing spot in Season 5. Once you've collected your fill, you can rotate to the other locations we listed. A few of these are near each other so that makes things a bit easier.
That covers all the best landing locations for collecting chests in Fortnite Chapter 2, Season 5. Just know that you won't be the only one coming to these searching for loot, so keep your weapon ready.
Fortnite player discovers genius tricks for off-road tires
A clever Fortnite YouTuber has discovered some genius tricks you can pull off with Season 6's new tires, and they don't involve vehicles.
A clever Fortnite player has found some genius ways to use Fortnite's new tires, and not in ways you might expect.
A major part of Fortnite is discovering clever ways you can use your builds, the environment, items, and weapons to get the upper hand on your opponent. Chonkers off-road tires arrived with the 16.20 update, and while they are designed for modding vehicles, the community has already discovered their other uses.
Fortnite YouTuber Ryuzanami has demonstrated several tricks you can pull off with the tires, and, surprisingly, none of them involve vehicles.
As Fortnite players have become more advanced at the building mechanics of the game, taking and getting through other players' walls has become one of the most important aspects of the game. Ryuzanami showed that you can use the tires to phase through walls 100% of the time. If you throw the tire into the corner, push up against the wall, and break it, you are guaranteed to get through.
With the storm ever closing in, you can also use these tires to boost your movement speed. As you jump off the tire, you can continue to pick them up, repeating the process until you're safe from the storm. Or, mid-fight, you can throw the tires on the ground below you and use them to take height from your opponents.
Once you have this height, you can also use the tires to avoid fall damage. Throw the tires on the floor below you then build a floor above, jump on top of the tires, then they will remain below your feet and break your fall. Just don't pick up the tires on the way down or you'll fall to your death.
Also, using their bouncy nature, you can throw them at opponents forcing them to take fall damage. However, this is extremely situational and is more fun than a competitive strategy.
With these tips in mind, keeping one of your inventory slots free for tires can provide you with a plethora of opportunities to get the upper hand in build fights.
Image Credit: Epic Games
Where to talk to the Joneses for Fortnite Season 6 Spire challenge
To complete Fortnite Season 6's Spire Quests, you'll need to talk to the Jonses, so here's where you can find them.
Raz's Spire Quests ask you to talk to five Joneses around the Fortnite map, so here are the locations of each Jonesy NPC in Season 6.
Fortnite's 16.20 update finally brought vehicle mods and new bows to wield, as well as a new set of Spire Quests to earn you a ton of XP and a purple variant for Battle Pass skin, Raz. These quests, which advance Fortnite's story, are completed in stages, so once you'll need to do them in order.
Players have become stuck trying to talk to five Joneses near the end of the quests, so we've got all of their locations to help you complete them.
Where to find the Joneses for Fortnite Spire Quest
As Fortnite's story has progressed, several different versions of Jonesy have arrived. These can all be found on the island, and you need to talk to them to complete Season 6's Spire Quests.
Here are the locations of each Jonesy on the Fortnite Season 6 island.
Castaway Jonesy: Desert island northeast of Steamy Stacks
Bunker Jonesy: Found in multiple locations on the map, e.g Lighthouse Building to the northwest of Stealthy Stronghold
Grill Sergeant: At the Durr Burger Food Truck east of Stealthy Stronghold
Wreck Raider: North end of Coral Castle
Suntan Specialist: Found on the beach at Sweaty Sands
Rex: In the building east of The Spire
Sash Sergeant: Playpark in Weeping Woods
Cabbie: Building in the south-end of Lazy Lake
Slurp Jonesy: Inside main factory at Slurpy Swamp
You only need to find five of the Joneses around the map, but you'll be hard-pressed to find all five in one match of Battle Royale or Team Rumble. Plan a route depending on the Battle Bus's line and you'll be able to complete this challenge in only a few matches.
Where to find and duel Jonesy the First
After you've found the five Joneses around the Season 6 island, you'll be tasked with finding and dueling Jonesy the First. Luckily, he's always in the same location. You can find him in the house on the northwest corner of Pleasant Park.
Simply talk to him and select the duel option to begin the fight. We recommend gathering some weapons, shields, and materials before taking him on. He shouldn't be difficult to defeat, but you could find yourself struggling if you're unprepared.
---
Finding the Joneses and dueling the OG isn't particularly difficult, but is time-consuming. However, with this guide, you should complete the spire quests in no time. And be sure to check out the Week 5 Quests for some extra XP.
Image Credit: Epic Games / Fortnite.GG
How to get special Fortnite x Batman skins
Exclusive Batman universe themed skins are available in Fortnite Season 6, and here's how you can get them for yourself.
The Batman x Fortnite comic book run has tied in the DC Universe with the battle royale, and players can get their hands on some exclusive DC-themed skins, including Batman himself.
Epic Games have introduced various Fortnite crossovers with notable franchises like Terminator, Street Fighter & Star Wars. Now, DC has entered the arena with its own set of popular characters like Batman.
The two franchises are combining together in the Batman/Fortnite: Zero Point comic book crossover. Purchasing each book in the series will grant you special items like character skins. Here's how you can get them for yourself.
How to unlock Rebirth Harley Quinn Outfit
Rebirth Harley Quinn is the first DC outfit that will become available to you after purchasing the Batman/Fortnite comic. We've known about this outfit ever since it was leaked by Fortnite data miners a while back.
As you can gather from the name, this outfit is based on Harley's appearance during thee DC Rebirth run in the comics. She wears a red and black jacket, top and shorts, alongside red and blue pigtails.
Even if you decide not to pick up the comic book issue for yourself, you'll still be able to get your hands on this skin when it becomes available in the Fortnite Item Shop in June 2021.
Armored Batman Zero Outfit
The Armored Zero Outfit for Batman can be seen in issue 2 of the Batman/Fortnite: Zero Point comic. If you want this item, then you'll have to purchase all six issues of the crossover book, since that's the only means of acquiring it.
While we currently don't know what the in-game model of the suit looks like, you can take a look at its art in the comic, and fans who collect all six issues will get to see it in the coming months. This implies that we might not see this outfit in the Item Shop.
Deathstroke Outfit in Fortnite (Rumor)
A few leaks emerged recently, claiming that Epic Games are set on bringing another major DC Comics character to The Island in the form of the supervillain Deathstroke. He might become available to unlock as part of a future issue of the comic.
This information came from the same data miner that previously leaked the Harley Quinn skin, and they confirmed that Deathstroke is "100% becoming a skin in Season 6," so we should expect to see him arrive soon.
While this seems likely, it's worth keeping in mind that this is currently just a rumor, so take it with a grain of salt. Hopefully, Epic will confirm his arrival in the Fortnite through an official announcement soon. If they do, we'll be sure to update this article.
Image Credits: Epic Games / DC