Black Ops Cold War features FOV slider & Ping system on all platforms
Treyarch has announced the addition of a highly requested feature: field of view (or FOV, for short) slider.
As part of the blog post detailing the ways to play in the Black Ops Cold War beta, Treyarch has announced that an FOV slider will be available on ALL platforms for the game.
FOV slider has been highly requested as it allows players to change the view of the screen they can see. PC players have been able to do this for titles for a long time, but console players have not. Treyarch is now allowing console players to match the PC experience in how wide they want to make their own field of view.
In addition to the FOV slider, the game's beta will also offer HUD Visual Toggles, including removing health bars, and more options to pick from.
The team is also announcing the addition of a Ping system to MP, allowing players to communicate more accessibly with teammates across MP modes.
Read on below for the full details.
FOV Slider on All Platforms
We're extremely excited to bring the Field of View (FOV) slider feature to all platforms for the first time in a Black Ops game, and you'll be able to try it out during the Beta. This is another way we're optimizing Black Ops Cold War for a globally connected, cross-play experience, and the team is dedicated to providing the best performance possible for this feature across all platforms at launch. Give it a shot this weekend and see which setting feels right for you.
HUD Visual Toggles
It's our goal to offer a wide range of heads-up display (HUD) element settings so you can customize your UI experience to what works best for you, even during the Beta. This includes the ability to toggle visuals for the compass, enemy and ally health bars, hit markers, crosshairs, player names, and button hints. In Black Ops Cold War, how much you see on your HUD is up to you.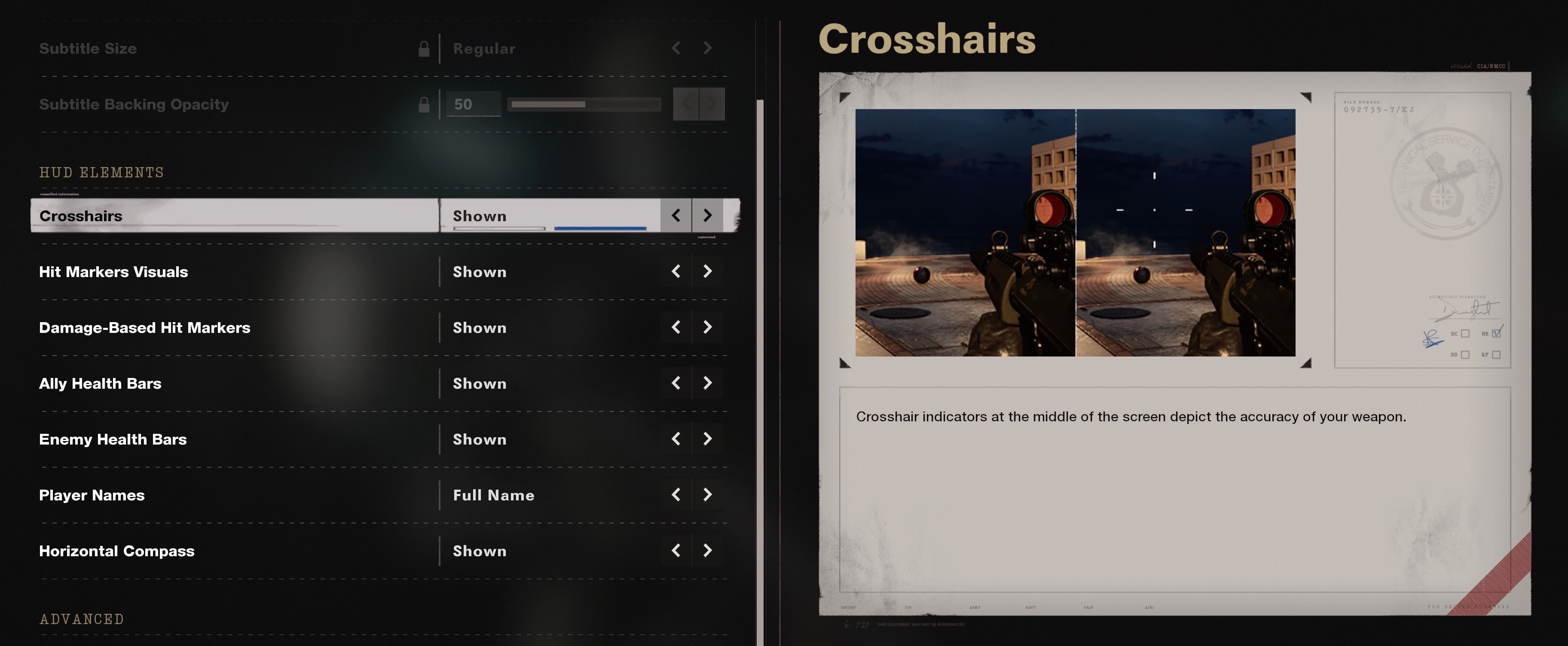 Ping System:
For the first time in Black Ops Multiplayer, we're adding a locational Ping system as a feature across all MP modes, allowing you to ping objectives, loot, locations, and enemies for your teammates during a match. From Team Deathmatch to Fireteam: Dirty Bomb, you can use the Ping system to communicate non-verbally with your teammates for increased coordination.
By default, Ping is mapped to D-pad left on controllers and bound to Z on keyboards. You'll also find alternate Ping-prioritized button layouts, like Bumper Ping and Bumper Ping Tactical, in the Gameplay Settings menu. Coordinate with your team by pinging objectives, pointing out loot for your Fireteam, or warning your squad of nearby danger by double-tapping Ping (or the dedicated Danger Ping key on keyboards). And for those tired of asking the age-old question, "Can anyone take out that Spy Plane?" … you can even ping enemy Scorestreaks.
SOURCE: Treyarch
Cold War devs respond to claims ZRG 20mm Sniper Rifle isn't powerful enough
A dev response has been issued to complaints that CoD: Cold War's ZRG 20mm Sniper Rifle isn't as strong as advertised.
Season 2's ZRG 20mm Sniper Rifle is finally in CoD: Cold War, but players are complaining that its description and damage are misleading. A Treyarch dev has addressed these reservations.
The LW3 Tundra, Pelington 703, and M82 already provide players with some solid options to cap enemies from a long distance, but the ZRG 20mm is here to take that crown. The one-hit, bolt-action Sniper Rifle aims to add an extra dimension to Black Ops Cold War matches moving forward.
However, its early days are being shrouded in controversy as players believe that the weapon isn't as devastating as perhaps it should be. One of Treyarch's devs has replied to the Reddit thread making these claims to explain why this isn't the case.
According to the ZRG 20mm's Official description, it "Deals higher damage to vehicles." Yet, with closer inspection, the Sniper Rifle's own stats seem to contradict this.
Its Vehicle Damage states it does 440 per hit, whereas one of its nearest competitors, the M82, does 825 Vehicle Damage. This represents nearly a 100% increase over the ZRG 20mm and got people wondering.
But renowned Treyarch dev Josh "FoxhoundFPS" Torres stepped in to intervene saying,
"Hey there! Spoke with our Multiplayer Team and we have the following to share: The ZRG 20mm has built-in armor-piercing properties which aren't accounted for in the Vehicle Damage values. We're already discussing this with the UI team on how to make that more clear in the detailed stats. Thanks for the feedback!"
So in actual fact, the ZRG 20mm does do more Vehicle Damage as it states, and its extra damage is just currently hidden away.
So for anyone wanting to unlock the ZRG 20mm and use it for CoD: Black Ops Cold War's bigger modes involving vehicles, it's absolutely worth using.
It's another positive example of devs responding quickly to an issue as well, a point we discussed in our 8 things we want to see in Call of Duty 2021 article.
Image credits: Treyarch
When does Warzone & Cold War Season 3 start? Season 2 end date
Warzone & Black Ops Cold War Season 2 has finally dropped, but when will they end, and when will Season 3 commence?
We're fast approaching the end of Warzone and Black Ops Cold War Season 2, so when does Season 3 begin and what does it have in store?
Ever since the integration of Black Ops Cold War into Warzone, we've seen a vast number of additions and changes to both games. The subsequent updates have allowed Verdansk to expand with Rebirth Island, and even incorporate Zombies into Warzone.
Warzone Season 2 has also introduced some other pretty hefty changes to the games including some pretty interesting map changes to freshen things up, and also two new weapons from Black Ops Cold War, the FARA 83 Assault Rifle and the LC10 SMG, that could shift the meta.
We're already hearing mumblings and murmurs of potential new content for the future though, with Warzone Season 3 spying a huge revamp in April. So we begin to wonder, how long will Season 2 actually last for, and when can we expect CoD to drop Season 3 of both Black Ops Cold War & Warzone?
Warzone & Cold War Season 3 start date
Previous seasons of Modern Warfare and Warzone, before its numbered season reboot, usually lasted around 10 weeks, and this has proven to be the case for Warzone & Black Ops Cold War.
Season One officially began on December 16, 2020, with the newest season beginning on February 25, 2021. This is approximately a 10-week gap between both which is in keeping with type.
The current Battle Pass has presented a set date it's expected to end, and a new season usually starts shortly after last season's Battle Pass has expired. With the information we currently have, we can expect Season 3 to begin on April 22, 2021.
This lines up with the confirmed season end date of April 21, given in the first Warzone nuke event teaser. It says the event will go live at 12 PM, as Verdansk will be completely overtaken by the undead.
Cold War Season 3 weapons
Call of Duty leakers have discovered some upcoming weapons in Warzone's game files. Since these files are usually only added when weapons are in the final stage before release, we might see them arrive in Season 3.
Among them was a fast-firing burst Assault Rifle that could potentially be a Tactical Rifle like the M16 and AUG. Another weapon in the files seemed to be an SMG described with 'spray,' which probably means that it boasts a high fire rate.
The classic Ballistic Knife from the original Black Ops will also be arriving in Warzone and Cold War in the upcoming season. This projectile melee weapon has become a staple of the Call of Duty franchise, so it's an exciting addition.
The data miners also stated that a new full-auto pistol and a Baseball Bat melee weapon might be joining the game in the Season 3 Reloaded update or in Season 4.
New Cold War Season 3 Trailer hints at Warzone Verdansk crossover
On April 15, Treyarch's Official Twitter account posted an interesting new teaser trailer that suggested where Season 3 could be heading next.
Here is the full Tweet accompanied by the trailer.
After unsuccessfully extracting Adler from Laos, the team has now been able to track down his, and Stitch's, whereabouts to Verdansk. Given that Verdansk is facing the possibility of being nuked, it remains to be seen how the two games could potentially crossover.
Warzone & Cold War mid-Season 2 update
While we waited for Black Ops Cold x Warzone Season 3, Activision released a mid-Season update with a ton of new content on March 29 at 9PM PT.
This brought three new maps to the game's multiplayer, with Golova for Fireteam, Mansion for Gunfight, and Miami Strike for 6v6. Also, for the Zombies fans out there, Sanatorium will be joining the roster of Ural Mountains maps available in the Outbreak game mode.
The ZRG 20mm Sniper Rifle has also arrived, along with a load of weapon balancing in Cold War.
1980s revamp leaked for Warzone Season 3
We got a first look at what the next evolution of Verdansk will be in a celebrity commercial that was posted to Twitter. It showed the map getting a 1980s makeover with a specific focus on a few key areas.
Stadium, Dam, Airport, and the surrounding forestry were the highlighted locations in the video, along with some changes in Downtown. Later, another possible teaser was discovered in Verdansk's Superstore in the form of a poster for the 1980s Moscow Summer Olympics.
We expect more teasers for Season 3 to pop up around Verdansk and Cold War's multiplayer, and the ones that have been found make Warzone's 1980s overhaul seem all the more likely.
We've still a bit of time to go until Season 3 and Activision will be busy concentrating on making Season Two the best it can be. They have already rolled out large-scale ban waves to accounts that are found to be guilty of cheating.
Speculation will already be ongoing as to what we'll see in Warzone Season 3, including a massive event that could change Warzone forever.
Image credits: Activision
Cold War April 15 patch notes: Custom Mods & new playlists
Custom Mods lets you save up to 10 Gunsmith Blueprints.
Treyarch released the latest Game Settings Update for Black Ops Cold War on all platforms on April 15.
The update includes a refreshed playlist, access to Custom Mods with Gunsmith Blueprints, and a preview what's coming this weekend with Triple Double XP weekend.
In addition, Season 3 officially begins next week – on April 22, so stay tuned for more updates to come as we get closer to the new season launch.
From Treyarch:
BLUEPRINT GUN GAME, APOCALYPSE 24/7 + MORE
Today's update brings the all-new Blueprint Gun Game mode to Multiplayer, along with the return of Apocalypse 24/7 and Snipers Only Moshpit to close out the season!
Progress through an arsenal of Weapon Blueprints in this new version of the free-for-all Gun Game mode. Weapon progression can change from match to match with different Blueprints available per tier, so keep on your toes and stay on target. Come out on top as the first to progress through all 20 weapons to win the match.
CUSTOM MODS IN CREATE-A-CLASS
After some final touches behind the scenes, the Custom Mods menu is now available in Create-a-Class, allowing players to name and save custom Blueprint creations via Gunsmith Customs and take them into their next match. Dead Ops Arcade 3 also gets an update in Zombies today, with new XP award adjustments and bug fixes now live.
TRIPLE-DOUBLE WEEKEND STARTS TOMORROW
We're bringing out the big guns at the end of the season with a new Triple-Double Weekend, featuring Double XP, Double Weapon XP, and Double Battle Pass XP starting at 10AM PT tomorrow through 10AM PT Monday, April 19th!
Now's your chance to hit that final Prestige Level, max out the Battle Pass to Tier 100, add another Prestige Key or two to your collection, and complete every Season Challenge in Multiplayer and Zombies while you can. If you've already achieved the title of Prestige Master this season, congratulations: you've earned it. If you've still got some grinding to do, there's never been a better time than now.
SEASON THREE INCOMING
With the final week of Season Two Reloaded drawing to a close, an all-new season of content is just around the corner… and Adler's time is running out.
After falling for Naga's diversion in Laos, Woods and his team have been thrown off the scent just long enough to allow Stitch to continue his master plan for Adler. All signs point to Verdansk.
Patch Notes
GLOBAL
Features
Custom Mods

Now available in Create-a-Class. Name and save up to 10 custom Blueprint creations per weapon via the Custom Mods menu.
Addressed an issue where attachments that had not been properly unlocked through weapon progression now correctly appear locked.
MULTIPLAYER
Modes
Blueprint Gun Game

All-new version of Gun Game now available in Multiplayer.
Progress through an arsenal of Weapon Blueprints from launch through Season Two Reloaded.
Weapon progression can change from match to match, with different Blueprints available per tier.
First player to progress through all 20 weapons wins the match.

Snipers Only Moshpit

Returned to Featured Playlists.
Addressed an issue that could cause non-sniper classes to be reset when entering a match of Snipers Only Moshpit.
Featured Playlists
Blueprint Gun Game [NEW]
Apocalypse 24/7
Snipers Only Moshpit
Gunfight Blueprints
Nuketown 24/7 (also available in Hardcore)
Prop Hunt
Face Off (also available in Hardcore)
Multi-Team Moshpit
ZOMBIES
Dead Ops Arcade 3
Gameplay

Added adjustments to XP awards.

UI

Addressed an issue that could display incorrect data in the After-Action Report when playing Solo Advanced Start mode.

Stability

Added a stability fix to Silverback Slideways bonus round.
Featured Playlists
Outbreak
Firebase Z
Die Maschine
Dead Ops Arcade: First Person
Dead Ops Arcade
Onslaught (PlayStation)
Onslaught Containment (PlayStation)
Onslaught Nuketown (PlayStation)
Onslaught Apocalypse (PlayStation)
SOURCE: Treyarch