Black Ops Cold War Zombies Updates: Firebase Z, New Perk, and more
To celebrate 115 Day, Treyarch has shared a new blog post highlighting some of what's coming to Call of Duty: Black Ops Cold War soon.
The new Zombies map, Firebase Z, arrives on February 4 for free.
In their blog post, Treyarch goes in depth on the narrative origins of Firebase Z map, reveals the new Tombstone Perk, provides updates on the Onslaught mode, and more.
Firebase Z" will arrive on February 4th during Season One, free for all Black Ops Cold War players.
Today, we're excited to debut the official logo and new narrative details for our next Zombies map.
In less than three weeks, "Firebase Z" will introduce Zombies fans to an all-new location set in the jungles of Vietnam, along with new characters, new enemies, new gameplay mechanics, and much more. And, in keeping with Zombies tradition, a badass new Wonder Weapon awaits.
Now – without spoiling too much – let's get into the story so far.
REQUIEM VS. OMEGA
Dimensional breaches continue to open around the world. As both Omega and Requiem work in the shadows to ensure the secrecy of their discoveries, the greater public remains blissfully unaware of this deadly new arms race between East and West.
As the two sides continue to study the Dark Aether dimension and the Aetherium Crystals found within, each strives for an advantage over the other in the ongoing Cold War. The bad news? Requiem has fallen behind.
Omega Group's newest research outpost represents their resounding successes in harnessing Dark Aether technology for their own gains. Equipped with an on-site dimensional gateway, they've acquired the ability to send soldiers and other "conscripts" into the Dark Aether to harvest Aetherium Crystals straight from the source.
As a result, Omega Group's scientific breakthroughs in the last several months have far surpassed anything Requiem could have imagined.
DESTINATION: OUTPOST 25
With the destruction of the "Projekt Endstation" anomaly site in their wake, Grigori Weaver and the agents of Requiem turn their attention to a far greater threat: a new Dark Aether outbreak site in Southeast Asia.
After learning Agent Maxis has been captured by Omega Group, Weaver deploys Requiem's strike team to infiltrate the facility where she's reportedly being held: Outpost 25.
Against all odds, Requiem forces will infiltrate the outpost to rendezvous with an Omega Group informant, save Samantha Maxis, and above all else, survive the new horrors that await them in this abandoned research facility.
In the coming weeks, we'll have more "Firebase Z" story details, new intel reveals, and the official gameplay trailer to share in the lead-up to launch. In the meantime, let's dive into the additional content coming to Zombies as Season One continues.
NEW PERK: TOMBSTONE SODA (FEB. 4)
As we may have not-so-subtly hinted on New Year's Eve, we're bringing a seventh Perk to Black Ops Cold War Zombies alongside the launch of "Firebase Z": Tombstone Soda.
"But Treyarch," you ask, "what's so new about Tombstone?" Thanks for asking. Great question.
When deciding on the next Perk to introduce to Zombies, the design team reviewed the full history of every Perk and ability from the past that centered around death, and ultimately rolled them into an incredibly useful Perk for Black Ops Cold War. Tombstone Soda is all about manipulating and cheating the consequences of death, and you'll need it against the forces waiting for you in Vietnam.
Unlike its first incarnation in Black Ops II, the new-and-improved Tombstone Soda will now transform the player into a shadow within the Dark Aether after being downed. In this shadow form, you'll be equipped with weapons to help give you a fighting chance to revive yourself. However, if your health is reduced to zero while in shadow form, you're dead.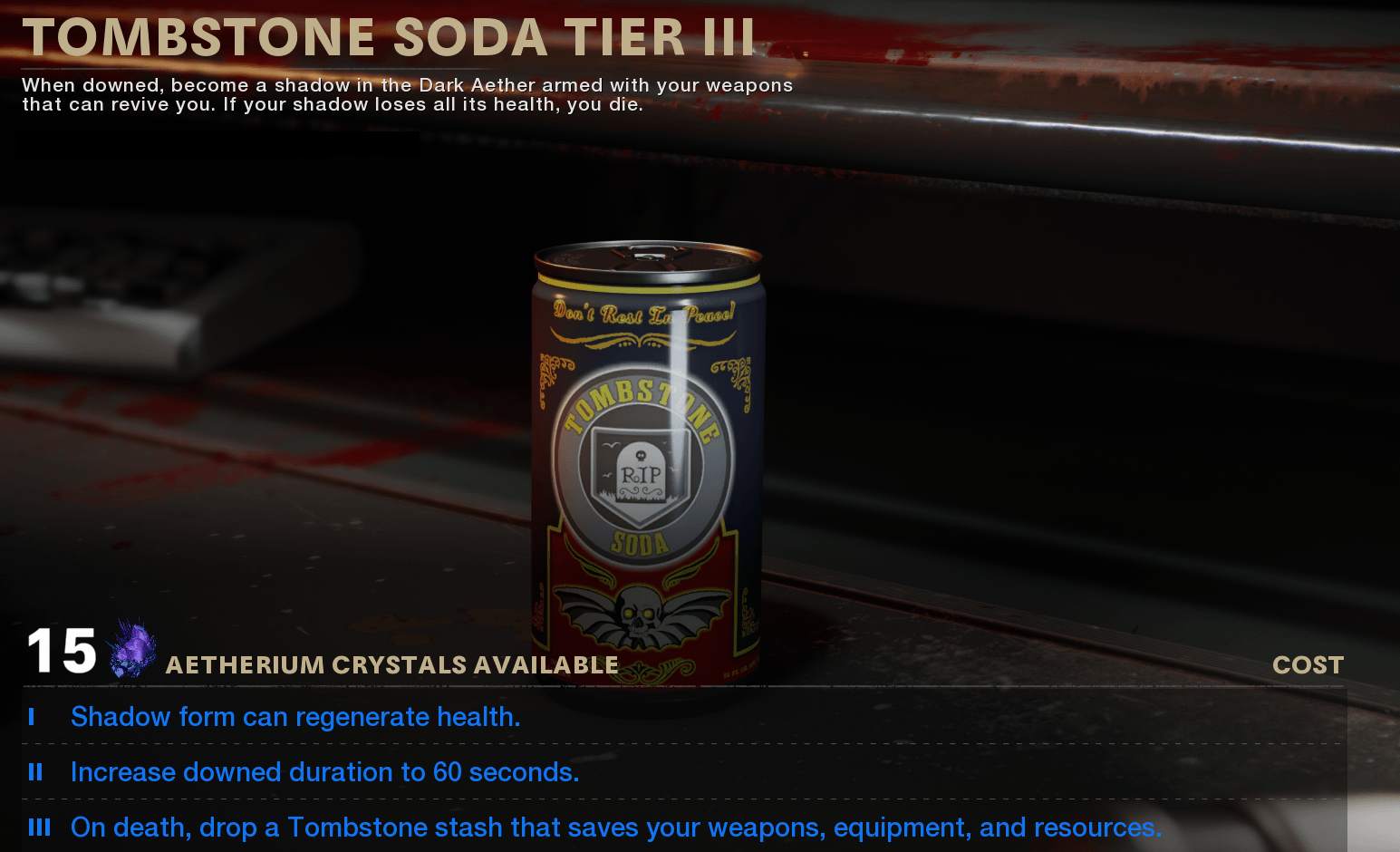 Fortunately, Tombstone's benefits only get better from there. Each Perk comes with its own set of upgradeable Skills in Black Ops Cold War, and this one's no different. By investing Aetherium Crystals into your Tombstone Perk Skill, you'll unlock the following upgrades:
Tier I – Shadow form can regenerate health.
Tier II – Increase downed duration to 60 seconds.
Tier III – On death, drop a Tombstone stash that saves your weapons, equipment, and resources.
You'll be able to grab a can from the Tombstone Perk machine in "Firebase Z," and you'll also find it in the Der Wunderfizz machine in "Die Maschine" on Feb. 4th. When in doubt, just remember those timeless jingle lyrics: Rest in pieces, down for the count…
NEW SUPPORT SCORESTREAKS AND INTEL (FEB. 4)
February 4th will also bring two new Support Scorestreaks to call in against the undead: the devastating Artillery and always-satisfying Napalm Strike. When the action gets a little too hot, head over to the Crafting Table and turn the heat even higher.
Ahh, we love the smell of crispy zombies in the morning.
And of course, a new Zombies map means new in-game Intel. Keep an eye out for new audio logs, documents, radio communications, Dark Aether dispatches, and artifacts hidden throughout "Firebase Z" starting on Feb. 4th. You never know what you might find.
Friendly reminder: if you haven't discovered 100% of the in-game Intel hidden within "Die Maschine" and Onslaught yet, now's the time to complete your collection before the story continues!
SOURCE: Treyarch
Season 1 Vanguard update set to sync progression from Call of Duty: Black Ops Cold War
Treyarch's latest announcement has detailed how Black Ops Cold War progression will sync to Vanguard with upcoming update.
As season 6 of Black Ops Cold War comes to a close, the devs have announced that an update will allow progress earned in last year's title to sync to Vanguard.
Call of Duty players have just received confirmation that playing previous Call of Duty titles will work toward progressing in Vanguard. A new update is set to hit Black Ops Cold War on December 6th in preparation for the massive launch of Vanguard Season 1 on December 8.
The patch notes detail synchronized progression with Vanguard as well as new Prestige Levels and rewards, Season Challenge unlocks for the past six seasons, new Prestige Shop content, and weapon balancing.
Black Ops Cold War fans will be happy to hear that the game is going to continue to receive updates alongside Call of Duty: Vanguard. The latest announcement from Treyarch shares plenty of info concerning shared progression across Call of Duty titles.
Players will enjoy synced progression from each of Modern Warfare, Black Ops Cold War, and Warzone toward Vanguard. This may seem complicated but it just means that playing any of the three titles mentioned above will earn progression for Vanguard.
Synced progression entails unlocking Military Rank, weapons, Equipment, and Killstreaks. In addition, there will be a ton of interesting details such as allowing players to showcase their lifetime Prestige number earned across past titles.
Some changes will go live on December 6 while the rest will occur on December 8.
Patch Notes
Progression
Synchronized Military Ranks and Prestige Levels

Military Rank and Prestige Level progression will be synchronized with Vanguard at the launch of Season One.
All players will begin the season at the Military Rank or Prestige Level they have currently reached in Vanguard, or Military Rank 1 if they have not played Vanguard yet.
Players can progress Vanguard Military Ranks in Black Ops Cold War, Warzone, and Modern Warfare to unlock weapons, Equipment, Killstreaks, and other content for use in Vanguard and Warzone.

Prestige Rewards

Complete Military Ranks 1-55 to start a new Prestige journey, with new Prestige Levels to unlock across Black Ops Cold War, Vanguard, Warzone, and Modern Warfare.
In Season One, players can earn up to Prestige 7 as they progress their Season Level. Four additional Prestige Levels will be added per season.
Each Prestige Level awards a Prestige Key, Tier Skip, Emblem, and Sticker in Black Ops Cold War.
Reach Season Level 50 in Season One to unlock the exclusive "Duck Hunt" Weapon Blueprint for use in Vanguard and Warzone.

Lifetime Prestige

Lifetime Prestige display added to Black Ops Cold War and Warzone at the start of Vanguard Season One that display the total number of Prestige Levels earned across previous seasons and in Vanguard.

Prestige Master Ribbons

Players can now continue their Black Ops Cold War Prestige Master Ribbon progression. Each season, a new Prestige Master Ribbon will be added to the current six Black Ops Cold War Prestige Master Ribbons.
Players can progress their Prestige Master Ribbons in Black Ops Cold War, Vanguard, Warzone, and Modern Warfare by reaching Prestige Master at Season Level 200.
Players can now catch up on missed Prestige Master Ribbons each time they earn 200 Season Levels in a season. For example, reaching Season Level 400 will award two Prestige Master Ribbons, if available.
Prestige Shop
Black Ops Cold War Prestige Icons will be unlocked and available in the Prestige Shop for anyone who earned them in previous seasons.
Players can now equip any acquired Prestige Icon (1-27) as long as they've reached Prestige Master at least once in a current or previous season.
Players do not need to currently be Prestige Master to access Custom Prestige Icons in the Prestige Shop.
Equipped Prestige Icons will no longer be reset at the start of each season.
Season Challenges
All previous Black Ops Cold War Season Challenges will be revealed and can be progressed by players who hadn't revealed them over the course of previous seasons. Legacy Season Challenges can continue to be progressed in Black Ops Cold War.
Starting with Season One, players can access and progress new Multiplayer Season Challenges in Vanguard and Warzone, as well as Zombies Season Challenges in Vanguard.
Weapon Unlock Challenges
.410 Ironhide

Weapon unlock challenge added to Multiplayer and Zombies for the .410 Ironhide Shotgun.

Grav

Weapon unlock challenge added to Multiplayer and Zombies for the Grav Assault Rifle.
Weapon Tuning (Dec. 6)
Marshal

Damage

Reduced Damage Range from 3.81m to 3.68m.
Increased Damage drop-off when fired beyond 3.68m.

Dragon's Breath Attachment

Now has a -5% effect on Fire Rate.
Increased Damage Range penalty from -25% to -35%.
Reduced Damage bonus from +17% to +16%.

12.1″ Extended Barrel

Reduced Damage Range bonus from +20% to +15%.
Lobby
Updated Lobby theming in Multiplayer and Zombies.
Zombies (Dec 6)
Forsaken
Closed an exploit during the Main Quest boss fight.
Added "Not Enough Essence" prompt to the Arcade Token dispenser when the player does not have enough Essence to purchase a token.
Mauer der Toten
Addressed an issue where a texture was not appearing correctly after melting the door during the Main Quest.
Outbreak
Enemies killed by Brain Rot zombies will now contribute toward the Dragon Relic World Event.
Onslaught
Added Onslaught Containment and Onslaught Deprogram to offline Local play.
Stability
Fixed stability issues related to the Arsenal.
That covers everything from the upcoming Black Ops Cold War update. If you're enjoying Vanguard, be sure to check out how this update impacts your gaming experience on December 8.
For more Vanguard content, check out why Zombies players are disappointed with Vanguard.
Image Credit: Activision / Sledgehammer Games / Treyarch
Will you be able to use Cold War and Modern Warfare weapons in Warzone Pacific?
Our quick and easy guide will answer the question of whether or not players can use Cold War and Modern Warfare guns in Warzone Pacific.
One question on everyone's mind ahead of Warzone Pacific's Caldera map is whether or not you'll be able to use Modern Warfare and Black Ops Cold War's guns in it. We will answer that for you today.
Call of Duty: Warzone already has a ridiculously bloated arsenal of weapons for players to choose from. With over 100 guns to select as of Warzone Season 6, the transition into Warzone Pacific and the new Caldera map will see all of Vanguard's guns added.
However, this begs the question for many players, will the new map and addition of nearly 40 Vanguard weapons mean that either Modern Warfare or Black Ops Cold War weapons need to miss out?
Can you use Modern Warfare and Cold War weapons in Warzone Pacific?
Fans of any of Modern Warfare and Black Ops Cold War's weapons will be pleased to know that they too will also be carrying over into Warzone Pacific.
In an exclusive interview with Dexerto, Zach Hodson, Lead Designer at Sledgehammer Games discussed how Vanguard's weapons will have to be considered when being added to all the other existing guns in the game.
He said that SHG has to keep a "separate balance sheet to track how things might work in Warzone." Presumably, this is to factor in the extra 40 guns, taking Warzone up to a total of about 150 guns for players to use.
It should be noted that Warzone Pacific game modes will tailor the guns to its different game modes. Warzone Caldera Battle Royale will allow the use of all guns, whereas Vanguard-specific modes will only allow the use of Vanguard weapons.
How to use Cold War & MW weapons in Warzone Pacific
Whilst there's nothing concrete just yet, we think that to use these weapons in Warzone Pacific, players will simply be able to select the ones they have unlocked once the Season 1 integration with Vanguard goes live.
When Black Ops Cold War and Warzone merged, it was a simple case of players being able to use the guns that they'd unlocked in Cold War, Modern Warfare, and Warzone. If you hadn't unlocked a certain gun, then you could complete a challenge condition that was different in each game.
We expect this to be exactly the same in Warzone Pacific, and it'll be up to the preference of the player, and their availability of each CoD game, to decide how to unlock particular weapons.
---
We'll be sure to update this once Sledgehammer Games and Raven Software have provided a bit more official insight into the integration of weapons.
In the meantime, check out everything we know about Vanguard and Warzone Season 1.
Image Credit: Activision / Raven Software / Sledgehammer Games
Cold War players claim they'll boycott game as "best mode" removal sparks fury
Black Ops Cold War fans are claiming they will boycott the game after the "best mode" was removed, days before Vanguard's release.
Hours before Vanguard's release, players are claiming they'll boycott Black Ops Cold War following the removal of the game's "best mode."
With Activision releasing a new Call of Duty annually, each game's lifespan is two years tops. Some CoD titles will fizzle out before then, while others hang on for dear life near the end of year two.
Vanguard aims to take players back to WWII. Many fans have expressed their disappointment with returning to an oversaturated time period. So much so that players had planned on sticking with Black Ops Cold War for a second year.
However, players' plans to stick with BOCW changed after the recent removal of the fan-favorite 12v12 mode. This isn't the first time Treyarch removed this mode, but fans have reason to believe it won't be coming back.
Fans boycott Cold War following 12v12 removal
Just days before Vanguard's release, Treyarch has pulled the plug on Black Ops Cold War's 12v12 mode. And of course, fans are furious. Players that had planned to stick with BOCW for a second year are now boycotting the game until 12v12 is reinstated.
Many fans have taken to Twitter and Reddit to express their disappointment. Tweets from users like chaigrima and ColvinoYT state that 12v12 was the "only reason" they played CW Multiplayer.
Replies to posts similar to these are from fans stating they won't be returning to BOCW until 12v12 is reinstated. And a Reddit post from u/RagingSerenity claims that 12v12 was BOCW's "best game mode" and the game is boring now that it's gone.
For the most part, fans understand why Treyarch removed the game mode. Activision wants Vanguard to sell as many copies as possible at launch. And one of the best ways to do so is to throttle players' enjoyment of a previous title.
With so many players flooding Vanguards servers over the coming days, Activision may also need to free up server space. Nonetheless, BOCW fans are still outraged at the removal of 12v12. And it's hard to say whether Treyarch can justify bringing it back after the release of Vanguard.
For more Cold War, check out when Season 6 ends and Vanguard Season 1 starts.
Image Credit: Activision / Treyarch