Black Ops Cold War Zombies Updates: Firebase Z, New Perk, and more
To celebrate 115 Day, Treyarch has shared a new blog post highlighting some of what's coming to Call of Duty: Black Ops Cold War soon.
The new Zombies map, Firebase Z, arrives on February 4 for free.
In their blog post, Treyarch goes in depth on the narrative origins of Firebase Z map, reveals the new Tombstone Perk, provides updates on the Onslaught mode, and more.
Firebase Z" will arrive on February 4th during Season One, free for all Black Ops Cold War players.
Today, we're excited to debut the official logo and new narrative details for our next Zombies map.
In less than three weeks, "Firebase Z" will introduce Zombies fans to an all-new location set in the jungles of Vietnam, along with new characters, new enemies, new gameplay mechanics, and much more. And, in keeping with Zombies tradition, a badass new Wonder Weapon awaits.
Now – without spoiling too much – let's get into the story so far.
REQUIEM VS. OMEGA
Dimensional breaches continue to open around the world. As both Omega and Requiem work in the shadows to ensure the secrecy of their discoveries, the greater public remains blissfully unaware of this deadly new arms race between East and West.
As the two sides continue to study the Dark Aether dimension and the Aetherium Crystals found within, each strives for an advantage over the other in the ongoing Cold War. The bad news? Requiem has fallen behind.
Omega Group's newest research outpost represents their resounding successes in harnessing Dark Aether technology for their own gains. Equipped with an on-site dimensional gateway, they've acquired the ability to send soldiers and other "conscripts" into the Dark Aether to harvest Aetherium Crystals straight from the source.
As a result, Omega Group's scientific breakthroughs in the last several months have far surpassed anything Requiem could have imagined.
DESTINATION: OUTPOST 25
With the destruction of the "Projekt Endstation" anomaly site in their wake, Grigori Weaver and the agents of Requiem turn their attention to a far greater threat: a new Dark Aether outbreak site in Southeast Asia.
After learning Agent Maxis has been captured by Omega Group, Weaver deploys Requiem's strike team to infiltrate the facility where she's reportedly being held: Outpost 25.
Against all odds, Requiem forces will infiltrate the outpost to rendezvous with an Omega Group informant, save Samantha Maxis, and above all else, survive the new horrors that await them in this abandoned research facility.
In the coming weeks, we'll have more "Firebase Z" story details, new intel reveals, and the official gameplay trailer to share in the lead-up to launch. In the meantime, let's dive into the additional content coming to Zombies as Season One continues.
NEW PERK: TOMBSTONE SODA (FEB. 4)
As we may have not-so-subtly hinted on New Year's Eve, we're bringing a seventh Perk to Black Ops Cold War Zombies alongside the launch of "Firebase Z": Tombstone Soda.
"But Treyarch," you ask, "what's so new about Tombstone?" Thanks for asking. Great question.
When deciding on the next Perk to introduce to Zombies, the design team reviewed the full history of every Perk and ability from the past that centered around death, and ultimately rolled them into an incredibly useful Perk for Black Ops Cold War. Tombstone Soda is all about manipulating and cheating the consequences of death, and you'll need it against the forces waiting for you in Vietnam.
Unlike its first incarnation in Black Ops II, the new-and-improved Tombstone Soda will now transform the player into a shadow within the Dark Aether after being downed. In this shadow form, you'll be equipped with weapons to help give you a fighting chance to revive yourself. However, if your health is reduced to zero while in shadow form, you're dead.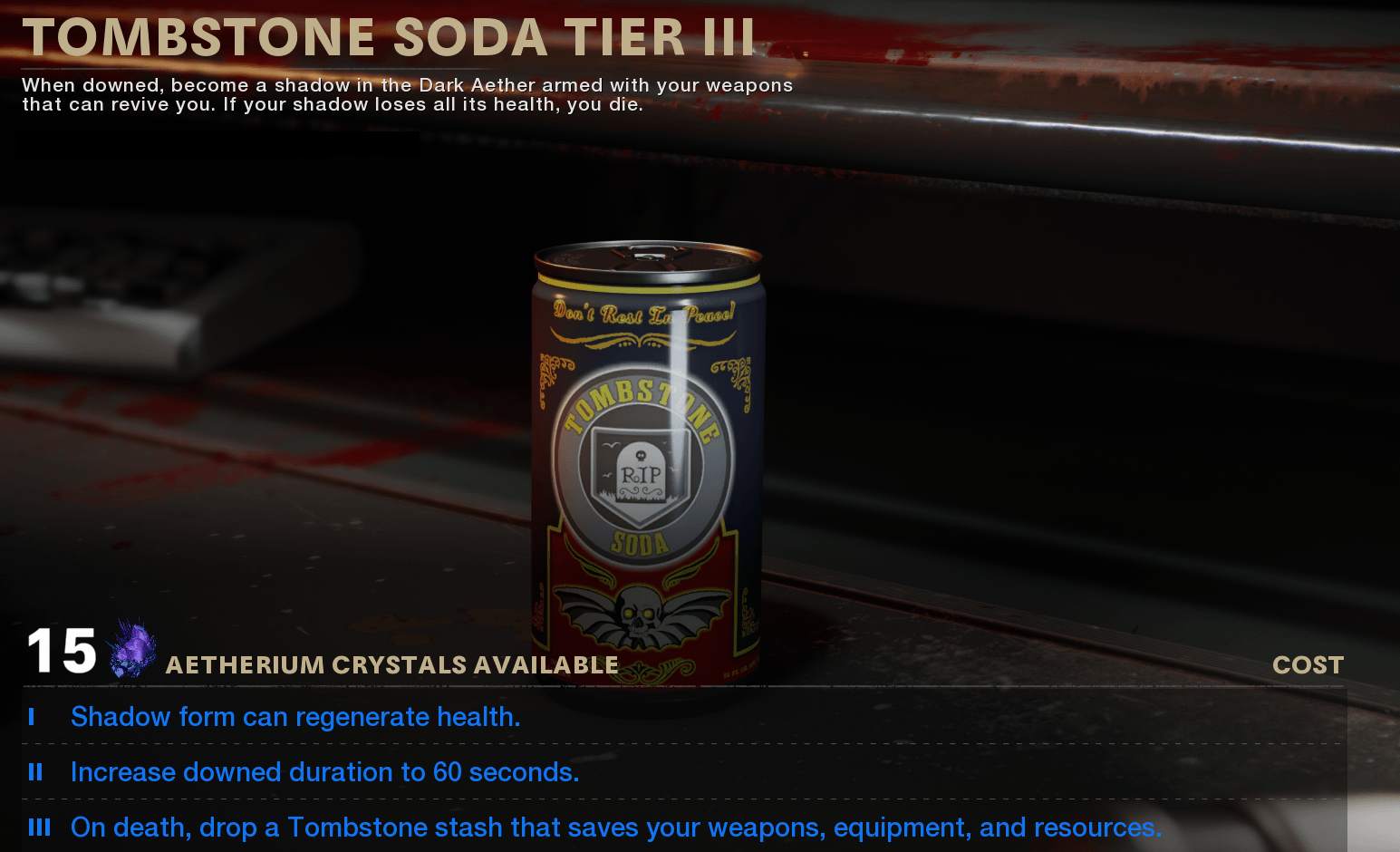 Fortunately, Tombstone's benefits only get better from there. Each Perk comes with its own set of upgradeable Skills in Black Ops Cold War, and this one's no different. By investing Aetherium Crystals into your Tombstone Perk Skill, you'll unlock the following upgrades:
Tier I – Shadow form can regenerate health.
Tier II – Increase downed duration to 60 seconds.
Tier III – On death, drop a Tombstone stash that saves your weapons, equipment, and resources.
You'll be able to grab a can from the Tombstone Perk machine in "Firebase Z," and you'll also find it in the Der Wunderfizz machine in "Die Maschine" on Feb. 4th. When in doubt, just remember those timeless jingle lyrics: Rest in pieces, down for the count…
NEW SUPPORT SCORESTREAKS AND INTEL (FEB. 4)
February 4th will also bring two new Support Scorestreaks to call in against the undead: the devastating Artillery and always-satisfying Napalm Strike. When the action gets a little too hot, head over to the Crafting Table and turn the heat even higher.
Ahh, we love the smell of crispy zombies in the morning.
And of course, a new Zombies map means new in-game Intel. Keep an eye out for new audio logs, documents, radio communications, Dark Aether dispatches, and artifacts hidden throughout "Firebase Z" starting on Feb. 4th. You never know what you might find.
Friendly reminder: if you haven't discovered 100% of the in-game Intel hidden within "Die Maschine" and Onslaught yet, now's the time to complete your collection before the story continues!
SOURCE: Treyarch
New Cold War Season 6 Zombies map teaser reveals Requiem's & Omega's target
The Dark Aether storyline continues in Black Ops Cold War Season 6, with the latest teasers revealing the plans for Requiem and Omega.
The teasers are rolling in for Black Ops Cold War's Season 6 Zombies map, and the latest has revealed Requiem and Omega's target.
Black Ops Cold War Zombies received some new content for Outbreak, including a new Black Chest World Event for the Season 5 Reloaded patch. However, fans are still awaiting the next round-based map.
Now that players are invested in the Dark Aether storyline for Zombies, players are excited to see where the story develops.
With the recent teasers alluding to where the next round-based map will be set, players now have more information on how the Black Ops Cold War Season 6 Zombies map will contribute to the Dark Aether Storyline.
Zombies' storyline has always been a big part of the mode, keeping players engaged over the years, wanting to know what will happen next. With Black Ops Cold War, players have been following both Requiem and Omega, uncovering the secrets behind the Dark Aether.
The most recent teasers were posted by Treyarch on Twitter, and since they have already teased the location of the map, it's only right that they tease some of the story. The teaser is a letter from Weaver detailing team Requiem of their next mission.
In the teaser, it seems the map's story will be centered around a new target known as Sergent Kazimir Zykov, who seems to have a lot of history and knowledge about the Dark Aether and how to "defeat the Forsaken."
Both Requiem, the good guys, and Omega, the bad guys, will be looking to capture the target, with the teaser stating that if Omega's leader, Kravchenko, succeeds, they will lose Zykov for good.
So, the next easter egg for Season 6's round-based Zombies map will be based around capturing Zykov and using his knowledge about the Dark Aether to defeat Omega.
For more on Call of Duty Zombies, check out our article on how to complete Mauer der Toten's main easter egg.
Image Credits: Treyarch / Activision
First Cold War Season 6 Zombies map teasers features campaign location
Black Ops Cold War Zombies players will be intrigued by new teasers of the next Zombies map, which is set to release in Season 6.
Treyarch has started to tease the next round-based Zombies map arriving in Black Ops Cold War Season 6 with various images and messages.
Call of Duty: Black Ops Cold War Zombies has been through a fairly quiet season.
Even with the latest Season 5 Reloaded update, which introduced a new Black Chest World Event in Outbreak and a new Rampage Inducer for round-based maps, players haven't seen anything about the next map.
That has changed recently, as the developers are finally starting to give players hints towards where the next round-based Zombies map with take place, teasing the location on Treyarch's social media pages.
The last round-based Zombies map we've seen in Black Ops Cold War was Mauer der Toten, set in Berlin. The map was enjoyed by many, especially the easter egg, which continued the developing Dark Aether storyline.
This map, as well as Firebase Z, were both locations taken from the game's campaign. It seems this trend won't be stopping for Season 6's round-based map, as the hints and teasers show off a familiar location for those who have played the campaign.
In the teasers, players can see the secret military facility based in the Soviet Republic of Ukraine, the location for the campaign's sixth mission, "Redlight, Greenlight."
In the teaser, Ravenov has left Weaver a message saying, "Weaver – This is the place we must make our stand here. – Ravenov," indicating that this will indeed be the next Zombies map for Season 6.
This wasn't the only teaser they posted either. On Instagram and Facebook, Treyarch Studios posted two different locations from inside the facility that will most likely be important for the map's easter egg.
In the first, Ravenov claims Kravchenko is planning to open a "special gateway," which could potentially be the machinery seen in the image's background.
Further, the image posted to Facebook shows another piece of interesting machinery, with Ravenov leaving a message that states: "Omega's next operation is already well underway they have been constructing for months."
From these teasers, it's clear that we will be heading to the same facility seen in the campaign and that this map will continue the Dark Aether storyline and involve Kravchenko opening a special gateway.
We'll have to wait and see how this will all develop once Season 6 is out. We will also get more information on this map when Season 6 is announced and a release date for when the map will launch, as it could be during the season.
For more on Cold War Zombies, check out our article on a new Zombies glitch that is turning the world upside down.
Image Credits: Activision / Treyarch
How to get Judge Dredd skin in Warzone & Cold War
Call of Duty: Warzone and Black Ops Cold War players can now get their hands on the Judge Dredd skin to help bring law & order to their enemies.
The highly anticipated Judge Dredd skin is now available in Warzone and Black Ops Cold War in what is one of the biggest highlights of Season 5 Reloaded.
Call of Duty has officially launched the Season 5 Reloaded update for Black Ops Cold War and Warzone, getting players excited for all the new content coming to the two popular first-person shooters.
Although Black Ops Cold War just received a new update on September 2, which saw some weapon balance changes for the Tec-9 SMG and EM2 Assault Rifle, Season 5 Reloaded will dropped on September 9 and introduced a new Judge Dredd skin for Warzone and Cold War on September 14.
Judge Dredd is a new Warzone & Cold War skin available for Operator Ingo Beck of the Warsaw Pact, taking on the iconic look of the famous law-bringer from the movie screen.
How to get the Judge Dredd skin in Warzone and Cold War
Players will unlock the Judge Dredd skin in Warzone and Cold War by purchasing the Tracer Pack: Judge Dredd Store Bundle. This Bundle will include the new Legendary Judge Dredd and Comic Strip Operator Skins for Beck.
In addition to the Judge Dredd Warzone and Cold War skin, the Bundle will include "three Weapon Blueprints: the "Quick Judgement" SMG, the "Arbitrator Rifle" Assault Rifle, and the "Lawgiver" Pistol, based on the standard-issue weapon given to all Judges (note: no palm print needed to operate).
"It also has the "Incendiary" Finishing Move, "Book of Law" Weapon Charm, "Judge's Watch" Wrist Accessory, and an Animated Calling Card and Emblem" according to the official Call of Duty Blog.
So there you have it. The Judge Dredd skin is now available for purchase in the Call of Duty store this season. Players will have to burn a hole the size of 2,400 COD Points to get their hands on this bundle.
Players will have until October 14 at 10:30 AM PST/ 12:30 PM CST/ 1:30 PM EST to get their hands on the Judge Dredd in Warzone and Black Ops Cold War before the bundle is rotated out of the Call of Duty store.
For more on Call of Duty, check out everything you need to know about the upcoming Call of Duty: Vanguard Open Beta.
Image Credits: Raven Software / Activision / Treyarch