Black Ops Cold War Zombies Updates: Firebase Z, New Perk, and more
To celebrate 115 Day, Treyarch has shared a new blog post highlighting some of what's coming to Call of Duty: Black Ops Cold War soon.
The new Zombies map, Firebase Z, arrives on February 4 for free.
In their blog post, Treyarch goes in depth on the narrative origins of Firebase Z map, reveals the new Tombstone Perk, provides updates on the Onslaught mode, and more.
Firebase Z" will arrive on February 4th during Season One, free for all Black Ops Cold War players.
Today, we're excited to debut the official logo and new narrative details for our next Zombies map.
In less than three weeks, "Firebase Z" will introduce Zombies fans to an all-new location set in the jungles of Vietnam, along with new characters, new enemies, new gameplay mechanics, and much more. And, in keeping with Zombies tradition, a badass new Wonder Weapon awaits.
Now – without spoiling too much – let's get into the story so far.
REQUIEM VS. OMEGA
Dimensional breaches continue to open around the world. As both Omega and Requiem work in the shadows to ensure the secrecy of their discoveries, the greater public remains blissfully unaware of this deadly new arms race between East and West.
As the two sides continue to study the Dark Aether dimension and the Aetherium Crystals found within, each strives for an advantage over the other in the ongoing Cold War. The bad news? Requiem has fallen behind.
Omega Group's newest research outpost represents their resounding successes in harnessing Dark Aether technology for their own gains. Equipped with an on-site dimensional gateway, they've acquired the ability to send soldiers and other "conscripts" into the Dark Aether to harvest Aetherium Crystals straight from the source.
As a result, Omega Group's scientific breakthroughs in the last several months have far surpassed anything Requiem could have imagined.
DESTINATION: OUTPOST 25
With the destruction of the "Projekt Endstation" anomaly site in their wake, Grigori Weaver and the agents of Requiem turn their attention to a far greater threat: a new Dark Aether outbreak site in Southeast Asia.
After learning Agent Maxis has been captured by Omega Group, Weaver deploys Requiem's strike team to infiltrate the facility where she's reportedly being held: Outpost 25.
Against all odds, Requiem forces will infiltrate the outpost to rendezvous with an Omega Group informant, save Samantha Maxis, and above all else, survive the new horrors that await them in this abandoned research facility.
In the coming weeks, we'll have more "Firebase Z" story details, new intel reveals, and the official gameplay trailer to share in the lead-up to launch. In the meantime, let's dive into the additional content coming to Zombies as Season One continues.
NEW PERK: TOMBSTONE SODA (FEB. 4)
As we may have not-so-subtly hinted on New Year's Eve, we're bringing a seventh Perk to Black Ops Cold War Zombies alongside the launch of "Firebase Z": Tombstone Soda.
"But Treyarch," you ask, "what's so new about Tombstone?" Thanks for asking. Great question.
When deciding on the next Perk to introduce to Zombies, the design team reviewed the full history of every Perk and ability from the past that centered around death, and ultimately rolled them into an incredibly useful Perk for Black Ops Cold War. Tombstone Soda is all about manipulating and cheating the consequences of death, and you'll need it against the forces waiting for you in Vietnam.
Unlike its first incarnation in Black Ops II, the new-and-improved Tombstone Soda will now transform the player into a shadow within the Dark Aether after being downed. In this shadow form, you'll be equipped with weapons to help give you a fighting chance to revive yourself. However, if your health is reduced to zero while in shadow form, you're dead.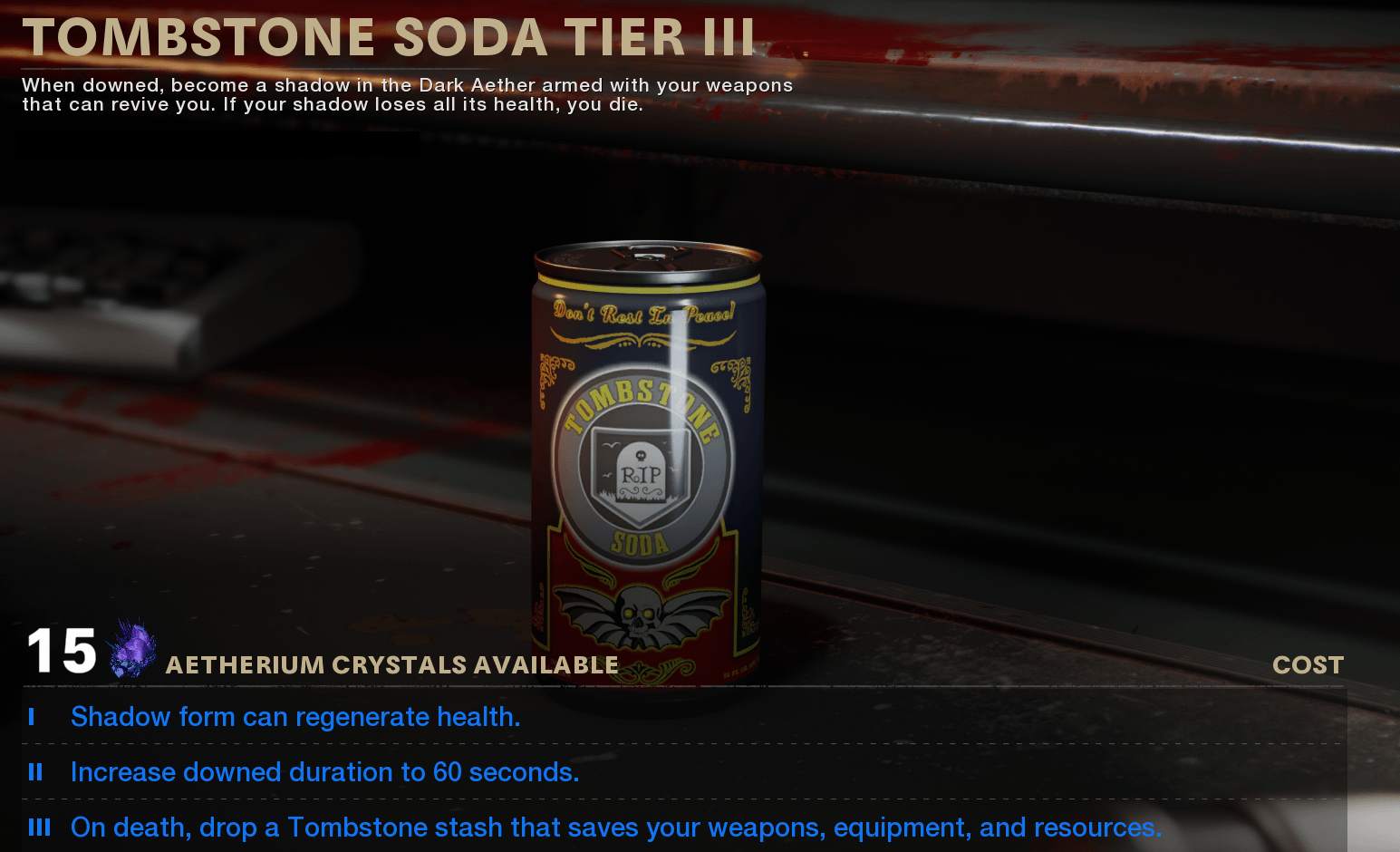 Fortunately, Tombstone's benefits only get better from there. Each Perk comes with its own set of upgradeable Skills in Black Ops Cold War, and this one's no different. By investing Aetherium Crystals into your Tombstone Perk Skill, you'll unlock the following upgrades:
Tier I – Shadow form can regenerate health.
Tier II – Increase downed duration to 60 seconds.
Tier III – On death, drop a Tombstone stash that saves your weapons, equipment, and resources.
You'll be able to grab a can from the Tombstone Perk machine in "Firebase Z," and you'll also find it in the Der Wunderfizz machine in "Die Maschine" on Feb. 4th. When in doubt, just remember those timeless jingle lyrics: Rest in pieces, down for the count…
NEW SUPPORT SCORESTREAKS AND INTEL (FEB. 4)
February 4th will also bring two new Support Scorestreaks to call in against the undead: the devastating Artillery and always-satisfying Napalm Strike. When the action gets a little too hot, head over to the Crafting Table and turn the heat even higher.
Ahh, we love the smell of crispy zombies in the morning.
And of course, a new Zombies map means new in-game Intel. Keep an eye out for new audio logs, documents, radio communications, Dark Aether dispatches, and artifacts hidden throughout "Firebase Z" starting on Feb. 4th. You never know what you might find.
Friendly reminder: if you haven't discovered 100% of the in-game Intel hidden within "Die Maschine" and Onslaught yet, now's the time to complete your collection before the story continues!
SOURCE: Treyarch
Top 5 tips to dominate Apocalypse in Black Ops Cold War
Black Ops Cold War Season 2 has added Apocalypse to its ever-growing arsenal of maps. Here are our best tips for it.
The Black Ops Cold War lore has taken us to the jungle, which is why we've been able to set foot in the new Apocalypse map. Season 2's new Jungle-themed map is here, and we've come up with some top tips to master it.
Season 2 of Black Ops Cold War really stoked the fire by throwing the FARA 83 and LC10 at us to play with along with the new Apocalypse map. Players now have the opportunity to rumble in the jungle, and there are many different ways to do so.
It's a medium-sized map with lots of tight corners and rooms with multiple entry points. There are few areas in the map that you can feel 'safe' in, so it's vital you embrace some of these important Apocalypse tips to survive in Black Ops Cold War's newest map.
1. The Flag A spawn point is dangerous
At the time of writing, the game seems to have a habit of deploying fresh spawns in exactly the same spot near the back of the Flag A area. Therefore it becomes very easy for the enemy team to keeping killing players here and anticipate their movements.
Our best advice is to use the wall in front of you for cover and make a beeline for the house on the right that requires a ladder. At the very least you can provide covering fire to draw fire from your team to escape on the opposite side, or pick off enemies yourself.
2. Watch out for the hidey holes
There are two or three spots on Apocalypse that provide a little window for you to peep your head through and essentially lie in wait for potential victims.
The best part about them is that you are pretty much obscured apart from your head. Make sure to find them and make the most of them.
3. Underground is good
Down one side of Apocalypse is a useful upper and lower channel that you can easily exploit if you're careful. Its biggest strength, and weakness, is that it's exposed to the middle section of the map.
If you're defending it, use the barrels for cover to pick off players coming from the Flag C spawn. If you're attacking it, always try and approach it from the middle as you have a superior vantage point, especially as you have the benefit of light on your side.
4. SMGs & Shotguns will do the trick
Despite its size, as we said, it has lots of huts and tighter corners which require fast, hard-hitting weapons to conquer Apocalypse.
So something like the new LC10 absolutely shreds, and when you pair it off with something like the Streetsweeper or the Gallo, then you're in for a good time.
5. Arguably the best spot on the map
Given the height superiority that this cliff-edge offers, the ability to see two opposite sides of the map, and the fact that it's just a quality spot, this is the location that should command the most presence.
One of the most important things to consider with this view is that players get a healthy eye line of Flag B. Regardless of if you're defending it or attacking it, you can go a long way to helping keep that area in your team's favor.
---
For tips and tricks to dominate your enemy on every Black Ops Cold War multiplayer map, you can check out our guides below.

Nuketown '84 | Crossroads | Raid | The Pines | Moscow | Miami | Cartel | Satellite | Checkmate |
Image credits: Treyarch
How to get free perks in Black Ops Cold War's Outbreak Zombies mode
You can earn free perks for yourself in Black Ops Cold War Zombies' new Outbreak mode through a neat little trick.
There is a simple new trick that you can use to earn free perks in Black Ops Cold War Zombies' new Outbreak mode, so here's how you can get this done.
You're given very few resources when you hop into the CoD Zombies mode. You'll have to rack up points by killing the undead so that you can purchase brand new weapons and level up your abilities through the game's Perk-a-Cola machines.
Spending your limited points on these machines help make the game more interesting, as you get to pick which attribute you want to improve. Cold War Zombies' new Outbreak mode has this too, but also comes with its own secret trick.
You can follow a strategy that will get you free perks in this mode.
Perks can usually be found as special drops during a round, and you fight your way towards them to upgrade yourself. Luckily, there's a better way to get free perks when playing in Cold War's Outbreak.
You can perform this simple trick repeatedly in different rounds of Activision's newest Zombies mode. Here's what you need to do:
Visit the a near the lower farmstead that's located on the left outskirts of Golova
Head to the area marked by a row of skulls and you'll find a small radio that's positioned against a tree
Hold the action button to play the recording
A giant beam will become visible, so make your way towards it
Defeat all the zombies and then collect the free perk drop!
That's all you need to do, and you can try it on Ruka and Alpine as well. You can do this again by immediately rushing back to the radio's location and then repeating the process, since there is no limit to the amount of times that you can try this easy trick.
The best part is that you won't have to worry about your teammates stealing the drop from you. This is because one player picking it up will result in everyone in the lobby also receiving a free random perk. So don't worry about one of your teammates trying to cheat you out of buffs.
Outbreak has taken all the best elements of CoD Zombies to create a fresh and exciting new mode. It throws out the past template, and massively deviates from anything that has been in the mode before.
You can keep some powerful weapons to defend yourself in Black Ops Cold War's Outbreak mode, and you can see all the best ones in our guide.
Image Credits: Activision
Black Ops Cold War & Warzone Servers Experiencing Issues – March 5
Servers issues in Black Ops Cold War.
The Call of Duty: Black Ops Cold War and Warzone servers were experiencing issues on Friday, March 5 on all platforms.
UPDATE – March 5 at 1:35PM ET: The Black Ops Cold War & Warzone servers are now back up for players on all platforms. Issues may persist as the servers come back online fully.
Original Story.
Activision Support is reporting that they are actively investigating issues with the Call of Duty: Black Ops Cold War & Call of Duty: Warzone servers right now. The issue is effecting players on all platforms.
We're currently experiencing connectivity issues. This incident is under investigation.
Some players are getting an error message saying the servers are not online. The message is asking people to re-try and connect to the game.
Many players are being put into a Server Queue, asking them to wait to get into the game. It would be best to wait in the server queue as the game tries to get everyone back online into the game. A temporary solution would be to restart the game and attempt to connect again.
The server issues should be resolved soon as Activision continues to investigate a fix for the situation. The support website will be updated as more information on the server status is revealed.
As always, we'll update this post as more info is provided on the situation. Do stay tuned for the latest updates on the status, and be sure to check our Twitter for any additional updates we provide on the servers.
Call of Duty: Black Ops Cold War is available on PS5, PS4, Xbox Series X|S, Xbox One, and PC (Blizzard Battle.net).