Black Ops Cold War Zombies Updates: Firebase Z, New Perk, and more
To celebrate 115 Day, Treyarch has shared a new blog post highlighting some of what's coming to Call of Duty: Black Ops Cold War soon.
The new Zombies map, Firebase Z, arrives on February 4 for free.
In their blog post, Treyarch goes in depth on the narrative origins of Firebase Z map, reveals the new Tombstone Perk, provides updates on the Onslaught mode, and more.
Firebase Z" will arrive on February 4th during Season One, free for all Black Ops Cold War players.
Today, we're excited to debut the official logo and new narrative details for our next Zombies map.
In less than three weeks, "Firebase Z" will introduce Zombies fans to an all-new location set in the jungles of Vietnam, along with new characters, new enemies, new gameplay mechanics, and much more. And, in keeping with Zombies tradition, a badass new Wonder Weapon awaits.
Now – without spoiling too much – let's get into the story so far.
REQUIEM VS. OMEGA
Dimensional breaches continue to open around the world. As both Omega and Requiem work in the shadows to ensure the secrecy of their discoveries, the greater public remains blissfully unaware of this deadly new arms race between East and West.
As the two sides continue to study the Dark Aether dimension and the Aetherium Crystals found within, each strives for an advantage over the other in the ongoing Cold War. The bad news? Requiem has fallen behind.
Omega Group's newest research outpost represents their resounding successes in harnessing Dark Aether technology for their own gains. Equipped with an on-site dimensional gateway, they've acquired the ability to send soldiers and other "conscripts" into the Dark Aether to harvest Aetherium Crystals straight from the source.
As a result, Omega Group's scientific breakthroughs in the last several months have far surpassed anything Requiem could have imagined.
DESTINATION: OUTPOST 25
With the destruction of the "Projekt Endstation" anomaly site in their wake, Grigori Weaver and the agents of Requiem turn their attention to a far greater threat: a new Dark Aether outbreak site in Southeast Asia.
After learning Agent Maxis has been captured by Omega Group, Weaver deploys Requiem's strike team to infiltrate the facility where she's reportedly being held: Outpost 25.
Against all odds, Requiem forces will infiltrate the outpost to rendezvous with an Omega Group informant, save Samantha Maxis, and above all else, survive the new horrors that await them in this abandoned research facility.
In the coming weeks, we'll have more "Firebase Z" story details, new intel reveals, and the official gameplay trailer to share in the lead-up to launch. In the meantime, let's dive into the additional content coming to Zombies as Season One continues.
NEW PERK: TOMBSTONE SODA (FEB. 4)
As we may have not-so-subtly hinted on New Year's Eve, we're bringing a seventh Perk to Black Ops Cold War Zombies alongside the launch of "Firebase Z": Tombstone Soda.
"But Treyarch," you ask, "what's so new about Tombstone?" Thanks for asking. Great question.
When deciding on the next Perk to introduce to Zombies, the design team reviewed the full history of every Perk and ability from the past that centered around death, and ultimately rolled them into an incredibly useful Perk for Black Ops Cold War. Tombstone Soda is all about manipulating and cheating the consequences of death, and you'll need it against the forces waiting for you in Vietnam.
Unlike its first incarnation in Black Ops II, the new-and-improved Tombstone Soda will now transform the player into a shadow within the Dark Aether after being downed. In this shadow form, you'll be equipped with weapons to help give you a fighting chance to revive yourself. However, if your health is reduced to zero while in shadow form, you're dead.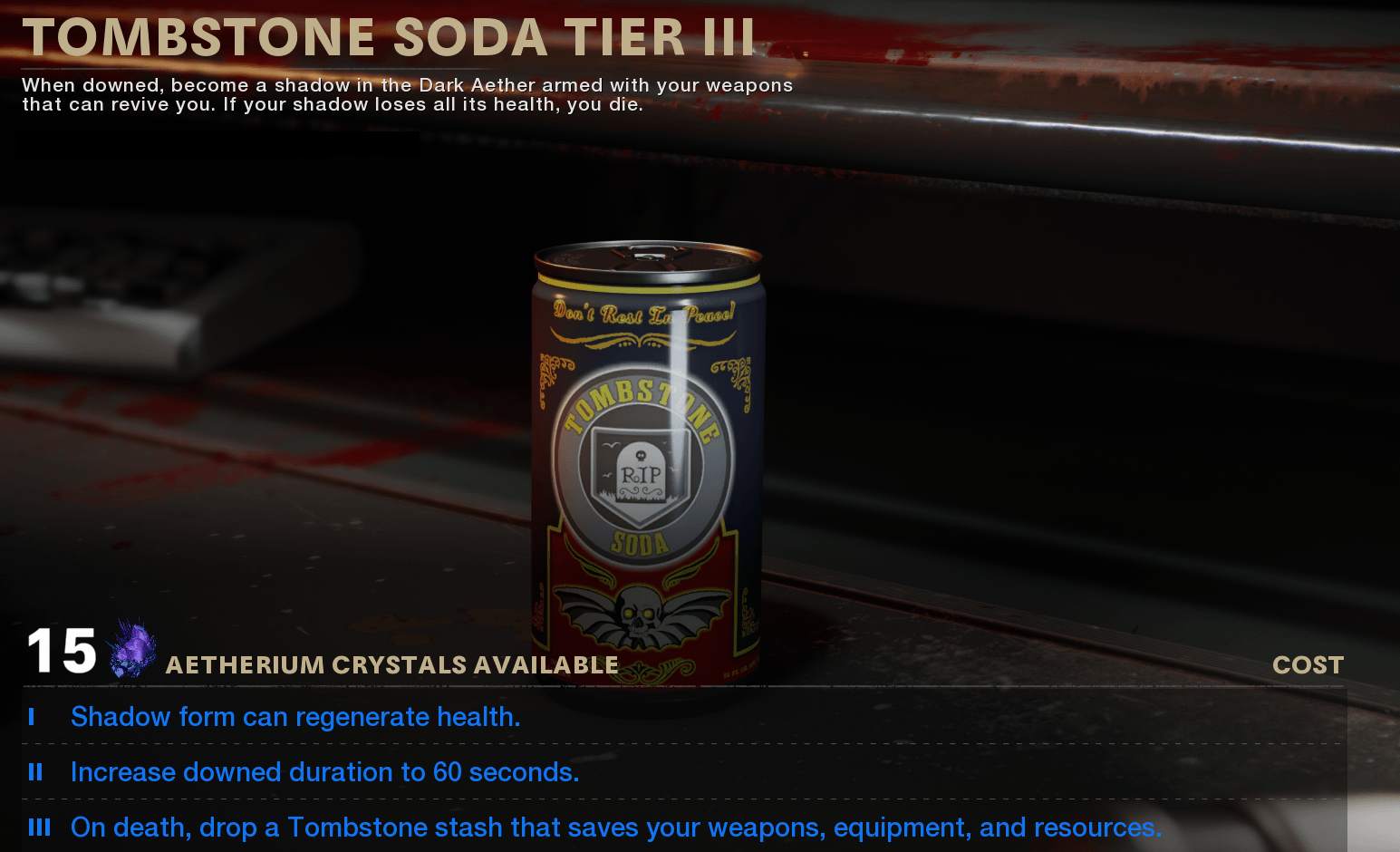 Fortunately, Tombstone's benefits only get better from there. Each Perk comes with its own set of upgradeable Skills in Black Ops Cold War, and this one's no different. By investing Aetherium Crystals into your Tombstone Perk Skill, you'll unlock the following upgrades:
Tier I – Shadow form can regenerate health.
Tier II – Increase downed duration to 60 seconds.
Tier III – On death, drop a Tombstone stash that saves your weapons, equipment, and resources.
You'll be able to grab a can from the Tombstone Perk machine in "Firebase Z," and you'll also find it in the Der Wunderfizz machine in "Die Maschine" on Feb. 4th. When in doubt, just remember those timeless jingle lyrics: Rest in pieces, down for the count…
NEW SUPPORT SCORESTREAKS AND INTEL (FEB. 4)
February 4th will also bring two new Support Scorestreaks to call in against the undead: the devastating Artillery and always-satisfying Napalm Strike. When the action gets a little too hot, head over to the Crafting Table and turn the heat even higher.
Ahh, we love the smell of crispy zombies in the morning.
And of course, a new Zombies map means new in-game Intel. Keep an eye out for new audio logs, documents, radio communications, Dark Aether dispatches, and artifacts hidden throughout "Firebase Z" starting on Feb. 4th. You never know what you might find.
Friendly reminder: if you haven't discovered 100% of the in-game Intel hidden within "Die Maschine" and Onslaught yet, now's the time to complete your collection before the story continues!
SOURCE: Treyarch
When does Black Ops Cold War Season 4 begin? Reveal, start date, details, maps, weapons, more
Season 3 of Black Ops Cold War is halfway done, but when can we expect Season 4, and what maps and weapons will it have?
Despite all the new changes that Season 3 has brought, we are already well on the way to CoD: Cold War Season 4. We'll look at when it starts and any other relevant details such as new maps, guns, and changes.
Season 3 of Black Ops Cold War has really filled up the game with lots of extra content and made it feel like one of the fullest Call of Duty games to date. Cold War has continued to do what it does best: deliver exciting new maps and pile on more guns, including the PPSH-41, Swiss K31, and AMP63.
Between Outbreak's new Easter Egg, the new Cold War battle royale mode, and the myriad of other modes available in the game, Season 3 has made Cold War a jam-packed experience. But we still have a few months to go until the presumed release of Call of Duty 2021, so there's still plenty more to come.
Here's everything we know about Season 4 of Call of Duty: Black Ops Cold War so far.
Black Ops Cold War Season 4 Reveal
Players will be able to get their first look at what the new season will be bringing to the world of Call of Duty: Black Ops Cold War during the Kickoff Live portion of the Summer Game Fest on June 10 2021.
The official Season 4 gameplay trailer for Black Ops Cold War was released on June 10, 2021, and it featured a variety of exciting glimpses at content players will be able to experience. You can find the full trailer below:
Black Ops Cold War Season 4 start date
One constant about each new season of Call of Duty: Black Ops Cold War is that as soon as one finishes the next starts soon after.
The current Season 3 Battle Pass is scheduled to end around June 15th or June 16th, and the downtime is usually nothing to worry about.
So we can expect Season 4 to start on June 16th or 17th.
Cold War x Warzone Season 4 teaser
Upon launching Black Ops Cold War or Warzone, the final cutscene for Season 3 plays out. After Adler was rescued from Verdansk, Stitch and his cronies hatch the next stage of their evil plan.
This teaser hints at a new Operator and perhaps a new location for a new multiplayer map. Wraith mentions that their "man in South Africa is standing by." This could hint that a South African Operator will be coming in Season 4, and there might be a new map set in South Africa along with him.
New Black Ops Cold War Season 4 maps
The new season of content for Call of Duty: Black Ops Cold War will bring some new maps for players to battle against each other, with one of them being a classic fan favorite from the past.
These new maps are Collateral, Amsterdam, and popular Black Ops II map Hijacked and were officially revealed on June 10.
Given that we're not too far away from details about Season 4 of Cold War becoming official, it's only natural that rumors and speculation are starting to become rife.
With the midseason Reloaded content drop behind us and John McClane and Rambo now present, we can look ahead and see that Cold War is possibly gearing up for some classic maps to return.
It seems that Hijacked is being prepared for Season 4 as a big inclusion that will see players scrambling to conquer the massive cruise ship. Also, another as yet unnamed surprise remaster could be joining it as well.
Also, rumors are abound that there will be a new "DLC round-based Zombies map coming in Season 4" too. A glimpse of this new Zombies map was possibly shown during the gameplay reveal trailer, which you can find below:
Treyarch went on to post on Twitter on June 11, 2021, a tweet that included an image and a caption stating that the prologue for the next round-based Zombies map starts on June 17, so perhaps it will be released in the Reloaded portion of Season 4 a couple of months from the start of the new season.
Black Ops Cold War Season 4 weapons
Carrying on the usual groove of Season 1 and Season 2, Treyarch's most recent inventory boost added a few new guns and some extras such as the Baseball Bat and the Ballistic Knife.
At the moment we don't know too much about what Season 4 is set to include, but it is a curious question given how balanced the meta is right now. Thanks to all the buffs and nerfs delivered by Season 3 Reloaded, you wonder what new weapons will be introduced. We will update this page once we know more.
The Season 4 gameplay trailer released on June 10, 2021, teased the arrival of various weapons for Call of Duty: Black Ops Cold War that includes the G3 Assault Rifle, Nail Gun, and Desert Eagle Pistol.
Also, check out our ranking of every gun in Black Ops Cold War.
Black Ops Cold War Season 4 game modes
If there's one thing that players cannot complain in Cold War about it's the smorgasbord of game modes to plow through. As well as new game modes and limited-time-only playlists, existing ones are even being expanded too.
Outbreak players can now fish for instance – a sentence that most gamers would've had thought needed to be said. But again, with the recency of the Reloaded update, Treyarch is keeping tight-lipped about any big potential game modes for Season 4 of Cold War.
Once more information starts to filter through we'll be updating this page to keep you up-to-date about Black Ops Cold War Season 4.
Image Credits: Activision / Treyarch
Black Ops Cold War Season 4 trailer possibly teases new Zombies map
The Black Ops Cold War Season 4 trailer had plenty of exciting footage with one clip possibly giving players the first look at a new Zombies map.
Call of Duty: Black Ops Cold War players were treated to some exciting teases in the Season 4 gameplay trailer, with one of them possibly showing the Zombies community the first look at a new map.
Season 3 made some waves in the world of Black Ops Cold War Zombies, with the largest being the introduction of the first main Easter Egg quest for the Outbreak game mode.
This Outbreak Easter Egg quest continued the main story of Black Ops Cold War zombies, which Treyarch has said will ultimately be tied to the next round-based Zombies map for the first-person shooter.
Not much information has been provided for this new Zombies map, with leaks suggesting it could be based in Berlin and that it will be arriving in Season 4.
While Treyarch has not yet officially announced a Berlin map or that it will be coming in Season 4, the recently released Season 4 gameplay trailer for Cold War possibly gave the Zombies community a first glimpse of a new map.
The part of the Season 4 gameplay trailer in question occurs at the very end of the video. First, a few seconds are shown of Zombies walking down a subway tunnel with then what appears to be a subway on fire making its way towards running all of the Zombies over.
Players will have to wait until June 14 for Activision and Treyarch to officially reveal the content roadmap for Black Ops Cold War Season 4 and if a new Zombies map is included on this plan for the new period of content.
However, this clip from the gameplay trailer does give hope to players that they will be hearing of a brand new Zombies map they will be able to experience at some point in Season 4, even if it might come in the Reloaded portion of the season in a couple of months.
Treyarch went on to post an image on Twitter stating that the "prologue to our next round-based Zombies map begins on June 17." This looks to confirm that the new map may not arrive at the start of Season 4 but will be coming later on in the season or Season 5.
For more Call of Duty: Black Ops Cold War, check out when the next double XP event is happening for the game or what new weapons players can expect to see in Season 4 and stay tuned for future news and guides.
Image Credits: Activision/Treyarch
When is the next Cold War & Warzone Double XP event?
We have the dates and times CoD: Cold War and Warzone Season 3's Double XP event to help rank, weapon, and Battle Pass progression.
With so many Prestige levels, different weapon levels, and Battle Pass levels in Cold War and Warzone in Season 3, it's only natural to want more XP. Here's when the next CoD Double XP event is going to be.
XP has been a vital component of Call of Duty's multiplayer for many years. It's the quintessential upgrade mechanic that allows you to increase your in-game level and provide you access to better gear and attachments.
Cold War and Warzone Season 3 has offered multiple Double XP events throughout its duration, allowing players to level up the various aspects of the game faster. It's nearly time for Season 4 of Call of Duty, and we have new weapons and vehicles to look forward to.
Also, use our guide on the fastest way to level up Black Ops Cold War & Warzone Season 3 Battle Pass.
How to get Double XP in CoD: Cold War & Warzone Season 3
It's been announced that Call of Duty's next Double XP and Double Battle Pass XP promotional event will be for Black Ops Cold War and Warzone and will officially start on June 11 and conclude on June 14.
This event will help players earn plenty of extra XP to level up their account and Season 3 Battle Pass before the arrival of Season 4 of Black Ops Cold War and Warzone.
What time does CoD: Cold War & Warzone Double XP start?
Here's a full list of the Double Weapon XP event's start time & dates in some of the key timezones:
EST – 1 PM
CST – 12 PM
PST – 10 AM
GMT – 5 PM
Double XP will be available on Black Ops Cold War and Warzone playlists.
These special Double XP Events usually occur during a weekend, and this one is no different. It naturally gives players the most free time as it's away from school hours and generally when people are off work.
Don't forget that you can still unlock Season 2's new weapons, the FARA 83 and LC10, and them to your collection to use in Cold War and Warzone Season 3.
Also, check out all the details on Call of Duty: Vanguard including its release date, gameplay, and more.
Image Credit: Activision / Treyarch / Raven Software