Call of Duty App receives update with Combat Record, Black Market, and more
Activision has announced that an update is coming to the Call of Duty Companion app today with new features for Call of Duty: Black Ops 4 players to use from their iOS or Android device.
The app now features access to Combat Records for Call of Duty: Black Ops 4, allowing players to inspect all of their stats directly from app. The app update also brings access to the Black Market, allowing players to track their Operation Contraband Streams, see what's in some Reserves, and more.
Here's the full details on what's new:
Combat Record
Enter the Combat Record tab and enter the Barracks, where you'll find an impressive selection of data for Black Ops 4 Multiplayer, from the following five main menus:
Weapons Stats: This defaults to the weapon you've historically used to deliver the most takedowns, though you're able to see aggregated data for every single weapon available from all available types: Bare Hands, Tactical Rifles, Assault Rifles, Shotguns, Sniper Rifles, Specialist, Light Machine Guns, Launchers, Pistols, Submachine Guns, or Melee weapons. Main stats are EKIA/D, EKIA, Headshots, and Deaths, with additional stats detailing Kills, K/D Ratio, Accuracy, Shots Fired, Shots Landed, [times you're] Killed By, and total Damage inflicted. For example, you can view all the statistical information for Light Machine Guns as a category, as well as individual LMGs you favor (the Titan, VKM 750 or Hades).
If Specialist Weaponry is of particular interest, you can check your stats for every piece of customized kit available to every Specialist, from the Annihilator to the Grav Slam! Furthermore, as each bit of kit has a specific use, the stats are tailored to that information. For example, the Ice Pick has stats for usage, as well as "Hacked EKIA" information (the number of Enemies Killed in Action that were hacked).
Equipment Stats: Open this to check the stats on every type of Equipment and Special Issue Equipment you utilize, including Mesh Mines, Reactor Cores, 9-Bangs, Seekers, Cluster Grenades, Razor Wire, Sensor Darts, Tac-Deploys, Hawks, Assault Packs, Frags, Molotovs, Trophy Systems, and more.
The Usage Count, [times you're] Killed By, Damage, and Assists are all shown for each piece of equipment, which also has more specific information where appropriate. For example, Razor Wire has a value for EKIA Slowed Enemies (the number of Enemies Killed in Action that were slowed by this device).
Scorestreak Stats: As you might expect, specific data (such as Usage Count and Assists) are included for and tailored to each remote device you're able to utilize, which includes the RC-XD, Sentry, Hellstorm, Attack Chopper, Mantis, Lightning Strike, Dart, Care Package, Counter-UAV, Strike Team, UAV, Sniper's Nest, and Gunship
Maps Stats: Past Multiplayer maps you've played (including weather variants), and game modes you've chosen are also logged with pertinent statistics, with EKIA/D, EKIA, Headshots, and Deaths as main information. Then there's Additional Stats (Kills, K/D Ratio, Accuracy, Shots Fired, Shots Landed, Killed By, and Damage totals). Need to know your total shots fired on Arsenal Domination? You're only a few taps away!
Attachment Stats: The last main section of Combat Record deals with EKIA/D, EKIA, Headshots, and Deaths for particular attachments that impact a weapon's performance, and these also come with Additional Stats (Kills, K/D Ratio, Accuracy, Shots Fired, Shots Landed, Killed By, and Damage totals). Now you can check your potency with FMJ bullets, Barrel Chokes, the Steady Grip, and all other weapon attachments.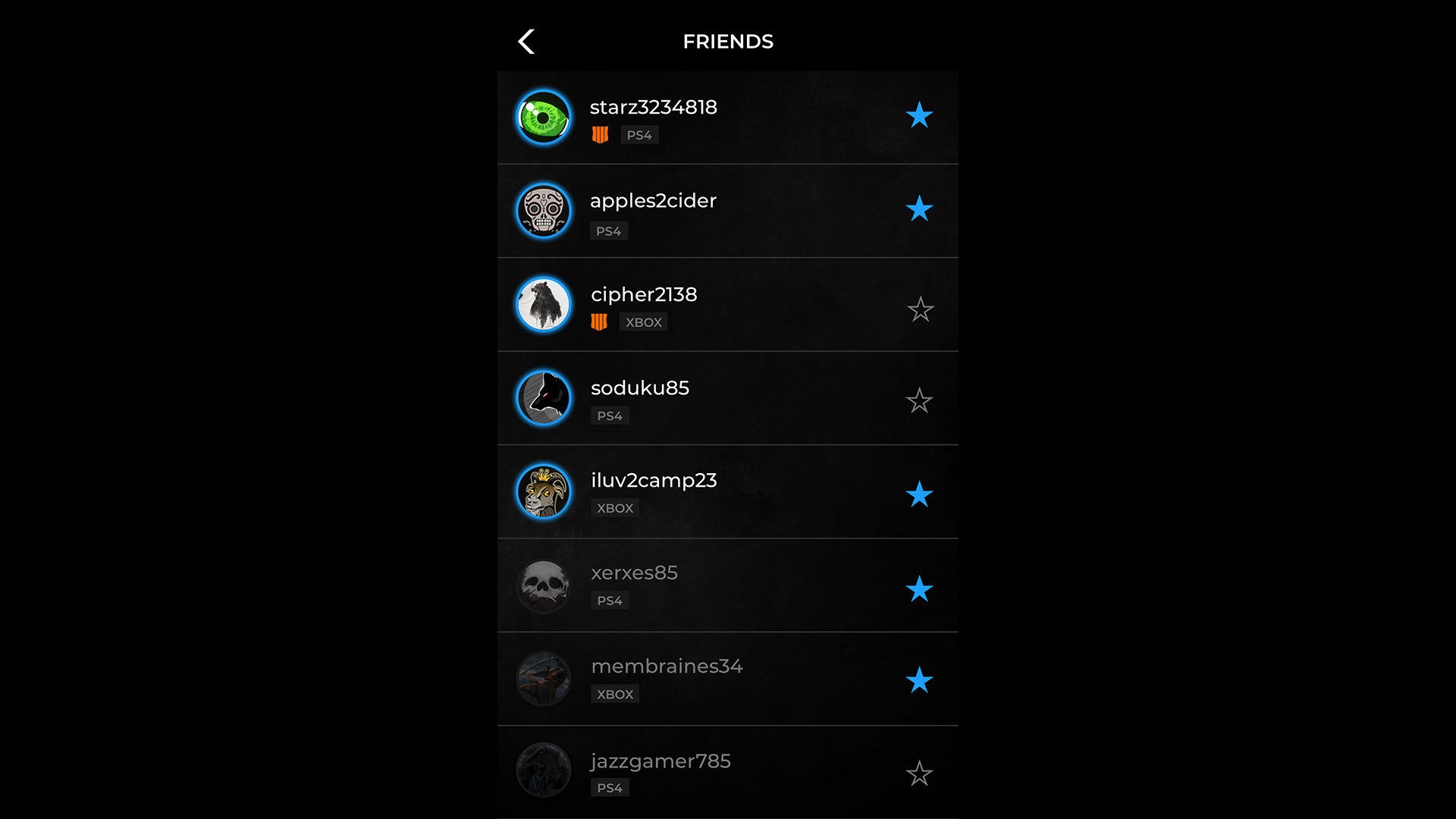 Friend Favoriting
If you're wanting more options to connect with your Friends, then the Friend Favoriting section is likely to help: Your first-party friends now have a star next to them. Tap the star blue to "favorite" a friend, and they're moved to the top of your friends list. Furthermore, you're able to see when they sign on, and receive prompts after they complete certain activities, like winning a Blackout game. You're also able to search for other players and check their stats (provided their privacy settings allow you to view them).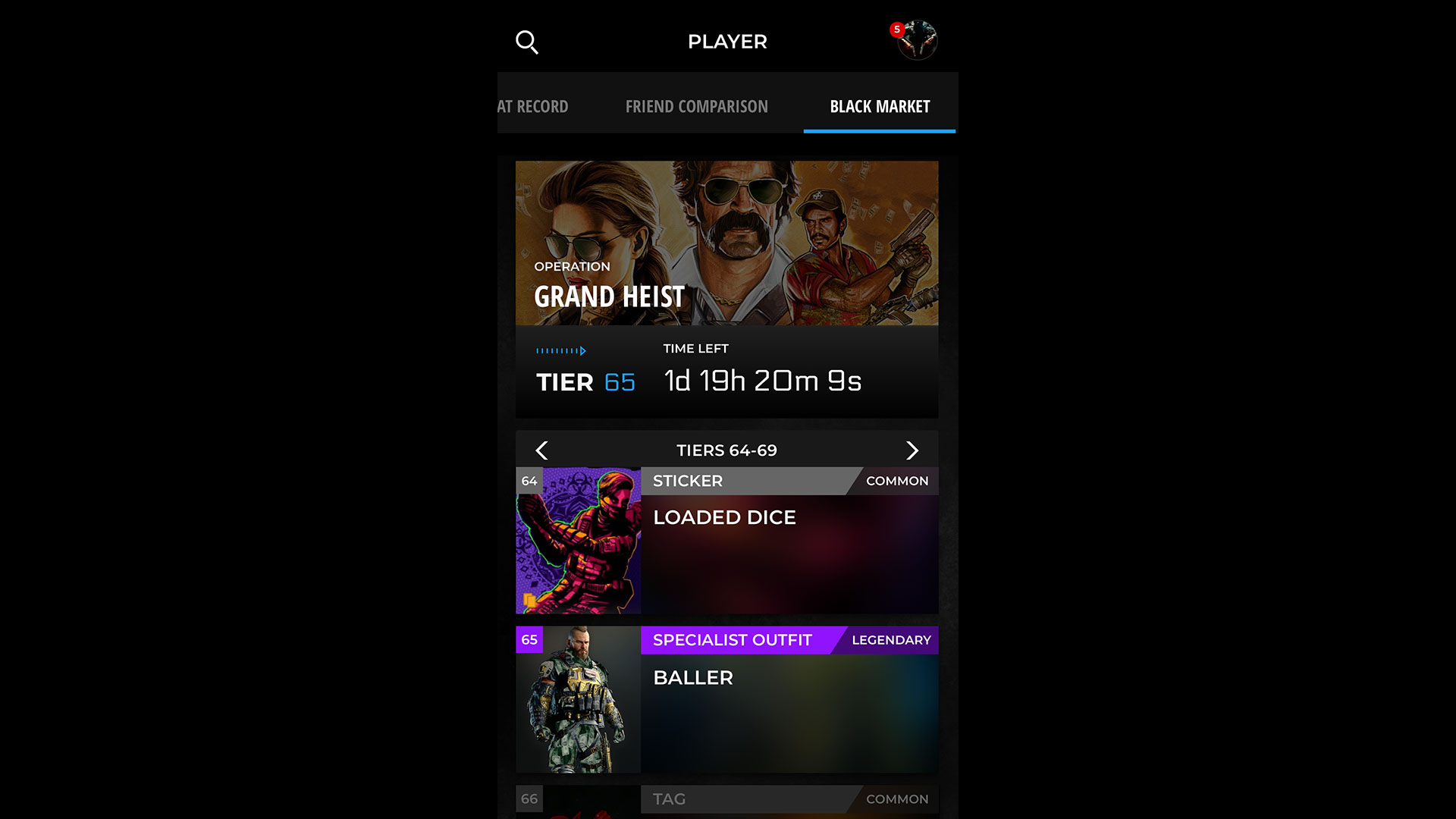 Black Market
Need a place to keep track of your gear, and see what's coming to you soon? Then inspect the new Black Market tab under the Player menu, where the current Operation, and all Contraband Stream Tier information is given, including the tier you're currently on, and the rewards you're able to obtain as you level up. You're also able to view potential rewards from the Reserves (like characters, weapons, and outfits).
Combat Record Readiness: Available Today!
This update to the Call of Duty Companion App is accessible today (April 4), both at the Apple Store and Google Store. Download it today and take Call of Duty® with you wherever you go.
SOURCE: Call of Duty
Black Ops 4 assets appear in Black Ops Cold War
Weapon icons and symbols from Black Ops 4 have been appearing in Black Ops Cold War.
Weapon icons and symbols from Black Ops 4 have been appearing in Black Ops Cold War.
Black Ops Cold War has had a rough launch, as is somewhat expected with a major new release, with widespread crashes and game-breaking bugs being reported.
While a game is in the development process, developers often use assets from previous games as placeholder images. Until the game has been fully developed, they'll add images from previous games to take up space until the new image can be inserted.
Some of these placeholder images have been appearing in Black Ops Cold War.
Reused assets
The Dual Wield attachment icon in Cold War appears as the Saug's dual wield icon from Black Ops 4.
While hovering over weapons, the game can show weapons from Black Ops 4 instead. When u/Metoaga hovered over an M82 Sniper Rifle in the campaign, the image for it displayed BO4's SDM Sniper Rifle. Also, while in Zombies, u/IronClooch69's RPD was displayed as the Hades Light Machine Gun from Black Ops 4.
Reddit user u/Lorenso0 reported getting Black Ops 4's Prestige Master screen after completing a match of Free for All in Cold War. Other players confirmed they were also receiving the Prestige Master screen at around level 94.
Black Ops Cold War has seen multiple game-breaking bugs and crashes, such as the PlayStation 4 controller disconnecting. With those bugs, it's likely that fixing reused assets appearing in Cold War will be far down on Treyarch's agenda.
We will probably have to wait for the launch of Season 1 on December 10, where a large patch will be available to download.
How Nuketown has changed over the years
We take a look at Nuketown throughout the years.
Call of Duty revealed that classic map Nuketown will be coming to Black Ops Cold War on November 24.
Nuketown has been in every iteration of the Black Ops franchise and Cold War will be no different. It will feature a brand new version of Nuketown called Nuketown '84. We're taking a look at how the classic map has evolved throughout the years.
Call of Duty: Black Ops (2010)
Nuketown
Where it started. This small map started as a project by level designer Adam Hoggatt. It wasn't intended to be in the full game but after playtests, it quickly became a favorite among the developers.
Inspired by the 2008 movie Indiana Jones and the Crystal Skull, the map is designed to be a nuclear testing facility modeled after 1950s suburban America.
Nuketown is a small map, capitalizing on the popularity of Shipment in CoD 4: Modern Warfare (2007) and Rust in Modern Warfare 2 (2009). With its yellow school bus in the center and picket-fenced gardens, it instantly became one of CoD's most memorable maps.
Call of Duty: Black Ops 2 (2012)
Nuketown 2025
Nuketown returned in the next installment of the Black Ops franchise. With the exact same layout, this updated version brought Nuketown to the 21st century.
Nuketown 2025 came as a pre-order bonus with Black Ops 2 but could also be purchased as DLC. This version of Nuketown swapped the classic 1950s look for a blend of retro 60s with Black Ops 2's futuristic aesthetic.
This updated version fixed the spawn issues from the original Nuketown, leading to many believing this to be the best iteration.
Nuketown Zombies
Nuketown was also included in Black Ops 2's Zombies mode. It was basically the original Nuketown map designed for Zombies.
This version of Nuketown is the aftermath of the nuclear bomb that goes off at the end of every Nuketown round.
In this version, the map has been damaged by the Nuclear Bomb and smoke and ash blotting out the sun. Zombies spawn in all the usual ways but the Pack-A-Punch and Perk-A-Cola machines spawn after killing certain numbers of zombies.
Call of Duty: Black Ops Declassified (2012)
Nukehouse
This is a version of Nuketown most will be unfamiliar with. Activision released a stripped-back version of Black Ops for the PS Vita called Black Ops Declassified. The single-player took place between the original Black Ops and Black Ops 2 and also included multiplayer.
A smaller version of Nuketown which only featured the yellow house and the truck on the street was included. This map was extremely small with players often spawning right next to each other.
Call of Duty: Black Ops 3 (2015)
Nuk3town
Black Ops 3 recreated Nuketown in a science-fiction style. With bright colors, futuristic cars, and digital confetti rising from the buses, this was a very different looking Nuketown. The layout of the map stayed much the same, however.
Read more: Verdansk map to remain in Warzone after Black Ops Cold War launch
This map wasn't available for the Xbox 360 or Playstation 3 as this game released during the transition between console generation.
Apart from the aesthetic changes, this version also had high walls to take advantage of 'wall-running' which was part of Call of Duty's movement system at the time.
There were also Easter Eggs included in Nuk3town such as shooting mannequins in a certain sequence which would start a zombie-esque outbreak.
Call of Duty: Black Ops 4 (2018)
Nuketown 2018
Nuketown 2018 received a mixed reception. This version took on a Soviet aesthetic, being set in the winter with a muted color palette. Although less of a change compared to Nuk3town, players were underwhelmed by the map's design.
The specialist abilities such as the Grapple Gun drastically altered the flow of the map. Players felt that Nuketown 2018 played too differently to the original.
An addition some liked was the RC-XD tunnel system, in which the remote car could be driven beneath the map past missile silos, and come out the other side.
Nuketown Island (Blackout)
Black Ops 4's battle royale mode Blackout featured many classic Black Ops maps. Nuketown was included in a location of the map called Nuketown Island.
Nuketown Island includes the whole town that Nuketown is part of, taking heavy inspiration from the classic Nuketown map as well as Nuketown Zombies. The area is heavily damaged similar to how it is in Nuketown Zombies and contains the original cul-de-sac from Nuketown.
Brand new to Nuketown, the area has a nuclear bunker and tunnel system underneath that players can access.
Call of Duty Mobile (2019)
Call of Duty Mobile contains classic maps from both the Black Ops and Modern Warfare franchises and Nuketown is no exception.
This brought it back to the very original Nuketown map we had in Call of Duty Black Ops. Although played on mobile devices, the map plays much the same as it did in the very first Black Ops.
With Nuketown returning in Black Ops Cold War, expect it to have a 1980s theme.
COD 2020 Teasers: Black Ops 4 Summit map, Treyarch social profile
As we opened our new crates that Activision sent through, Black Ops 4's Summit map got an update.
The screens in the center of the map in Black Ops 4 turned on which seem to match to what some of our slides show:
There's also a look at clocks of 4 out of the 5 locations that some of us got as part of the slides to see:
These changes do appear to be new, especially the screens with the targets on them. Analyzing older images of the maps showcase that the screens were not showing the same thing.
In addition, Treyarch has updated their cover photo on social channels.
It's getting cold out there…