Call of Duty App receives update with Combat Record, Black Market, and more
Activision has announced that an update is coming to the Call of Duty Companion app today with new features for Call of Duty: Black Ops 4 players to use from their iOS or Android device.
The app now features access to Combat Records for Call of Duty: Black Ops 4, allowing players to inspect all of their stats directly from app. The app update also brings access to the Black Market, allowing players to track their Operation Contraband Streams, see what's in some Reserves, and more.
Here's the full details on what's new:
Combat Record
Enter the Combat Record tab and enter the Barracks, where you'll find an impressive selection of data for Black Ops 4 Multiplayer, from the following five main menus:
Weapons Stats: This defaults to the weapon you've historically used to deliver the most takedowns, though you're able to see aggregated data for every single weapon available from all available types: Bare Hands, Tactical Rifles, Assault Rifles, Shotguns, Sniper Rifles, Specialist, Light Machine Guns, Launchers, Pistols, Submachine Guns, or Melee weapons. Main stats are EKIA/D, EKIA, Headshots, and Deaths, with additional stats detailing Kills, K/D Ratio, Accuracy, Shots Fired, Shots Landed, [times you're] Killed By, and total Damage inflicted. For example, you can view all the statistical information for Light Machine Guns as a category, as well as individual LMGs you favor (the Titan, VKM 750 or Hades).
If Specialist Weaponry is of particular interest, you can check your stats for every piece of customized kit available to every Specialist, from the Annihilator to the Grav Slam! Furthermore, as each bit of kit has a specific use, the stats are tailored to that information. For example, the Ice Pick has stats for usage, as well as "Hacked EKIA" information (the number of Enemies Killed in Action that were hacked).
Equipment Stats: Open this to check the stats on every type of Equipment and Special Issue Equipment you utilize, including Mesh Mines, Reactor Cores, 9-Bangs, Seekers, Cluster Grenades, Razor Wire, Sensor Darts, Tac-Deploys, Hawks, Assault Packs, Frags, Molotovs, Trophy Systems, and more.
The Usage Count, [times you're] Killed By, Damage, and Assists are all shown for each piece of equipment, which also has more specific information where appropriate. For example, Razor Wire has a value for EKIA Slowed Enemies (the number of Enemies Killed in Action that were slowed by this device).
Scorestreak Stats: As you might expect, specific data (such as Usage Count and Assists) are included for and tailored to each remote device you're able to utilize, which includes the RC-XD, Sentry, Hellstorm, Attack Chopper, Mantis, Lightning Strike, Dart, Care Package, Counter-UAV, Strike Team, UAV, Sniper's Nest, and Gunship
Maps Stats: Past Multiplayer maps you've played (including weather variants), and game modes you've chosen are also logged with pertinent statistics, with EKIA/D, EKIA, Headshots, and Deaths as main information. Then there's Additional Stats (Kills, K/D Ratio, Accuracy, Shots Fired, Shots Landed, Killed By, and Damage totals). Need to know your total shots fired on Arsenal Domination? You're only a few taps away!
Attachment Stats: The last main section of Combat Record deals with EKIA/D, EKIA, Headshots, and Deaths for particular attachments that impact a weapon's performance, and these also come with Additional Stats (Kills, K/D Ratio, Accuracy, Shots Fired, Shots Landed, Killed By, and Damage totals). Now you can check your potency with FMJ bullets, Barrel Chokes, the Steady Grip, and all other weapon attachments.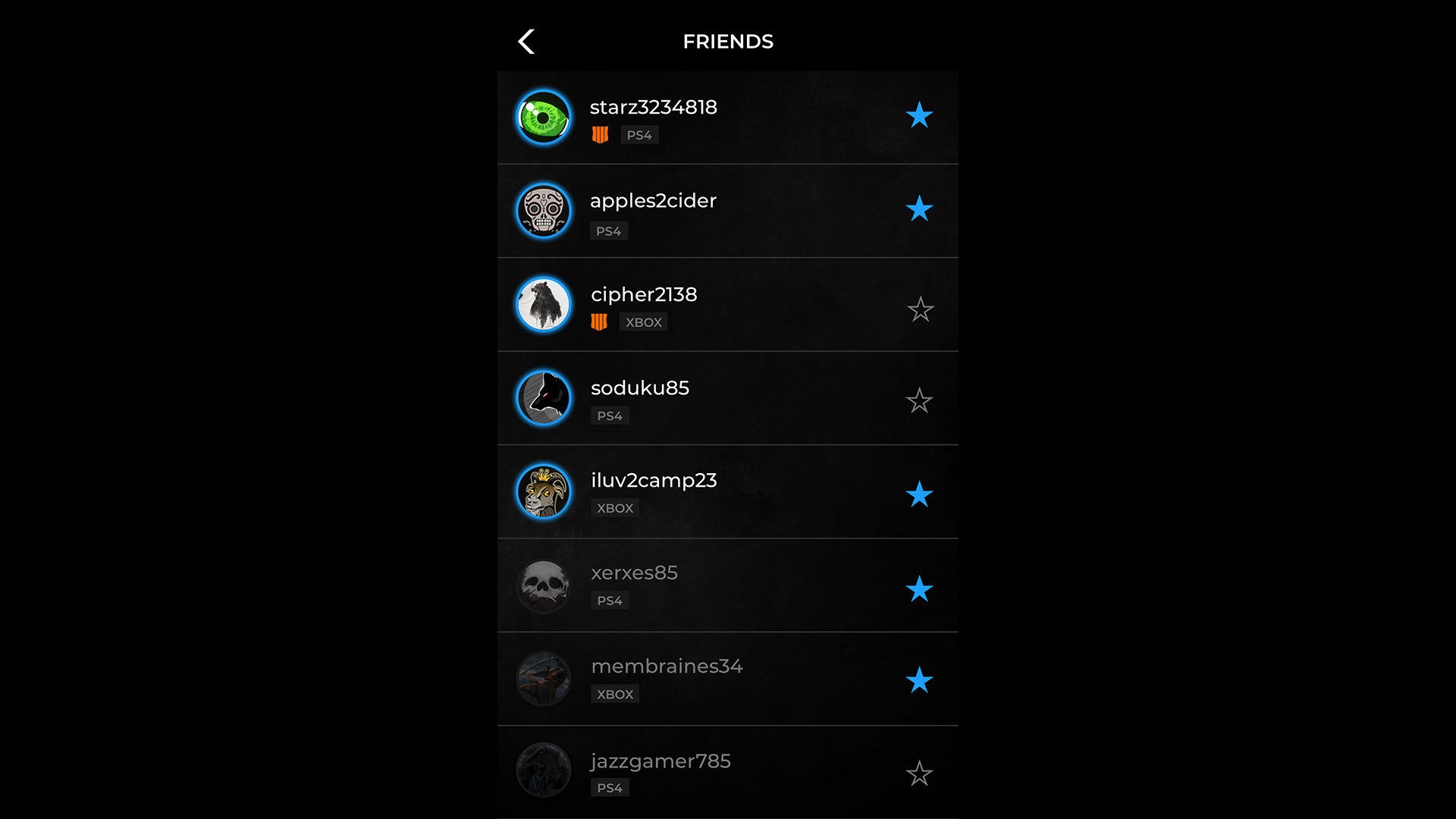 Friend Favoriting
If you're wanting more options to connect with your Friends, then the Friend Favoriting section is likely to help: Your first-party friends now have a star next to them. Tap the star blue to "favorite" a friend, and they're moved to the top of your friends list. Furthermore, you're able to see when they sign on, and receive prompts after they complete certain activities, like winning a Blackout game. You're also able to search for other players and check their stats (provided their privacy settings allow you to view them).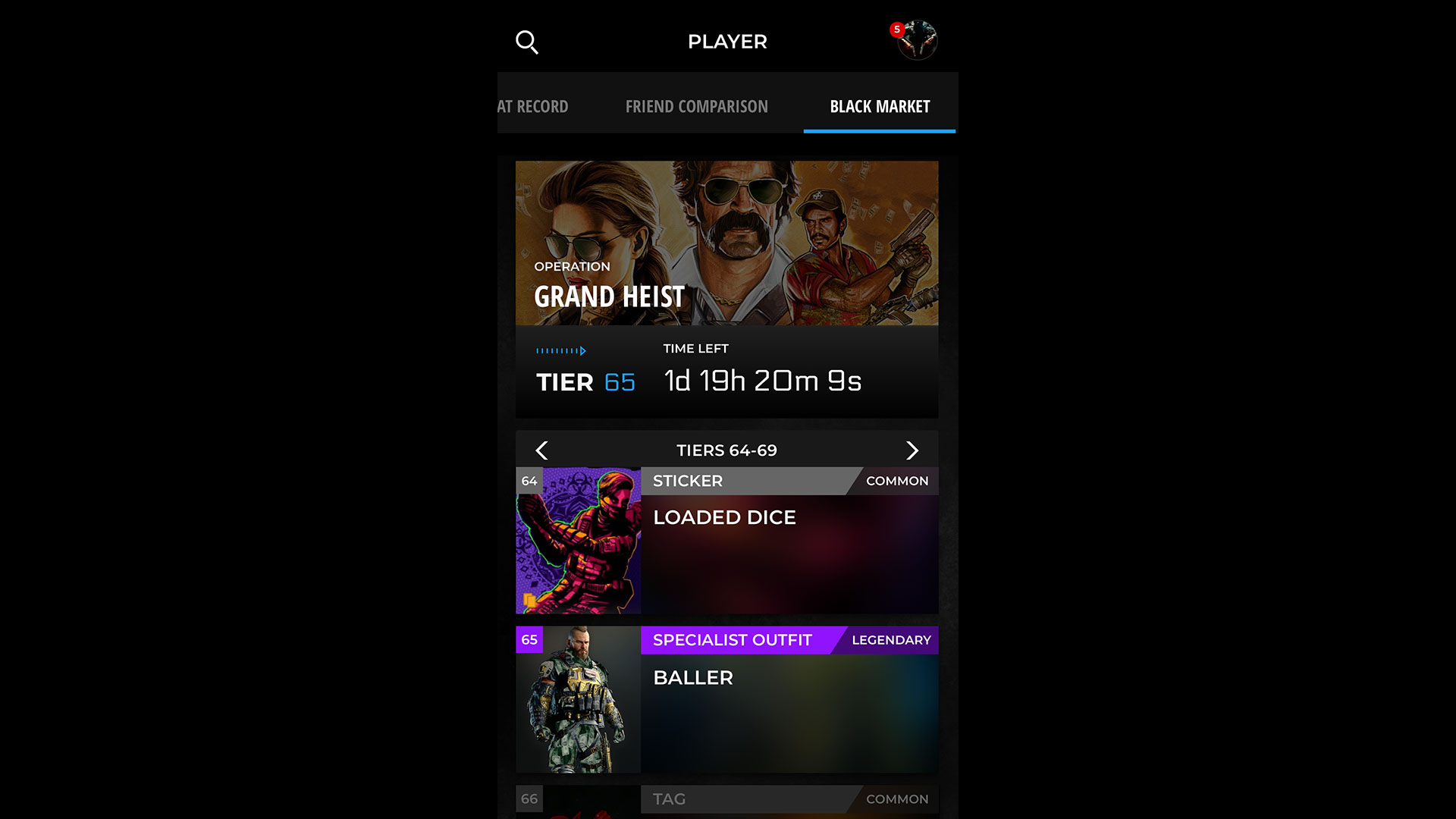 Black Market
Need a place to keep track of your gear, and see what's coming to you soon? Then inspect the new Black Market tab under the Player menu, where the current Operation, and all Contraband Stream Tier information is given, including the tier you're currently on, and the rewards you're able to obtain as you level up. You're also able to view potential rewards from the Reserves (like characters, weapons, and outfits).
Combat Record Readiness: Available Today!
This update to the Call of Duty Companion App is accessible today (April 4), both at the Apple Store and Google Store. Download it today and take Call of Duty® with you wherever you go.
SOURCE: Call of Duty
CoD Points price: How to buy, spend & do they carry over
CoD Points are the official currency of Call of Duty. Check out CoD Point prices, where to buy them, and whether they transfer between games.
Activision's in-game currency lets players purchase cosmetics for their characters, and we've got everything you need to know about CoD Points prices, how to buy them, and all the items you can spend them on.
Call of Duty offers a huge palette of extra goodies you can add to your game, requiring players to spend their own currency named CoD Points to acquire them.
CoD Points can be purchased using the menu systems in games like Vanguard or Warzone or through console marketplaces like the PS Store or Xbox Marketplace.
The gaming landscape has changed over the years with the incorporation of microtransactions and live-gaming services. Many games offer extra content – with cosmetics being a big proponent of this. With Vanguard and Warzone offering special Attack on Titan and Snoop Dogg skins as well as unique weapon Blueprints for popular weapons, it becomes easy to see why players would want to spend CoD Points.
CoD Points prices
There are different amounts and bundles you can opt for when buying CoD Points that are tailored to different needs.
Some players just need to top up their account with a few hundred points to get the latest bundle. Whereas others need a big restock with the intention of spending many points. The more points you want, the bigger the discounts grow.
Here are the different prices for the various CoD Points bundles:
200 CoD Points: $1.99 / £1.79
500 CoD Points: $4.99 / £4.31
1,000 (+100 Bonus) CoD Points: $9.99 / £8.49
2,000 (+400 Bonus) CoD Points: $19.99 / £16.79
4,000 (+1,000 Bonus) CoD Points: $39.99 / £34.99
7,000 (+2,500 Bonus) CoD Points: $74.99 / £69.99
10,000 (+3,000 Bonus) CoD Points: $99.99 / £84.99
15,000 (+6,000 Bonus) CoD Points: $149.99 / £123.99
How to buy COD Points
You can be very flexible with how you buy COD Points as there are a few different ways to do so. To make sure you're buying them for the right platform, just double-check with our guide on transferring COD Points across platforms.
There are four ways you can buy COD Points:
PC players can purchase CoD Points on the Battle.net website
PS4 & PS5 players can purchase CoD Points in the PS Store on their console, or on the PlayStation website
Xbox Series X, Series S, or One players can buy CoD Points on the Xbox Marketplace on their console, or the official Microsoft Store website
Select physical retailer's stock vouchers and gift cards with a code that players can redeem for CoD Points.
Where to spend CoD Points
Spending your CoD Points is incredibly easy, with players able to purchase cosmetic bundles and Blueprints in the in-game store.
The stores are available in Vanguard, Warzone, Black Ops Cold War, and Modern Warfare, so you can kit out your Operator regardless of your preferred title.
Do CoD Points carry over across games?
The good news is that your CoD Points will transfer across your Call of Duty games, as they are linked to your Activision account.
Players who will still have CoD Points in their account from Vanguard don't need to worry, as they will automatically be in your account when Modern Warfare 2 releases.
What can I buy with COD Points?
Call of Duty's currency is used to primarily buy two things: the Battle Pass for the current season and Bundles containing a variety of items.
Battle Pass
A Battle Pass is a paid Tier system that allows regular players to earn dozens of extra rewards and cosmetics for essentially playing the game.
Vanguard and Warzone Pacific are approaching Season 3 at the moment. Both titles are currently running in tandem with each other and share the same Battle Pass.
It features 100 Tiers for players to smash their way through the course of a season, and if players are committed enough, they can actually earn enough CoD Points, through leveling up the pass, to get the next one for free.
You'll be able to buy the Vanguard & Warzone Season 3 Battle Pass via a couple of different methods on April 27, 2022:
Bundles
The other main content you can buy is a wide range of Bundles and Operator Bundles. These special bundles vary in price, and each comes with its own unique items.
The collectibles you can expect to find are Calling Cards, Emblems, Operator Skins, Weapon Blueprints, Weapon Charms, and more.
---
Also, check out how Vanguard is officially getting a round-based Zombies map after Season 3 or how Warzone players are begging for Godzilla & King Kong Operator skins.
Image credits: Activision / Sledgehammer Games / Raven Software
JGOD reveals their favorite Call of Duty Perk of all time
Call of Duty content creator JGOD recently revealed their favorite Multiplayer Perk of all time, a pick that many may have forgotten about.
JGOD let the community know his favorite Call of Duty Perk of all time, which many new players may not even have used before, especially as it's not available in Warzone.
JGOD is known for their in-depth content for Call of Duty games, especially Warzone. The Youtuber often looks into the stats and details for weapons and loadouts, figuring out the best attachments,Perks, and equipment to use.
With that being said, it's often great to hear JGOD's personal opinions on their favorite things to use in Call of Duty, which is exactly what he gave when our Twitter page asked the community what the best CoD Perk of all time is.
Our CharlieINTEL Twitter page asked the CoD community what the best Call of Duty Perk of all time is.
For those in the community who have been following the franchise since the CoD 4 days, this question is much harder to answer simply because there have been so many great Perks over the years that haven't returned or just aren't in Warzone.
JGOD is one of those players who has been in the community for a long time, so their pick might have some of the modern players slightly bemused.
The content creator's pick for their favorite CoD Perk of all time is Stalker from Modern Warfare 3, which was released back in 2011. This Perk got rid of all movement penalties while aiming down sights.
This allowed players to strafe effectively while using an LMG, Sniper Rifle, and any other weapon with poor mobility, which was very effective in MW3.
The Perk basically turned Assault Rifles into SMGs, meaning they were effective at close and long ranges.
Further, if players unlocked the Pro version of the Perk, it also delayed Bouncing Betty, Claymore, and IMS detection, which were very strong equipment in MW3.
Although Stalker returned in Call of Duty: Ghosts, the description was slightly different from the MW3 version, and clearly, JGOD's post is the Perk image from MW3.
Other popular Call of Duty players also weighed in on the debate, with Optic Hitch also sharing their opinion in the comments, stating that MW2's Ninja Pro was the best Perk of all time: "Ninja Pro MW2. Not close."
---
Everyone will have their preference as the best Call of Duty Perk of all time comes down to personal opinion, but Stalker is definitely not a bad shout.
For more on Call of Duty, check out everything we currently know about Modern Warfare II.
Image Credits: Activision / JGOD
Biggest AAA video games coming in 2022: PS5, Xbox Series X, Switch, PC, Stadia & Steam
2022 is a huge year for video games and here's all the biggest titles coming to PlayStation, Xbox, Switch, and more – with release dates.
2022 continues to be a massive year for video games. Between franchises such as God of War, Pokemon, and Harry Potter, the PS5, Xbox Series X, Switch, PC, and Stadia have some mammoth titles to host. Here's a look into the biggest games and potential release dates.
The beginning of 2022 will signal over a year since the PS5, and Xbox Series X took video games to the ninth generation of consoles. Developers have had plenty of time to chew the fat and harness the power of the consoles to create immense AAA experiences.
There's also plenty of mileage left for the Nintendo Switch, and of course, PC, Stadia, and Steam are always pushing the envelope.
With 2022 already delivering Horizon Forbidden West, Elden Ring, Pokemon Legends: Arceus, Rainbow Six Extraction, and Gran Turismo 7, the remainder of the year is also looking to bring the heat. Here's a look at the top AAA video games coming in 2022.
PS5, Xbox, Switch, PC, Steam & Stadia video games in 2022
Call of Duty Modern Warfare 2 release date: Fall 2022
For the first in almost 20 years, the Call of Duty franchise will be breaking its annual release schedule in 2023. This means that players will be stuck with CoD's 2022 title, Modern Warfare 2 for two years.
The 2022 iteration of the iconic franchise is set to be a direct sequel to 2019's Modern Warfare. The game will be built on a brand-new engine, and the development of the game is being led by Infinity Ward.
Gotham Knights release date: October 25, 2022
A Gotham City without the caped crusader is a strange thought, but that's the threat that faces it as Bruce Wayne is dead.
In Batman's place, his former proteges need to step up and protect Gotham, batting away any threats of crime perpetrated by some of its most evil supervillains. Featuring co-operative mode, players can take control of these plucky heroes and hopefully do Batman proud.
Hogwarts Legacy release date: Holiday 2022
There have been many Harry Potter movie tie-in games, but there still hasn't been an authentic RPG experience that lets you become your own wizard – until now.
Hogwarts Legacy will let fans worldwide finally live out their dream of attending Hogwarts, and the game allows players to select their House, the classes they do, and customize their character, all the while fighting monsters and completing quests.
God of War: Ragnarok release date: 2022
Players got a juicy look at the next epic adventure in Santa Monica's God of War franchise during the 2021 PlayStation Experience. Kratos and Atreus are set to battle with Freya, possibly Thor, and their own demons.
God of War Ragnarok looks like it's expanded upon the reboot to incorporate more NPCs, more spectacular gameplay, and a gripping narrative that will test the bond between father and son.
Final Fantasy XVI release date: late 2022
The hype surrounding Final Fantasy XVI is beginning to mount as we get deeper into 2022. It's the collaboration between Square Enix and the combat designer of Devil May Cry 5, Ryota Suzuki that has fans of the franchise excited.
The developers have confirmed that they would release additional information about the sixteenth game in the mainline Final Fantasy franchise around Spring 2022. Hopefully, this will include a release date giving RPG fanatics something to look forward to.
Pokémon Scarlet and Violet release date: late 2022
2022 is a great year to be a Pokemon fan. Shortly after the release of Pokemon Legends: Arceus, Nintendo wasted no time announcing their newest mainline titles. Pokemon Violet and Pokemon Scarlet will introduce players to the ninth generation of Pokemon games.
Nintendo has already shared details about the game including the implementation of open-world areas as well as the three starter Pokémon: Sprigatito, Fuecoco, and Quaxly.
Zelda: Breath of the Wild 2 release date: delayed to 2023
It wouldn't be a stretch to say that Zelda: Breath of the Wild 2 could easily be one of the most anticipated games of all time.
Breath of the Wild took the world by storm in 2017 with its rich, expressive world that deviated from the conventions of traditional Zelda games. Many millions of copies sold later, and fans everywhere are desperate for the next chapter for Link in this gorgeous, sprawling version of Hyrule.
Unfortunately on March 29, 2022, Nintendo announced that Zelda: Breath of the Wild 2 would be pushed back to a 2023 release date.
---
That completes our guide to the biggest and most anticipated video games that are due to arrive in 2022. For all the latest news and guides on these games and more, stay tuned to Charlie INTEL!
Image Credit: Avalanche Software / WB Games Montreal / Nintendo / Game Freak / Square Enix / Santa Monica Studios / Ubisoft / Activision