Download and play Call of Duty: Mobile now on iOS and Android
Call of Duty: Mobile has arrived. Download Call of Duty: Mobile now on iOS and Android worldwide and experience Call of Duty on the go with this new experience.
Call of Duty: Mobile is Activision's first large free to play venture in the mobile market, as the mobile gaming industry continues to expand at an incredible pace in my markets worldwide.
Here's the direct download links:
Activision first announced Call of Duty: Mobile back at GDC event in March. The Mobile game is being developed in partnership with Tencent's TIMI Studios.
Call of Duty: Mobile combines the best of the Call of Duty: Modern Warfare and Call of Duty: Black Ops series into a single experience on mobile, with a Multiplayer mode that features the best weapons and maps from the series and a Battle Royale mode which has iconic Call of Duty location. The Battle Royale mode unlocks in game after leveling up in MP. A Zombies mode is coming soon.
"We are delivering the definitive, first-person action experience on mobile with signature Call of Duty gameplay in the palms of your hands," said Chris Plummer, VP, Mobile at Activision. "We are bringing together some of the best the franchise has to offer, including Modern Warfare maps like Crash and Crossfire, Black Ops maps like Nuketown and Hijacked, and many more, into one epic title. We've tested the game extensively in select territories and the feedback we've received has helped us refine the experience for October 1."
Prepare for the definitive, mobile first-person action experience! The highly anticipated Call of Duty: Mobile will launch in many countries around the world* on October 1, 2019. This is a free-to-play game for both Android and iOS devices; a feature-rich game brimming with content, and for the first time includes brings together experiences from both the Modern Warfare® and Black Ops series of games! Also expect a fully-customizable control scheme, numerous modes of play, fan-favorite characters and weapons to choose from, as well a new, sprawling and suitably epic Battle Royale mode.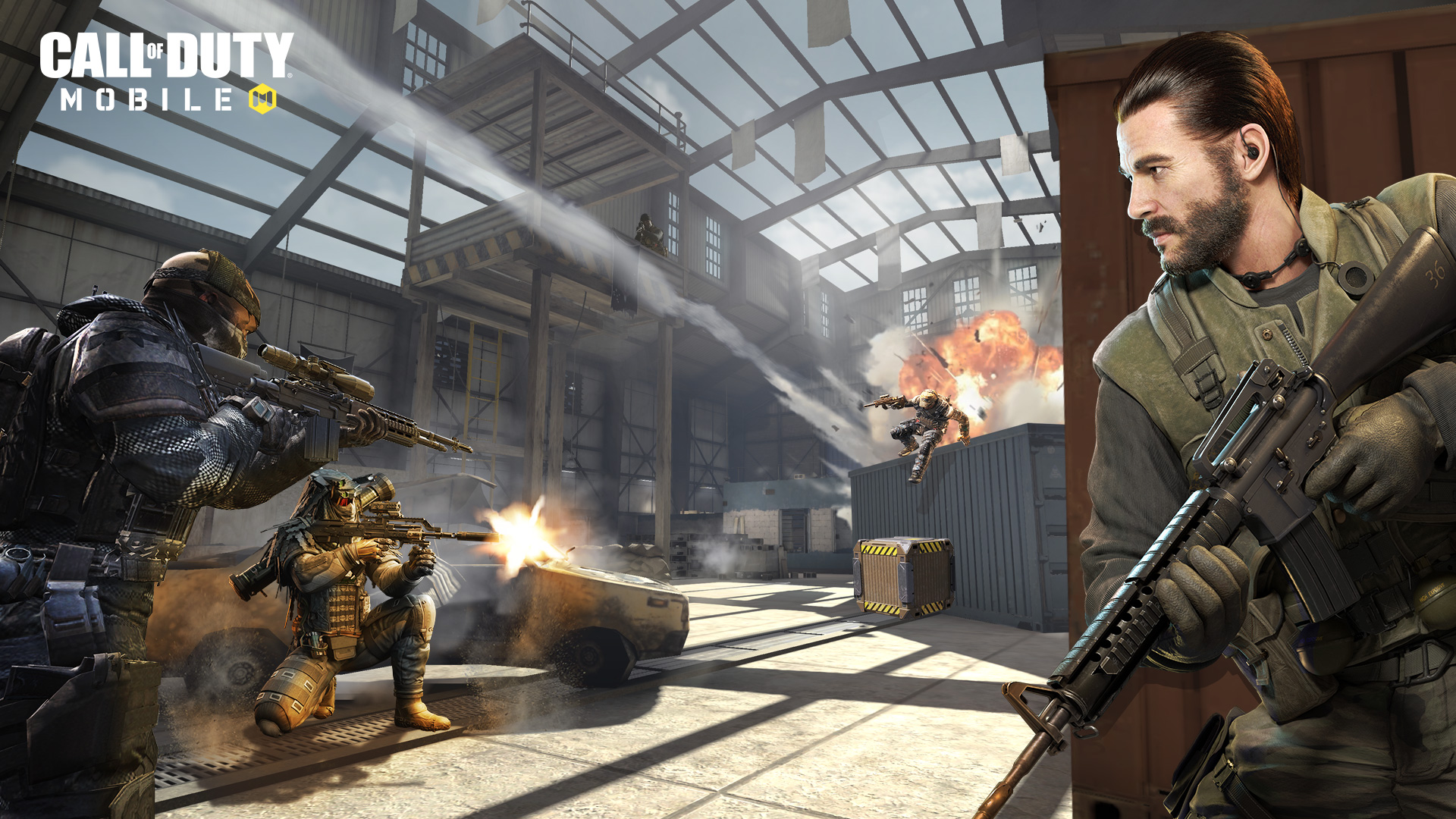 Fast and Fluid First-Person Multiplayer Combat
Begin your Call of Duty: Mobile career with a quick tutorial, after which you'll have the option to explore the Loadout menu, customize up to five separate Loadouts with Primary and Secondary weapons, a Soldier type, an Operator Skill, Lethal and Tactical Equipment, and three Perks.
Every Operator in the game comes complete with three Scorestreaks, earned in-game by taking out enemies and completing objective tasks.
Rank up to earn and unlock classic Call of Duty characters, such as John "Soap" MacTavish and Simon "Ghost" Riley from the Modern Warfare series, as well as Alex Mason from the Black Ops series.
Jump into Multiplayer and choose a game mode from a selection of new and classic Call of Duty experiences such as Frontline, Team Deathmatch, Domination, Gun Game, and Search & Destroy. Pick a preferred map, like Nuketown, Hijacked, Crash and more.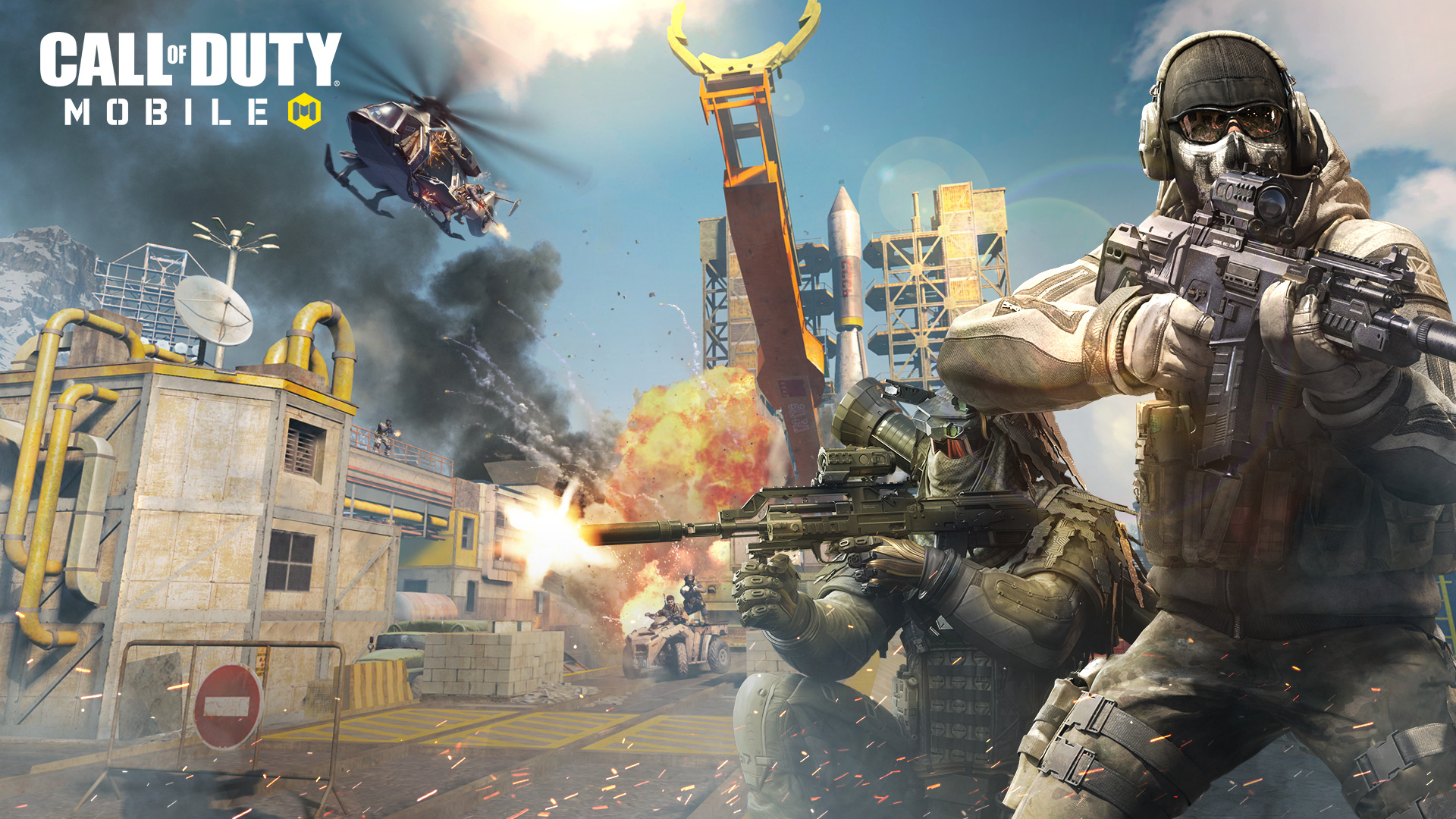 Battle Royale: Up to 100 Mobile Players Join the Fight
You'll also drop into new Battle Royale mode; a massive test of survival on a huge and unique open map featuring undulating terrain and locales from across the Call of Duty universe. Expect to play in Solo, Duo, or Quad-player competitions, across land, sea and air with vehicles including an ATV, helicopter, and tactical raft. Gather weapons and equipment you'll recognize from across the series. Play in either first or third-person perspective, and pick one of six Classes to play as, before you parachute in and the action begins!
The game is free to play and available now on iOS and Android devices worldwide.
The Call of Duty: Mobile game features a lot of microtransactions, as expected nowadays with free to play mobile games. The game features an in-game store and a Battle Pass system with Call of Duty Points.
Call Of Duty Mobile: Best Loadout for the AGR 556 SMG
The AGR 556 is a formidable SMG in CoD Mobile. Here's the best loadout for it.
You have plenty of SMGs available to you in Call Of Duty Mobile. The AGR 556 is an incredible gun because of its short-range and medium-range combat capabilities. Here is the best loadout that you can assemble for it.
Call of Duty Mobile has a wide assortment of weapons for you to choose from. If you're up for rushing into close combat, then you can't do better than SMGs. They offer better mobility and speed than Assault Rifles, so they're the ideal choice.
The AGR 556 is a reliable SMG that you obtain at Tier 21 on the Season 12 Battle Pass. This fully automatic submachine gun can deal damage with a high rate of fire and low recoil. However, there is definitely room for improvement, and certain attachments will help with that.
Best AGR 556 Loadout
Barrel: MIP Light Barrel (Short)
Muzzle: Monolithic Suppressor
Ammunition: 60 Round 5.56mm Drum
Laser: OWC Laser – Tactical
Underbarrel: Strike Foregrip
Rear Grip: Granulated Grip Tape
The AGR 556 allows for a lot of mobility and has great range for an SMG. The only aspect that needs some tuning is the DPS, so we've prepared a loadout that prioritizes dishing out damage with minimal loss of movement Speed.
You can give the DPS a boost with the 60 Round 5.56 Drum magazine, while the Monolithic Suppressor will increase the Damage range at the cost of slightly reduced accuracy. The Strike Foregrip makes up for that and adds improved vertical recoil control to the SMG.
Combine this with the MIP Light Barrel (Short), and you'll make up for the movement speed that you lost due to the Underbarrel. This way, you won't get mowed down while running and gunning.
The Granulated Grip Tape will help further reduce bullet spread and the OWC Tactical Laser will allow you to aim down sights from a moderate distance. This makes it so that you don't really need a scope or sight – especially since you'll spend most of your time moving quickly during close combat.
Plus, the AGR 556's iron sights already have you covered in that regard.
Best AGR 556 Perks
Now that the weapon is primed for dealing high DPS, you need also to prioritize movement speed. Along with the MIP Light Barrel, you should equip The Lightweight perk. This will give a 10% boost to your sprinting speed so that you're harder to hit.
You can reduce the chances of foes hearing your movement by equipping The Dead Silence perk. If you still manage to take a hit, then The Toughness perk should help a bit by reducing the aim punch.
That sums up all you need to do to make the AGR 556 an ideal choice for close combat in Call of Duty Mobile. Get out there and drop some high-kill games with it!
Call of Duty nominated for multiple awards at 2020 Game Awards
Modern Warfare, Warzone, and CoD Mobile have been nominated for multiple awards in The Game Awards 2020.
Modern Warfare, Warzone, and CoD Mobile have been nominated for multiple awards in The Game Awards 2020.
The Game Awards is one of the internet's largest live stream events. Reaching nearly 50 million viewers in 2019, the 2020 show is set for December 10.
In 2019, Modern Warfare won the Game Award for Sound Design, and Call of Duty Mobile won Best Mobile Game. Modern Warfare and CoD: Mobile have been nominated again, with Warzone up for two awards.
Voting is now open on TheGameAwards.com, so check out what categories Call of Duty has been nominated for.
Nominations
Modern Warfare & the CDL
Modern Warfare has been nominated for Best Esports game following the CDL 2020 in which Dallas Empire took the title, beating Atlanta FaZe 5-1. For winning the title, they have been nominated for Best Esports Team of the year.
Dallas Empire players Ian 'Crimsix' Porter and Anthony 'Shotzzy' Cuevas-Castro have been nominated for Best Esports Player.
The Call of Duty League Championship 2020 has also been nominated for Best Esports Event.
Warzone
Warzone, which launched in March 2020, has been nominated for two awards.
Call of Duty's new battle royale took the world by storm, being one of the biggest battle royale games this year. Due to its success, it has been nominated for Best Multiplayer, going against internet icons such as Fall Guys and Among Us.
With its live-service model and regular updates, Warzone has also been nominated for Best Ongoing Game. The game will integrate with Black Ops Cold War in December, continuing its live-service model.
Call of Duty Mobile
After winning Best Mobile Game in 2019, CoD Mobile has again been nominated for Best Mobile game again. With regular updates and seasons, and many fan-favorite Call of Duty maps and weapons, CoD Mobile has established a loyal fanbase.
To vote for your favorite games from 2020, log in to TheGameAwards.com.
Source: The Game Awards
CoD Mobile 'Knights Divided' event: date, content, more
Season 12 of Call of Duty: Mobile launched last week and with it comes the new season event 'Knights Divided.'
Going Dark, the 12th season of CoD Mobile, has brought Captain Price, Hackney Yard, and Night Mode. It was announced that further into the season a new event called 'Knights Divided' would arrive.
With Going Dark now underway, Call of Duty Mobile has announced the launch date for the Knights Divided event.
Knights Divided
The Knights Divided Event will begin at at 4pm Pacific Time/ 7pm Eastern time.
Players must pick to fight for either the Red or Blue team in the primary event of the season.
This competitive event will have players "choose a side and crush the opposition in a race to conquer new territory and earn rewards in the process."
While playing Knights Divided, players can "earn and equip a special weapon set for a bonus modifier" to further boost their efforts. There are also "special rewards in store for the winning teams and top contributors for either side."
Content that will be awarded in Knights Divided has been leaked. Twitter account Call of Duty Mobile News shared images of the rewards expected to be in the game.
Leaks show that players can earn colored weapon skins, operator skins, charms and more.
Leaks have also indicated that players will have to select either a Red or Blue award for playing the event. It's likely that the reward color will correspond to players' chosen team.
Source: Call of Duty Blog