Download and play Call of Duty: Mobile now on iOS and Android
Call of Duty: Mobile has arrived. Download Call of Duty: Mobile now on iOS and Android worldwide and experience Call of Duty on the go with this new experience.
Call of Duty: Mobile is Activision's first large free to play venture in the mobile market, as the mobile gaming industry continues to expand at an incredible pace in my markets worldwide.
Here's the direct download links:
Activision first announced Call of Duty: Mobile back at GDC event in March. The Mobile game is being developed in partnership with Tencent's TIMI Studios.
Call of Duty: Mobile combines the best of the Call of Duty: Modern Warfare and Call of Duty: Black Ops series into a single experience on mobile, with a Multiplayer mode that features the best weapons and maps from the series and a Battle Royale mode which has iconic Call of Duty location. The Battle Royale mode unlocks in game after leveling up in MP. A Zombies mode is coming soon.
"We are delivering the definitive, first-person action experience on mobile with signature Call of Duty gameplay in the palms of your hands," said Chris Plummer, VP, Mobile at Activision. "We are bringing together some of the best the franchise has to offer, including Modern Warfare maps like Crash and Crossfire, Black Ops maps like Nuketown and Hijacked, and many more, into one epic title. We've tested the game extensively in select territories and the feedback we've received has helped us refine the experience for October 1."
Prepare for the definitive, mobile first-person action experience! The highly anticipated Call of Duty: Mobile will launch in many countries around the world* on October 1, 2019. This is a free-to-play game for both Android and iOS devices; a feature-rich game brimming with content, and for the first time includes brings together experiences from both the Modern Warfare® and Black Ops series of games! Also expect a fully-customizable control scheme, numerous modes of play, fan-favorite characters and weapons to choose from, as well a new, sprawling and suitably epic Battle Royale mode.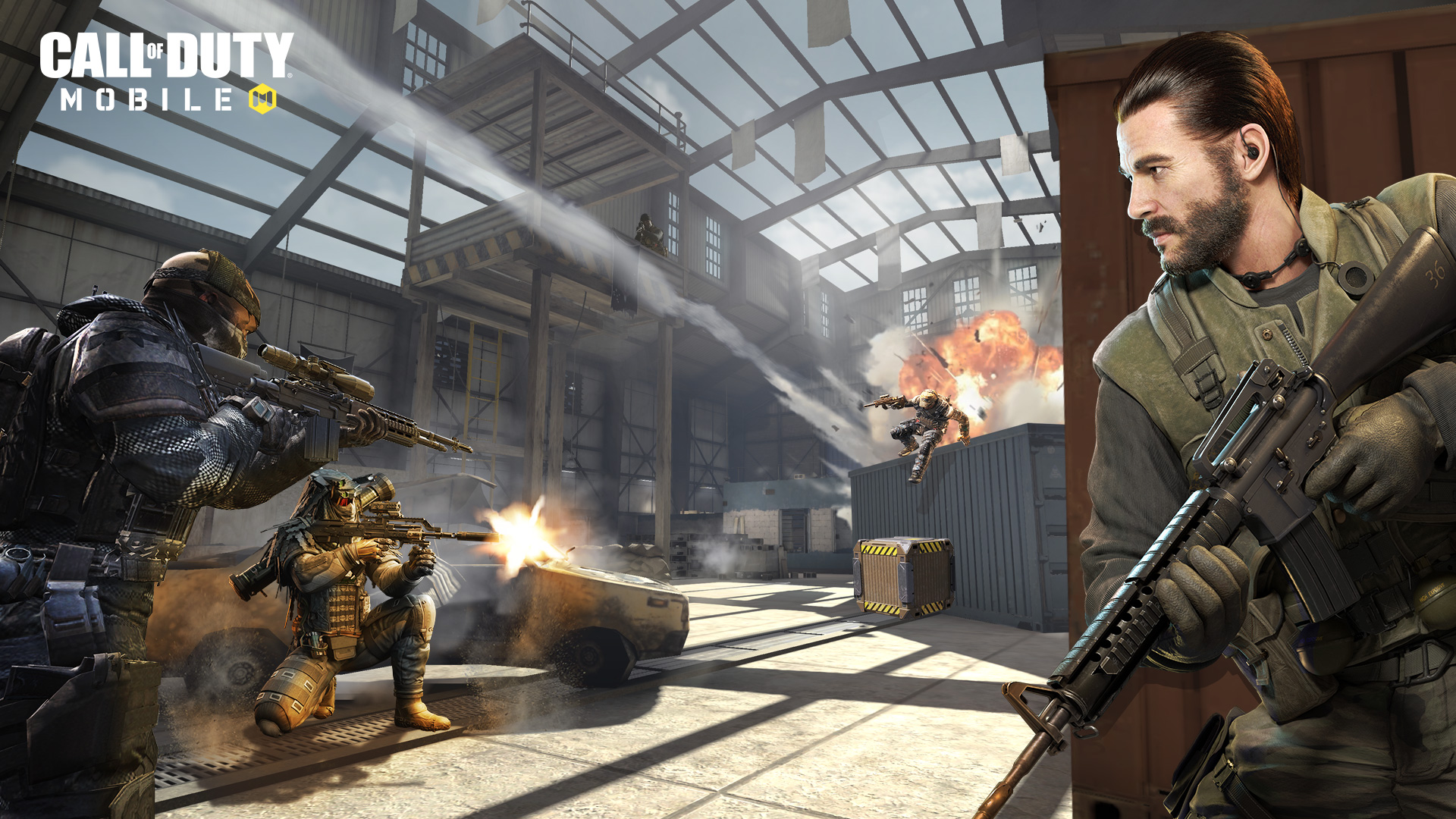 Fast and Fluid First-Person Multiplayer Combat
Begin your Call of Duty: Mobile career with a quick tutorial, after which you'll have the option to explore the Loadout menu, customize up to five separate Loadouts with Primary and Secondary weapons, a Soldier type, an Operator Skill, Lethal and Tactical Equipment, and three Perks.
Every Operator in the game comes complete with three Scorestreaks, earned in-game by taking out enemies and completing objective tasks.
Rank up to earn and unlock classic Call of Duty characters, such as John "Soap" MacTavish and Simon "Ghost" Riley from the Modern Warfare series, as well as Alex Mason from the Black Ops series.
Jump into Multiplayer and choose a game mode from a selection of new and classic Call of Duty experiences such as Frontline, Team Deathmatch, Domination, Gun Game, and Search & Destroy. Pick a preferred map, like Nuketown, Hijacked, Crash and more.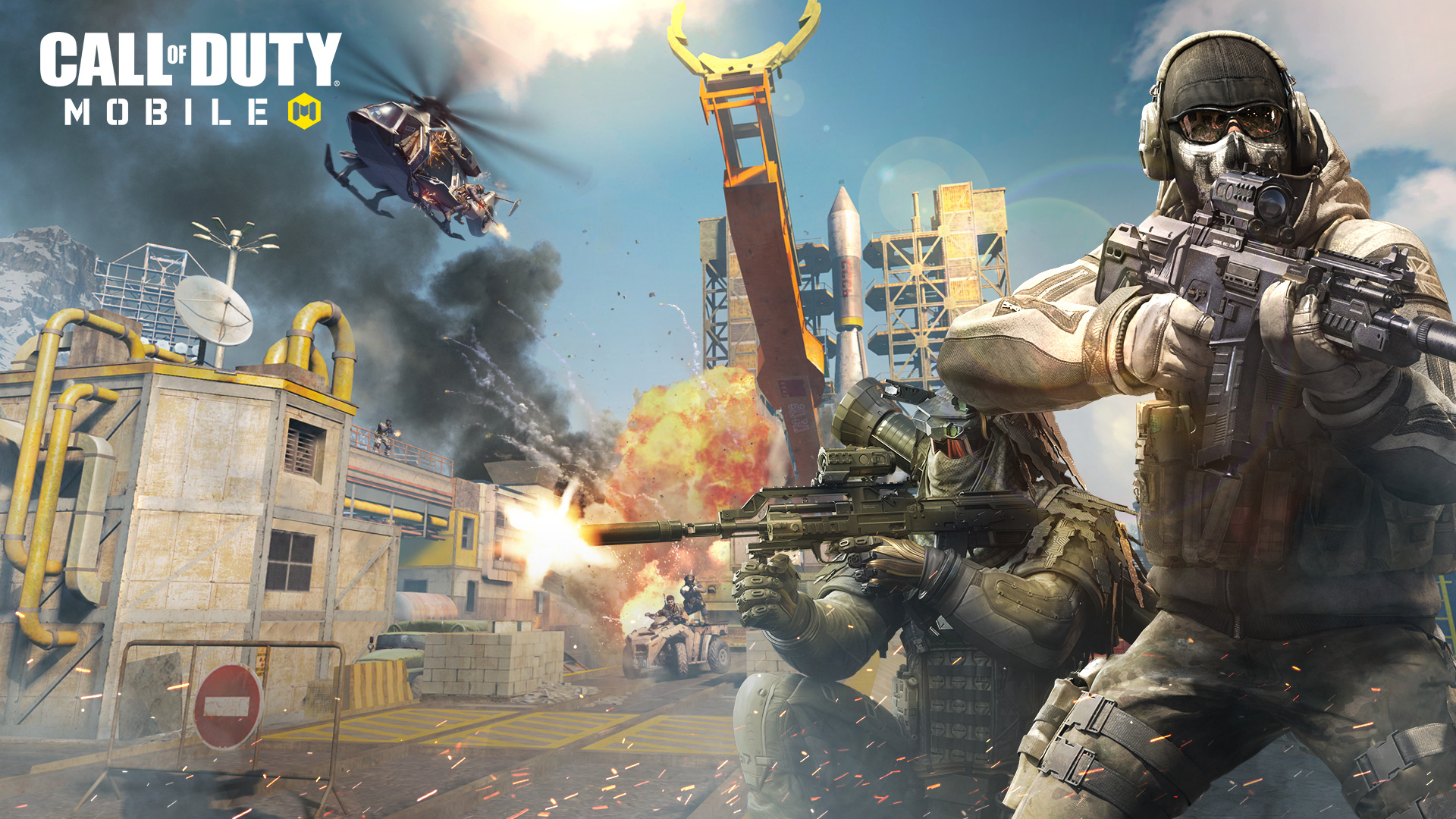 Battle Royale: Up to 100 Mobile Players Join the Fight
You'll also drop into new Battle Royale mode; a massive test of survival on a huge and unique open map featuring undulating terrain and locales from across the Call of Duty universe. Expect to play in Solo, Duo, or Quad-player competitions, across land, sea and air with vehicles including an ATV, helicopter, and tactical raft. Gather weapons and equipment you'll recognize from across the series. Play in either first or third-person perspective, and pick one of six Classes to play as, before you parachute in and the action begins!
The game is free to play and available now on iOS and Android devices worldwide.
The Call of Duty: Mobile game features a lot of microtransactions, as expected nowadays with free to play mobile games. The game features an in-game store and a Battle Pass system with Call of Duty Points.
Best Call of Duty Zombies map: Every map ranked from World at War to Cold War
At least one Call of Duty Zombies map has a special place in player's hearts. So we've picked our best Zombies maps and ranked them.
Call of Duty Zombies has gone from a mini-game to pretty much a must-have feature in every CoD game. So we've sifted through every Zombies map ever made, settled on the absolute best ones, and ranked them.
It seems that nearly everyone has a favorite Zombies of all time, and a different top five list, such is the impact of Call of Duty Zombies on players. Treyarch's post-World at War mini-game went on to become as important to people as the online multiplayer itself.
The latest official entry into the series, Black Ops Cold War, offered up several new maps including Firebase Z and the intense Forsaken, introduced terrifying new enemies in Mimics, and produced several memorable Main Quest Easter Eggs.
Vanguard aims to carry the Dark Aether storyline on in Der Anfang, and CoD Zombies will continue to grow. But before we get to Call of Duty: Vanguard, let's go through and rank every Call of Duty Zombies map in history so far.
Every CoD Zombies ranked
In total, there have been 49 Zombies maps, and we've taken it upon ourselves to complete the difficult task of ranking them all.
Here is every CoD Zombies map ranked:
Mob of the Dead
Kino der Toten
Der Reise
Nacht der Untoten
Zombies in Spaceland
Origins
Der Eisendrache
Shadows of Evil
Moon
Ascension
Firebase Z
Five
Ancient Evil
Call of the Dead
Mauer der Toten
Shi No Numa
Die Maschine
Gorod Krovi
Buried
Forsaken
Shangri-La
Die Rise
Verruckt
IX
Nuketown Zombies
Revelations
Rave in the Redwoods
Classified
Der Rise
Attack of the Radioactive Thing
Descent
The Final Reich
Shaolin Shuffle
Outbreak
Blood of the Dead
Zetsubou No Shima
Beast From Beyond
TranZit
Voyage of Despair
Carrier
The Shadowed Throne
The Tortured Path
Infection
The Darkest Shore
Tag der Toten
Grosten Haus
The Frozen Dawn
Alpha Omega
Dead of the Night
Top 5 Call of Duty Zombies ever ranked
Now that we've managed to rank every single Zombies map ever made, it's now time to do a deep dive into our top five CoD Zombies maps of all time.
We believe each of our picks has a special quality that makes them so endlessly memorable, and while not all are as refined and packed as other maps, they are in the top five for a reason.
5. Zombies in Spaceland map – Infinite Warfare
Zombies in Spaceland moves away from the largely serious nature of Zombies and throws its players into a mad, exhilarating theme park of thrills, spills, and kills.
It carries on the novelty of Zombies maps around that time by having celebrity David Hasselhoff as the host and also demanded that players work together by having doors that needed to be opened by multiple teammates.
As well as the bright aesthetic, fun traps, and nicely divided up areas of the park, there were also the mini-games in the Astrocade. Featuring multiple, interactive arcade games, players could amass a collection of tokens to redeem for cool prizes.
To sweeten the pot further, players could also grab a bit of a breather on the Triton rollercoaster, a moving shooting gallery. As a whole, Zombies in Spaceland is a fun novelty that separates itself from a lot of the pack to form an identity.
4. Nacht der Untoten map – World at War / Black Ops III
It's entirely up to you which version of Nacht you opt for, but there's a part of us that yearns for the simplicity of its original form.
When players completed Call of Duty: World at War, after the credits rolled, many were surprised to be whisked away to a random room with creepy music and only a pistol.
So began the legacy of CoD Zombies, and unlike the Black Ops III remake, the pure nature of Nacht der Untoten still makes it a challenge to this day. No Perks, no Pack-A-Punch, just 1-4 players in a handful of confined rooms.
Given how many Wonder Weapons can be obtained in modern CoD games, the feeling of pure euphoria when you got a Ray Gun from the Mystery Box in Nacht der Untoten was unlike anything else.
3. Der Riese map – World at War
Another entry for Call of Duty: World at War in Der Riese, and the genius of some of its ideas are still at the forefront of many Zombies maps today.
Teleporters, Easter Eggs, and the aforementioned PAP and Wonder Weapon features were all introduced via Der Riese. These novel ideas were complemented perfectly by the map's extraordinary map design.
All the channels and pathways blended together seamlessly, making a smaller map, in comparison to later maps, seem big enough, fair, and keep players keep coming back for more.
2. Mob of the Dead map – Black Ops II
As a DLC-only map, it may not have been enjoyed by as many people as base maps, but the legacy that Mob of the Dead has left been is unreal.
Fans of Warzone's Rebirth Island would already have been familiar with Mob of the Dead as the map is set in the world-famous Alcatraz prison. It manages to intertwine the themes of the undead with mobsters, and create a perfect scenario in which you need to escape the island.
Action in Mob of the Dead is intense unlike any other, particularly with the tightness of the corridors and its surroundings at times. The Easter Egg for Mob of the Dead is tremendous, and we definitely need to see it reimagined in the future for all players to experience.
1. Kino der Toten map – Black Ops
Sometimes, less is more. Whereas Nacht der Untoten feels barebones and a modern map like Die Maschine is chock full of features, Kino der Toten strikes that fine balance of power, whilst delivering the best map in CoD Zombies history.
Kino's cinema is probably the most iconic setting in the franchise and its level design makes the map unbelievably accessible. Turning on the power, going through the curtains, and seeing the decimated venue is a cool feeling.
You can manipulate how the Zombies will get to you, depending on which doors you unlock, and the Projector room offers the perfect respite from the chaos. Kin der Toten never stops being a blast to play, and that's why we think it's the best CoD Zombies map in the game's history.
---
So there you have it! All 49 Zombies maps ranked, and our top five CoD Zombies maps in order as well.
For more Call of Duty Zombies content, check out everything we know so far about Vanguard Zombies.
Image Credit: Activision / Treyarch / Infinity Ward
Is Black Ops 2 being remastered? Rumors & leaks
Fans have been wondering for sometime if CoD: Black Ops 2 is going to be remastered, and we'll answer that today.
Several Call of Duty games have received the remaster treatment in recent years, and it's left fans wondering if the mega-popular Black Ops 2 will get one. Here are all the latest rumors and leaks regarding a Black Ops 2 remaster.
The popularity of Call of Duty: Black Ops 2 simply cannot be understated with the game being considered the greatest of all time by many. But fast-forward to 2021, and players want to know if this beloved entry in the CoD franchise will be remastered.
The premise of Call of Duty remasters was kickstarted by the 2016 Call of Duty 4: Modern Warfare Remastered title. Since then, we've also had the Modern Warfare 2 campaign be remastered, and there are rumors of Modern Warfare 3 being remastered, despite Activision saying it isn't.
Is Call of Duty: Black Ops 2 being remastered?
From what we understand, no, not at this time. There is absolutely nothing to suggest that any form of Black Ops remaster is in the works.
Naturally, people would think that Treyarch's Black Ops may receive the same love that the Modern Warfare franchise has gotten, but alas it doesn't seem to be the case.
Why isn't Black Ops 2 being remastered?
We believe there could be two strong reasons for Black Ops 2 not being remastered, one being that it would oversaturate the CoD market, and also that we've already seen a few of its maps recently.
If a full Black Ops 2 remaster were to exist anytime soon, it would mean that Activision would have the end of Black Ops Cold War's run, 2019's Modern Warfare, Warzone, Vanguard, and Black Ops 2.
One of the problems 2016's Infinite Warfare suffered from is that it released with the full Call of Duty 4 remaster, and consequently, the player base was divided between the two games.
Furthermore, Black Ops Cold War featured no less than seven Black Ops 2 map remasters throughout its multiple seasons, and they feel too fresh in the memory to warrant a remaster of the multiplayer.
We could see a remaster of the Black Ops campaigns, following the successful rerelease of the Modern Warfare 2 campaign.
---
Activision may have some surprises and remasters up their sleeves, but for the time being, we can only speculate and ask you to keep checking in to see if anything becomes official.
Also, check out everything we know about Call of Duty: Vanguard.
Image Credit: Activision / Treyarch
Infinity Ward announces new Austin office as studio gears up for CoD 2022
The original Call of Duty developer, Infinity Ward, is expanding its operations via a new office in Austin, Texas for CoD 2022.
One of the three developers behind the Call of Duty franchise is getting a new office. Infinity Ward is expanding its operations via a new office in Austin, Texas, in preparation for CoD 2022.
Infinity Ward is the developer behind the original Call of Duty game. Activision founded Infinity Ward in 2002, with the first Call of Duty title being released in 2003. This birthed one of the most iconic video game franchises to date.
Infinity Ward would go on to develop Call of Duty 2 in 2005 before alternating developers. Now, Infinity Ward is known for developing the Modern Warfare titles, which are released roughly every three years.
With Infinity Ward releasing the last Modern Warfare title in 2019, the developer is gearing up for another release in 2022. We don't know what CoD 2022 will be just yet, but we do know that Infinity Ward is expanding its operations with a new office.
Infinity Ward Austin Texas office
Today, Infinity Ward announced via Twitter that it would be opening a new office in Austin, Texas. This would be the fourth development hub for the company, with the other three being located in Los Angeles, Poland, and Mexico.
This also means that Infinity Ward is hiring. According to Infinity Ward, the Austin office is currently hiring for all positions, and you can find all of the available jobs posted on the Infinity Ward website.
Call of Duty: Vanguard releases in less than a month. It's taking players back to WWII, where Infinity Ward is expected to bring the franchise back to modern times, with CoD 2022 speculated to be a sequel to Modern Warfare 2019.
That being said, we have no official idea what to expect from Infinity Ward going into 2022, but with the significant success of Modern Warfare 2019, it will no doubt be a Call of Duty game plenty of players will love.
Regardless, Infinity Ward is planning something big, and the new office proves just that. So, if Vanguard isn't your cup of tea, CoD 2022 is just a year away.
For more Call of Duty, check out the insane number of weapon camos for Vanguard, and stay tuned for more news and guides.
Image Credits: Infinity Ward / Activision