Call of Duty: Modern Warfare 2v2 Gunfight Open Alpha now live on PlayStation 4
It's time, PlayStation 4 players!
The Call of Duty: Modern Warfare 2v2 Gunfight Open Alpha is now live on PlayStation 4.
The Gunfight 2v2 Alpha is open to every single PlayStation 4 player — no pre-order required, no code required, and no PS Plus required. The Alpha will be available from now through Sunday, August 25. An exact end time has not been confirmed.
The Gunfight 2v2 Open Alpha features five maps to play on: Stack, King, Pine, Speedball, and Docks. Per an Activision Support article, the Alpha starts with three maps (King, Pine, and Speedball), and the two new maps (Docks and Stack) will be added during the weekend.
Maps:
Docks (2V2 Alpha Exclusive)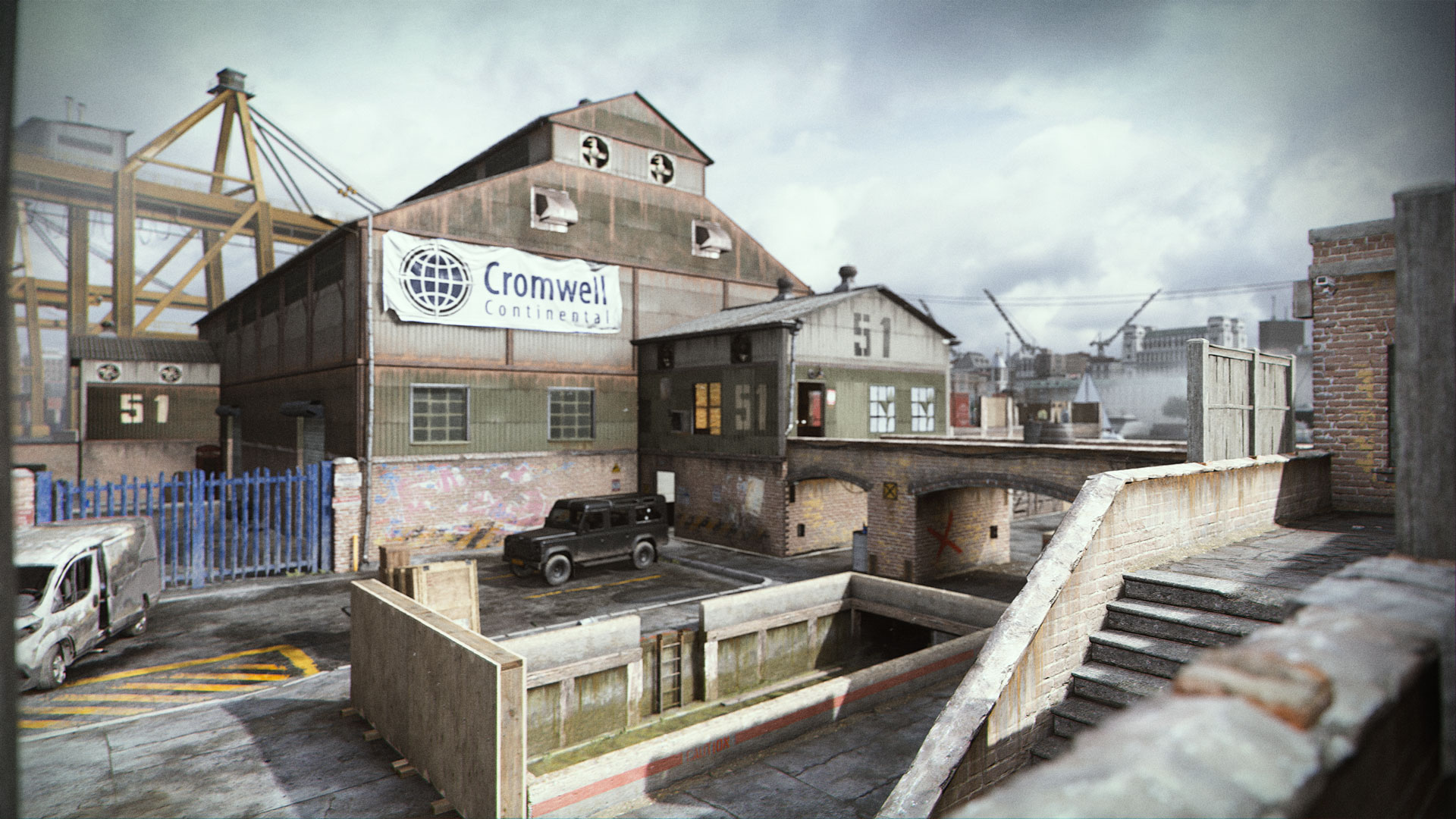 A London shipyard with vessels travelling along the river behind one team's infil point, with the other team spawning in street-side due west. Buildings 51 – the Foreman's office – and 52 – the crew's quarters – are two-story brick structures that define the map's north and south, with a bridge connecting the two over a concrete walkway. The walkway under the bridge's center – which also sits over a concrete waterway running east to west – serves as the overtime flag's location.
King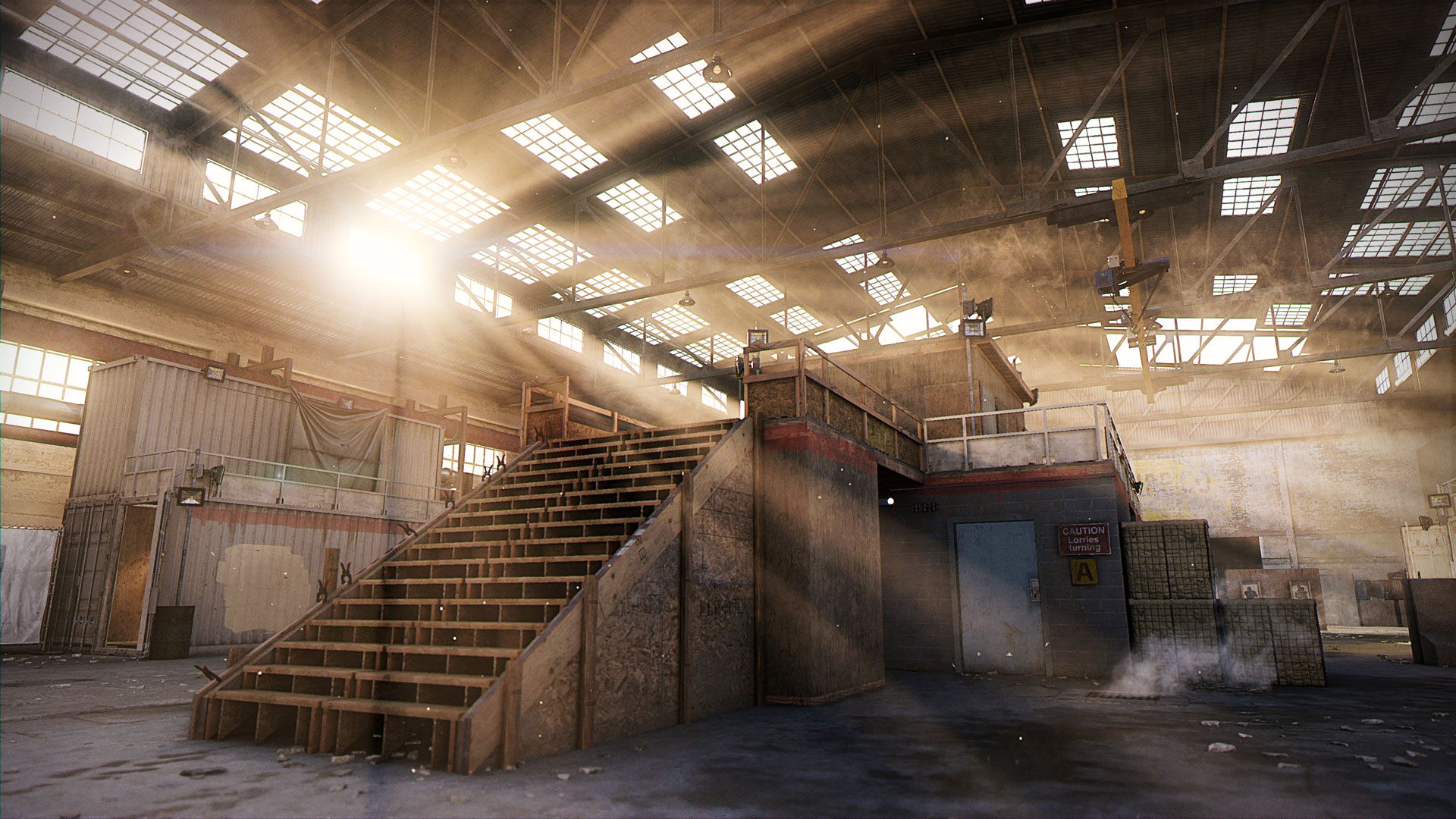 A roughly-symmetrical training range warehouse with each player starting behind an L-shaped defensive structure made from sections of wood subfloor. Along the perimeter are two connected metal shipping containers (with "Shoot House" sprayed on each one), offering protection, but no clear line of sight. The center of the map is a half-constructed plywood stage with stairs at each end, crates to climb, and a concrete base with three small tunnels to traverse. The flag spawns in the center tunnel.
Pine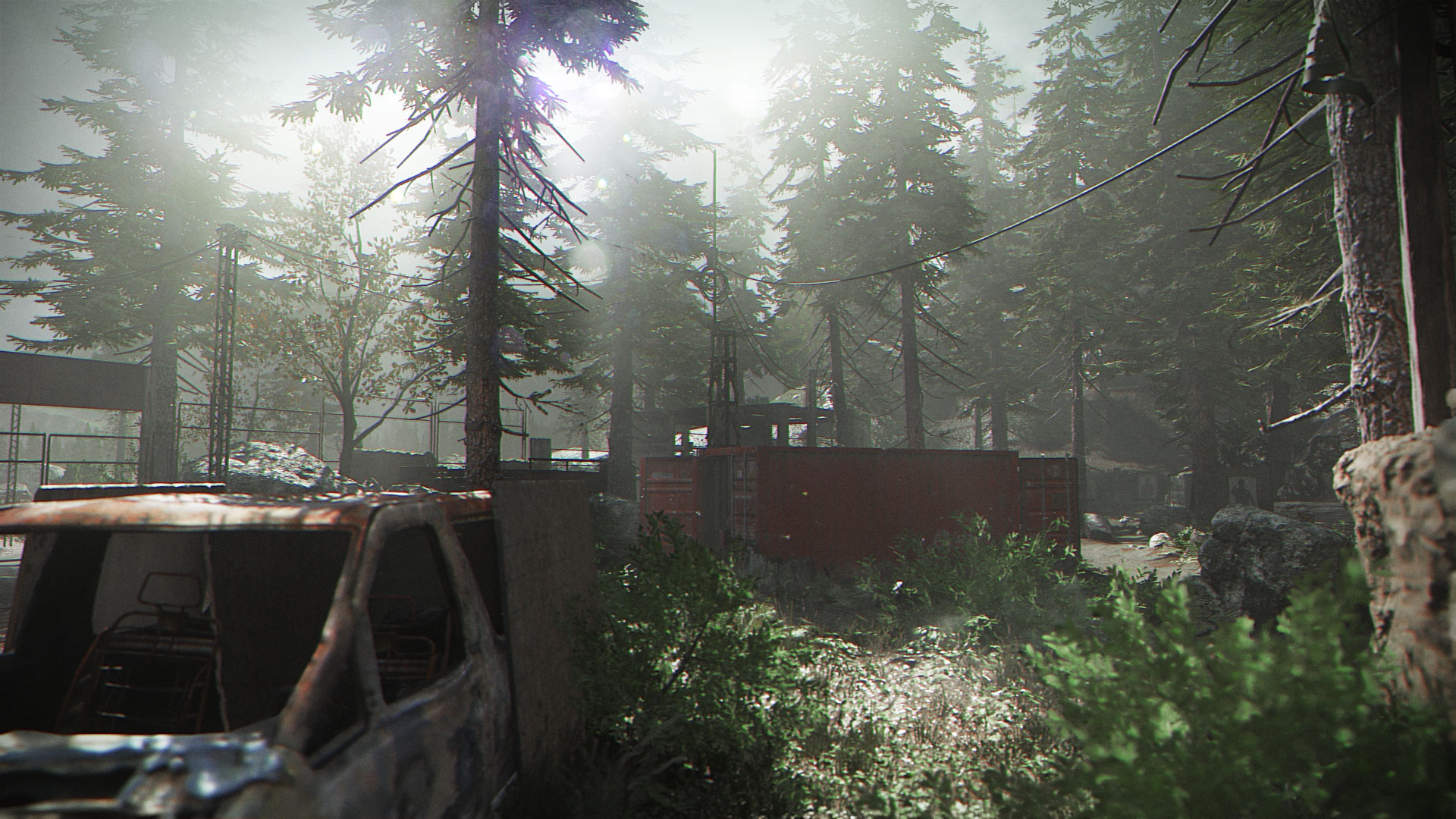 A woodland training range with working metal targets beyond the perimeter, and a small grassy area from the infil point. The eastern infil point is a firing range, while the western infil point is a bunker entrance. Each perimeter area leads to a rocky outcrop and a rusting vehicle to navigate or hide behind, and a raised, tarp-draped command post on the southern side. A stream bisects the map, running southwest to northeast, with an open red container where the flag appears.
Speedball (2v2 Alpha Exclusive)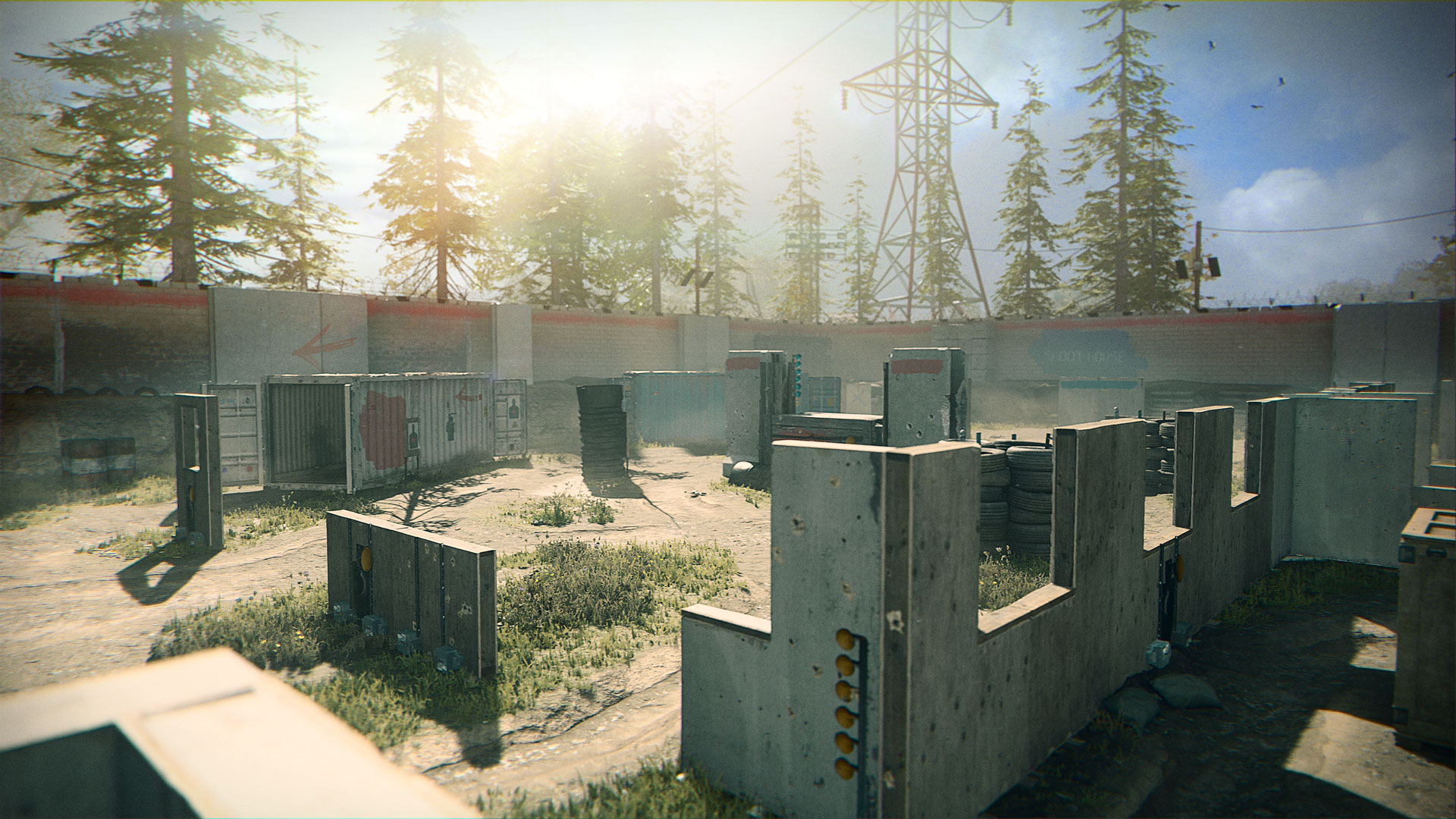 A live firing range that is true to its name through its style. Containers, tire stacks, concrete slabs and wooden structures act as cover between the two squads that infil on opposite sides east and west. The overtime flag appears near the map's southern portion, smack in the middle of two containers, dueling small towers and the central concrete-reinforced wood wall.
Stack
A desert training range, with both teams starting on a raised balcony (one with an overhang), each with two ramps; one at either perimeter edge. The side paths each have sand-filled buttress crates and tire stacks, and both widen slightly in the middle. The center of Stack is a raised platform, with plywood stairs (one at each corner), and an open container where the flag spawns.
Trailer:
Infinity Ward will be adding in variations of game modes into Gunfight throughout the weekend. More 'surprises' will be added throughout the weekend. Infinity Ward wants to use this weekend to test out scaling the servers with Gunfight alongside the overall balance and weapon system.
This is the first large scale Alpha testing that a Call of Duty title has ever had, so PS4 players be sure to try it out and give your constructive feedback to Infinity Ward developers.
Call of Duty: Modern Warfare will also feature an Open Beta in September for PS4, Xbox One, and PC. The Open Beta will begin September 12 on PS4 and be exclusive to PS4 for the first weekend. The second weekend, starting September 19, will be available across platforms.
Best CX-9 loadout for CoD: Warzone Season 6
Here are the attachments and Perks you can run with the highly-anticipated CX-9 SMG in Warzone and Modern Warfare to make its best loadout.
The CX-9 SMG finally arrived last season and is still a great option in Season 6, so here is how to make the best Warzone CX-9 loadout to dominate your enemies.
The CX-9 was released alongside the Sykov Pistol in Season 4, and in Season 6, it's still a very viable SMG that can shred at close range.
Although it may be considered a weaker weapon in the meta, the CX-9 is very powerful in both Warzone and Modern Warfare multiplayer and is well-worth unlocking.
Here are the attachments and perks to run with this SMG to make the best Warzone CX-9 loadout.
Table of Contents
Best Warzone CX-9 loadout
Best Warzone CX-9 loadout attachments
Barrel: CX-38S
Laser: Tac Laser
Stock: CX-FR
Underbarrel: Merc Foregrip
Ammunition: 50 Round Drums
The best Warzone CX-9 loadout is excellent in those close-quarters engagements, but due to the random nature of Warzone, we've built it to be a little bit more versatile.
The CX-38S barrel has two significant benefits. It's already got a Monolithic Suppressor attached, which frees up a slot, and it improves almost every aspect of the weapon. You'll see the CX-9 has a more effective range, recoil control, and your shots will be hidden from the minimap.
Next, we've added the Tac Laser and CX-FR stock to the best Warzone CX-9 loadout. Your CX-9 will now be much quicker, allowing you to snap onto enemies even if they take you by surprise.
The Merc Foregrip is always a solid choice for Modern Warfare SMGs, as it improves both recoil control and hip-fire accuracy for the best Warzone CX-9 loadout. And finally, the 50 Round Drums will allow you to down and kill multiple enemies without reloading when using the best Warzone CX-9 loadout.
Best Modern Warfare CX-9 loadout
Best Modern Warfare CX-9 loadout attachments
Barrel: CX-38S
Laser: Tac Laser
Stock: CX-FA
Ammunition: 30 Round Mags
Perk: Sleight of Hand
This CX-9 is built almost purely for speed but with a larger magazine and longer barrel for taking out targets at medium range.
To start, we've opted for the CX-38S barrel, which improves almost every aspect of the CX-9. You'll see a huge boost in damage range, bullet velocity, and even recoil control – while having your shots suppressed. The only downside is a slower ADS speed, which we'll correct with the rest of the attachments.
Modern Warfare's engagements usually take place in the confines of 6v6 maps, so you want a bit more speed with your weapon. To do this, we've opted for the Tac Laser and CX-FA stock. With these, your ADS speed, movement, and weapon stability will see a welcome improvement.
And finally, we've added the 30 Round Mags and Sleight of Hand Perk. The 30 Round Mag gives a solid boost to magazine size without slowing you down too much, and Sleight of Hand vastly increases your reload speed to keep you in the fight. If you want more bullets in your mag, you can always take the 50 Round Drums instead.
Best perks to use with CX-9 class
Best Warzone CX-9 Perks
Perk 1: E.O.D
Perk 2: Overkill then Ghost
Perk 3: Amped
E.O.D will help you survive a barrage of explosives, keeping you in the fight at all times. Overkill will allow you to take the CX-9 alongside a long-range weapon such as the Krig 6, and then you can take Ghost from your next loadout to hide from UAVs and Heartbeat Sensors.
Finally, the Amped Perk allows you to switch between weapons quickly, so you're never caught defenseless.
Best Modern Warfare CX-9 Perks
Perk 1: E.O.D
Perk 2: Ghost
Perk 3: Battle Hardened
Again, E.O.D is vital to ensuring you don't get taken out by a well-placed Frag Grenade or Semtex.
Then, the Ghost Perk will make sure you can always remain stealthy when an enemy pops a UAV.
Last but not least, Battle-Hardened significantly reduces the effect of Stuns and Flashbangs, so you're never rendered defenseless by Tactical Grenades.
Most recent CX-9 buffs and nerfs
The best Warzone CX-9 loadout was on the receiving end of a bug and nerf in the August 5 update for the Call of Duty battle royale, which caught plenty of players by surprise, considering the weapon had only been in the game for a short time before Raven Software rolled out an update for it.
You can find all of the changes the August 5 update made to this SMG below:
Increased mid damage range from 20 to 21
Increased Headshot Multiplier from 1.4 to 1.45
How to unlock the CX-9 in Warzone & Modern Warfare
The CX-9 is a Modern Warfare weapon, so you won't be able to unlock or use it in Black Ops Cold War. Luckily, it has an easily unlock requirement: Get 2 Longshot Kills while using an SMG in 5 different matches.
Because this is Modern Warfare, you don't need to finish the match either. You can get two longshot kills with an SMG, back out, and repeat until you've unlocked the weapon.
Best alternatives to the CX-9 in Warzone & Modern Warfare
If you're looking for another SMG in Warzone, the MAC-10 or Black Ops Cold War's MP5 are regarded as the Season 5 meta SMGs.
For Modern Warfare, the MP7 remains a solid choice, or you could opt for the PP19 Bizon thanks to its large magazine size.
If you're looking for more great weapons, then you can check out some of this season's best Warzone loadouts below:

C58 | Groza | M4A1 | Milano | AK-47 
Image Credits: Activision / Raven Software
CoD 2022 reportedly titled 'Call of Duty: Modern Warfare II'
New rumors appear to have revealed the name of Call of Duty 2022, which is expected to be a sequel to Modern Warfare 2019.
A new rumor claims to reveal the name of the 2022 Call of Duty title, which is set to be a sequel to Call of Duty: Modern Warfare 2019.
The new rumor, from leaker Tom Henderson, states that the name of the 2022 Call of Duty game will be 'Call of Duty: Modern Warfare II.'
This information lines up with what CharlieIntel has also heard about the 2022 Call of Duty game, although we'd caution that Activision can change the name at any point leading to the reveal.
The 2022 Call of Duty title from Infinity Ward is set to be a sequel to Modern Warfare 2019 and feature a story that focuses on the Colombian drug cartels.
The game is currently codenamed Project Cortez, according to leaked NVIDIA files.
Infinity Ward's last title, Modern Warfare 2019, has gone on to become the most successful Call of Duty game of all time. It was the title that also introduced the free to play Warzone experience.
Infinity Ward recently announced the opening of a new studio in Austin, Texas to compliment their California, Poland, and Mexico offices.
Official information on the Call of Duty 2022 title is very sparse and not official announcement is to be expected until late Summer 2022.
The next Call of Duty game is set to be Call of Duty: Vanguard from Sledgehammer Games, releasing on Friday, November 5. Vanguard includes a WWII-based campaign, multiplayer, and Zombies experience.
RAAL LMG returns to Warzone & Modern Warfare in October 8 update
The RAAL LMG was mistakenly removed from Warzone and Modern Warfare, but Raven Software has now returned it to the Gunsmith.
Warzone and Modern Warfare fans were left baffled after the RAAL LMG was removed in the Season 6 update. But Raven Software added it back on October 8, confirming it was a mistake.
It was months ago that the RAAL LMG briefly appeared in Warzone as loot and was quickly removed soon after. Then after much waiting, players finally got their hands on the RAAL in Warzone and Modern Warfare, but it was then secretly removed in the Season 6 update.
Players were obviously left baffled as to why it would be removed. But, Raven Software released an update on October 8 that made changes to Iron Trials and also added the RAAL LMG back to the game, confirming it was a mistake.
Whilst Warzone guru JGOD doesn't believe the RAAL LMG is a meta weapon that all players should be using, he still thinks it's a viable gun. Which is even more of a reason why players were so shocked to see it disappear without warning.
The removal was made very public knowledge thanks to a Tweet from ModernWarzone, and it took some players off-guard.
But, RAAL fans can relax, as the LMG has been added back to Warzone in the October 8 update. At the end of the patch notes, Raven Software said "Oops," and confirmed that "the RAAL MG (MW) is back."
It didn't quite disappear for everyone, as it seemed that if you had the RAAL MG in a loadout, then you could still use it, but couldn't alter the attachments on it.
---
In the meantime, why not check out our loadouts for the new Season 6 weapons: the Grav and .410.
Image Credit: Activision / Raven Software