Cold War & Warzone Season 2 Reloaded Content announced
Activision has officially announced the new content coming to Call of Duty: Black Ops Cold War and Call of Duty: Warzone with Season 2 Reloaded.
In a new blog post, the company has shared the new roadmap for Season 2 Reloaded, alongside details on when to expect the new content to roll out.
The update for Black Ops Cold War will be available on March 30.
Here's what's new from the Call of Duty blog: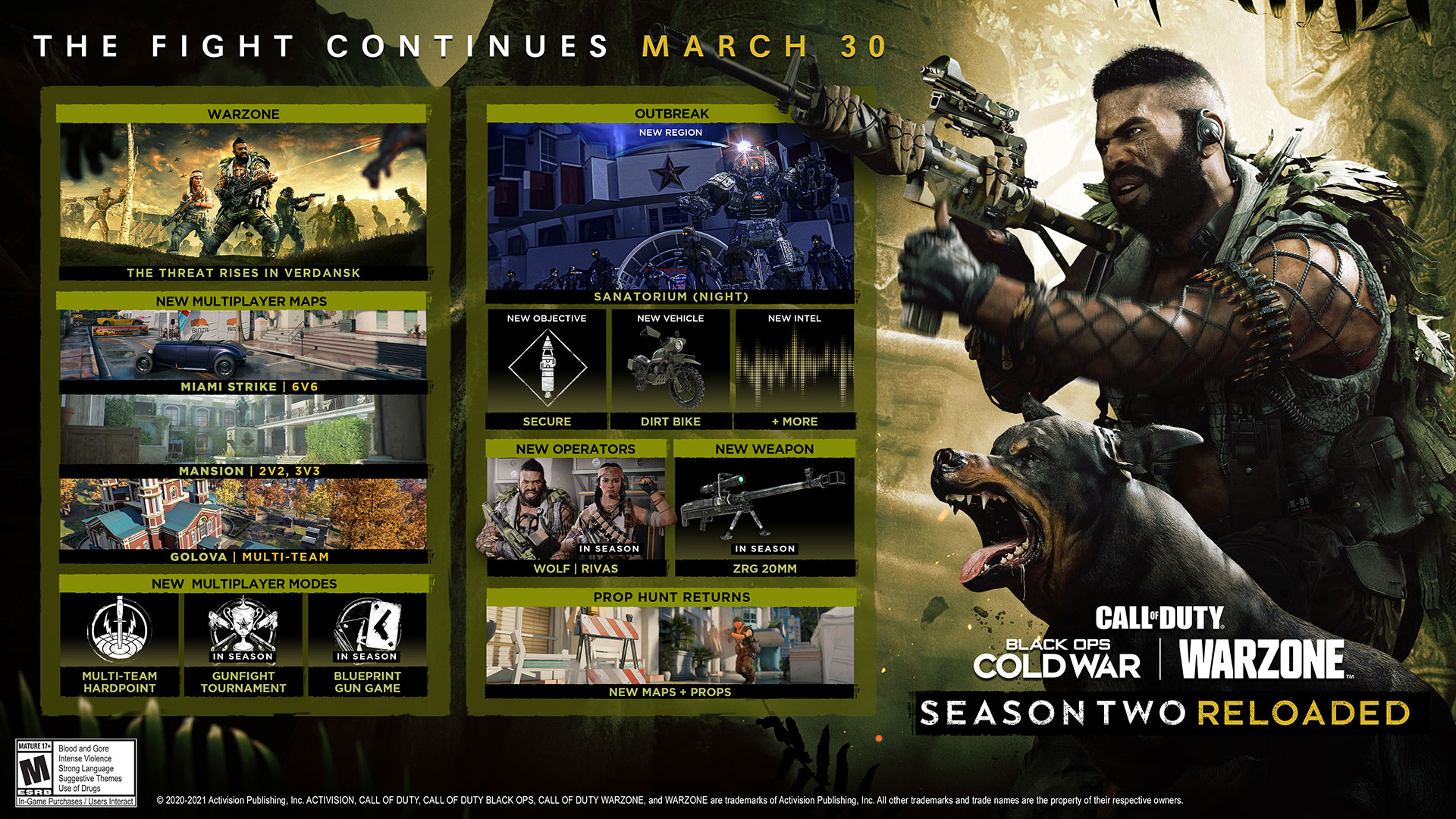 The Story So Far
With CIA Special Officer Russell Adler still M.I.A. and Armistice attempting to contain the spread of an unknown threat within Verdansk, there's no better time for Season Two of Call of Duty®: Black Ops Cold War and Warzone™ to receive some reinforcements.
Season Two Reloaded, set to launch in both games this week, includes several new maps, modes, and features for Black Ops Cold War, in addition to two new Operators, the new ZRG 20mm sniper rifle, and new bundles that will also be available within Warzone. This content will be live following updates to Black Ops Cold War on March 29 at 9 PM PST, and Warzone on March 30 at 11PM PST.
All of this is just the tip of the spear for the rest of this season's offerings. During Season Two Reloaded, you can expect to see plenty of new Zombies content in Outbreak, prove your skills in the new Blueprint Gun Game, and fight to the top in the debut of Gunfight Tournaments.
Keep reading for everything you need to know for this action-packed second half of Season Two: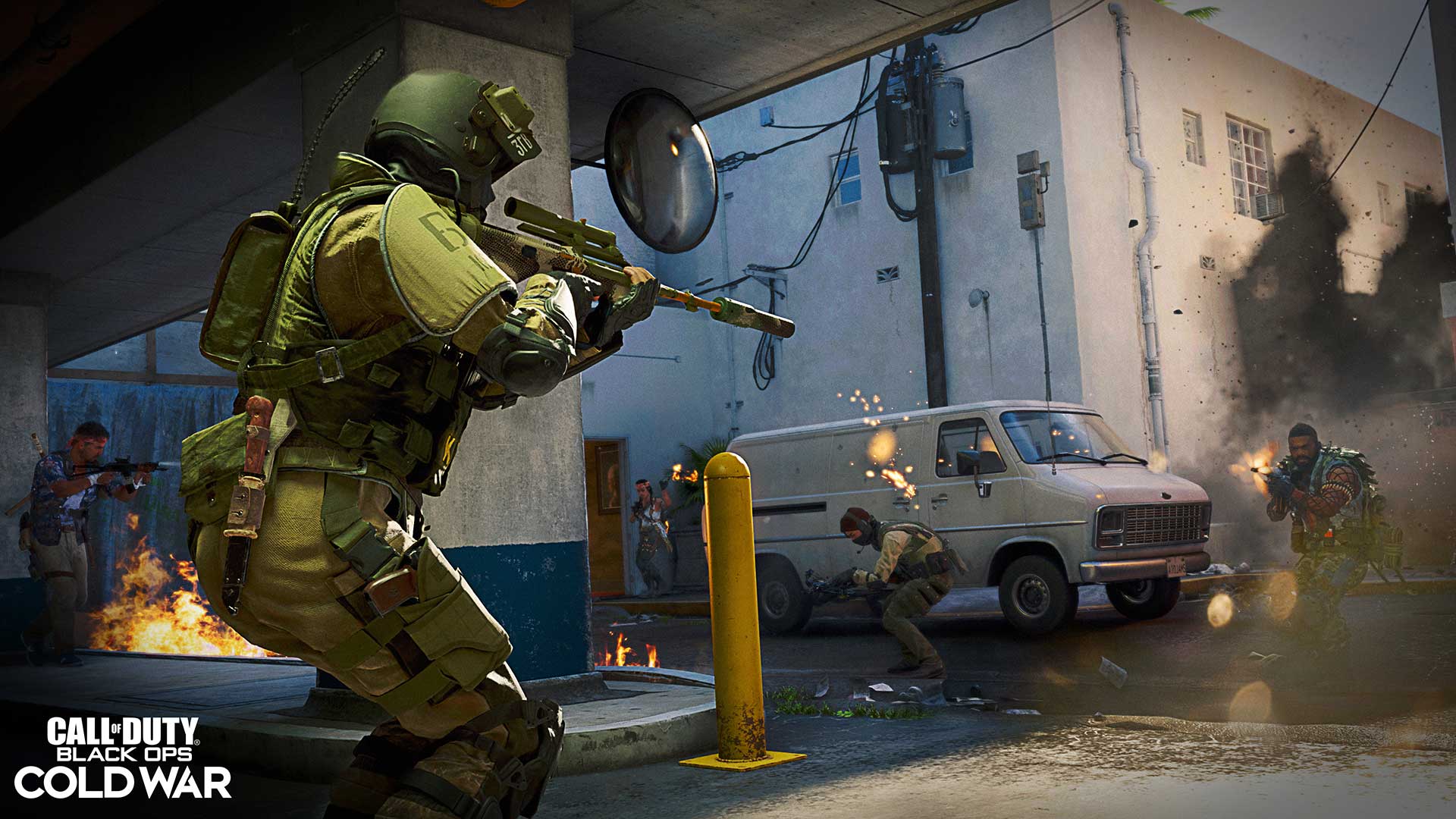 New Multiplayer Maps
Miami Strike (6v6) (Launch)
The sun rises on Miami Strike, featuring a new, tighter map layout with entirely new ways to play compared to the original nighttime iteration.
A vintage car show has taken over Ocean Park Drive, sealing off the road past the Paramour Hotel. While there are still plenty of opportunities to duke it out in long-range skirmishes, closer fights gain much more prominence here, especially in the back alleyways, through the various businesses and parking structures, and the new waterside path that's been opened up with a beautiful view of the bay.
Shades on, sights up, and push the attack. You'll need to be aggressive here to beat the heat… and your competition. Jump into the Miami Strike 24/7 playlist this week to join the action!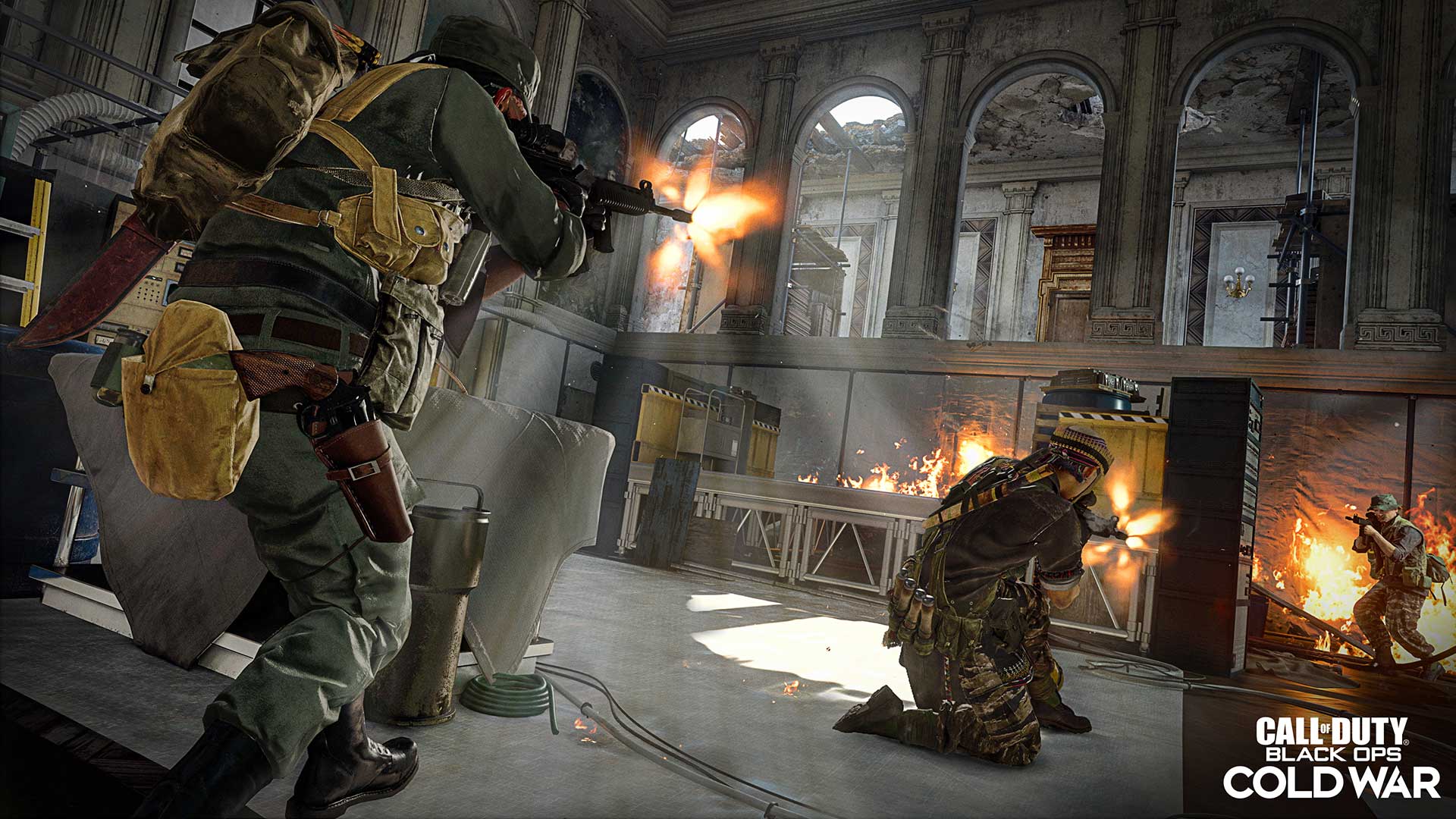 Mansion (2v2, 3v3) (Launch)
Joining the Gunfight and Face Off map rotations, Mansion promises high-octane, frenetic firefights across its decadent courtyards.
The eastern courtyard features palm trees and a gazebo, opposite another with a central statue over a dry fountain. Fight in the surrounding arcade among its thick supporting columns or brave it through the middle in a cross-map dash. Look for the center wrapped room including a small hallway and an exposed balcony for a high risk, high reward power position.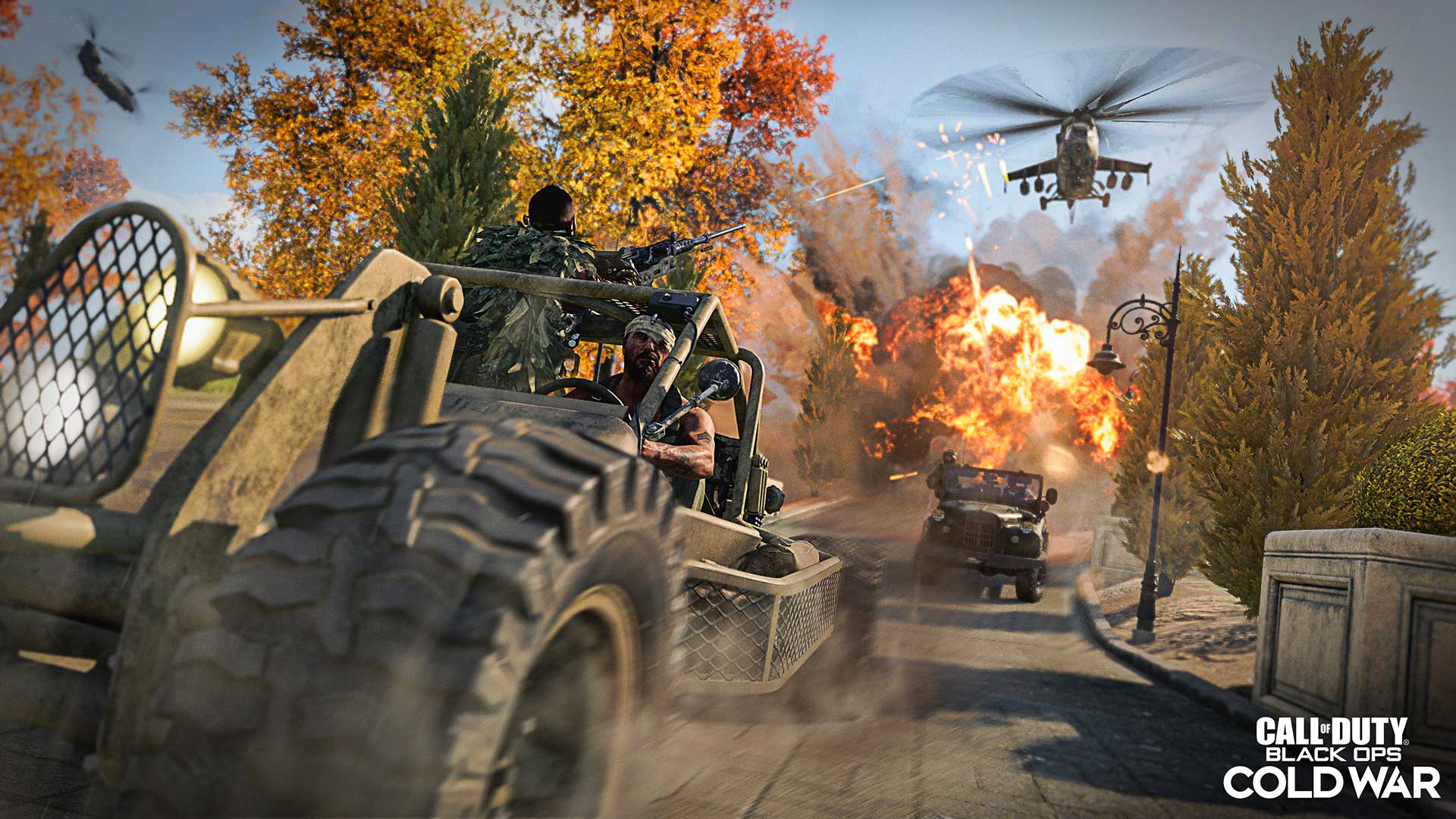 Golova (Multi-Team) (Launch)
A seemingly traditional Russian village in the idyllic Ural Plains hides a dark secret beneath its surface.
First appearing as an exclusive locale within Outbreak at the start of Season Two, Golova is now available in multi-team modes within Multiplayer. Prepare for relentless combat throughout the town, from its massive church to its rows of houses and industrial park. Compete in long-range fights across its stair-stepped terrain or stick to its objective areas for close-quarters play.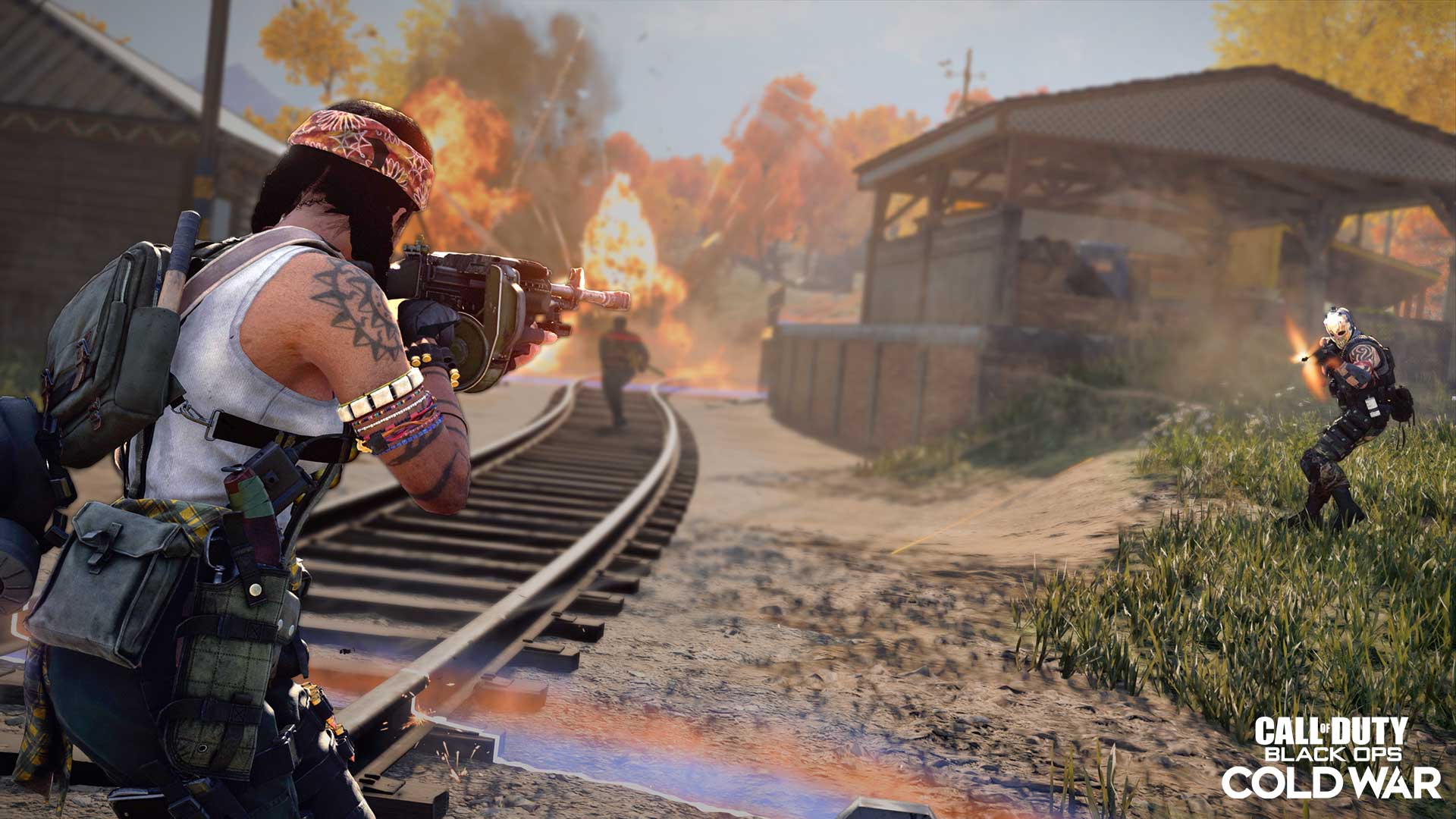 New Multiplayer Modes and Features
Multi-Team Hardpoint (Launch)
You thought Hardpoint was chaotic before? Introducing the game mode's largest version yet: this new squad-based adaptation pits 10 squads of four in a fight for multiple Hardpoints at a time. Each set of Hardpoints lasts 120 seconds before rotating to the next locations. Another new twist compared to its core counterpart is that your team will earn 1 point every second for all teammates inside of a Hardpoint. You'll want to keep your team in those Hardpoints and clear the enemies out to deny their points. The first squad to reach 1,000 points wins the match.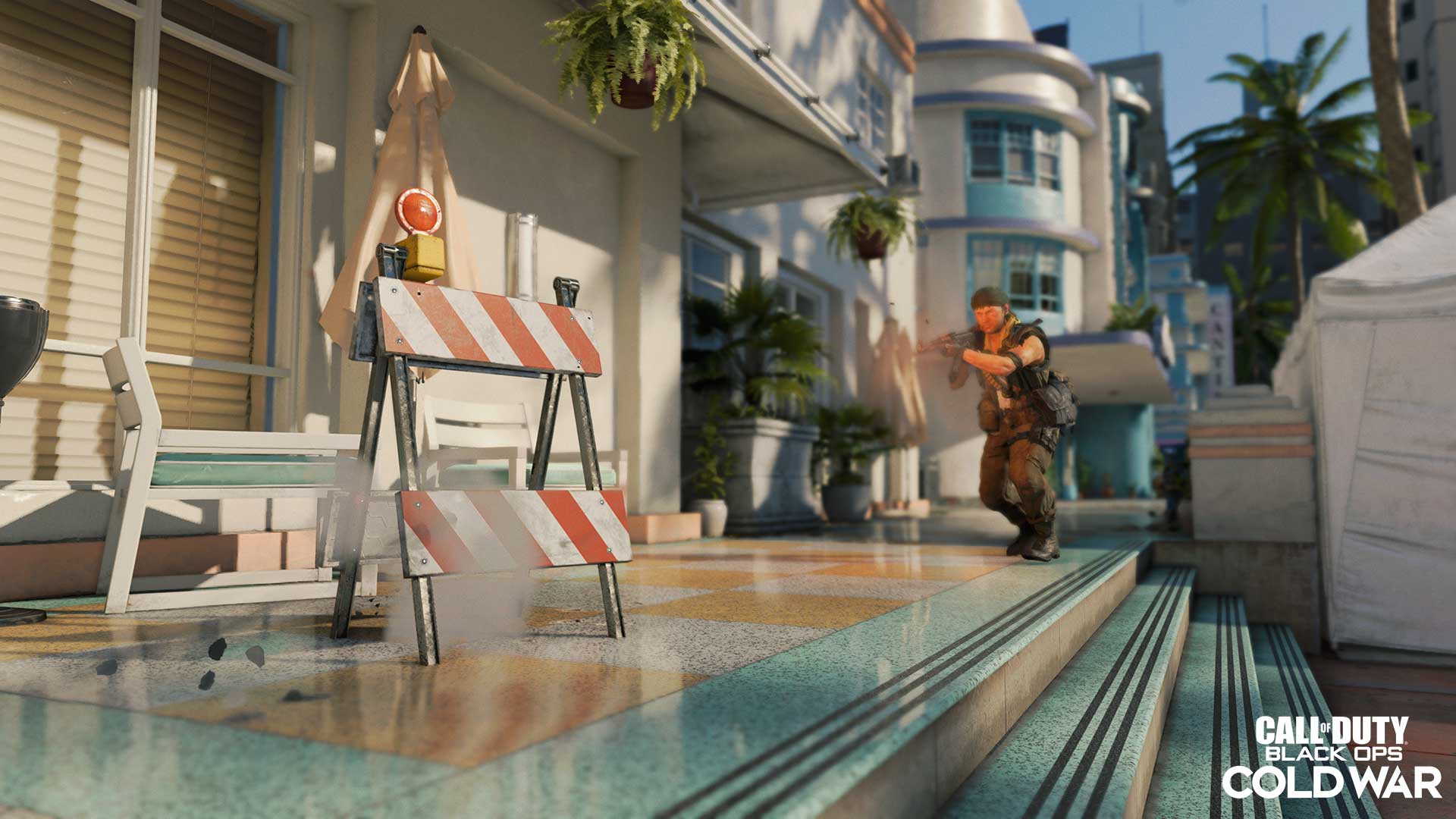 New Prop Hunt Maps and Props (Launch)
Miami Strike and Satellite join the rotation of Prop Hunt maps in this week's update, along with new props being introduced into existing maps. Check every corner as you hunt and hide in the bid to outsmart your opponents.
Gunsmith Customs (In-Season)
Later in the season, Gunsmith Customs are coming to Black Ops Cold War, allowing players to mix-and-match attachments from Weapon Blueprints of the same weapon type in Create-a-Class.
Weapon Tuning (Launch)
Season Two Reloaded brings a fresh round of weapon tuning to Black Ops Cold War, including LMG adjustments and tuning for the LC10, AK-74u, Mac-10, KSP 45, Milano 821, Krig 6, FFAR 1, Groza, Magnum, and RPG-7. This also includes a complete balance pass on several attachments for assault rifles and SMGs, as well as an increase to rocket damage against enemies with Flak Jacket in Hardcore. Get all the details in the patch notes at the Treyarch blog.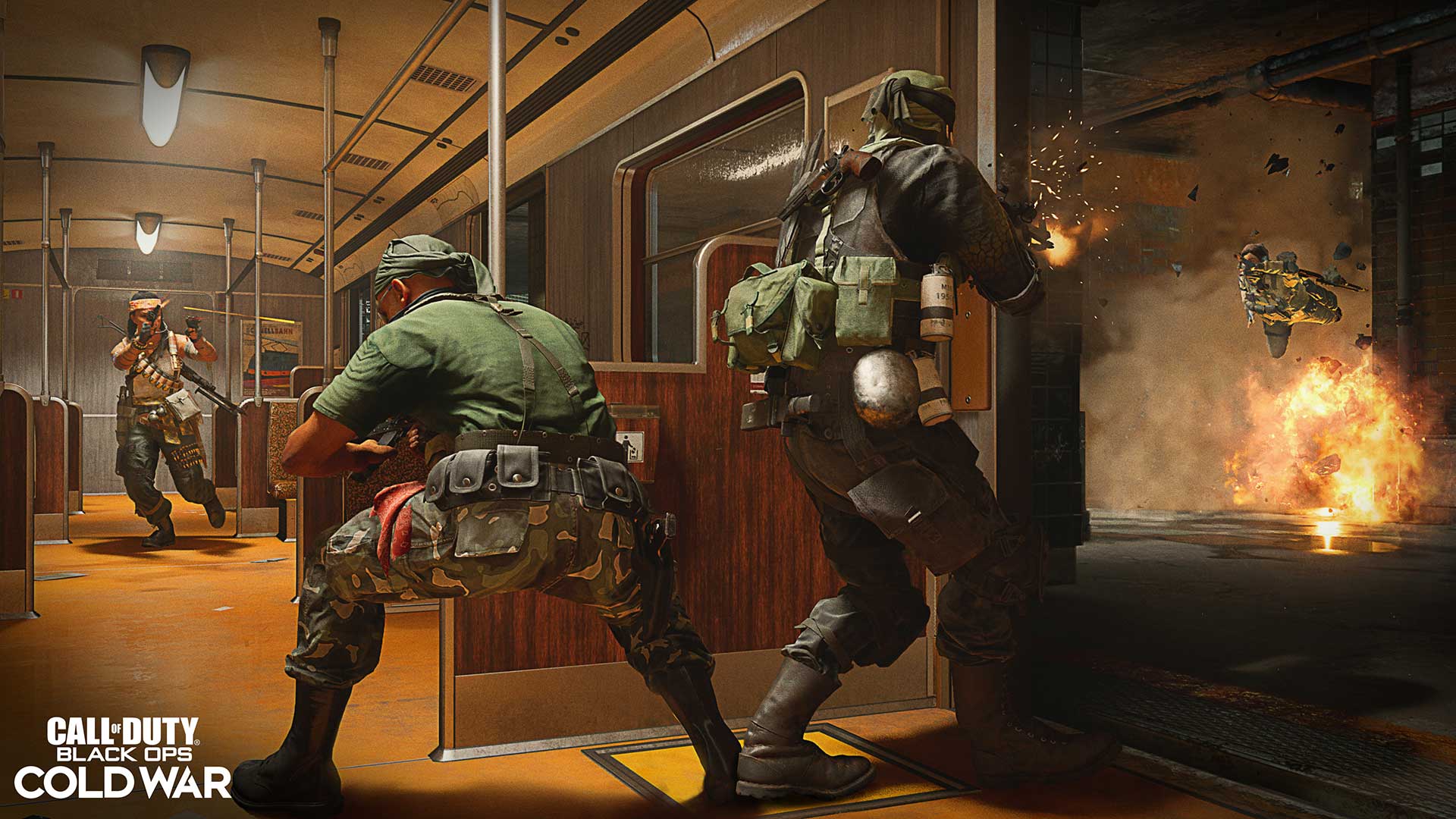 Gunfight Tournaments (In-Season)
Think you've got the best shot? Now's your chance to prove it when Gunfight Tournaments arrive later this season. Join a competitive bracket featuring unique rewards and bragging rights for the winning teams. Teamwork and communication are a must: you'll need every advantage to take six rounds before the other team and make your way to the top.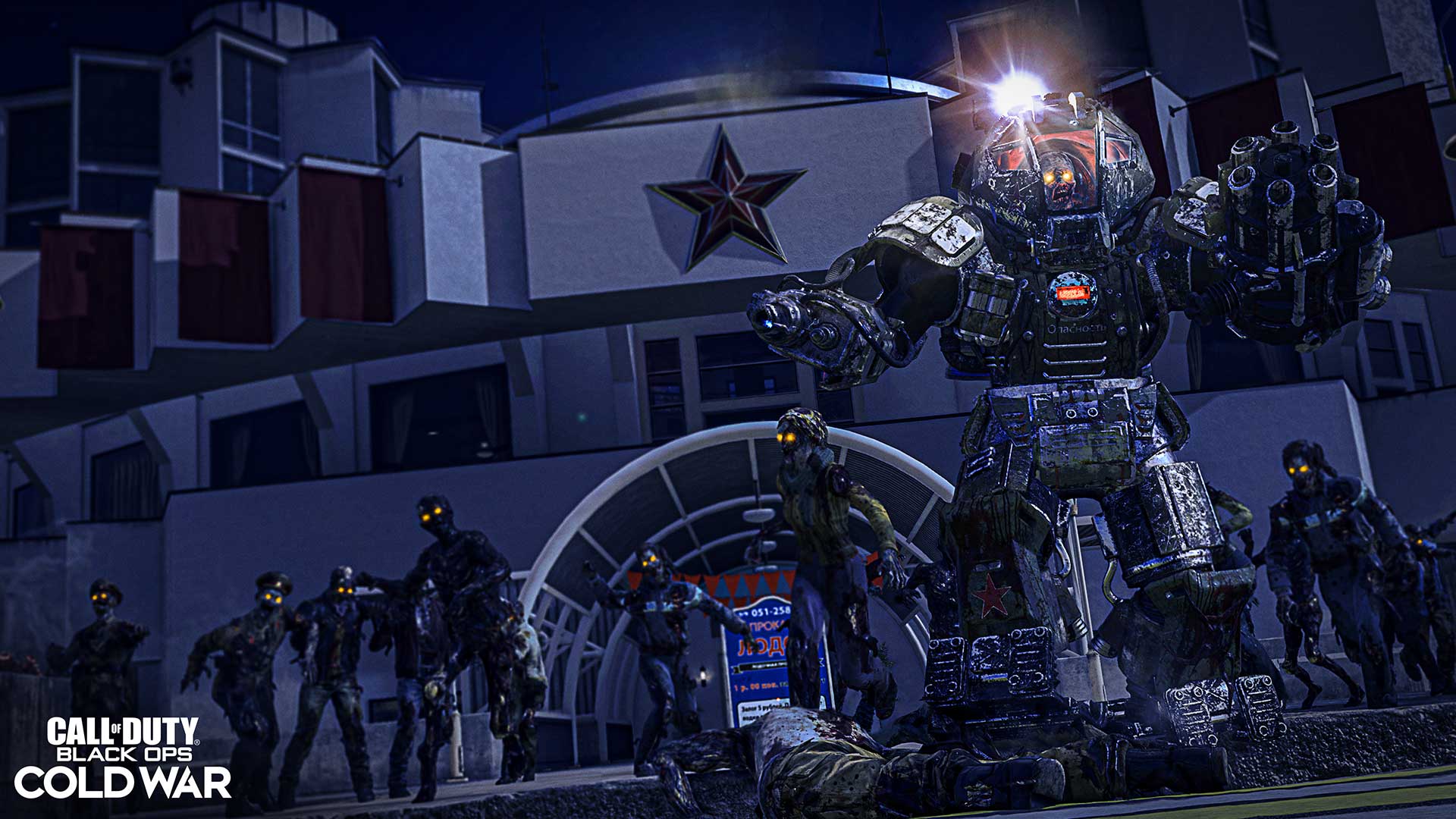 New Zombies Content and Features
New Outbreak Region: Sanatorium (Night) (Launch)
Zombies gets even bigger this week. As the Dark Aether continues to spread, agents of Requiem must expand their search for outbreak sites across the Ural Mountains into a massive new region: Sanatorium Night.
Infiltrating into Sanatorium will take place under the cover of nightfall in Outbreak, making every encounter with the undead – from shambling soldiers to deadly Elite Zombies – that much more spine-tingling.
Agents will need to be in top fighting form here if they hope to advance Requiem's research and complete the necessary experiments.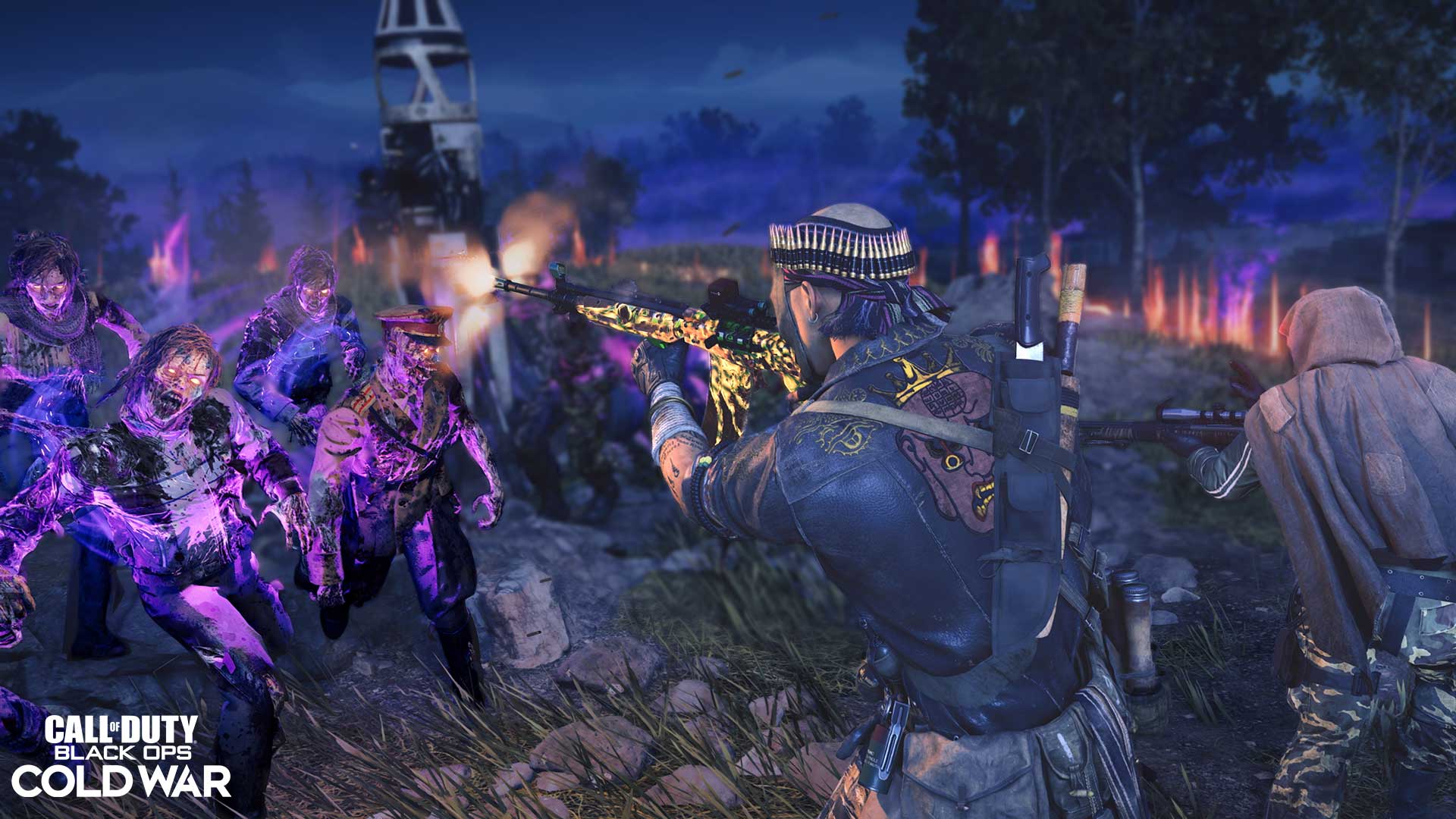 New Outbreak Objective: Secure (Launch)
Eager to control the transformational properties of Dark Aether Essence, Dr. Strauss has a new task for the Requiem strike team: secure essence from the undead for analysis and experimentation.
The objective for Secure is straightforward, but your survival is less guaranteed. Squad up and call down the Essence Conversion Modules from orbit. These rocket-powered collection capsules siphon Essence from the undead and convert it into items you can use in combat. To complete this task, Requiem agents must kill zombies in the established perimeter until the conversion process is complete… easier said than done.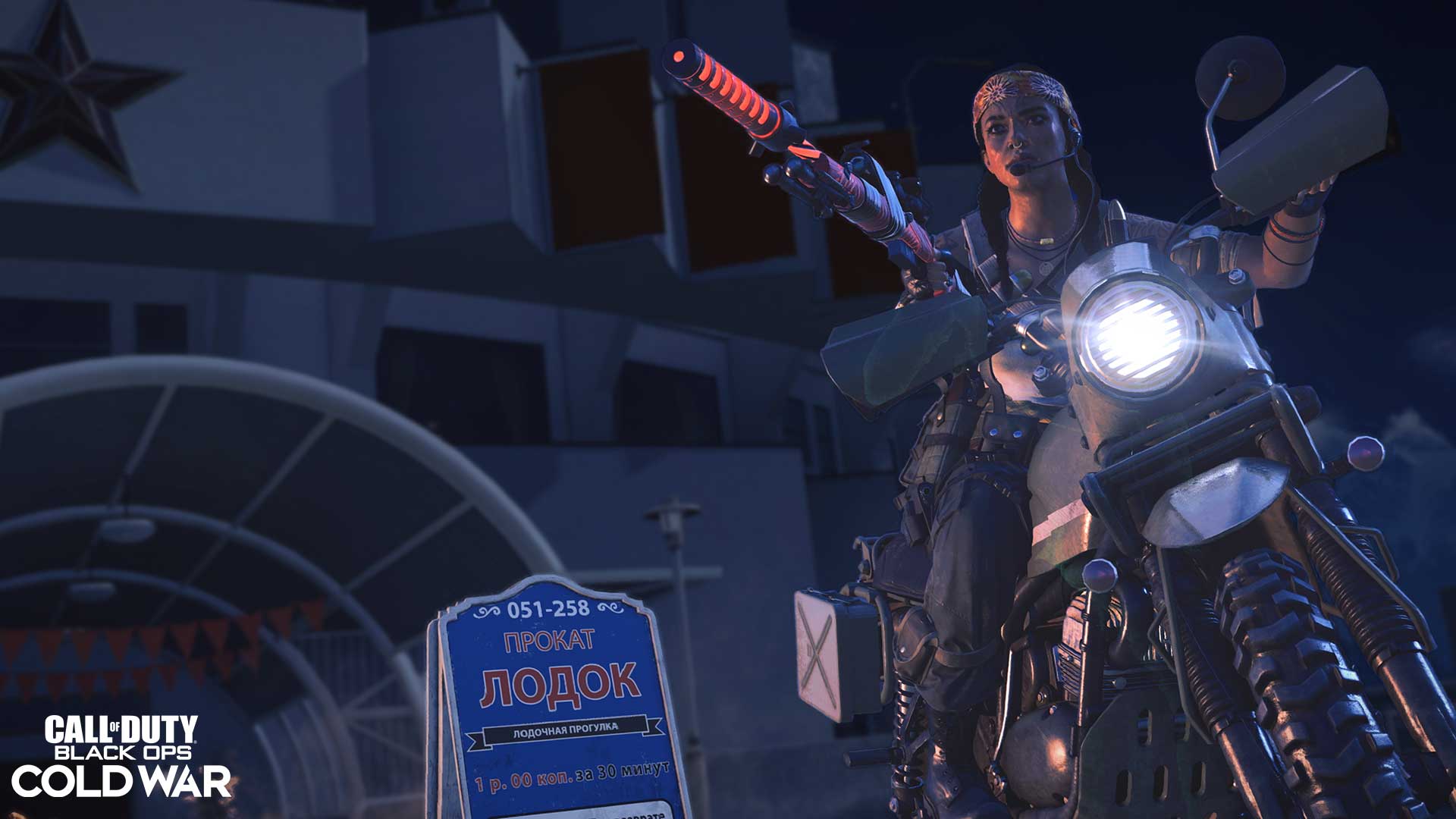 New Outbreak Vehicle: Dirt Bike (Launch)
Requiem agents can now saddle up on the Dirt Bike for rapid, highly maneuverable travel, great for gathering Essence and other items around the map or racing against the clock during timed events.
Set up your War Tracks and bring over any Dirt Bike vehicle skins you've acquired through the Battle Pass and bundles… so long as you don't mind a few zombies scuffing up your paint job.
New Outbreak Intel + More (Launch)
Along with the new Sanatorium Night region comes additional intel for agents to discover, including brand-new Audio Logs and Radio Transmissions that advance the Dark Aether story. Leave no stone unturned if you want to collect them all… and keep your ears open for other mysteries appearing throughout the Ural Mountains.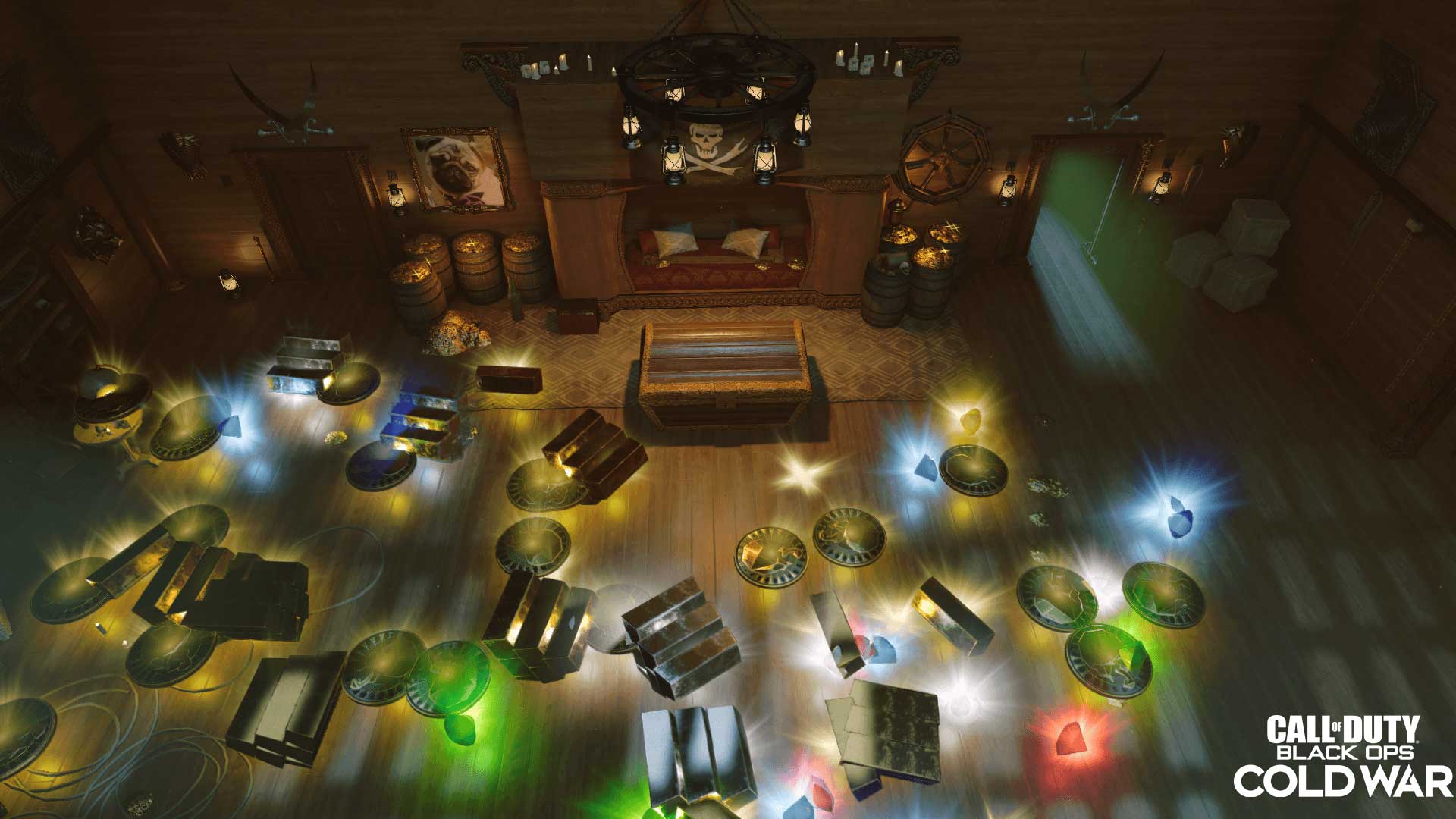 Dead Ops Arcade Player XP and Battle Pass XP (Launch)
If you dare take on the Mamaback, you'll earn more rewards just for playing. Dead Ops Arcade 3 will now award player XP and Battle Pass XP with this mid-season update, so you'll always make progress in your levels and tiers as you take on 60+ rounds of co-op insanity.
While you're at it, try the new First Person mode if you haven't already. Introduced recently during Season Two, this mode allows you and your squad to play entirely in first-person perspective, adding sprinting, jumping, sliding, and swimming to the mix for the first time in the series!
New Dead Ops Arcade Silverback Slideways Map (Launch)
Test your side-scroller skills in an all-new Silverback Slideways bonus map in Dead Ops Arcade 3, with this latest variant bringing the total count of Silverback Slideways bonus maps to four.
New "Apply Blueprint" Feature (Launch)
Zombies players will now able to apply any Weapon Blueprint they own to their weapon in the Pause menu in Outbreak, "Firebase Z," and "Die Maschine," including any weapon picked up or purchased from a Wall Buy. Slay in style!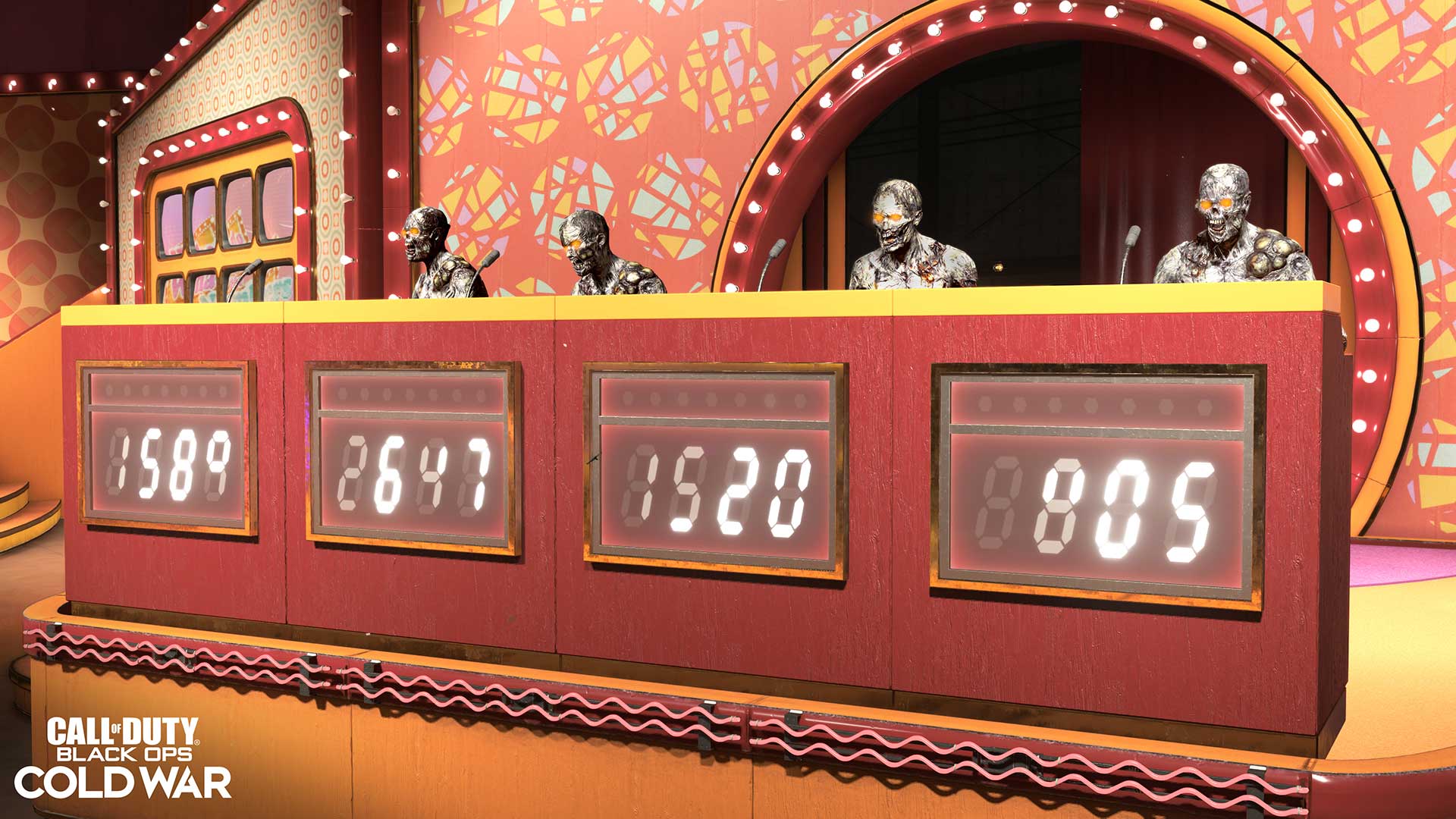 New Onslaught Content (Launch) (PlayStation)
PlayStation fans can take on the new Containment mode in Onslaught for an intense new experience on the game's Gunfight maps, along with a new Blueprint Challenge to conquer and unlock.
New additions also include Level 2 and Level 3 Armor drops, Ammo Mod and Aether Tool drops to upgrade your weapons, as well as new Bronze, Silver, and Gold Chalice drops that will Pack-a-Punch your weapon for the first time in Onslaught.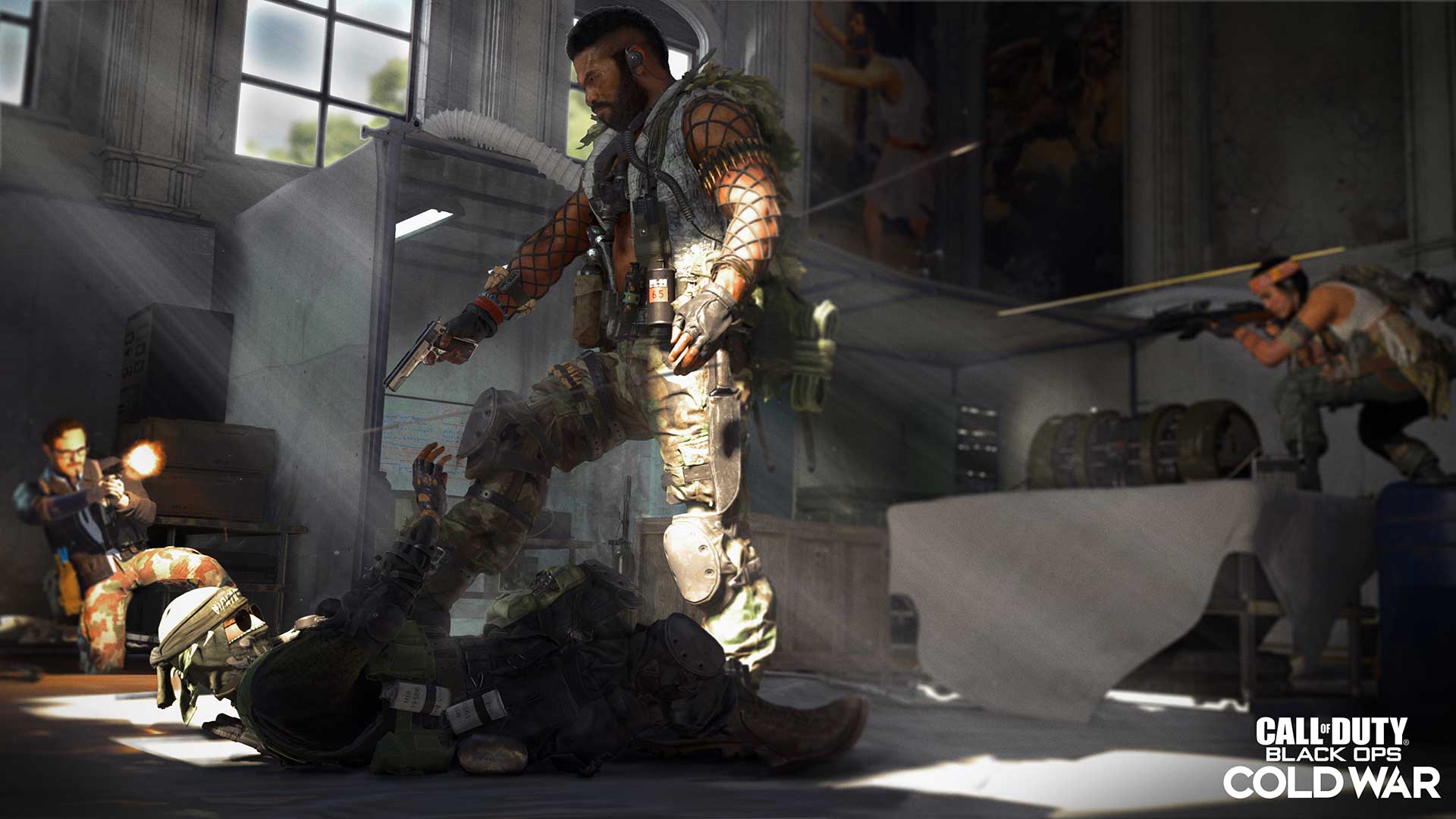 New Operators and Weapon
Wolf: NATO (Launch)
From a young age, Terrell Wolf perfected his skills as a hunter in the Louisiana bayous surrounding his grandparent's home. Entering service on his 18th birthday in memory of his fallen brother, he now stalks more dangerous prey as an elite Delta Force sniper working alongside Woods in the search for Russell Adler.
Watch out for his second in command during his signature Finishing Move, as his faithful canine companion is ready to help Wolf eliminate any threats to the pack.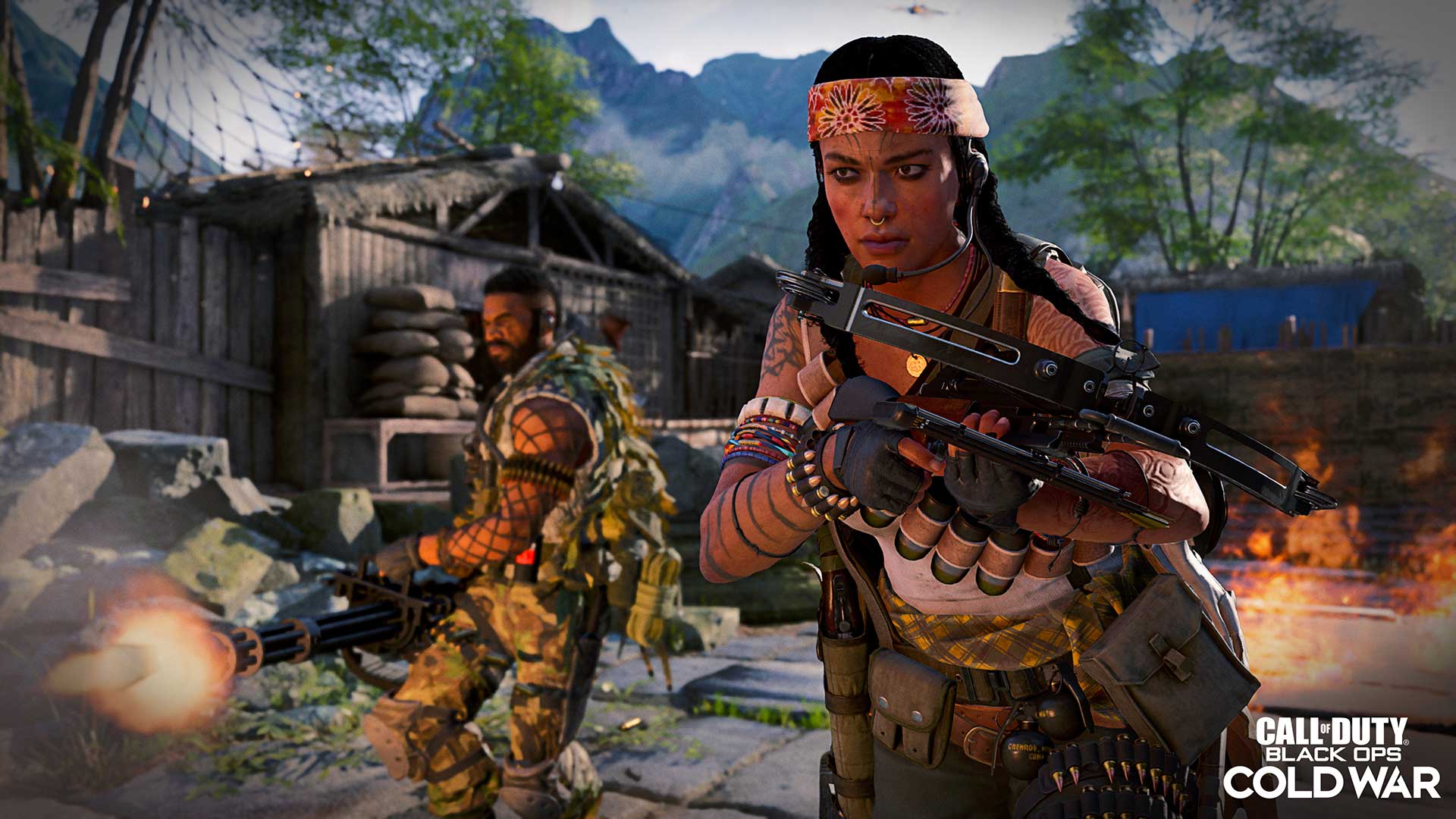 Rivas: NATO (In-Season)
Karla Rivas grew up in Nicaragua surrounded by the Menendez Cartel and their ceaseless wars with rival gangs. Her firsthand experience of the consequences of these wars on the surrounding communities drove her to action against the Cartel's influence, using guerilla tactics to weaken them by any means necessary. Her skills are unparalleled in the continuing search for Adler.
Get access to Terrell Wolf and Karla Rivas for Black Ops Cold War and Warzone as part of separate Store Bundles in Season Two Reloaded.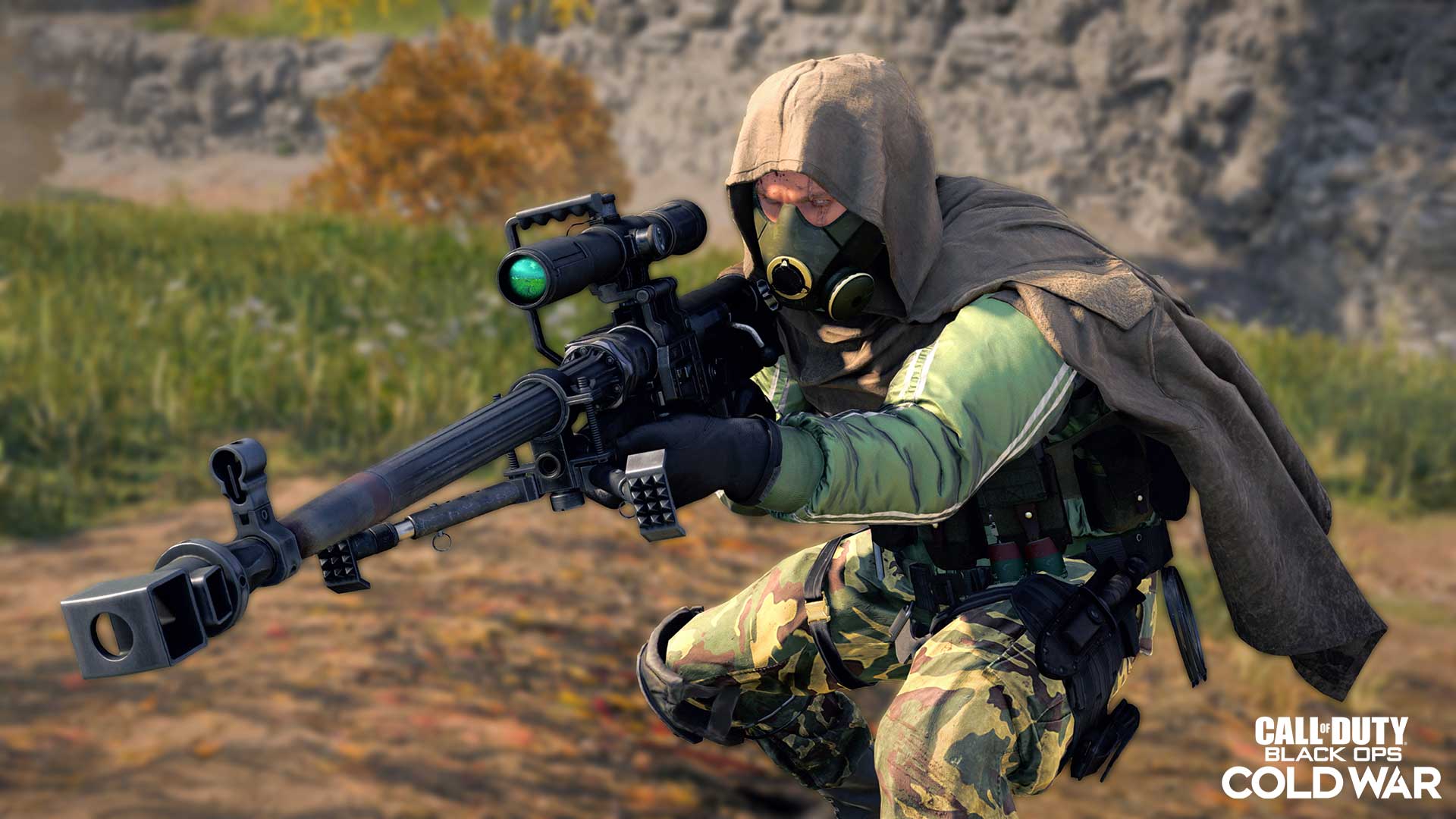 ZRG 20mm Sniper (In-Season)
Boasting a higher bullet velocity than any other weapon in its class, the ZRG 20mm sniper rifle is built to excel in extremely long ranges. Operators will appreciate its fast reload speed and its ability to eliminate enemies with a single shot to the head, chest, or shoulders.
Unlock the ZRG 20mm by completing its in-game challenge or by acquiring the "Jackpot Sniper" bundle, featuring a Legendary new sniper rifle Weapon Blueprint.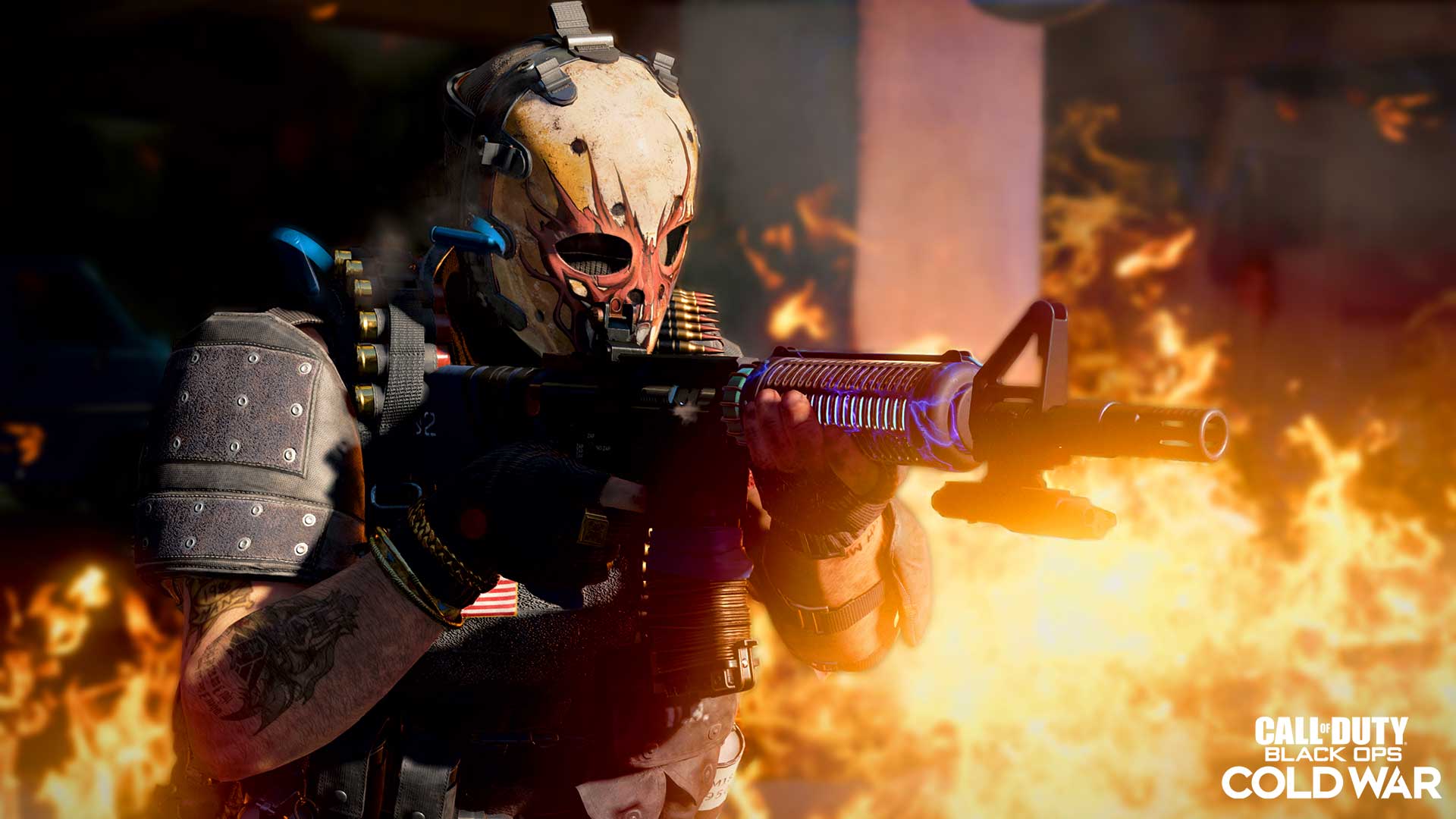 More in the Store
In addition to Wolf, Rivas, and the ZRG 20mm Blueprint bundle, the Store in Black Ops Cold War and Warzone will receive plenty of new bundles through the rest of Season Two.
This includes the "Dragon's Greed" bundle, which will leave you ready to strike fear into your enemies. This bundle features two Legendary Weapon Blueprints with enough gold to rival the dragon's hoard, as well as a new Legendary Bulldozer Skin donning a dragon-themed mask.
Find this bundle and more in the in-game Store and bolster your stock of badass Weapon Blueprints, Operator Skins, and more.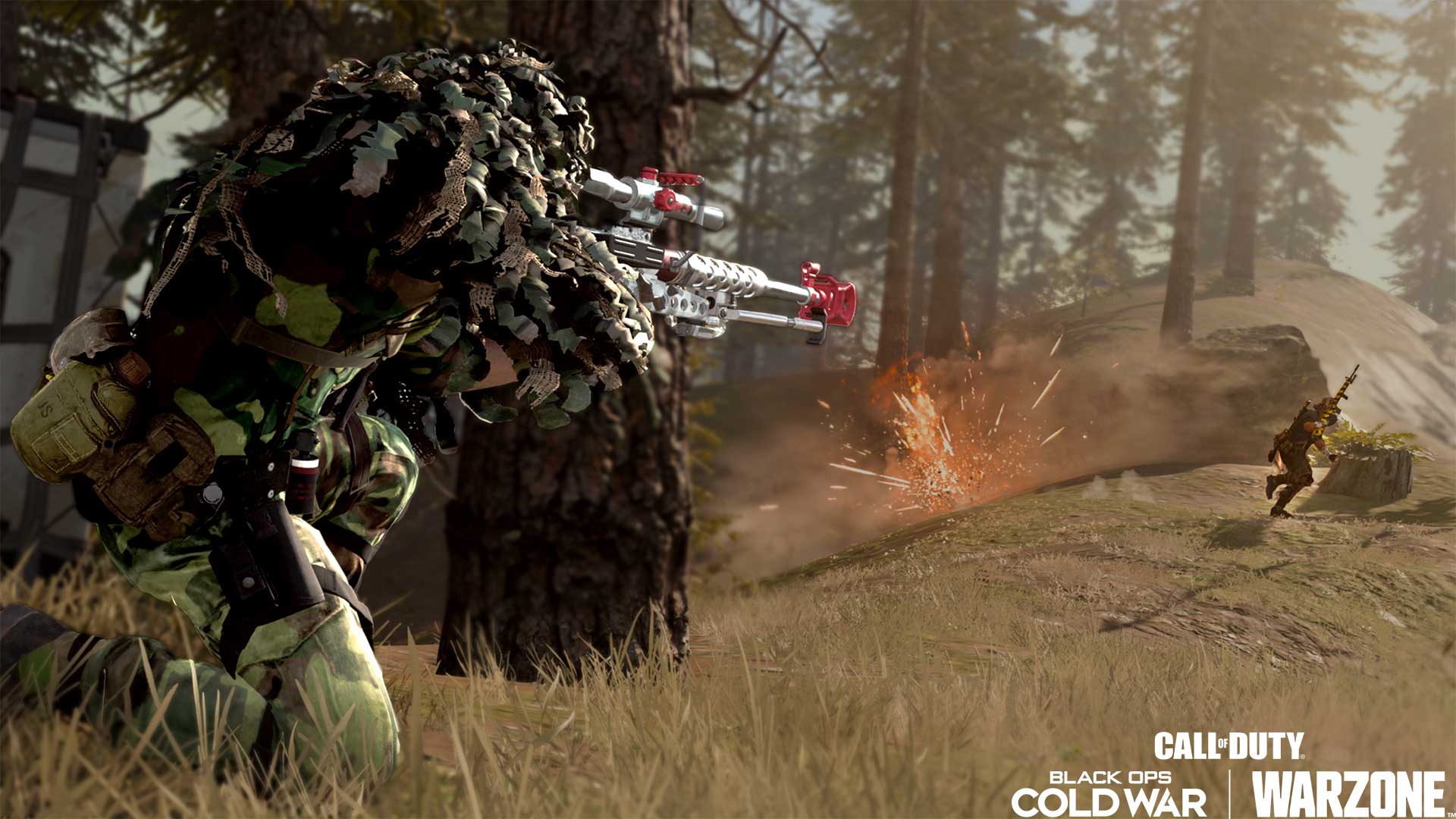 Modern Warfare and Warzone File Size Reduction
Season Two Reloaded also brings great news of a lower, optimized file size across Warzone. Those who own the full version of Modern Warfare/Warzone, or who own the free-to-play Warzone game, will find their overall file size footprint reduced on their respective platform.
Enhancements to the overall content management system has been made possible through data optimization and streamlining content packs needed for individual game modes. This will come after a larger than usual, one-time update for Season Two Reloaded, which will include these optimizations and is necessary in order to reduce the overall footprint; future patch sizes for Modern Warfare and Warzone are expected to be smaller than the one set to release on March 30 at 11PM PST.
Along with the ability to remove individual modes that are no longer played, owners of the full Modern Warfare experience will see more space freed on their platform of choice. However, those who want to continue playing Campaign, Multiplayer, and/or Special Ops will need to reinstall the optimized Content Packs, which will be released alongside and shortly after the Season Two Reloaded update.
Following the update, the Warzone file size will be reduced by between 10.9 GB and 14.2 GB, and the Modern Warfare/Warzone file size will be reduced by between 30.6 GB and 33.6 GB, depending on your platform.
The following is the approximate reduction that will be seen for both the free-to-play Warzone and full Modern Warzone/Warzone files on each platform:
PlayStation 5: 10.9 GB (Warzone Only) / 30.6 GB (Warzone and Modern Warfare®)
PlayStation 4: 10.9 GB (Warzone Only) / 30.6 GB (Warzone and Modern Warfare®)
Xbox Series X / Xbox Series S: 14.2 GB (Warzone Only) / 33.6 GB (Warzone and Modern Warfare®)
Xbox One: 14.2 GB (Warzone Only) / 33.6 GB (Warzone and Modern Warfare®)
PC: 11.8 GB (Warzone Only) / 30.6 GB (Warzone and Modern Warfare®)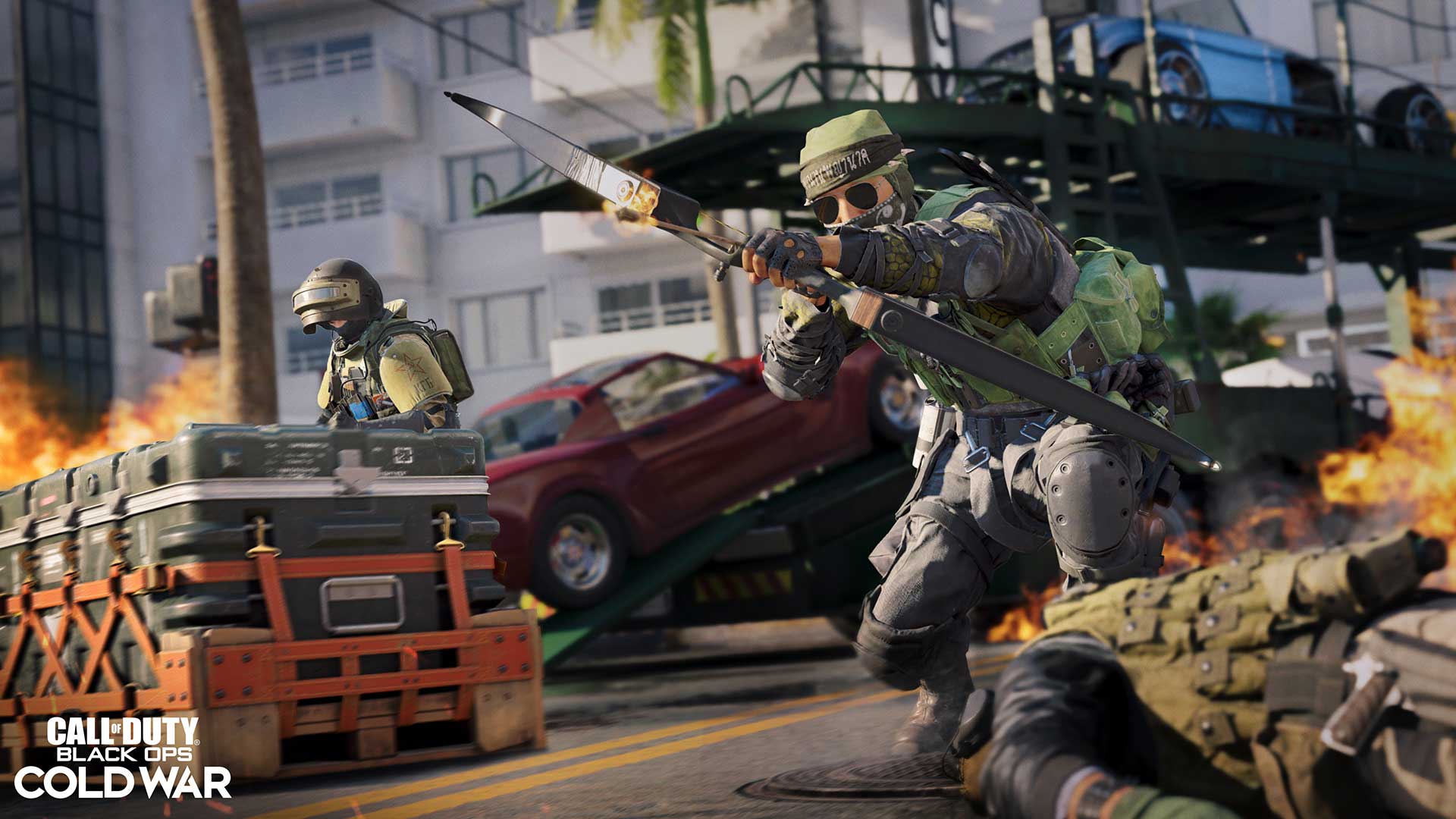 Season Two Reloaded: Update File Size
The Season Two Reloaded update will have a download size of approximately 7.4 – 14.18 GB for owners of the full version of Black Ops Cold War, and 52.0 – 57.8 GB for owners of the free-to-play Warzone, who are up to date with the latest updates on either (or both) games.
Again, the Warzone download is a larger file size due to the optimization of data.
Black Ops Cold War Update Sizes
PlayStation 5: 12.2 GB
PlayStation 4: 7.4 GB
Xbox Series X / Xbox Series S: 14.18 GB
Xbox One: 9.13 GB
PC: 8.1 GB
Warzone Update Sizes
PlayStation 5: 52.0 GB
PlayStation 4: 52.0 GB
Xbox Series X / Xbox Series S: 57.8 GB
Xbox One: 57.8 GB
PC: 52.4 GB (Warzone Only) / 133.6 GB (Warzone and Modern Warfare®)
Remember, the Warzone download is not necessary if you are only playing Black Ops Cold War and vice versa.
SOURCE: Call of Duty Blog
Cold War & Warzone Season 3 artwork reportedly leaked
A first look at Black Ops Cold War & Warzone Season 3 artwork has leaked online.
A first look at artwork for Call of Duty: Black Ops Cold War & Warzone Season 3 has leaked.
The user who shared this artwork on social channels has since deleted his Reddit account & post on it.
This leaked image, which was then re-uploaded to Imgur, showcases a new female Operator with Season 3 having a blue color scheme.
Leaked Artwork
Please note: Activision has issued a DMCA take down of the images.
This artwork also shows in the background what looks to be a destroyed part of Verdansk, which lends more confirmation to the rumors of Verdansk's major changes coming in Season 3.
It's not clear which part of the map is shown behind her.
It's also not confirmed yet as to how the leakers found the images, whether it was through data mining of certain game files or from another source.
For now, Activision has not officially confirmed or commented on these images.
Season 3 for Call of Duty: Black Ops Cold War & Warzone is set to begin on April 22. There has not been much reveals for Season 3 yet from Activision besides some teasers that Treyarch has started to post on their social accounts. More information is set to be announced as we get closer to the start date.
On the Warzone side of things, Raven has already teased some of the changes coming, including weapon balancing, skin adjustments, and more.
Warzone will also see a major event, which will begin on April 21 at 12PM PT.
Stay tuned for the latest news on Call of Duty: Black Ops Cold War & Warzone Season 3.
Treyarch reverses some bans following Cold War Zombies Sail 630 Nuclear Bug
Treyarch have responded to Cold War Zombies players reports that they have been falsely banned after receiving the 'Sail 630 Nuclear Bug.'
Treyarch have responded to reports of Black Ops Cold War Zombies players receiving the 'Sail 630 Nuclear Bug' error code and having their accounts permanently banned afterward.
In a new update on April 16 on Reddit, Treyarch Community Manager has stated that they investigated the issue even further and have identified a number of bans caused by this bug that will be reversed.
He states that not all bans have been reversed, as some very in fact legitimate bans in the mode, but many have after a security enforcement review.
Foxhound commented on a Reddit post with the latest statement from the studio:
Hello! The Sail 630 Nuclear Bug notice is indeed a disconnect message as previously shared and now noted by your peers. If you are disconnected mid-match, this error has the potential to show up.
We have an update to share: recent account enforcements have been reviewed and, where appropriate, accounts believed to be operating in good faith have been restored. Accounts that included additional flags for exploits will retain their enforcement.
As always, we encourage everyone to enjoy Zombies on PC within the terms of service.
He followed up further after a user commented asking why they decided to "lie" initially. Foxy replied that he provided the latest information he had at the time, but after further investigations things changed.
We've always relayed the most recent information available at the time of postings. According to the data available to us, accounts that have retained their enforcement are verified to have broken the Call of Duty: Black Ops Cold War Security and Enforcement Policy. Accounts believed to be operating in good faith have been restored.
He also reiterated that PC players are "safe" to continue playing Zombies in Black Ops Cold War.
As we mentioned above, you're safe to enjoy Zombies on PC within the terms of service. No worries about going for high rounds!
Original Story:
In the early days of Black Ops Cold War, Zombies players were having their World Record runs abruptly ended by consistent crashes. Now, a new error code has been kicking Zombies players back to the menu, and they claim their accounts are permanently banned when they log back on.
Since April 2nd, the 'Sail 630 Nuclear Bug' has been crashing PC players' Zombies games when they're on high levels. Reddit user Korlesa was allegedly banned after receiving this code and posted to the CODZombies subreddit to highlight the issue.
In the post titled, "People are being falsely banned while going for high rounds in Zombies on PC," Korlesa described how "after going 50+ rounds people are receiving a "Sail 630 Nuclear Bug" Error. Upon exiting to Battle.net we see that we have been permanently banned."
Before the post was locked, to back up their claim, Korlesa compiled over 70 posts to the Activision Support page in which players reported they had been falsely banned after receiving the Sail 630 Nuclear Bug.
Korlesa summed up these reports highlighting what the majority of them had in common:
They were on PC
They were playing Zombies
They were on a high round (50+)
They received the same error (Sail 630 Nuclear Bug)
Treyarch's Community Manager, Josh Torres, aka FoxhoundFPS, replied to the Reddit post. "I'm unable to assist with this issue," he said. "All infractions undergo a thorough review process by the security team before enforcement."
However, the original post and the CODZombies subreddit continued to be flooded with players reporting the issue and worrying if they're safe to play. After a concerned Zombies fan asked if they should avoid playing the game until the issue has been fixed, FoxhoundFPS replied with a full statement.
We are aware that some players are seeing the Sail 630 Nuclear Bug message and then are unable to connect while seeing a ban message. The ban message is not a product of disconnect errors. For questions about enforcement policies, please visit this link.
I've spoken with our teams regarding the recent Sail 630 Nuclear Bug threads and reports, and here's what I have to share.
Sail 630 Nuclear Bug: This error string is currently presented instead of the standard disconnect language when a disconnect occurs in the Zombies menus on PC. PC players would typically see, "Connection to the Blizzard game server has been lost. Please exit and try again. BLZBNTBGS000003F8."
We encourage players to continue playing Zombies as per usual, which includes chasing high-rounds and personal bests.
After another user asked if players who have been banned after seeing the error message will get their accounts back, FoxhoundFPS reiterated his statement.
I stated in my post that the bans are not the result of the disconnect or the disconnect error. The recent enforcements are not bugs or errors.
Players that experience disconnects are not subject to enforcement unless they are violating the Call of Duty: Black Ops Cold War Security and Enforcement Policy. As I have always stated, all infractions undergo a thorough review process by the security team before enforcement.
Players are able, and encouraged, to maintain or resume normal Zombies gameplay.
To summarize, Torres passed on players' concerns to the security team, who then said that the Sail 630 Nuclear Bug is a standard error message unrelated to player bans.
Image Credit: Activision
Cold War devs respond to claims ZRG 20mm Sniper Rifle isn't powerful enough
A dev response has been issued to complaints that CoD: Cold War's ZRG 20mm Sniper Rifle isn't as strong as advertised.
Season 2's ZRG 20mm Sniper Rifle is finally in CoD: Cold War, but players are complaining that its description and damage are misleading. A Treyarch dev has addressed these reservations.
The LW3 Tundra, Pelington 703, and M82 already provide players with some solid options to cap enemies from a long distance, but the ZRG 20mm is here to take that crown. The one-hit, bolt-action Sniper Rifle aims to add an extra dimension to Black Ops Cold War matches moving forward.
However, its early days are being shrouded in controversy as players believe that the weapon isn't as devastating as perhaps it should be. One of Treyarch's devs has replied to the Reddit thread making these claims to explain why this isn't the case.
According to the ZRG 20mm's Official description, it "Deals higher damage to vehicles." Yet, with closer inspection, the Sniper Rifle's own stats seem to contradict this.
Its Vehicle Damage states it does 440 per hit, whereas one of its nearest competitors, the M82, does 825 Vehicle Damage. This represents nearly a 100% increase over the ZRG 20mm and got people wondering.
But renowned Treyarch dev Josh "FoxhoundFPS" Torres stepped in to intervene saying,
"Hey there! Spoke with our Multiplayer Team and we have the following to share: The ZRG 20mm has built-in armor-piercing properties which aren't accounted for in the Vehicle Damage values. We're already discussing this with the UI team on how to make that more clear in the detailed stats. Thanks for the feedback!"
So in actual fact, the ZRG 20mm does do more Vehicle Damage as it states, and its extra damage is just currently hidden away.
So for anyone wanting to unlock the ZRG 20mm and use it for CoD: Black Ops Cold War's bigger modes involving vehicles, it's absolutely worth using.
It's another positive example of devs responding quickly to an issue as well, a point we discussed in our 8 things we want to see in Call of Duty 2021 article.
Image credits: Treyarch