Cold War & Warzone Season 2 Reloaded Content announced
Activision has officially announced the new content coming to Call of Duty: Black Ops Cold War and Call of Duty: Warzone with Season 2 Reloaded.
In a new blog post, the company has shared the new roadmap for Season 2 Reloaded, alongside details on when to expect the new content to roll out.
The update for Black Ops Cold War will be available on March 30.
Here's what's new from the Call of Duty blog: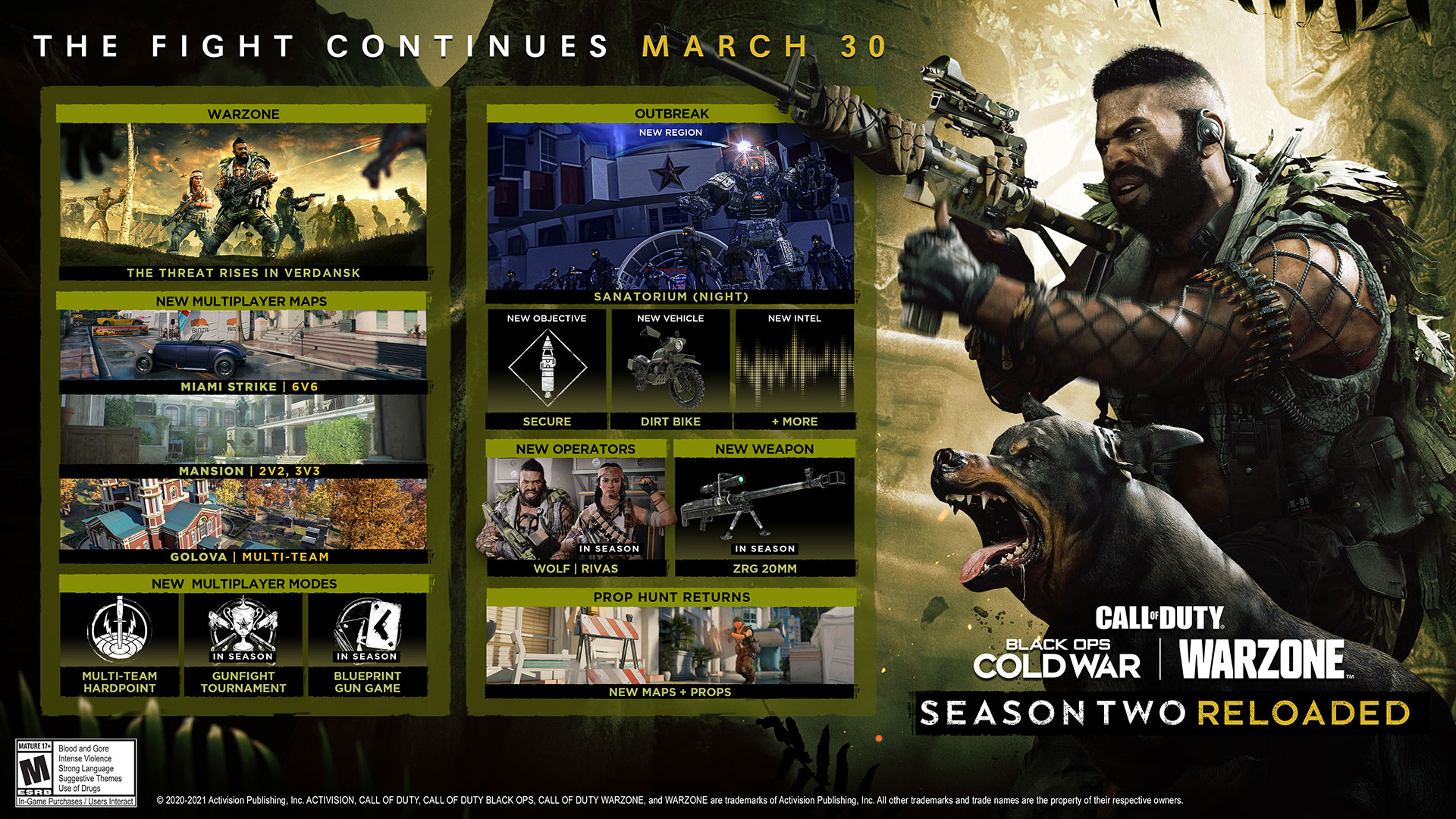 The Story So Far
With CIA Special Officer Russell Adler still M.I.A. and Armistice attempting to contain the spread of an unknown threat within Verdansk, there's no better time for Season Two of Call of Duty®: Black Ops Cold War and Warzone™ to receive some reinforcements.
Season Two Reloaded, set to launch in both games this week, includes several new maps, modes, and features for Black Ops Cold War, in addition to two new Operators, the new ZRG 20mm sniper rifle, and new bundles that will also be available within Warzone. This content will be live following updates to Black Ops Cold War on March 29 at 9 PM PST, and Warzone on March 30 at 11PM PST.
All of this is just the tip of the spear for the rest of this season's offerings. During Season Two Reloaded, you can expect to see plenty of new Zombies content in Outbreak, prove your skills in the new Blueprint Gun Game, and fight to the top in the debut of Gunfight Tournaments.
Keep reading for everything you need to know for this action-packed second half of Season Two: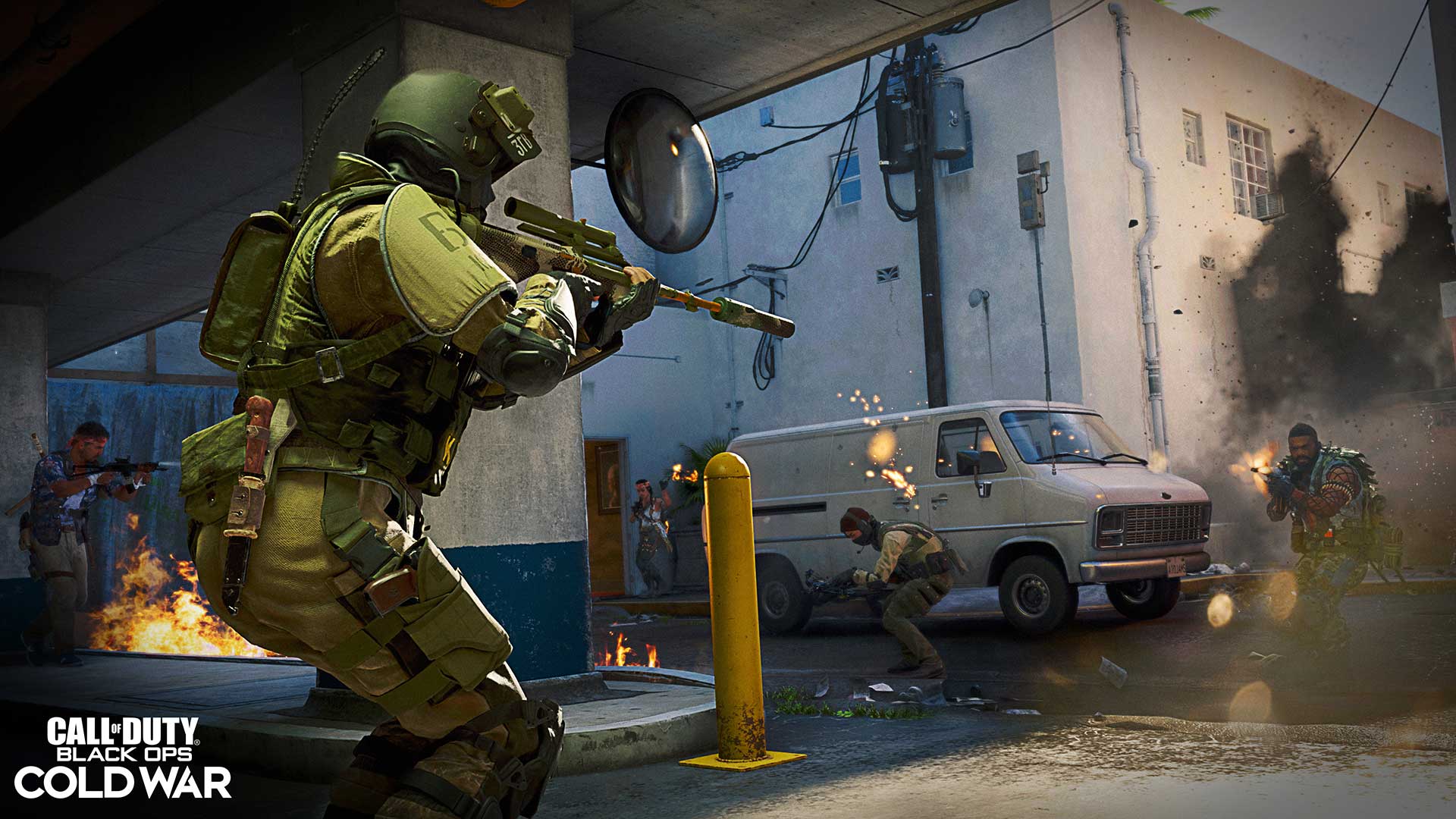 New Multiplayer Maps
Miami Strike (6v6) (Launch)
The sun rises on Miami Strike, featuring a new, tighter map layout with entirely new ways to play compared to the original nighttime iteration.
A vintage car show has taken over Ocean Park Drive, sealing off the road past the Paramour Hotel. While there are still plenty of opportunities to duke it out in long-range skirmishes, closer fights gain much more prominence here, especially in the back alleyways, through the various businesses and parking structures, and the new waterside path that's been opened up with a beautiful view of the bay.
Shades on, sights up, and push the attack. You'll need to be aggressive here to beat the heat… and your competition. Jump into the Miami Strike 24/7 playlist this week to join the action!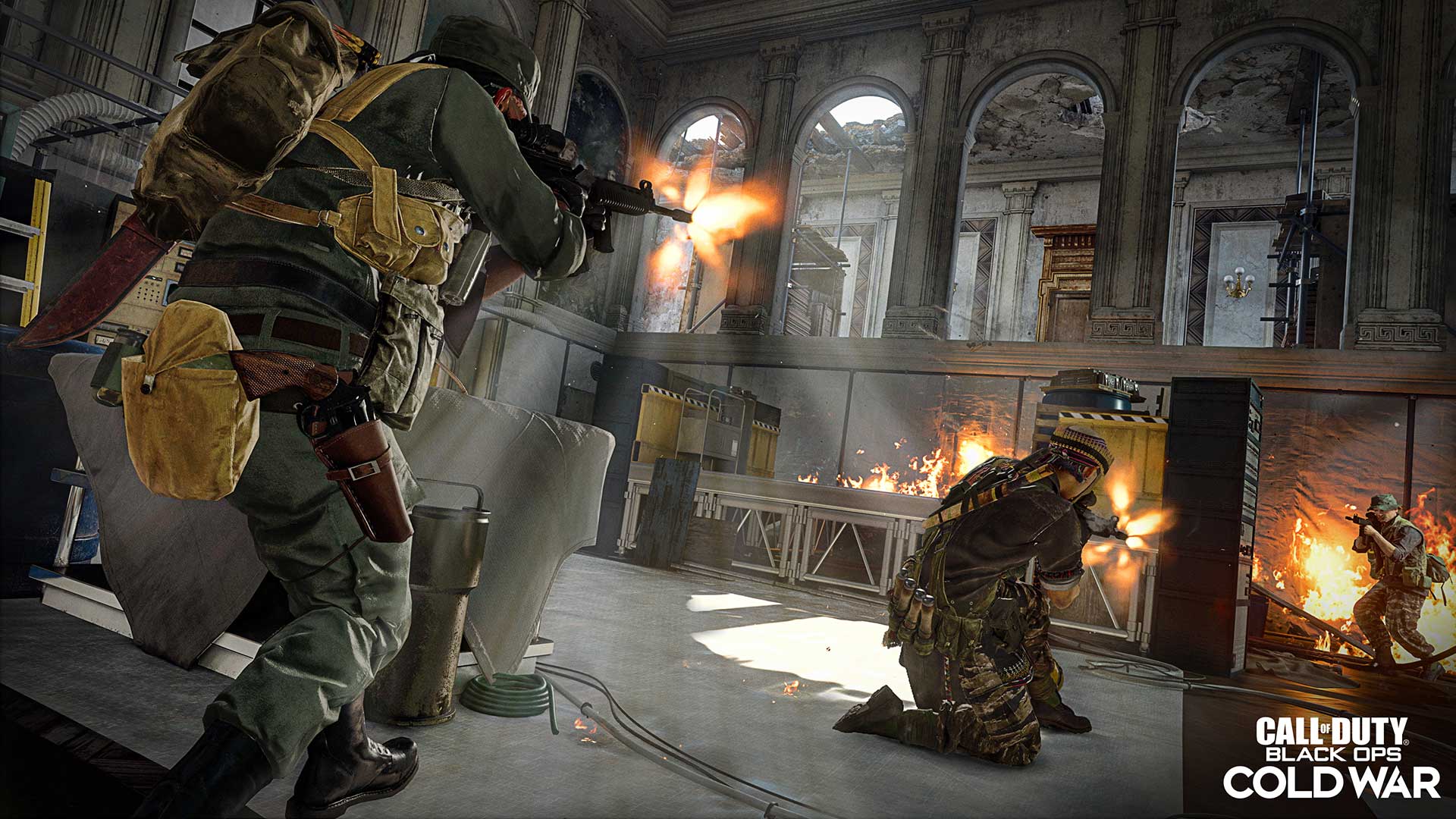 Mansion (2v2, 3v3) (Launch)
Joining the Gunfight and Face Off map rotations, Mansion promises high-octane, frenetic firefights across its decadent courtyards.
The eastern courtyard features palm trees and a gazebo, opposite another with a central statue over a dry fountain. Fight in the surrounding arcade among its thick supporting columns or brave it through the middle in a cross-map dash. Look for the center wrapped room including a small hallway and an exposed balcony for a high risk, high reward power position.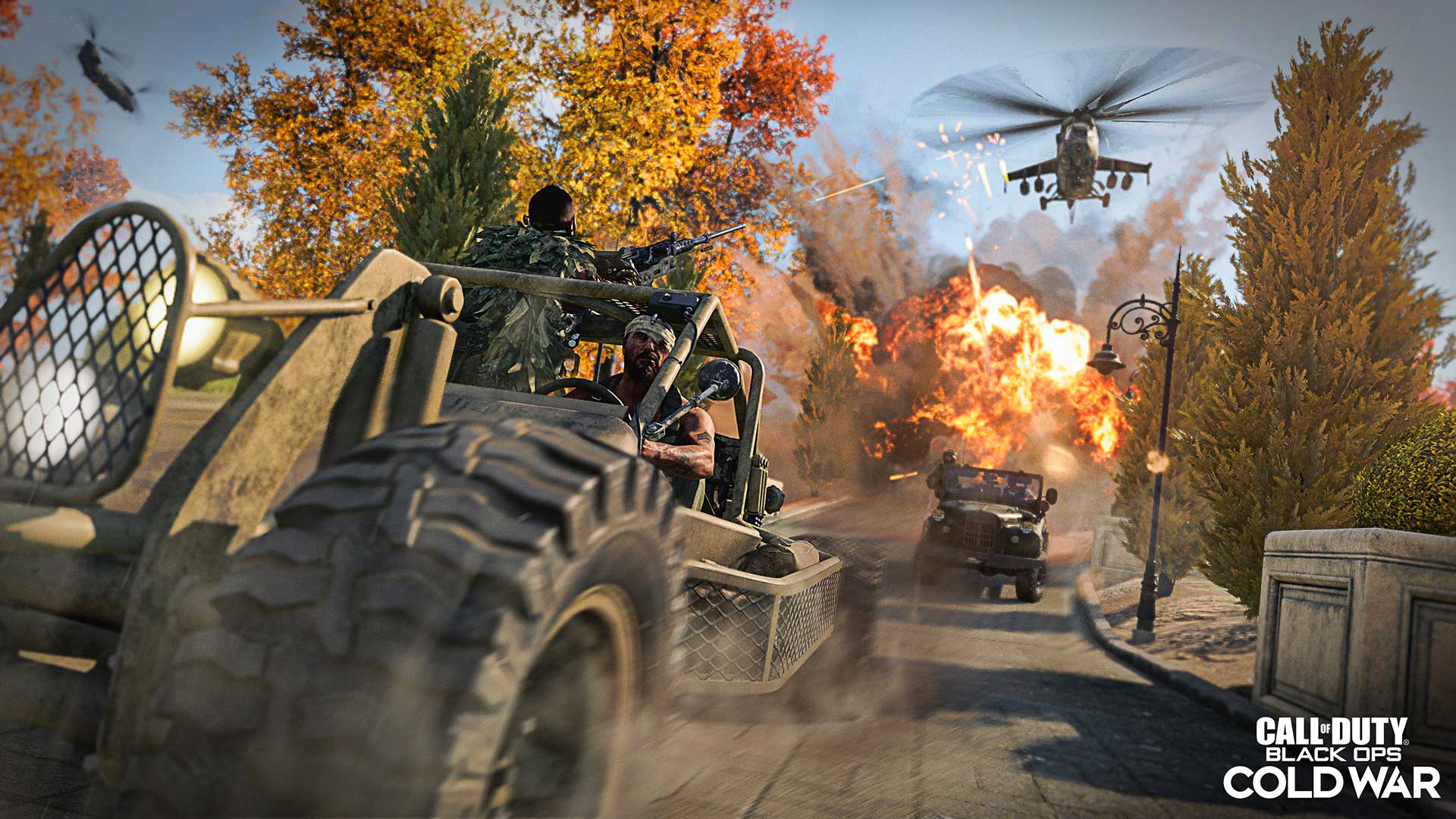 Golova (Multi-Team) (Launch)
A seemingly traditional Russian village in the idyllic Ural Plains hides a dark secret beneath its surface.
First appearing as an exclusive locale within Outbreak at the start of Season Two, Golova is now available in multi-team modes within Multiplayer. Prepare for relentless combat throughout the town, from its massive church to its rows of houses and industrial park. Compete in long-range fights across its stair-stepped terrain or stick to its objective areas for close-quarters play.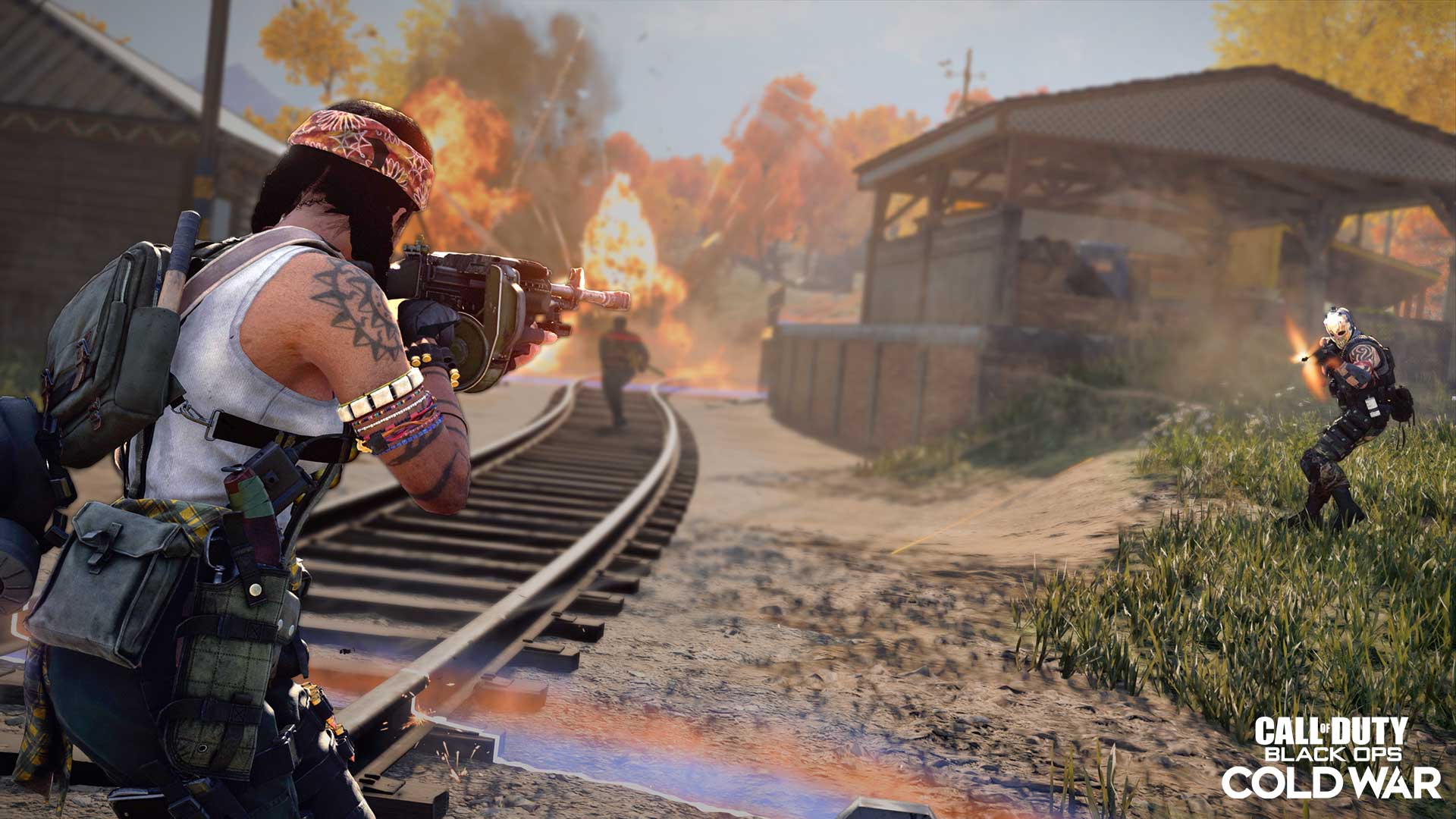 New Multiplayer Modes and Features
Multi-Team Hardpoint (Launch)
You thought Hardpoint was chaotic before? Introducing the game mode's largest version yet: this new squad-based adaptation pits 10 squads of four in a fight for multiple Hardpoints at a time. Each set of Hardpoints lasts 120 seconds before rotating to the next locations. Another new twist compared to its core counterpart is that your team will earn 1 point every second for all teammates inside of a Hardpoint. You'll want to keep your team in those Hardpoints and clear the enemies out to deny their points. The first squad to reach 1,000 points wins the match.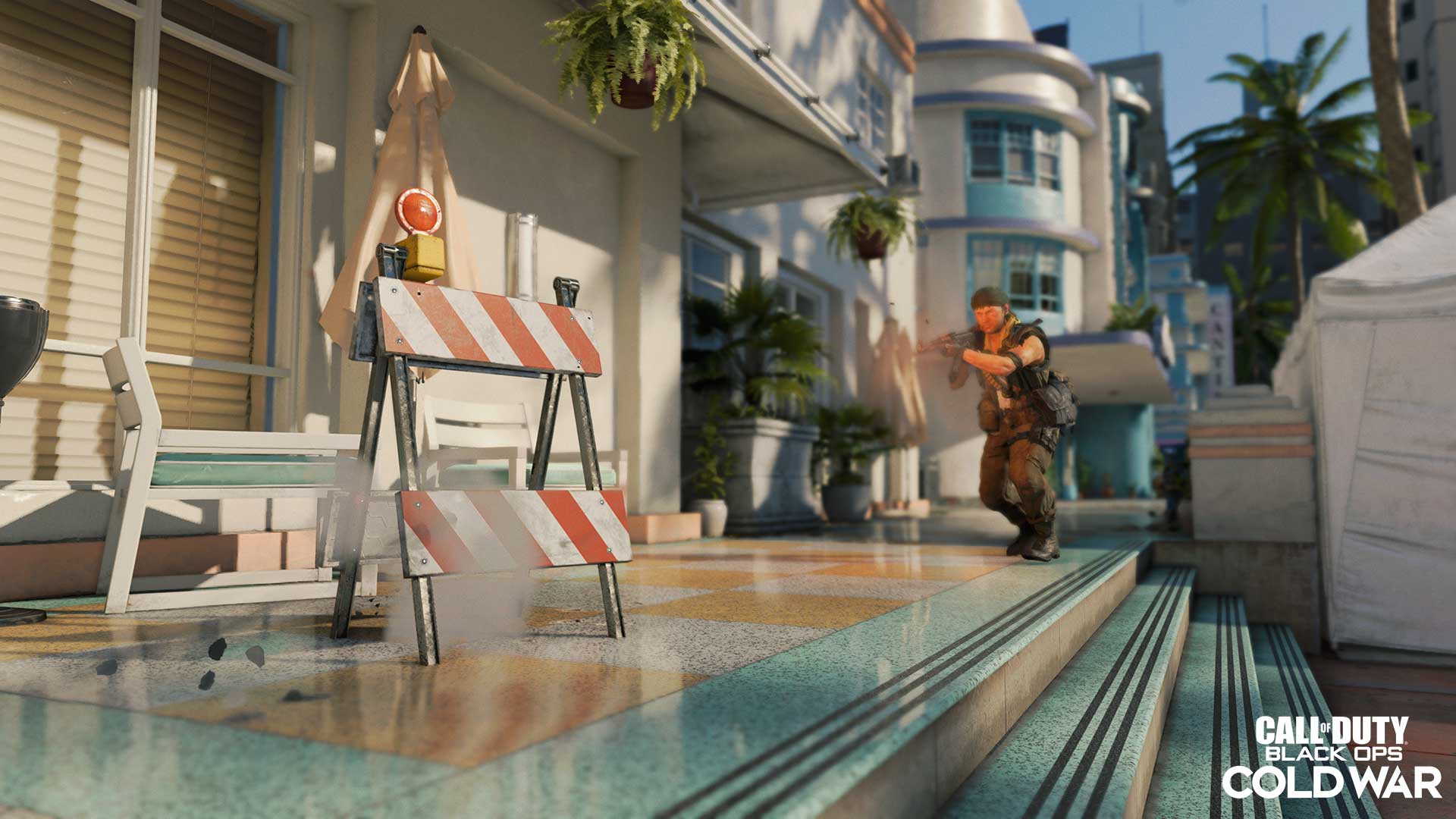 New Prop Hunt Maps and Props (Launch)
Miami Strike and Satellite join the rotation of Prop Hunt maps in this week's update, along with new props being introduced into existing maps. Check every corner as you hunt and hide in the bid to outsmart your opponents.
Gunsmith Customs (In-Season)
Later in the season, Gunsmith Customs are coming to Black Ops Cold War, allowing players to mix-and-match attachments from Weapon Blueprints of the same weapon type in Create-a-Class.
Weapon Tuning (Launch)
Season Two Reloaded brings a fresh round of weapon tuning to Black Ops Cold War, including LMG adjustments and tuning for the LC10, AK-74u, Mac-10, KSP 45, Milano 821, Krig 6, FFAR 1, Groza, Magnum, and RPG-7. This also includes a complete balance pass on several attachments for assault rifles and SMGs, as well as an increase to rocket damage against enemies with Flak Jacket in Hardcore. Get all the details in the patch notes at the Treyarch blog.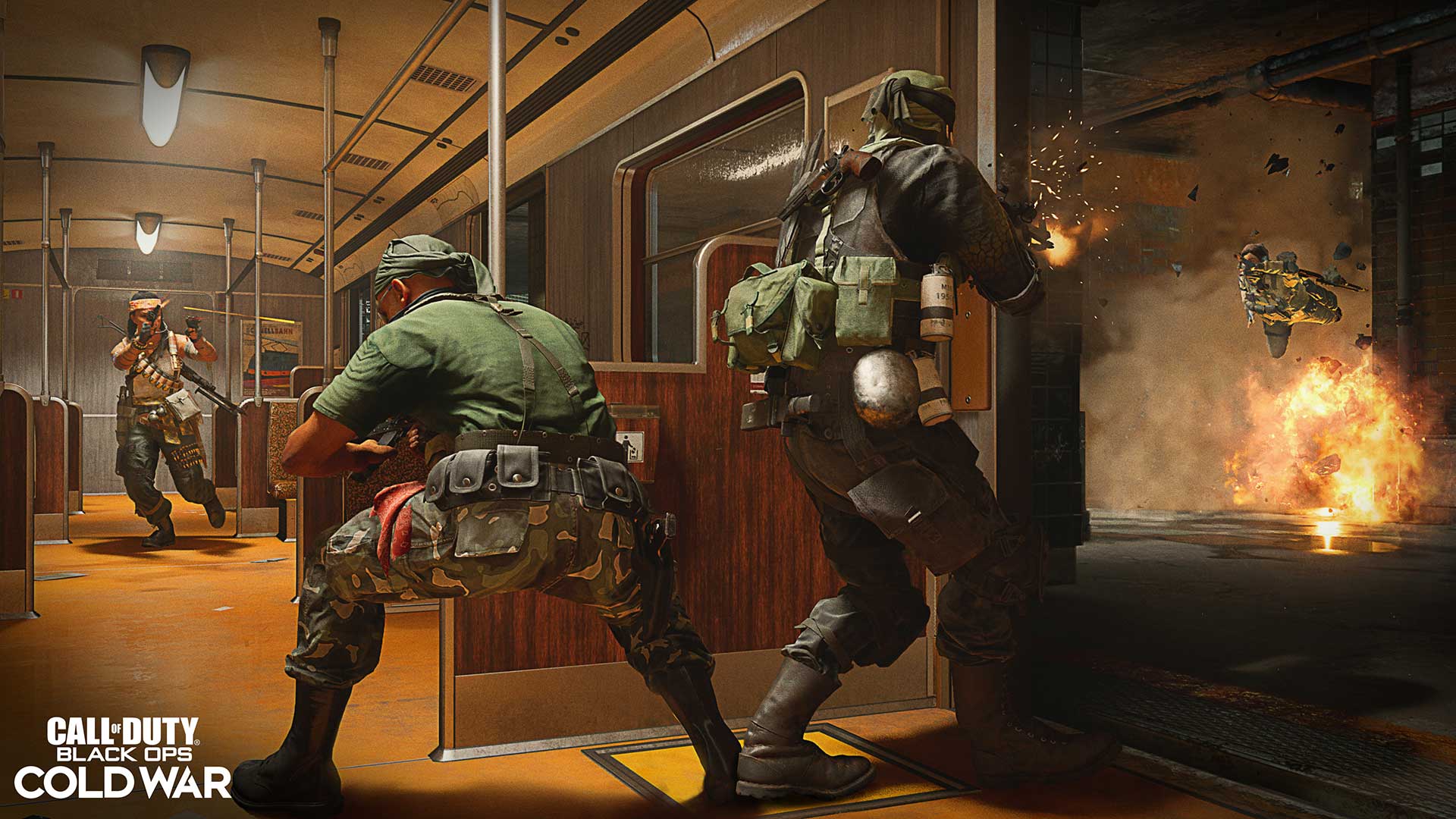 Gunfight Tournaments (In-Season)
Think you've got the best shot? Now's your chance to prove it when Gunfight Tournaments arrive later this season. Join a competitive bracket featuring unique rewards and bragging rights for the winning teams. Teamwork and communication are a must: you'll need every advantage to take six rounds before the other team and make your way to the top.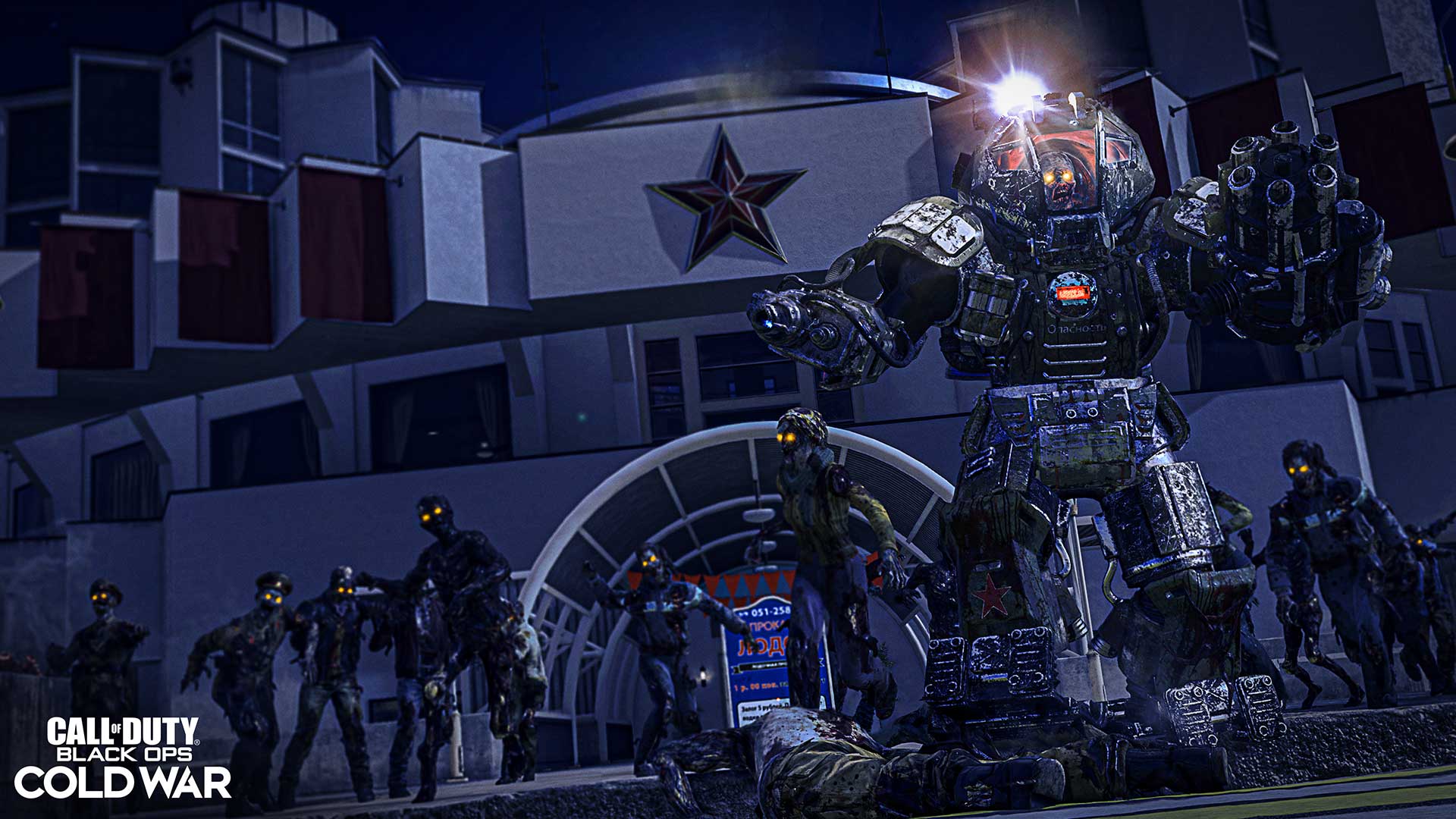 New Zombies Content and Features
New Outbreak Region: Sanatorium (Night) (Launch)
Zombies gets even bigger this week. As the Dark Aether continues to spread, agents of Requiem must expand their search for outbreak sites across the Ural Mountains into a massive new region: Sanatorium Night.
Infiltrating into Sanatorium will take place under the cover of nightfall in Outbreak, making every encounter with the undead – from shambling soldiers to deadly Elite Zombies – that much more spine-tingling.
Agents will need to be in top fighting form here if they hope to advance Requiem's research and complete the necessary experiments.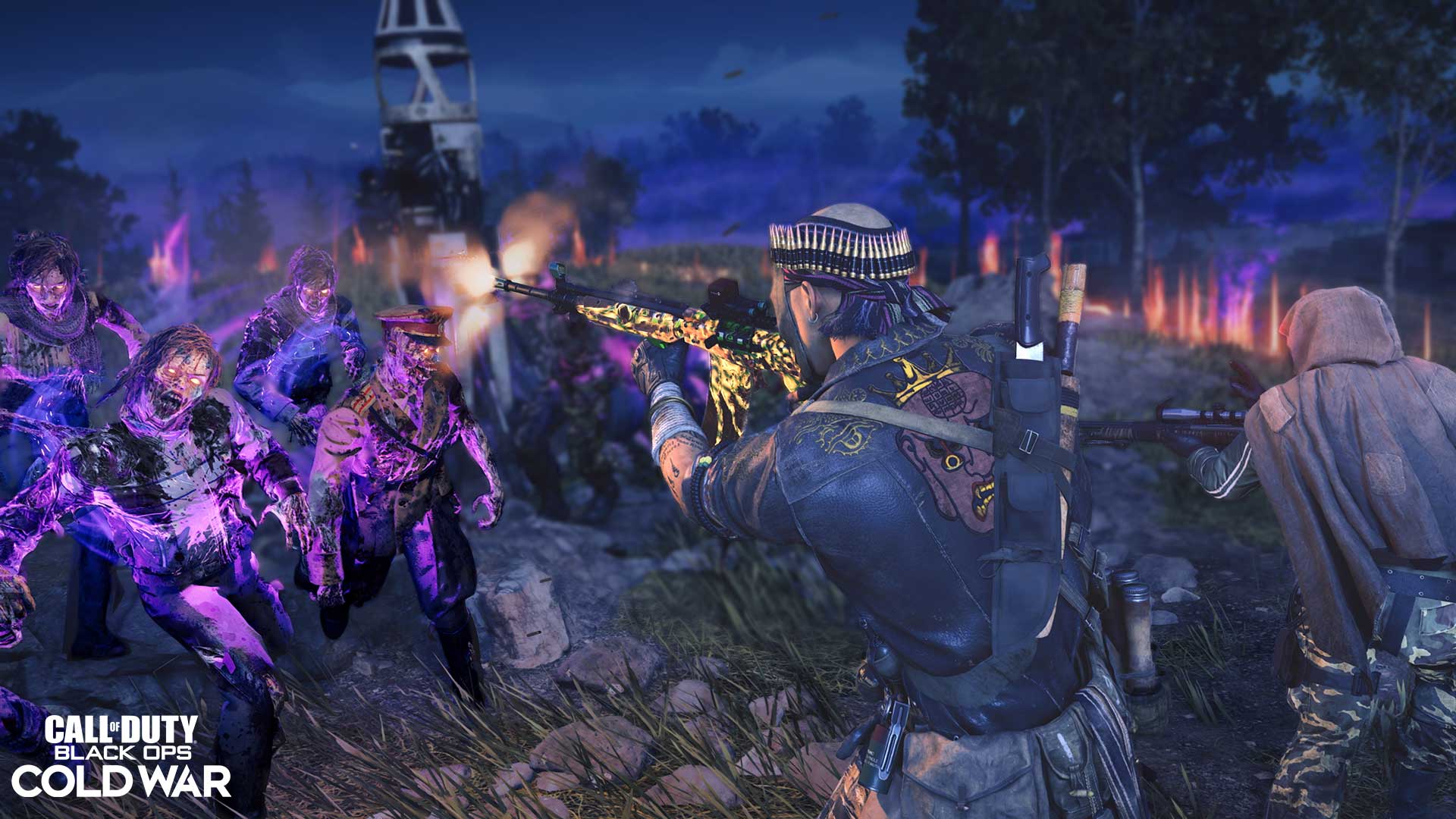 New Outbreak Objective: Secure (Launch)
Eager to control the transformational properties of Dark Aether Essence, Dr. Strauss has a new task for the Requiem strike team: secure essence from the undead for analysis and experimentation.
The objective for Secure is straightforward, but your survival is less guaranteed. Squad up and call down the Essence Conversion Modules from orbit. These rocket-powered collection capsules siphon Essence from the undead and convert it into items you can use in combat. To complete this task, Requiem agents must kill zombies in the established perimeter until the conversion process is complete… easier said than done.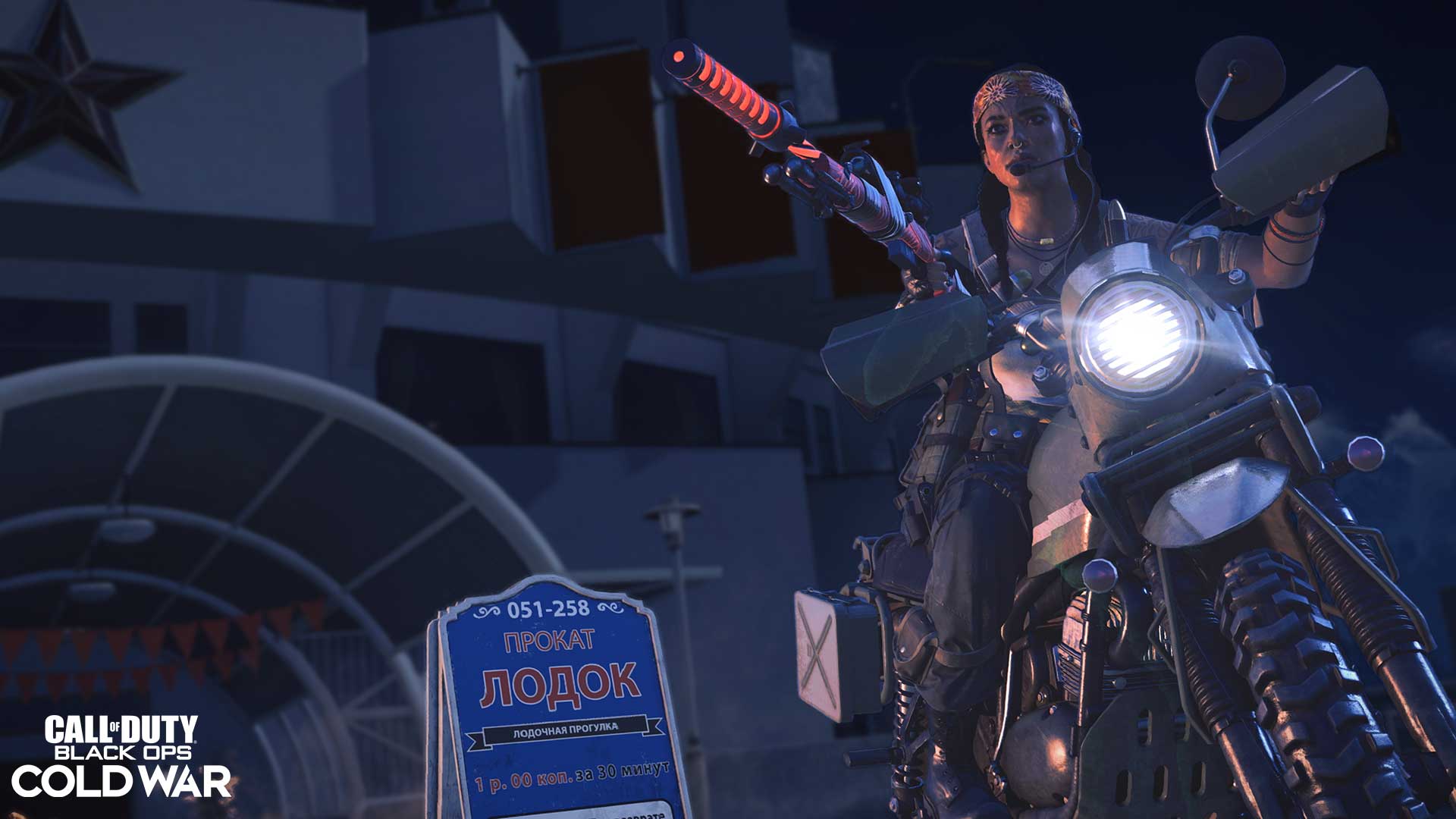 New Outbreak Vehicle: Dirt Bike (Launch)
Requiem agents can now saddle up on the Dirt Bike for rapid, highly maneuverable travel, great for gathering Essence and other items around the map or racing against the clock during timed events.
Set up your War Tracks and bring over any Dirt Bike vehicle skins you've acquired through the Battle Pass and bundles… so long as you don't mind a few zombies scuffing up your paint job.
New Outbreak Intel + More (Launch)
Along with the new Sanatorium Night region comes additional intel for agents to discover, including brand-new Audio Logs and Radio Transmissions that advance the Dark Aether story. Leave no stone unturned if you want to collect them all… and keep your ears open for other mysteries appearing throughout the Ural Mountains.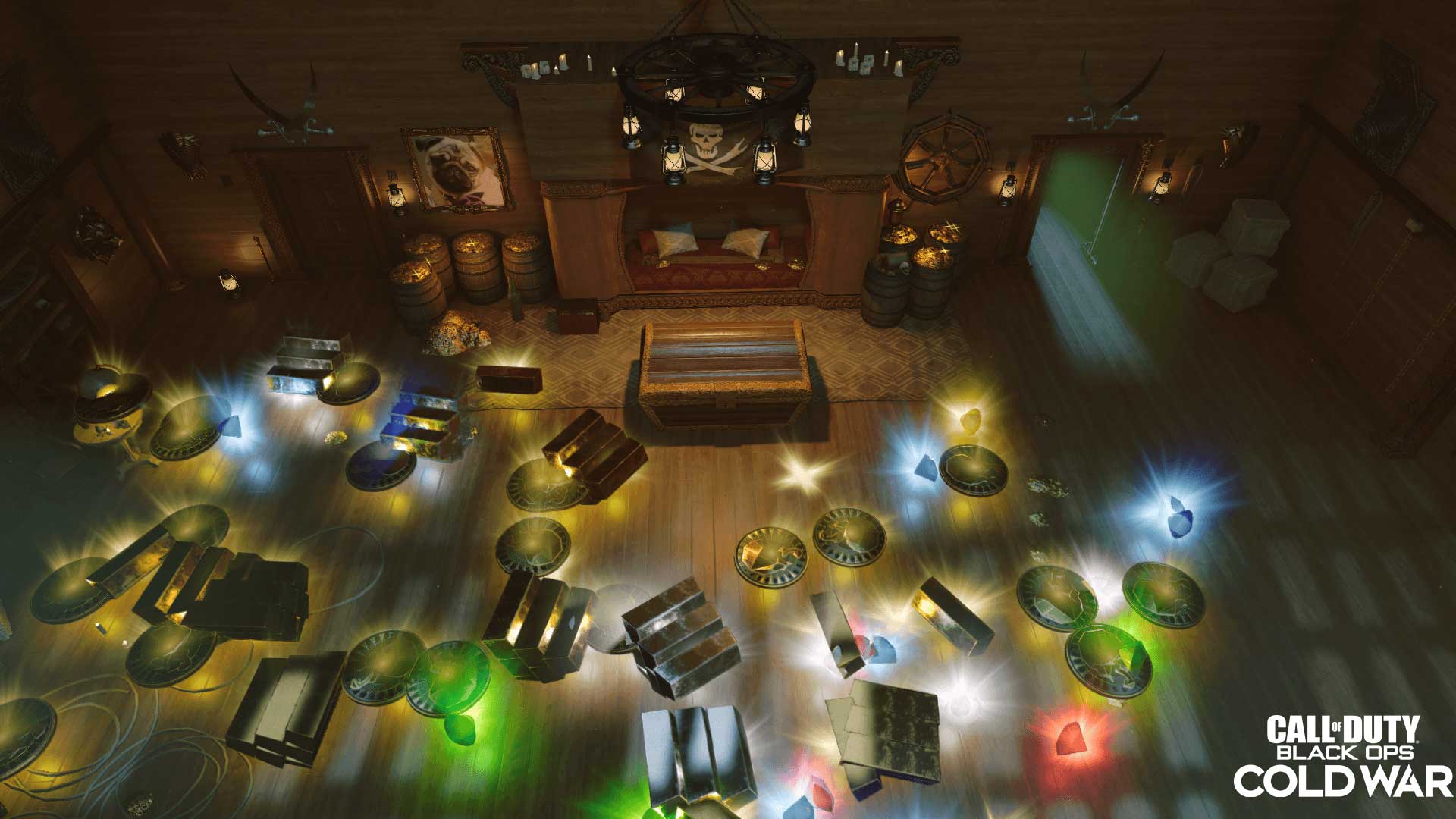 Dead Ops Arcade Player XP and Battle Pass XP (Launch)
If you dare take on the Mamaback, you'll earn more rewards just for playing. Dead Ops Arcade 3 will now award player XP and Battle Pass XP with this mid-season update, so you'll always make progress in your levels and tiers as you take on 60+ rounds of co-op insanity.
While you're at it, try the new First Person mode if you haven't already. Introduced recently during Season Two, this mode allows you and your squad to play entirely in first-person perspective, adding sprinting, jumping, sliding, and swimming to the mix for the first time in the series!
New Dead Ops Arcade Silverback Slideways Map (Launch)
Test your side-scroller skills in an all-new Silverback Slideways bonus map in Dead Ops Arcade 3, with this latest variant bringing the total count of Silverback Slideways bonus maps to four.
New "Apply Blueprint" Feature (Launch)
Zombies players will now able to apply any Weapon Blueprint they own to their weapon in the Pause menu in Outbreak, "Firebase Z," and "Die Maschine," including any weapon picked up or purchased from a Wall Buy. Slay in style!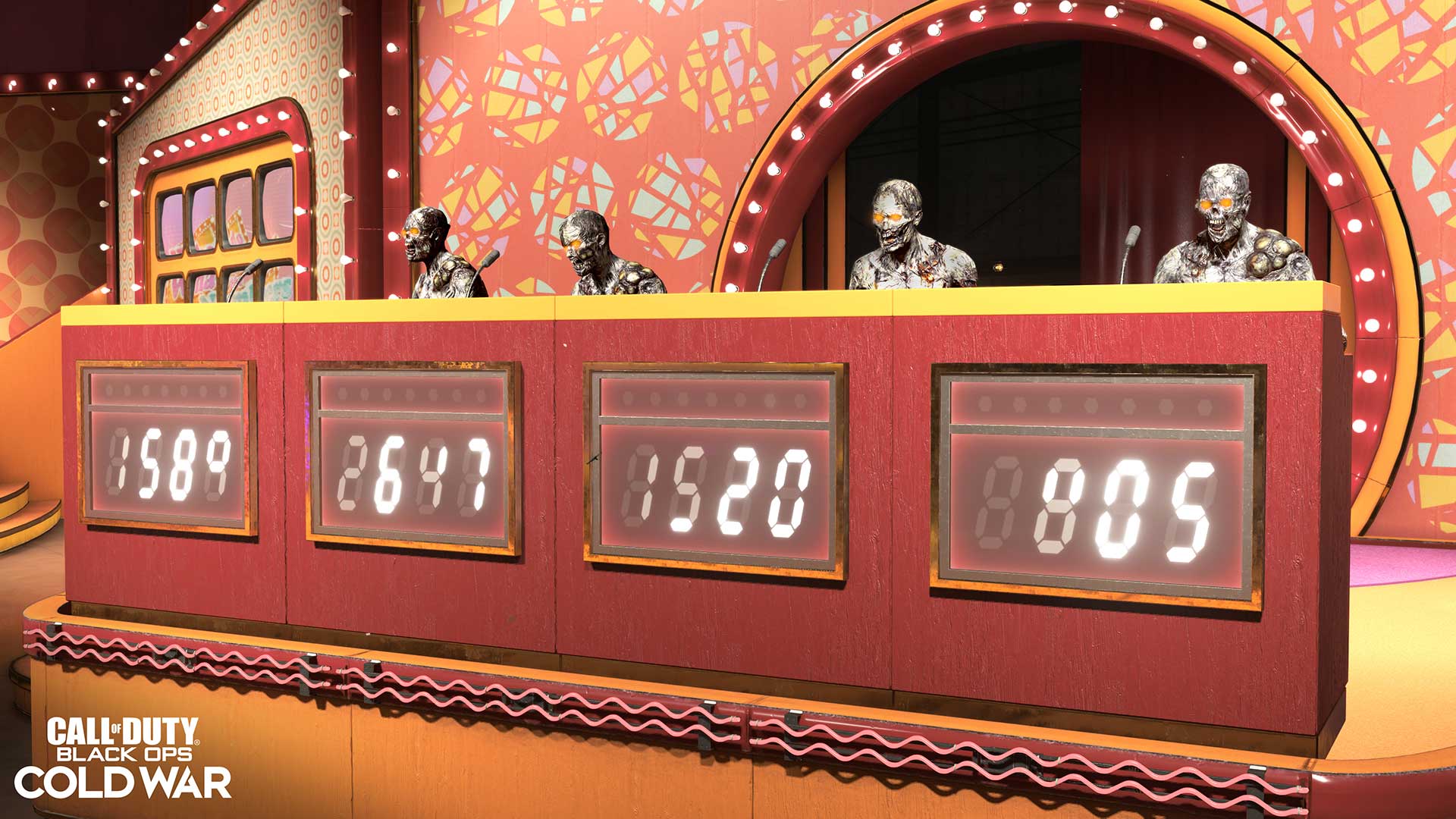 New Onslaught Content (Launch) (PlayStation)
PlayStation fans can take on the new Containment mode in Onslaught for an intense new experience on the game's Gunfight maps, along with a new Blueprint Challenge to conquer and unlock.
New additions also include Level 2 and Level 3 Armor drops, Ammo Mod and Aether Tool drops to upgrade your weapons, as well as new Bronze, Silver, and Gold Chalice drops that will Pack-a-Punch your weapon for the first time in Onslaught.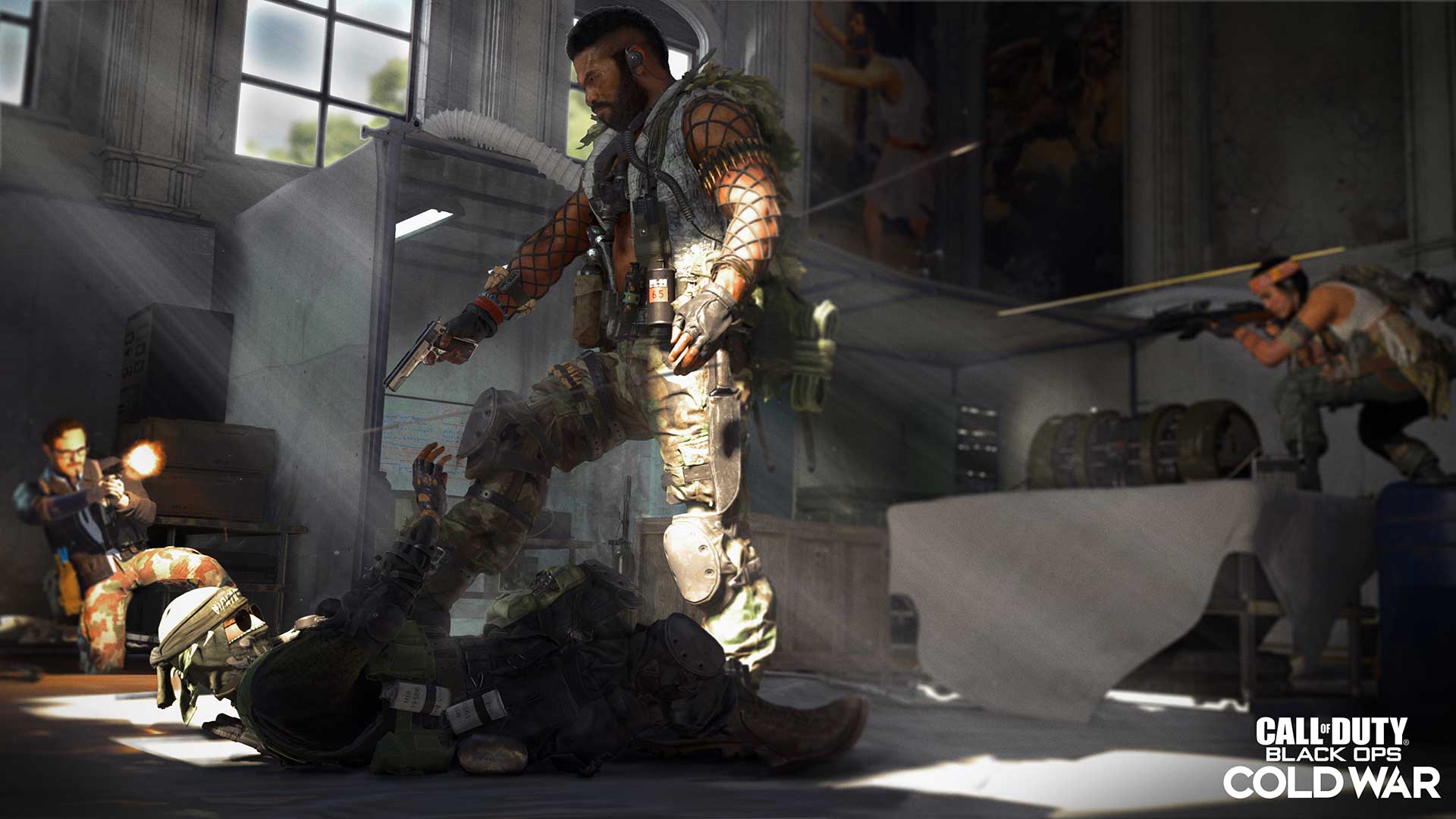 New Operators and Weapon
Wolf: NATO (Launch)
From a young age, Terrell Wolf perfected his skills as a hunter in the Louisiana bayous surrounding his grandparent's home. Entering service on his 18th birthday in memory of his fallen brother, he now stalks more dangerous prey as an elite Delta Force sniper working alongside Woods in the search for Russell Adler.
Watch out for his second in command during his signature Finishing Move, as his faithful canine companion is ready to help Wolf eliminate any threats to the pack.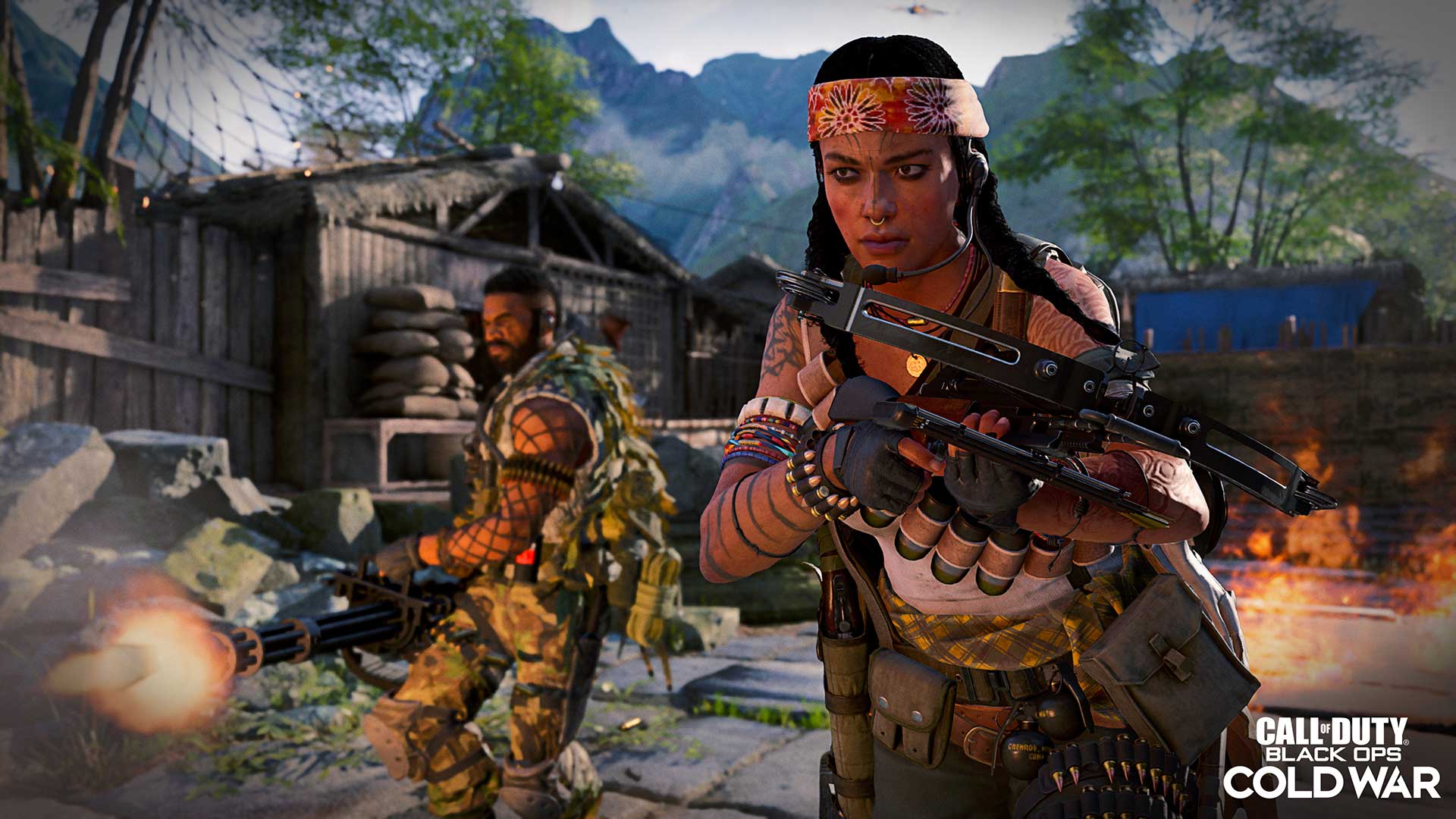 Rivas: NATO (In-Season)
Karla Rivas grew up in Nicaragua surrounded by the Menendez Cartel and their ceaseless wars with rival gangs. Her firsthand experience of the consequences of these wars on the surrounding communities drove her to action against the Cartel's influence, using guerilla tactics to weaken them by any means necessary. Her skills are unparalleled in the continuing search for Adler.
Get access to Terrell Wolf and Karla Rivas for Black Ops Cold War and Warzone as part of separate Store Bundles in Season Two Reloaded.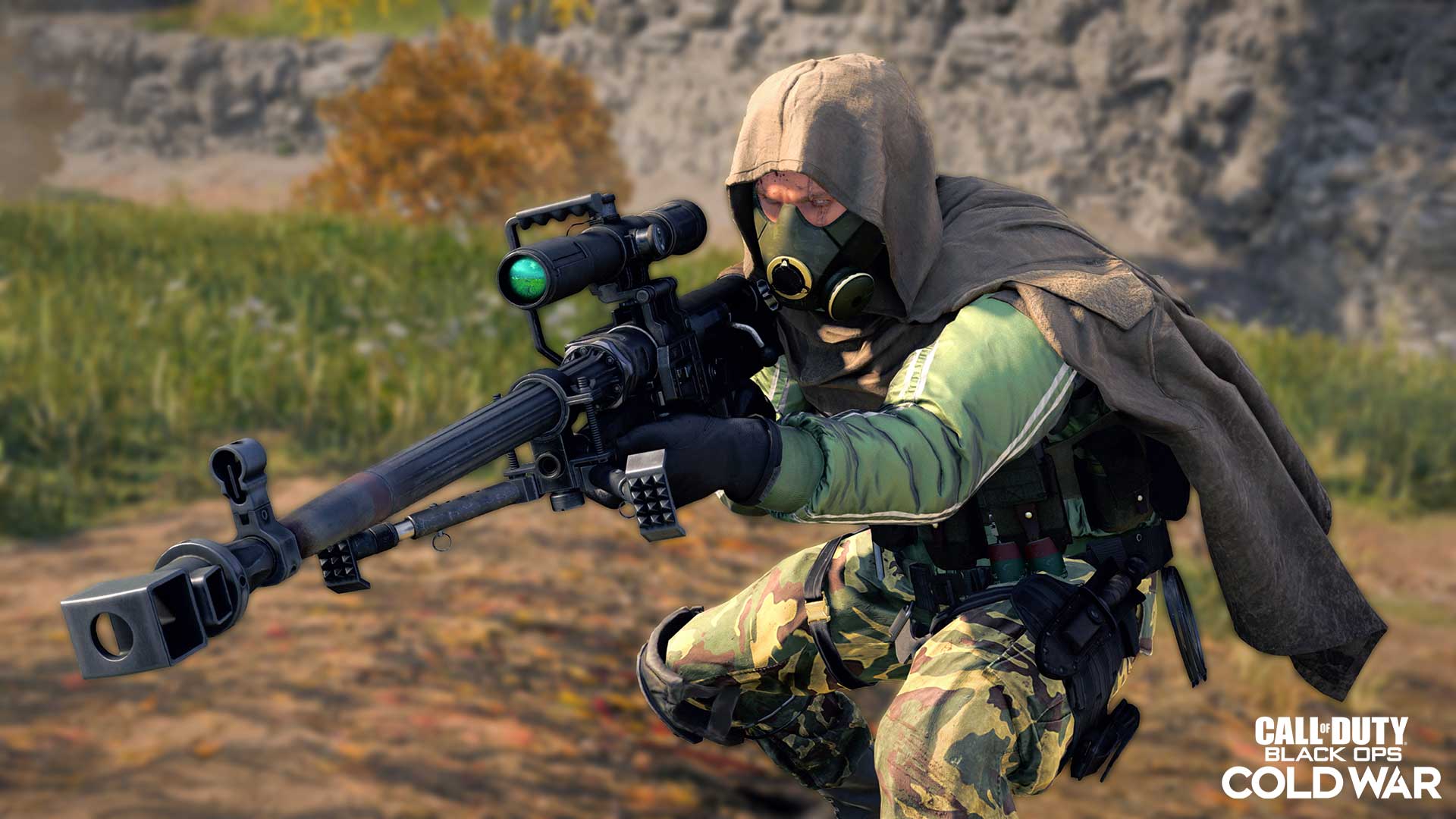 ZRG 20mm Sniper (In-Season)
Boasting a higher bullet velocity than any other weapon in its class, the ZRG 20mm sniper rifle is built to excel in extremely long ranges. Operators will appreciate its fast reload speed and its ability to eliminate enemies with a single shot to the head, chest, or shoulders.
Unlock the ZRG 20mm by completing its in-game challenge or by acquiring the "Jackpot Sniper" bundle, featuring a Legendary new sniper rifle Weapon Blueprint.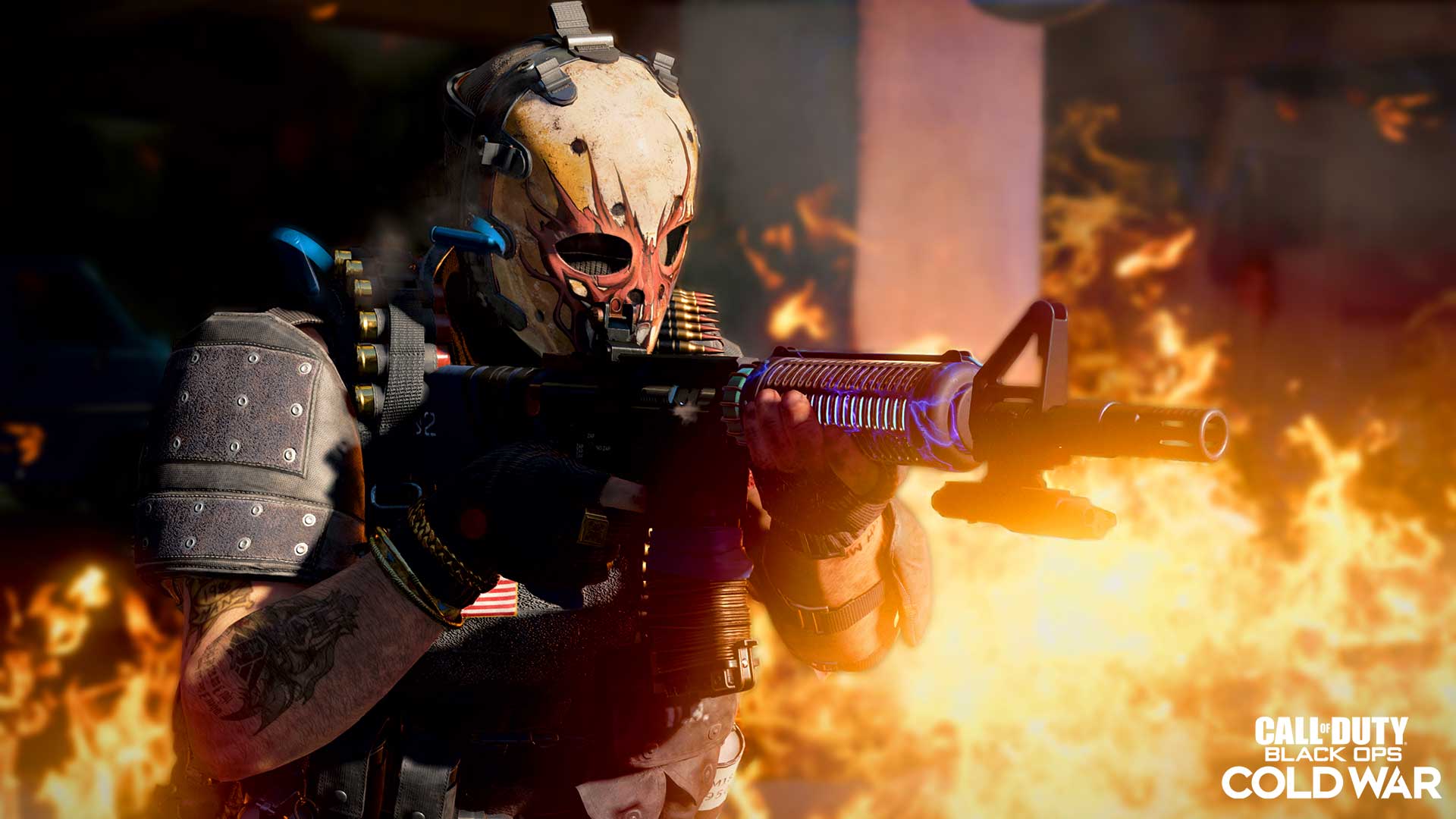 More in the Store
In addition to Wolf, Rivas, and the ZRG 20mm Blueprint bundle, the Store in Black Ops Cold War and Warzone will receive plenty of new bundles through the rest of Season Two.
This includes the "Dragon's Greed" bundle, which will leave you ready to strike fear into your enemies. This bundle features two Legendary Weapon Blueprints with enough gold to rival the dragon's hoard, as well as a new Legendary Bulldozer Skin donning a dragon-themed mask.
Find this bundle and more in the in-game Store and bolster your stock of badass Weapon Blueprints, Operator Skins, and more.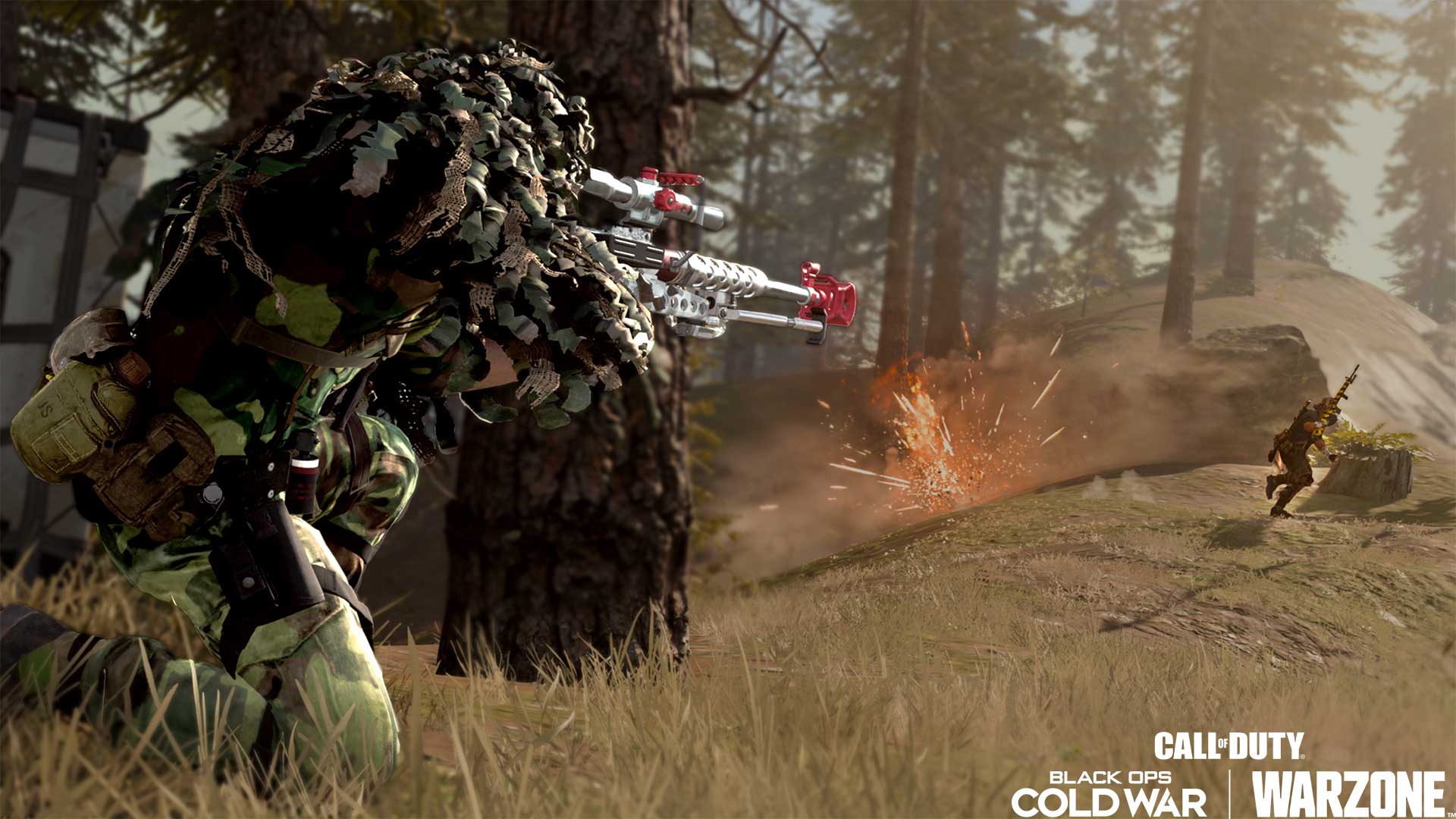 Modern Warfare and Warzone File Size Reduction
Season Two Reloaded also brings great news of a lower, optimized file size across Warzone. Those who own the full version of Modern Warfare/Warzone, or who own the free-to-play Warzone game, will find their overall file size footprint reduced on their respective platform.
Enhancements to the overall content management system has been made possible through data optimization and streamlining content packs needed for individual game modes. This will come after a larger than usual, one-time update for Season Two Reloaded, which will include these optimizations and is necessary in order to reduce the overall footprint; future patch sizes for Modern Warfare and Warzone are expected to be smaller than the one set to release on March 30 at 11PM PST.
Along with the ability to remove individual modes that are no longer played, owners of the full Modern Warfare experience will see more space freed on their platform of choice. However, those who want to continue playing Campaign, Multiplayer, and/or Special Ops will need to reinstall the optimized Content Packs, which will be released alongside and shortly after the Season Two Reloaded update.
Following the update, the Warzone file size will be reduced by between 10.9 GB and 14.2 GB, and the Modern Warfare/Warzone file size will be reduced by between 30.6 GB and 33.6 GB, depending on your platform.
The following is the approximate reduction that will be seen for both the free-to-play Warzone and full Modern Warzone/Warzone files on each platform:
PlayStation 5: 10.9 GB (Warzone Only) / 30.6 GB (Warzone and Modern Warfare®)
PlayStation 4: 10.9 GB (Warzone Only) / 30.6 GB (Warzone and Modern Warfare®)
Xbox Series X / Xbox Series S: 14.2 GB (Warzone Only) / 33.6 GB (Warzone and Modern Warfare®)
Xbox One: 14.2 GB (Warzone Only) / 33.6 GB (Warzone and Modern Warfare®)
PC: 11.8 GB (Warzone Only) / 30.6 GB (Warzone and Modern Warfare®)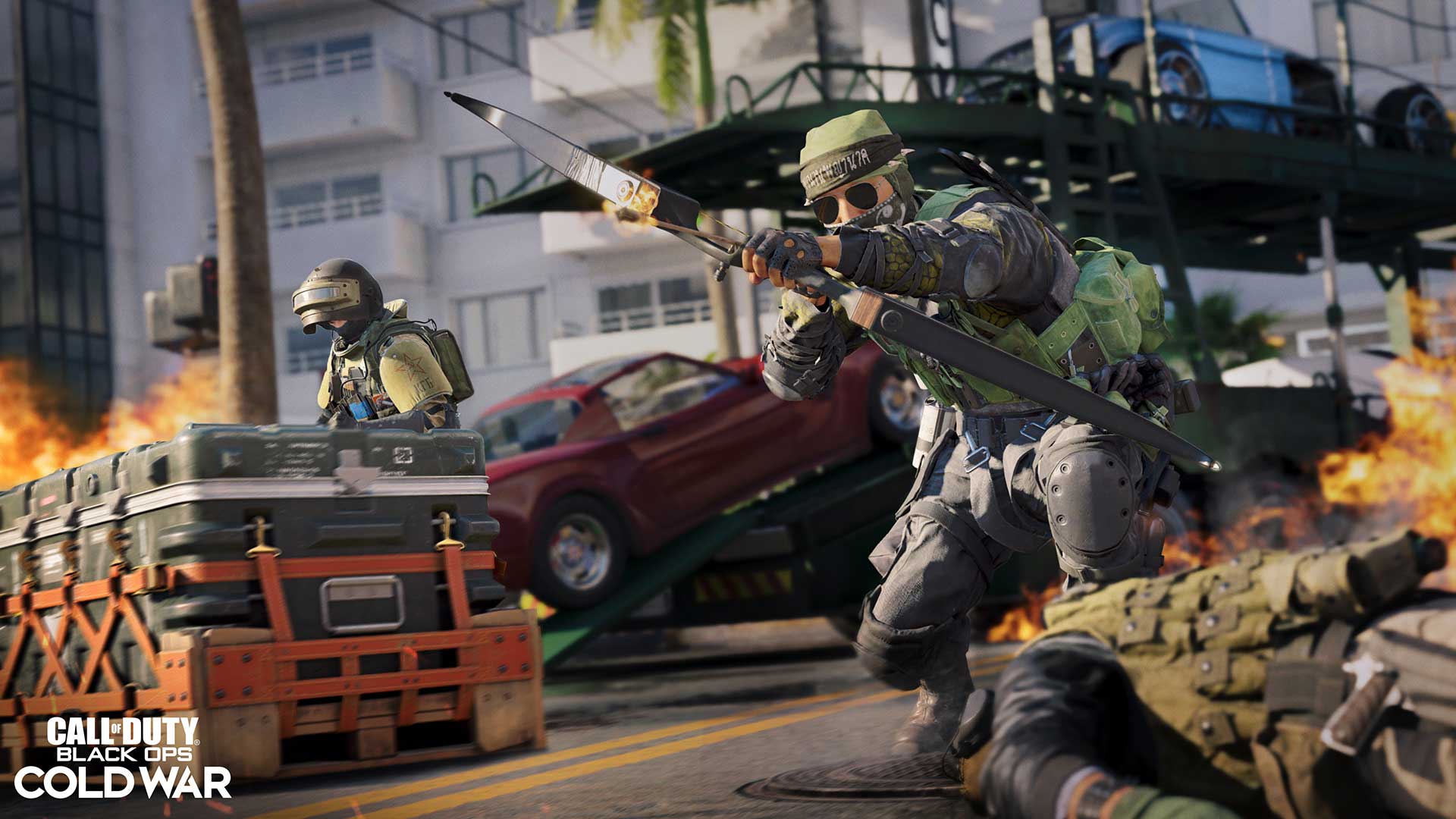 Season Two Reloaded: Update File Size
The Season Two Reloaded update will have a download size of approximately 7.4 – 14.18 GB for owners of the full version of Black Ops Cold War, and 52.0 – 57.8 GB for owners of the free-to-play Warzone, who are up to date with the latest updates on either (or both) games.
Again, the Warzone download is a larger file size due to the optimization of data.
Black Ops Cold War Update Sizes
PlayStation 5: 12.2 GB
PlayStation 4: 7.4 GB
Xbox Series X / Xbox Series S: 14.18 GB
Xbox One: 9.13 GB
PC: 8.1 GB
Warzone Update Sizes
PlayStation 5: 52.0 GB
PlayStation 4: 52.0 GB
Xbox Series X / Xbox Series S: 57.8 GB
Xbox One: 57.8 GB
PC: 52.4 GB (Warzone Only) / 133.6 GB (Warzone and Modern Warfare®)
Remember, the Warzone download is not necessary if you are only playing Black Ops Cold War and vice versa.
SOURCE: Call of Duty Blog
Warzone players slam "rip off" Ultra Operator skin
Warzone players have called out the new Magma Ultra Operator skin for being a "rip off" and advise other players not to buy it.
Warzone players have been unimpressed with the new 'Magma' Ultra-rarity Operator skin for Knight, with it being called a "rip off" as its fiery effect in-game doesn't match its Cold War appearance or what's advertised in the store.
Warzone and Cold War Season 4 added the first-ever Ultra Operator skin with Iridescent for Jackal. This brightly-colored skin changes color throughout matches, making it a unique sight on the battlefield.
Activision has now released another Ultra Operator skin with 'Magma' for Knight, in which the outfit glows like fiery lava. But Warzone players have been more than unimpressed with its minimal fiery effects in the battle royale mode.
As Cold War and Warzone are on different engines, the Operators often look slightly different between the two games. This has been severely highlighted with the Magma Fury Bundle, where the skin's effect is clear in Cold War, but barely recognizable in Warzone.
Many players assumed that the Magma skin would be reactive, where it changes color and design with each kill. This doesn't appear to be the case, as the molten lava effect is there as soon as you spawn in.
Warzone players have been criticizing the skin as the lava effect is almost non-existent in the bright, hazy colors of Verdansk '84. Reddit user kaif_chan123 made players aware of the problem by showing off the skin in Warzone.
In the comparison pictures, we can see the skin's Magma effect is bright and obvious when in the Store but muddied and hard to see in-game. "They did rip me off," they stated, explaining that they wouldn't recommend that anyone buys it.
The image from kaif_chan123 is low-resolution, but a video from KRNG Hero (topic begins at 13:48) better shows how it looks in Warzone. After praising how cool the skin is in Cold War, Hero said that you can only see the fire effect in Warzone if you "look very carefully."
This is one of Activision's most expensive bundles in the store, so while plenty of Redditors criticized the OP for buying a skin, it's still something players should be aware of before purchasing the bundle.
Also, Warzone players have called for a Store boycott over the lawsuit against Activision-Blizzard for its "frat boy" culture and sexual harassment incidents.
Image Credit: Activision
Black Ops Cold War players call for major changes to Chopper Gunner Scorestreak
Cold War fans want Treyarch to address the Chopper Gunner Scorestreak as they believe it's underpowered in its current state.
Once one of the most feared Scorestreaks in Call of Duty, players think the Chopper Gunner needs a big buff to be worth the points required to use in Black Ops Cold War.
People tend to reminisce about the Modern Warfare 2 days of CoD. Nearly every gamer had the Chopper Gunner killstreak equipped as it was unbelievably overpowered, would be a guarantee to rack up some serious kills, and was fun to use.
In Black Ops Cold War, the feeling is not quite the same. As one of the most expensive Scorestreaks in Season 4, players don't believe it justifies the points necessary to acquire. As a result, they want it to receive a significant buff going forward.
One of the biggest issues with the Chopper Gunner is that it requires a whopping 8,000 points to pilot one.
As Reddit user factsvsfiction explains: "This streak COSTS 8,000 points. To put that into perspective, that is 1.6 Strafe Runs, 2 War Machines, 3 Hand Cannons, or 3.5 Death Machines worth of points."
They then dissect the effectiveness and durability of the Chopper Gunner, in comparison to other Scorestreaks, by saying: "The streak can easily be taken down by down by someone's Sam Turret that only takes 3 minutes to charge (which can be sooner if they are using a perk to speed it up) or an Air Patrol valued at 2500 points. That's laughable."
A common complaint that was echoed by many commenters on the post is that the VTOL Scorestreak is significantly better, and costs fewer points.
You can control the VTOL, but you can't with the Chopper Gunner, you can manually trigger flares for the VTOL, and it has two modes of fire.
One top commenter said: "I don't know why you would choose a Chopper Gunner over the Gunship lmao. The CG can get melted by a Calvary Lancer M60 (I have an "Anti-Air" class specifically for this) in 3 seconds."
After weighing up all the evidence, it's clear that there is a huge discrepancy between the Chopper Gunner and cheaper Scorestreaks of a similar nature. It definitely warrants some kind of upgrade, or its points requirement lowered.
Also, check out how to turn off crossplay in Black Ops Cold War & Warzone.
Image Credit: Activision / Treyarch
When does Black Ops Cold War Season 5 start? Season 4 end, guns, maps, leaks, theme
Season 5 will be one of the final chapters for CoD: Cold War. Here's when it will start, and info about guns, maps, and Season 4's end.
Call of Duty: Black Ops Cold War Season 5 will represent one of the last new waves of content for Treyarch's FPS title. Here's everything we know about its potential start date, Season 4's end date, and new guns and maps.
As to be expected, Season 4 of Cold War turned out to be quite a hefty update, adding all sorts of new gear to the game. As well as destructive new weapons like the MG 82 LMG and C58 Assault Rifle, we also got the new Ground Fall Event and even an overpowered new Scorestreak.
Things always move on though, so we're going to analyze the probable end date of Black Ops Cold War Season 4, and the start of Season 5.
Call of Duty: Black Ops Cold War Season 4 end date
As with every new season of Call of Duty, there is a new Battle Pass to give us the necessary information to work out the season's end date.
The Battle Pass for Season 4 expires on August 11. Meaning players will have until then to max out their pass before Season 5 starts.
Call of Duty: Black Ops Cold War Season 5 start date
CoD never has any truly significant downtime between seasons, and the transition between Cold War Season 4 and Season 5 should be no different.
We've gotten official word that Black Ops Cold War and Warzone's Season 5 will begin on August 12, 2021.
All the key details are still to be revealed concerning the next chapter in the 80s Call of Duty story, and they're sure to be interesting.
Black Ops Cold War Season 5 new guns & leak
Each new Call of Duty season usually introduces a bunch of new weapons for players to unlock and use in Black Ops Cold War.
As well as the aforementioned MG 82 and C58, Season 4 also welcomed the Nail Gun, OTs SMG, and the upcoming Mace. There's no official word yet as to what new weapons we will see in Season 5, but a leak has potentially revealed the identity of a new one.
Thanks to dataminer Nanikos, key artwork of the upcoming fifth season has been leaked ahead of time, and the image reveals a new Operator wielding, what looks like, Akimbo TEC-9 Pistols. A rapid SMG like the Bullfrog or PPSh-41, the TEC-9 would be another stellar addition to Cold War's SMG category.
Also, check out our 10 best guns in Black Ops Cold War and Tier List.
CoD: Cold War Season 5 new maps & leak
The standout highlight of CoD: Cold War Season 5's new map selections has to be the return of Hijacked. The exotic Cruise ship returned to house more tense skirmishes across its expensive decks.
As well as Hijacked, Cold War Season 4 also added Collateral Strike as a new 6v6 map, Amsterdam for 2v2 and 3v3, and 'Rush' is due in-season.
With the recent Season 5 leak in mind, it seems like players may have another remake to look forward to. As well as Black Ops I's Summit map featuring in a new Outbreak area called "Weather Station," they say that Summit will return as an individual 6v6 map.
There will probably be other new map content as well, so we'll update this section when we know more.
Also, see where we ranked and tiered every map in Black Ops Cold War here.
Cold War Season 5 new Operators & theme
Season 5 is almost certainly carrying on the story being told so far in Cold War and Warzone. We've traveled to various parts of the world following the exploits of Stitch, Adler, and most recently Jackal.
If the rumored leak is anything to go by, then Season 5 may be about to explore even more uncharted territory. The leaked image shows a new Operator who goes by the name "Kitsune."
She will represent a Japanese-themed approach to Season 5, and could be joined by two other Operators, Kingsley and Surge, although their names could change ahead of launch.
Cold War Season 5 Zombies & new Perks
We've already covered that Outbreak is looking to expand its array of areas to explore, and that might not be all we'll get in Season 5.
There doesn't seem to be anything as substantial as the Mauer Der Toten Zombies map that arrived in Season 4, but some new perks could be inbound.
Mule Kick was the sole addition to Season 4, but Season 5 may be adding two more if the Nanikos leak is to be believed.
PHD and Double Tap could be both be set for their debut in Black Ops Cold War.
PHD protects the player from any self-inflicted damage or actions and can cause explosions when jumping from a reasonable height.
Whereas Double Tap is a classic Call of Duty Perk that allows you to fire your weapons faster and perform certain actions much quicker. Both should be a great addition to the game and allow players even more freedom to play the game and complete Easter Eggs.
---
In the meantime, we'll continue to report on everything that Black Ops Cold War Season 4 has in store for us, and we'll be the first to break any Cold War Season 5 news here at Charlie INTEL.
Image Credit: Activision / Treyarch