Cold War & Warzone Season 3 Reloaded: Rambo, McClane, 80s locales, MP content, more
Activision has announced the full details on Call of Duty: Black Ops Cold War, Call of Duty: Warzone, and Call of Duty: Mobile's 80s Action Heroes event. This event begins on Thursday, May 20.
The new update includes a variety of new content across Black Ops Cold War MP & Zombies, Warzone, and Mobile game.
For Warzone players, this update includes new POIs to drop into based off of Die Hard and Rambo locations.
In Black Ops Cold War, limited time modes featuring themes around Die Hard & Rambo, new MP map like Standoff, and more will be available.
In Call of Duty: Mobile, limited time modes and store bundles will be added for the new characters.
Here's the full details from Call of Duty on what's new:
Coming Soon across Call of Duty: '80s Action Heroes and More!
In a world where Season Three comes fully Reloaded, two incredible '80s Action Heroes crash the party, ensuring the mid-season update for Call of Duty®: Warzone™, Black Ops Cold War, and Call of Duty: Mobile is an unmissable and explosive blockbuster!
One is John McClane, a New York cop who arrives at a holiday party turned hostage situation. He's the hero of the Die Hard films, one of the most iconic action movie series of all time.
The other is Rambo, a man double-crossed while on a clandestine mission and left to fight on his own in Rambo: First Blood Part II, which continued to inspire countless action movies since its release in 1985.
With these two '80s Action Heroes appearing across all three games, anything is possible in Call of Duty, but one thing is for certain:
Some heroes die hard.
Others draw first blood.
The action begins May 20.
The '80s Action Heroes event kicks off with limited-time bundles and game modes, in addition to the weapons, maps, and other features already expected during this season. This content will be live on May 19 at 9 PM PT, following updates to Black Ops Cold War on May 18 at 9 PM PT and Warzone on May 19 at 9 PM PT.
In addition, the '80s Action Heroes event comes to Call of Duty: Mobile on May 20 at 5 PM PT! Expect John McClane and Rambo to appear in the Store, as well as the limited-time Multiplayer Mode Guns Blazing. Check out more information further down this post, here.
Keep reading for everything you need to know for the star-studded '80s Action Heroes event!
Warzone and Black Ops Cold War—Operators Rambo and John McClane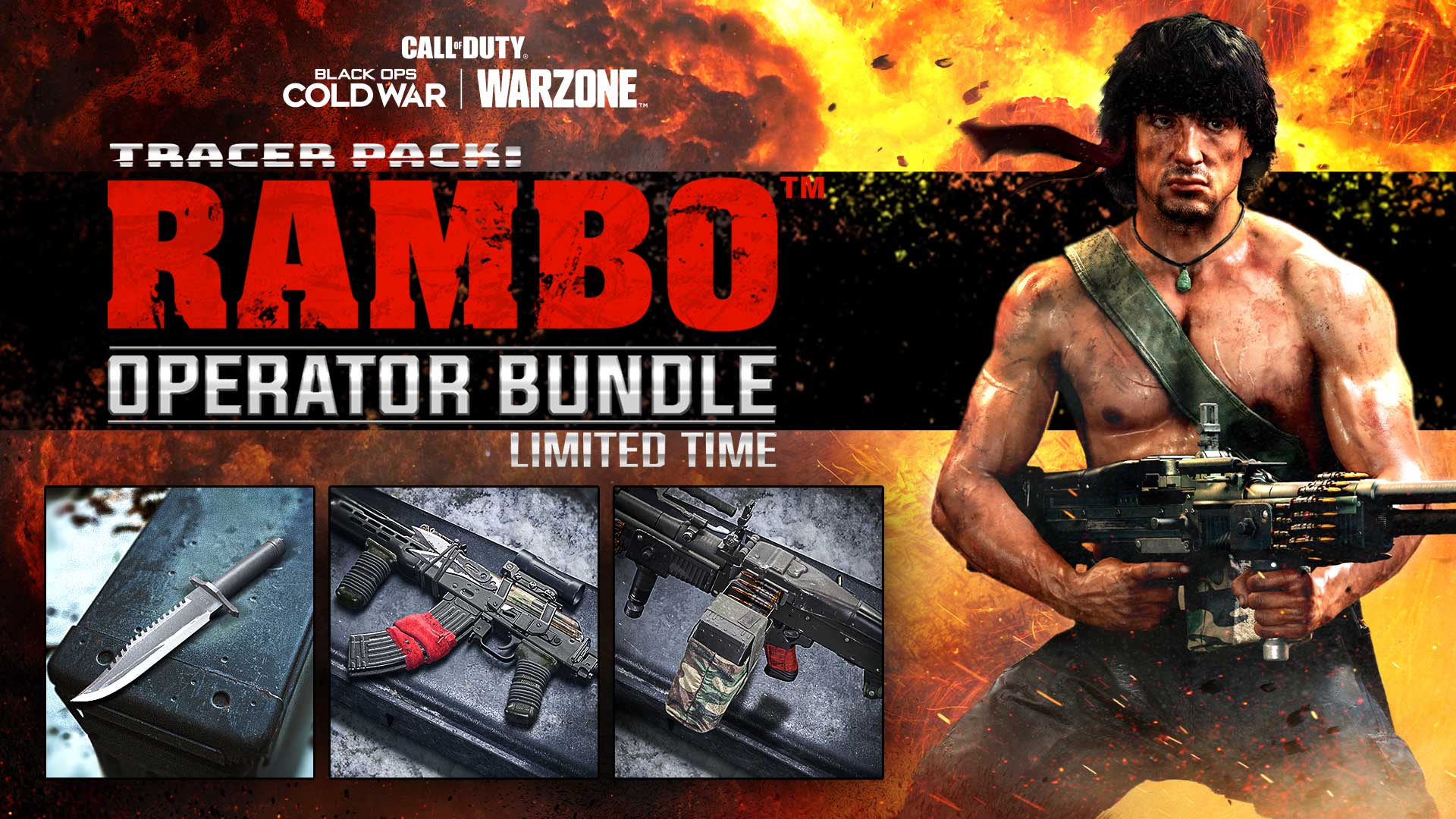 Rambo (Launch)
"To survive a war, you gotta become war."
Serving time for murder, highly decorated MACV-SOG soldier John Rambo is offered one more mission – return to Vietnam and locate American POWs. If successful, he will be released, and given a full Presidential pardon…
This Operator will be available via the "Rambo" bundle in the Black Ops Cold War and Warzone Store from May 19 at 9PM PT to June 18 at 9PM PT. This bundle includes the Legendary Operator; two Finishing Moves, including one using his signature bow and arrow; three Legendary Weapon Blueprints—an assault rifle, an LMG and a Knife Blueprint; a Legendary Calling Card and Emblem; and an Epic Watch and Charm.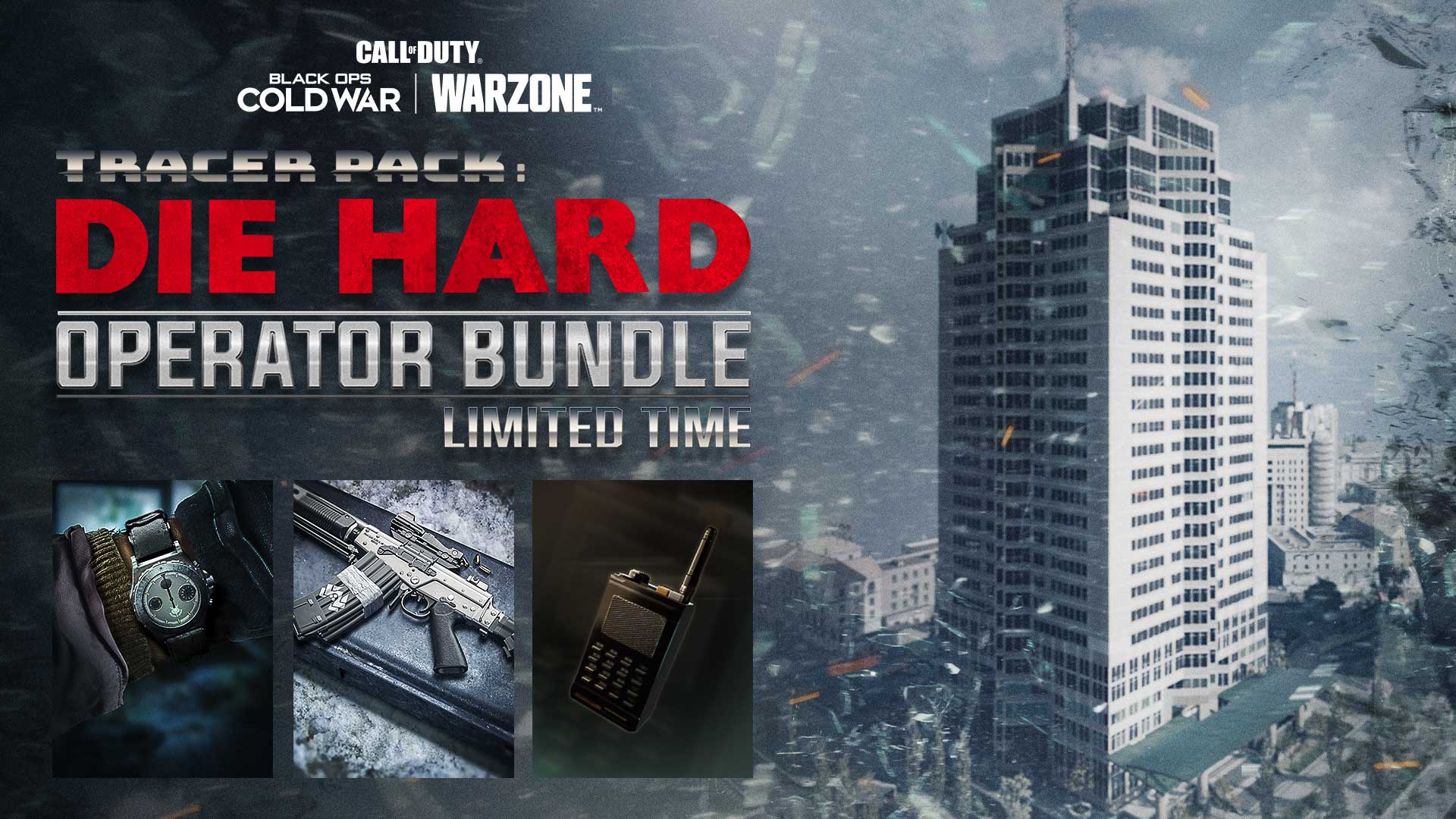 John McClane (Launch)
"Welcome to the party, pal!"
A hard-bitten cop on the streets of New York, John McClane has a talent for being in the wrong place at the wrong time. Now in the fight of his life, he'll have to rely on his cocky attitude and level head to stay alive.
John McClane will be available via the "Die Hard" bundle in the Black Ops Cold War and Warzone Store from May 19 at 9PM PT to June 18 at 9PM PT. This bundle includes the Legendary Operator, a Finishing Move, three Legendary Weapon Blueprints—one tactical rifle, two SMG, and one assault rifle—a Legendary Calling Card and Emblem, an Epic Watch, and an Epic Weapon Charm.
Note: Rambo and John McClane are brand-new Call of Duty Operators; these are not skins for previously released Operators.
WARZONE CONTENT
Not only have the heroes of Die Hard and Rambo arrived in Verdansk, but they also brought some iconic locales with them, changing the Warzone as we know it…but only for a limited time.
New Points of Interest come to Verdansk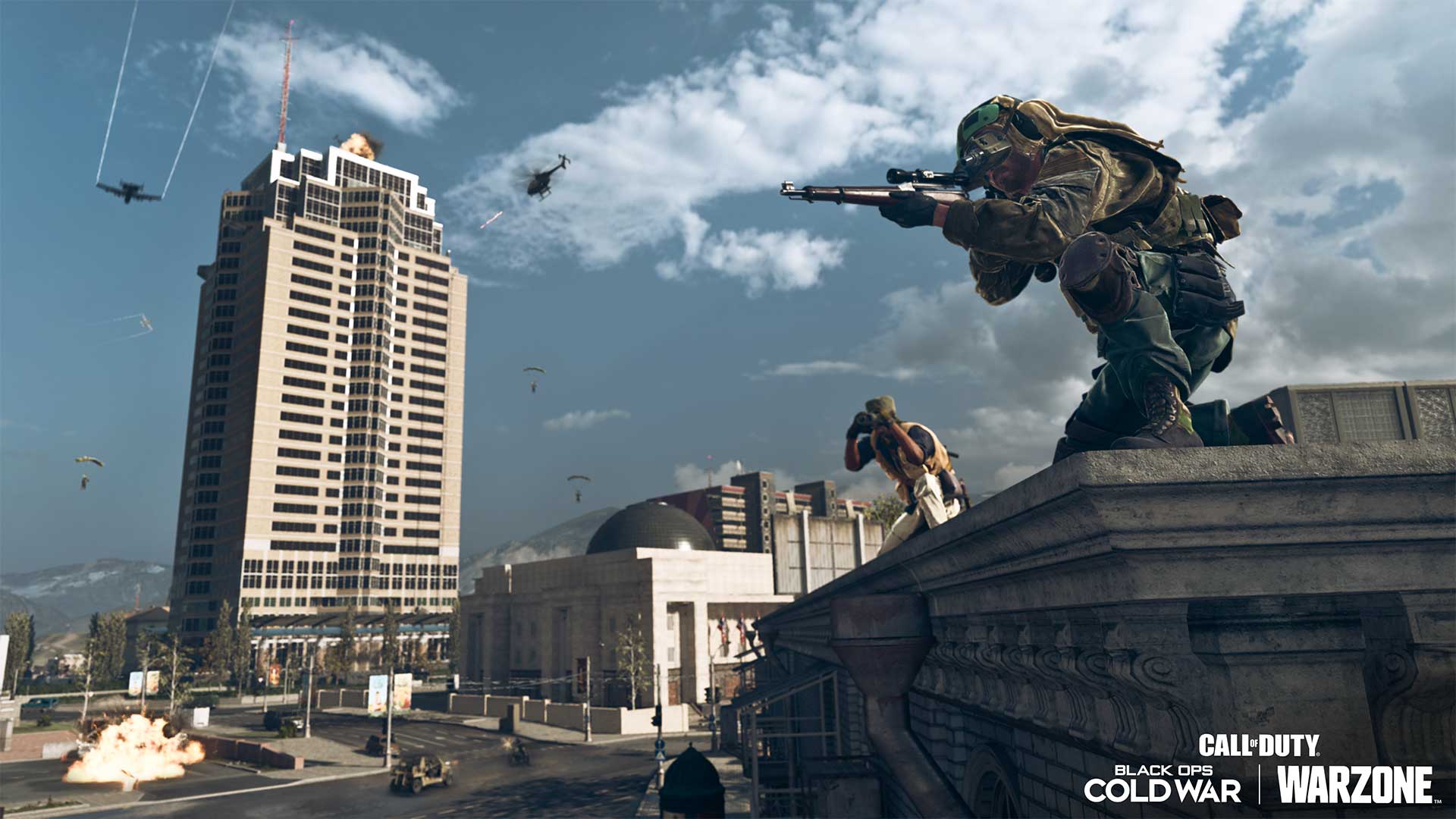 New Point of Interest: Nakatomi Plaza (Launch)
The headquarters of the Nakatomi Corporation have moved from sunny Los Angeles to Verdansk's Downtown for a limited time. This is the tallest single structure seen in Warzone and includes five floors of a space that will be familiar to those who know and love the original Die Hard.
In addition to replacing the Broadcast Tower and surrounding blocks that normally define Downtown's southern district, Nakatomi Plaza features multiple optional missions that can be completed during Battle Royale and Plunder for rewards both in-game and for your profile. This includes exploring the tower for Supply Boxes, defusing C4 on the tower's roof, and interrupting an arms deal gone wrong.
If you and your squad are lucky enough, you may even be able to do what no international criminal has been able to pull off before: successfully crack the Nakatomi Plaza vault and escape with its riches. But be forewarned that you won't be the only Operators looking for the keys to the vault…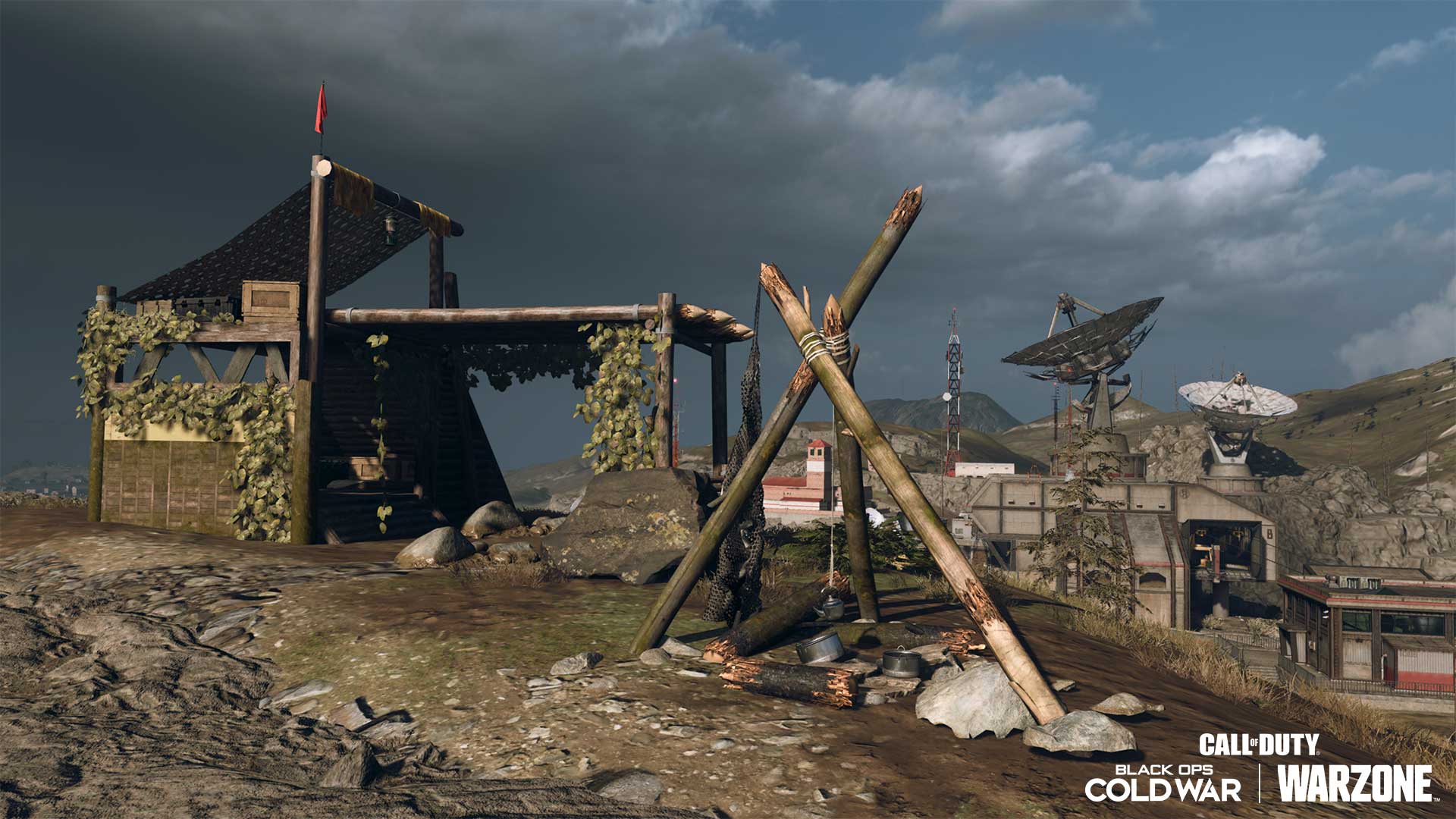 New Point of Interest: Survival Camps (Launch)
Around Verdansk, numerous campsites have been converted into Survival Camps as a homage to Rambo: First Blood Part II.
Find any of these ten camps across the map, and you could walk out with some solid loadout items or the dog tags of comrades who fell long before your arrival. Collect enough of them, and you may be able to get an even greater reward…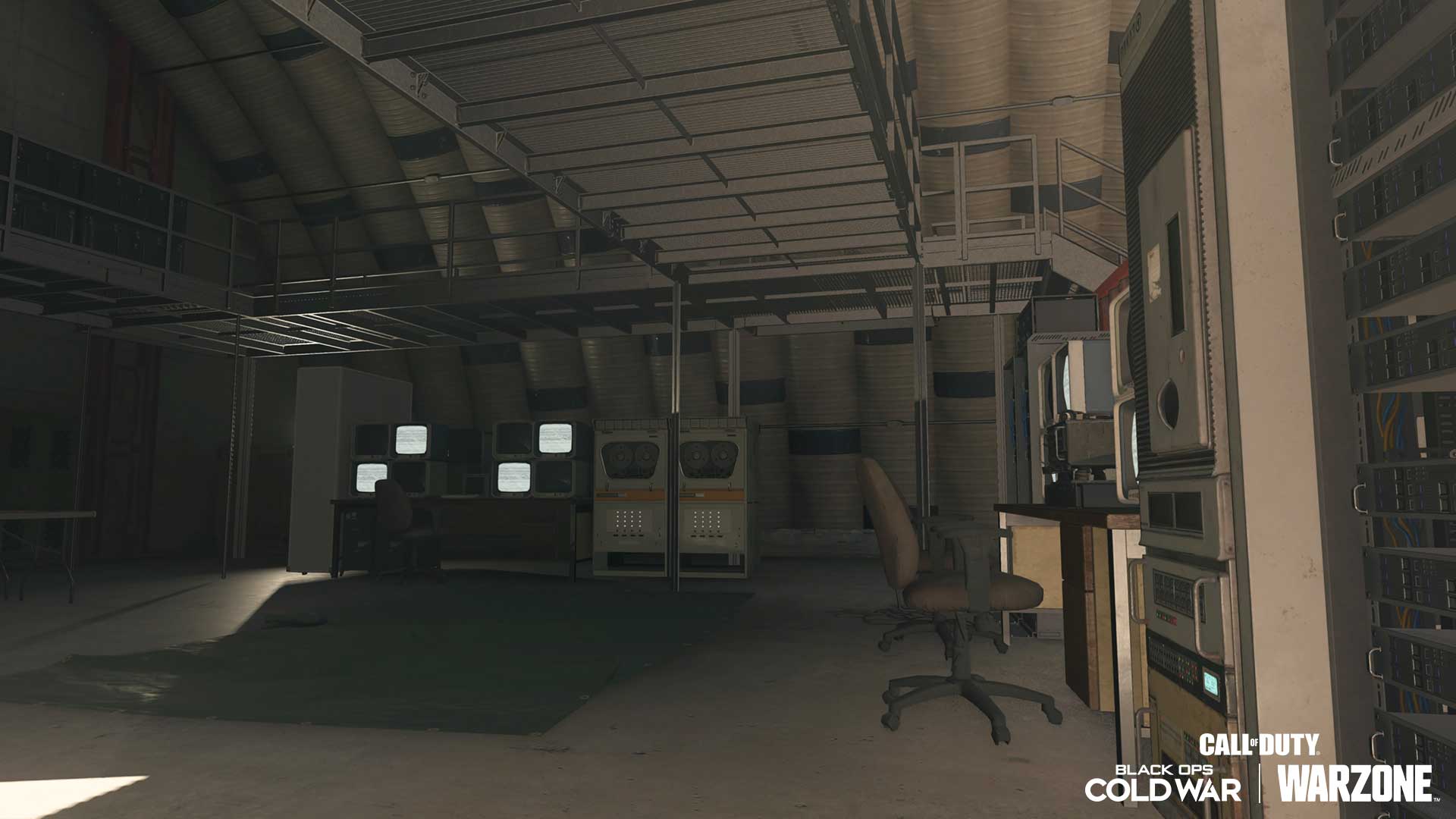 New Point of Interest: CIA Outpost (Launch)
One of the aircraft hangars in Verdansk's northwest sector has been converted into a makeshift CIA Outpost, as these agents need a home base to start tracking down the elusive Rambo.
Apparently, these field operatives are also searching for any identification of fallen soldiers and may bring in some air reinforcements should enough of them be collected for extraction. Maybe this can be used to stage an ambush that only a true guerilla warfare expert could handle…
Be the Action Hero in Power Grab, a Limited-Time Mode (Launch)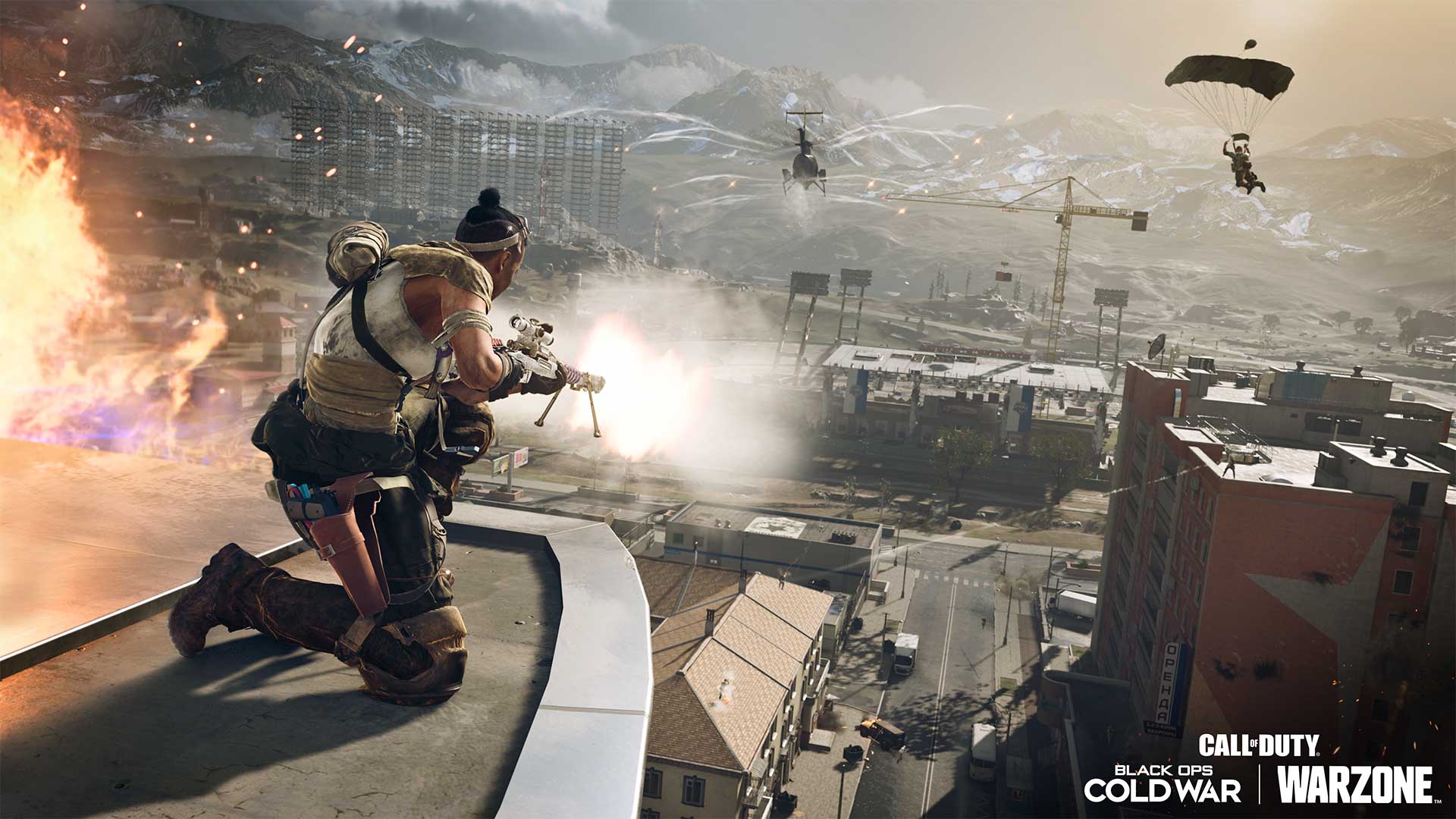 Battle Royales were already intense, action movie–worthy matches within Warzone, but what if the intensity was dialed up to true Hollywood extremes? You would get Power Grab, a Limited-Time Mode that pits over 100 Operators across select squad sizes in a battle for true badass protagonist supremacy.
In Power Grab, Operators will find that the starting circle collapse is smaller than in a traditional Battle Royale in Verdansk. This circle collapse will have five stages and there is no Gulag to escape from upon death.
Instead, you must either revive your squadmates via the Buy Station or earn the right to revive them by collecting Dog Tags. Similar to Kill Confirmed in traditional Multiplayer, every Operator will drop a Dog Tag each time they are eliminated. These Dog Tags can also be found as rewards for completing Contracts, and in rare cases, they can be found in Supply Boxes around Verdansk.
Each Dog Tag collected brings you one notch up a reward ladder, which is visible on the right side of your HUD. This reward ladder includes a UAV; a Respawn Token, which gives you the right to infil into Verdansk again; and Advanced Gas Masks and Specialist Bonuses, at higher tiers.
Despite these differences compared to a traditional Battle Royale, the endgame is the same: Be the last squad standing to win.
New Killstreak: Combat Bow (Launch)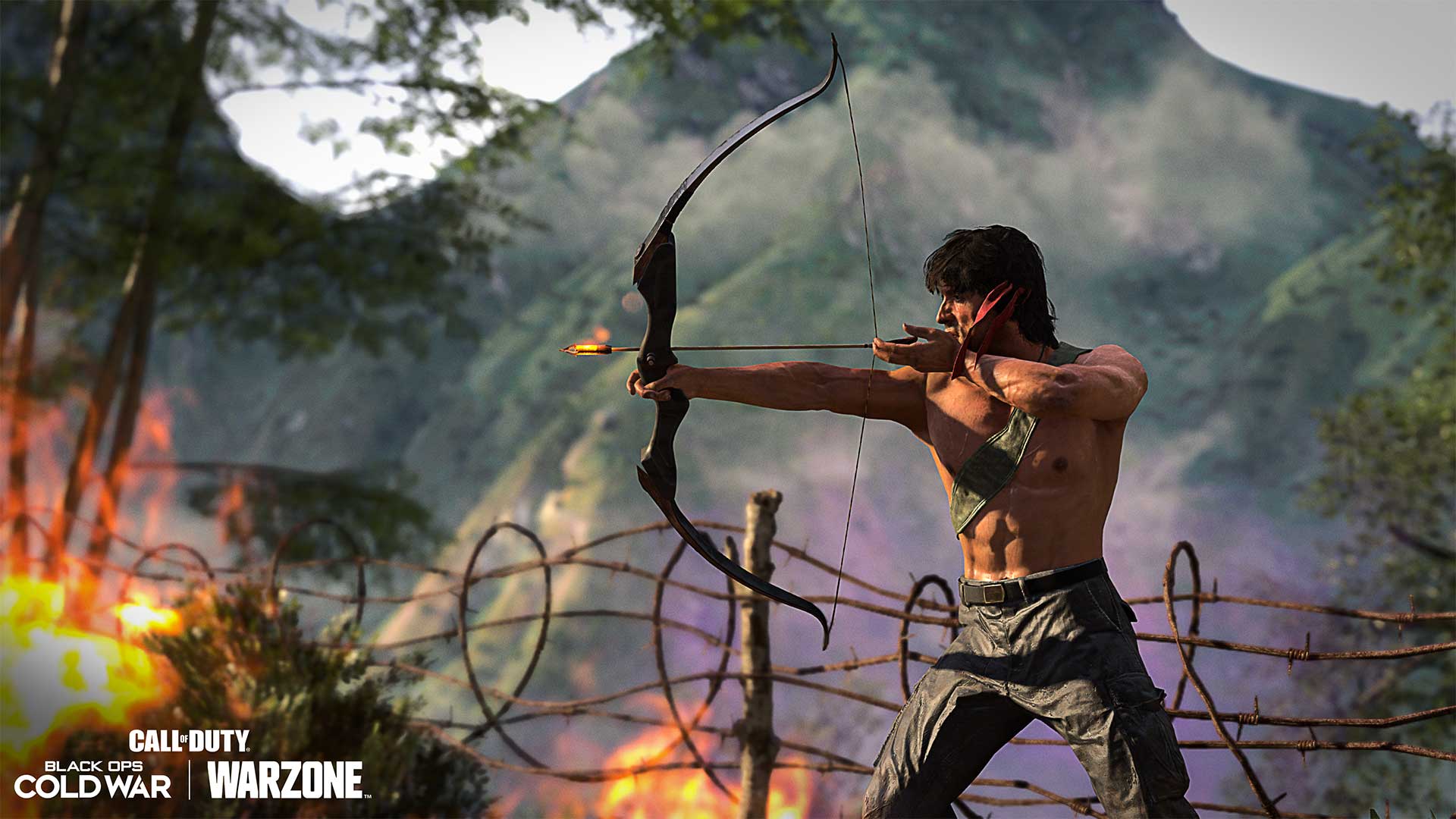 Straight out of the '80s, the Combat Bow adds an explosive punch to any loadout when found in Verdansk or Rebirth Island.
Effective against both infantry and vehicles, this new Killstreak can help your squad turn the tide of battle through unconventional warfare. The longer you pull back the bow, the farther the explosive-tipped arrow will go, so be sure to adjust your strength as needed to hit targets at longer distances.
The Ballistic Knife Comes to Warzone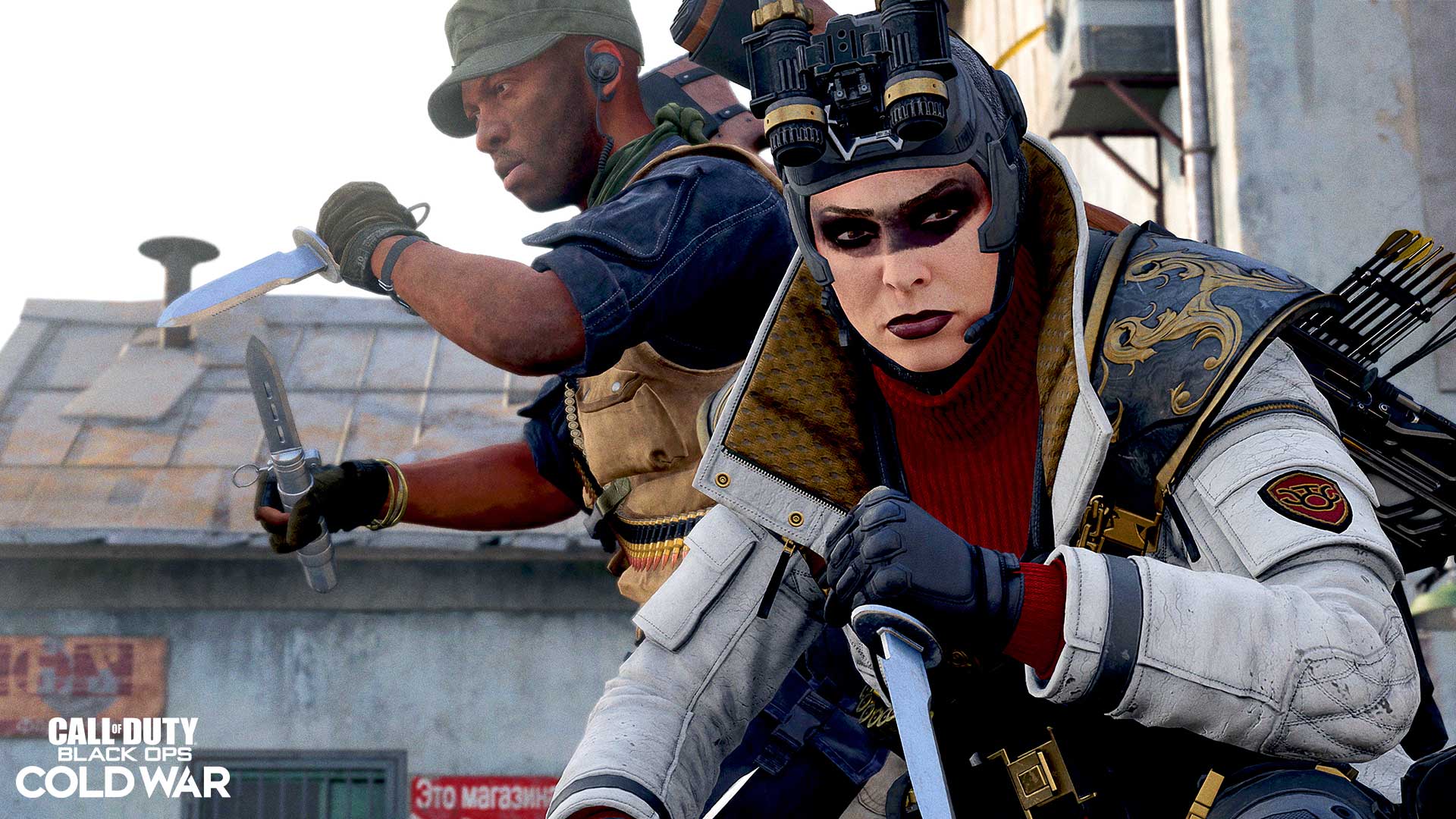 The image shows the ballistic knife being wielded in Black Ops Cold War.
The Ballistic Knife of Black Ops series fame also comes to Warzone in Season Three Reloaded! Built for stealth kills from multiple distances, this versatile weapon allows for melee attacks up close and a projectile blade attack from short-to-medium ranges.
BLACK OPS COLD WAR CONTENT
Black Ops Cold War is ready for action in Season Three Reloaded, remixing classic game modes and adding in two Multiplayer maps, plus the new Main Quest for Zombies fans to discover and solve in Outbreak, and more.
Two New Multiplayer Maps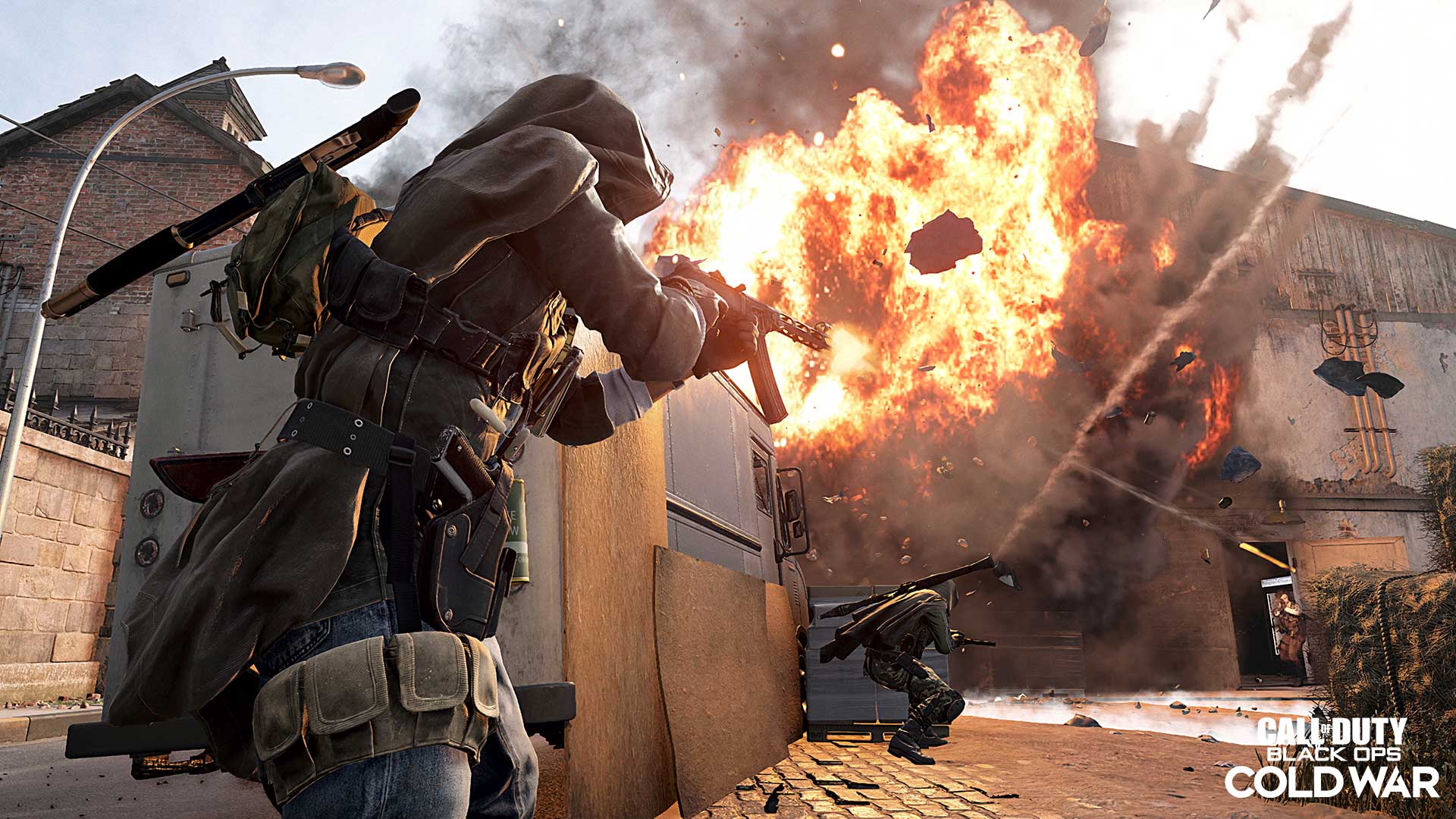 Standoff (6v6, Launch)
It's back in Black Ops.
First introduced in Black Ops II, Standoff is a 6v6 medium-sized map that features a timeless three-lane feel and provides plentiful opportunities for outsmarting your opponents.
Remember to check the central building, and always be mindful of a certain exploding van, which has plenty of notoriety within the Call of Duty competitive community…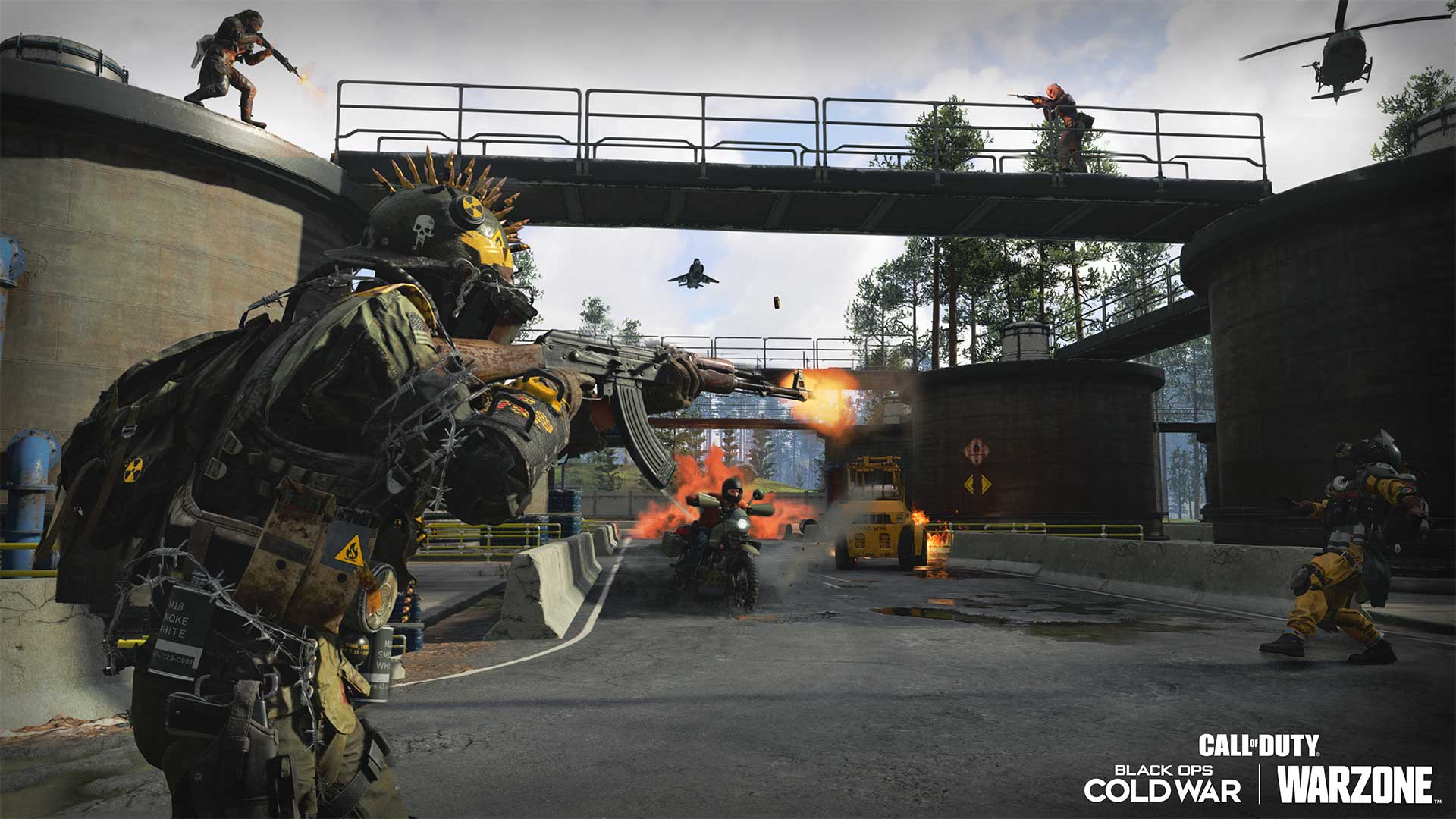 Duga (Multi-Team, Launch)
Also arriving at the start of Season Three Reloaded is Duga, a new region in the Ural Mountains ready for Multi-Team modes after spending the first half of the season in Outbreak.
Duga offers something for every playstyle, whether you prefer to move through the central admin offices for close-range battles or work your way around the perimeter through the bus depot to the chemical processing plant for long-range battles.
If you can't immediately decide where to hone your skills, try making your way atop the array tower for a tactical view before parachuting off to your destination of choice.
New Game Modes and Medals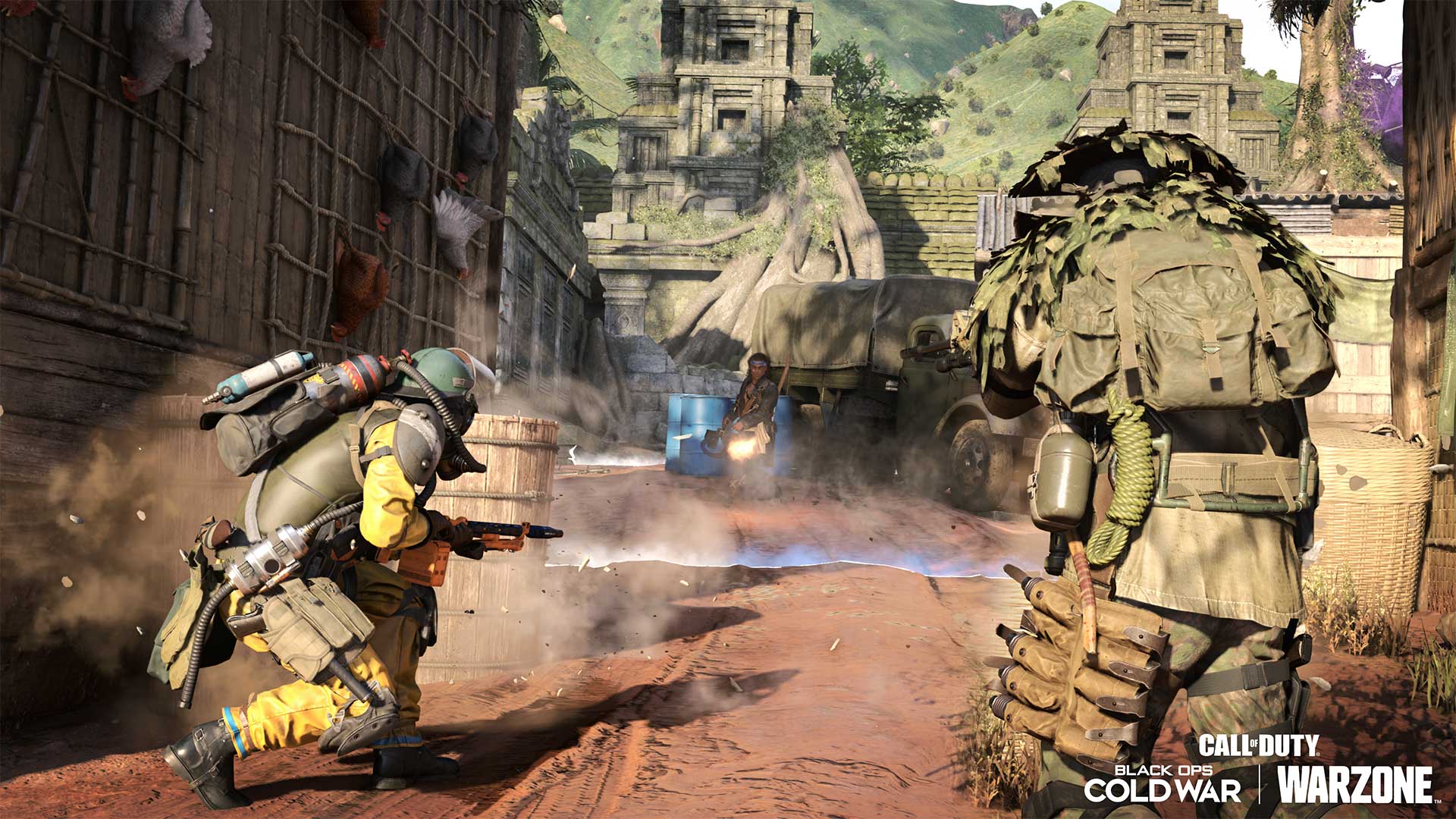 Die Hardpoint (Launch)
Prepare for a fight against not only the opposition but also time itself in a cranked-up twist to a fan-favorite mode: Die Hardpoint.
Work alongside your squad to capture Hardpoints and eliminate enemies in a race to gain 200 points, or the most points before time expires. Capturing a Hardpoint will give you a movement speed boost (the first of five potential buffs) and set your timer to 30 seconds. But beware: these buffs come at the cost of your life in explosive fashion when the clock hits zero.
This timer can be extended by earning eliminations and playing the objective, so aggressive play will be key to survival. While on your team's Hardpoint, your timer will be paused, and kills will add 15 seconds to your timer up to a max of 30 seconds. Successive kills will also grant you up to four additional buffs on top of movement speed: weapon handling, ADS speed, slide speed, and a larger explosion for when you inevitably die (only achievable after a five-kill streak.)
Also, since this is an action-movie inspired playlist, expect the Operators to put on their best acting chops upon being eliminated, as they are more than prepared to do their own stunts after their health reaches zero…
Rambo's Gun Game (Week Two)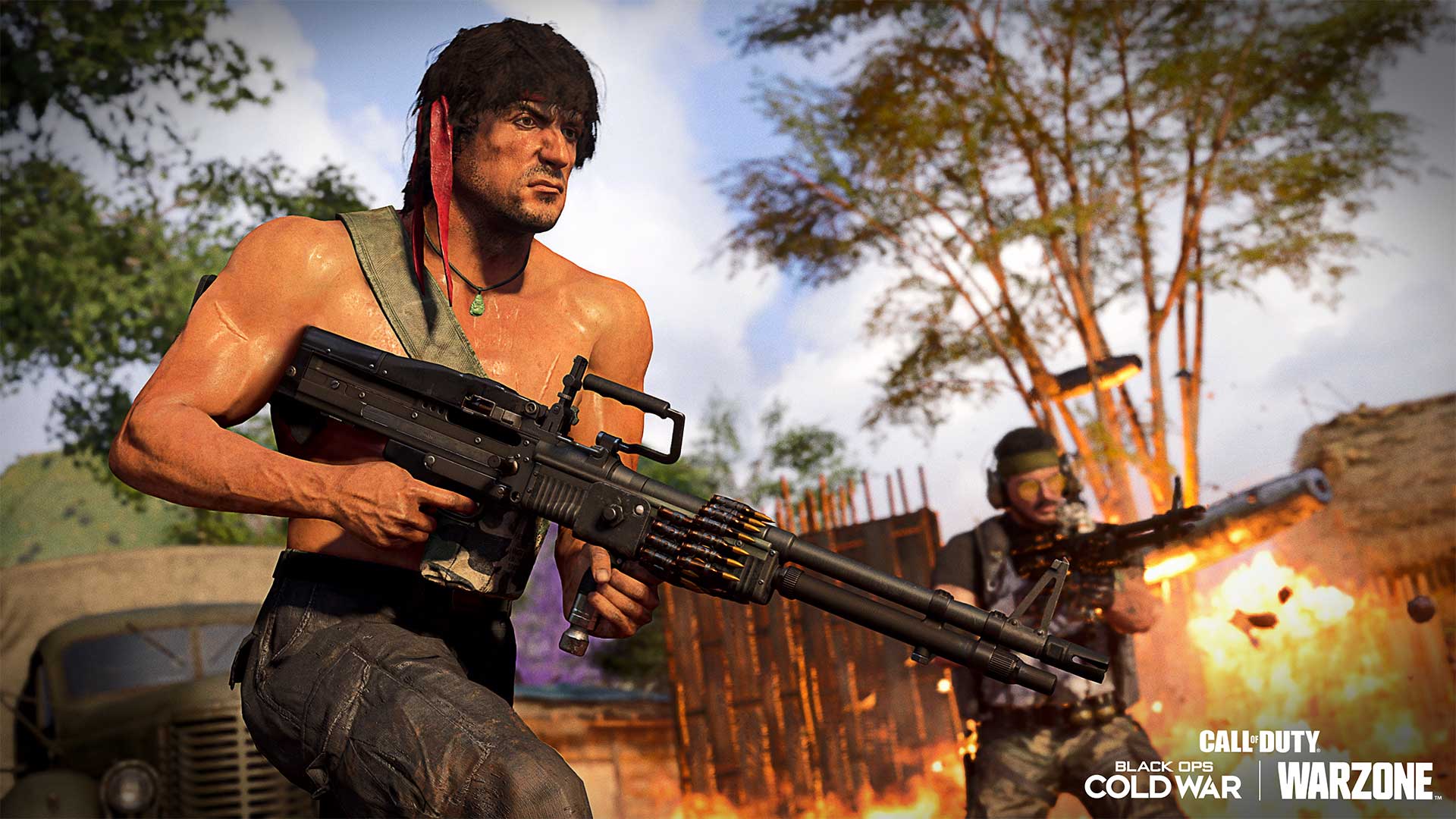 Introduced in Season Two, Gun Game is a frantic Free-for-All mode where players compete to earn at least one kill with 20 different weapons.
On its own, Gun Game can be a fast and frenetic party mode, but what happens when Rambo joins the party? The rotation of 20 weapons gets a serious boost in firepower, as the Combat Bow, War Machine, RPG-7, and even the Death Machine get added into a fresh set of armaments. To help keep our action heroes alive, players will also be equipped with the Stimshot.
The gameplay is just as frenzied as ever. Dying via melee attacks, falling off the map, or staying too long in restricted areas brings you back one stage in the weapon rotation, and the first to get a kill by launching a Ballistic Knife wins the match. However, remember that this is the '80s Action Heroes event, so expect plenty of explosions and dramatic falls from Operators throughout the match!
Multi-Team Elimination (Launch)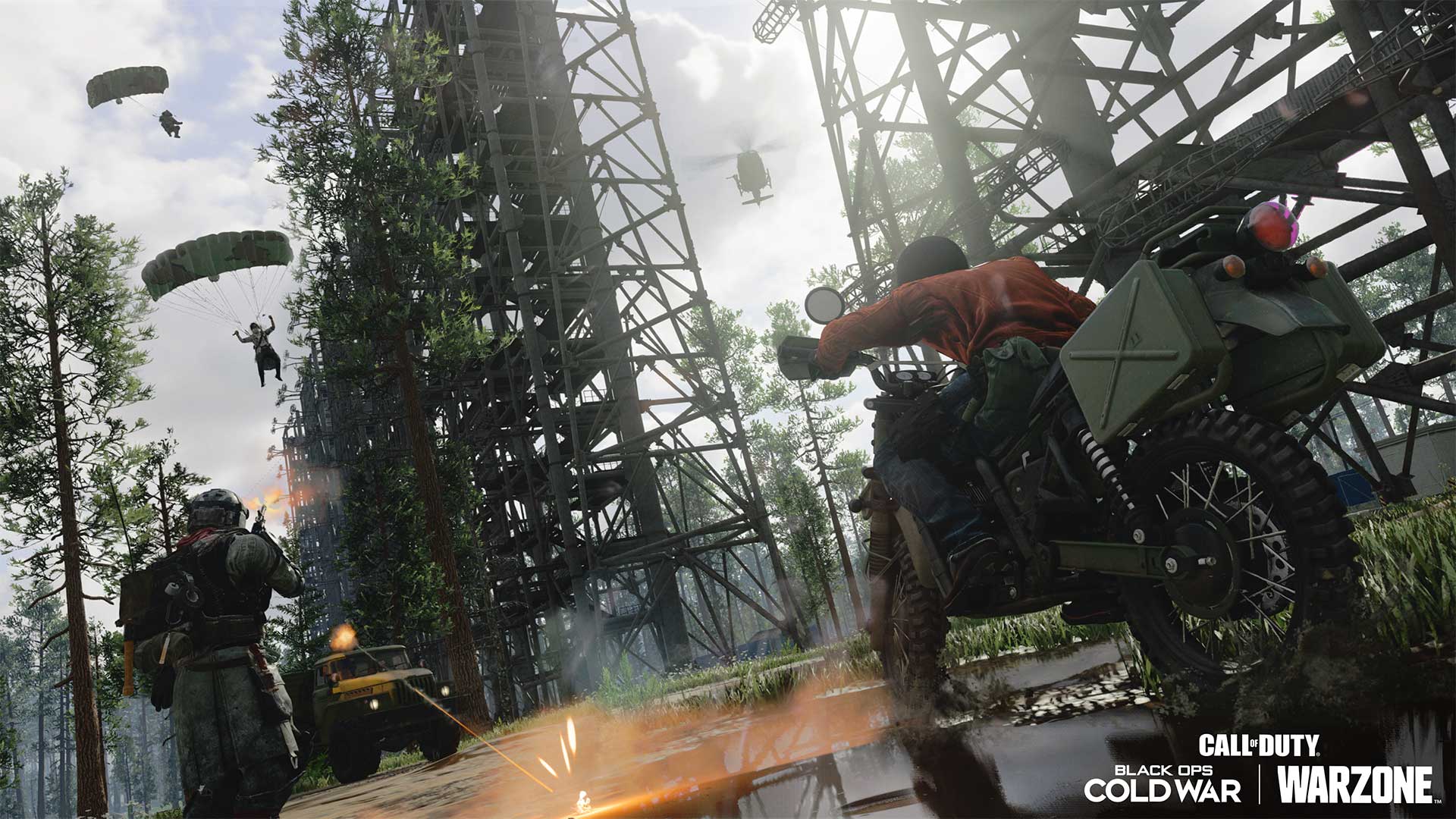 Fans of Squad vs. Squad game modes will have an intense new last team-standing experience to take on across Black Ops Cold War's biggest maps.
In Multi-Team Elimination, ten teams of four will drop in and fight to survive against ever-expanding radiation zones. Redeploys will be limited and loadouts will be restricted, so teams will need to scavenge for weapons, Scorestreaks, Armor, and more.
Emerge as the last team standing or the first squad to board the exfil chopper in the final safe zone to achieve victory in this massive new Multiplayer mode!
Action Movie–Inspired Medals (Launch)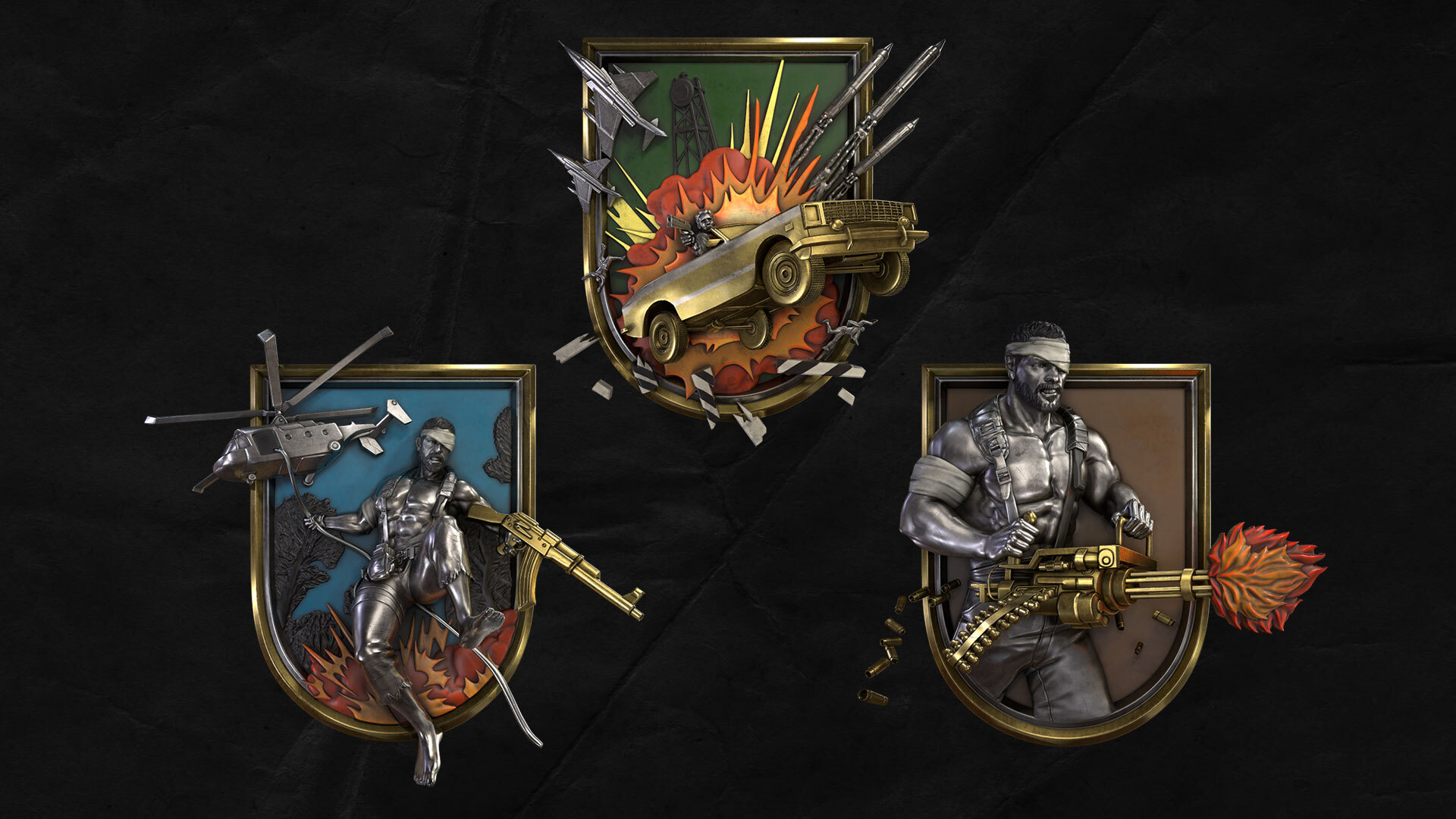 In addition to the standard Medals received during Multiplayer and Zombies matches, the '80s Action Heroes event will introduce limited-time Medals and some nods to both the Die Hard and Rambo franchises. These Medals function similar to ones already in Black Ops Cold War, offering a bit of additional bling to your barracks while also giving you some bonus XP to help you reach that next level quicker.
For example, are you shredding the competition with the Death Machine? Instead of the usual "Shredded" Medal, you may receive the "Light Em Up" Medal for your skill with this powerful minigun. Or how about using explosives? Blast away your enemies, and you may get the "Have a Blast!" Medal in-game to commend you for your expertise with explosives.
Zombies: New Outbreak Content, New Limited-Time Mode, and More
The Dark Aether story is set to explode in Outbreak, Zombies gets a new limited-time mode, plus more that Requiem has not given us clearance to declassify…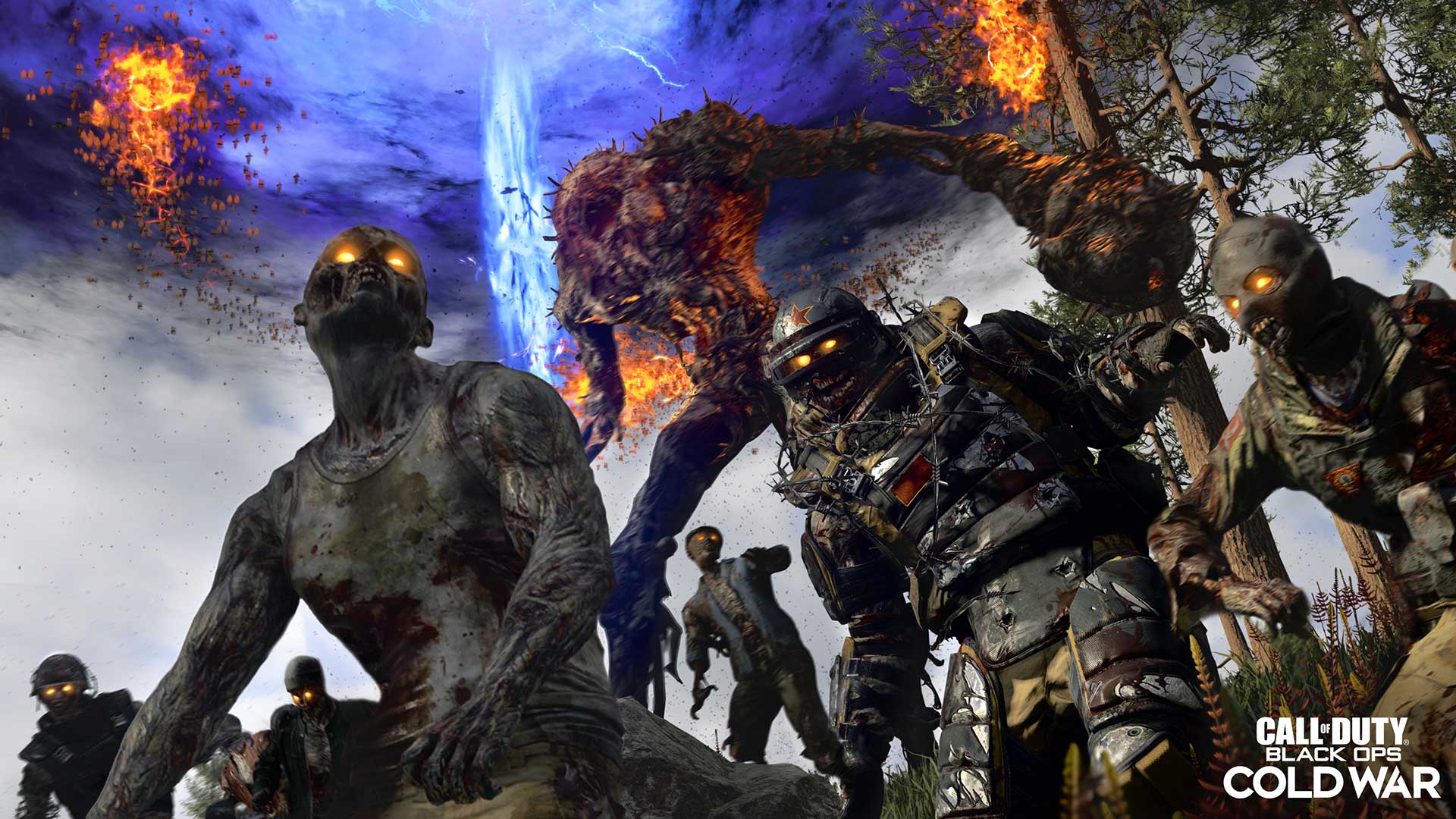 New Main Quest, Orda World Event, and More in Outbreak (Launch)
Requiem agents deployed to the Outbreak Zone will find a brand-new Main Quest to experience for the first time in Outbreak. The events that unfold within will set the stage for the next round-based map in Black Ops Cold War Zombies, as well as what's still to come in future seasons. Watch for details from Treyarch on when players can expect to join in on the Easter egg hunt this week!
Season Three Reloaded also delivers a new World Event to discover in Outbreak. Massive Orda monsters now wander the Ural Mountains, posing a considerable challenge with powerful rewards for those who come out of the encounter alive.
And if you need to take a quick break between all the chaos, try picking up one of the fishing poles found near water sources throughout the regions. Players just might fish up Salvage, Armor, Perks, or even a special surprise…
And as always, there are other secrets waiting in Outbreak for players to find on their own. Beware the new dangers that lurk in the Outbreak Zone, and keep your eyes peeled for anything out of the ordinary…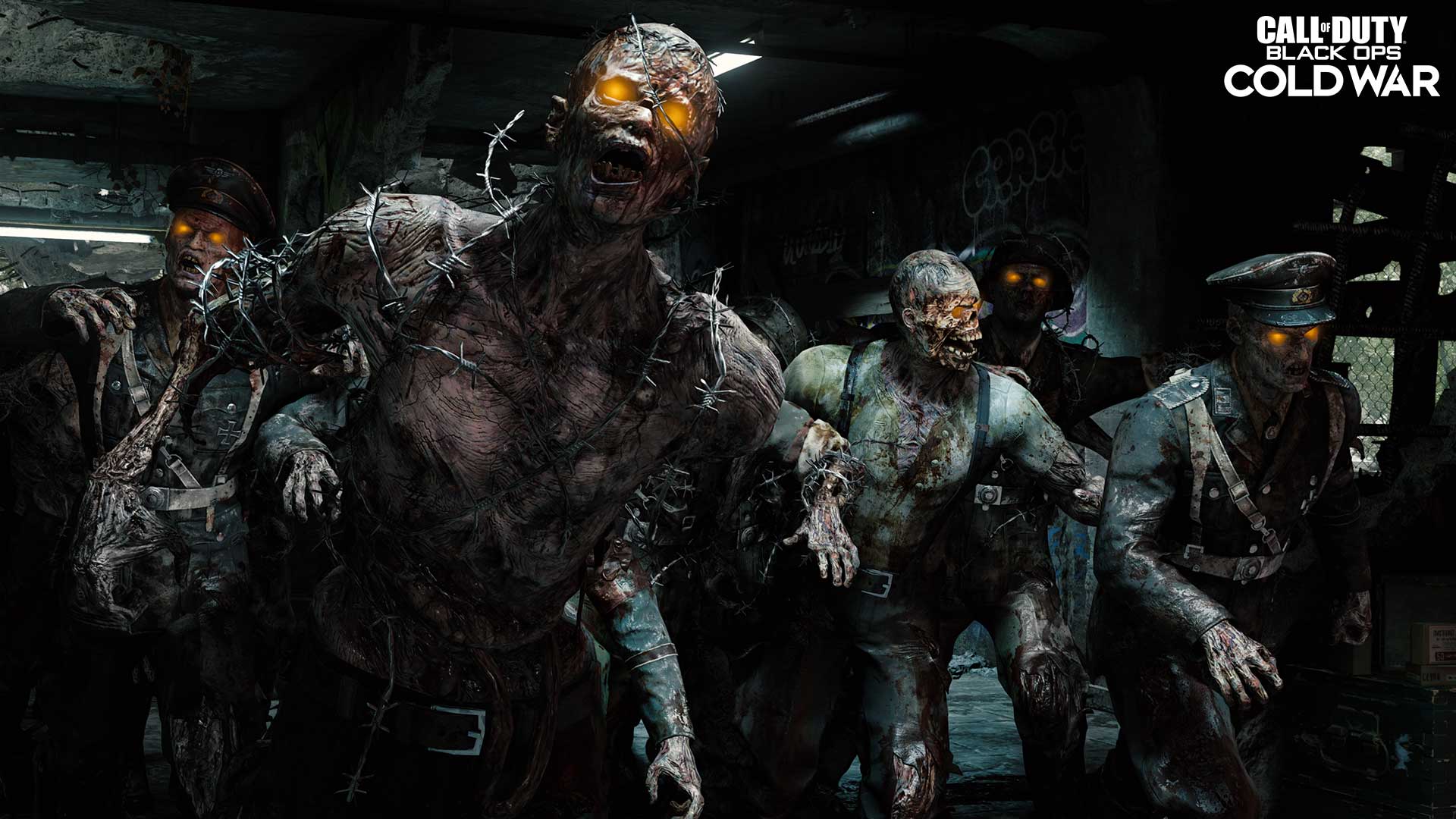 Cranked 2: No Time to Crank (Launch)
A new variant of the fan-favorite Cranked makes its way to Firebase Z and Die Maschine with an explosive twist in a limited-time '80s Action Heroes Zombies mode.
In this new take on Cranked in Zombies, all players will start with a Knife, with Wall Buys disabled and Crafting Tables removed. All Mystery Box locations will be active and restocked with different armaments, including more frequent Support items. In addition to finding more explosive ordinances from the Mystery Box, zombies are more likely to drop lethal explosive equipment.
Just like in the hit prequel to Cranked 2, eliminating your first zombie starts a Cranked Timer. Keep it ticking with each elimination, as the timer's duration decreases as rounds progress…
Will you be able to keep your Cranked Timer above zero and avoid a fiery demise? Find out in Cranked 2: No Time to Crank.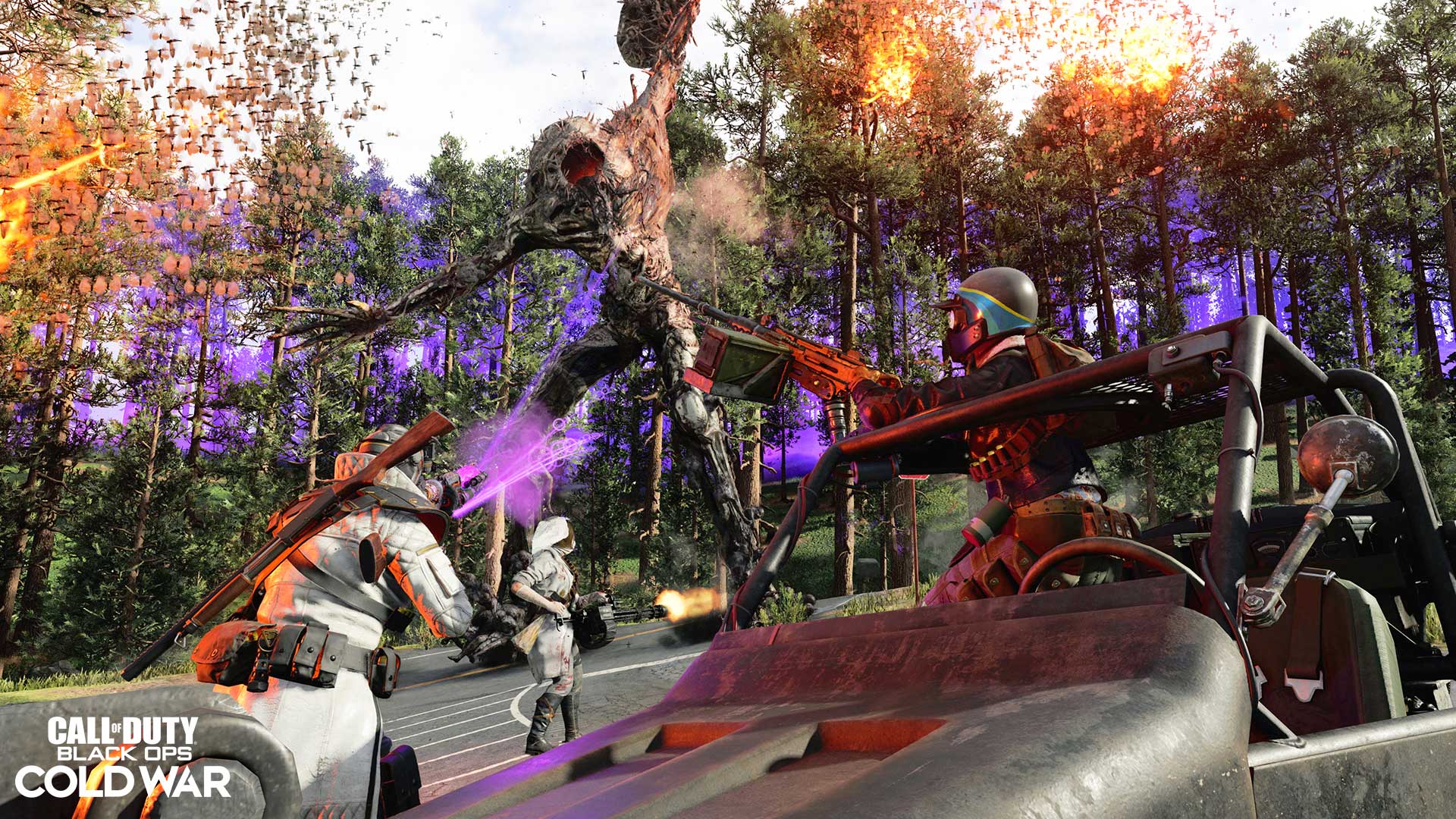 New Custom Mod Support, Mystery Box Weapons, and Weapon Buffs (Launch)
In addition to this new content in Outbreak and round-based Zombies maps, Treyarch is bringing Custom Mod support to the "Apply Blueprint" feature to allow players to save their own custom Blueprints and bring them into Zombies alongside the Blueprints they already own.
Weapons from previous seasons are also being added to the Mystery Box and Trials reward pools, including the Groza, MAC-10, Streetsweeper, FARA 83, LC10, R1 Shadowhunter, ZRG 20mm, Sledgehammer, Wakizashi, Machete, and E-Tool.
New Zombies-specific weapon tuning is also incoming to boost the overall power of several weapons in the Black Ops Cold War arsenal, so zombie slayers will have even more viable tools of destruction at their fingertips. For more details on all of the updates coming to Zombies this week, visit the Treyarch Blog.
WARZONE AND BLACK OPS COLD WAR CONTENT:
Warzone and Black Ops Cold War—Two New Weapons
Later in Season Three Reloaded, the Secondary Weapon category receives two additional weapons: an automatic machine pistol and an old reliable melee weapon.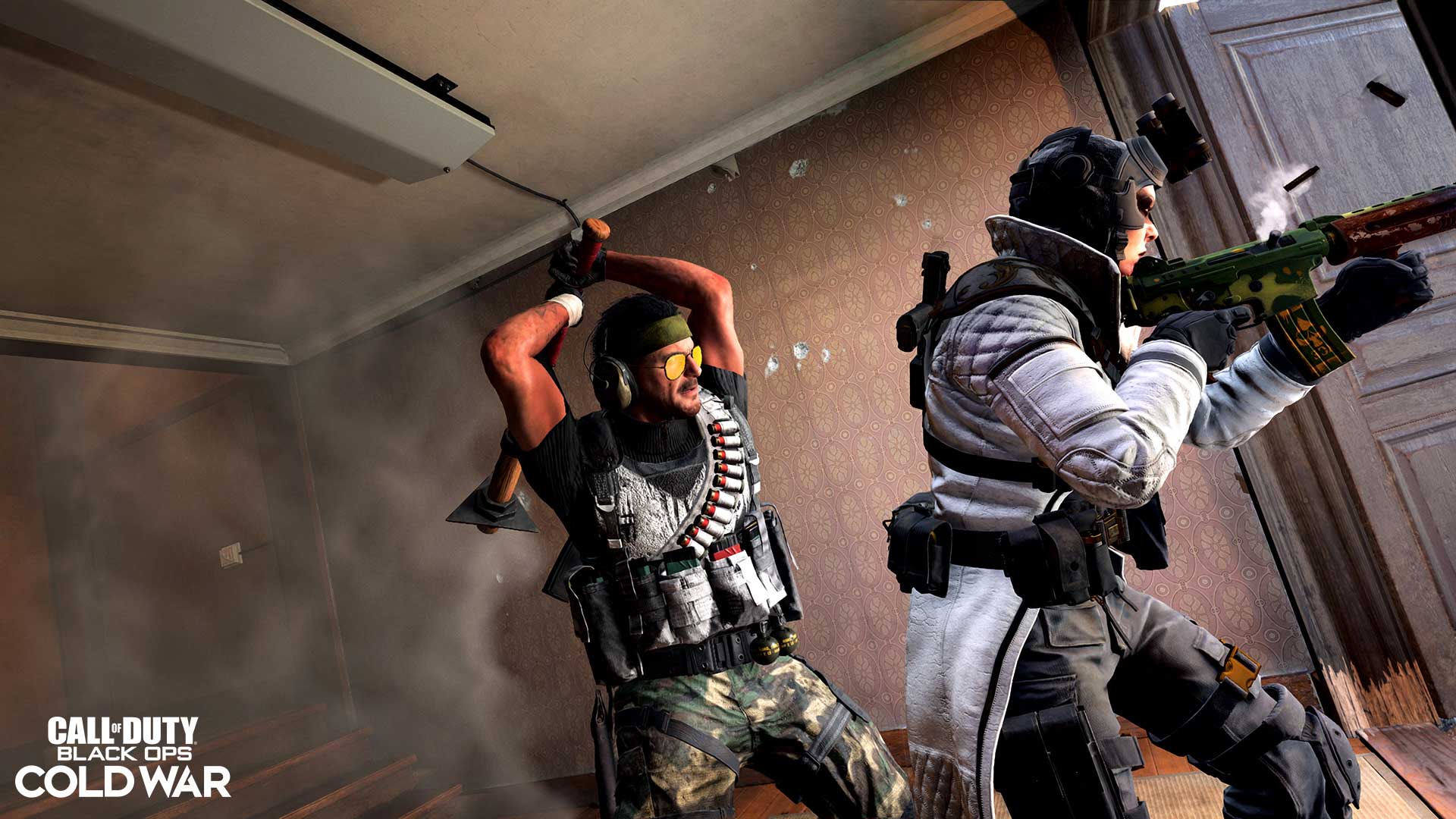 Baseball Bat: Melee (Launch Week)
A classic bruiser's weapon of war, and Black Ops Cold War's newest addition for one-hit melee fans, the Baseball Bat is what you want when the enemy has you in a pickle. Whether it's against the undead hordes in Zombies or enemy Operators in Multiplayer, using the Baseball Bat could mean the difference between sitting on your squad's bench or becoming its MVP.
Note: the Baseball Bat will enter the Warzone melee starting lineup during Season Four after its "spring training" in Black Ops Cold War during Season Three Reloaded's launch week.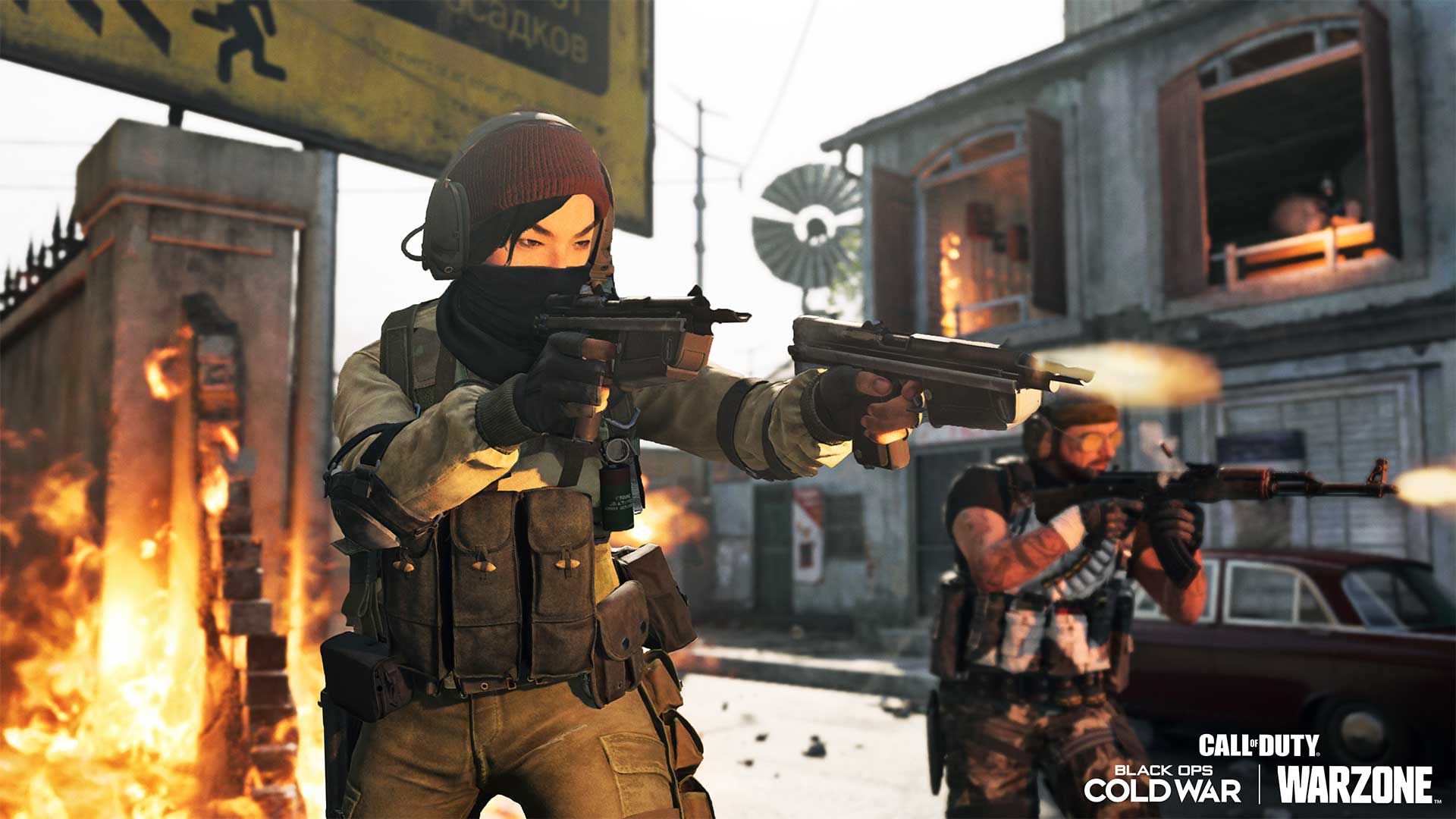 AMP63: Pistol (In-Season)
Slotting in as the fourth sidearm in Black Ops Cold War's arsenal, this personal defense weapon is a cross between a self-loading pistol and a fully automatic SMG.
Expect this weapon to output high amounts of damage in a short period of time thanks to its full-auto nature, which makes it highly effective in close quarters.
Obtain the AMP63 and Baseball Bat during Season Three Reloaded in one of two ways: complete an in-game challenge to obtain the free base weapon or pick up a bundle with a Blueprint version when it appears in the Store.
'80s Action Heroes Event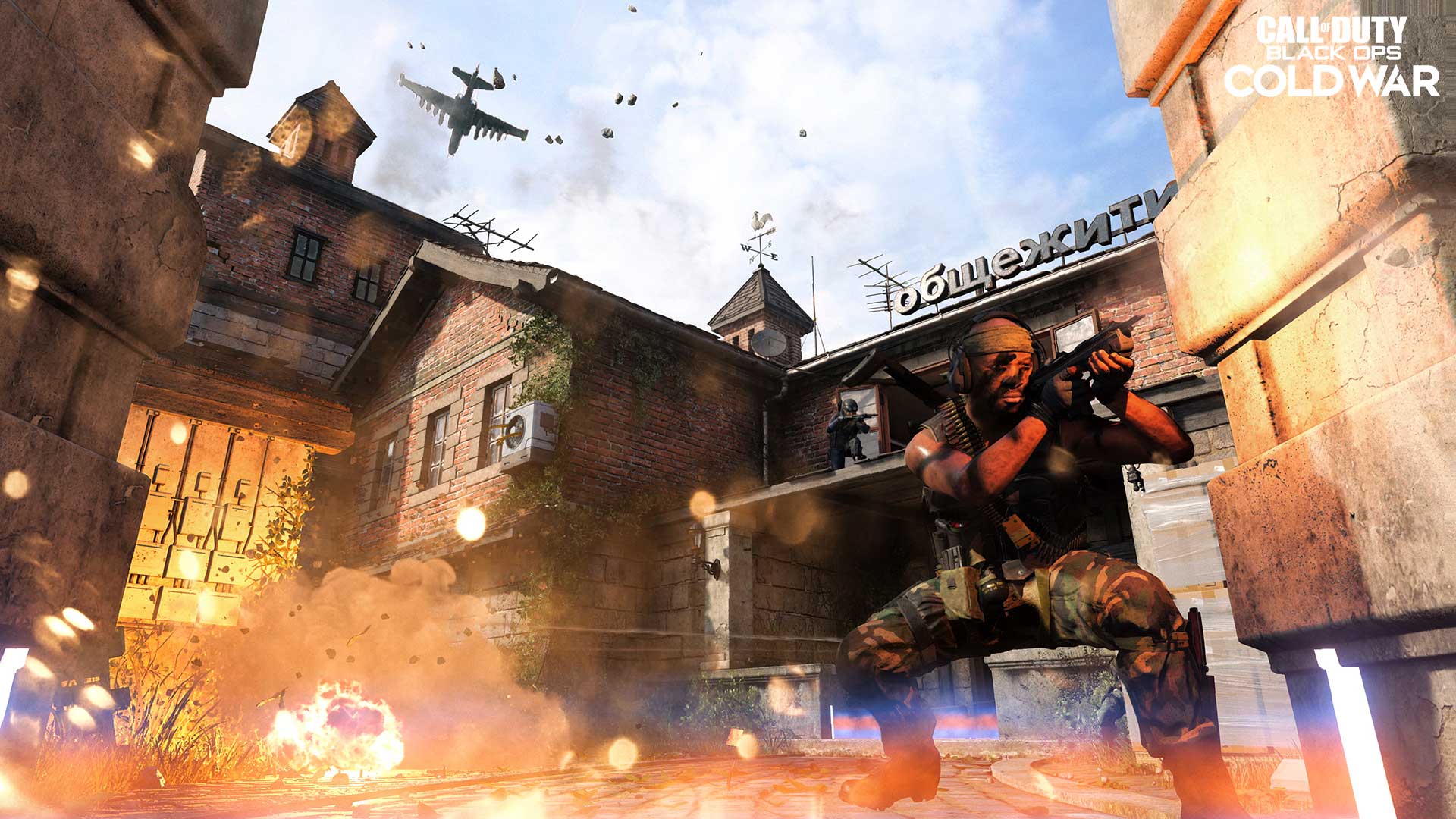 Want to collect free player profile items, Weapon Charms and Stickers, a new Arcade Game, and even Weapon Blueprints? Then lock and load for the "'80s Action Heroes" in-game challenge event across Black Ops Cold War and Warzone.
Similar to the "Hunt for Adler" and "Haunting of Verdansk" events, Operators will be tasked with completing objectives in both Black Ops Cold War and Warzone, receiving rewards that can be used across both titles, with the exception of the Robot Tank Arcade Game (available only in the Black Ops Cold War Barracks). These challenges are themed around the awesome new, limited-time content, and include objectives like completing matches in specific playlists or earning kills with the new Combat Bow Killstreak in Warzone.
Complete all nine Black Ops Cold War challenges to unlock a semi-automatic tactical rifle Weapon Blueprint and complete all nine of the Warzone challenges to get an awesome Bolt-Action Sniper Rifle Weapon Blueprint.
More in Store: Additional Bundle Intel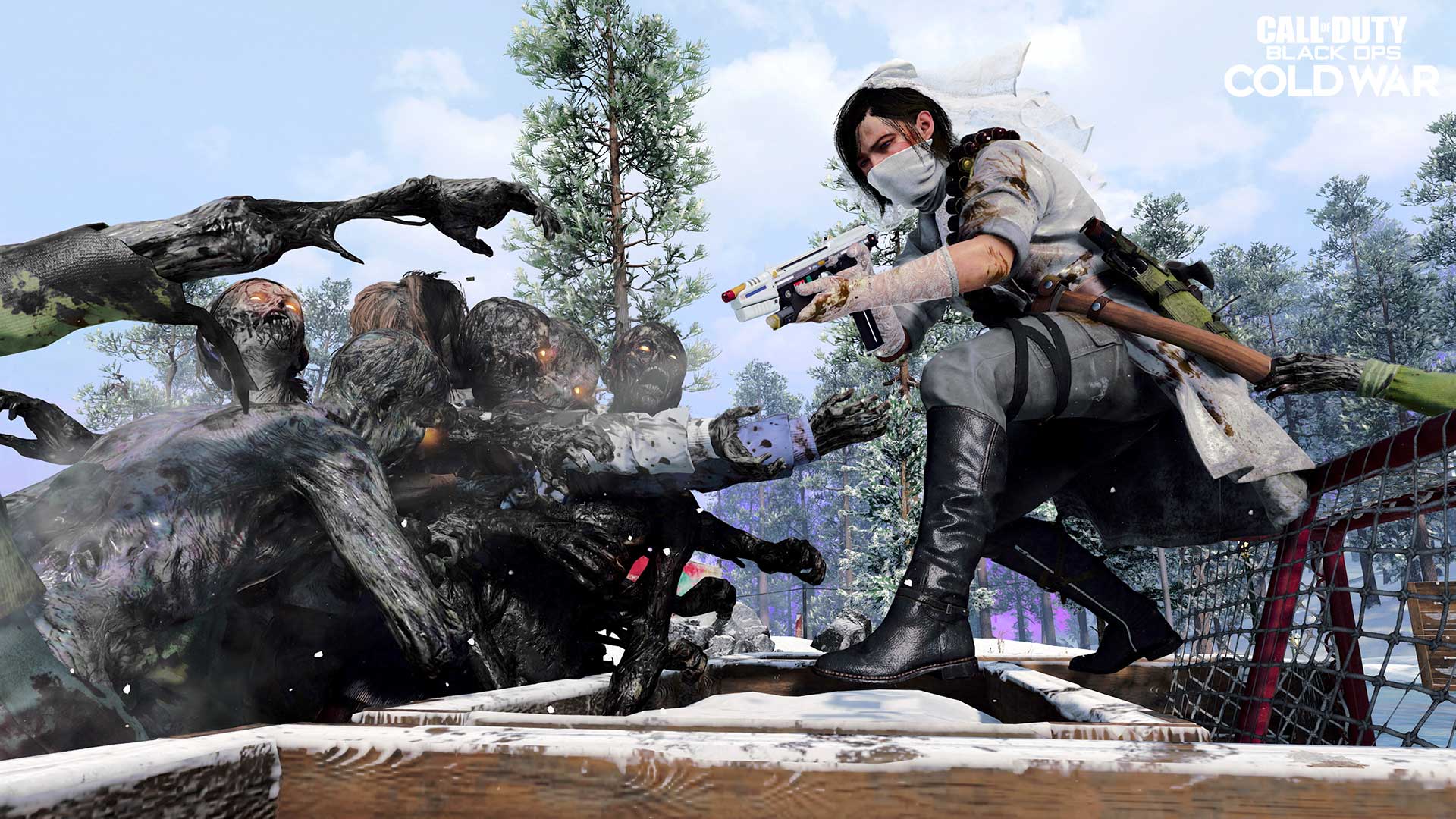 In addition to these two new weapons, as well as John McClane and Rambo, the Store across Black Ops Cold War and Warzone will be updated with fresh new Weapon Blueprints, Operator Skins, and more content across multiple bundles.
This includes the "Death's Veil Maxis" bundle, which features Samantha's new "Death's Bride" Operator Skin. Don't think that's threatening enough for the living and the dead? Be prepared to face her new "Nailed Down" Finishing Move or come up against her "Death's Vow" SMG and "Death's Protest" LMG Weapon Blueprints.
Also coming to the Store is the "Tracer Pack: Nuclear Distillery Mastercraft" bundle, the first-ever Mastercraft Bundle with two unique Ultra-rarity Mastercrafts. One of these is the first Secondary Weapon Mastercraft, known as the "Special Batch" shotgun, which comes alongside the "Science Project" assault rifle Mastercraft. Admire the swirling toxic liquids inside both weapons, and inspect either of them to get a swig of the good stuff.*
*Warning: Treyarch has not yet tested this concoction for human consumption and is not responsible for any grown appendages or other side effects from radioactive materials.
CALL OF DUTY: MOBILE CONTENT
Call of Duty: Mobile—New Multiplayer Limited-Time Game Mode: Guns Blazing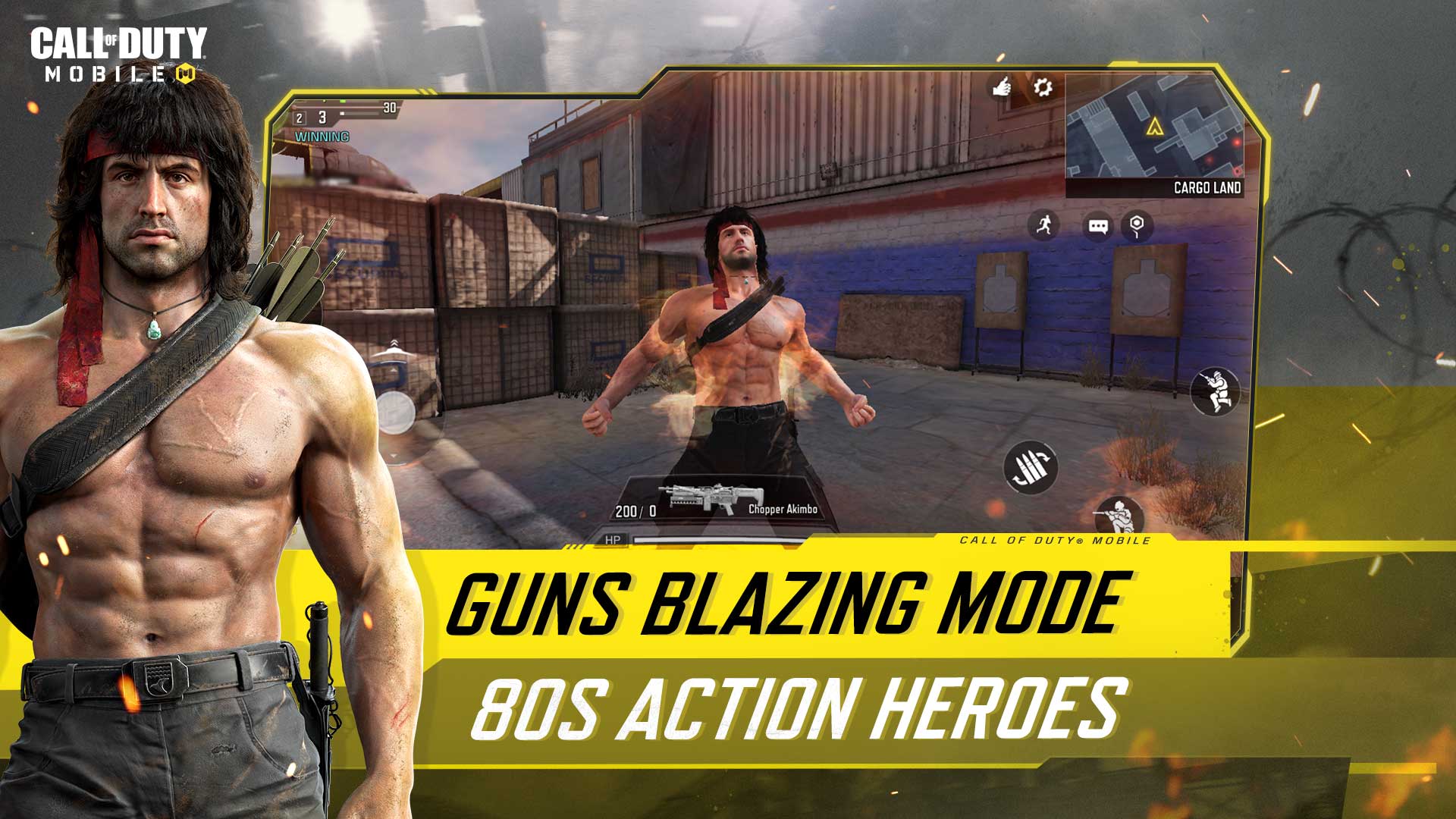 Prepare for a limited-time Multiplayer game mode: Time to go in Guns Blazing; available in Call of Duty: Mobile in a two-week event from May 20 to June 2!
Players will be able to transform into Rambo and John McClane in this new Multiplayer mode, allowing them to see what it's like to become these iconic action heroes. Rack up eliminations to become Rambo or McClane with dual-wielded Death Machines and increased health!
After having fun with this mode, check out Call of Duty: Mobile's in-game Store to pick up both '80s Action Heroes bundles and wreak havoc in all Multiplayer and Battle Royale modes!
Call of Duty: Mobile—Die Hard and Rambo Store Bundles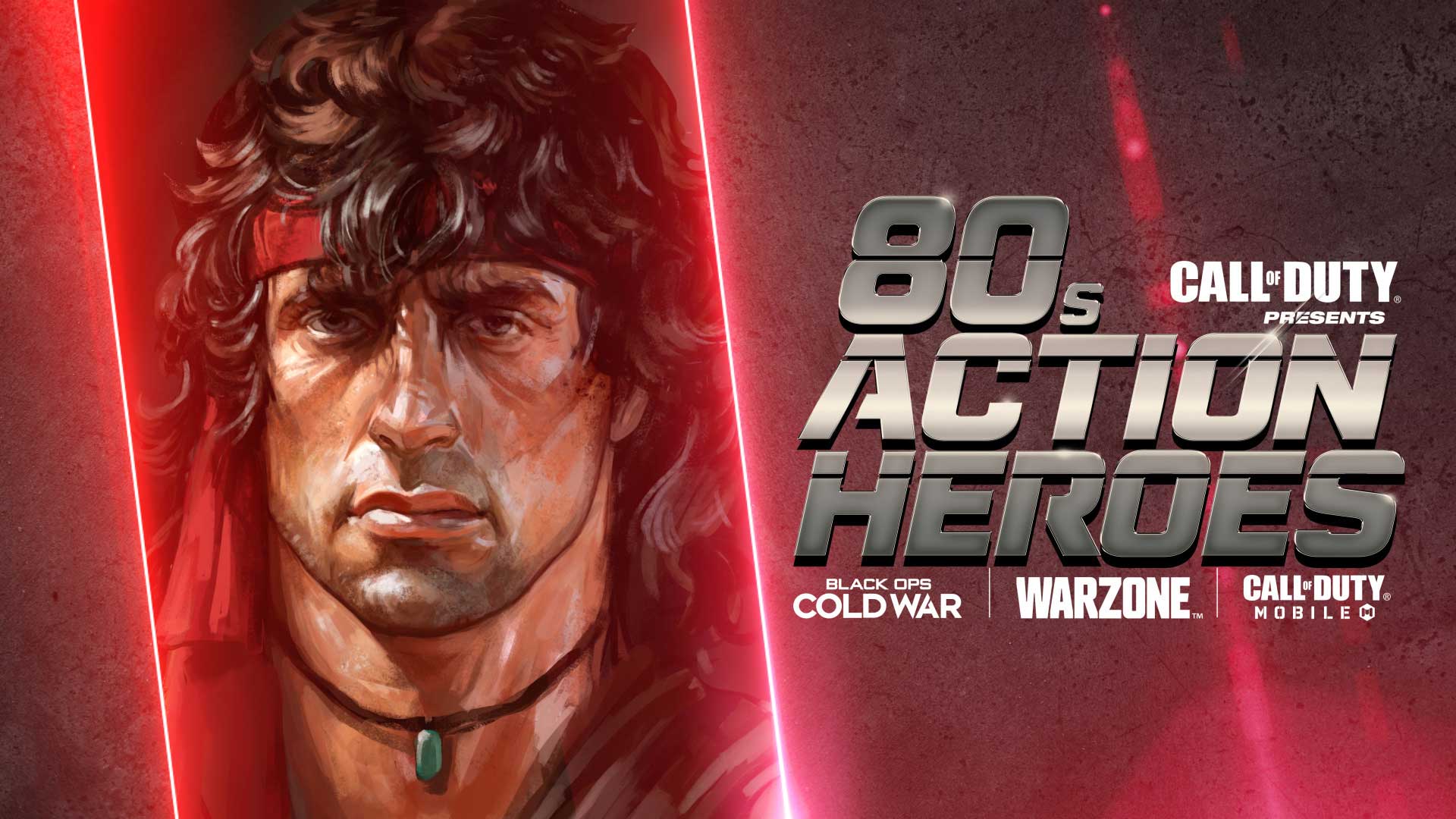 John McClane will be available in the Die Hard Call of Duty: Mobile Bundle via the in-game Store which will include the Epic Character, three Epic Blueprints—two SMGs and one pistol—an Epic Frag Grenade, a Parachute, a Cargo Truck, an Avatar, a Calling Card, and a Frame for your profile.
The Rambo Call of Duty: Mobile Bundle featuring John Rambo will be available in the in-game Store which will include the Epic Character, three Epic Blueprints—one LMG, one assault rifle, and one Knife—an Epic Parachute, an Avatar, a Calling Card, a Grenade, a Tank, and a Frame for your profile.
Both bundles will be available via the in-game Store from May 20 at 5PM PT to June 18.
ADDITIONAL BLACK OPS COLD WAR AND WARZONE INTEL:
Warzone: Nadeshot Invitational Kicks off Today, May 18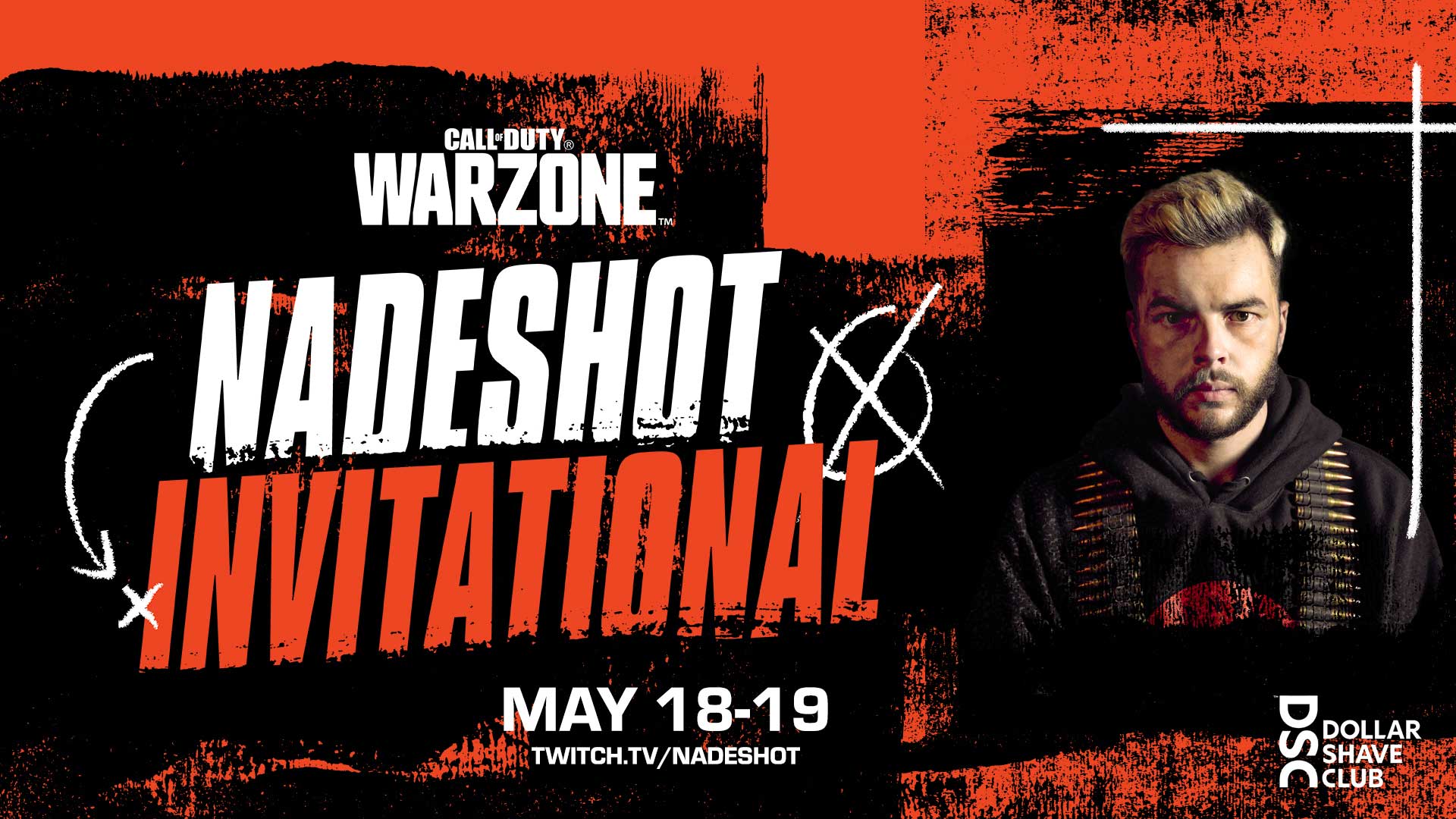 Expect the 80s Action Heroes event to continue the exciting lineup of Warzone tournaments that have dominated the action during Season Three. But before it all goes down, there's one more high-stakes tournament happening:
Today and tomorrow, longtime Call of Duty community member and former pro player Nadeshot will host his first ever tournament known as the Nadeshot Invitational. This two-day event will pit sixteen duos containing some of the game's top Warzone players against each other for the largest share of a $100,000 prize pool and will feature commentary from Nadeshot himself in addition to casting top competitive Call of Duty broadcast duo Maven and MerK.
Tune into the action starting at 11AM PT today on Nadeshot's official Twitch channel here or on the Call of Duty Twitch channel here, and get updates on the current bracket by visiting the live link here.
Update File Sizes for Warzone and Black Ops Cold War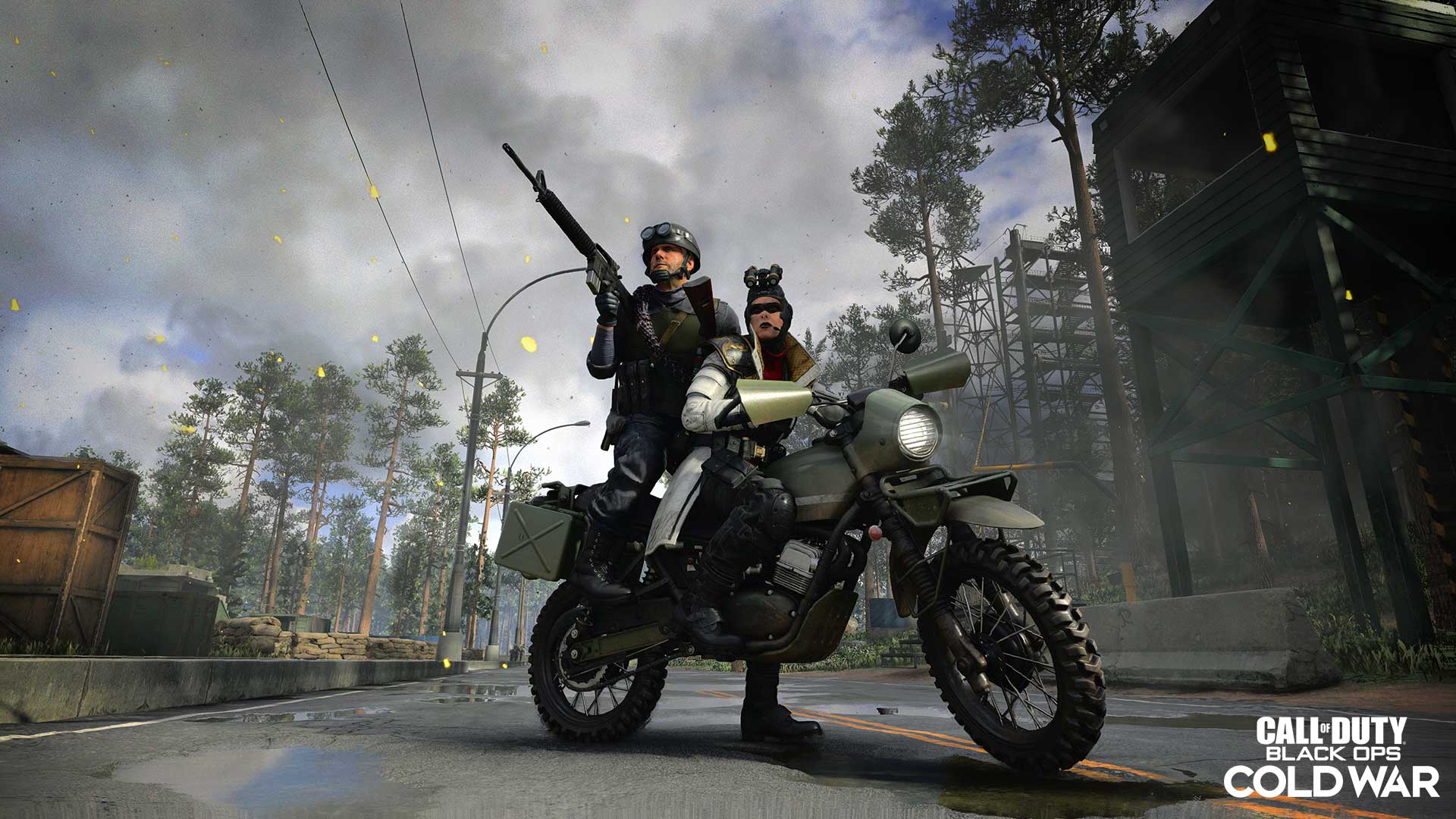 The Season Three Reloaded update will have a download size of approximately 7.1-13.1 GB for those who own the full version of Black Ops Cold War, and 14.6-18.1 GB for those who own the free-to-play Warzone and are current on the latest updates on either or both games.
Again, the Warzone download is a larger file size due to the optimization of data.
Black Ops Cold War Update Sizes
PlayStation 5: 10.3 GB
PlayStation 4: 7.1 GB
Xbox One Series X / Xbox One Series S: 13.1 GB
Xbox One: 8.3 GB
PC: 10.3 GB
Warzone Update Sizes
PlayStation 5: 14.6 GB
PlayStation 4: 14.6 GB
Xbox One Series X / Xbox One Series S: 15.2 GB
Xbox One: 15.2 GB
PC: 14.9 GB (Warzone Only) / 18.1 GB (Warzone and Modern Warfare®)
Remember, the Warzone download is not necessary if you are only playing Black Ops Cold War, and vice versa.
Furthermore, for a smaller overall file size, players can choose to uninstall/remove other data packs if they are no longer needed.
PlayStation 4 On-Disc DLC Removal Instructions for Black Ops Cold War Physical Copies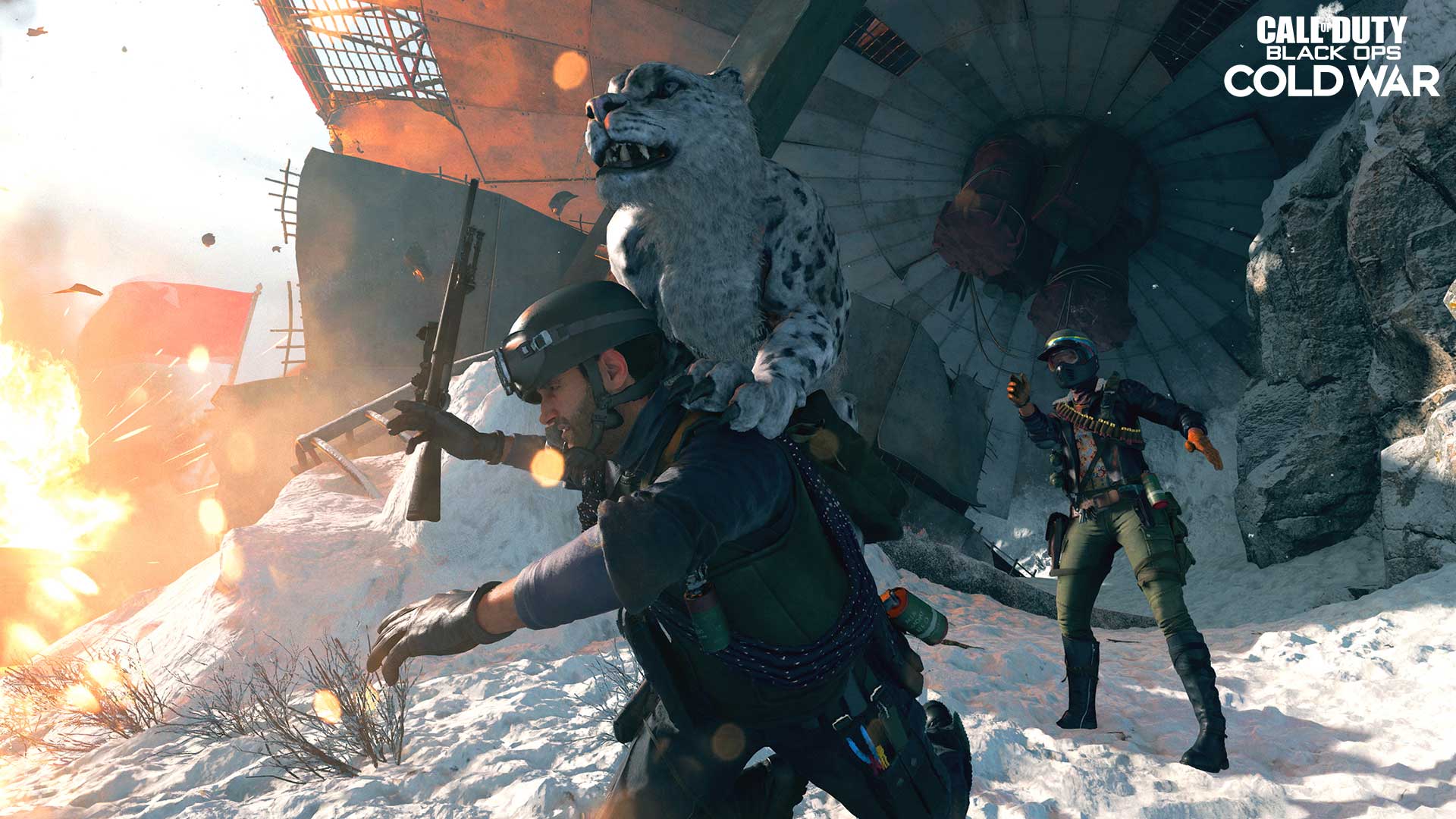 With the launch of Season Three Reloaded update, owners of a Black Ops Cold War physical copy for PlayStation 4 will be able to delete the on-disc DLC that they are currently not using from their console. This allows them to remove Multiplayer and/or Zombies DLC packs to better manage their hard drive space, should they not need those modes.

To complete this following the Season Three Reloaded update, players should:
1. Select the File Management option from the game's main menu (R3 button).
2. Select the specific DLC to uninstall: Multiplayer DLC 1, Zombies DLC, AND/or Dead Ops Arcade DLC (you will see a "partially installes message" upon successful uninstallation).
3. Close the game and remove the disc.
4. Re-insert the disc, enter the title screen, and notice that the removed on-disc DLC will not automatically re-install.
Players can re-install deleted DLC at any time through the File Management menu.
Again, this DLC removal news only pertains to owners of a physical Black Ops Cold War game for PlayStation 4.
For detailed information on Storage Management for Black Ops Cold War, read this article.
"Yippee ki yay." —John McClane, Die Hard
SOURCE: Call of Duty Blog
CoD Points price: How to buy, spend & do they carry over
CoD Points are the official currency of Call of Duty. Check out CoD Point prices, where to buy them, and whether they transfer between games.
Activision's in-game currency lets players purchase cosmetics for their characters, and we've got everything you need to know about CoD Points prices, how to buy them, and all the items you can spend them on.
Call of Duty offers a huge palette of extra goodies you can add to your game, requiring players to spend their own currency named CoD Points to acquire them.
CoD Points can be purchased in-game using the menu systems in games like Vanguard or Warzone or through console marketplaces like the PS Store or Xbox Marketplace.
The gaming landscape has changed over the years with the incorporation of microtransactions and live-gaming services. Many games offer extra content – with cosmetics being a big proponent of this. With Vanguard and Warzone offering special Attack on Titan and Christmas skins as well as unique weapon Blueprints for popular weapons, it becomes easy to see why players would want to spend CoD Points.
CoD Points prices
There are different amounts and bundles you can opt for when buying CoD Points that are tailored to different needs.
Some players just need to top up their account with a few hundred points to get the latest bundle. Whereas others need a big restock with the intention of spending many points. The more points you want, the bigger the discounts grow.
Here are the different prices for the various CoD Points bundles:
200 CoD Points: $1.99 / £1.79
500 CoD Points: $4.99 / £4.31
1,000 (+100 Bonus) CoD Points: $9.99 / £8.49
2,000 (+400 Bonus) CoD Points: $19.99 / £16.79
4,000 (+1,000 Bonus) CoD Points: $39.99 / £34.99
7,000 (+2,500 Bonus) CoD Points: $74.99 / £69.99
10,000 (+3,000 Bonus) CoD Points: $99.99 / £84.99
15,000 (+6,000 Bonus) CoD Points: $149.99 / £123.99
How to buy COD Points
You can be very flexible with how you buy COD Points as there are a few different ways to do so. To make sure you're buying them for the right platform, just double-check with our guide on transferring COD Points across platforms.
There are four ways you can buy COD Points:
PC players can purchase CoD Points on the Battle.net website
PS4 & PS5 players can purchase CoD Points in the PS Store on their console, or on the PlayStation website
Xbox Series X, Series S, or One players can buy CoD Points on the Xbox Marketplace on their console, or the official Microsoft Store website
Select physical retailers stock vouchers and gift cards with a code that players can redeem for CoD Points.
Where to spend CoD Points
Spending your CoD Points is incredibly easy, with players able to purchase cosmetic bundles and Blueprints in the in-game store.
The stores are available in Vanguard, Warzone, Black Ops Cold War, and Modern Warfare, so you can kit out your character regardless of your preferred title.
Do CoD Points carry over across games?
The good news is that your CoD Points will transfer across your Call of Duty games, as they are linked to your Activision account.
Players who still have CoD Points in their account from Black Ops Cold War don't need to worry, as they will automatically be in your account when turning to Vanguard.
What can I buy with COD Points?
Call of Duty's currency is used to primarily buy two things: the Battle Pass for the current season and Bundles containing a variety of items.
Battle Pass
A Battle Pass is a paid Tier system that allows regular players to earn dozens of extra rewards and cosmetics for essentially playing the game.
Vanguard and Warzone Pacific are currently in Season 1 at the moment. Both titles are currently running in tandem with each other and share the same Battle Pass.
It features 100 Tiers for players to smash their way through the course of Season 1, and if players are committed enough, they can actually earn enough CoD Points, through leveling up the pass, to get the next one for free.
You can buy the Vanguard & Warzone Season 1 Battle Pass via a couple of different methods:
Bundles
The other main content you can buy is a wide range of Bundles and Operator Bundles. These special bundles vary in price, and each comes with its own unique items.
The collectibles you can expect to find are Calling Cards, Emblems, Operator Skins, Weapon Blueprints, Weapon Charms, and more.
Also, check out when Vanguard Season 2 and Warzone Pacific Season 2 are set to begin.
Image credits: Activision / Sledgehammer Games / Raven Software
Season 1 Vanguard update set to sync progression from Call of Duty: Black Ops Cold War
Treyarch's latest announcement has detailed how Black Ops Cold War progression will sync to Vanguard with upcoming update.
As season 6 of Black Ops Cold War comes to a close, the devs have announced that an update will allow progress earned in last year's title to sync to Vanguard.
Call of Duty players have just received confirmation that playing previous Call of Duty titles will work toward progressing in Vanguard. A new update is set to hit Black Ops Cold War on December 6th in preparation for the massive launch of Vanguard Season 1 on December 8.
The patch notes detail synchronized progression with Vanguard as well as new Prestige Levels and rewards, Season Challenge unlocks for the past six seasons, new Prestige Shop content, and weapon balancing.
Black Ops Cold War fans will be happy to hear that the game is going to continue to receive updates alongside Call of Duty: Vanguard. The latest announcement from Treyarch shares plenty of info concerning shared progression across Call of Duty titles.
Players will enjoy synced progression from each of Modern Warfare, Black Ops Cold War, and Warzone toward Vanguard. This may seem complicated but it just means that playing any of the three titles mentioned above will earn progression for Vanguard.
Synced progression entails unlocking Military Rank, weapons, Equipment, and Killstreaks. In addition, there will be a ton of interesting details such as allowing players to showcase their lifetime Prestige number earned across past titles.
Some changes will go live on December 6 while the rest will occur on December 8.
Patch Notes
Progression
Synchronized Military Ranks and Prestige Levels

Military Rank and Prestige Level progression will be synchronized with Vanguard at the launch of Season One.
All players will begin the season at the Military Rank or Prestige Level they have currently reached in Vanguard, or Military Rank 1 if they have not played Vanguard yet.
Players can progress Vanguard Military Ranks in Black Ops Cold War, Warzone, and Modern Warfare to unlock weapons, Equipment, Killstreaks, and other content for use in Vanguard and Warzone.

Prestige Rewards

Complete Military Ranks 1-55 to start a new Prestige journey, with new Prestige Levels to unlock across Black Ops Cold War, Vanguard, Warzone, and Modern Warfare.
In Season One, players can earn up to Prestige 7 as they progress their Season Level. Four additional Prestige Levels will be added per season.
Each Prestige Level awards a Prestige Key, Tier Skip, Emblem, and Sticker in Black Ops Cold War.
Reach Season Level 50 in Season One to unlock the exclusive "Duck Hunt" Weapon Blueprint for use in Vanguard and Warzone.

Lifetime Prestige

Lifetime Prestige display added to Black Ops Cold War and Warzone at the start of Vanguard Season One that display the total number of Prestige Levels earned across previous seasons and in Vanguard.

Prestige Master Ribbons

Players can now continue their Black Ops Cold War Prestige Master Ribbon progression. Each season, a new Prestige Master Ribbon will be added to the current six Black Ops Cold War Prestige Master Ribbons.
Players can progress their Prestige Master Ribbons in Black Ops Cold War, Vanguard, Warzone, and Modern Warfare by reaching Prestige Master at Season Level 200.
Players can now catch up on missed Prestige Master Ribbons each time they earn 200 Season Levels in a season. For example, reaching Season Level 400 will award two Prestige Master Ribbons, if available.
Prestige Shop
Black Ops Cold War Prestige Icons will be unlocked and available in the Prestige Shop for anyone who earned them in previous seasons.
Players can now equip any acquired Prestige Icon (1-27) as long as they've reached Prestige Master at least once in a current or previous season.
Players do not need to currently be Prestige Master to access Custom Prestige Icons in the Prestige Shop.
Equipped Prestige Icons will no longer be reset at the start of each season.
Season Challenges
All previous Black Ops Cold War Season Challenges will be revealed and can be progressed by players who hadn't revealed them over the course of previous seasons. Legacy Season Challenges can continue to be progressed in Black Ops Cold War.
Starting with Season One, players can access and progress new Multiplayer Season Challenges in Vanguard and Warzone, as well as Zombies Season Challenges in Vanguard.
Weapon Unlock Challenges
.410 Ironhide

Weapon unlock challenge added to Multiplayer and Zombies for the .410 Ironhide Shotgun.

Grav

Weapon unlock challenge added to Multiplayer and Zombies for the Grav Assault Rifle.
Weapon Tuning (Dec. 6)
Marshal

Damage

Reduced Damage Range from 3.81m to 3.68m.
Increased Damage drop-off when fired beyond 3.68m.

Dragon's Breath Attachment

Now has a -5% effect on Fire Rate.
Increased Damage Range penalty from -25% to -35%.
Reduced Damage bonus from +17% to +16%.

12.1″ Extended Barrel

Reduced Damage Range bonus from +20% to +15%.
Lobby
Updated Lobby theming in Multiplayer and Zombies.
Zombies (Dec 6)
Forsaken
Closed an exploit during the Main Quest boss fight.
Added "Not Enough Essence" prompt to the Arcade Token dispenser when the player does not have enough Essence to purchase a token.
Mauer der Toten
Addressed an issue where a texture was not appearing correctly after melting the door during the Main Quest.
Outbreak
Enemies killed by Brain Rot zombies will now contribute toward the Dragon Relic World Event.
Onslaught
Added Onslaught Containment and Onslaught Deprogram to offline Local play.
Stability
Fixed stability issues related to the Arsenal.
That covers everything from the upcoming Black Ops Cold War update. If you're enjoying Vanguard, be sure to check out how this update impacts your gaming experience on December 8.
For more Vanguard content, check out why Zombies players are disappointed with Vanguard.
Image Credit: Activision / Sledgehammer Games / Treyarch
Will you be able to use Cold War and Modern Warfare weapons in Warzone Pacific?
Our quick and easy guide will answer the question of whether or not players can use Cold War and Modern Warfare guns in Warzone Pacific.
One question on everyone's mind ahead of Warzone Pacific's Caldera map is whether or not you'll be able to use Modern Warfare and Black Ops Cold War's guns in it. We will answer that for you today.
Call of Duty: Warzone already has a ridiculously bloated arsenal of weapons for players to choose from. With over 100 guns to select as of Warzone Season 6, the transition into Warzone Pacific and the new Caldera map will see all of Vanguard's guns added.
However, this begs the question for many players, will the new map and addition of nearly 40 Vanguard weapons mean that either Modern Warfare or Black Ops Cold War weapons need to miss out?
Can you use Modern Warfare and Cold War weapons in Warzone Pacific?
Fans of any of Modern Warfare and Black Ops Cold War's weapons will be pleased to know that they too will also be carrying over into Warzone Pacific.
In an exclusive interview with Dexerto, Zach Hodson, Lead Designer at Sledgehammer Games discussed how Vanguard's weapons will have to be considered when being added to all the other existing guns in the game.
He said that SHG has to keep a "separate balance sheet to track how things might work in Warzone." Presumably, this is to factor in the extra 40 guns, taking Warzone up to a total of about 150 guns for players to use.
It should be noted that Warzone Pacific game modes will tailor the guns to its different game modes. Warzone Caldera Battle Royale will allow the use of all guns, whereas Vanguard-specific modes will only allow the use of Vanguard weapons.
How to use Cold War & MW weapons in Warzone Pacific
Whilst there's nothing concrete just yet, we think that to use these weapons in Warzone Pacific, players will simply be able to select the ones they have unlocked once the Season 1 integration with Vanguard goes live.
When Black Ops Cold War and Warzone merged, it was a simple case of players being able to use the guns that they'd unlocked in Cold War, Modern Warfare, and Warzone. If you hadn't unlocked a certain gun, then you could complete a challenge condition that was different in each game.
We expect this to be exactly the same in Warzone Pacific, and it'll be up to the preference of the player, and their availability of each CoD game, to decide how to unlock particular weapons.
---
We'll be sure to update this once Sledgehammer Games and Raven Software have provided a bit more official insight into the integration of weapons.
In the meantime, check out everything we know about Vanguard and Warzone Season 1.
Image Credit: Activision / Raven Software / Sledgehammer Games