Dr Disrespect has one big issue with Black Ops Cold War
YouTube streamer Dr Disrespect weighs in on the matter of low multiplayer maps in Black Ops Cold War.
Call of Duty's newest title didn't release without a hitch. Fans are disappointed by the low number of available multiplayer maps on launch and famous streamer Dr Disrespect has weighed in on the matter.
Black Ops Cold War is finally here and it has brought a lot of content to unpack. The latest entry in the Call Of Duty franchise released and there is certainly a lot to like about it. There are many different weapons, attachments and multiplayer modes for you to try out, but fans have had their share of complaints with a few things; particularly with the maps.
At launch, Black Ops Cold War came with only eight different multiplayer maps. The game added Nuketown '84 shortly afterwards on November 24 and this map comes with an 1980's aesthetic marked by retro graffiti and an arcade machine. There are also two fireteam maps which bring the current total number to 11.
The meager number of available locations for players to battle in has lead to complaints from many fans, and now famous streamers are joining in to voice their frustration with this situation.
YouTube streamer Herschel "Guy" Beahm IV, more commonly known as Dr Disrespect, was in the middle of his Cold War GB Ladder Matches livestream when he briefly touched upon the issue as you can see in the clip below.
In this brief excerpt he says that although he's enjoying Black Ops Cold War, the small amount of areas in which you can engage players has been disappointing. He further states that the there should be at least 15 maps available at launch, which is understandable since Black Ops 4 came out with 14. Looking at the comments, many other fans seem to share this sentiment.
Some have even suggested copying maps from older Call Of Duty games. This has been done before as Modern Warfare made up with its lack of 6v6 maps with Ground War, and even this game has brought over Nuketown 84. This ensures that players have some familiarity with the area and is considerably quicker than making new maps.
However, we don't think the developers should bring back too many old maps since ported maps have a history of not always working properly in the new games due to mechanic changes. Black Ops 4 had this issue with its summit and jungle multiplayer maps.
In addition to the technical difficulties that would arise with ports of old maps, it would also be a far less creative way to go about designing your game. Despite the lower than usual number, there are still some real winners available when it comes multiplayer maps in Black Ops Cold War.
Armada immediately comes to mind. This map is unique as it consists of a three large sea vessels that you can zipline or swim between to reposition yourself. It's a large area with a lot of room for movement and it's fantastic for sniping. There is also Checkmate, that has become popular with players very quickly.
So there's still a lot of fun to be had in the multiplayer modes with the maps at hand. Luckily Treyarch has confirmed a new collection of maps with when Season One launches on December 10, so we'll be seeing more variety in locations soon.
Call of Duty: Black Ops Cold War is available for purchase on PC, PS4, Xbox One, Xbox Series X, Xbox Series S and PS5.
All Black Ops Cold War multiplayer maps: Standard, Gunfight, & Fireteam
Study up – here's the maps in Black Ops Cold War.
Black Ops Cold War includes a set of new maps for Multiplayer plus the new Combined Arms and Fireteam mode. Here's the maps available/announced as of January 14, 2021.
Call of Duty: Black Ops Cold War will deliver multiple new maps that are played across a variety of modes. Some modes will support large player counts, which means some maps will be exclusive to certain larger modes.
Currently, the known variations of modes in Black Ops Cold War are: standard multiplayer at 6v6, Combined Arms at 12v12, and Fireteam at 40 players.
Here's a full breakdown of every map available now in Black Ops Cold War, and what modes they support.
Standard Multiplayer Maps (6v6 & 12v12)
Express (Coming Feb. 4)
Returning from Call of Duty: Black Ops II, Express arrives Feb. 4 in Black Ops Cold War as a 6v6 Multiplayer favorite, known fondly as the hi-tech train station that hosted many a jaw-dropping moment in competitive Call of Duty history. Express is a roughly U-shaped map featuring two train tracks looping around the transportation hub's main hall. Players can expect plenty of close-quarters combat in the hall, but should note that its glass ceiling leaves it susceptible to enemy Scorestreaks.
Long-range combat can take place across the train tracks, especially when looking out from the skybridges on either side of the map. These areas are also great places to watch one of the high-speed trains bolt by the station on one of the tracks, where it won't hesitate to take out any Operator who doesn't mind the gap.
Player Count Supported: 6v6 Modes 
Raid
A legendary map that debuted in Call of Duty: Black Ops II, Raid is a sprawling luxury complex within the Hollywood Hills of Los Angeles, California. Fighting takes place across the living space, including a lush courtyard at the map's center, a bedroom overlooking a breathtaking pool area, a basketball half court, a well-kept garden and nearby guest living space, and the iconic roundabout entrance to the mansion. Don't stop to admire this exquisite dream home; the three-lane design gives way to competitive 6v6 combat, especially in objective modes where the central courtyard draws in action from all sides.
Player Count Supported: 6v6 Modes
The Pine
Located in a neon-drenched New Jersey shopping center, The Pines is a medium-sized, multi-level map at 2900 Churman Drive, just off the I-189. The date is January 21, 1984, and there's little time to check out the latest tech at Radio House or drop a few quarters into the Pitfall!™ machine at the Galaxy Room: This is where Stitch and Adler get reacquainted. Cutting through the unique shops that populate the side lanes allows for quick, intense close-quarter battles and focused combat, while heading through the middle of the mall enables longer range assault rifle and sniper-focused duels.
Player Count Supported: 6v6 Modes
Nuketown '84
Nuketown is back as Nuketown '84 in Call of Duty: Black Ops Cold War. This new free map was made available on November 24.
Player Count Supported: 6v6 Modes
Checkmate
Checkmate is a new map that supports 6v6 modes. That map is set inside a training facility in Berlin, East Germany.
NATO Special Forces shutdown a hidden Perseus training facility, built to practice an assassination attempt against the POTUS.
Player Count Supported: 6v6 Modes
Garrison
Garrison is a new map that supports 6v6 modes. This map was one of the first leaked maps for the game, when Alpha gameplay footage was shown online in June. The map is set in Hanover, West Germany.
Perseus ups the ante by targeting a NATO base in Hanover, West Germany, during a joint military exercise.
Player Count Supported: 6v6 Modes
Miami
Miami supports standard 6v6 gameplay and features a neon-lit street area. Surrounding the street is a hotel with a pool (complete with a working diving board), clubs, and even a beach.
Player Count Supported: 6v6 modes
Cartel
Cartel supports Standard modes and Combined Arms modes. Cartel features a large center lane filled with cover and bushes, a hangar for CQC, and a sniper tower overlooking the middle lane.
Cartel will be playable in both 6v6 and 12v12 modes with different variations of the map for different player counts.
Player Counts Supported: 6v6 and 12v12 modes
Crossroads
Crossroads is a Combined Arms map for 12v12 combat. The map features long sight lines across a frozen lake, a sniper overlook, multiple bomb proof buildings, tanks and snowmobiles.
Crossroads will be feature both a 6v6 variation and 12v12 variation.
Player Count Supported: 6v6 and 12v12 modes
Armada
Armada is set on the North Sea and features a unique design. It features three large battleships, each connected via zip lines. The central ship is where most of the main combat occurs, and the other 2 ships serve as main spawn hubs for each team. You can find heavy turrets mounted on the battleships to use, or take to the water in a speedboat or gunboat.
Armada will feature both a 6v6 and 12v12 variation at launch.
Player Count Supported: 6v6 and 12v12 modes
Moscow
Moscow is a 6v6 map packed with tight spaces and short sightlines. It is a truly classical 3 lane Call Of Duty map and is best for close-quarters combat. Playing Domination or Hardpoint on this map is a must try.
Player Count Supported: 6v6 modes
Satellite
Satellite features wide open map design – perfect for long distance engagements. Snipers will populate the sand dunes and SMG/AR players will use the conveniently placed rock lanes to cross into enemy territory. In the middle rests a downed airplane that provides cover from the snipers on the opposite side of the map.
Player Count Supported: 6v6 modes
Gunfight Maps
Game Show
Engage your fellow contestants in a battle of wits and gunfire, with the emphasis on the gunfire. This studio setting features plenty of places to engage a less cerebral form of competition, from the contestant podium to the stepped stage and '80s camera equipment.
Modes Supported: Gunfight
ICBM
Set inside a remote launch bay of a clandestine launch facility, engage in explosive combat under the gigantic exhausts of an inter-continental ballistic missile. A roughly circular setting, with control stations, support struts, and a central payload area all viable options to take cover behind.
Modes Supported: Gunfight
KGB
Hammer victory home among the ostentatious trappings of the old USSR: Deep within the famous Lubyanka KGB building is an ornate hallway of imposing marble. Seek cover behind thick wooden desks and tall library bookcases and secure a Gunfight win for you and your comrade.
Modes Supported: Gunfight
U-Bahn
Descend into the underground tunnels beneath West Berlin. Look past the concourse and tile walls of the Metro platform and storm the parked train and open subway carriage using the graffiti-covered subway car, central support pillars, and other areas as cover during this subterranean assault.
Modes Supported: Gunfight
Fireteam Maps
Sanatorium
Ten squads of four will head up to the Ural Plains to fight over objectives and vehicles on land, sea, and air. Here in the Urals is a Soviet experimental health retreat – the focus of a clandestine investigation by NATO forces in September 1984. Low wooded hills provide cover for squads to gain reconnaissance over the main, roughly circular-shaped main "hotel": a concrete, brutalist architectural behemoth flanked by lakeside structures and a large wooden dock.
With links to secret testing within State Sanatorium U-23, notes found within the grounds of this sprawling complex indicate a conditioning trial known as Project Golova.
Player Count Supported: Fireteam Dirty Bomb Mode (40 Players)
Alpine
Alpine is one of the Fireteam exclusive maps. It supports a total player count of 40 players, mixed into squads of 4. Battle through the large ski-slope terrain on foot, or hop on a snowmobile.
Ruka
Ruka takes place in the Ural Mountains in the U.S.S.R. This map is specifically made for the Fireteam modes and features combat in large cabins and forest land.
We'll continue to update this post as we learn more about what maps will be available in Call of Duty: Black Ops Cold War at launch.
Cranked Zombies Tips – Black Ops Cold War
Black Ops Cold War has added a new game mode to zombies called "Cranked." Here are a few tips to dominate.
Cranked Zombies is a new mode added to Black Ops Cold War Zombies for Season 1.
For the midseason update, Treyarch has released Cranked Zombies as a limited-time mode. This is a fast-paced and intense mode that was originally released alongside Call of Duty Ghosts and has long been a tradition in Infinity Ward games. Now, Treyarch has adopted the mode for Zombies.
What is Cranked?
Cranked is a mode where kills are key. Once you score your first kill, a timer will start and your player will receive increased reload speed and running speed. This timer will be a 30 second timer, ticking down. If you fail to score a kill before the timer hits 0, you'll blow up. Each new kill will refresh the timer.
For Zombies, as time continues, zombies will spawn faster and the cranked timer will continue to reduce as the game progresses. It will start at 30 seconds, then drop to 25, 20, and 15, before settling at 12.5 seconds.
Tips to Survive
Big magazines, high damage – Be sure to drop in with a Light Machine Gun or high capacity Assault Rifle. You'll need it for all the zombies constantly bombarding you.
Explosives are key – Pack C4, and be sure to pick up every War Machine boss zombies drop. You'll need these as emergency tools for quick and easy kills when time is running low.
Pack FAST! – Pack-a-punch is unlocked automatically as soon as the power is turned on. Make sure you get your weapon upgraded as fast as possible.
Brain Rot OP – Brain Rot is an ammo upgrade for pack-a-punch weapons that turns a hostile zombie into a friendly teammate. Be sure to utilize this for quick timer resets while reloading or traveling around the map.
Ring of Survival – The Ring of Fire field upgrade is a must use in Cranked. Line up large waves of zombies, then activate the ring of fire for easy kills. We recommend saving your ring of fire charges for boss zombies.
Be a Menu Master – Using the upgrade station and weapons bench will cost you time. Be sure to have the menus memorized to get what you need before you explode.
Perk Up! – While being Cranked gives you additional reload and movement speed, Stamin-Up and Speed Cola also stack on these effects, making you even faster.
These tips should get you rolling through Weapon levels and Zombie hordes in no time. Now get out there and slay some zombies!
Image Credits: Activision
Black Ops Cold War Zombies Updates: Firebase Z, New Perk, and more
To celebrate 115 Day, Treyarch has shared a new blog post highlighting some of what's coming to Call of Duty: Black Ops Cold War soon.
The new Zombies map, Firebase Z, arrives on February 4 for free.
In their blog post, Treyarch goes in depth on the narrative origins of Firebase Z map, reveals the new Tombstone Perk, provides updates on the Onslaught mode, and more.
Firebase Z" will arrive on February 4th during Season One, free for all Black Ops Cold War players.
Today, we're excited to debut the official logo and new narrative details for our next Zombies map.
In less than three weeks, "Firebase Z" will introduce Zombies fans to an all-new location set in the jungles of Vietnam, along with new characters, new enemies, new gameplay mechanics, and much more. And, in keeping with Zombies tradition, a badass new Wonder Weapon awaits.
Now – without spoiling too much – let's get into the story so far.
REQUIEM VS. OMEGA
Dimensional breaches continue to open around the world. As both Omega and Requiem work in the shadows to ensure the secrecy of their discoveries, the greater public remains blissfully unaware of this deadly new arms race between East and West.
As the two sides continue to study the Dark Aether dimension and the Aetherium Crystals found within, each strives for an advantage over the other in the ongoing Cold War. The bad news? Requiem has fallen behind.
Omega Group's newest research outpost represents their resounding successes in harnessing Dark Aether technology for their own gains. Equipped with an on-site dimensional gateway, they've acquired the ability to send soldiers and other "conscripts" into the Dark Aether to harvest Aetherium Crystals straight from the source.
As a result, Omega Group's scientific breakthroughs in the last several months have far surpassed anything Requiem could have imagined.
DESTINATION: OUTPOST 25
With the destruction of the "Projekt Endstation" anomaly site in their wake, Grigori Weaver and the agents of Requiem turn their attention to a far greater threat: a new Dark Aether outbreak site in Southeast Asia.
After learning Agent Maxis has been captured by Omega Group, Weaver deploys Requiem's strike team to infiltrate the facility where she's reportedly being held: Outpost 25.
Against all odds, Requiem forces will infiltrate the outpost to rendezvous with an Omega Group informant, save Samantha Maxis, and above all else, survive the new horrors that await them in this abandoned research facility.
In the coming weeks, we'll have more "Firebase Z" story details, new intel reveals, and the official gameplay trailer to share in the lead-up to launch. In the meantime, let's dive into the additional content coming to Zombies as Season One continues.
NEW PERK: TOMBSTONE SODA (FEB. 4)
As we may have not-so-subtly hinted on New Year's Eve, we're bringing a seventh Perk to Black Ops Cold War Zombies alongside the launch of "Firebase Z": Tombstone Soda.
"But Treyarch," you ask, "what's so new about Tombstone?" Thanks for asking. Great question.
When deciding on the next Perk to introduce to Zombies, the design team reviewed the full history of every Perk and ability from the past that centered around death, and ultimately rolled them into an incredibly useful Perk for Black Ops Cold War. Tombstone Soda is all about manipulating and cheating the consequences of death, and you'll need it against the forces waiting for you in Vietnam.
Unlike its first incarnation in Black Ops II, the new-and-improved Tombstone Soda will now transform the player into a shadow within the Dark Aether after being downed. In this shadow form, you'll be equipped with weapons to help give you a fighting chance to revive yourself. However, if your health is reduced to zero while in shadow form, you're dead.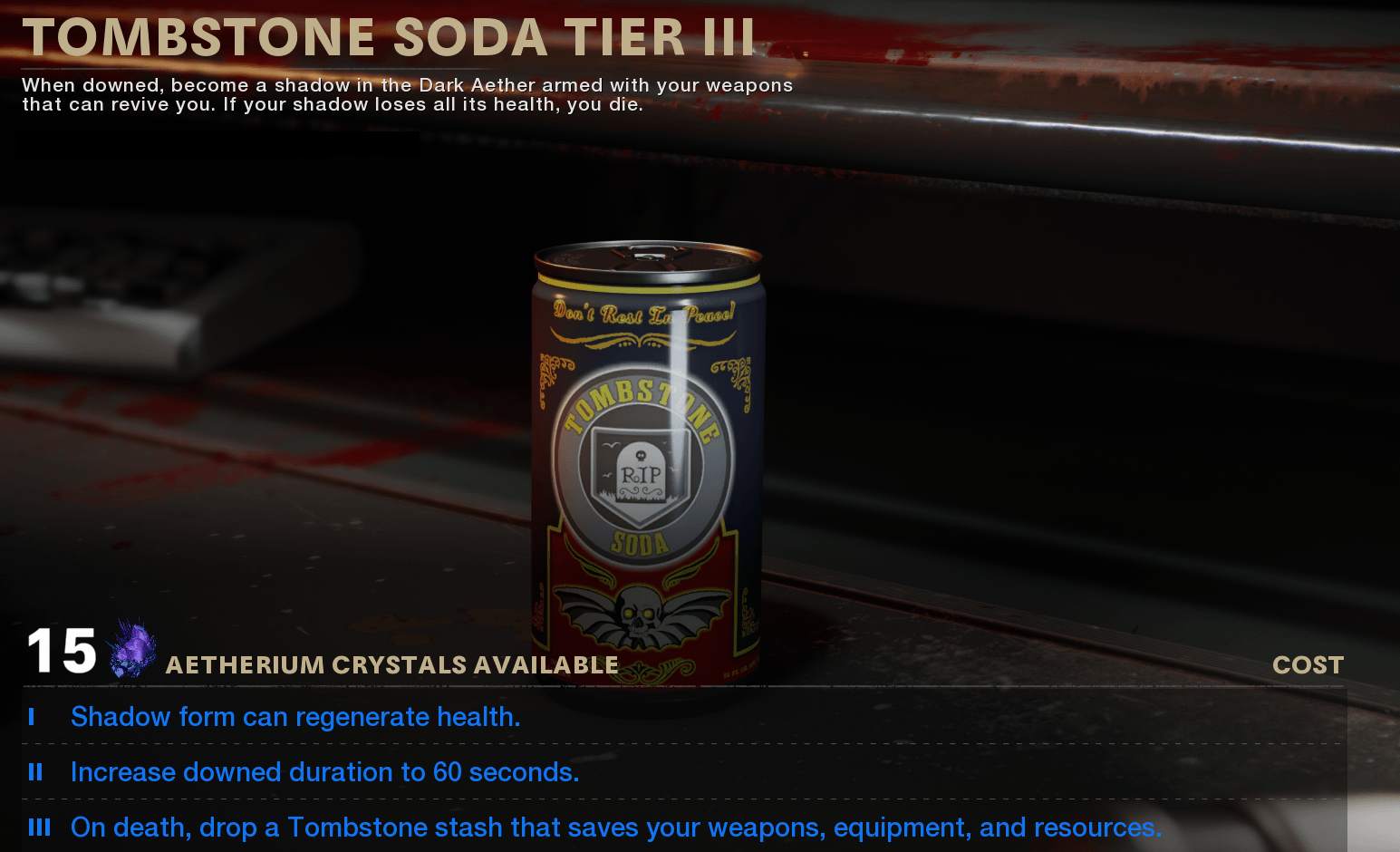 Fortunately, Tombstone's benefits only get better from there. Each Perk comes with its own set of upgradeable Skills in Black Ops Cold War, and this one's no different. By investing Aetherium Crystals into your Tombstone Perk Skill, you'll unlock the following upgrades:
Tier I – Shadow form can regenerate health.
Tier II – Increase downed duration to 60 seconds.
Tier III – On death, drop a Tombstone stash that saves your weapons, equipment, and resources.
You'll be able to grab a can from the Tombstone Perk machine in "Firebase Z," and you'll also find it in the Der Wunderfizz machine in "Die Maschine" on Feb. 4th. When in doubt, just remember those timeless jingle lyrics: Rest in pieces, down for the count…
NEW SUPPORT SCORESTREAKS AND INTEL (FEB. 4)
February 4th will also bring two new Support Scorestreaks to call in against the undead: the devastating Artillery and always-satisfying Napalm Strike. When the action gets a little too hot, head over to the Crafting Table and turn the heat even higher.
Ahh, we love the smell of crispy zombies in the morning.
And of course, a new Zombies map means new in-game Intel. Keep an eye out for new audio logs, documents, radio communications, Dark Aether dispatches, and artifacts hidden throughout "Firebase Z" starting on Feb. 4th. You never know what you might find.
Friendly reminder: if you haven't discovered 100% of the in-game Intel hidden within "Die Maschine" and Onslaught yet, now's the time to complete your collection before the story continues!
SOURCE: Treyarch