Fortnite Galactus Event: recap, HD images & more
The epic conclusion of Fortnite Season 4 comes down to the ultimate showdown with Galactus. Here's what you missed.
The Fortnite Galactus event has concluded. If you didn't get a chance to see it, here's a full recap and where you can watch the event.
The Fortnite Galactus event took place on December 1, 2020 at 4:10 PM EST. It was the most highly anticipated event yet and had plenty of surprises in store for players.
For weeks, players have been awaiting Galactus' arrival, and they got just that.
Full Timeline
In the beginning of the event, we were patiently waiting by a countdown timer. In the distance stood a tall, idle Galactus. Shortly after the timer hit 0, Galactus began walking towards us.
The following minute was filled with tension as he slowly walked closer and closer to us. As Galactus approached our position, he let out a powerful groan, prepared an attack, and struck all players off of our flying fortress, and we were sprung into the air, helpless.
For a few seconds, we were left to believe we were immediately brought to our demise by Galactus. Then, out in the distance came a flying, colorful figure – Iron Man himself. Our party cheered with excitement as he offered us a jetpack, bringing us back into the action.
Once we gained our balance in the air via jetpack, we turned around to spot Galactus trying to eat the zero point. It appears all is but over until Iron Man teleports us inside of a battle bus.
Once teleported, we were brought to a first-person perspective inside of a customized battle bus, filled with explosives and modified with lasers.
The plan was simple. Iron Man created billions of Battle Busses, all armed with explosives. Our job was to navigate them to Galactus while fending off waves of drones. Throughout the counter-offense, we were assisted by heroes Wolverine & Thor, before being treated to a final tense shooting sequence to the tune of "Demon Fire" by AC/DC.
Once we closed into the final moments, Iron Man teleported us out of the Battle Bus, and we were left with a scene of the busses piling into Galactus and exploding, apparently defeating him. Soon after, the event cut to a loading screen, and we were brought to a brief scene of Jonesy knocked out in his office.
This scene ended abruptly with a "continued in Season 5" message, then the Fortnite servers disconnected, stating they would return approximately 7 hours after the event at 12 AM EST on December 2.
Watch The Full Event
You can catch the whole event live in the video linked below.
That's it for now, hopefully we'll have more answers once the servers come back online for Season 5.
NICKMERCS claims Warzone's aim assist is stronger than Fortnite's
Streamer NICKMERCS has explained why he believes Warzone's aim assist is stronger than Fortnite's, but less reliable.
Top streamer Nick "NICKMERCS" Kolcheff is most known for playing battle royale games and has weighed in on the aim assist debate, saying Warzone's aim assist is stronger than Fortnite's.
Since crossplay became commonplace in online FPS games, predominantly battle royales, the power of aim assist has been debated. The joysticks of a controller don't provide the same level of precision as a mouse, so games balance it out by offering aim assist.
NICKMERCS has long been a top esports competitor using a controller. Having used a controller competitively since the Gears of War days, his aim has continued to pave the way for success in both competitive Fortnite and Warzone.
During a Fortnite stream with SypherPK, NICKMERCS discussed how aim assist differs between Warzone and Fortnite, with him believing that Warzone's is stronger.
"I think aim assist is stronger in Call of Duty," he said. "It used to be stronger on Fortnite but they made so many changes to aim assist on Fortnite over the years to the point that now, I believe it's stronger on Call of Duty. I play on both and aim assist on CoD is crazy."
However, NICKMERCS explained why although weaker, Fortnite's aim assist is more reliable.
"The issue with aim assist on Call of Duty though, that you don't really face on Fortnite, is that on Call of Duty, aim assist just goes away," Nick explained. "You'll be in the middle of a fight in the middle of nowhere and you'll just lose aim assist.
On [Fortnite], it's consistent the whole way through so you don't really got to worry about that, know what I mean? It's not just top Super, it's all these weird pockets of no aim assist. It's so odd."
NICKMERCS concluded by saying that he believes aim assist is "stronger on Call of Duty but it's also less consistent."
If you're a controller player on battle royale games, you can check out our best controller settings guides for Warzone, Black Ops Cold War, Fortnite, and Apex Legends.
Image Credit: SCUF / Activision / Epic Games
Fortnite players find crazy rotation exploit in Season 6
A new exploit has been discovered by Fortnite players, that allows them to rotate across the Island in Season 6.
A few Fortnite players have discovered a useful new exploit that they can use to fly across the battle royale's map in Chapter 2, Season 6.
Fortnite has seen its fair share of glitches and exploits over the years. Season 5 had a particularly troublesome one in the sand tunneling feature which was letting players become invisible. This led to it being disabled for the bulk of the season.
Things haven't changed much in Season 6, as players have discovered exploits that allow them to farm unlimited Gold Bars, as well as continuously regenerate their health. Now, a few fans have found a new way to rotate across the map.
Fortnite Door edit exploit
The exploit is fairly simple, as it involves combining certain items with a simple door edit. Fortnite players can then make use of this exploit to rotate to different points on the Island.
Here's how this is done:
Find a low-gravity item like a chicken, Hop Rock Dualies, or Easter Egg
Edit a door and then open it
Jump on top, and close the door to rotate across the map
The only catch is that you'll need to ensure that you're facing in the right direction when using this exploit. The door will send you flying away from the direction that it's facing, so make sure your position yourself accordingly.
Fortnite YouTuber SypherPK covered this exploit in a recent video, and he discovered a few details regarding it. One major factor is that it tends to work better with female characters than it does with males.
So far, it's uncertain whether Epic Games are planning to do something about this exploit, or if they even know it exists. We'll keep checking for updates, and will let you know about any new developments.
Image Credits: Epic Games
How to get the Recycler for Fortnite Season 6 Week 4 challenges
One of the new Fortnite Season 6 challenges requires you to deal damage with the new Recycler weapon, and here's how you can get it.
The Recycler is a brand new weapon that has been introduced in Fortnite Season 6, and here's how you can get your hands on it for the new weekly challenges.
There are brand-new weekly challenges available in Fortnite that you can complete to progress through the Season 6 Battle Pass. These will net you some serious XP so that you can unlock new cosmetics.
In the latest content update, Epic Games added a new weapon called the Recycler or Junk Gun to the battle royale. One of the Week 4 challenges requires you to dish out damage with this happens, so here's how you can obtain it.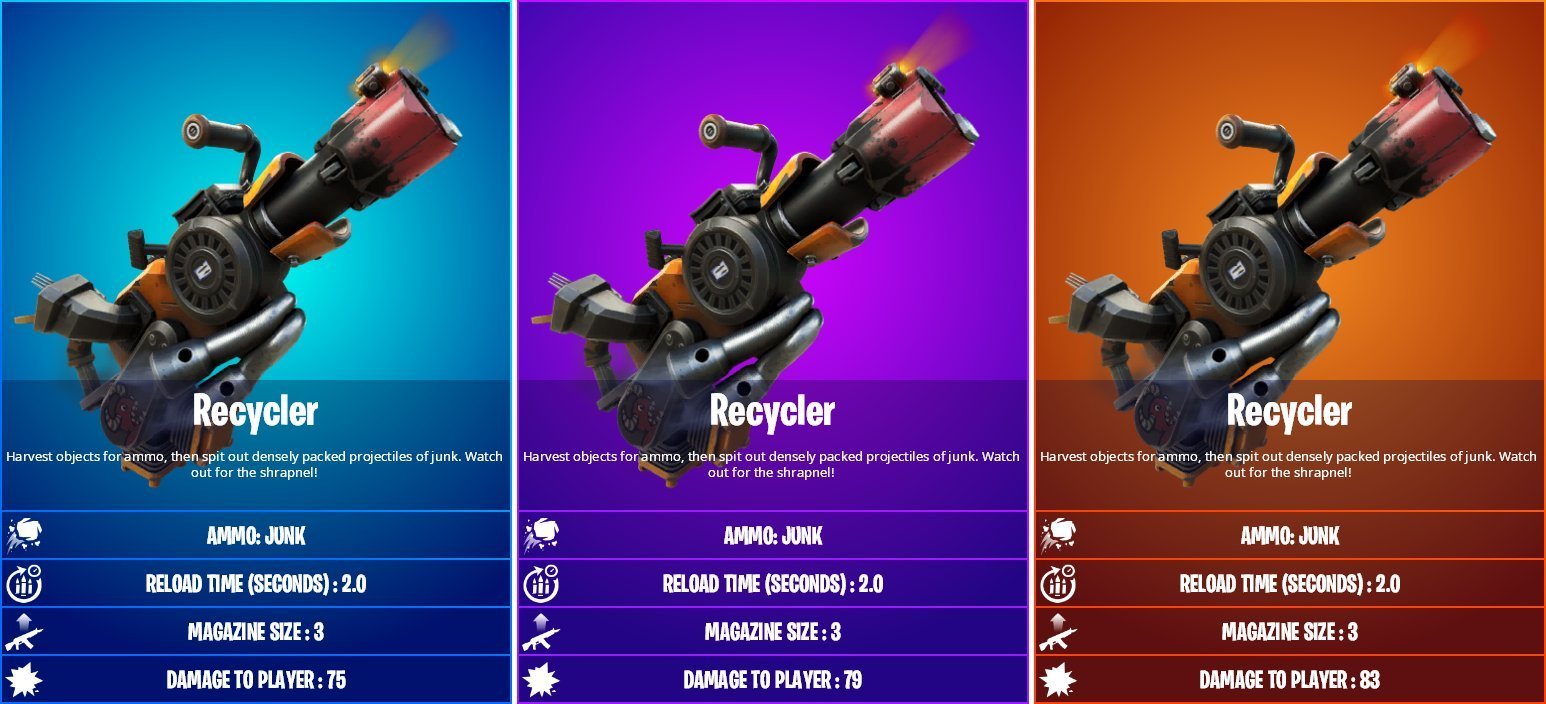 The good news is that you won't have to visit any specific NPCs or POIs on the Fortnite map to get your hands on this weapon. You won't have to spend any Gold Bars either since you can find the Recycler as floor loot and chests.
Rather than using regular ammunition, this weapon will suck up materials for you to fire at your opponents. The maximum magazine size is 3, but you can collect more materials from your surroundings at any time.
The Recycler spawns in Rare, Epic, and Legendary rarity. Each of these variants dishes out different amounts of damage:
Rare: 75 damage
Epic: 79 damage
Legendary: 83 damage
The Recycler functions similarly to the Grenade Launcher, minus the splash damage. This means that you'll have to land a direct hit at your enemy to hurt them, and this won't have any effect on the foes surrounding them.
For this reason, we don't currently see any reason to choose this weapon over other supplemental weapons or items. However, it's still fairly useful when you want to save up on ammo.
As Season 6 progresses, we expect Epic Games to add even more unique weapons to Fortnite, and we'll keep you updated on every new one that joins the game.
Image Credit: Epic Games/ Hypex