Fortnite teasing new Predator crossover at Stealthy Stronghold
Fortnite is known for its crossovers, and some new evidence is hinting at The Predator coming to the game in Season 5.
Fortnite Season 5 has a plethora of content from other franchises. We've seen the presence of The Mandalorian and God Of War in Season 5 alone. Now, there is evidence that The Predator may show up to give players a new challenge.
The fourth season of Fortnite ended its Marvel-centric run with the ultimate battle against Galactus. Now, Chapter 2 Season 5 has begun, and we see some new crossovers. The Mandalorian has headlined the season, and Kratos from God of War has landed on the island.
There are also rumors of other franchises coming into the game during Season 5. Recent leaks hinted at a Halo crossover, along with some Jurassic World content. Now we might see yet another franchise come into play within the world of Fortnite.
Some new leaks, along with in-game evidence, suggest that the alien hunter known as The Predator will be in Fortnite Season 5.
A tweet from T5G presents evidence that The Predator's arrival will be related to one of the newest additions to the map: Stealthy Stronghold. Exploring this location reveals 3 nods to the franchise. The first is a logo featuring the iconic creature aiming down its laser sight.
This location also has a truck resembling the one in the Predator movie. If you follow the trees along the river, you will also spot a crashed helicopter. This initially seemed like a Jurassic World reference, but it could very well be a nod to the 1987 Arnold Schwarzenegger classic.
Fortnite's official Twitter account released an audio transmission from Jones, and you can find another piece of evidence in there.
Ten seconds into the tape you can hear Jones' say the word "Predators," and then you hear a roar that sounds like the creature.
The final piece of evidence comes from a leaker, FortTory, who discovered files that hint at a secret boss hidden within Stealthy Strongholds. He thinks that this could be another reference to The Predator or maybe some other mysterious enemy.
These all appear to be strong signs of a potential Predator crossover, but keep in mind that none of this has been officially confirmed yet. Until we hear otherwise from Epic Games, these might not amount to anything.
If these rumors do prove true, and we see The Predator show up in Fortnite Season 5, it would be thrilling. Once we hear something official about this, we'll be sure to update you.
NICKMERCS claims Warzone's aim assist is stronger than Fortnite's
Streamer NICKMERCS has explained why he believes Warzone's aim assist is stronger than Fortnite's, but less reliable.
Top streamer Nick "NICKMERCS" Kolcheff is most known for playing battle royale games and has weighed in on the aim assist debate, saying Warzone's aim assist is stronger than Fortnite's.
Since crossplay became commonplace in online FPS games, predominantly battle royales, the power of aim assist has been debated. The joysticks of a controller don't provide the same level of precision as a mouse, so games balance it out by offering aim assist.
NICKMERCS has long been a top esports competitor using a controller. Having used a controller competitively since the Gears of War days, his aim has continued to pave the way for success in both competitive Fortnite and Warzone.
During a Fortnite stream with SypherPK, NICKMERCS discussed how aim assist differs between Warzone and Fortnite, with him believing that Warzone's is stronger.
"I think aim assist is stronger in Call of Duty," he said. "It used to be stronger on Fortnite but they made so many changes to aim assist on Fortnite over the years to the point that now, I believe it's stronger on Call of Duty. I play on both and aim assist on CoD is crazy."
However, NICKMERCS explained why although weaker, Fortnite's aim assist is more reliable.
"The issue with aim assist on Call of Duty though, that you don't really face on Fortnite, is that on Call of Duty, aim assist just goes away," Nick explained. "You'll be in the middle of a fight in the middle of nowhere and you'll just lose aim assist.
On [Fortnite], it's consistent the whole way through so you don't really got to worry about that, know what I mean? It's not just top Super, it's all these weird pockets of no aim assist. It's so odd."
NICKMERCS concluded by saying that he believes aim assist is "stronger on Call of Duty but it's also less consistent."
If you're a controller player on battle royale games, you can check out our best controller settings guides for Warzone, Black Ops Cold War, Fortnite, and Apex Legends.
Image Credit: SCUF / Activision / Epic Games
Fortnite players find crazy rotation exploit in Season 6
A new exploit has been discovered by Fortnite players, that allows them to rotate across the Island in Season 6.
A few Fortnite players have discovered a useful new exploit that they can use to fly across the battle royale's map in Chapter 2, Season 6.
Fortnite has seen its fair share of glitches and exploits over the years. Season 5 had a particularly troublesome one in the sand tunneling feature which was letting players become invisible. This led to it being disabled for the bulk of the season.
Things haven't changed much in Season 6, as players have discovered exploits that allow them to farm unlimited Gold Bars, as well as continuously regenerate their health. Now, a few fans have found a new way to rotate across the map.
Fortnite Door edit exploit
The exploit is fairly simple, as it involves combining certain items with a simple door edit. Fortnite players can then make use of this exploit to rotate to different points on the Island.
Here's how this is done:
Find a low-gravity item like a chicken, Hop Rock Dualies, or Easter Egg
Edit a door and then open it
Jump on top, and close the door to rotate across the map
The only catch is that you'll need to ensure that you're facing in the right direction when using this exploit. The door will send you flying away from the direction that it's facing, so make sure your position yourself accordingly.
Fortnite YouTuber SypherPK covered this exploit in a recent video, and he discovered a few details regarding it. One major factor is that it tends to work better with female characters than it does with males.
So far, it's uncertain whether Epic Games are planning to do something about this exploit, or if they even know it exists. We'll keep checking for updates, and will let you know about any new developments.
Image Credits: Epic Games
How to get the Recycler for Fortnite Season 6 Week 4 challenges
One of the new Fortnite Season 6 challenges requires you to deal damage with the new Recycler weapon, and here's how you can get it.
The Recycler is a brand new weapon that has been introduced in Fortnite Season 6, and here's how you can get your hands on it for the new weekly challenges.
There are brand-new weekly challenges available in Fortnite that you can complete to progress through the Season 6 Battle Pass. These will net you some serious XP so that you can unlock new cosmetics.
In the latest content update, Epic Games added a new weapon called the Recycler or Junk Gun to the battle royale. One of the Week 4 challenges requires you to dish out damage with this happens, so here's how you can obtain it.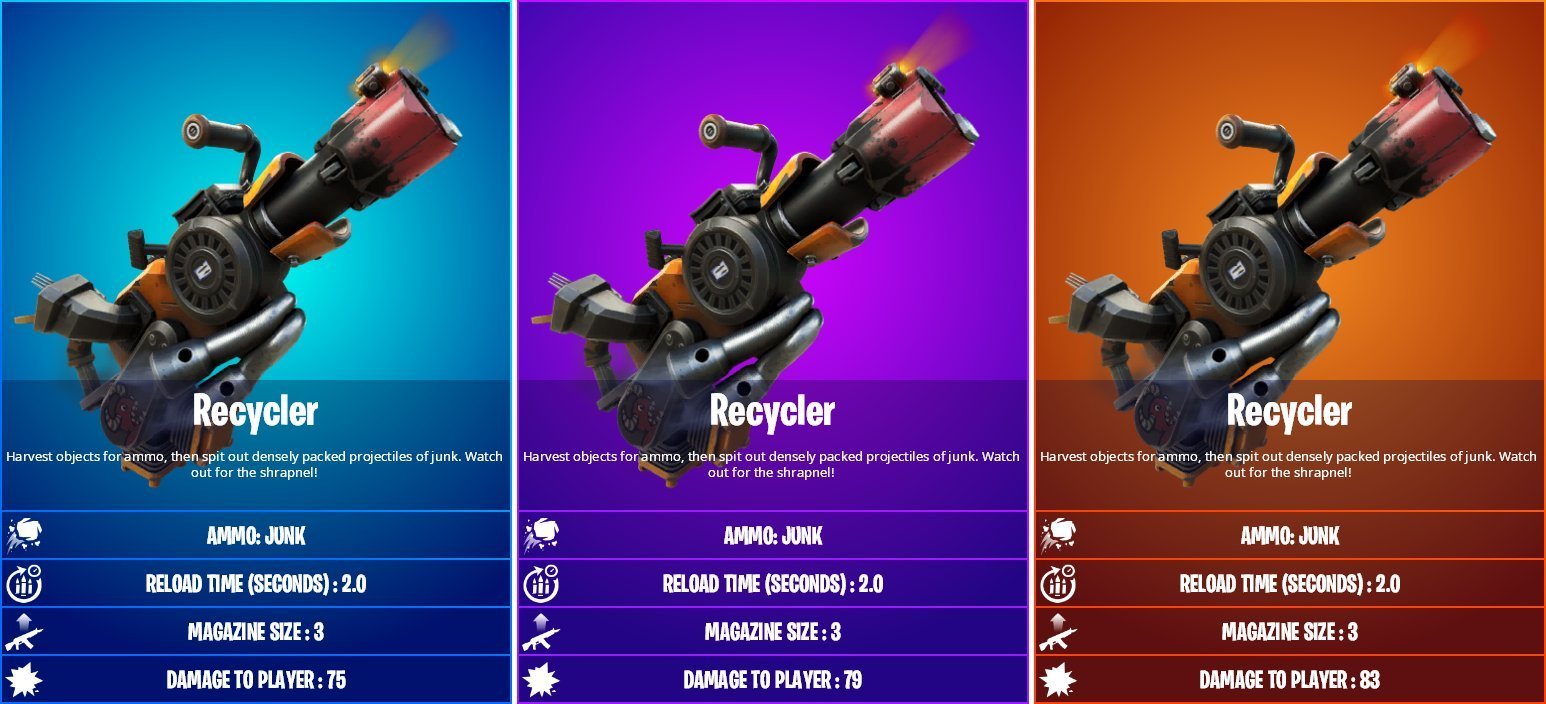 The good news is that you won't have to visit any specific NPCs or POIs on the Fortnite map to get your hands on this weapon. You won't have to spend any Gold Bars either since you can find the Recycler as floor loot and chests.
Rather than using regular ammunition, this weapon will suck up materials for you to fire at your opponents. The maximum magazine size is 3, but you can collect more materials from your surroundings at any time.
The Recycler spawns in Rare, Epic, and Legendary rarity. Each of these variants dishes out different amounts of damage:
Rare: 75 damage
Epic: 79 damage
Legendary: 83 damage
The Recycler functions similarly to the Grenade Launcher, minus the splash damage. This means that you'll have to land a direct hit at your enemy to hurt them, and this won't have any effect on the foes surrounding them.
For this reason, we don't currently see any reason to choose this weapon over other supplemental weapons or items. However, it's still fairly useful when you want to save up on ammo.
As Season 6 progresses, we expect Epic Games to add even more unique weapons to Fortnite, and we'll keep you updated on every new one that joins the game.
Image Credit: Epic Games/ Hypex