Fortnite: Where to plant evidence in Catty Corner or Flush Factory
Fortnite Season 5's week 2 challenges are live. Here 's how to plant evidence at Catty Corner or Flush Factory.
The Fortnite Season 5 week 2 challenges are here, and one has you planting evidence at Catty Corner or Flush Factory. This is one of the more difficult challenges, so we'll go over how you can complete it.
Fortnite Season 5 is in week 2, and there are several new weekly challenges available for you to tackle. This includes Epic challenges that you can complete at your own leisure, as well as a limited-time Legendary challenge.
One Epic challenge requires you to plant 3 pieces of evidence in either Catty Corner or Flush Factory. This follows another that had you destroy mailboxes. Your goal is now to frame someone else for the destruction of property by planting the smashed mailboxes at these locations.
You can finish this challenge at either of the two areas, but we'll stick with the easier one. Here's how you plant the evidence at Flush Factory.
Once you get to the front part of the location, make your way towards the open room on the very left. The first spot where you can place the evidence is inside that room. Once that's done, head back outside, and you'll spot a dumpster towards the right side of this area. Plant the second piece next to it.
After that, you should make your way to the back of Flush Factory, and you'll soon spot another dumpster next to a huge container. That's the final spot where you can plant the last piece of evidence.
This video from HarryNinetyFour will you show the exact locations of these spots.
Once all 3 pieces have been placed, you'll have completed the Epic challenge. Season 5's weekly challenges haven't been exactly what we expected, and this was surprisingly easy to complete. They've toned down the difficulty from what we saw in Season 4.
The challenges can be completed quickly, and you can finish multiple ones in the same session if you land in the right spot. The XP rewards are higher for these in Season 5, so be sure to attempt all of them if you want to level up fast.
Fortnite leaks reveal more Season 6 vehicle mods
Fortnite Season 6 saw the introduction of vehicle mods, with leaks suggesting some interesting future options for your vehicle.
New Fortnite leaks have been revealed speculating some upcoming vehicle mods to compliment the already well-received Chonkers off-road tires.
Fortnite Season 6 saw the introduction of the previously teased vehicle mods, with some leaks suggesting additional interesting options for you to customize your vehicle.
Fortnite's Update v16.20 saw the introduction of the first vehicle mod, the Chonkers-offroad tires, that helps traction and handling when players tackle off-road terrain. However, there could soon be some other interesting mods coming into the game soon.
Fortnite data miner, @Hypex, took to Twitter to reveal "2 more unreleased car mods categories." The categories will include Front Bumpers and Rear Bumpers.
One item in Front Bumpers is the "Scoop," which is most likely a feature that will allow players to destroy structures effortlessly and scoop enemies. The other mod found in the files is for the Rear Bumpers called the "Mega Booster," which is probably some kind of rocket-powered boost that will increase the velocity of the car.
Hypex also mentioned a mounted gun, which could also be a Rear Bumper mod that will see players hopping on the back of vehicles to gun opponents down.
The most interesting aspect of these leaks, however, is the mention of "interactable mod garages," which could potentially be some sort of station that players can mod their cars in. This does some fairly outlandish, especially considering that in the current version of Fortnite, players can find mods on the ground and simply attach them to vehicles.
However, a modding station may be useful for those who are unable to find this loot on the ground, or if players are just looking for a particular mod.
Either way, this all sounds exciting and could be implemented in the current season of Fortnite. If you were interested in this article, why not check out our guide on Fortnite Season 6 Week 5 challenges.
How to complete Fortnite Season 6 Week 5 challenges
Fortnite Season 6 has more weekly quests for you to complete, so here's the full list and how to complete them.
The latest batch of Fortnite weekly Quests are almost here, so here's everything you have to do to earn a ton of XP in Season 6 Week 5.
Fortnite offers players a series of weekly challenges to earn a ton of extra XP towards completing the Battle Pass. Previous challenges in Fortnite Season 6 have had you practicing the new crafting mechanics and testing your mettle in combat.
Week 5's, however, will have you try out the new vehicle mods introduced in the 16.20 update. Here's everything you need to do in Week 5 and some top tips on how to complete them.
Fortnite Season 6 Week 5 Quests
The challenges will release on April 15, but thanks to leakers in the community, we can see the challenges ahead of their release.
Here's the full list of Fortnite Season 6 Week 5 Quests:
Deal damage with SMGs (1000)
Search ammo boxes (5)
Use a campfire (1)
Modify vehicles with off-road tires (3)
Drive from Sweaty Sands to Colossal Crops without leaving the vehicle (1)
Maintain a speed of 65 or greater for 4 seconds in a vehicle (1)
Get 2 seconds of airtime in a vehicle (2)
These challenges are simple for the most part and can be completed by regularly play. We recommend completing these challenges in Team Rumble, as the competition is less fierce and you'll have more opportunities to complete them.
To equip the off-road tires, you can follow our guide on how to mod vehicles in Season 6. Once you've equipped the tires, you can complete the other vehicle-based challenge like driving from Sweaty Sands to Colossal Crops without leaving the vehicle. Getting two seconds of air time may be difficult, but you can always build yourself a ramp.
There is also a Legendary quest to complete for extra XP where you'll need to find 5,000 Gold Bars. You'll get XP for every 1000 found, so this challenge is well worth completing. You won't be able to complete this in Team Rumble alone, but you can follow our guide on how to earn Gold Bars in Fortnite.
That's everything for Week 4! Make sure to get as much Gold as you can and spend some time in vehicles and you'll have them completing before next week's release.
Image Credit: Epic Games
How to mod vehicles in Fortnite Season 6: Locations & guide
Vehicle mods have finally arrived in Fortnite Season 6 as part of the 16.20 update, and here's how you can use them.
Epic Games have finally brought vehicle modifications to Fortnite in Chapter 2 Season 6 so that you can upgrade cars with different add-ons, and here's everything you need to know about this.
Fortnite Chapter 2, Season 6 has quickly won over fans with its various new additions, including weapon crafting, tamable wild animals, and a whole new set of quests in the new Battle Pass. Now, Epic Games have added another neat feature.
Modified vehicles had been teased by leakers a while back, and a few fans noticed their presence in trailers for the new season. Now, the v16.20 update, has finally brought vehicle mods to the battle royale.
What do Fortnite Chonkers tires do?
The first vehicle mods to be released in Fortnite are new tires known as Chonkers, and these let you ride up steep surfaces such as hills. They also provide you with a better grip and bouncy suspension when driving off-road.
Additionally, once you've found a pile of these tires, you can use them for cover during combat situations where enemies have surrounded you. This makes them worth chasing after the next time you acquire a vehicle.
Where to find Chonkers in Fortnite
These modifications can be found within some new structures that have appeared at various garages around The Island. You'll be able to acquire at least one of these tires by visiting any of the various gas stations.
Luckily, these are spread out all over the map, and once you visit them, you can find Chonkers either lying on the floor or among stacks of tires. You take a look at their locations below: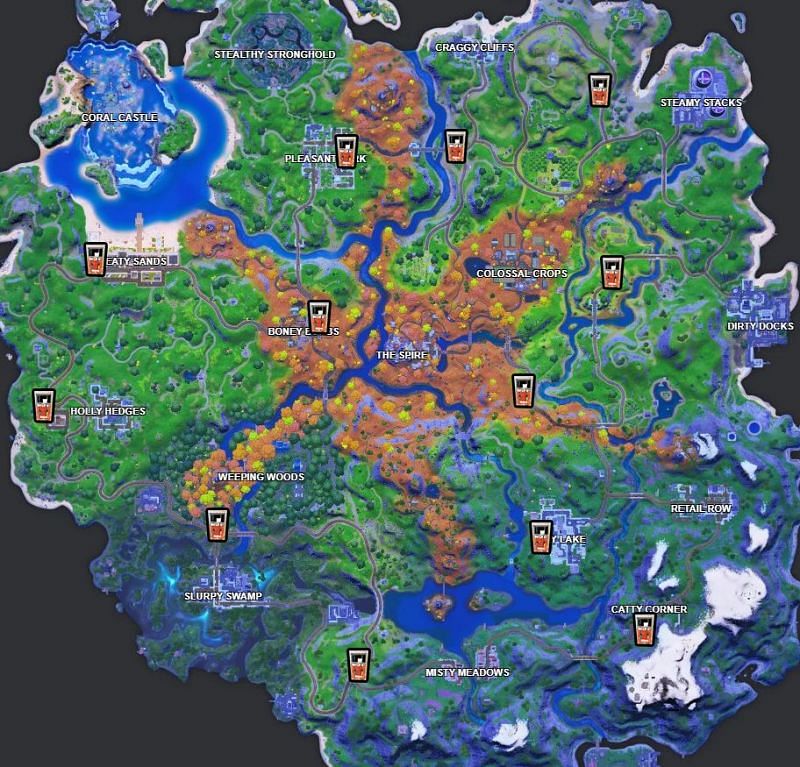 How to use Chonkers tires in Fortnite
Now that you know where to find the Chonkers tires in Fortnite, you'll just need to know how to use them. Luckily they're fairly easy to put together if you know where they are, and all you need is a vehicle to modify.
Once you've acquired a car, here's what you need to do:
Visit the garage at Catty Corner, and enter the building where Sparkplug spawns
Find the Chonkers tires lying on the ground and pick them up.
Hold aim and throw the Chonkers tires directly at your car.
That's all there is to it! Now, you'll be able to enjoy traveling off-road and up steep surfaces such as hills with relative ease. These new tires have different behavior on dirt, grass, or the road, which makes them difficult for enemies to pop.
Epic Games will also add more vehicle mods in Fortnite Season 6 soon, and those will have different effects on your vehicles. A few leakers have previously hinted at the future arrival of Mounted Guns in the game at some point.
We'll keep checking for the locations of more garages that contain vehicle mods, and will update this guide as soon as we find them.
In the meanwhile, the v16.20 update has also brought new bows, and a Duos cup that you can participate in to unlock Aloy from Horizon Zero Dawn for completely free!
Image Credits: Epic Games / Fortnite.GG