GTA Trilogy: Definitive Edition gameplay trailer shows off major graphics improvement
The GTA Trilogy: Definitive Edition has officially been revealed with a gameplay trailer that shows off some great graphical improvements.
For those GTA lovers, the new gameplay of the remastered Definitive Edition has been revealed by Rockstar, showing off some impressive graphical improvements compared to the original games.
For those who have been living under a rock the last few weeks, the GTA Trilogy: Definitive Edition is officially happening, bringing back three classics: GTA III, Vice City, and San Andreas.
Rockstar has now released a brand new gameplay trailer just to show off how much better the remastered version is set to look compared to the original games that were released over a decade ago.
GTA V is still going strong in 2021, but for those who are getting slightly bored of the Online and want to dive into one of Rockstar's great story mode games, the GTA Trilogy might just be what you're looking for.
The new gameplay trailer showed footage of all three of the GTA games being remastered. The games are officially releasing on November 11, which isn't too far off now, so it's about time we saw some gameplay, and fans won't be disappointed.
The trailer is one minute, and in true Rockstar fashion, it adds hype to the release. As well as showing off the key characters from each of the games, it also shows some iconic scenes and side characters that those who played the originals will no doubt recognize.
GTA Trilogy graphical improvements
From sunny Vice City and San Andreas to the urban environment of Liberty City, each of these games is looking great in their remastered state.
It seems the developers have not just worked on general graphics, but also atmosphere and weather, as one clip in the trailer shows Claude driving in the rain.
Further, in a scene from San Andreas, CJ is talking to the Grove Street boys, and you can see the improvement in graphics through small details such as shadows and more prominent colors.
As many will know, the GTA Trilogy will be released on all platforms: PS4, PS5, Xbox One, Xbox Series X/S, Nintendo Switch, and PC.
Although the graphics aren't exactly next-gen, it is great to see these original characters take on a more detailed and fresh look while also retaining their original style and aesthetic.
For more on the GTA Trilogy, stay tuned on Charlie INTEL where we will be covering it all.
Image Credits: Rockstar Games
GTA Online Prize Ride December 2 vehicle: How to get Vectre for free
Thanks to the GTA Online Los Santos Tuners update, players can earn a weekly Prize Ride vehicle, and here's how to get one, and what it is.
The Los Santos Tuners update introduced the LS Car Meet, and this week players can get the Vectre free as the GTA Online Prize Ride December 2 vehicle.
The Los Santos Tuners update is certainly up there with the Cayo Perico update in terms of an important content drop for GTA Online. Many players love to earn lots of money, buy amazing, fast cars, mod them how they see fit, and parade them around the city.
As well as adding new cars and collectibles, the new update has also welcomed a fun new challenge for players to complete. GTA Online's Vectre Prize Ride can be obtained by meeting a certain requirement, and we'll detail everything below.
How to unlock GTA Online's free Vectre Los Santos Tuners Prize Ride
To get the Vectre, you'll need to place in the Top 5 across 12 different Pursuit and/or Street Races to complete the Prize Ride challenge.
Each week, players can unlock a new vehicle for free as part of the Los Santos Tuners update at the LS Car Meet. From December 2, players will be able to get their hands on this awesome car, but only until December 13.
That's the simple condition you will need to meet to win the car for yourself. Given that it normally costs $1,785,000, it's definitely worth trying to get!
Here's Rockstar's official description of the Vectre:
"Too extra for the classics? More over-the-top than underground? Forget trying to find that scrapyard bucket and make the only first impression that counts in the Emperor Vectre. Like a supermodel with a mean 100m sprint, this is the kind of narcissism that'll ride you till you're raw and leave you with nothing but gratitude."
With GTA 6 rumored to be in development hell, the GTA Trilogy: Definitive Edition out and not doing well, and the GTA V Enhanced and Expanded Remaster nearly here, the franchise has a lot on its plate.
---
Also, check out the complete list of cars in the GTA Online Los Santos Tuners update, and stay tuned for the December 13 Prize Ride vehicle when it releases!
Image Credit: Rockstar Games / GTA Wiki
GTA Online YouTuber claims that Rockstar "ignores" cheaters
Rockstar's Live Chat helpfulness has been called into question as one GTA Online YouTuber received an eye-opening response about a cheater.
GTA Online players were shocked by the response from Rockstar's Live support team as a question regarding a cheater was met with a puzzling answer.
Cheating seems to be rife in lots of games these days as hackers can infiltrate servers and manipulate them to their liking. Warzone has had a very public battle with hackers, leading to the inception of the RICOCHET anti-cheat system.
Other games have been subjected to cheaters and hackers, and GTA Online is another victim. Despite GTA 5 having been out for over eight years, it's still vulnerable to hacking. A popular GTA YouTuber recently questioned Rockstar's Live Chat team about a hacker they had encountered and were shocked by the response.
TGG is a YouTuber that regularly makes GTA Online content and has nearly 1 million subscribers. He enjoys the game, but his recent experience with the devs' support team left him shocked.
"Just did one of those Live Chats with Rockstar Support about cheaters. Guys the solution to stopping GTA Online cheaters is…(drumroll please) "Have you tried finding a new lobby?" I AM NOT KIDDING! THEY ACTUALLY SAID THAT."
Now, people will argue that there's not too much else they can do if there is no adequate system in place for hackers. However, for a game that is coming up to a decade old, it seems players are tired of Rockstar's inability to communicate properly with their players.
TGG posted a full YouTube video to his Twitter page that showed the exchange. The support employee recommended that TGG should report cheaters and that they "will be looking into it." It feels like a very typical response that is probably said to most players suffering from this problem, and it only got worse.
The support team member then told TGG to "try changing session and see if the issue persists." TGG laughed this off and understood that there just isn't much the chat helper can do, and it's more an issue higher up in Rockstar Games.
He said: "When people who have paid $60 for your game and continue to pay money through Shark Cards [GTA Online's microtransaction currency] and support this game long-term, and you just completely ignore them when they're having issues, especially with a common issue like cheating, that in 2021 should be somewhat easy to fix, when issues like that you're just completely silent about, it just make everyone in the community feel absolutely worthless."
TGG goes on to say that he, and the rest of the community, love GTA Online, and he just wants the devs to talk more so that everyone can make it the best game it can be.
With GTA 5 Enhanced and Expanded due in 2022, Rockstar might finally feel it's time to address this serious matter.
Image Credit: Rockstar Games
GTA Online December 2 update patch notes: Squaddie Podium Vehicle, 3x GTA$ & RP, discounts
The December 2 GTA Online update patch notes feature the Squaddie SUV on the Podium, 3x GTA$ & RP, and huge discounts.
The December 2 GTA Online update patch notes put the Squaddie on the Podium, and offer players more GTA$ and RP, as well as plenty of discount opportunities.
As we move through 2021, GTA Online's holiday season theme will be here very soon and it'll be time for the GTA Online Festive Surprise update.
The series as a whole is in an interesting place right now as the PS5 and Xbox Series X|S re-release is due in early 2022, GTA 6 is apparently stuck in development hell, and the GTA Trilogy has had a tough time with players lamenting countless glitches that have made the game the lowest-rated Metacritic title ever.
However, one element of the franchise that remains steadfast is GTA Online as Rockstar keeps pumping it full of changes and content to maintain its status as an absolute moneymaking success for the Grand Theft Auto franchise.
GTA Online December 2 patch notes
Squaddie Diamond Casino Lucky Wheel Reward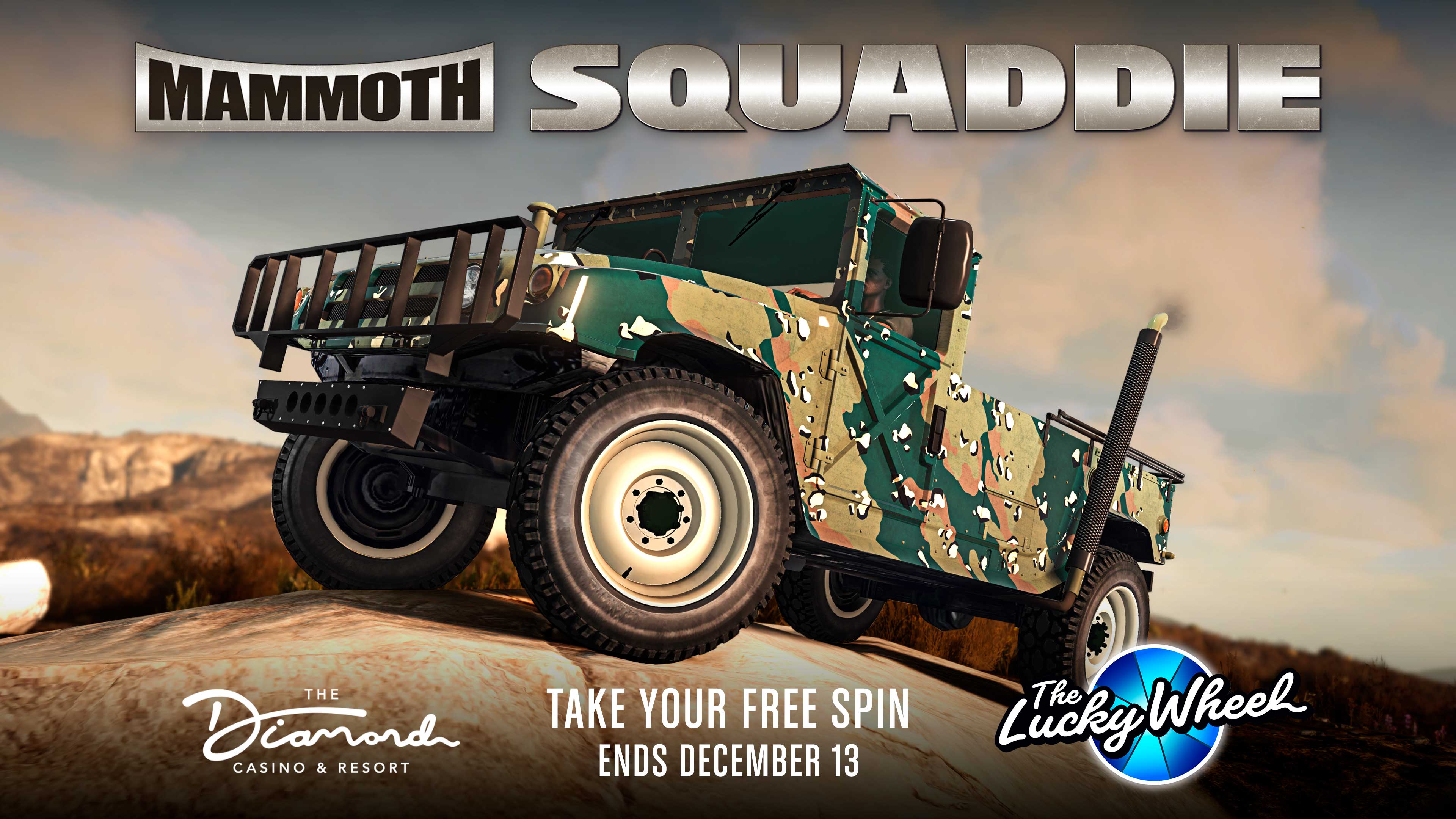 The grand prize at the Diamond Casino Lucky Wheel this week is the Squaddie, a military SUV that was cut from GTA 5 but arrived with the Cayo Perico Heist.
Rockstar is giving players the chance to get the keys the $1,130,000 Squaddie SUV for absolutely nothing.
Here's the official description of the Squaddie:
"Long gone are the days of playing army men with other kids. Now you play army men with grownups. And what's more grownup than giving each other a high and tight before piling into an armored truck, stripping to the waist and making revving noises? It's just like the old days, but your mom's not there to make you snacks."
3x, 2x, and 50% extra GTA$ & RP
Special promotions and extra earning opportunities are here once more as players can get a nice helping of 3x GTA$ and RP on Bunker, Diamond, and Missile Base Adversary Modes.
Players can also get 2x GTA$ and RP on Mobile Operations Missions and Top Fun Versus, plus 50% more GTA$ and RP on Bunker Sell missions.
There's also a 2x Reputation Bonus on Street Races, Pursuit Races, and Sprints.
GTA Online login rewards & free goodies
Players can earn a Manor PRBG Tee for free for logging in this week.
Rockstar described it as "perfect for showing that you're up on the latest trends without having to say anything of substance. That's what fashion is all about."
Vehicle & property discounts
The Bunkers and Mobile Operations Centers are the focus of this week's major discounts with 40% off of them and any other upgrades and renovations.
If that's not enough, there's also a 40% discount on LS Tuners Racing Racing Suits, as well as the usual vehicle discounts, meaning you can pick up some of GTA Online's best automobiles at seriously low prices.
Here are all the latest vehicle discounts in GTA Online:
35% off

Jugular ($796,250)
Penumbra FF ($897,000)
Tempesta ($863,850)

30% off
That's your lot for this week's December 2 update, which will last until December 13 – so check back then for all of the latest bonuses and discounts.
---
Also, check out our ranking of the GTA games from worst to best, and the full chronology of the GTA franchise.
Image Credit: Rockstar Games