How to earn free Fortnite cosmetics with 'Reboot a Friend' promo
Fortnite Season 5 has a new promo in which you earn rewards for playing with friends who haven't logged in for a while.
Epic Games brought many impressive new additions to Fortnite Season 5. Now they've announced a new program that lets you earn free cosmetics by inviting some of your friends back in the game.
Fortnite Chapter 2, Season 5 has been out for a couple of weeks, and it brought various new weekly challenges, cosmetics, as well as Quests. There have also been numerous crossovers with The Mandalorian, Halo, God Of War, and The Walking Dead. There still a plethora of content that's yet to be revealed.
Needless to say, this is an ideal time to jump into the Battle Royale and to have your friends join you. Epic Games has come out with a new promo to incentivize you to play with your friends. Starting December 14, the Reboot a Friend Beta will go live.
The promo gives you a chance to win brand new cosmetics for playing Fortnite Season 5 with friends that haven't logged in for some time. Here's how you can participate in this program.
How to participate in the Reboot a Friend beta
To take part in this program, you need to visit the Reboot a Friend website. From there, log in with your Epic account and invite friends who have not played Fortnite for a while. The friend you pick will be the one you play with.
You can only select friends who haven't played for 30 days. They will then become the Lapsed Players and be your partners in the different matches you jump into. You can check the site to see if you have any friends ready to be rebooted.
At the moment, you can only choose one "rebooted" friend to play with. Right now, the program is still in its beta stage, so this might change. Pick whomever you'd like, and then both of you will unlock rewards after playing together.
What prizes you win is dependent on the number of games you two play together. You are only eligible for these winnings if you play matches with the Lapsed Player. Here are the different tiers of rewards available:
Level 1: Play one game to receive a "Reboot" in-game emoticon.
Level 2: Play five games to receive a "Key Change" in-game lobby track.
Level 3: Play ten games to receive a "Twin Talons" in-game pickaxe.
Level 4: Play twenty games to receive a "Holofoil" in-game wrap.
If you and your friends unlock these awesome cosmetics, they will be issued to your account within 7 days. You will both get the same rewards for playing together.
This is a great way to encourage players to get back into Fortnite for the new season if they haven't already. Having your buddies around to help with Quests and Bounties can make things much easier for you.
The promo is still in its beta stage as Epic Games are still testing things out. This means that the program will go through some changes in the near future. You can use the Reboot a Friend Beta from December 14, 2020, at 3 am ET through January 4, 2021, at 3 am ET.
How to mod vehicles in Fortnite Season 6: Locations & guide
Vehicle mods have finally arrived in Fortnite Season 6 as part of the 16.20 update, and here's how you can use them.
Epic Games have finally brought vehicle modifications to Fortnite in Chapter 2 Season 6 so that you can upgrade cars with different add-ons, and here's everything you need to know about this.
Fortnite Chapter 2, Season 6 has quickly won over fans with its various new additions, including weapon crafting, tamable wild animals, and a whole new set of quests in the new Battle Pass. Now, Epic Games have added another neat feature.
Modified vehicles had been teased by leakers a while back, and a few fans noticed their presence in trailers for the new season. Now, the v16.20 update, has finally brought vehicle mods to the battle royale.
What do Fortnite Chonkers tires do?
The first vehicle mods to be released in Fortnite are new tires known as Chonkers, and these let you ride up steep surfaces such as hills. They also provide you with a better grip and bouncy suspension when driving off-road.
Additionally, once you've found a pile of these tires, you can use them for cover during combat situations where enemies have surrounded you. This makes them worth chasing after the next time you acquire a vehicle.
Where to find Chonkers in Fortnite
These modifications can be found within some new structures that have appeared at various garages around The Island. You'll be able to acquire at least one of these tires by visiting any of the various gas stations.
Luckily, these are spread out all over the map, and once you visit them, you can find Chonkers either lying on the floor or among stacks of tires. You take a look at their locations below: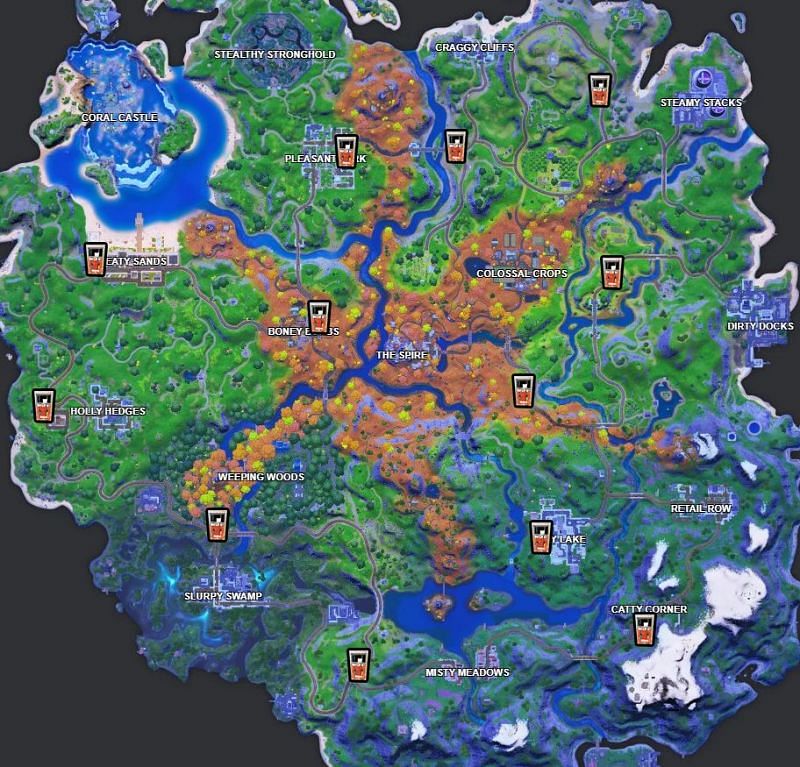 How to use Chonkers tires in Fortnite
Now that you know where to find the Chonkers tires in Fortnite, you'll just need to know how to use them. Luckily they're fairly easy to put together if you know where they are, and all you need is a vehicle to modify.
Once you've acquired a car, here's what you need to do:
Visit the garage at Catty Corner, and enter the building where Sparkplug spawns
Find the Chonkers tires lying on the ground and pick them up.
Hold aim and throw the Chonkers tires directly at your car.
That's all there is to it! Now, you'll be able to enjoy traveling off-road and up steep surfaces such as hills with relative ease. These new tires have different behavior on dirt, grass, or the road, which makes them difficult for enemies to pop.
Epic Games will also add more vehicle mods in Fortnite Season 6 soon, and those will have different effects on your vehicles. A few leakers have previously hinted at the future arrival of Mounted Guns in the game at some point.
We'll keep checking for the locations of more garages that contain vehicle mods, and will update this guide as soon as we find them.
In the meanwhile, the v16.20 update has also brought new bows, and a Duos cup that you can participate in to unlock Aloy from Horizon Zero Dawn for completely free!
Image Credits: Epic Games / Fortnite.GG
How to unlock Horizon Zero Dawn Aloy skin in Fortnite
Aloy from Horizon Zero Dawn will be coming to Fortnite Season 6 as a new skin, and here's how you can get your hands on it.
Some new Fortnite leaks have revealed that Chapter 2, Season 6 will feature a Horizon Zero Dawn crossover in the form of an LTM, and the protagonist Aloy will be coming as a new skin.
Epic Games love surprising Fortnite fans by introducing crossover content to the battle royale. Season 5 brought in skins from Street Fighter, Terminator, and God of War among others. Now, the devs have some more planned for Season 6.
The Battle Pass already features Tomb Raider's Lara Croft and Rebirth Raven from the Teen Titans. Now, Aloy from Horizon Zero Dawn will be making her way to the battle royale's Item Shop as a new skin, and here's how you can unlock her.
Notable Fortnite data miner HYPEX stated that Aloy's skin will become available in-game from April 15, and Epic Games will also add a Horizon Zero Dawn-themed LTM to the battle royale.
You'll be able to get the entire Horizon Zero Dawn Bundle entirely for free by participating in the PS4 and PS5 exclusive Aloy Cup that's scheduled for April 14, 2021. The bundle will be awarded to the top-performing teams a day before it arrives in the Item Shop.
Bonus points will be given for eliminations with a bow, which is Aloy's signature weapon in Horizon Zero Dawn. Adding Aloy to Fortnite makes perfect sense as the new season is titled "Primal" and Horizon Forbidden West will release later this year.
You'll be able to compete in 10 Duos matches over three hours to score as many eliminations as you can. If you want to participate, then you can find out the time for your region by checking the Compete tab in the game.
There will also be a new LTM titled "Lead Alloy" which will reportedly include a team-up between Aloy and Lara Croft. This will grant you the opportunity to upgrade all weapons to Legendary rarity.
We'll keep checking for any more details about Fortnite's Horizon Zero Dawn crossover, and will update you as soon as we learn something new.
Image Credits: Epic Games / Sony Interactive Entertainment
Fortnite 16.20 Update patch notes: Vehicle tires & two new Bows
Fortnite's v16.20 update is here, introducing new vehicle tires, the Splinter & Grappler Bow, and lots of bug fixes.
The latest patch for Epic Games' blockbuster battle royale Fortnite is here, with the v16.20 patch rolling out on Tuesday, April 13 on PC, Xbox, PS5, and Nintendo Switch.
The third major update of Fortnite Season 6 introduces new vehicle mods that allow players to customize and build their ideal machinery, while a new Duos Cup and an update to Creative matchmaking is also on the way.
On top of that, Epic have been hard at work squashing bugs and fixing glitches to improve quality of life for players as they search for Victory Royales. Here's everything you need to know about Fortnite's 16.20 update, along with full patch notes.
Fortnite v16.20 Update patch notes
Vehicle mods
Vehicle mods have long been rumored for Fortnite, and finally they have arrived courtesy of the April 13 update. Epic teased their arrival by tweeting: "Trick out your ride with new wheels," hinting at the fact that players can now equip new items that have different uses depending on terrain.
These new tires have different behavior depending on whether they are being driven on dirt, grass, or the road, and are difficult for enemies to pop.
New Bows & Duos Cup
On top of vehicle mods, there are also two new Bows for players to use, with the Grappler and Splinter Bow introduced in the 16.30 update.
The Splinter Bow will deal 100 damage to players, making it a useful tool to have in your inventory, while the Grappler Bow will let users zipline across the map.
The introduction of the two new bows will also lead to a "special Duos Cup," with the bows acting as the weapon of choice.
On top of that, Creative Mode is about to get a whole lot bigger, with 50 player matchmaking now enabled.
Bug Fixes
As always, Epic have been working hard to fix the bugs and glitches that have been affecting the game over the past few weeks. Unfortunately, the devs don't release a full list of everything they've addressed, but thanks to their official Trello page, we can see what they've been working on.
Battle Royale
Cannot create system-level parties between PS5 and PS4 when playing Fortnite.
Code Green Wrap not appearing correctly.
Arena playlist issues.
Storm visibility is clear when using Performance Mode.
Collection Book Character #17 not appearing on the Island.
Slurpshrooms and Coconuts temporarily disabled.
Creative
Start with 'Pickaxe' Creator setting still spawning with a Pickaxe.
Vehicles not moving properly in Creative.
Mobile
Cosmetics in Lobby appearing blurry on Nintendo Switch.
3D resolution reset itself even if the player saved the settings.
Image Credits: Epic Games