How to get the Recycler for Fortnite Season 6 Week 4 challenges
One of the new Fortnite Season 6 challenges requires you to deal damage with the new Recycler weapon, and here's how you can get it.
The Recycler is a brand new weapon that has been introduced in Fortnite Season 6, and here's how you can get your hands on it for the new weekly challenges.
There are brand-new weekly challenges available in Fortnite that you can complete to progress through the Season 6 Battle Pass. These will net you some serious XP so that you can unlock new cosmetics.
In the latest content update, Epic Games added a new weapon called the Recycler or Junk Gun to the battle royale. One of the Week 4 challenges requires you to dish out damage with this happens, so here's how you can obtain it.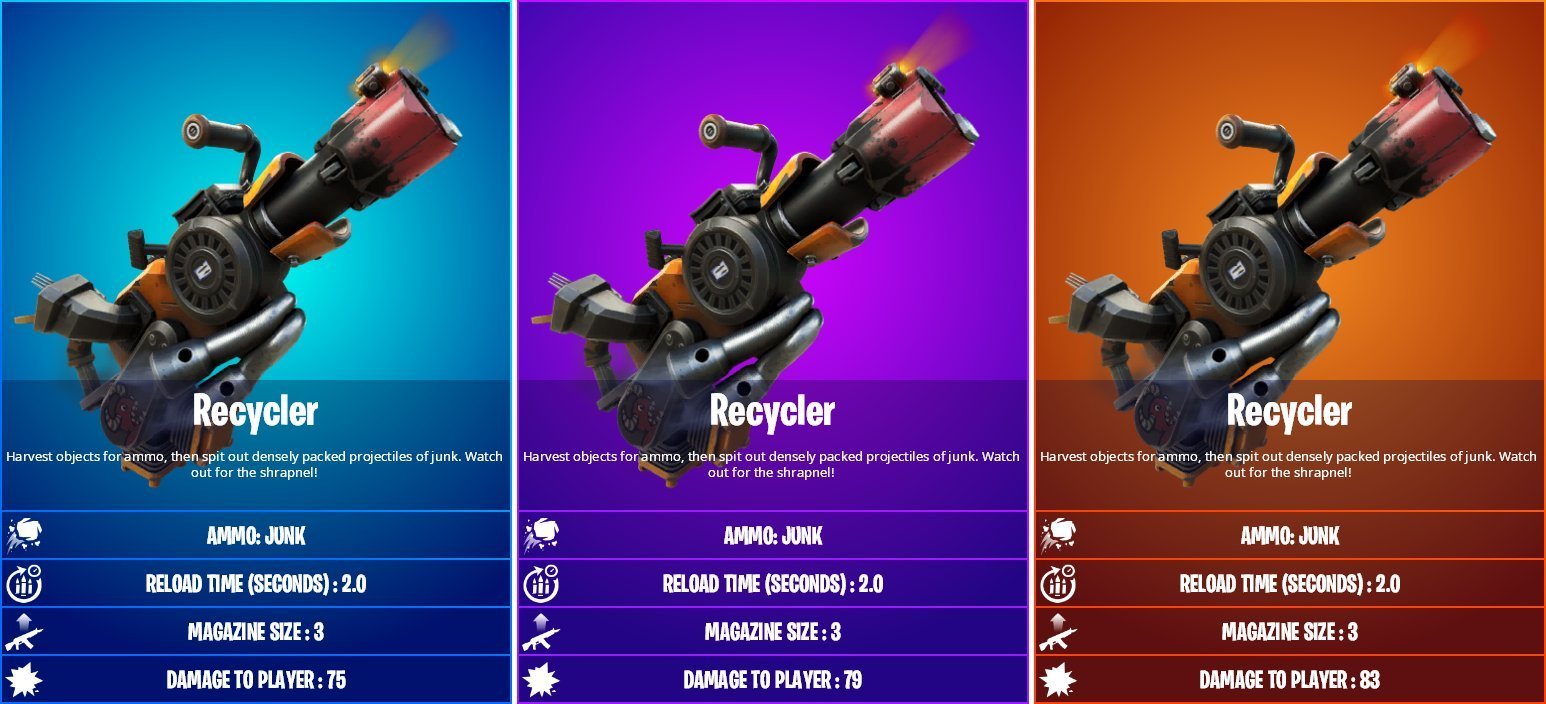 The good news is that you won't have to visit any specific NPCs or POIs on the Fortnite map to get your hands on this weapon. You won't have to spend any Gold Bars either since you can find the Recycler as floor loot and chests.
Rather than using regular ammunition, this weapon will suck up materials for you to fire at your opponents. The maximum magazine size is 3, but you can collect more materials from your surroundings at any time.
The Recycler spawns in Rare, Epic, and Legendary rarity. Each of these variants dishes out different amounts of damage:
Rare: 75 damage
Epic: 79 damage
Legendary: 83 damage
The Recycler functions similarly to the Grenade Launcher, minus the splash damage. This means that you'll have to land a direct hit at your enemy to hurt them, and this won't have any effect on the foes surrounding them.
For this reason, we don't currently see any reason to choose this weapon over other supplemental weapons or items. However, it's still fairly useful when you want to save up on ammo.
As Season 6 progresses, we expect Epic Games to add even more unique weapons to Fortnite, and we'll keep you updated on every new one that joins the game.
Image Credit: Epic Games/ Hypex
How to Get Fortnite Batman Zero Point Comic and Rebirth Harley Quinn Skin
The first issue of the Fortnite Batman Zero Point comic is now available, and it includes a way for players to get the Rebirth Harley Quinn skin.
Fans of both Fortnite and DC are sure to be very excited about the official release of the new Batman Zero Point Comic and Rebirth Harley Quinn skin that will allow them to experience one of the newest adventures for the popular characters.
The past couple of seasons of Fortnite has seen Epic Games collaborate with heavyweight comic book entities Marvel and DC to bring all of their fan-favorite characters into the popular video game.
You will probably have a hard time playing a match without seeing the likes of Iron Man or the Flash battling it out.
Now, a brand new collaboration between Epic Games and DC is taking place with the official release of the Batman Zero Point comic that throws the caped crusader into the universe of the battle royale title and its mysterious anomaly.
Players will also have the chance to play as the new Rebirth Harley Quinn skin that is inspired by this new adventure.
How to Get Fortnite Batman Zero Point Comic
Interested individuals will be able to grab a copy at their favorite comic-book stores or online by visiting DC Universe Infinite beginning on April 20, 2021.
Issue #1 will be available in North America, Germany, Italy, Mexico, Brazil, Spain, and the Czech Republic.
Epic Games also stated plans to release the full series in Japan, Korea, and France in the Fall.
This story will be a six-part series with the following issues: May 4, May 18, June 1, June 15, and July 6.
How to Get Rebirth Harley Quinn Skin
Each print issue will contain a code for various items that players can use in-game, with the first one being the newest outfit for DC's mistress of mayhem.
This outfit will be available in the item shop in June 2021, so players who cannot get a print copy will still have the opportunity to add this outfit to their locker.
It remains to be seen what will unfold from this newest narrative. Still, it is sure to bring plenty of fun and excitement to the community in what is shaping up to be one of the biggest collaborations the battle royale game has undertaken, just like the one with the Tomb Raider Lara Croft.
For more on the popular battle royale, check out this genius trick for off-road tires and stay tuned to Charlie Intel for future news and guides.
Image Credits: Epic Games
How to find Lara Croft Grappler Bow Location in Fortnite
Check out the location of Lara Croft in Fortnite and how to attain her powerful Grappler Bow that will have you flying around the map.
Season 6 of Fortnite continued the trend of past seasons, with characters from popular video game franchises becoming characters in the high-profile battle royale title. One of these characters is Lara Croft, whose location can be found on the Fortnite map.
Lara Croft is currently one of the non-playable characters that players can find wandering around specific parts of the map with quests players can accept and complete to earn items. One of the biggest perks of finding her location is the ability to get her Grappler Bow for use in your battles.
This previously leaked exotic weapon has been on the minds of the community for some time, so there is no doubt that plenty of players will be making their way to this well-known character to get their hands on this powerful item.
Fortnite Lara Croft Grappler Bow Location
Players who are looking to acquire this exotic weapon will need to head to Stealthy Stronghold. This is where you will find the area where you can purchase this exotic item.
All that you need to do to add it to your inventory is walk and speak with the character who will require you to spend a total of 500 Gold Bars that can be collected through various ways.
Fans of the grapple hook item available in the past will undoubtedly enjoy this new exotic weapon, as it allows you to shoot and fling yourself in the air to make traversal that much faster for you when playing. It will also be a valuable tool for players to use when it comes to gaining the high ground on their enemies, which is always an important tactic when it comes to battles in Fortnite.
Now that you know where the Lara Croft Grappler Bow location is be sure to check out how you can complete all of the Season 6 Week 6 challenges that are now available for the community to tackle. There have also been other exotic weapons leaked for this season, so be sure to stay tuned to Charlie Intel to know when and where you will be able to find them.
Image Credits: Epic Games
How to complete Fortnite Season 6 Week 6 challenges
Fortnite Season 6 has more weekly challenges for you to complete, so here's how you can get them done quickly.
The latest batch of Fortnite weekly Quests will be arriving soon, so here's everything you have to do to earn a ton of XP in Season 6 Week 6.
Fortnite players have the opportunity to earn some extra XP by completing a series of weekly challenges in the Battle Pass. While Week 5's challenges focused on new features like modding vehicles, things are different in Week 6.
The new challenges mainly revolve around a variety of different tasks like completing bounties, visiting different POIs on the map, and dishing out high amounts of damage with makeshift weapons.
Here's how you can get these done.
Fortnite Season 6 Week 6 Quests
Thanks to the efforts of some Fortnite leakers, we can see what the Week 6 challenges will be before they go live on Thursday, April 22 at 9am EST/ 2pm BST.
Here's the full list of Fortnite Season 6 Week 6 Quests:
Open safes (3)
Complete bounties (3)
Reach max shields in different matches (3)
Stay within 20m of a player for 3 seconds while wearing a prop disguise (3)
Hit from 50m or greater with a bow (1)
Complete the swimming time trial at Weeping Woods or Coral Castle (1)
Visit Fancy View, Rainbow Rentals, and Lockie's Lighthouse (1)
Turning into a prop is a new addition in Season 6, and you can do it by visiting NPCs that sell this ability. Luckily, you can find many of these around the map, but we recommend heading to Crustina since she has the least amount of player traffic around her.
You can find her in the Pizza Pit just north of Colossal Crops. She's the giant tomato standing behind the counter. Interact with her, and spend 75 Gold Bars to get the ability. If you don't have that amount yet then there are various ways to earn it.
You can reach max shields by finding and consuming shield potions in a single match. Then all you need to do is repeat that process during two other matches to complete this Epic Quest.
Fortnite's v16.20 update brought two new bows to the battle royale, and you can use the Splinter Bow to hit your foe from a distance of 50m or more. This weapon will deal 100 damage to targets, making it a useful tool to have in your inventory
We'll make a separate guide on completing the swimming time trial at Weeping Woods or Coral Castle once that challenge goes live. Completing each of these Epic Quests will net you 24,000 XP, as usual
There is also a Legendary Quest to complete for extra XP, which requires you to deal damage with makeshift weapons. You can craft these by using mechanical parts, but they deal low damage and hold low ammo, so make each shot count.
The whole challenge consists of five stages, and you'll get 35,000 XP for completing the first, and 24,500 for the rest. You'll have a limited time period within which you can complete this Legendary Quest, so be sure to hop to it.
That covers everything for Week 6! We'll update this article with more information after the challenges go live, so stay tuned!
Image Credits: Epic Games