How to mod vehicles in Fortnite Season 6: Locations & guide
Vehicle mods have finally arrived in Fortnite Season 6 as part of the 16.20 update, and here's how you can use them.
Epic Games have finally brought vehicle modifications to Fortnite in Chapter 2 Season 6 so that you can upgrade cars with different add-ons, and here's everything you need to know about this.
Fortnite Chapter 2, Season 6 has quickly won over fans with its various new additions, including weapon crafting, tamable wild animals, and a whole new set of quests in the new Battle Pass. Now, Epic Games have added another neat feature.
Modified vehicles had been teased by leakers a while back, and a few fans noticed their presence in trailers for the new season. Now, the v16.20 update, has finally brought vehicle mods to the battle royale.
What do Fortnite Chonkers tires do?
The first vehicle mods to be released in Fortnite are new tires known as Chonkers, and these let you ride up steep surfaces such as hills. They also provide you with a better grip and bouncy suspension when driving off-road.
Additionally, once you've found a pile of these tires, you can use them for cover during combat situations where enemies have surrounded you. This makes them worth chasing after the next time you acquire a vehicle.
Where to find Chonkers in Fortnite
These modifications can be found within some new structures that have appeared at various garages around The Island. You'll be able to acquire at least one of these tires by visiting any of the various gas stations.
Luckily, these are spread out all over the map, and once you visit them, you can find Chonkers either lying on the floor or among stacks of tires. You take a look at their locations below: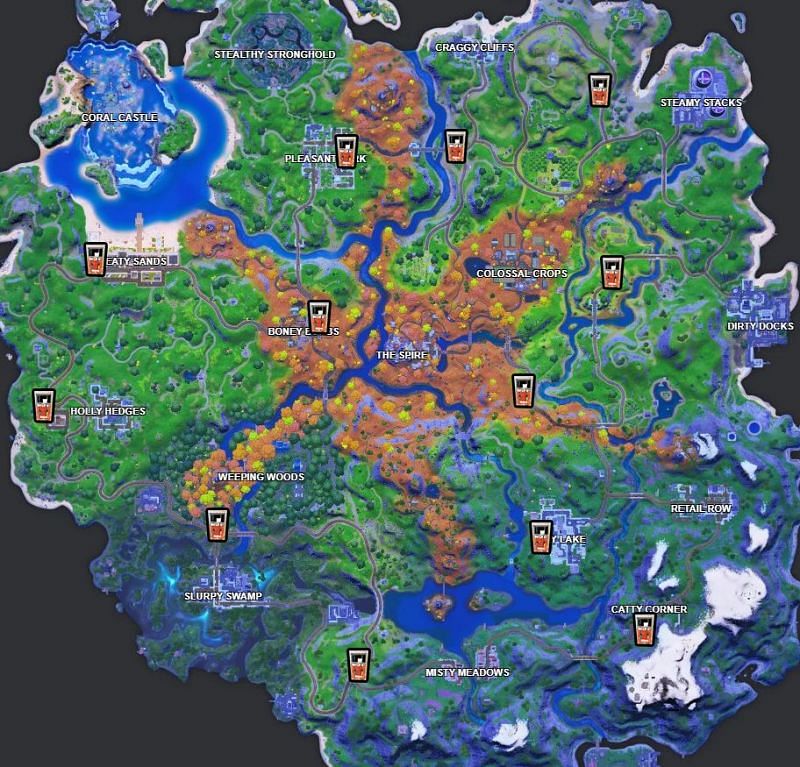 How to use Chonkers tires in Fortnite
Now that you know where to find the Chonkers tires in Fortnite, you'll just need to know how to use them. Luckily they're fairly easy to put together if you know where they are, and all you need is a vehicle to modify.
Once you've acquired a car, here's what you need to do:
Visit the garage at Catty Corner, and enter the building where Sparkplug spawns
Find the Chonkers tires lying on the ground and pick them up.
Hold aim and throw the Chonkers tires directly at your car.
That's all there is to it! Now, you'll be able to enjoy traveling off-road and up steep surfaces such as hills with relative ease. These new tires have different behavior on dirt, grass, or the road, which makes them difficult for enemies to pop.
Epic Games will also add more vehicle mods in Fortnite Season 6 soon, and those will have different effects on your vehicles. A few leakers have previously hinted at the future arrival of Mounted Guns in the game at some point.
We'll keep checking for the locations of more garages that contain vehicle mods, and will update this guide as soon as we find them.
In the meanwhile, the v16.20 update has also brought new bows, and a Duos cup that you can participate in to unlock Aloy from Horizon Zero Dawn for completely free!
Image Credits: Epic Games / Fortnite.GG
Rideable Wildlife set to arrive in Fortnite Season 8
A new setting in Fortnite Season 8's menus has all-but-confirmed that the leaked, rideable Wildlife will arrive this season.
Eagle-eyed Fortnite players have spotted a new 'Riding' option in the keybinds, all-but-confirming that rideable Wildlife will arrive in Season 8. Data miners have now given more details on how this new traversal feature will work.
It has been leaked before that rideable animals would arrive in Fortnite, but even though Wildlife arrived in Season 6, players have been unable to ride them. Everything from Boars to Raptors could be tamed, but players were unable to use them for traversal.
However, that's expected to change in Season 8 after eagle-eyed players spotted new control schemes for "Riding" and "Dismounting" in the menus following the new season's update.
Fortnite Season 8 is in full swing, bringing a brand-new Cube theme to the island. Much has changed, but Season 6's Wolves and Boars still remain. These animals can be tamed, but it appears that you'll soon be able to ride them too.
Fortnite artist @Lix_wan_Kenobi was the first to report the new Riding submenu that arrived after Season 8 launched.
In the Keyboard Controls section of Fortnite's menus, there is now an option for "Riding," which contains binds for "Riding Ability" and "Dismount." The menu isn't in use yet and doesn't have any buttons assigned, but the feature should arrive later in the season.
Popular Fortnite dataminer and leaker HYPEX has previously reported that there would be "flying wildlife animals." These will supposedly come in big and small and will drop Purple weapons and meat. Fortnite has included planes and helicopters in the past, so this is well within the realms of possibility.
HYPEX has now found more rideable animal features in the game files. On September 26, they tweeted that you can't "search, aim/shoot, build and carry a player" while riding Wildlife.
They also revealed that "you'll need a Saddle item to ride them," and "you can make them attack players if they're an aggressive animal." Bots can also ride the animals too.
It's highly likely that either the flying animals or standard Boars and Wolves will become rideable as the season progresses. But stay tuned to Charlie INTEL, where we'll keep you updated with all things Season 8.
---
For more Fortnite, check out all the ways you can earn Gold Bars and spend them in Season 8.
Image Credit: Epic Games
Fortnitemares 2021: New skins, start date & more
Here's everything you need to know about Fortnitemares 2021, including the start date, new skins and game modes.
Epic Games are gearing up for another holiday-themed event, so here's everything you need to know about Fortnitemares 2021, including the start date and new skins.
Fortnite's Season 8 has brought many changes to the battle royale, including the return of Punchcard Quests, donation boards which let you pick what items you want unvaulted, and new skins like Carnage and Venom.
Now that Halloween is almost here, it's soon going to be time for a new season event. This year, Epic Games are going to help players celebrate the spooky holiday with Fortnitemares 2021.
Here's a breakdown of the event's start date, skins, and game modes.
Table of Contents
When is the Fortnitemares 2021 start date?
At the time of writing, Epic Games have yet to confirm when exactly Fortnitemares 2021 is set to go live, but the good news is that the start dates of season events are often easy to predict.
The previous Fortnitemares started two weeks before Halloween on October 16, 2020. Since the devs release update patches every two weeks in Fortnite, the event's files will probably be added in patch 18.20 or 18.30.
Based on this, it seems likely that the start date of Fortnitemares 2021 will be close to the one for last year's Halloween-themed event.
Fortnitemares 2021 skins
The most exciting aspect of season events is all the new festive skins that are added to the game, and Halloween-themed skins are arguably some of the best that you can unlock.
Epic Games have delivered some truly memorable seasonal skins in previous events, and fans are excited about all the new ones that will be arriving in the game during Fortnitemares 2021.
Currently, the developers haven't specified what skins they're planning to release but we expect them to include a few spooky variants of existing NPCs on Fortnite Island. We might also see the return of the fan-favorite Halloween soccer skins.
Fortnitemares 2021 games modes
According to Fortnite data miner HYPEX, Epic Games are currently planning to introduce some new gameplay mechanics in Fortnitemares 2021. This may mean that we'll get a new game mode soon.
This wouldn't be too surprising as previous season events have added specific game modes as well. One Fortnitemares activity had players turn into ghosts to try and capture others around the Island.
It remains to be seen whether or not we'll see the return of that fun game mode from the previous Fortnitemares, but we can be sure that Epic Games have something exciting planned.
That covers everything that has currently been revealed about Fortnitemares 2021. We'll be sure to update this article with more information regarding the Halloween-themed event as it becomes available.
---
For more Fortnite, check out our guide on the Fortnite Fourth Birthday event and stay tuned to Charlie INTEL!
Image credits: Epic Games
How to upgrade weapons in Fortnite Season 8: Upgrade Bench locations, Crafting, more
Looking for an upgrade? Here's how to increase your weapon rarity in Fortnite Season 8 through Upgrade Benches, Crafting, and more.
There are several ways to upgrade your weapons in Fortnite Season 8, so here are all of the Upgrade Bench locations and where you can find Weapon-o-Matic machines to purchase higher rarity guns.
Looting and crafting the best weapons possible is a significant factor in winning a game of Fortnite. All the builds in the world can't save you if you can't defend yourself, after all.
Fortnite is a battle royale, so there will always be some luck in finding the best weapons. However, you can eliminate some of this RNG and build the best loadout possible through upgrading and crafting.
Here's everything you need to know about upgrading weapons in Fortnite Season 8:
Fortnite Season 8 Upgrade Bench locations
Several Weapon Upgrade Benches are scattered around the Season 8 map, so you should never be too far away from finding one. You can either consult the map from Fortnite.GG, or check out the detailed locations below.
Lockies Lighthouse at the southern docking area
Craggy Cliffs in the eastern garage
Steamy Stacks in the center building
Crashed Cargo east of Believer Beach
Believer Beach in the trailer park
Risky Reels behind the house
Corny Crops in the eastern building where Madcap can be found
Compact Cards north of Destroyed Dish
Dirty Docks in the eastern warehouse
Viking Vessel in the house to the north
Dusted Depot east of The Aftermath
The Durrr Burger
Sherrif's Office north-west of Lazy Lake
Retail Row in the fenced-off electricity area
Shanty Town at the southern dock
Hydro 16 at the east side
Catty Corner at the northern end
Camp Cod inside the eastern building
How to use Fortnite Upgrade Benches in Season 8
Once you've found an Upgrade Bench, you need to approach it, press interact, and follow the prompt to upgrade your weapon's rarity. But, it comes at a price.
Gold is now Fortnite's currency, and you'll need to spend it on upgrading your weapons in matches. Upgrade your weapon a couple of times can get pricey very quickly, so you need to decide if it's worth all of the hard-earned cash.
Here's how much it costs to upgrade your weapons in Fortnite:
Common (grey) > Uncommon (green) = 200 Gold Bars
Uncommon (green) > Rare (blue) = 300 Gold Bars
Rare (blue) > Epic (purple) = 400 Gold Bars
Epic (purple) > Legendary (orange) = 500 Gold Bars
Fortnite Weapon-o-Matic Vending Machine locations
If you need a quick weapon fix, Weapon-o-Matic Vending Machines can offer you a cheap alternative – if you're lucky enough to find one. You won't need to fork out hundreds of Gold to upgrade, but you can only do so the right upgrade is available.
It only costs 50 Gold Bars to purchase a new weapon from a Weapon-o-Matic machine, so it will be well worth your time checking what they have in stock.
You can check out the map above for every Weapon-o-Matic Vending Machine location.
How to craft weapons in Fortnite Season 8
Crafting has also returned in Fortnite Season 8 and can be a great way to build yourself some special weapons. All you need is a base weapon and Nuts and Bolts or Cube Monster Parts.
You can find the Nuts and Bolts all around the Fortnite island in chests and toolboxes, and the Cube Monster Parts are gained by defeating Sideways Monsters. Once you have these parts, here's what you can craft:
Pump Shotgun + Nuts and Bolts: Charge Shotgun
Lever Action Shotgun + Nuts and Bolts: Charge Shotgun
Assault Rifle + Nuts and Bolts: Suppressed Assault Rifle
Burst Assault Rifle + Nuts and Bolts: Suppressed Assault Rifle
Submachine Gun + Nuts and Bolts: Rapid Fire SMG
Assault Rifle + Cube Monster Parts: Sideways Rifle
Burst Assault Rifle + Cube Monster Parts: Sideways Rifle
How to upgrade Sideways Weapons in Fortnite Season 8
The Sideways spawns in a new area every game, and it can be very lucrative if you're looking to upgrade your weapons. By using Cube Monster Parts on Sideways Weapons, you can upgrade the weapon's rarity.
This starts cheap but quickly gets expensive, so you'll need to take down quite a few Cube Monsters to upgrade these weapons.
Here's how to upgrade Sideways Weapons in Fortnite Season 8:
Enter the Sideways
Open Sideways chests to get a Sideways Weapon
Defeat Sideways Monsters and collect Cube Monster Parts
Open up the Crafting Menu
Craft the upgrade like you would a normal weapon
---
And that's everything you need to know about upgrading weapons in Fortnite Season 8! You can also check out how to complete the Weekly Character Punchcard Quests.
Image Credit: Epic Games / Fortnite.GG