How to start a Warzone Private match
You're going to need a lot of friends.
In the most recent update for Warzone, the ability to host private matches in Warzone has been added.
The long awaited Private Match feature is finally available in Warzone for all players. While the mode is only available currently in beta, it gives the ability for players to organize large Warzone lobbies and assign squads of players. This makes it a great tool for Warzone tournaments and streamers to engage with their community. Here's how you can start one yourself.
How to Start a Private Match
Note: Each mode in Warzone (Plunder, BR) requires a certain amount of players to start a game. The required player counts per mode are as follows:
Core BR (Solo, Duo, Trios, Quads) – 50 Players Required To Start
Plunder – 30 Players Required To Start
Mini Royale – 24 Players Required To Start.
With that out of the way, here's how you can start a server yourself.
1. In the main Warzone menu, select the "Private Match, Practice Mode" option.
2. Select "Warzone Private Match"
3. Choose your desired mode under the BR or Plunder tab.
4. Choose "Random" or "Select Squad"
5. Invite players to participate, you can see which squad they are in through the "Change Squad" menu.
Unfortunately, a majority of players will not be able to experience this due to the high player requirement, so if you want to hop in a few private games, we recommend staying in tune to your favorite content creators/pages to see if they host any community lobbies.
While only in beta, this mode could be huge in the near-future for Warzone tournaments.
Previously, there wasn't a way for prominent content creators to compete head to head in a single Warzone lobby, but now this feature changes things. Perhaps Warzone will become its own esport, as 100 Thieves have already announced their competitive Warzone team.
What is the "Hunt for Adler" event in Cold War & Warzone Season 3?
An exciting new event is set to take place in Cold War & Warzone Season 3, but what exactly is "Hunt for Adler," and what can you earn?
Amongst all the new content announced for Cold War & Warzone Season 3, a mysterious event has also crept under the radar. "Hunt for Adler" promises rewards and even an Operator skin, and here are all the details.
Russell Adler has been the star of Black Ops Cold War since the game's launch in November 2019. His scarred face, black shades, and glorious hair have made him one of the most memorable Call of Duty characters in years – he even got an exclusive skin in Season 2.
His story in Cold War has seen him come face-to-face with an evil foe called Stitch, and during Season 2 he was captured. Now, Season 3's lore tasks players with finding him, and Black Ops Cold War and Warzone players now have to "Hunt for Adler."
But what exactly is Call of Duty's Season 3 special limited-time event?
When does Hunt for Adler start in Cold War & Warzone Season 3?
According to the official event description on the Season 3 briefing website, Hunt for Adler will commence "with the launch of Season Three."
It makes sense given the urgency of the season's story. Meaning players will be able to start working towards the event's goals as soon as the opening-day ribbon is metaphorically cut.
How to complete Hunt for Adler in Cold War & Warzone Season 3
Details on Hunt for Adler are rather limited at the moment with complete information to be available when Season 3 launches.
What we do know already is that there will be "unique in-game challenges in both Black Ops Cold War and Warzone to learn of Adler's whereabouts."
The description is clear in that to earn the special Adler skin, you only need to complete the full set of challenges for either Black Ops Cold War or Warzone, not both.
To reiterate, we have no idea what the challenges are just yet, but when Season 3 launches, we'll be sure to update this page.
What rewards can you earn for completing Hunt for Adler in Season 3?
For taking part in this limited-time event, CoD players can expect to receive a whole host of cool goodies for their efforts.
Completing challenges will earn players the following:
Weapon Charms
Calling Cards
New Operator skin
And more…
The challenges will more than likely coincide with your natural gameplay, meaning that you shouldn't have to go too far out of your way to earn the event rewards.
Hunt for Adler is one of many fun things coming to Cold War and Warzone, adding to a new battle royale mode for CoD: Cold War and the return of the PPSH-41.
Image credits: Treyarch
Warzone Season 3 Update 1.36 preview: Roze Skin change, FFAR & Sykov nerf, more
Warzone's Season 3 update is set to include big weapon changes, cosmetic updates, and more as the game's evolution continues.
Raven Software has dropped a preview of some changes coming to Call of Duty: Warzone with the Season 3 update.
The studio responded to a big Twitter thread by YouTuber CourageJD. Courage dropped a list of changes he wants to see for Warzone, especially with a lot of the fan complaints.
The new update for Warzone for Season 3, version 1.36, will go live at 9PM PT on April 21.
Warzone Season 3 Update File Size
PlayStation 5: 25.6 GB
PlayStation 4: 25.6 GB
Xbox Series X / Xbox Series S: 25.9 GB
Xbox One: 25.9 GB
PC: 25.2 GB
Raven replied to CourageJD's thread with a preview of some of the changes the studio is making to Warzone, including many coming with Season 3 update on April 22.
Warzone Season 3 Patch Notes
An adjustment to Roze
A significant balance pass to weapons such as the Tac Rifle Charlie, M16, FFAR 1, and Sykov
Fix for MW weapon perks + sniper glint (already live)
Change to how you acquire the RC-XD (already live)
The changes listed above are some of the big complaints players have had over the last few months in Warzone. Roze skin having an invisibility look in the dark has been big for players, and Raven has finally acknowledged that.
The newest addition for Warzone, the Sykov Pistol from Modern Warfare, was added on April 15 and was overpowered.
The studio actually released some of the updates mentioned in a patch on April 19, including a balance pass on the Sykov, a fix for MW weapon perks, sniper glint, and changes to the RC-XD.
The other changes mentioned, including Roze Skin and FFAR and Tac Rifle Charlie updates are coming with the Season 3 update on April 21 at 9PM PT.
The studio mentioned that they want to "reassure" fans that all feedback is being read around Warzone.
More Surprises To Come
Raven has promised in another tweet that there are more "surprises" in store for Season 3 that will be announced with the update.
Other changes to come with Season 3 update include the expected revamp of Verdansk map, which will see the map be transported and rebuilt for the 1980s Black Ops Cold War era.
Season 3 of Call of Duty: Warzone begin on April 22, with an initial event teased for April 21 starting at 12PM PT. Exact launch times for the new content will be announced soon.
NICKMERCS explains why he's worried about Warzone Season 3
Popular Faze Clan member Nick "NICKMERCS" Kolcheff has explained why he isn't too hopeful about Warzone Season 3.
A ton of new content is on its way in Season 3 of Call of Duty: Warzone, and Nick "NICKMERCS" Kolcheff has weighed in about his concerns with the upcoming update.
Activision has announced the full details of Warzone and Black Ops Cold War Season 3. The update will bring new MP maps, Zombies content, Operators, and a Battle Pass for players to progress through.
NICKMERCS has chimed in on the matter and explained that he's excited about all the new content that's on its way. However, the CoD streamer also voiced his concerns regarding the new update.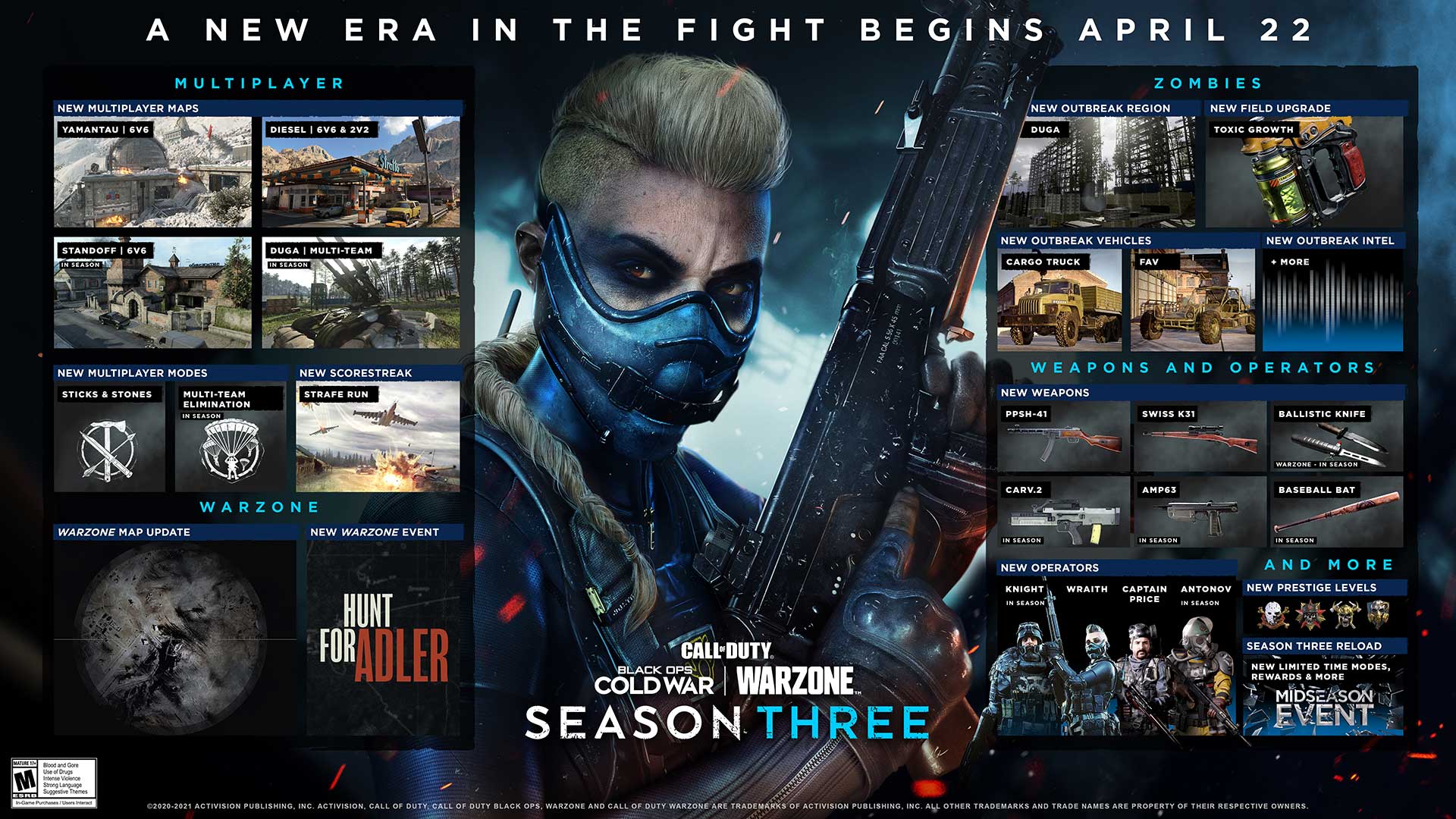 In his new video, NICKMERCS expressed his excitement about the upcoming season of Warzone. Since the new season is completely in Raven Software's hands, he expects some exciting new content in the update.
Despite this, he made it clear that he has no intention of letting his excitement get the best of him. "I'm a little skeptical, you know what I'm saying," he said.
"I want to see some really good guns get dropped, I want to see new content. I hope this map, I know we're going back in time on the same map but I still hope that it's a lot of new and cool things," Nick added.
Timestamp of 1:03
The Twitch star didn't want to get his hopes up, only to end up disappointed. "I'm hopeful, I'm just not too hopeful and I don't want to be let down again, you know what I mean," he added.
This could be because the Season 2 update created high expectations among Warzone players, only end up disappointing them because the changes weren't as huge as they thought they would be. Nick chimed in about his frustration about this as well.
That said, only time will tell if Season 3 lives up to the hype. Luckily, it won't be a long wait, as the new update goes live on Wednesday, April 21 at 9:00 PM PT.
Image Credits: Raven Software / NICKMERCS