How to unlock the Wakanda Forever emote for free in Fortnite
You can unlock a free Black Panther 'Wakanda Forever' emote in Fortnite Chapter 2, Season 5.
Black Panther is arriving in Fortnite Season 5, and you can embrace the power of the Wakandan king with a brand new emote. The Wakanda Forever emote can be unlocked for free by completing challenges.
Fortnite Chapter 2 Season 4 reached its memorable conclusion with the battle against Galactus. Season 5 said goodbye to superheroes, and Epic Games introduced content from other franchises like The Mandalorian, Halo, God Of War, and The Walking Dead.
Now it seems that Epic Games may be bringing back the superheroes, as leakers have discovered signs of more Marvel content coming soon. The new additions will be Black Panther, Taskmaster, and Captain Marvel. This skin pack will become available in the Item Shop on December 21.
Along with the skins, there's also a new 'Wakanda Forever' emote that serves as a tribute to the late Chadwick Boseman. Here's how you can unlock it.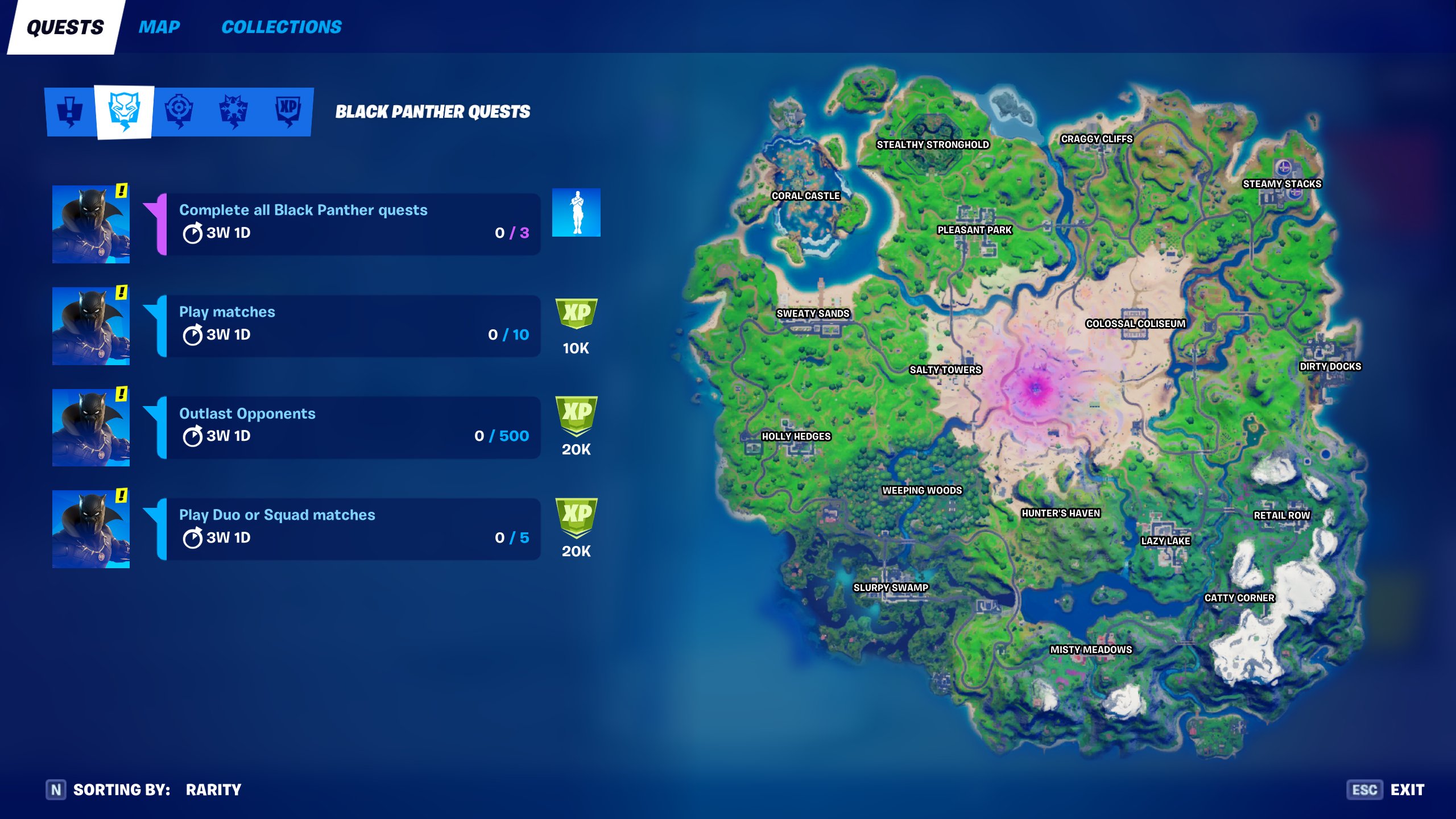 To unlock the emote, you'll need to complete some challenges. These will be available from today to January 12, so be sure to tackle them while you still have time.
There are three of these challenges available:
Play matches (10)
Outlast Opponents (500)
Play Duo or Squad matches (5)
You can complete all of these easily just by playing the game, and each successful completion will award you with XP. Your best chance of getting them done quickly is to land in less crowded places then lay low as most of your opponents pick each other off.
After you've completed all 3 challenges, you'll earn some XP and the Wakanda Forever emote. This is a touching tribute and serves as the perfect thing to start the holiday.
The "Marvel: Royalty & Warriors Pack" is proving to be quite exciting. A leak has suggested that we'll also see a new Marvel Portal POI along with Black Panther and Captain Marvel skins.
It's rumored that this might mean the return of Galactus, or the arrival or some other cosmic threat. Until Epic Games give us some answers, this is pure speculation. We'll be sure to update you as soon as we learn more.
Image Credits: Epic Games and Marvel Entertainment
How to get The Batman Who Laughs skin in Fortnite Season 8
In another DC crossover, The Batman Who Laughs skin arrives in Fortnite Season 8, so here's how to get the creepy new bundle.
In a further collaboration with DC Comics, Fortnite will receive The Batman Who Laughed skin in Season 8, so here's how to get your hands on it.
Fortnite is currently in collaboration with DC Comics, bringing across a ton of skins and characters from the Batman Universe. This is all tied into the Fortnite/Batman comic series, where the latest issue prominently features The Batman Who Laughs.
This Batman/Joker hybrid from another universe will soon be arriving in Fortnite, so here's how to get the skin and associated cosmetics for yourself.
How to get The Batman Who Laughs Fortnite skin
The Batman Who Laughs will arrive in Fortnite's Item Shop on October 26 at 5 PM PT / 8 PT ET / 1 AM BST (October 27).
It will also be available for those who purchase the upcoming Batman/Fortnite: Foundation comic.
The Batman Who Laughs bundle is set to arrive with:
The Batman Who Laughs Outfit
Robin's Perch Backbling
Dark Multiverse Set Pickaxe and Glider
The Batman/Fortnite: Foundation comic is set to also release on October 26 and will include a unique code that allows players to redeem the Outfit, Backbling, and a Loading Screen. The code will expire on November 12, 2025 – so there's plenty of time to get the comic.
Also, as an exclusive bonus for purchasing the comic, you can also get The Dark Days Loading Screen that depicts The Batman Who Laughs perched on the Battle Bus.
Who is The Batman Who Laughs?
The Batman Who Laughs is Bruce Wayne from Earth -22 of the Dark Multiverse, who has been fused with his arch-enemy, The Joker.
This version of Bruce Wayne became infected with the Joker toxin, turning him into a violent supervillain.
He first appeared in the Batman/Fortnite Zero Point Issue 6 and is sure to be a terrifying addition to Season 8's roster of characters.
For more Fortnite, you can check out the Spider-Man crossover that HYPEX claims will arrive later this year.
Image Credit: Epic Games
Fortnite Foundation comic teases exclusive Batman skin
Epic Games might be teasing a brand-new exclusive skin in the first issue of the Fortnite Foundation comic crossover.
Fortnite is doing another DC crossover in the Batman Fortnite Foundation comic, and Epic Games might be teasing an exclusive new skin on the cover of the first issue.
Fortnite has a wide assortment of skins for players to choose from, and the Batman x Fortnite comic crossover added the caped crusader and other DC characters to the Battle Royale.
The Foundation, the mysterious leader of The Seven and main figure in the Zero Point storyline, will be heading to Gotham City in the new comic, and we might be getting an exclusive new skin of the 'Caped Crusader' as well.
Notable Fortnite insider iFireMonkey revealed the cover art for the first issue of the one-shot comic titled "Batman/Fortnite: Foundation." The two title characters are shown battling it out at the center of the art.
One thing that caught the attention of both Fortnite and DC fans was the lurking figure in the background of the cover. The design indicates that it's The Batman Who Laughs, a version of Batman that was infected by the Joker toxin.
This has started speculation that this character would be an exclusive skin that will come bundled with Batman Fortnite Foundation #1 when it hits shelves on October 26.
While we don't know much about the story of this new comic, physical copies of crossover comics usually have a code that players can use to unlock a new outfit. This has been the case with the previous Batman comic characters.
We previously saw characters like Harley Quinn and Catwoman join the fray along with Deathstroke's glider. Epic Games might be planning to bring even more cool Batman-related skins in the game.
However, it's worth keeping in mind that this is currently just speculation. We don't have any official confirmation from Epic Games about what new skin will be coming to the game next, but we might get some more info at DC FanDome this weekend.
---
For more on Fortnite, check out how to get the Walking Dead Rick Grimes skin, stay tuned to Charlie INTEL.
Image credits: Epic Games / DC
Fortnite Spider-Man crossover coming this year, claims leaker
According to a known leaker, Marvel's Spider-Man could be the next character making his way onto the Fortnite island.
Fortnite has built a reputation of securing huge crossovers with the biggest names in popular culture. Now, a leaker has hinted that Marvel's Spider-Man will be swinging onto the island later this year.
Marvel and Fortnite have a long history of crossovers, from Carnage in Season 8 to an entire Battle Pass of heroes in Season 4.
After years of crossovers, there's no shortage of character skins on the Fortnite map, and a leaker has suggested that a long-awaited character may soon be joining the party.
Spider-Man, one of the most popular comic book heroes in history, could finally be making his Fortnite debut.
Known Fortnite leaker Hypex revealed on Twitter that Epic Games are working on a character for a 2021 release under the codename WestSausage.
The dataminer claims that this name could represent 'Web-Slinger,' a direct nod to the Marvel heroes famous nickname.
They also noted that the character being worked on supposedly has swinging mechanics, with in-game text mentioning features like "swing attach location" and "swing accelerate."
All signs appear to point to this being the long-awaited arrival of the wallcrawler in Fortnite, although we are awaiting official confirmation.
The post doesn't go into specifics about the date that Spider-Man will join the game, but with his next movie, Spider-Man: No Way Home, hitting theatres in December, it's possible the two will coincide.
It remains to be seen if the possible crossover character will feature the likeness of Tom Holland's MCU version, or will be inspired by the original comic book suit.
This leak has sparked excitement among the community, with fans speculating about the possibility of other versions of the character, such as Tobey Maguire or Andrew Garfield, also being added.
We're still awaiting official confirmation as to whether or not this leak is accurate, but with the new Spider-Man movie on the horizon, an announcement is hopefully not too far away.
As always, stay tuned on Charlie INTEL for all of the latest news and updates.
For more on Fortnite, check out how to complete the latest punchcard quests, and how to get the Walking Dead Rick Grimes skin.
Image credits: Epic Games / Marvel