Modern Warfare and Warzone Season 5 Roadmap
Activision and Infinity Ward have released the official trailer and roadmap for Season 5 of Call of Duty: Modern Warfare and Call of Duty: Warzone.
Season 5 officially begins in-game on Wednesday, August 5 on PlayStation 4, Xbox One, and PC with the latest patch update.
Season 5 Roadmap
Here's what you need to know about Season 5 in Modern Warfare and Warzone.
Warzone Content: Verdansk Opens Up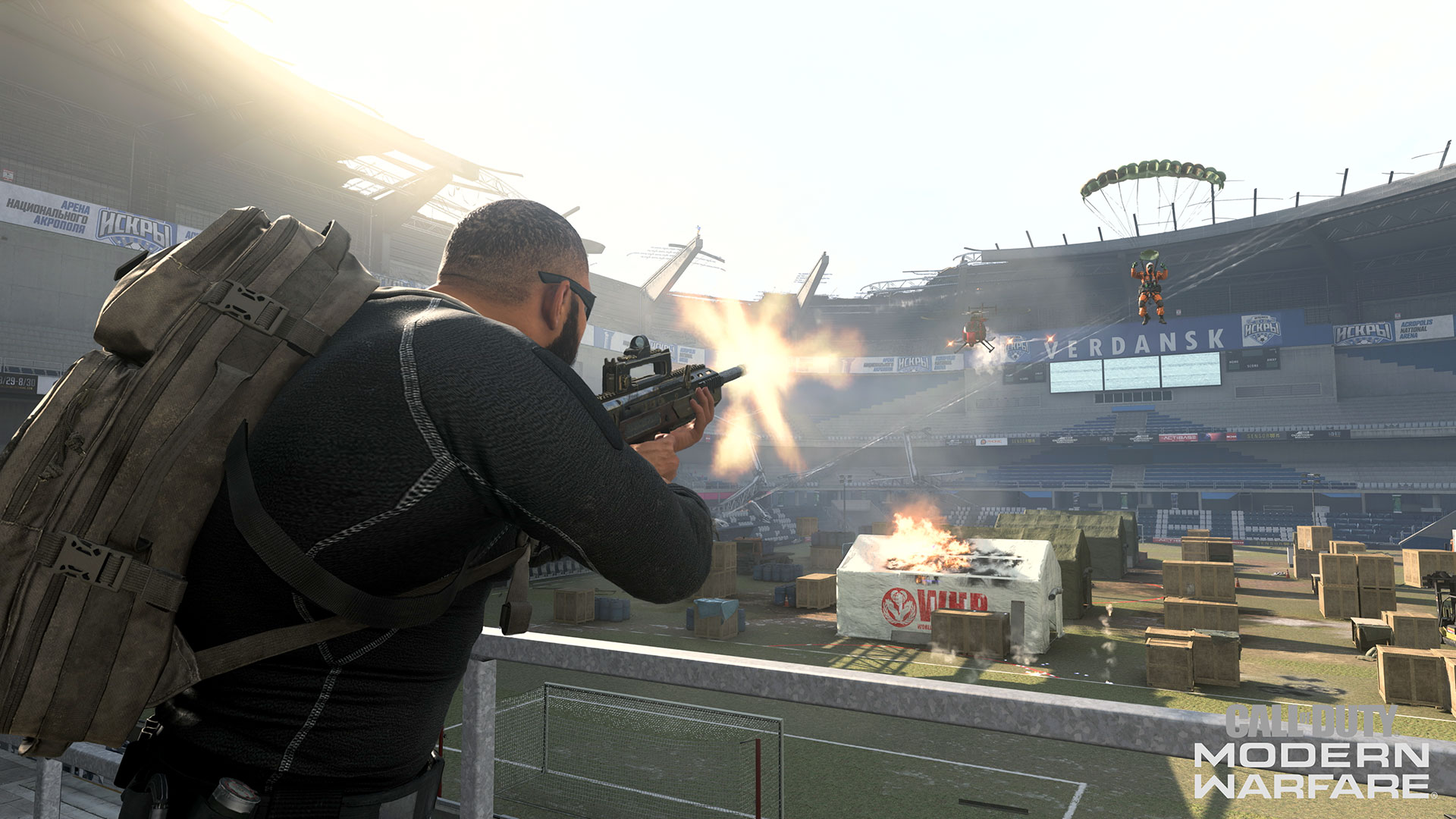 The Stadium Gets Cracked: As you might have gathered by now, the Acropolis National Arena (AKA Verdansk Stadium) is receiving a multitude of new visitors now that the Shadow Company announced their presence in an explosive, roof-based insertion. Time to retool your strategy and rethink your drop plans around this massive super-structure, complete with a pitch surrounded by rows of seating, an additional underground parking structure, a concession stand lobby as well as other multiple interior concourses and field access you can secure and compete to control.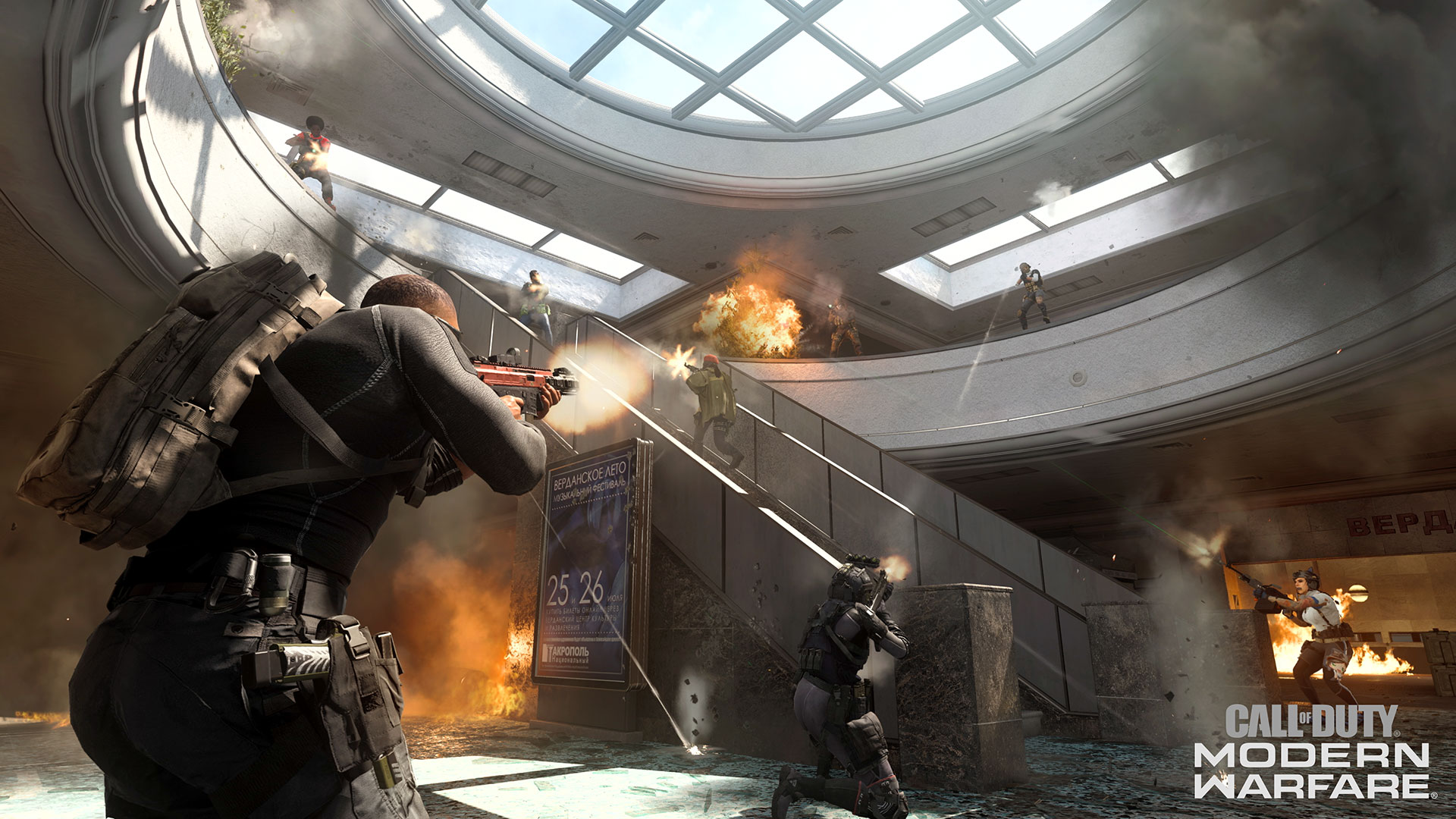 The Train Station is Lit Up: The Stadium isn't the only large-scale location getting interior access; the ornate and imposing Verdansk Train Station is also open for Operators. The station buildings feature a number of inside locations to explore; all linked to the main ticket hall and platforms. This significantly changes the overall look, feel, and tactical outlook in and around this area of the Warzone map.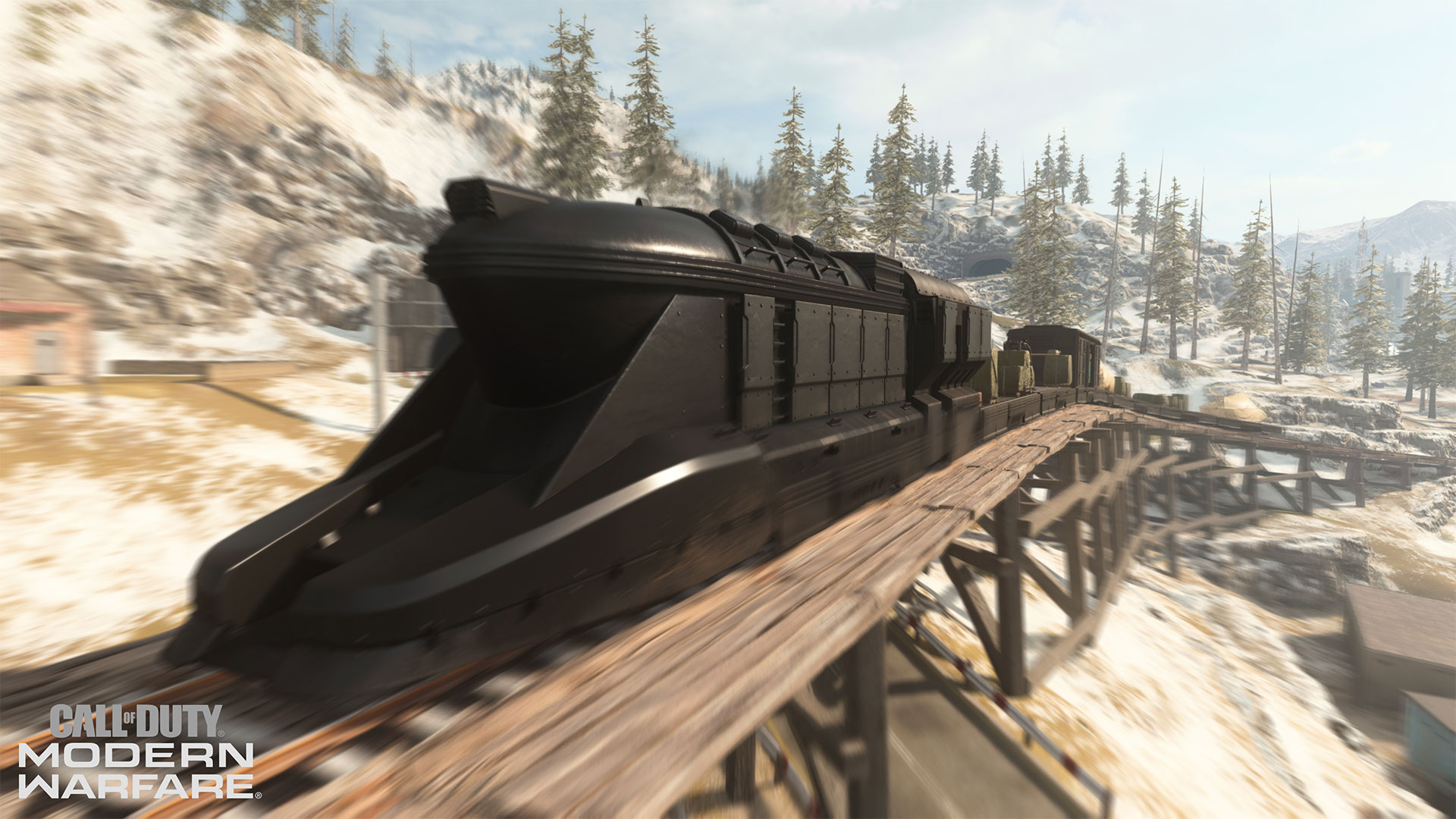 Freight Train: On Track for Epic Confrontations: A hulking freight train is on a path of destruction, and it's up to you and your fellow Operators to use this locomotive behemoth to your tactical advantage! The train rolls through one of the main arterial railroad tracks that circumnavigates the southwestern part of Verdansk in a large loop. It can be a source of protection, an epicenter of firefights, and even offers some exceptional takedown potential if your team claims the train for themselves, and guards it with additional vehicles and heavy weaponry.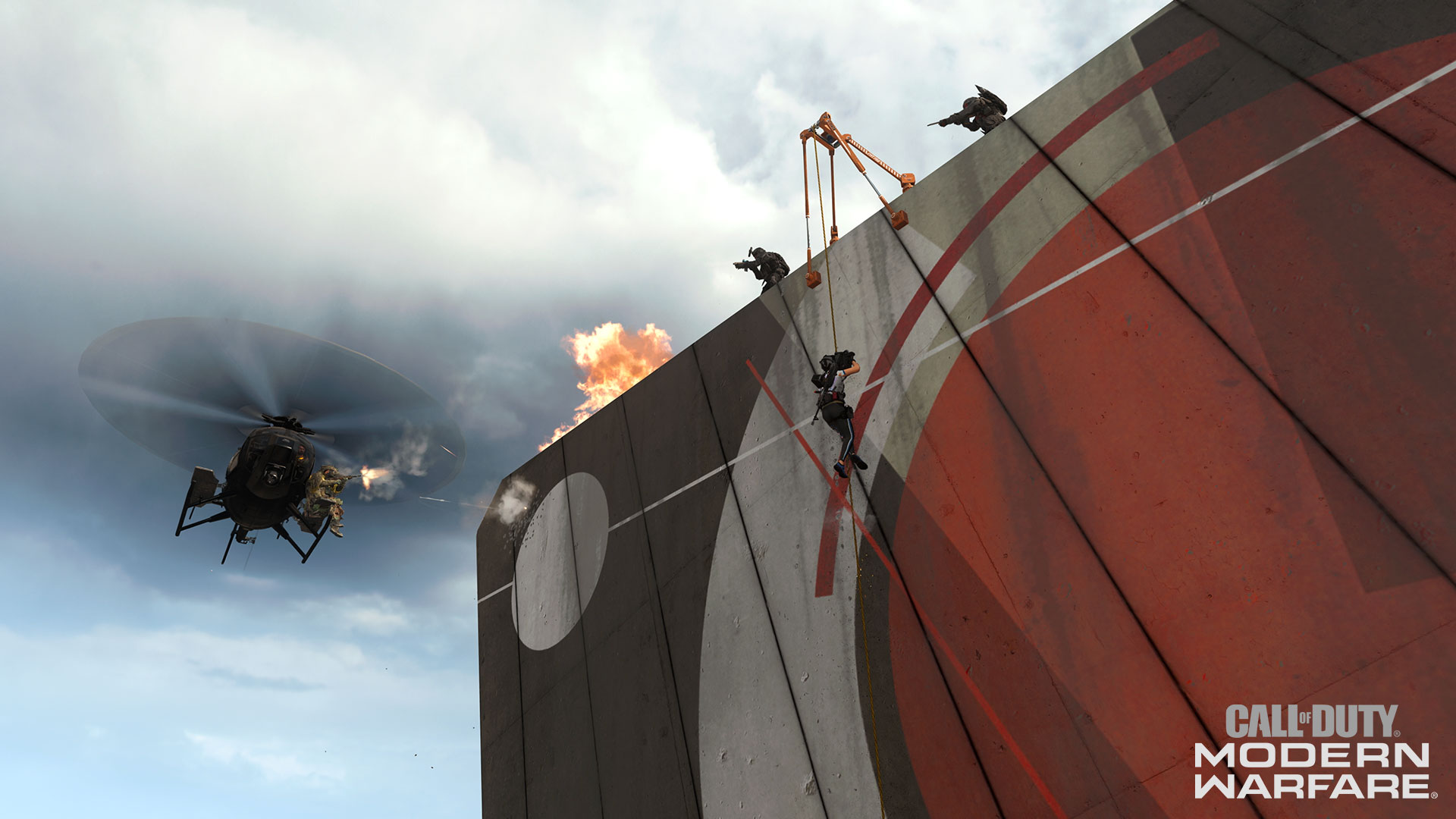 Going Up in the World: Exterior Ascension: Need to take down a troublesome sniper? During past navigations through multi-floored building interiors (usually located in downtown Tavorsk District), you may have clamped onto a vertical zip line inside an elevator shaft to gain quicker access to the top of the structure. Now you can expect additional and strategically positioned Exterior Ascenders dotted throughout Verdansk. These will primarily be attached to the exterior of taller buildings, enabling you to gain a tactical and height advantage from a different angle, and with more haste than ever before.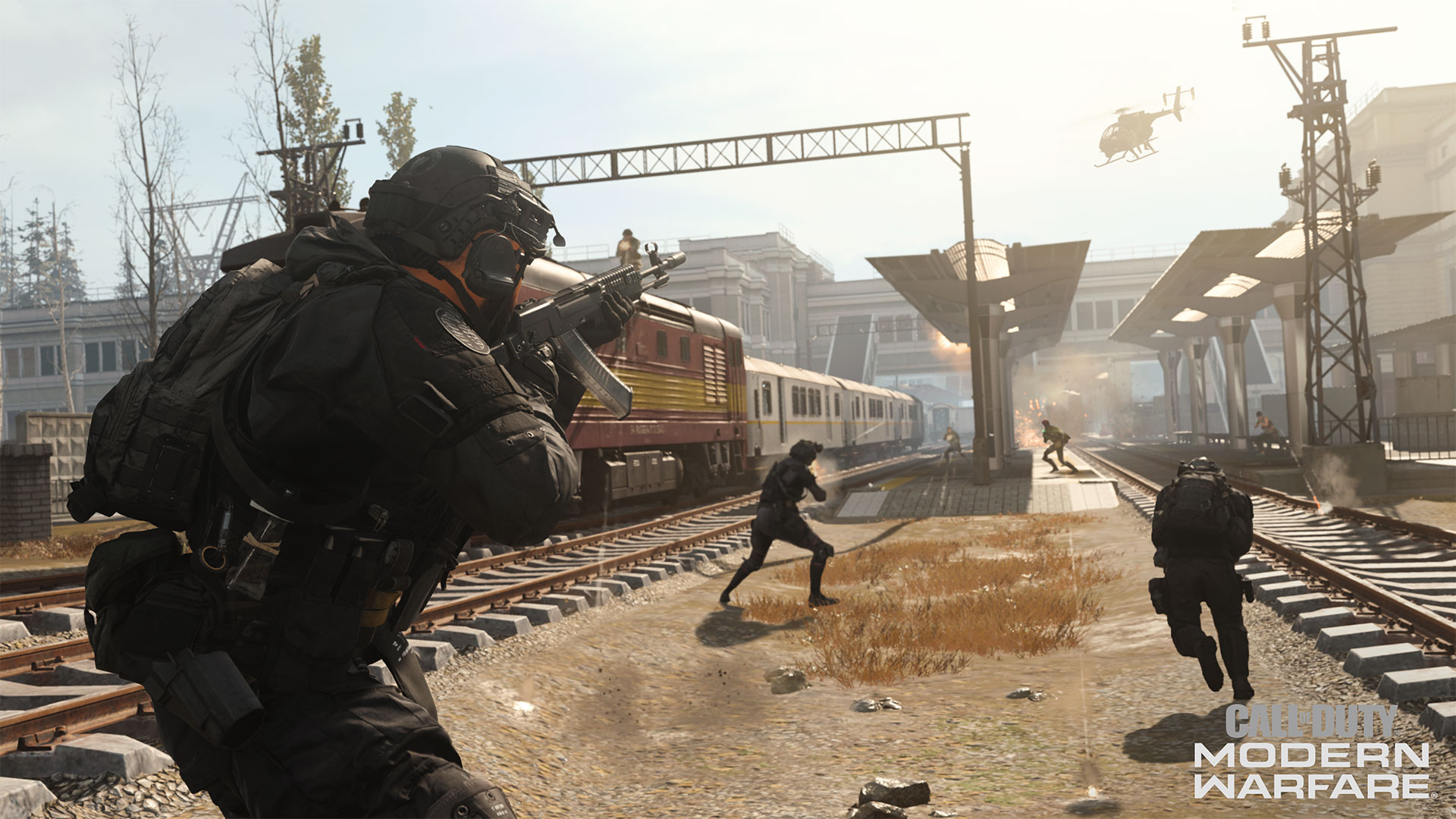 Modes, Weapon Changes, and More Updates to Warzone
Mini Royale: This condenses the craziest parts of the main Battle Royale mode into faster-paced chunks of chaotic and almost constant combat. Mini Royale lowers the number of Operators sent into Verdansk but quickens the BR experience: Only the first and last five minutes of a normal BR game exist meaning rapid deployment, constant movement, and high-kill strategies are set to yield victories that are both short and sweet.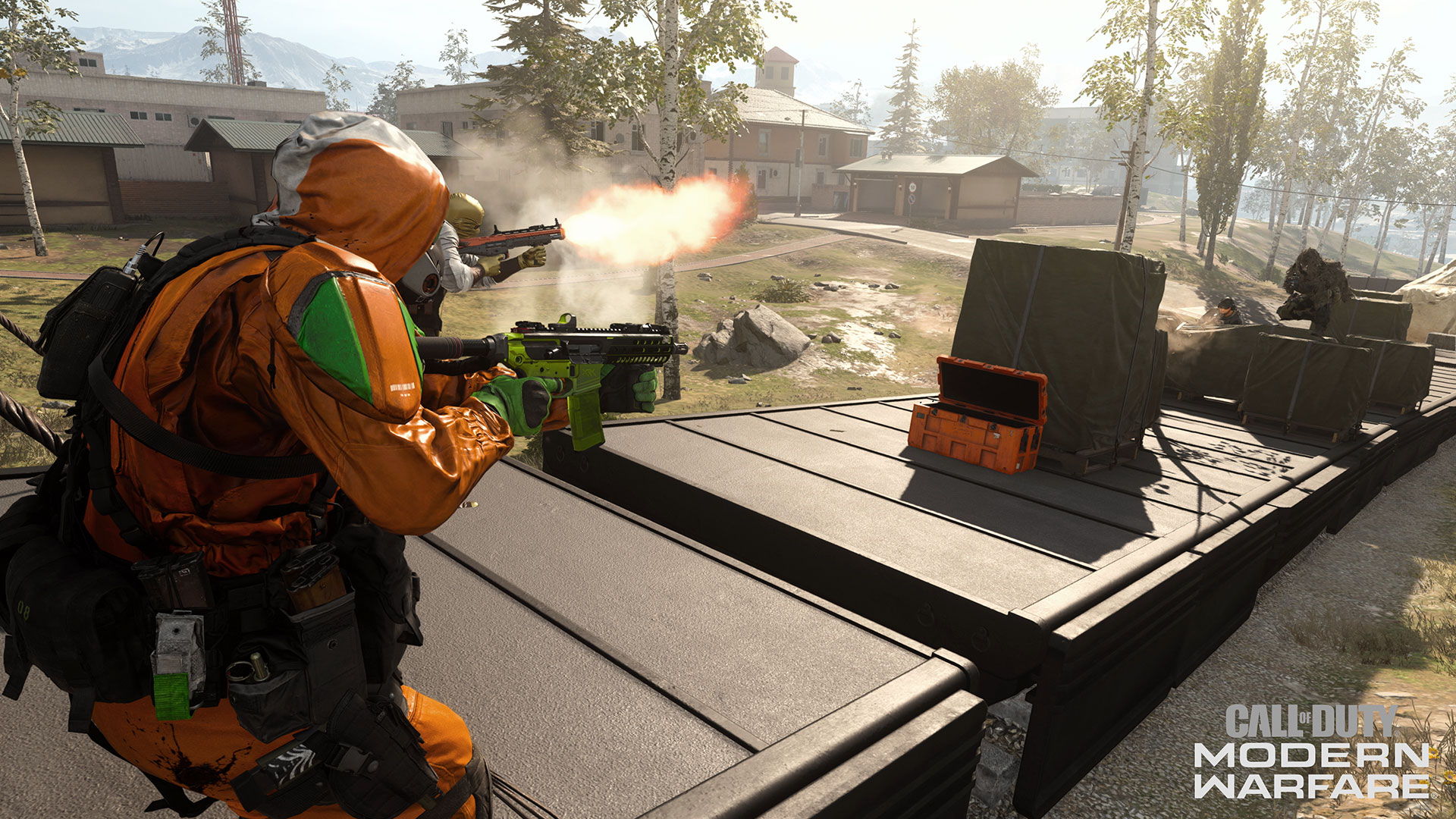 Weapon Rotation: The weaponry you discover lying on the ground or in Supply Crates has been meticulously updated to potentially provide new pre-Loadout Drop weapon tactics for your squad. Expect eight Common, 13 Uncommon, 15 Rare, 19 Epic, and 25 Legendary variants to find throughout Verdansk.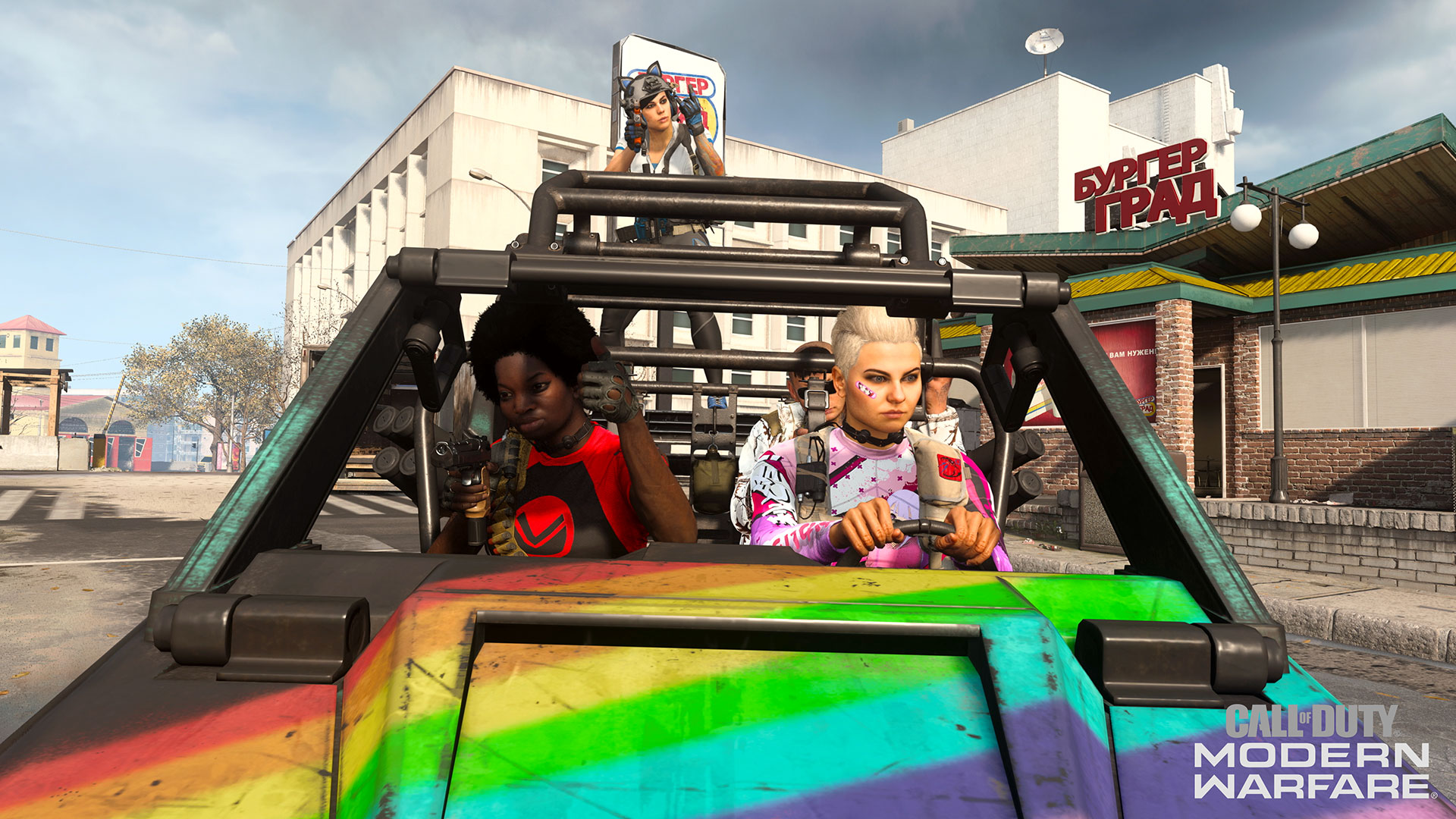 Wartracks: Jam out to some sweet MW tunes while your cruising through Verdansk with Wartracks, available in the Battle Pass. Get three unique songs including the pulse pounding "Sepulchre" to amp up your Warzone experience. Equip one track to a specific vehicle in the Vehicle Customization menu (like Battle Horns), then as soon you hop in, the music gets turned up. Your entire squad can listen to the beat while you drive, and let the song guide you to your primary objective – survival.  All three tracks are instantly unlocked when you purchase the Battle Pass. 
Modern Warfare Content: New Free Maps, Modes, and More
Four Free Multiplayer Maps in New Environments
If you own the full version of Modern Warfare, we've upped the map content accordingly; expect to play four new maps in Season Five. These are all set to deliver brand new destinations and test your skills in all major modes from Gunfight to Ground War: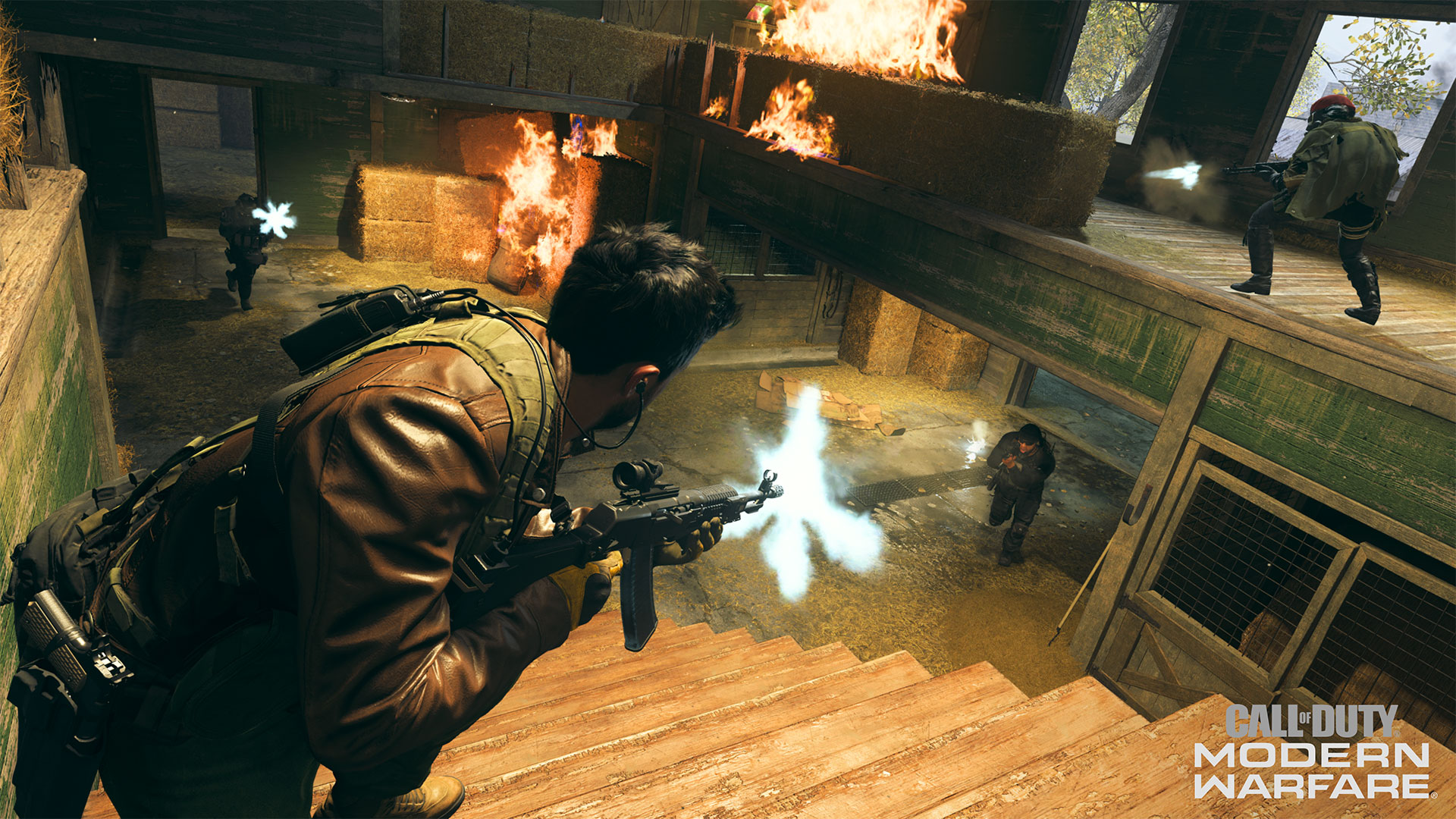 Livestock – Gunfight (Available at Season Launch)
Don't let this bucolic pastoral farm environment fool you: This is the setting for some of the fastest and deliriously frenetic Gunfight battles yet seen in Modern Warfare!
A rural compound set around a central barn structure, Operators can use hay bales and agricultural equipment scattered around the map as cover. A deceptively simple layout, you'll discover a honeycomb of flank routes that take you in and around the barn, designed primarily for quick close-quarter combat.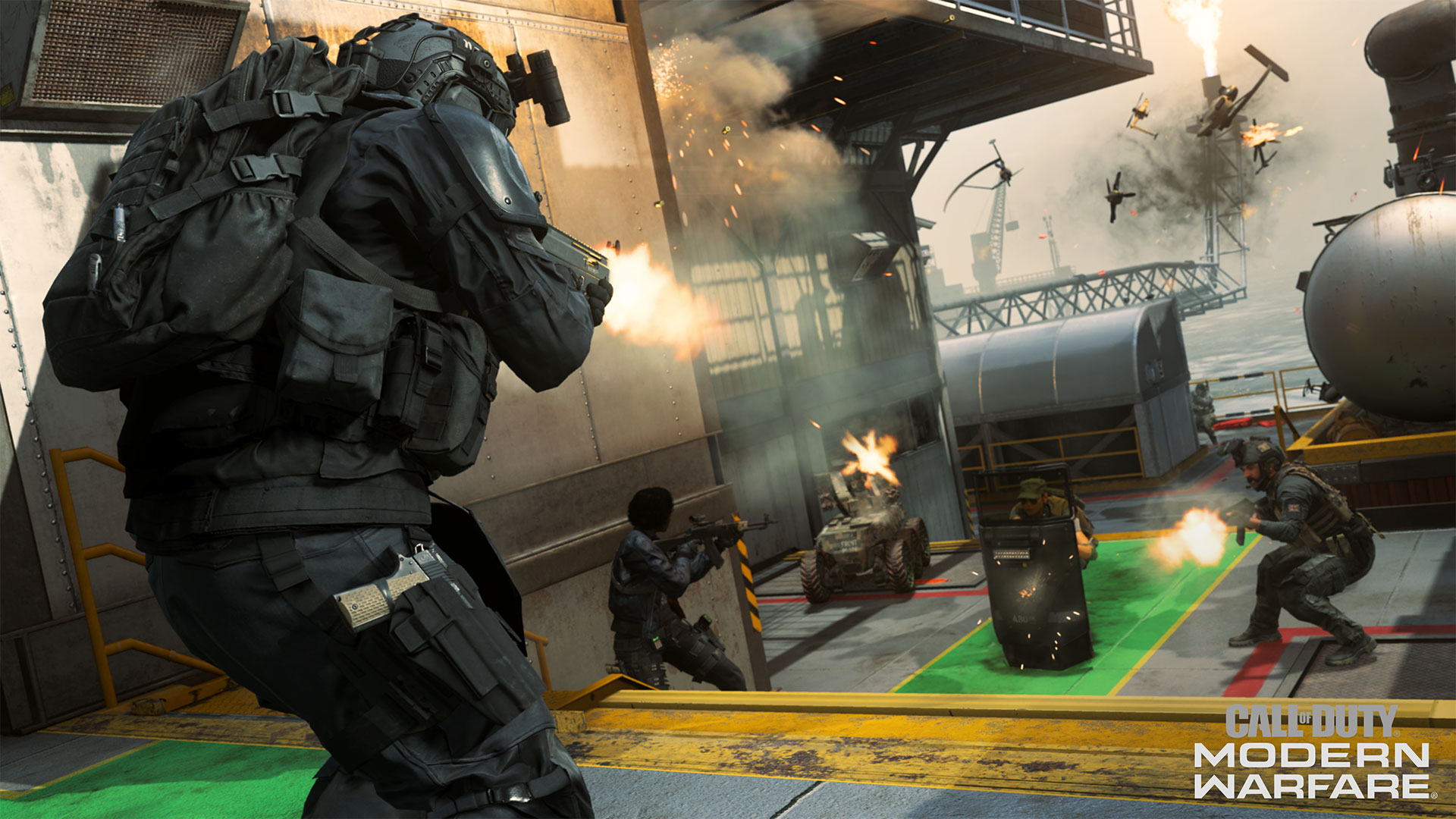 Petrov Oil Rig – Multiplayer (Available at Season Launch)
Prepare for large 6v6 gun battles aboard a sprawling, operational oilrig in the frigid waters of a classified ocean location well away from the usual Modern Warfare locales. Recently abandoned due to ongoing hostilities between Coalition and Allegiance forces, the rig is surrounded by deep murky water, cargo ships, a docked submarine, other oil rigs, and distant glaciers.
This new map is divided into five distinct sections, with players starting on opposite ends of the rig; either at a lifeboat muster station or a helicopter landing pad. Other areas to explore include a central bridge, an interior cafeteria, oil storage, and the massive rig drill itself.
Expect to engage in close to mid-range combat, with a few longer sightlines that give marksman or sniper rifles potential counter-play opportunities against their CQB and mid-distance counterparts.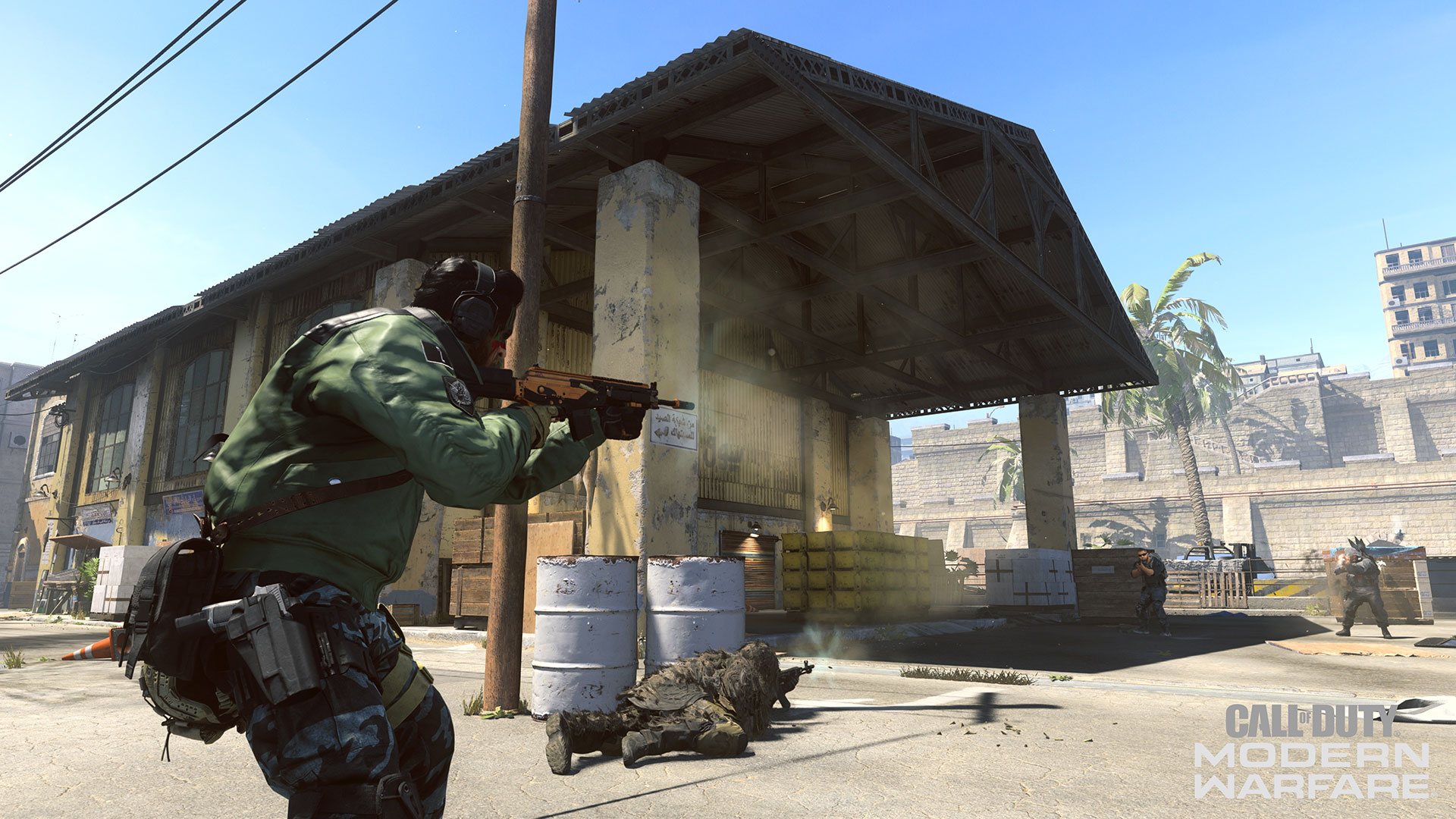 Suldal Harbor – Multiplayer (Available at Season Launch)
Long-time veterans or map fanatics will recognize this map from the franchise's first ever Multiplayer experiences, while others will be introduced to this classic map for the first time here in Season Five. Set in a Middle Eastern harbor, this medium-sized 6v6 Multiplayer map has Operators weaving through a variety of dockside structures and scenery, including shipping areas, fish markets, and weather-beaten administrative buildings. This harbor is located within a large port city that boasts a medieval castle perched on a distant bluff, but there's little time for sightseeing.
Enter the building interiors within the harbor if you're attempting to flank or defend an objective, but don't be caught off guard by ignoring your corners. The main flow of the map is dictated by the violence erupting at the choke points between the shipping areas and fish market locations.
This means those Operators bringing shotguns, SMGs, or assault rifles to the Harbor are likely to have an easier time outflanking their opponents, with longer ranged weaponry being more advantageous in a few key areas around the map. Need to hold one of those tight choke points and stop a foe from reaching their objective? You might want to pack a long-range rifle – assault, sniper, or marksman – with optional extended mags or an LMG.
Verdansk International Airport – Ground War (Available at Season Launch)
For those favoring large-scale combat, prepare to see Verdansk International Airport in a whole new light. Previously only accepting arrivals in Warzone, this Ground War map takes place in and around the airport. The zone encompasses the airport interior, parking garage, adjacent apartment complex and subway entrance, as well as the hangars along the eastern edge of the map.
No matter your style of play, there's a place to gain the tactical advantage: If you favor running and gunning or close quarters combat, explore and battle across the airport itself, from the multi-floor mezzanine to the maintenance corridors and baggage claim carousel. Or head into the parking lot garage and take up a raised or hidden position within the burned-out vehicle wreckage. Consider taking up refuge inside one of the main building interiors and go to work.
Favor more long-range sniping? Then stay on the rooftops, particularly on the apartment complex tenement buildings. Also expect emergent squad and gunplay moments to be created throughout the many exterior spaces and between capture points; amplified once you or your team utilizes the tanks and APCs on offer here.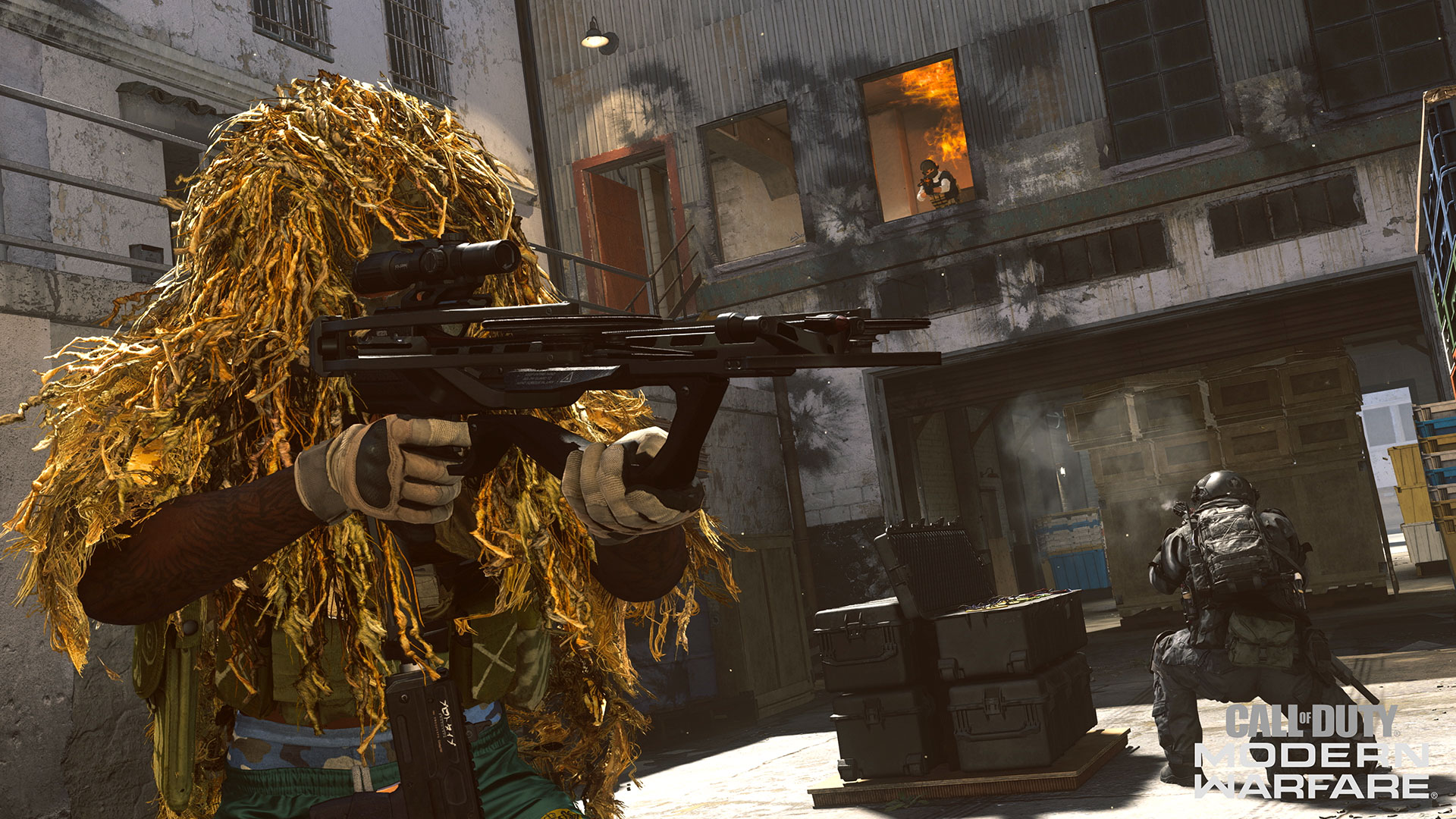 Even More Free Content: Multiplayer Modes and Missions
Season Five is also set to deliver new game modes, as well as playlists, mosh pits, and other additional updates during the Season. Expected content includes:
Bare Bones: Ready to focus on pure, unadulterated combat? Then try out Bare Bones; a rotation of TDM, Domination, HQ, Hardpoint, and Kill Confirmed with the same rulesets as before, albeit with one important distinction: There are no Killstreaks, no Field Upgrades, and no perks.
Search and Destroy Double Down: This variant game mode features elements from the classic Search and Destroy; where one team must plant a demolition charge on an enemy weapons cache. Except this time the stakes are higher as the scale is bigger; this is a 12v12, not the usual 6v6. Expect tactics and chaos!
Season Five Missions and Challenges: Whether you're playing Multiplayer or Warzone, the Challenges tab allows you to easily tailor your progression through the Season's Ranks whether you're focusing on Daily, Weekly, or Mission Challenges. Crave an even bigger Challenge for massive rewards? Over a dozen Mastery Challenges have been added across Warzone and Multiplayer for only the most elite players. In addition, don't forget to visit the Barracks and check on your new Rank Progression section to see all Season Five's ribbons and Officer Challenges. Focus on maxing out your Officer Ranks to earn a unique weapon blueprint.
The trailer for Modern Warfare & Warzone Season 5 was released earlier this week, which can be viewed here.
SOURCE: Activision
New CoD: Mobile leak reveals another Modern Warfare map is coming
A new leaked clip has revealed that the Shoot House map from Modern Warfare is getting its first remake in COD: Mobile.
A new leak has revealed that the Shoot House map from Modern Warfare is being beta tested in a Chinese server, which means that we'll see it arrive in Call of Duty: Mobile soon. Here's what we know so far.
Call of Duty: Mobile is entering a brand new Season, which means that there's a plethora of new content on the horizon. This includes some exciting new maps, and the new update will be bringing its fair share of those.
The game already has a lot of locations from other Call of Duty titles, and a new leak has emerged which suggests that another one from Modern Warfare will be added soon. This is referring to Shoot House, which was introduced back in November 2019.
COD: Mobile adds Shoot House map
This map was part of Modern Warfare's first free updates in 2019, and it gained popularity due to its fast-paced gameplay. It's fairly small in size, which means that you'll encounter enemies around every corner and have plenty of flanking opportunities.
The map's immense popularity among fans explains why it's getting a remake so soon, and players have a chance to try it out in a Chinese CoD Mobile Beta test. Domination is available to play as a game mode, and the map's design hasn't changed much.
You'll be better off sticking with SMGs and Shotguns when playing on this map due to the close-quarters nature of the combat. We strongly recommend you set up a class that's ideal for mobility, and allows you to fire from the hip.
So far, this remake of Shoot House is only available for COD: Mobile in a Beta stage. That means that the developers are working with fans to fine-tune it before it's actual release, so you can try it out, and leave feedback on areas to improve upon.
So far it seems to be working perfectly fine. No bugs or glitches have been discovered in the mobile version of Shoot House so unless that changes, we'll most likely see it in a future season of CoD: Mobile.
Season 1 already has a new map, so we don't expect to see Shoot House appear anytime in the latest update. However, if Activision announce any new developments about this, we'll be sure to update you.
Image Credits: Activision
How to fix Call of Duty: Warzone Dev Error 6034
If 'Dev Error 6034' is preventing you from playing Warzone, follow this simple guide to drop back into Verdansk in no time.
While Warzone Season 1 has seen a plethora of game-breaking exploits and bugs, one issue is preventing PC gamers from playing the battle royale altogether. Here's how to fix the Dev Error 6034 issue.
Black Ops Cold War x Warzone Season 1 got off to a shaky start with the overpowered DMR 14, pay-to-win MAC-10 blueprint, as well as invisibility exploits and the return of stim glitches. These problems have now been fixed, but further issues have plagued CoD fans.
Xbox players saw the return of the 'Blackout Trial Has Ended' screen, which Charlie Intel has covered a fix for, but 'Dev Error 6034' prevents PC players from playing Warzone and Modern Warfare.
The 'Dev Error 6034' bug first appeared in Modern Warfare shortly after launch, and because Warzone is connected to MW, battle royale players have encountered it too. If this frustrating error is preventing you from dropping into Verdansk, here's how to fix it.
How to fix Dev Error 6034
It's believed that Dev Error 6034 happens when Modern Warfare files become corrupted or unreadable. It sounds scary, but the fix is really quite simple.
A clean reinstall of the game is known to fix the issue, but there's a much quicker solution. What you have to do is locate specific files in the Modern Warfare folder, delete them, then run a Scan and Repair which will replace the files with the correct versions.
The problem with PC gaming is solving errors like this can be daunting; nobody wants to go into the guts of their game and mess with files. Don't worry, to make this as stress-free as possible, follow our simple walkthrough below.
Open the Modern Warfare or Warzone installation folder
Locate and delete the following files:
.patch.result
.product
vivoxsdk_x64.dll
Launcher.db
Modern Warfare Launcher.exe
After these files have been deleted, open Battle.net and run Scan and Repair on Modern Warfare/Warzone. It can be found through the 'Options' dropdown when the game is selected. These deleted files will now be replaced with working ones, and you can play Warzone again.
To prevent this problem from returning, make sure that Warzone downloads are uninterrupted. Leave your PC on until the download is complete, and avoid pausing and resuming the download when possible.
Image Credits: Activision / u/–SMHK–
Call of Duty player uses musical instruments as a controller
Call of Duty player, DeanoBeano, plays the game with various musical instruments. We had the opportunity to have a brief Q&A with him.
A Call of Duty player has discovered how to use musical instruments as a controller and has even killed enemy players with an assortment of different instruments.
Call of Duty is a game traditionally played with a mouse and keyboard or controller, but not for player DeanoBeano. Deano instead opts to play his Call of Duty games with musical instruments, such as drums, a recorder, and even bongos.
He posts these hilarious highlights to his Reddit and Twitter pages, going viral each time he posts his impressive clips.
You can see one of his most popular clips below, where he manages to snipe a player in Modern Warfare, while using the drums.
DeanoBeano is clearly a one of a kind player, so we managed to get in contact with him and sit him down for a Q&A, where he details how he's able to play the game with instruments, how he started, and more.
Q: How do you manage to get instruments to work as remotes?
Deano: I use instruments that I plug in to convert midi signals to keyboard commands, and acoustic instruments I control using pitch to midi, then midi to keyboard commands. The bongos were actually a controller from the GameCube games Donkey Konga and Donkey Kong Bongo Bash. (referring to the above clip)
CI: Can you explain Midi to our readers?
Deano: Midi is a signal that electric instruments send to computers and other instruments and devices that control sound to connect with each other.
Q: What originally gave you the idea to play Call of Duty with instruments?
Deano: I started drumming to gaming montages live on twitch about a year ago, so there was always an ongoing joke that I actually hit the clips with my drums.
Eventually, in August I figured out how to hook up my drums as a controller and after I started doing that, I figured it would be fun to try other instruments and odd controllers too.
Q: What are your future plans? Any new instruments you want to try?
Deano: My plan is to keep making Cold War multiplayer as fun as I can. Playing with a normal controller (especially solo) can be really tiring because of SBMM. I'm always looking at finding new ways to play the game, and I plan on bringing this to other games too. I'll be using some new instruments and controllers soon.
Q: What's your favorite instrument to play in games?
Deano: The recorder is my favorite instrument to play with at the moment. It makes the game pretty challenging but every kill and clip I get with it feels so rewarding.
Q: Do you actually play any musical instruments?
Deano: I do! I started with piano when I was a kid and later on picked up drums and got a Bachelor's degree in music on drums. I play a little bit of trumpet (and recorder I guess haha) but not much.
That's the end of our interview with Deano. To see more of his content, you can follow him on Twitter and watch his Twitch streams, where he appears to be most active. He also occasionally posts highlights of his streams to his YouTube channel.