Modern Warfare December 24 Update – New Playlists, 2XP, And More
A new Game Settings Update for Call of Duty: Modern Warfare is now live on PlayStation 4, Xbox One, and PC.
This new update brings some playlist changes, Double XP, and more to Call of Duty: Modern Warfare to celebrate the Holiday weekend.
Here's what's live in Modern Warfare from now through December 27 at 10AM PT:
2XP in Multiplayer
2X Tier Earn Rate for the Battle Pass
NEW Playlists live now in Call of Duty: Modern Warfare
Snowfight – a Gunfight mode variant with snowballs on the Winter Docks map
Drop Zone – 6v6 MP Mode
Shoot The Ship – Shoot House & Shipment 24/7 Playlist
There's also going to be a sale on Battle Pass tiers starting after December 27.
NEW Store Bundle now live: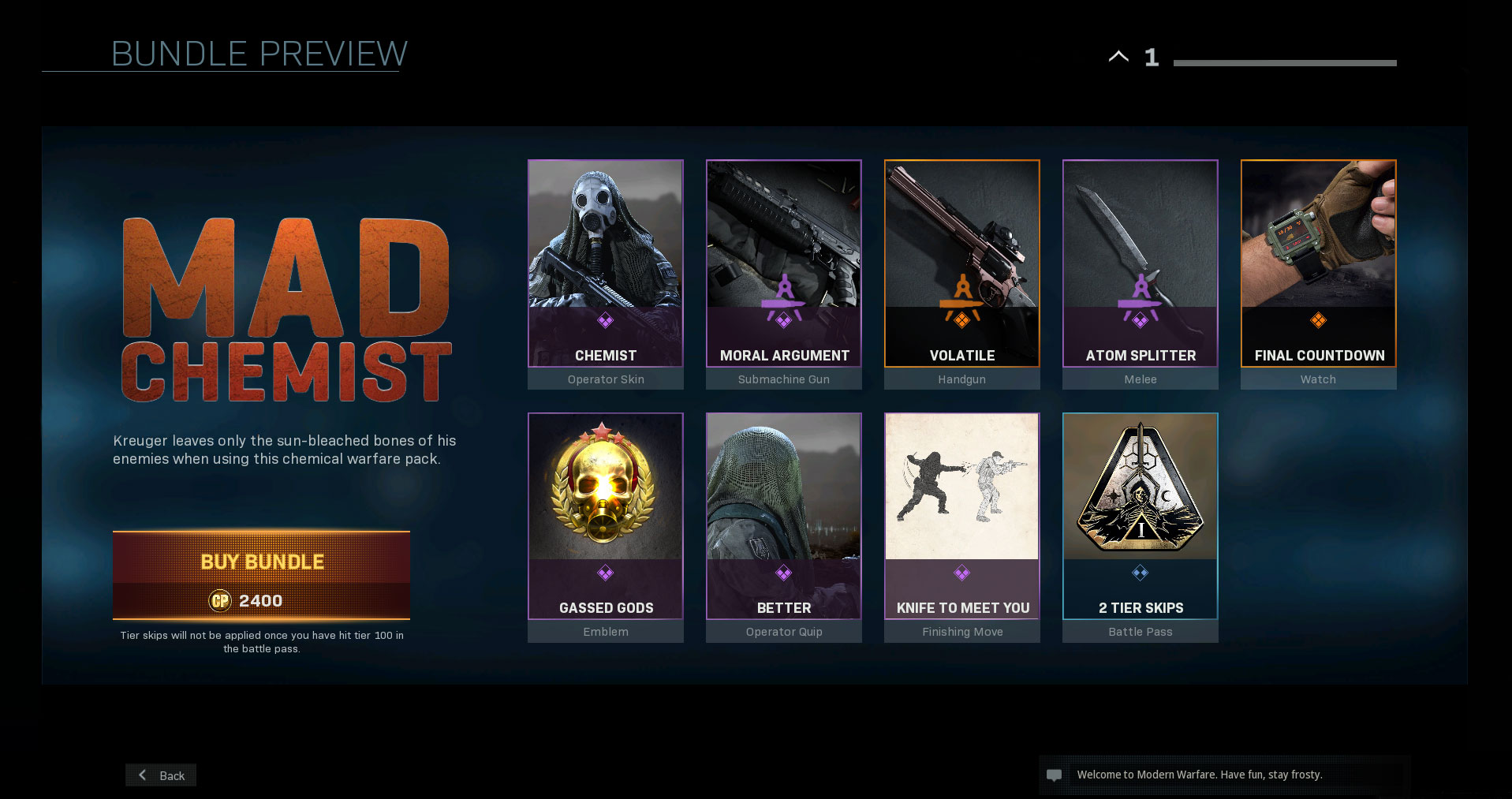 The 'Mad Chemist' ups Krueger's already menacing look with a gas mask ready for an experiment gone wrong. The bundle includes the 'Final Countdown' watch, two tier skips, the 'Moral Argument' weapon blueprint, a Legendary handgun weapon blueprint the 'Volatile' and more. Go to the Store to see all the goods available this week.
Happy Holidays!
Modern Warfare & Warzone Sept 30 update fixes crash issue
UPDATE: Infinity Ward has released a new patch that will resolve the crashing issues players are experiencing on all platforms.
The new update is an in-game update and requires a restart by players in order to get the update.
Once downloaded, the crashing issue should be resolved.
Original Story:
Following the newest update for Modern Warfare, which started Season 6, many PlayStation 4 users are experiencing issues playing the game.
With the recently update, PlayStation 4 players are getting a crash blue screen while playing matches of Modern Warfare MP. Some PC players are also experiencing issues.
PS4 players are seeing CE-34878-0 PS4 Error Code throughout their time playing Modern Warfare or Warzone after the recent update.
The blue screen issue started to happen after the Season 6 update, which went live on Sept. 28 at 11PM PT.
Activision has now confirmed they are aware of the issue.
"We're actively investigating an issue where some players are experiencing crashes," reads a new tweet from Activision's Support account.
There's no indication yet as to when players can expect an overall fix for the crash error that is occurring in Modern Warfare and Warzone.
Stay tuned for any updates on a fix for this error.
Feature Image above is example what the error looks like.
Modern Warfare & Warzone Season 6 Update: Patch Notes
Infinity Ward has released the latest patch update for Call of Duty: Modern Warfare and Call of Duty: Warzone on all platforms.
This update kicks off Season 6 of the Modern Warfare and Warzone on all platforms.
Update Download Information
The update size for Season 6 update for Modern Warfare and Warzone:
PlayStation 4: 19.3 GB
Xbox One: 22.66 GB
PC: 57 GB (Modern Warfare owners) and 25.5 GB (Warzone only owners)
In addition, PS4 & Xbox One players will have an additional compatibility pack to play Multiplayer and Special Ops.
PlayStation 4 Compatibility Pack: 7.8 GB
PlayStation 4 Survival Pack: 5.8 GB
Xbox One Compatibility Pack: 8 GB
Xbox One Survival Pack: 5.9 GB
Due note, Survival Mode for Modern Warfare available now on PS4 and coming October 1 to Xbox One and PC.
PATCH NOTES:
New Operators, Nikolai and Farah join the fight. New weapons. New maps. New modes. More Battle Pass gear for you to unlock.
PLAYLIST UPDATE:
MODERN WARFARE:
Ground War
Gunfight Blueprint Customs
Face Off – Station
Killstreak Confirmed
Season Six Mish Pit – Season Six maps Broadcast and Mialstor Tank Factory in mosh pit game modes
WARZONE:
BR Quads
BR Trios
BR Duos
BR Solos
Plunder Trios
Armored Royale Quads

GENERAL FIXES:
C4: Slight delay when performing a quick detonation. A beep will now play when quick detonation is triggered. Also reduced throw initial velocity by 30%
Fix for a bug where, after reviving a teammate in Survival, there will be a 5 second delay before the user is able to use their weapon again
Fix for an issue where players could obtain unlimited Stopping Power rounds
Fix for an issue where the defending player had a long respawn timer after the HQ was taken back and all players were dead while in a Headquarters match
Fix for an issue where it was possible to put a molotov or grenade into a planted bomb causing it to kill the diffusing player
WEAPONS:
Fix for two issues where the player's watch and/or Heartbeat Sensor would not be entirely visible when using the XRK Chainsaw attachment on the Finn LMG
Fix for a bug where explosive and thermite rounds do not function as intended on the Chronic variant from the Blunt Force II bundle
Fixed an issue where the muzzle selection screen for the Finn LMG was hard to view in the Gunsmith menu
Fixed an issue where the player's left hand will not properly grip the weapon when the 23.0" Romanian barrel is equipped on the AK
Fixed a few bugs where the prone hipfire viewmodel positioning was not appearing as intended and could disappear in certain circumstances
Origin 12: Reduced very close damage in Warzone
Shotguns: Increased damage of slugs in Warzone
XRK ChainSAW – FiNN LMG:

Adding a description in Gunsmith nothing the attachment does not allow for weapon mounting
Increased brightness on the Tac Laser attachment
WARZONE:
Fixed a collision issue in the south corner of the Stadium
Fix for an issue where a fence with a white tarp over it near the Hospital was allowing players to see through it on one side
Fix for an issue where, on occasion, the train would appear as a white placeholder icon on the map
Implemented fixes to help properly track Warzone wins
Fixed a bug where players were unable to damage enemies with gunfire while on an ascender
If a player has their minimap set to not rotate, they will see inaccurate pings on the heartbeat sensor. This has been fixed.
Fix for a rare issue where the Train's supply boxes could vanish during longer rounds
PC:
NVIDIA Reflex is now available in Call of Duty: Modern Warfare, including Warzone, and will deliver latency improvements in GPU-intensive gaming scenarios on GeForce GTX 900 and higher NVIDIA graphics cards
Improved stability and performance
SOURCE: Infinity Ward
Modern Warfare & Warzone Season 6 PlayStation exclusive content
PlayStation Blog has announced the latest batch of exclusive content for PlayStation users in Modern Warfare and Warzone.
Activision has confirmed that Modern Warfare's Survival mode officially arrives on Xbox One and PC on October 1, 2020, but PlayStation gets a bonus Combat Pack exclusively for Season 6.
Survival mode gets an update with a new map: Hovec Sawmill. This map is only on PS4 until October 1, 2020.
In addition, there's a Warzone Season Six Combat Pack available only on PS4. The Warzone Season 6 Combat Pack is a timed PlayStation exclusive until December 1, 2020.
Survive the Gulag in Warzone or fight to secure the victory in Multiplayer bundle that is free for all Playstation Plus subscribers. Download the Pack by going to the Franchise section of the Store and scroll down to the Miscellaneous section. The bundle includes the following:
Epic Rodion 'Red Death' skin (This skin unlocks the Operator, if not already owned)
Epic 'Shivvie' Melee Weapon
Epic 'Slipshod' Handgun Weapon Blueprint
Epic 'Ball and Chain' Charm
Epic 'Don't Back Down' Calling Card
Epic 'Gulag' Emblem
Epic 'Inside Job' Sticker
60 Minute Double XP Token
There is also a timed exclusive Weapon Blueprint, which is available only on PS4 until October 1, 2020, per the PS Blog.
Turn the Tides and Earn the *Exclusive Tide Pool Blueprint
A sniper designed for players who lock down lanes in Multiplayer and can eliminate squads escaping the circle collapse in Warzone. The blueprint is earned in a five-step mission set, found in Missions, that requires use of multiple weapon classes and in-match skills. The weapon has a shorter barrel that other sniper rifles but can still go the distance thanks to a quality scope. Build a complete loadout with an agile and strong-secondary like the GS or Renetti and perks that help you withstand damage like Battle Hardened and EOD until the job is done.
Stay tuned for the latest news on Modern Warfare and Warzone.
SOURCE: PS Blog