Modern Warfare & Warzone Season 5 Battle Pass Overview
With the launch of Season 5 in Call of Duty: Modern Warfare and Warzone comes a brand new Battle Pass for players to pick up and level through.
The new Battle Pass includes two new free weapons: the ISO SMG (Tier 15) and AN-94 AR (Tier 31).
Alongside the new weapons, players who purchase the Battle Pass will get a brand new Operator for the Season.
Similar to Season 4, there are two tracks: the free and Premium track. Free track will include 20 tiers of content, including the two new weapons. The Premium track introduces new War Tracks, Operator Skins, Blueprints, and more for fans to unlock.
Battle Trailer:
Battle Pass Overview:
The Season Five Battle Pass system enables you to obtain two new weapons: the ISO SMG (Tier 15) and the AN-94 assault rifle (Tier 31) that all players in Modern Warfare including Warzone can earn for free, just for playing the game.
Weapons Inspection: A First Look at Season Five's Free New Armaments
Players can earn new weapons to utilize during the course of Season Five. Two are available for free within the Battle Pass system for all players: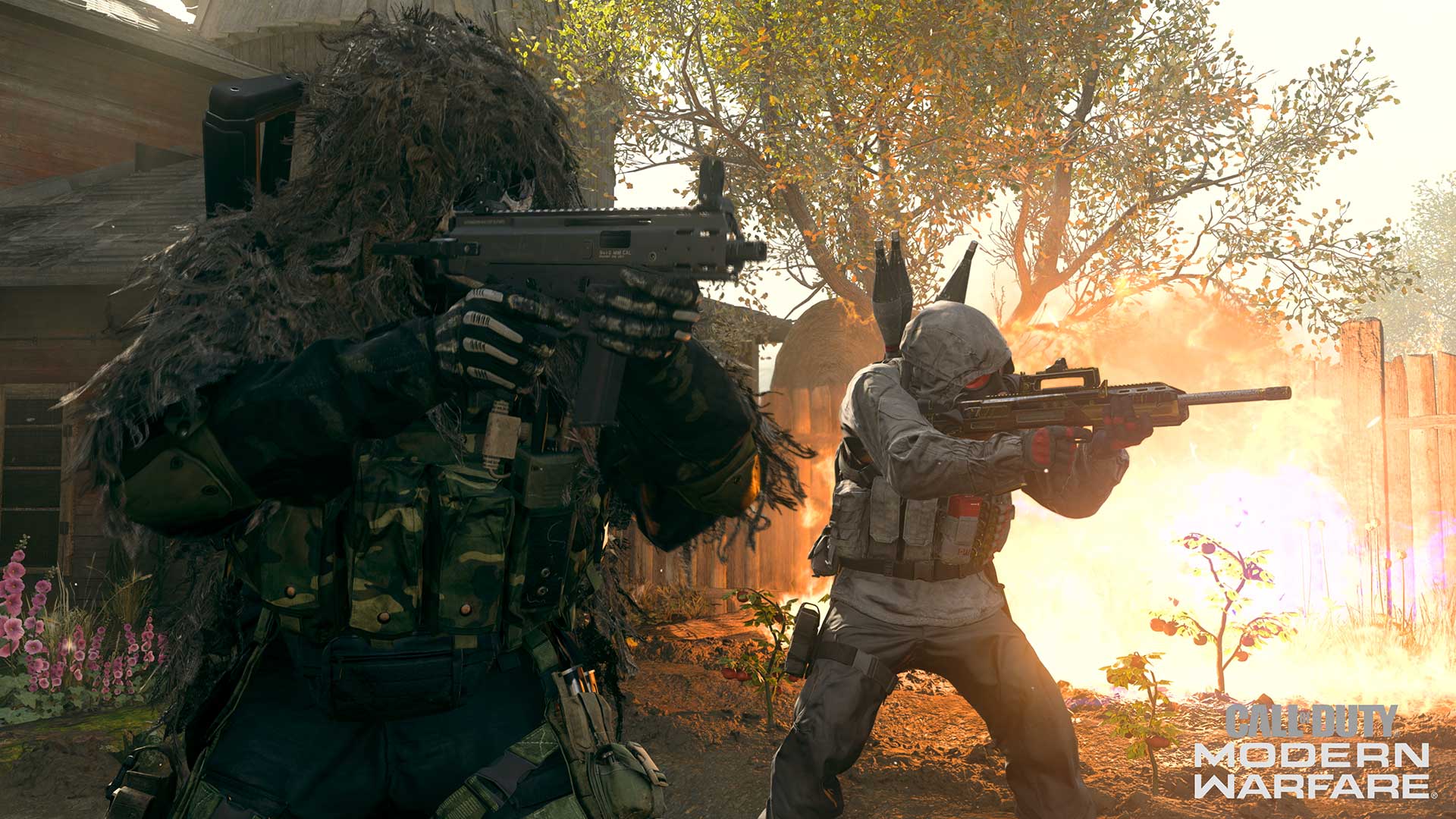 ISO SMG (Free Battle Pass System Weapon): A precision crafted 9mm sub machine gun with a rapid rate of fire. Lightweight, reliable and compact, this is designed to control the battlefield at close ranges.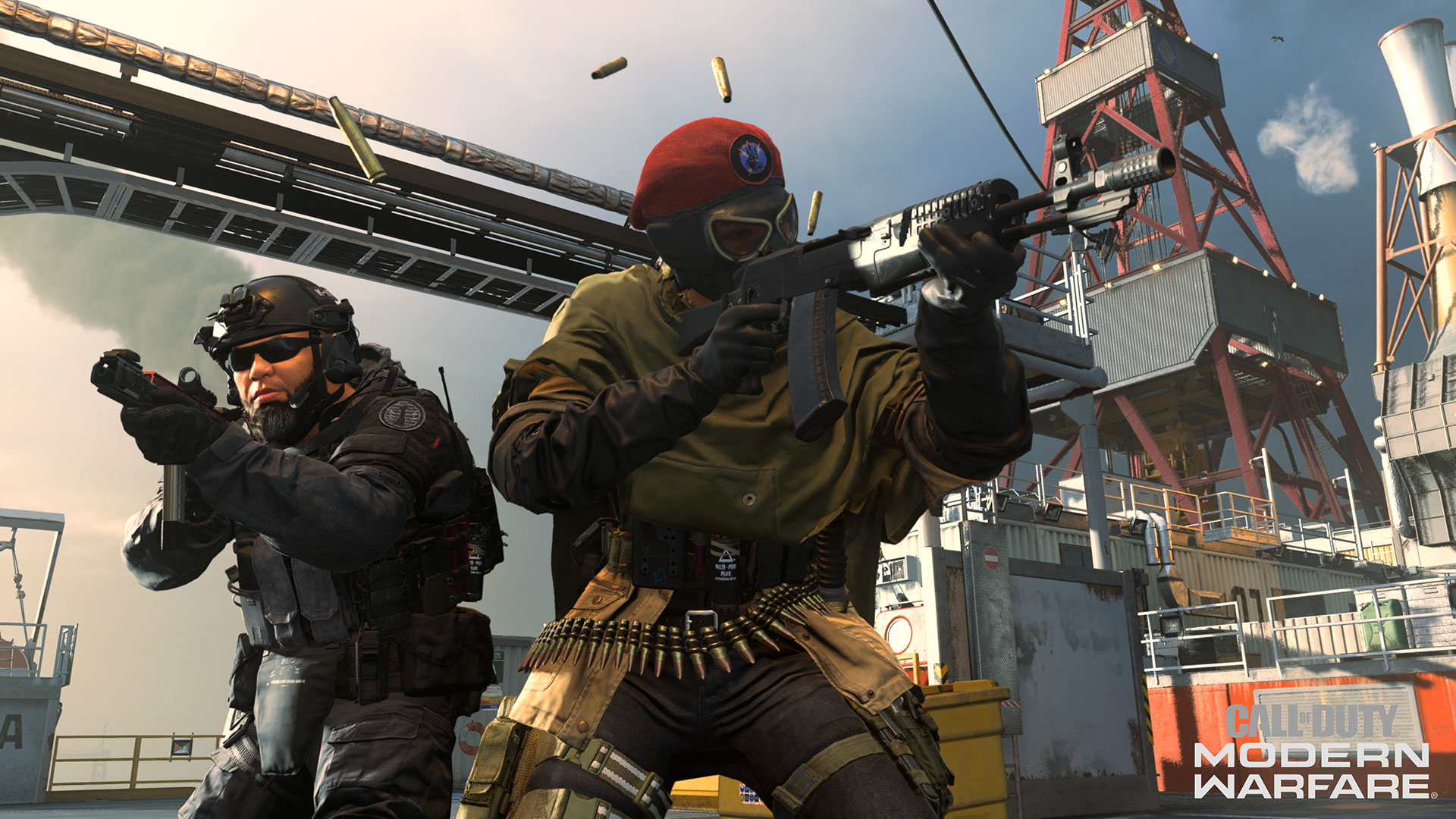 AN-94 AR (Free Battle Pass System Weapon): A cutting edge 5.45x39mm Russian assault rifle with a unique hyperburst feature: The initial shot of a full-auto volley is followed up by an instantaneous second round before significant recoil is felt. This creates a tightly grouped cluster of shots with increased damage potential. The mechanism is fed by a canted magazine and a reciprocating receiver helps control the recoil.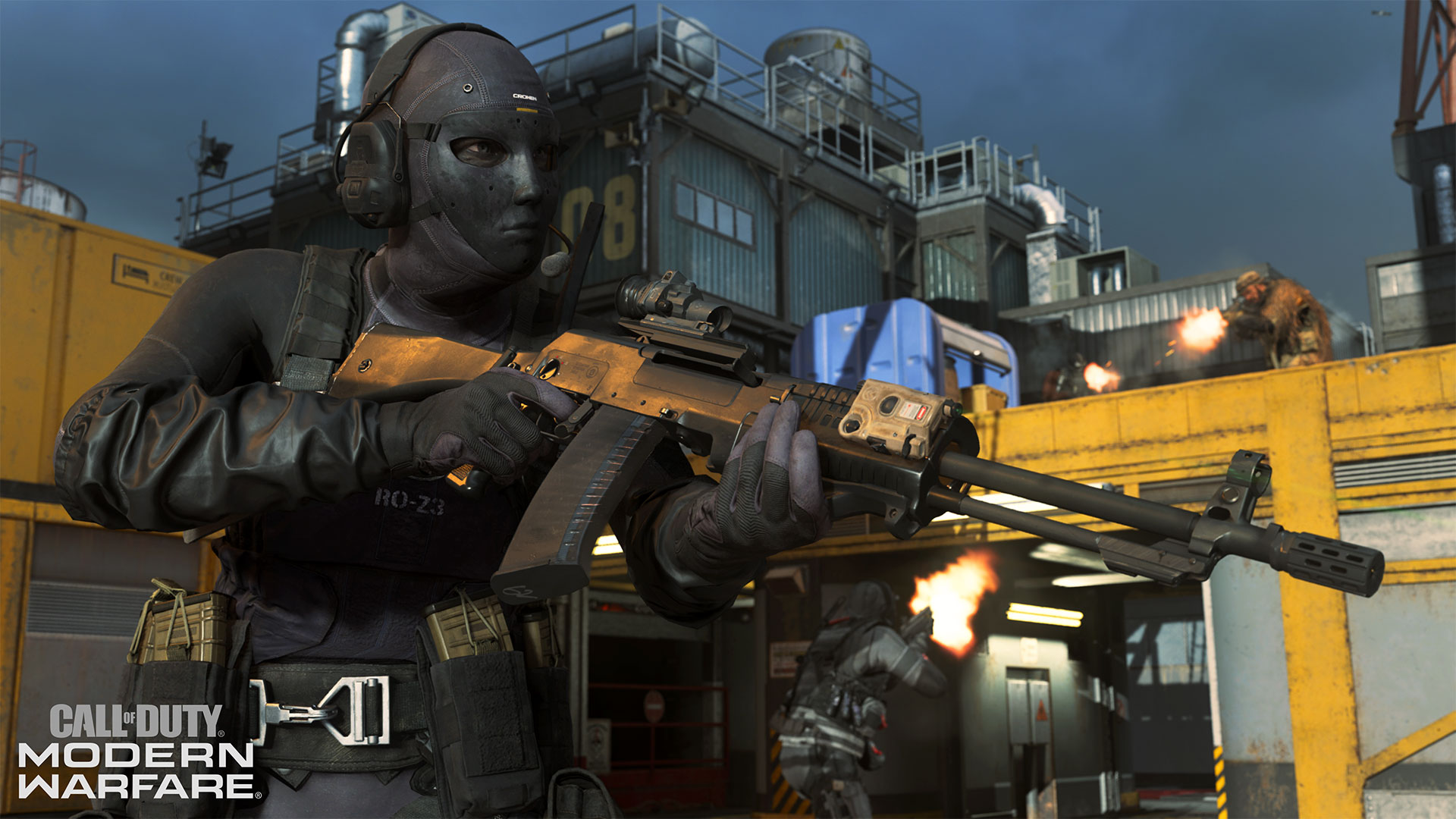 A Robust Collection of Content when you Purchase Battle Pass
When you purchase the Season Five Battle Pass, you can unlock up to 100 Tiers of exceptional new content, including up to 1,300 COD points (enough to buy the next season's Battle Pass), and instant unlock – Lerch, the leader of the Shadow Company. Progress through the Battle Pass to earn Operator skins, blueprints, and more.
Battle Pass Instant Unlocks:
New Operator: Lerch, Shadow Company (Tier 0): Lerch's initial look – the Operator skin "Behemoth" – becomes increasingly tactical with the "Gargantua" and "Colossus" variants earned by completing his Operators Mission. Lerch is Shadow Company's leader and a former MARSOC member who received a general discharge under honorable conditions. Barely. Thrives in the private sector where he operates under his own terms.
Wartracks (Tier 0): Get a trio of songs so you can listen to a variety of Modern Warfare music as you drive through Verdansk. The tracks include "Sepulchre", an audio assault of bombastic metal previously heard from inside a Juggernaut suit.
Rodion Operator Skin and Mission (Tier 0): Rodion also shows his alliance to Shadow Company with the "Archangel" skin and Mission.
XP Boost (Tier 0): Get more XP for your efforts with this 10% XP boost that lasts the duration of the Season.
Battle Pass Vehicle Highlights: Expect a dark and brooding look to many of the Battle Pass items in-keeping with the arrival of Shadow Company. These include a variety of vehicle skins like the "Tarrasch" (ATV) and "Siege Tower" (Cargo Truck). Continue your matte black vehicle collection with the "Night Ranger" (SUV) skin. Check out all the vehicle skins in the Battle Pass system and equip them in the Vehicle Customization menu.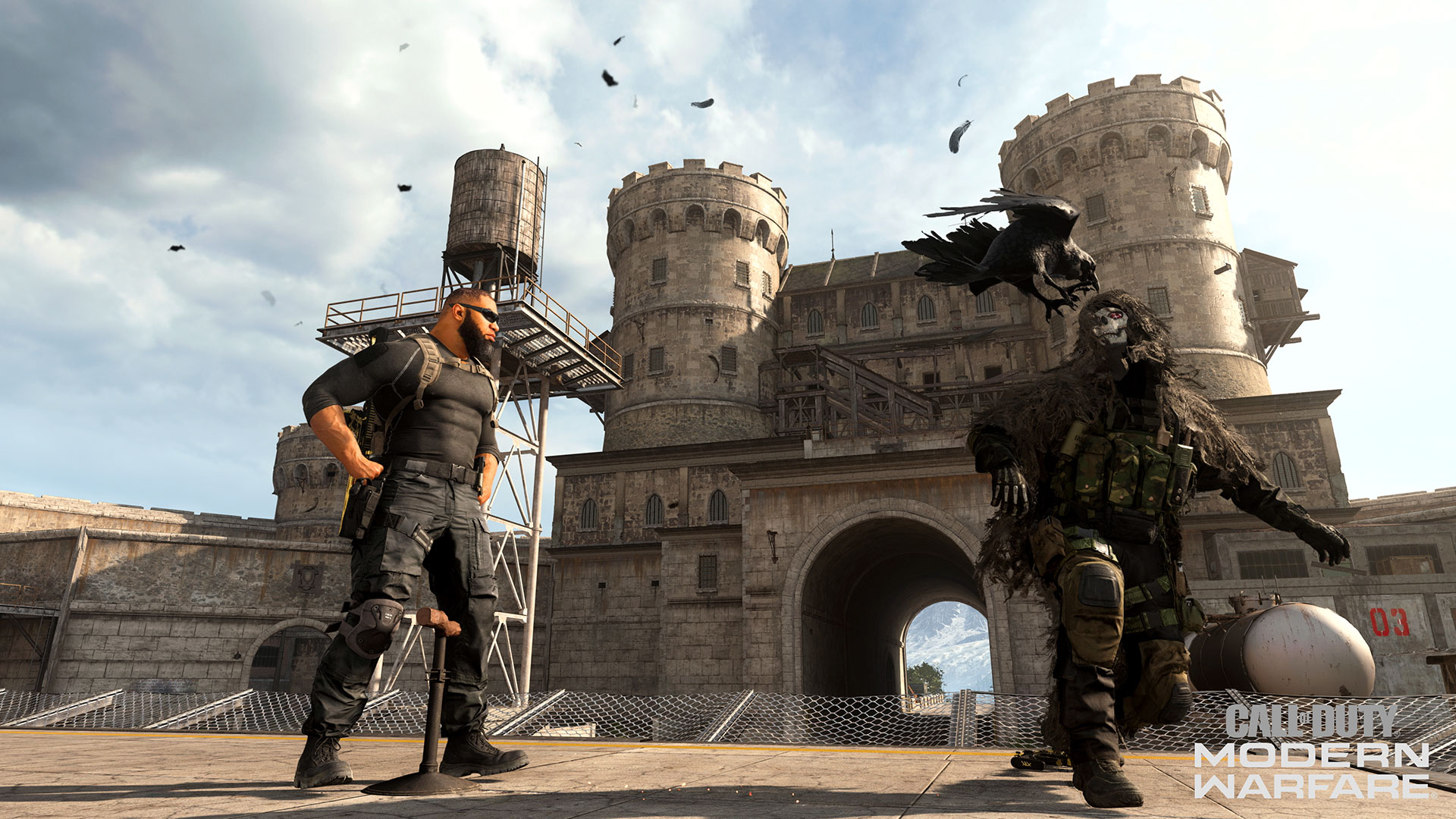 Battle Pass Operator Skin Highlights: As well as Lerch's evolving skin and Rodion's "Archangel" outfit, expect a number of additional skins (with associated Operator Missions) as you progress through the Battle Pass. There's the "Safeguard" Otter skin, "Lynx" Domino skin, Joint Task Force Mil-Sim skin, "Honcho" Yegor skin, "Pursuit Special" Wyatt skin, "Chill Pill" Syd skin, "Jackdaw" Talon skin, and the "Cut and Run" skin for Iskra. Lastly, if you're wanting to defeat a foe with a savaging from the jet-black beak of an attack Raven, be sure to equip the "Nevermore" finisher!
Battle Pass Blueprint Weapon Highlights: As well as the previously listed free Blueprint weapons, you can earn many more additional Blueprints within the Battle Pass. These include a new melee blueprint, three handguns, two shotguns, three SMGs, two assault rifles, three LMGs, and a sniper rifle.
Battle Pass Tier 100: The ultimate Season Five Battle Pass reward is the "Rook" skin for Roze, as well as "The Veil" vehicle skin, and more. Shoot for "The Company's Might"; negative tracer rounds for Assault Rifle Lima to fill your foes with fear as well as projectiles!
The Battle Pass and Battle Pass Bundle can be purchased at any time throughout the Season. If you purchase the Battle Pass Bundle later, it rewards players on all of their previous tier progression, instantly unlocking items that were behind locked tiers while advancing them 20 additional tiers up the Battle Pass system.
SOURCE: Activision
How to fix Warzone & Modern Warfare Dev Error 6178
Here are all the different fixes that you can try out for Dev Error 6178 in both Call of Duty: Modern Warfare and Warzone that will help you out.
Dev Error 6178 is an error code that various Warzone and Modern Warfare players have encountered, and this guide will cover all the different solutions you can try out.
Call of Duty: Warzone and Modern Warfare are extremely fun titles, but players can quickly encounter error issues at times. Goldflake error,  error 5476, Diver Error 6, and unknown function Fatal Error are some examples.
If Modern Warfare or Warzone crashes while loading a map on PC, you may encounter Fatal Error Dev Error 6178.
This guide will go over what this error is and how you can get around it.
How to fix Warzone & Modern Warfare dev error 6178
Disable In-Game Overlay & Nvidia Highlights
There have been various causes for this error in Warzone. Aside from the game crashing while loading a map, this can also occur when the camera returns to the player after they get killed.
Many players have reported this problem happening while they try to play the game with both In-Game Overlay and Nvidia highlights enabled at the same time, so we recommend disabling them both.
Here's what you need to do:
Open up GeForce Experience while the game is turned off
Go to the General tab and disable In-Game Overlay
Save and close Nvidia Experience
Launch Modern Warfare
Go to Options > Graphics> Nvidia Highlights
Disable Nvidia highlights and restart the game
Update your GPU drivers
If you're still encountering Dev Error 6178 then your GPU driver might need updating. This is because the in-game graphics can only be handled with the latest version of the GPU driver.
Here's how you can update it:
Open up Device Manager
Scroll

down and select

Display Adapters
Click on the GPU that you want to update select Update Driver .
Select Search Automatically for updated driver software to install the new driver
Launch the game to see if it worked.
Run the game as Administrator
The problem might be that the game requires certain permissions that you can only grant as the admin. For this reason, you can try launching the game as an Administrator and see if that fixes things.
This is a fairly simple process:
Right-click on Modern Warfare
Select Run as Administrator
Click yes to grant permissions
Wait for the game to launch and see if you encounter the error.
Increase the graphics settings
Sometimes the most straightforward solutions are the best ones, and many players have reportedly fixed the error by switching the in-game graphic settings to Medium or High.
You can get this done fairly quickly:
Launch Modern Warfare
Go to Settings.
Select Graphics
Change the texture resolution to Normal in Details & Textures
That covers all the solutions you can try to fix Dev Error 6178 in both Warzone and Modern Warfare. This error can particularly annoying and keeps players from being able to enjoy the game.
Hopefully, our guide has helped with this problem, and you can check out other cool stuff at Charlie INTEL such as the latest Call of Duty: Vanguard news and guides!
Image Credit: Activision / Infinity Ward / Raven Software
How to fix Warzone & Modern Warfare Status Goldflake error
Modern Warfare and Warzone players have been dealing with the Status Goldflake issue for a while, here is our guide on how to fix it.
The Status Goldflake error is another problem that has been in Call of Duty: Modern Warfare and Warzone for a while, and here is a quick guide on how to deal with it.
It's almost impossible for a game to steer clear of bugs and potential banana skins, particularly when dealing with complex factors such as internet connection and crossplay.
As a result, various error issues can arise and have done in Modern Warfare and Warzone with error 5476, Diver Error 6, and unknown function Fatal Error being just a few examples.
Now, it's time to try and help players who regularly deal with the "Status Goldflake error" that can disrupt sessions of Modern Warfare and Warzone.
Warzone & Modern Warfare Status Goldflake error solution
There isn't a complex set of bullet points to follow or a strict guideline you must adhere to in order to fix the Call of Duty Status Goldflake error message, thankfully.
Here's our official way to solve the Status Goldflake error problem:
You need to first encounter the Status Goldflake error
Once it happens, depending on your format, you need to select the restart option for the hardware
Wait for the system to reboot itself
The load up Modern Warfare or Warzone again
The error message should have gone away, and you're safe to resume your online gaming!
If for some reason this doesn't work, then we'd suggest you do a hard reset of your system e.g if you're on console, then unplug the console's mains, or hold down the power button for a few seconds until it completely switches off, then turn it back on again.
What is the Status Goldflake error in Modern Warfare and Warzone?
The Status Goldflake error is quite simply an error message that occurs if the user puts their system into some kind of power-saving state, such as the PlayStation's Rest Mode, and tries to go back onto the game.
The major sticking point with the error message is that there's no permanent solution for it. Unfortunately, it will keep coming back every so often, and if it does, you just need to repeat the steps that we advised above.
---
Hopefully, our guide has helped with the Status Goldflake error code, and you can check out other cool stuff at Charlie INTEL such as the latest Call of Duty: Vanguard news and guides!
Image Credit: Activision / Infinity Ward / Raven Software
Is Modern Warfare cross-platform? Current cross-play status
Cross-platform play has become a staple of the Call of Duty franchise, so here is everything you need to know about it in Modern Warfare.
Cross-platform is a feature available in various titles in the Call of Duty franchise, so here is what you need to know about Modern Warfare cross-platform play.
Modern Warfare can be a ton of fun to play with friends. You and your buddies can either team up to take down opponents together or become rivals who battle each other for supremacy.
Since the game is available on various consoles, sometimes you'll want to play with friends on a different platform.
This guide will cover everything you need to know about the Modern Warfare cross-platform feature.
Is Modern Warfare cross-platform?
Yes, Call of Duty: Modern Warfare comes with cross-platform play so that you can play with your friends on different platforms, whether you're on Xbox, PlayStation, or PC.
This works similar to the cross-platform feature in Warzone. When you're in the social menu, you'll be able to see players on the same platform as you displayed at the top-right hand corner of the lobby screen.
If you want to find someone on a different system, select the "add friends" option. This will allow you to search other players by their PSN ID, Xbox Live Gamertag, BattleTag, or Activision ID and take full advantage of Modern Warfare cross-platform.
You can also disable crossplay if you wish to play with friends on the same platform, but this will lead to longer waiting times in the lobby, so we don't recommend turning off the cross-platform feature.
Cross-platform has been one of the most popular features in the Call of Duty franchise, and titles like Black Ops Cold War also have it.
We expect this feature to be a consistent part of the franchise from now on, with Call of Duty: Vanguard being the next game in the fan-favorite series to utilize the ability for players to play with each other no matter if it is PC, Xbox, or PlayStation.
For more Call of Duty: Modern Warfare, check out how to fix Warzone & Modern Warfare Status Goldflake error, and stay tuned to Charlie INTEL.
Image credits: Infinity Ward