Modern Warfare & Warzone Season 5 Reloaded: Games of Summer & More
Activision and Infinity Ward have announced Modern Warfare and Warzone Season 5 Reloaded.
Season 5 Reloaded officially begins on Monday, August 24 at 11PM PT with a new patch update, followed by the Games of Summer event beginning on August 28.
Season 5 Reloaded features the new Games of Summer event, which begins August 28 and ends on September 7.
It also includes the debut of a new Gunfight map: Verdansk Stadium, new Warzone modes, new LMG, and more coming during Season 5 Reloaded.
There will also be a Gunfight Free Access Tournament weekend starting Friday, August 28 and ending on Wednesday, September 2.
Get the breakdown on what's coming from the Activision Blog:
Season 5 Reloaded Roadmap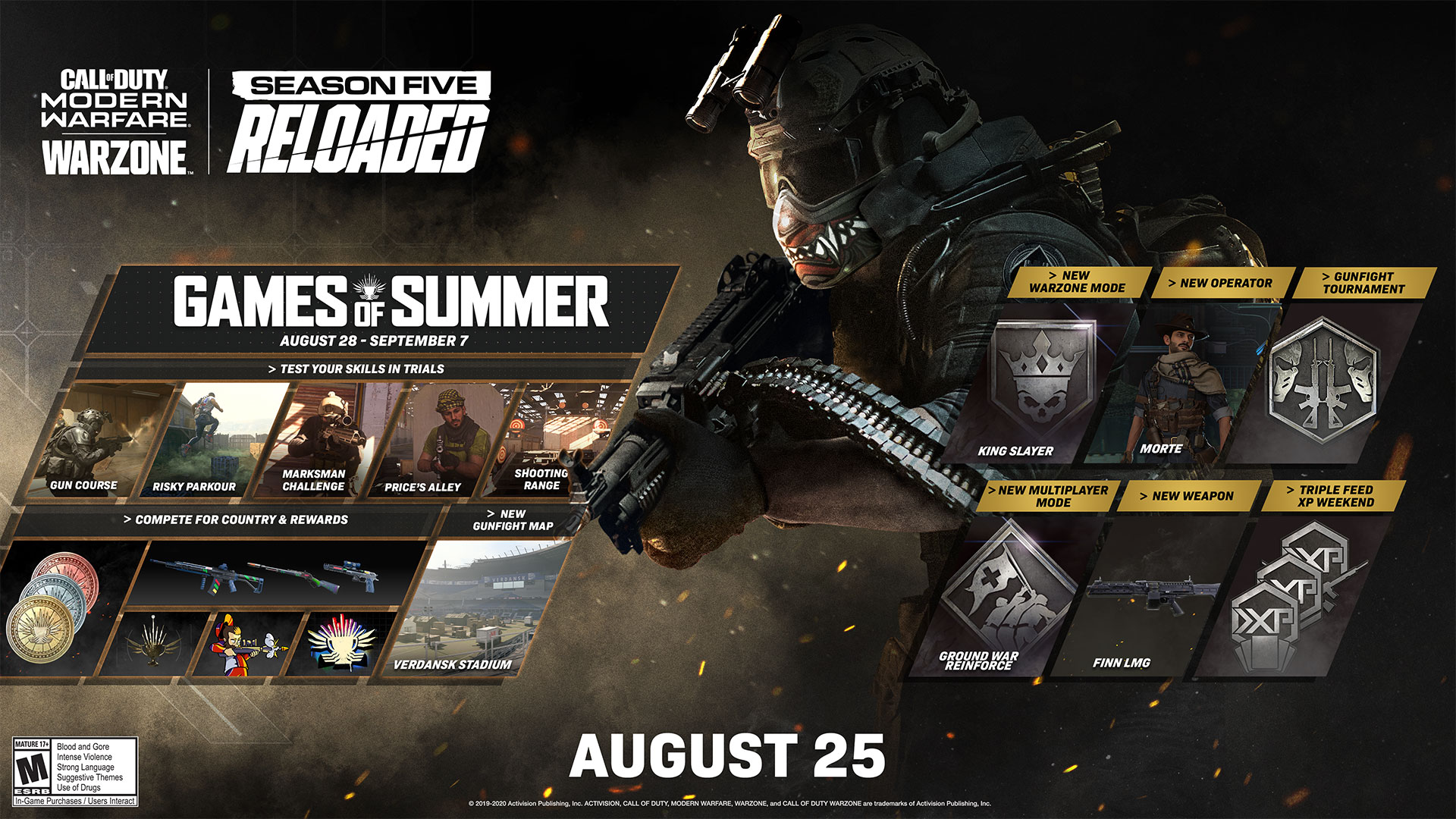 The Games of Summer Event (Available August 28 – September 7)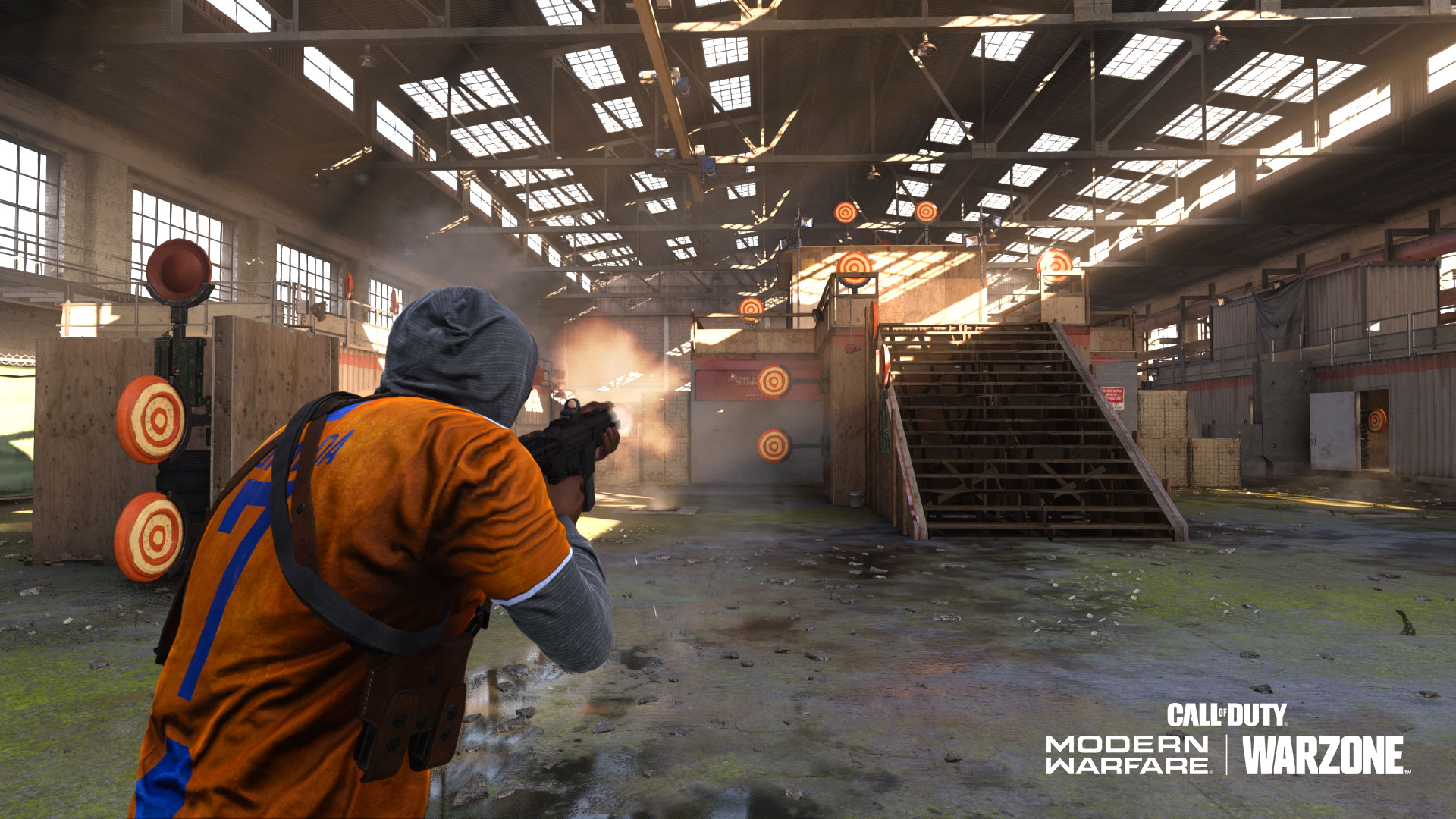 Compete for Glory…And Free Rewards
For the first time in Call of Duty franchise history, community members from around the world – both those who own Modern Warfare and free-to-play Warzone – will be able to represent their country in easy-to-play, hard-to-master, single-player Trials of skill. By earning medals in each Trial, competitors will prove which country's Tier One Operators are truly the best in the world.
Within Games of Summer, there are five Trials. These miniature experiences are similar to those introduced at Modern Warfare'slaunch and in post-launch Season updates.
Trials will be available for Modern Warfare and free-to-play Warzone players, starting on August 28 at 10 a.m. PT. Players will have unlimited entries, meaning you can keep playing them to set your best time or score and go for Gold.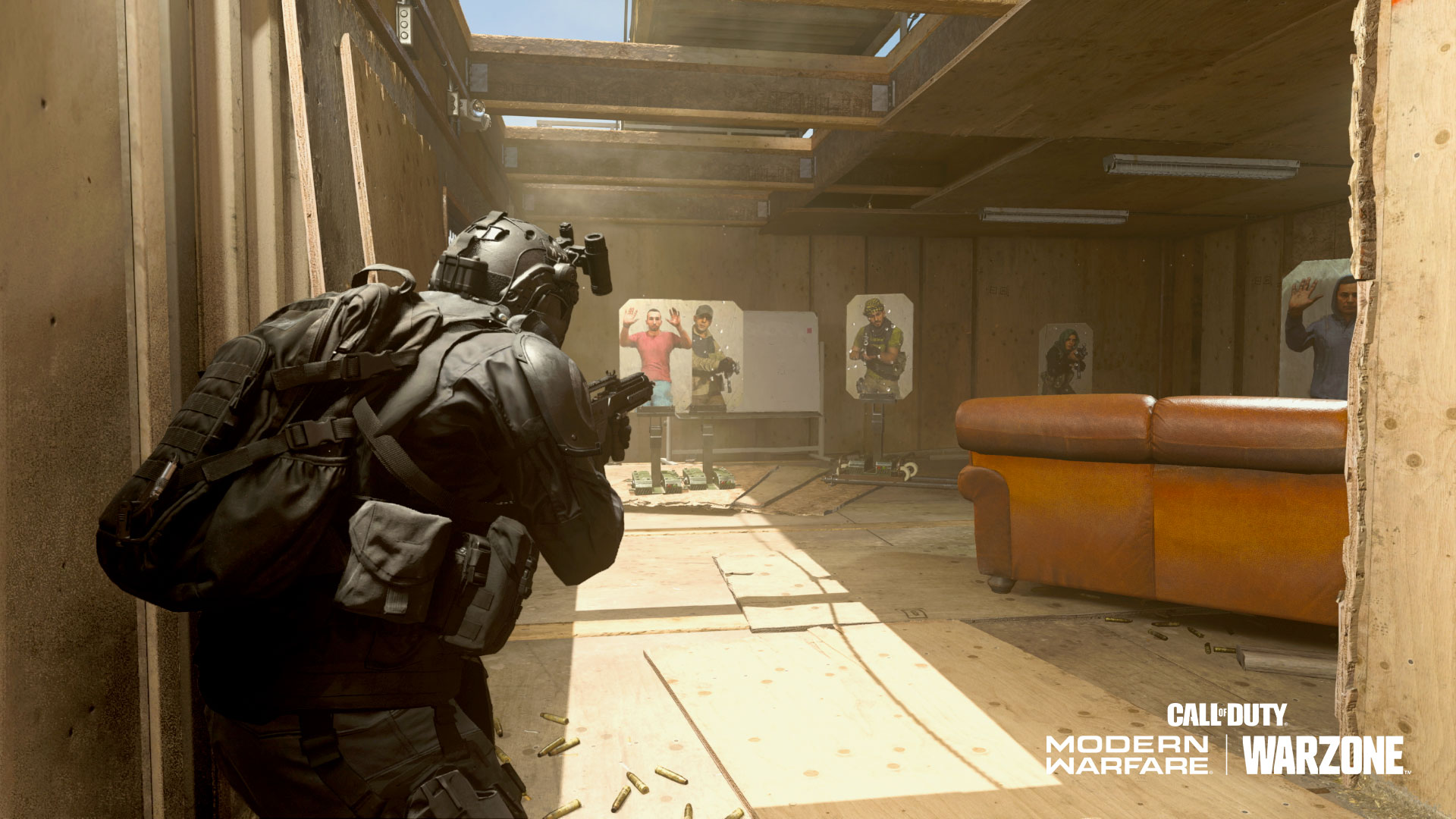 A Pentathlon of Trials
Gold Medal tip: some Trials shave seconds off your final time for high accuracy, while others add points based on how quickly waves are completed.
Trial One: Gun Course (Starts August 28) on Custom Gun Course Map

Description: Make your way through the course as fast as possible while clearing all enemy targets and avoiding civilian casualties.
Medal Times: 01:30:00 (Bronze) / 01:00:00 (Silver) / 00:40:00 (Gold)
Loadout: Assorted Weapons
Trial Two: Price's Alley (Starts August 29) on Custom Price's Alley Map

Description: Eliminate an endless series of enemy targets while avoiding civilian targets to maintain the combo for as long as possible.
Medal Scores: 4,000 (Bronze) / 5,000 (Silver) / 6,000 (Gold)
Loadout: Renetti (Handgun)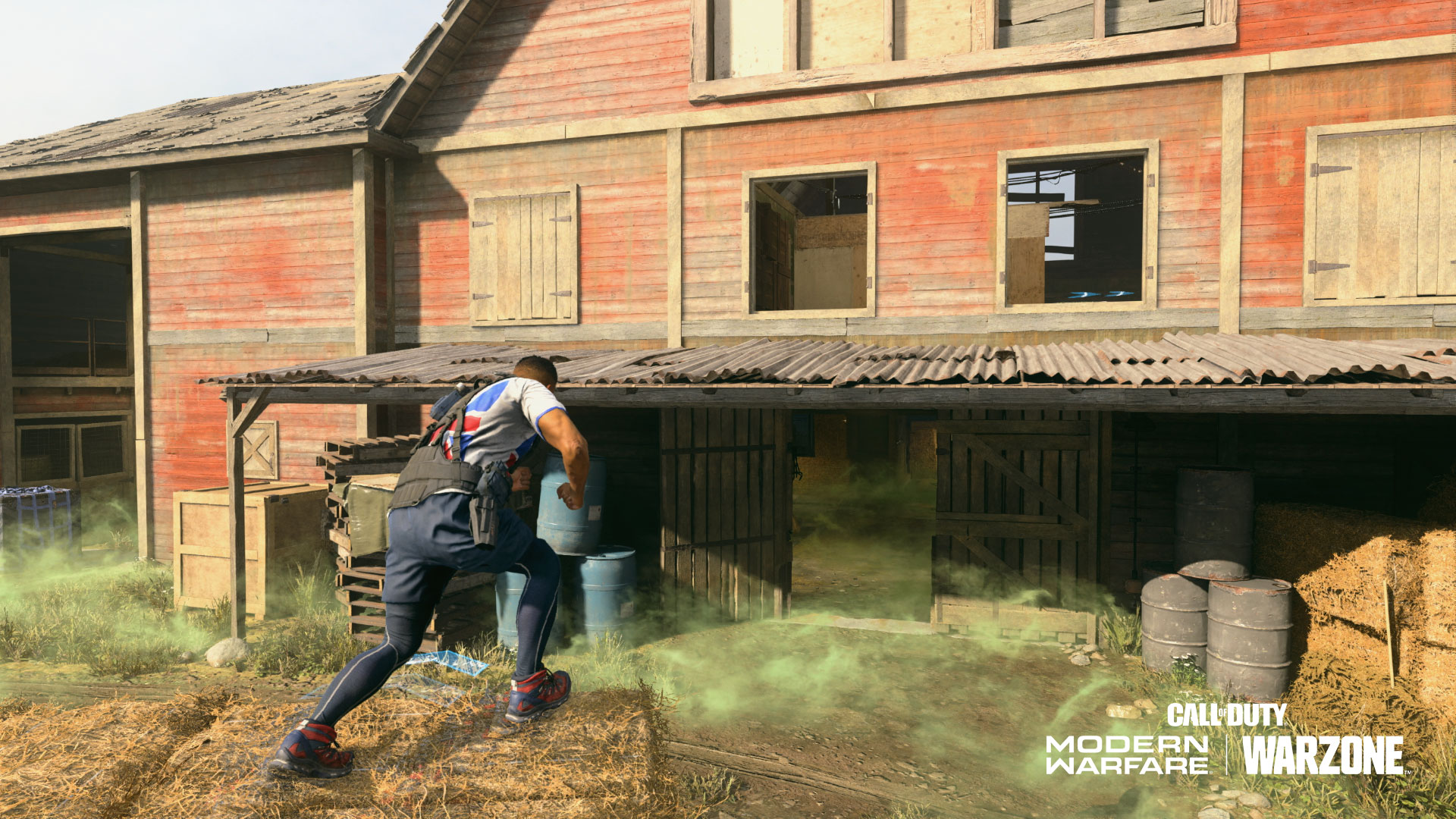 Trial Three: Risky Parkour (Starts August 30) on Livestock

Description: Move through each checkpoint and finish the course as quickly as possible. Beware the heavy toxic gas on low ground.
Medal Times: 0:55:00 (Bronze) / 0:47:00 (Silver) / 0:40:00 (Gold)
Loadout: Combat Knife
Trial Four: Shooting Range (Starts August 31) on King

Description: Locate and shoot all targets in the area as quickly as possible while conserving ammunition.
Medal Times: 0:50:00 (Bronze) / 0:40:00 (Silver) / 0:30:00 (Gold)
Loadout: Assorted Weapons
Trial Five: Marksman Challenge Starts (September 1) on Custom Marksman Challenge Map

Description: Engage waves of long-distance targets and beat the clock. Missed shots burn time.
Medal Times: 3,400 (Bronze) / 3,900 (Silver) / 4,400 (Gold)
Loadout: HDR (Sniper Rifle)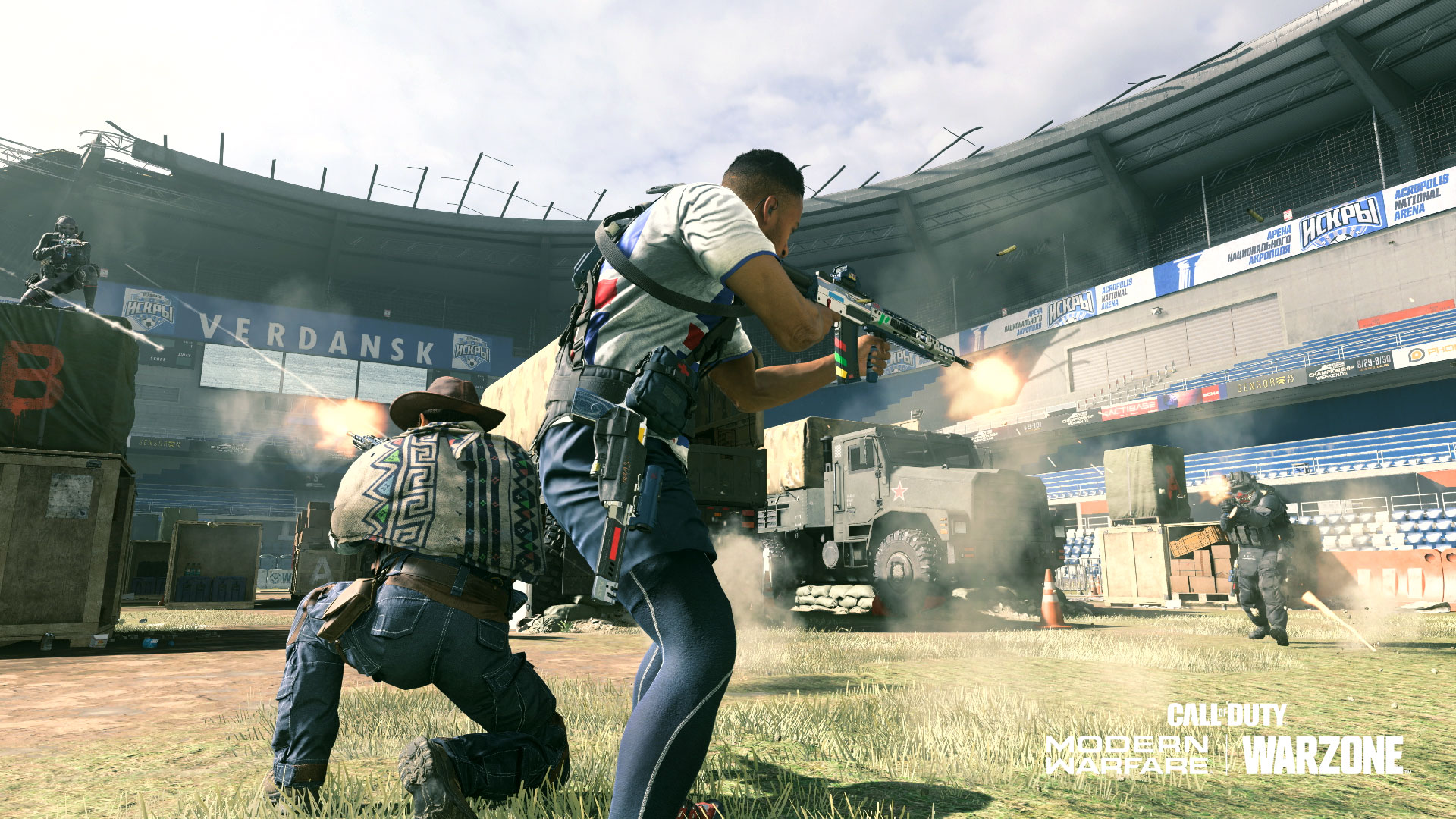 To the Victor Goes the Spoils for Self and Country
For participating in Games of Summer, players will receive rewards based on performance within each Trial. These rewards are stackable – if a competitor achieves gold on the first try, they will receive all three rewards for their epic (or in some cases, legendary) achievement.
Each Trial medal comes alongside rewards (rewards can only be received once) and all players who participate earn the 'Games of Summer Cup' weapon charm. Trials rewards include but are not limited to vehicle skins, XP tokens, vehicle horns, calling cards, and Legendary weapon blueprints.
Earn gold in each Trial and receive the Legendary Assault Rifle Juliet Blueprint, a weapon truly built for chasing first place on any leaderboard. Built for pure precision with a clear, non-magnified sight picture, consider this a "gold standard" among a competitive pool of this weapon platform's existing blueprints.
On top of these rewards, individual medals will give points to a player's respective country, determined by their account's origin. Each country's points will be updated daily, and the top 15 countries will be visible on in-game leaderboards. Total scoring is weighted by country participants, so any nation can rise to the top.
Earn medals and rack up your points for your country, then at the culmination of Games of Summer, a country will be crowned champion. Will there be an underdog that claims glory for a well-contested Trial at the 11th hour? Or will one country hold a commanding lead throughout the Games?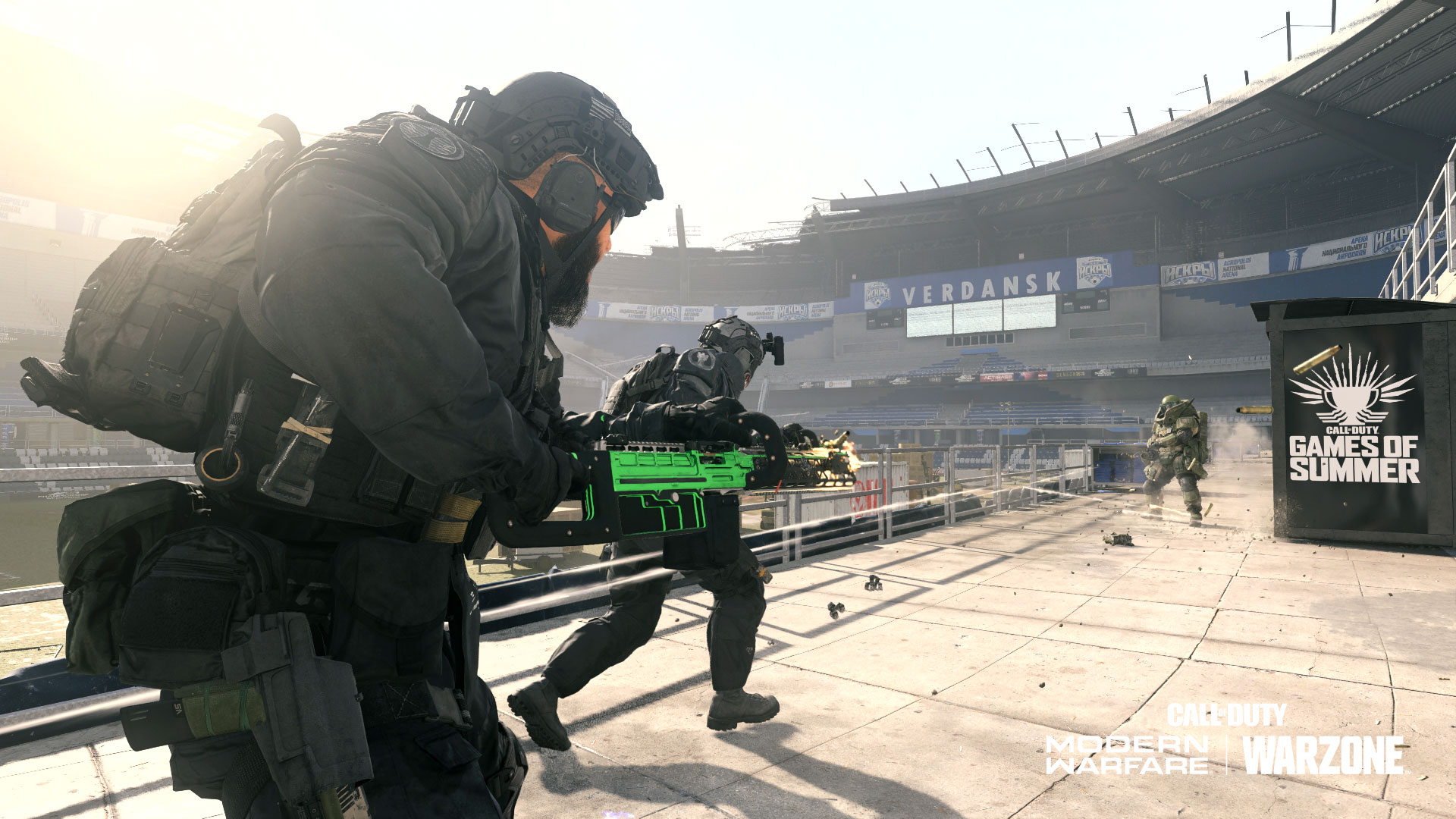 New Functional Weapon
The FiNN LMG – (Available at Season Five Reloaded Launch)
The heaviest primary weapon class in the game has a new challenger, the FiNN LMG and it will punch well above its weight against many of the existing LMGs.
This new LMG can be earned by completing an in-game challenge or a blueprint variant can be acquired by purchasing the "Mainframe" bundle.
An agile, mobile, and hostile tank of an LMG, the FiNN's ultra-light and open-bolt design is uniquely paired with advanced recoil controls. This all adds up to a weapon with exceptional full-auto accuracy while still being lightweight, allowing for a unique playstyle that further blurs the line between assault rifle and LMG.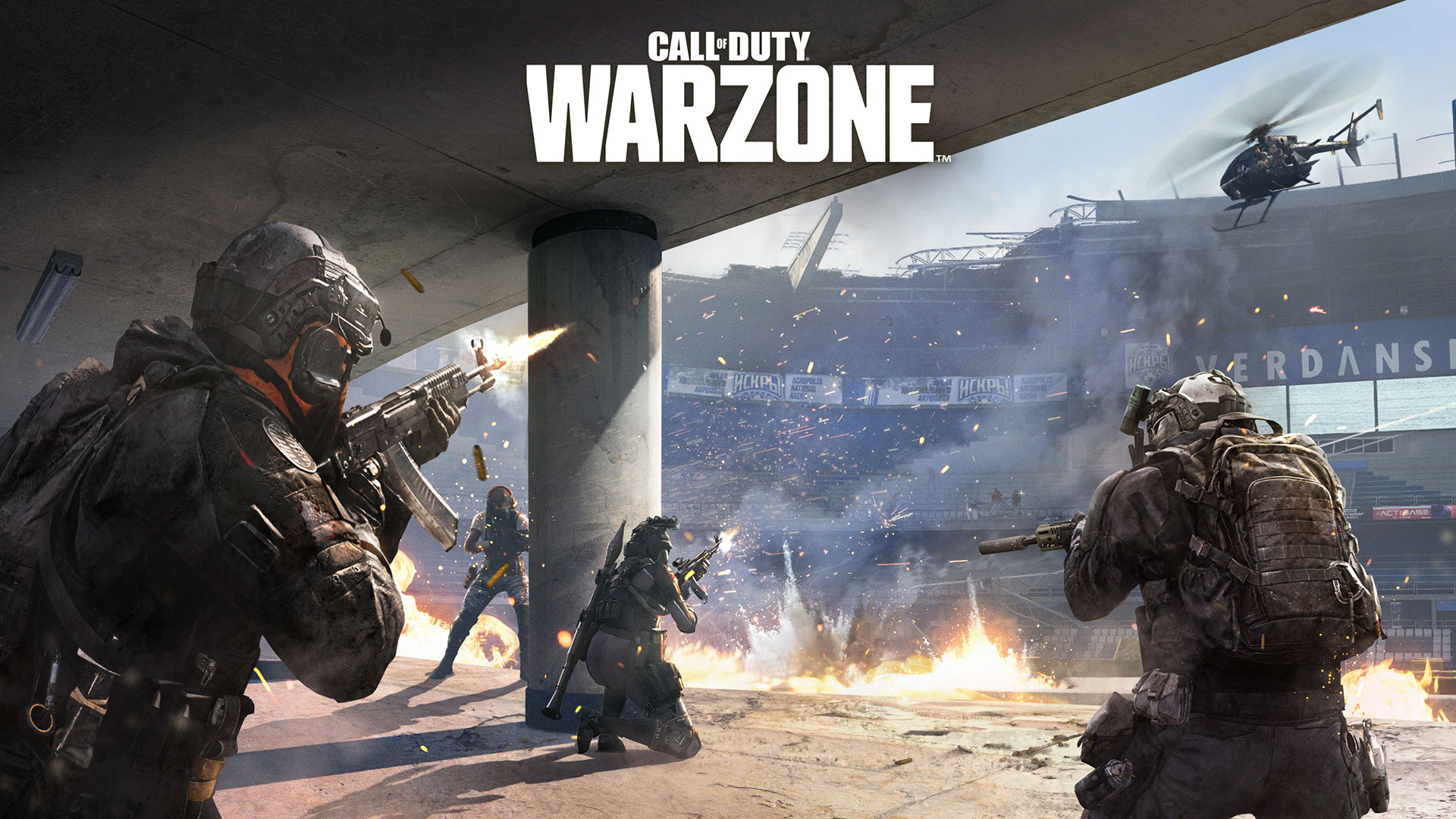 Warzone Content
New Game Mode: King Slayer (Available During Season Five Reloaded)
King Slayer is large-scale Team Deathmatch on Battle Royale where teams fight to earn points by defeating hostile players. However, the circle doesn't collapse, rather it moves around the map for an agile battle on the go. The top five team's top scoring player will be marked as a 'king' on the Tac-Map. Eliminate kings to get additional points and be awarded a free Killstreak.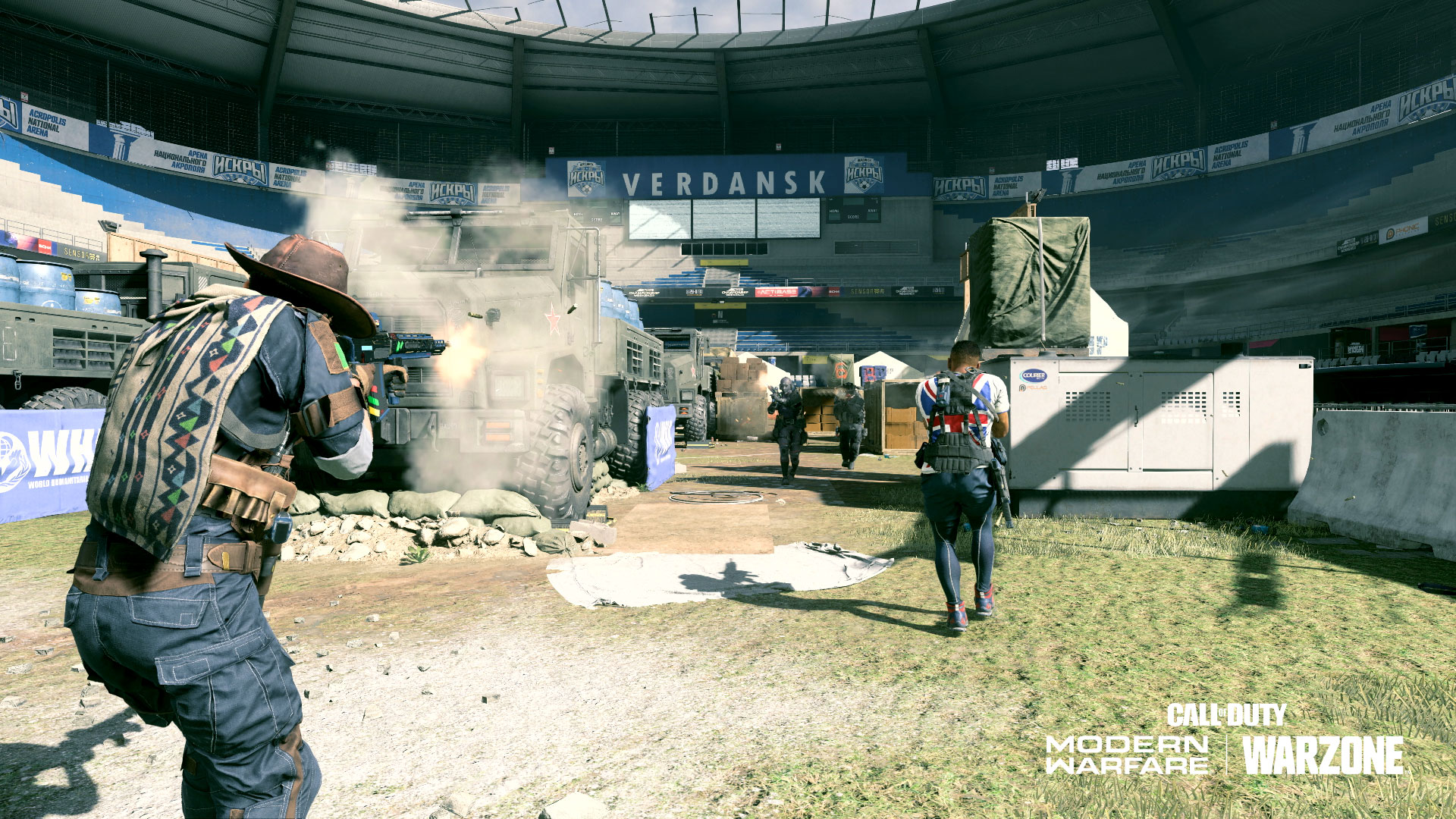 Gunfight – Tournament, New Map Stadium (Available with Games of Summer)
What's Games of Summer without a tournament? Gunfight Tournament returns as a head-to-head test of gunskill, map knowledge, and coordination, and a proper tournament deserves a Stadium.
The pitch level of the larger Stadium has become available for Gunfight. It's a much smaller play space in the Gunfight mode, so remember to use those tents, crates, and other obstacles for cover, especially if an Overtime flag is on the line.
Gunfight tournament winners will be rewarded with XP, high tier cosmetic rewards, and bragging rights as victors of the summer tournament.
Free Access Gunfight Tournament
All players can join in the tournament during the Free Access Weekend from August 28 to September 2 featuring the Gunfight Tournament playlist.
If you have a friend that hasn't tried the full version of Modern Warfare or are a Warzone player looking to hone your skills and unlock prestigious Gunfight Tournament rewards, then enter the tournament and go for gold.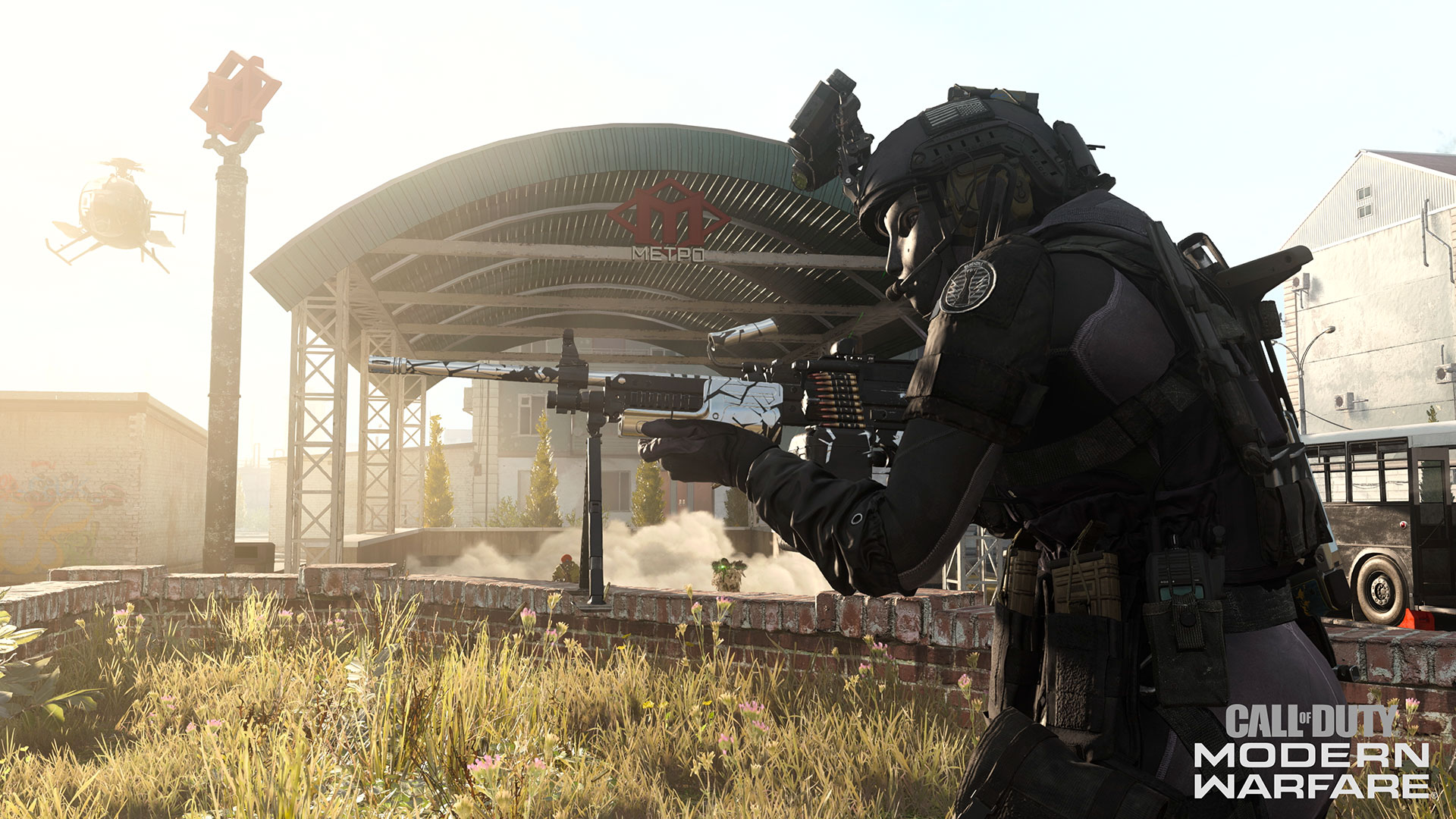 Modern Warfare Content: Ground War Gets Reinforced (Available During Season Five Reloaded)
Owners of the full version of Modern Warfare, can experience a new way to play Ground War.
Reinforcements Inbound – Ground War Reinforce Arrives
In this Ground War mode variant, three flags are positioned towards the center of the map, in a similar manner to Domination mode.
If you or a teammate are downed, you enter Spectator mode instead of respawning, rejoining the battle only after a new flag is secured by your teammates. Claim all three flags and you automatically win the round. Win enough rounds, and your massive platoon will all earn the victory.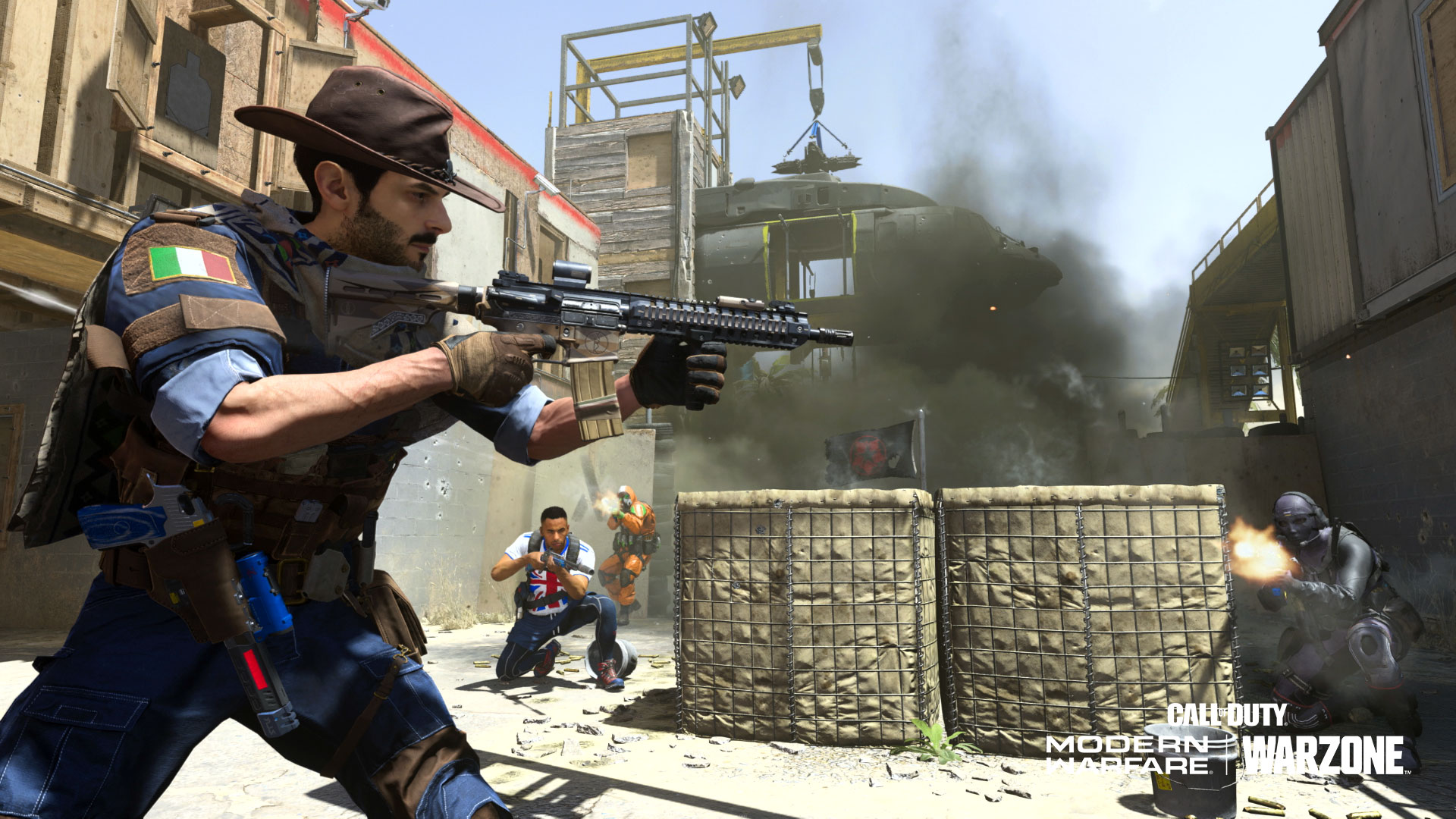 A Reloaded Store of Content (Available During Season Five Reloaded)
New Operator – Morte – Heads the Roundup of New Bundles
A spaghetti western-loving gunslinger will come to town, ready to lay down the law for the Coalition.
His name is Morte, and he's Warcom's newest recruit found in his own Store Bundle arriving later this Season.
Sergio "Morte" Sulla hails from Italy, is a skilled tracker who loves the Old West and strongly adheres to his own rules regarding right and wrong. Served with the legendary Col Moschin paratrooper regiment in Italy before being selected to join Warcom.
Other bundles available in Store during Season Five include the "Mainframe", featuring a Legendary blueprint of the all-new Light Machine Gun Golf as well as the "Game Winner", a sporty bundle featuring Coalition SAS Operator Kyle "Gaz" Garrick in a Legendary skin which suits him for some games on the Stadium pitch.
SOURCE: Activision Blog
Call of Duty: Modern Warfare 2: Release date, Warzone integration, leaks, more
Here's everything we know about Modern Warfare 2 including its release date, rumored maps, game modes, and platforms.
There's a ton of anticipation for Modern Warfare 2, and here's everything that we know about Call of Duty 2022 so far, including the release date, the leaked DMZ mode, and the game's platforms.
Call of Duty is officially heading back to the present day, with the developers officially confirming Modern Warfare 2 to be the 2022 entry in their popular annual gaming franchise, revealing the official logo at the end of April.
Modern Warfare 2's marketing campaign is starting to ramp up, with the devs unveiling the release date and key art. There have also been a ton of leaks surrounding the Modern Warfare sequel like new game modes and an SBMM rework.
Here's everything we know about Call of Duty: Modern Warfare 2.
Call of Duty: Modern Warfare 2 release date
Call of Duty have announced that Modern Warfare 2 will be released on October 28, 2022.
The devs announced the release date through a video showing off Modern Warfare 2's key art and characters, where eagle-eyed fans also spotted a date — June 8, 2022. This could be the reveal date, but we'll need to wait on official confirmation.
Which studios are behind Call of Duty 2022: Modern Warfare 2?
According to leaker 'RalphsValve,' Modern Warfare 2's development is a collaborative effort between 11 different developers. Infinity Ward is expected to be the lead studio with Treyarch also helping out.
Here are all the rumored Modern Warfare 2 developers:
Demonware
High Moon Studios
Toys for Bob
Infinity Ward Austin, TX
Infinity Ward Poland
Infinity Ward, LA
Beenox
Activision
Raven Software
Sledgehammer Games
Call of Duty 2022: Modern Warfare 2's new engine
After Modern Warfare 2's official announcement, Infinity Ward also confirmed that the 2022 Call of Duty title will be built on a brand-new engine, which the company has "been working on for years,"
This new engine is meant to improve players' experience on all platforms, and the developers have also confirmed that they will use it to lay the foundation of a "new Warzone experience" in Warzone 2.
Call of Duty 2022: Modern Warfare 2 maps
Both leakers RalphsValve and Tom Henderson claim that classic Modern Warfare 2 (2009) maps will arrive in CoD 2022.
In a video covering everything known about CoD 2022 so far, Henderson said that these maps have been taken from the scrapped Modern Warfare 2 Remastered, of which only the campaign released.
RalphsValve leaked five maps that players can expect to see in Call of Duty: Modern Warfare 2. These are some of the most popular ones in the entire series and we might see them return.
Here are the returning Modern Warfare 2 maps:
Favela
Highrise
Shipment
Terminal
Quarry
Favela would pit players against each other in enclosed areas while Terminal provided some excellent sniping opportunities to Call of Duty players during long-range combat situations.
Highrise led to tons of 360, no-scope montages and birthed several world-famous CoD clans and Shipment is so popular that it's currently still featured in titles like Call of Duty: Vanguard.
According to a report from industry insider Tom Henderson, these maps are set to arrive in Warzone 2, but they may not be available at the sequel's launch. Instead, players might have to wait for them to be added later.
Henderson stated that it's possible for these maps to appear in future seasons even if they're not available at launch. However, these are currently just leaks, and we might see the addition of entirely different maps in the final game once it arrives.
Call of Duty 2022 Warzone 2 integration
According to some leaks, Call of Duty 2022 will integrate with the Warzone sequel in the same way that Black Ops Cold War and Vanguard integrated with the first Warzone.
Warzone 2 was first reported by Bloomberg's Jason Schreier and later supported by well-known industry insider Tom Henderson. Henderson has called Warzone 2 a "clean slate," meaning it's a brand-new game without any content from previous CoD games.
For everything you need to know about a possible Warzone sequel, you can take a look at our Warzone 2 guide where we've compiled a list of rumors and leaks associated with the title.
Call of Duty 2022 game modes
DMZ
Leakers such as Tom Henderson have claimed that Modern Warfare 2 will come with a brand-new game mode – DMZ. While we don't know exactly what the game mode will entail, the leaker described this mode as "MWII's take on Escape From Tarkov."
Henderson believes the mode will have been in development for over four years by the time Modern Warfare 2 releases, and you'll drop into several locations and will have to plunder through abandoned homes, buildings, vehicles, crates, and corpses. He also said that the area has been made up of maps from the original MW2 which act as POIs.
On May 6, notable Call of Duty data miner 'TheGhostOfHope' claimed that Modern Warfare 2's DMZ will be available in beta form when the game arrives. In their tweet, they quoted an unknown source that supposedly works for either Activision or Infinity.
TheGhostOfHope tweeted: "Something like the DMZ doesn't become final until the general public has gotten hands on it. It's a large mode that needs maintenance." So, players should be able to try out the beta upon Modern Warfare 2's release.
In another tweet, TheGhostOfHope implied that the comparisons of this brand-new Modern Warfare 2 game mode to Battlestate Games' Escape From Tarkov are accurate.
After being asked exactly how similar this mode is to Escape from Tarkov, Ghost responded: "What you take with you you can lose. [It's] more tactical. Etc."
Tarkov tasked players with carrying out raids and battling their enemies as part of a plot to escape. So, Call of Duty players can expect a noticeably different experience than they're used to.
TheGhostOfHope also claims that DMZ has at least 4 different maps that are currently being worked on. All of these maps are unique in their design with some being open-world while others are more linear.
In this same tweet, the Call of Duty leaker stated: "The Warzone 2 map is entirely separate and is not in any way connected to DMZ."
Modern Warfare 2's DMZ reportedly also feature a marketplace where players can go to purchase and sell items. When you drop into this game mode, you can head to the marketplace to "earn skins, blueprints, and more."
At the time of writing, it's unclear whether this marketplace will require players to spend CoD Points or if the developers will introduce a brand-new in-game currency to use.
From this description, it seems that DMZ will be one of the most grounded game modes in the upcoming title. Hopefully, it will make for an intense experience for Call of Duty 2022 players.
Attackers v. Defenders
Leaker RalphsValve has also claimed that MW2 will feature a Rainbow Six Siege-inspired mode called Attackers v. Defenders. However, leakers such as Tom Henderson have disputed the claim.
This mode will see players attack and defend objective sites while utilizing "hidden locations, booby traps and cameras."
Attackers v. Defenders would have a revamped health system, and players are able to assign each of their squad members separate roles such as "Squad Leader."
However, prominent CoD leakers TheMW2Ghost and Tom Henderson claim their sources say "it was a scrapped mode from MW19 and they haven't heard or seen anything regarding it coming to MW II."
Henderson did clarify that "It doesn't necessarily mean it's not coming, but I'm inclined to believe people working on the project/or with very good connections at the studio."
These two modes are only leaks or rumors at this point, so have yet to be confirmed. We'll be sure to update this article as soon as we learn some more official information about Modern Warfare 2's game modes.
Call of Duty 2022: Modern Warfare 2 SBMM rework
Skill-based matchmaking has been one of the most controversial aspects of Call of Duty titles, and a report from CoD leaker 'RalphsValve' claims that the developers could be aiming to revise the SBMM to be "less debilitating" in Modern Warfare 2.
According to this leak, the devs aim to make games feel less strict, but Modern Warfare 2 could still keep the controversial feature of disbanding lobbies after each game comes to an end.
RalphsValve's source claims that the new SBMM rework will be less punishing for more skilled players and low-skill players will be able to enjoy fair games with opponents of a similar ranking.
The source also added that Bot Pools might be integrated into both Warzone 2 and the DMZ mode for players finding the game too difficult. Disbanding lobbies will not be removed from the SBMM system.
Call of Duty 2022: Modern Warfare 2 Perk changes & Last Stand return
Call of Duty leaker 'TheGhostOfHope' claims that the Perk system will receive a major change in Modern Warfare 2 that will allow players to choose four Perks rather than the traditional three.
The leaker also claimed that the Last Stand Perk will return, allowing players to be downed with their pistol out before dying. However, it will now act as a Field Upgrade rather than a Perk.
Call of Duty 2022: Modern Warfare 2 Pro Perks return
On May 20, Tom Henderson claimed that Pro Perks were a part of the recent Warzone 2 playtests. These were superior versions of standard Perks in the original Modern Warfare 2.
While these are expected to appear in Warzone, the industry insider claimed that they could also make their way to the MW2 multiplayer as a shared feature. However, they may not be available to use on your loadout, and you may have to loot them during a match.
Accroding to this leak, one way to obtain these could be by looting Strongholds. We'll be sure to update this article once more information about these is revealed.
Call of Duty 2022: Modern Warfare 2 platforms
According to Henderson, Modern Warfare 2 will be available on both current-gen and past-generation consoles.
Both Black Ops Cold War and Vanguard are cross-gen Call of Duty titles, and these leaks suggest that Modern Warfare 2 will continue this trend. However, it may be the last one to do so.
"It's currently believed that this will be the last Call of Duty coming to past generation consoles, but it will ultimately depend on the console market conditions," Tom Henderson tweeted.
Call of Duty 2022: Modern Warfare 2 campaign leaks
Back in September, individuals on Reddit and Medium blog noticed a back-end server opening into NVIDIA's GeForce technology site that let them see the games being tested out on their servers.
One of the games by Activision and Infinity Ward was listed as "Project Cortez," which is a possible codename for Modern Warfare 2. After this, some new potential plot details for Call of Duty 2022 were shared by VGC.
According to the leak, "Modern Warfare's sequel will include a campaign involving US special forces fighting a covert war against Columbian drug cartels." This was also backed up by Tom Henderson.
Henderson has also said that the AI will see significant improvements from previous CoD games, where they'll act realistically to getting shot.
It's worth keeping in mind that these are currently just leaks, and this information has yet to be verified by the developers themselves. Until they officially announce something, you should take this with a grain of salt.
---
For more Call of Duty content, you can check out how Vanguard players reveal features they don't want to see in Modern Warfare 2 as well as this leak that Modern Warfare 2 will finally bring a firing range to Warzone 2.
Image Credit: Activision / Infinity Ward
Which packs are needed for Modern Warfare Multiplayer? Full list
Modern Warfare is a huge game that players need a lot of storage for. Luckily, only certain Modern Warfare packs are needed for Multiplayer.
Knowing what data packs you need to download to play Call of Duty: Modern Warfare's Multiplayer can be quite confusing, so we put together a detailed list of what you need and how much space it takes up.

Call of Duty's Multiplayer has been a fan favorite mode of the franchise pretty much since it was released, and although Modern Warfare isn't the latest installment, players are still enjoying it.
With the Call of Duty games evolving every year, it's only natural that the data needed is larger. Therefore, some players may be wondering what data packs they need solely for the Multiplayer mode.
What packs are needed for Modern Warfare Multiplayer?
In recent history, the developers have allowed players to pick and choose what data to download due to the huge amount of storage that the games take up.
This way, players who only play the Multiplayer can uninstall the data for the campaign and any other extra modes. This is great, as it prevents storage from being taken up modes you don't play.
Luckily there isn't much that players actually need to play Modern Warfare's Multiplayer.
Here's a list of all the Modern Warfare Multiplayer packs you need to have downloaded:
Base Game: 88.7 GB
Multiplayer pack: 6.0 GB
Multiplayer pack 2: 19.9 GB
Multiplayer and Special Ops Pack: 21.3 GB
In total, this comes to 135.9 GB big and will require a sizable amount of your console storage.
For those on Xbox One, you will need all three of the Modern Warfare Multiplayer packs mentioned above to run the Multiplayer mode.
For those on PC or PlayStation, you only need Data Pack 1 and the Multiplayer Pack 2 in order to run Modern Warfare's Multiplayer.
So, for those who are either bored of Warzone like some popular streamers have been lately, you may want to head back over to the classic Multiplayer and give the new CX-9 SMG a try. With that being said, these are the data packs you'll need to do so.
---
For more on Call of Duty, stay tuned on Charlie INTEL and check out our article on the best PC Settings for Warzone Pacific Season 3.
Image Credits: Raven Software / Activision
Modern Warfare 2 shown to NFL prospects: Title confirmed & first impressions
As top prospects prepare for the NFL draft, they're getting a first look at Call of Duty: Modern Warfare 2 during a private CoD event.
NFL draft prospects are giving their first impressions of Modern Warfare 2 as they get an exclusive look at the new Call of Duty title.
Although Vanguard Season 3 has only just begun, Call of Duty players are already looking forward to the next installment in the franchise. The Modern Warfare series is beloved by many players across the globe, thus the excitement for Modern Warfare 2 is high.
There are certainly a ton of rumors beginning to swirl but thanks to a private CoD event for some of the NFL's top draft prospects, we received an official title for the game as well as first impressions from the players lucky enough to sneak a peek.
We've known for a while that the next Call of Duty title is set to be a sequel to 2019's Modern Warfare. Given the sequel association, most people began calling it Modern Warfare II. While this was in the right ballpark, the event finally confirmed that the title will be Modern Warfare 2.
In addition to title confirmation of the Infinity Ward developed game, several top prospects from the upcoming NFL draft took to social media to share thoughts and opinions on their first look at Modern Warfare 2.
The list of NFL prospects who got a glimpse of Modern Warfare 2 includes Ahmad Gardner, Aidan Hutchinson, and Bo Melton. Both Melton and Hutchinson posted pictures of themselves at the Las Vegas event.
Meanwhile, Gardner offered more details concerning the footage and claimed that "it was so realistic, it's insane." This lines up with a statement from an Activision briefing that claimed Modern Warfare 2 would be "the most advanced experience in franchise history."
Only time will tell if this positive perception will hold up but CoD fans have a lot to be excited about.
---
For more on the upcoming CoD title, check out how a leaker claims SBMM will be reworked in Modern Warfare 2 or potential major changes to Perks.
Image Credit: Activision