Modern Warfare & Warzone Season 6: Roadmap, Trailer & Update Size
Activision have released the official trailer for Season 6 of Call of Duty: Modern Warfare and Call of Duty: Warzone.
Season 6 begins on Monday, September 28 at 11PM PT / Sept. 29 at 2AM ET on PlayStation 4, Xbox One, and PC.
Season 6 for Modern Warfare & Warzone brings a brand new Subway system in Warzone, new Weapons, two new Operators, and more.
Update Information
PlayStation 4 players can pre-load the new update, version 1.27, now ahead of the start time.
The update for Modern Warfare and Warzone will be the following sizes:
PlayStation 4: 19.3 GB
Xbox One: 22.66 GB
PC: 57 GB (Modern Warfare owners) and 25.5 GB (Warzone only owners)
In addition, for PS4 & Xbox One players there will be an additional compatibility pack needed to play Multiplayer and Special Ops.
PlayStation 4 Compatibility Pack: 7.8 GB
PlayStation 4 Survival Pack: 5.8 GB
Xbox One Compatibility Pack: 8 GB
Xbox One Survival Pack: 5.9 GB
Survival Mode for Modern Warfare available now on PS4 and coming October 1, 2020 to Xbox One and PC.
Let's breakdown what's new in Season 6.
Season 6 Roadmap & Content:
This all is just the beginning of what's scheduled to drop during this thrilling season of content, as game modes, bundles, Trials, and other tricks and treats are primed for weeks to come in Modern Warfare and Warzone.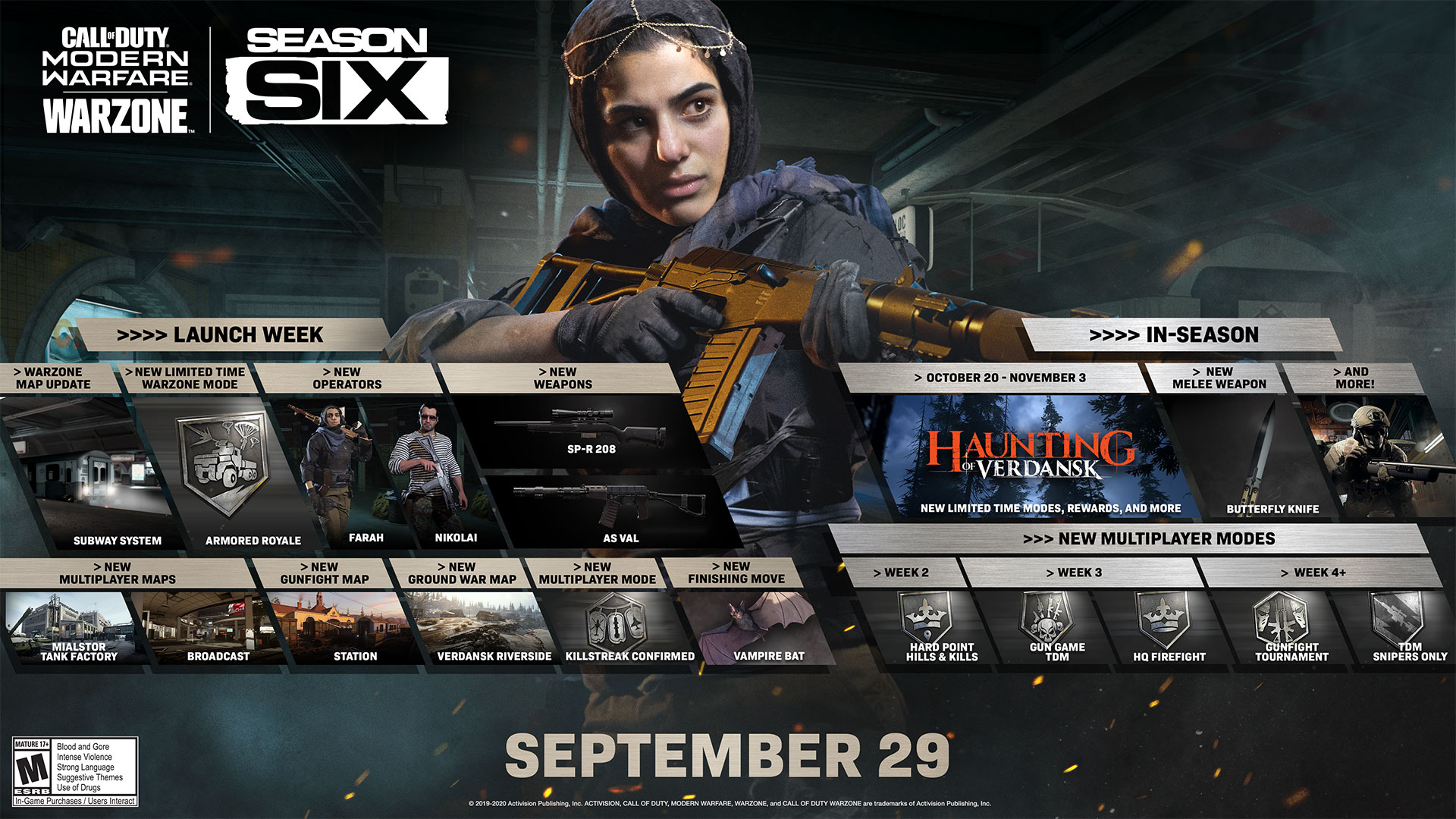 Now that the surface-level details for Season Six are out; this is what all Operators need to know about this season's content in-depth: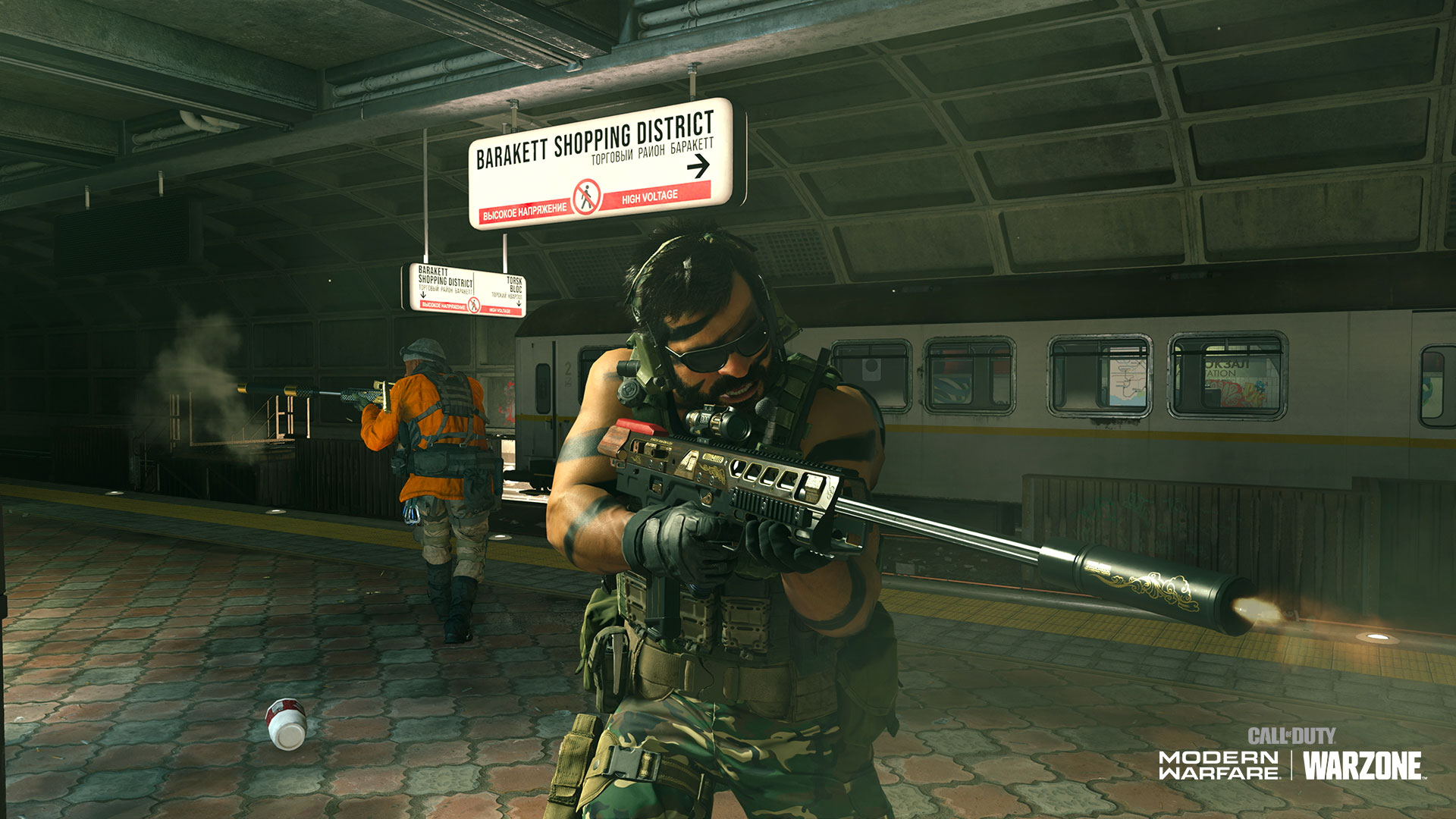 Warzone Content
Next Stop: Verdansk – Subway Fast Travel System
Get around the Warzone in a flash with the recently opened subway system, known as the "Metro" in-game. This dynamic fast travel system combines existing points of interest with new transportation stations for a high risk, high reward movement option within Verdansk.
At one of a number of open Metro stations around the city, squads can move underground via staircases to find potential item spawns all the way to that station's platform. Once there, squads can catch a ride on a subway train, which will whisk them off to the next station in seconds.
Despite its "retro" interior, this subway system boasts incredible safety standards; it will not travel to a station that falls outside the safe area during Battle Royale matches, nor move a single inch if there is any conflict aboard its cars.
Otherwise, fighting in and around the station is fair game, making these new and updated locales prime spots for ambushes.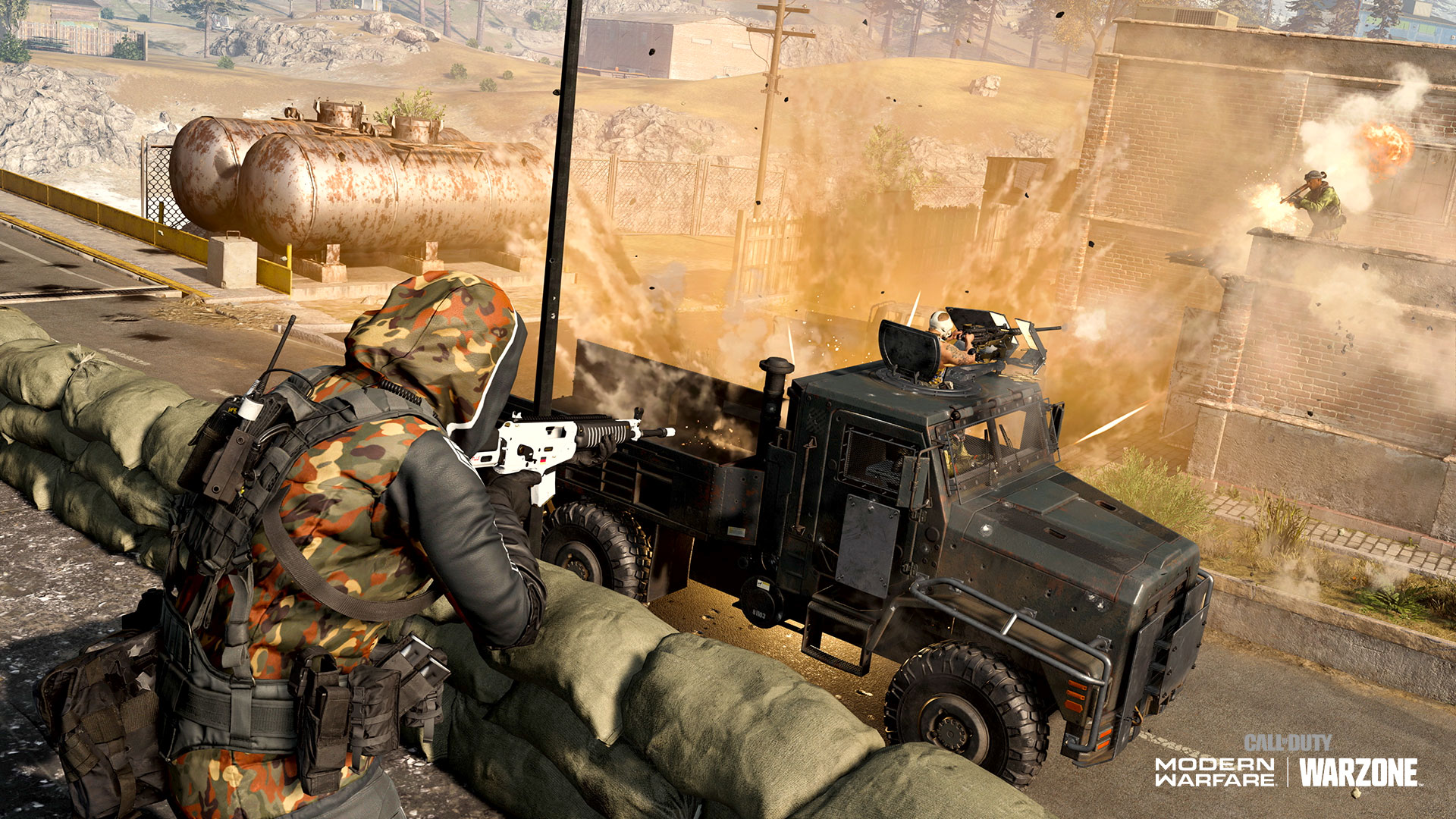 A New Mode, New Weapon Rotation Coming to Warzone
Armored Royale: This fast-paced, high action Battle Royale variant gives every squad an armored Cargo Truck, complete with a turret and plenty of armor plating. Squad members can respawn if their truck is still in one piece, but once that squad's vehicle disappears, so does their ability to return to the fight. The last squad standing wins, regardless of whether their truck just rolled out of a repair shop or has its parts scattered around greater Verdansk.
Weapon Rotation: Verdansk received a new shipment of weaponry that's now scattered around the map on the ground or in Supply Boxes. A combination of familiar armaments and new blueprints will be a part of this more streamlined Season Six weapon rotation, which includes six Common, 10 Uncommon, 13 Rare, 18 Epic and 24 Legendary variants.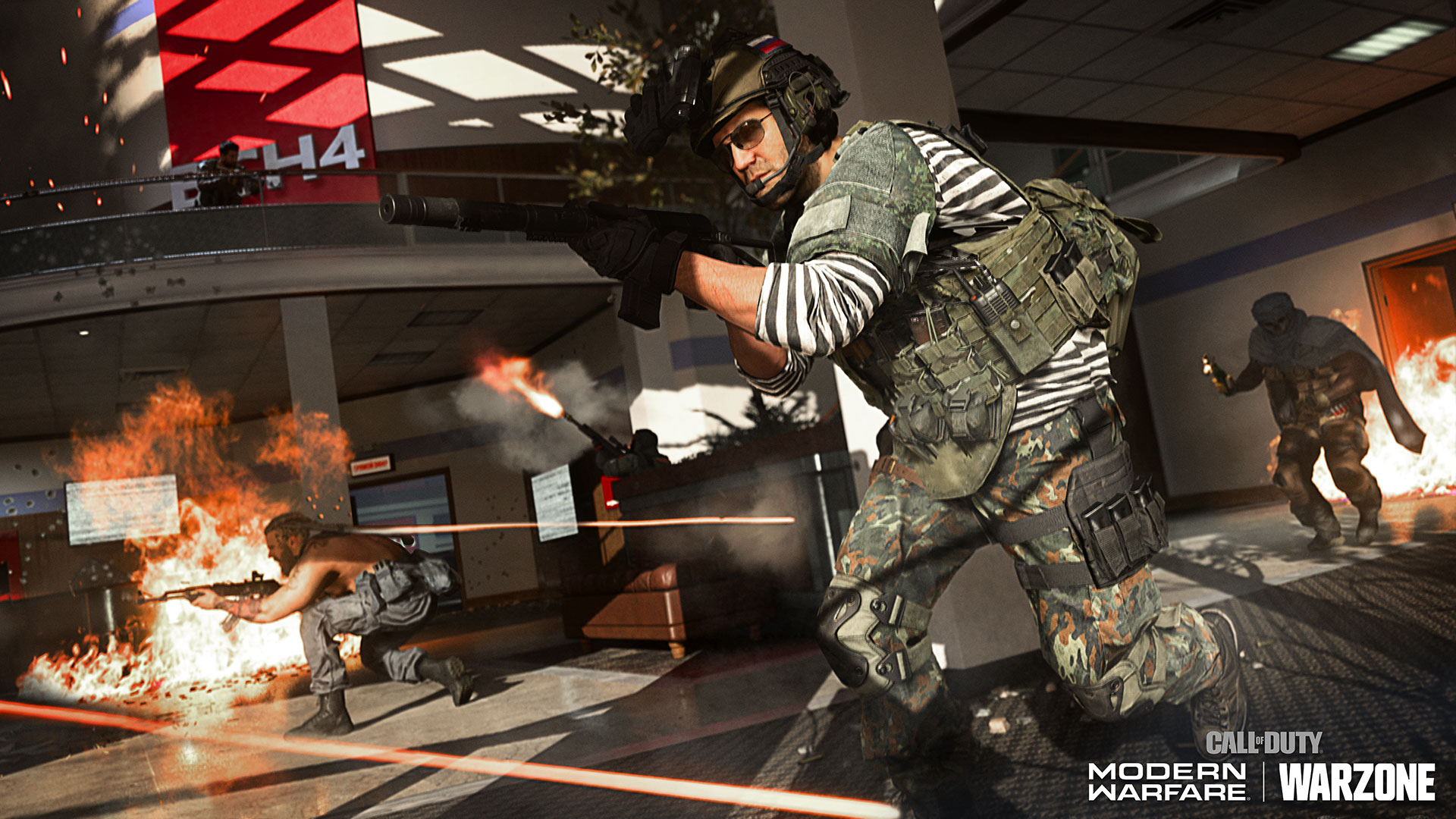 Modern Warfare Content: New Maps, Modes, and More
Four Free Multiplayer Maps to Cover All Sizes of Combat
If you own the full version of Modern Warfare, there is a new map for every size of Multiplayer engagement to explore and master. They all come together to bring a full set of diverse locales, all of which are ready to host frenetic, combat-rich battles across Multiplayer: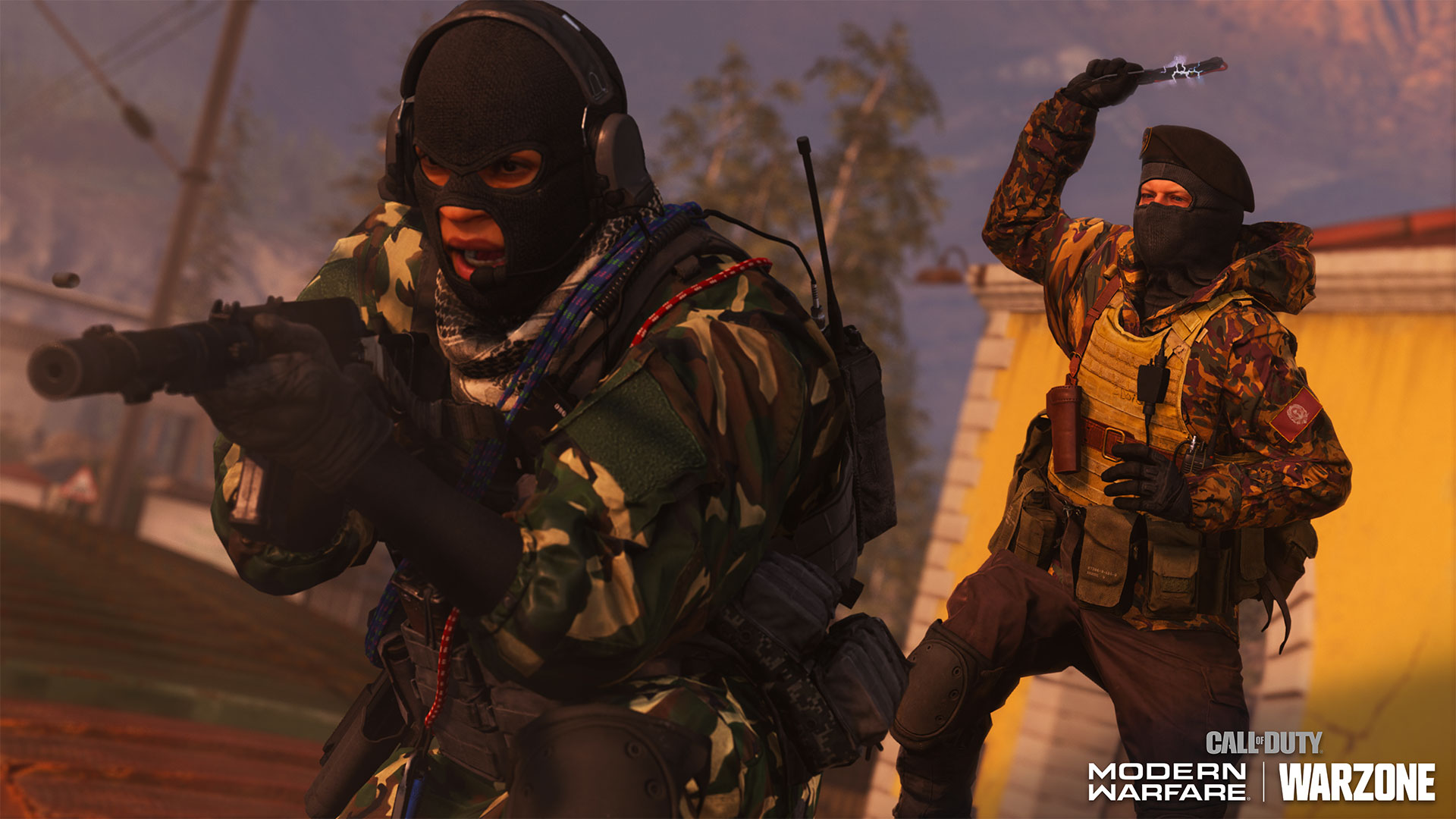 Station – Gunfight: A picturesque rural Kastovia train station serves as the backdrop to the latest Gunfight arena. Operators will want to use the station's exterior and abandoned military cargo trains as part of a winning strategy. Like other maps of its size, Station has some quirks beyond its simplistic design, beckoning true Gunfight masters to uncover jump spots and tactical angles that may help them crush the opposition. Every top of the boxcars and passenger car can be climbed on top of, which give superior verticality at the cost of being essentially exposed on all sides. Other objects, such as crates, containers, and even tank parts, can also be used to gain a height advantage or just be used as cover.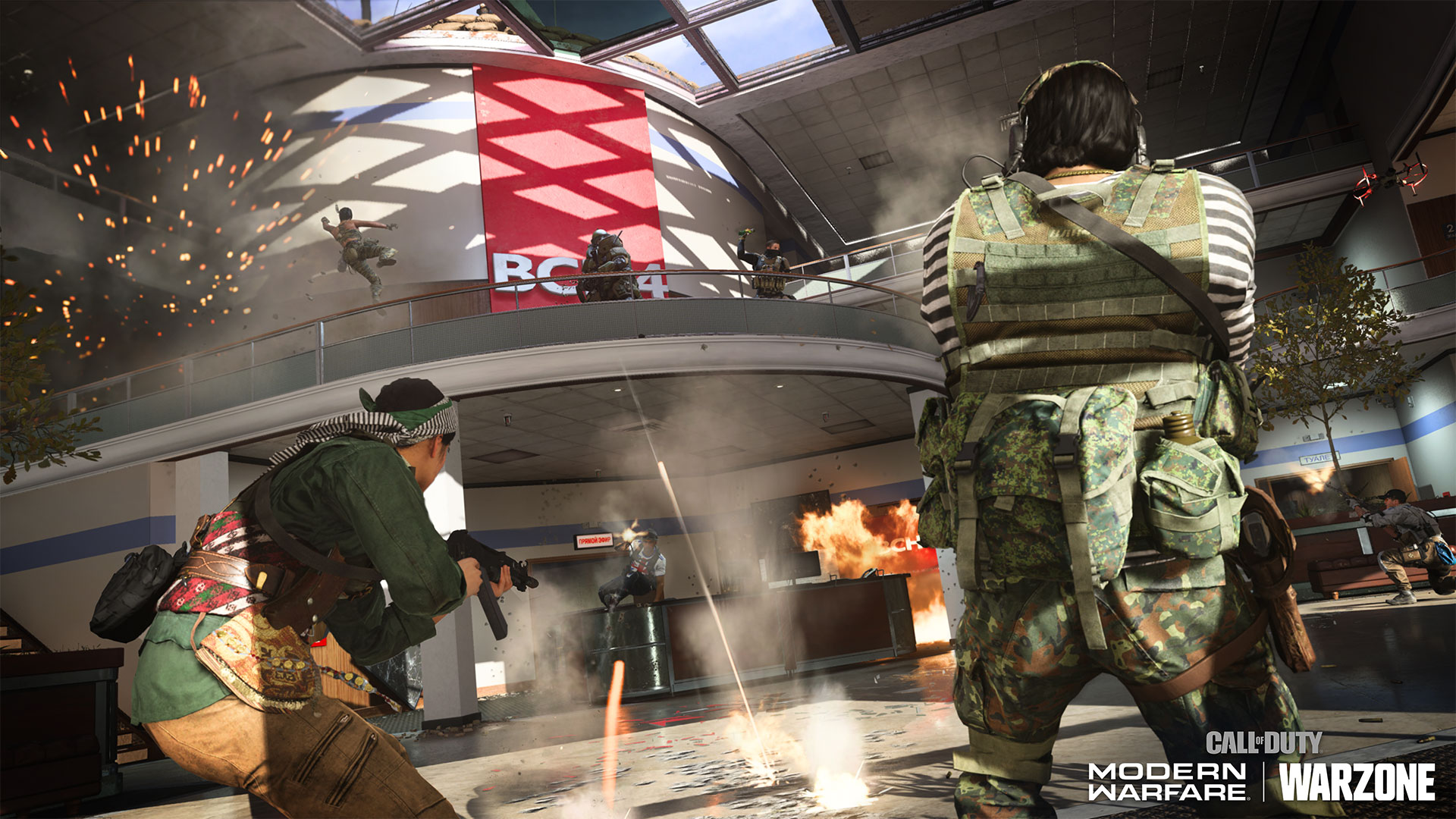 Broadcast – Core Modes (6v6): Veterans of the franchise: welcome back to Broadcast. Since its cameo in Verdansk within the BCH TV Station zone, this large Multiplayer map introduced in Call of Duty 4: Modern Warfare now has a primetime slot in Season Six. Whether you experienced its first iteration back in 2007, in a remastered version since, or within Warzone, expect to drop into familiar territory when infiltrating this recently abandoned communications center. From the atrium and massive newsroom, to the station's balcony and nearby office buildings, this map could cater to serious CQB play through numerous tight corridors. Meanwhile, those using assault rifles, LMGs, marksman rifles, or sniper rifles can counterplay SMGs and shotguns with use of various sightlines and the limited, yet still viable, verticality on offer.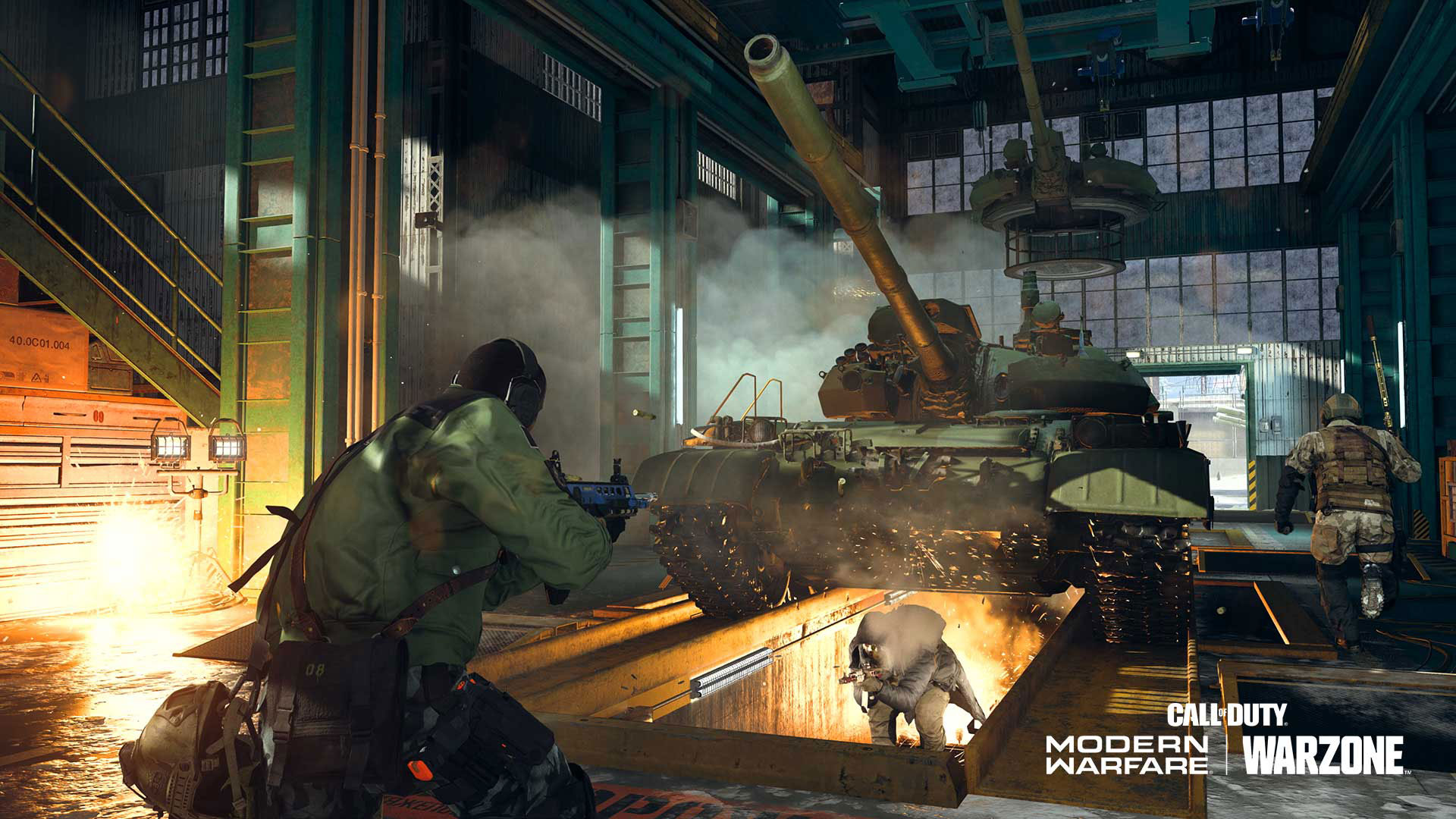 Mialstor Tank Factory – Core Modes (6v6 and 10v10): The larger of the two core Multiplayer maps, Mialstor Tank Factory is built for both 6v6 and 10v10 play, changing its playable dimensions depending on the size of the lobby. For either skirmish size, expect a mix of indoor and outdoor combat zones with two large buildings – the eponymous tank factory and a warehouse – being the map's central point of conflict due to sheer surface area and accessible rooftops. Other areas to explore include an abandoned workshop, skybridge, scrapyard, shipping area and residential zone, with some parts of the map sectioned off if it is being used for 6v6 combat. This map, in either form, caters to all playstyles, but the building's rooftops and surrounding snowy streets give preference to long-range weaponry. Those who want to use a CQB weapon may want to stick indoors, or use cover such as snowbanks, crates, and vehicles on the outside to avoid getting caught outside their gun's effective range.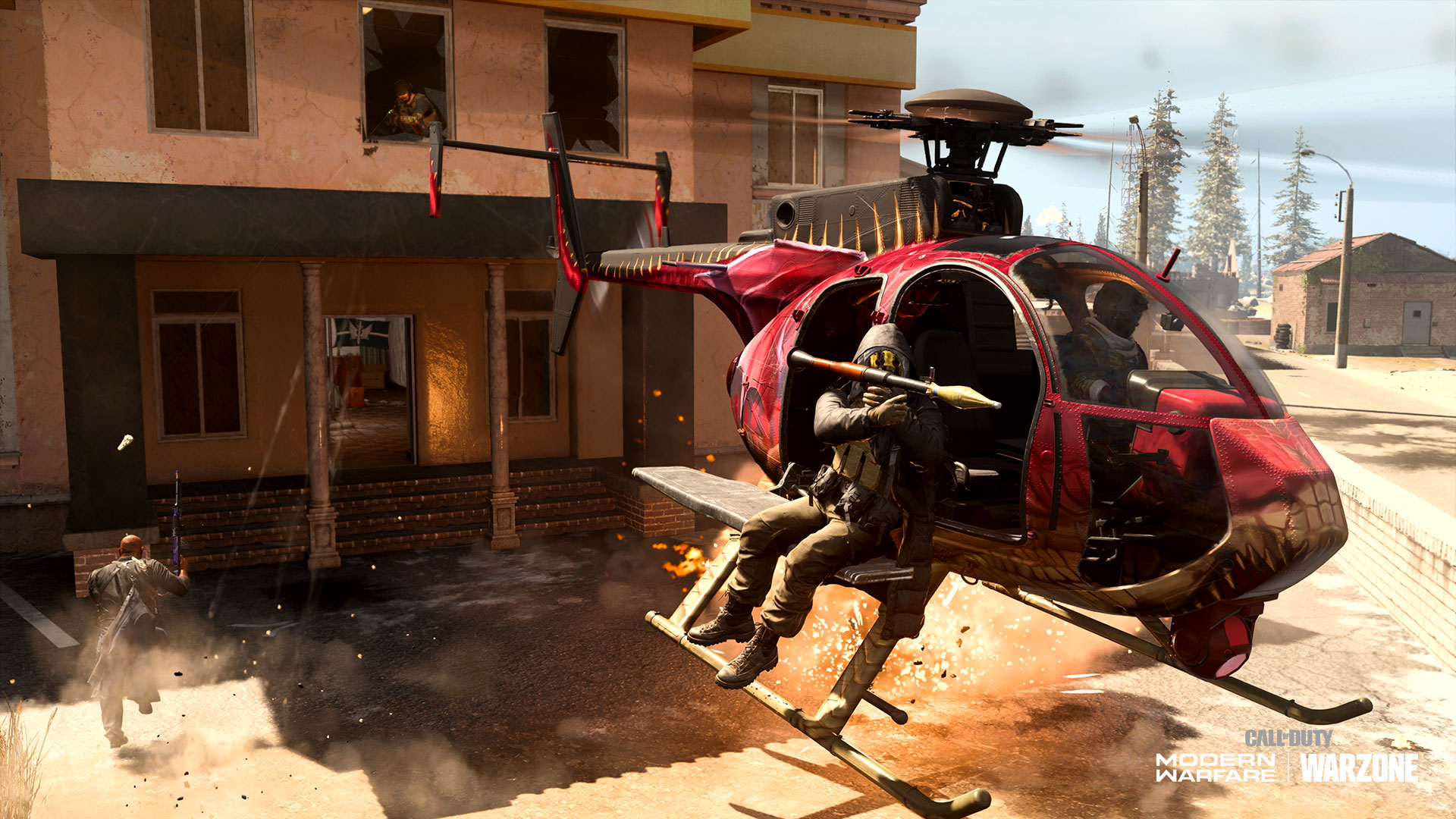 Verdansk Riverside – Ground War: A once-unlabeled landmark on the in-game Tac Map, Verdansk Riverside is a suburb that lies across the frozen Gora River from the Verdansk International Airport, with its northern border defined by cliffs that eventually lead to the Arklov Peak Military Base. At one point, this sleepy village was taken over by El Traficante, a smuggler that Armistice tracked down through intel gathered here during Operation Harbinger. This area has a few modest two-story homes, some shacks and garages, a pharmacy, school, a public house chain restaurant, and a small construction project that seems to have no end date in sight. Using available vehicles, squads will navigate within and around this village, as the streets themselves may turn into no man's land shortly after infiltration. Most buildings will act as cover from heavy machinery, or as a mounting and overlook point for those using long-range weaponry. CQB operators may find it better to clear individual structures out one-by-one or use walls and natural cover to avoid long sightlines and vehicle traffic.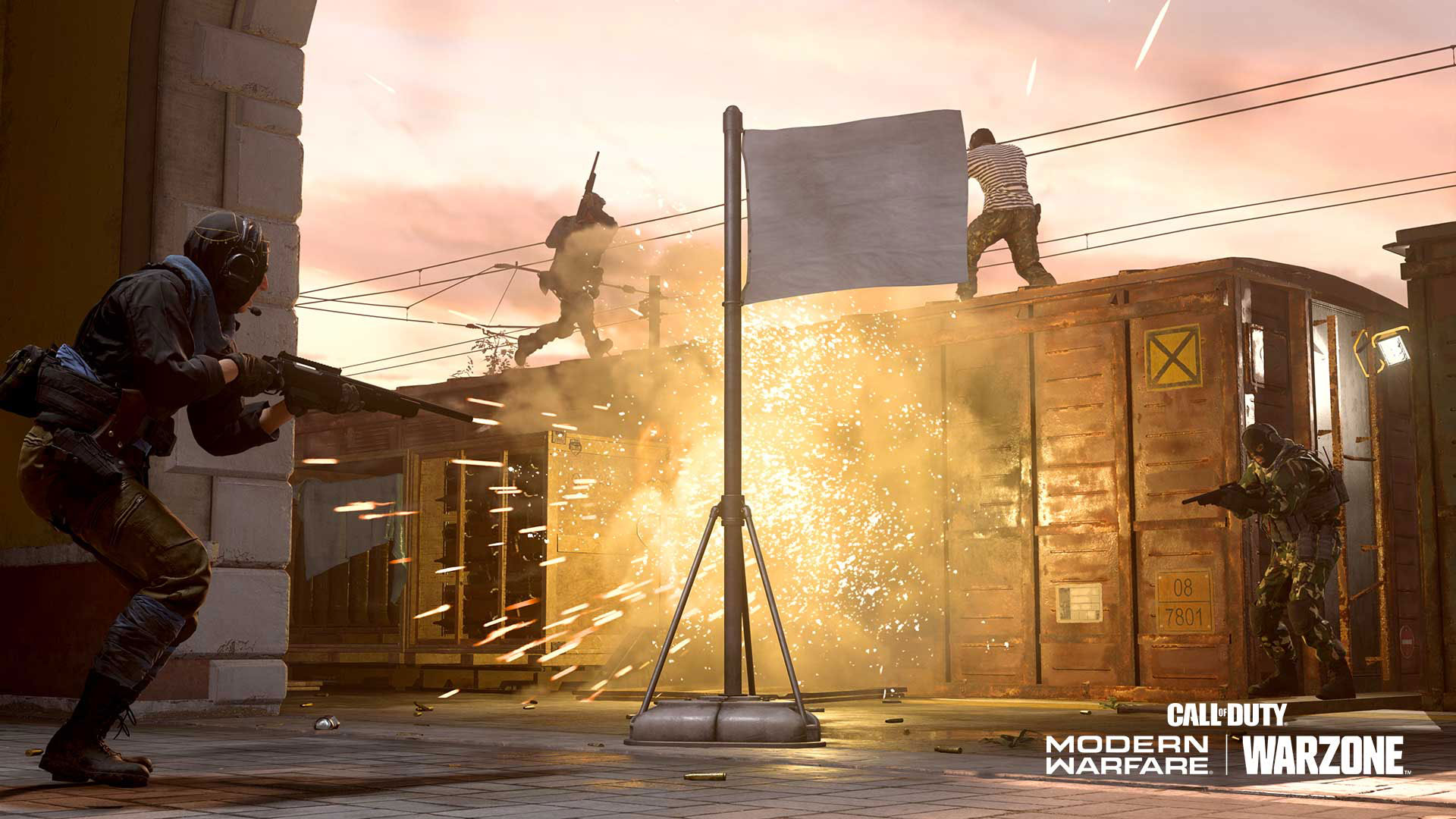 New Modes, Trials, and Challenges
Killstreak Confirmed: This Kill Confirmed variant comes charging in with multiple changes concerning Killstreaks: These can only be earned by collecting enemy dog tags. However, your streak won't reset on death, so you'll want to rush for tags as fast as possible to earn your Killstreaks. Trying to stay alive? Unlike traditional game modes, Killstreak Confirmed also allows players to "wrap" Killstreaks, making it possible to earn the same Killstreak (like the UAV or Cluster Strike) multiple times in one life. The team that collects the target number of dog tags – in spite of the inevitable barrage of Killstreaks – wins the match.
Gun Game TDM: As the name states, this mode combines the random weapon assortment of Gun Game with Team Deathmatch. Pick your loadouts for perks and equipment, then get ready to use whatever is handed out to take down the opposition. Each kill with a given weapon cycles you through a predetermined list of weaponry all the way to a Combat Knife, where one melee takedown with it resets the cycle back to the starting weapon. First team to the target kill count wins the match.
HQ: Firefight: This twist on Headquarters awards team score for both holding the objective and earning kills, almost like a Team Deathmatch. This allows teams to try to catch back up on score between HQ objectives. After a team captures an HQ, respawns are disabled until the enemy team neutralizes it. Hold down the objective and defend it from enemy players to maximize score. First team to the target score wins the match.
Hardpoint: Hills and Kills: Similar to HQ: Firefight, this mode awards team score for playing the objective – holding hills – as well as earning kills. With respawns enabled, this mode could turn into a pure deathmatch, a tactical objective game, or a chaotic mix between the two. First team to the target score wins the match.
Nine Trials to Explore: Rank up this season to earn Trial Tickets, or use tickets left over from prior seasons, and turn them into XP completing a fresh set of challenges. Whether it's tearing up waves of enemies in either new Juggernaut Trial, cutting corners in the Quad or Helicopter Race, or just taking a Free Roam, these unique side missions add even more variety to over two dozen existing experiences.
Earn Free Items, Blueprints Through Season Six Missions and Challenges: Whether you're playing Multiplayer or Warzone, the Challenges tab allows you to easily tailor your progression through the Season's Ranks whether you're focusing on Daily, Weekly, or Mission Challenges. Be sure to check out this tab to see what the seasonal Missions and their rewards are. The XP rewarded through all challenges, including a new set of Officer Challenge ribbons, will aid in maxing out your Officer Rank and earning this season's max rank blueprint reward.
Season 6 Trailer
SOURCE: Activision
Best MW MP5 loadout for CoD: Warzone Season 5
The MW MP5 is one of the most powerful SMGs in Warzone Season 5, so here's the best loadout and Perks you can run with it.
Modern Warfare's MP5 SMG has long been a popular choice in Call of Duty: Warzone, so here are the attachments and Perks to make the best Warzone MW MP5 loadout to maximize its slaying potential following the Season 5 Reloaded update.
Various secondary weapons have been top dogs in the many metas that have been used by players in the life of Call of Duty: Warzone, with one of the most consistent being the Modern Warfare MP5.
Many extremely popular weapons have been nerfed in Warzone Season 5, such as the Bullfrog, OTs 9, and the Krig 6. These nerfs have actually benefitted the MP5, with YouTuber Rallied discovering that it's now the fastest-killing SMG in the game.
Here are the attachments and Perks to make the best Warzone MW MP5 loadout for Season 5 and dominate all of your enemies in every game mode.
Best Warzone MW MP5 loadout
Best Warzone MW MP5 loadout attachments
Barrel: Monolithic Integral Suppressor
Laser: 5mW Laser
Underbarrel: Merc Foregrip
Ammunition: 45 Round Mags
Stock: FTAC Collapsible
This Warzone MP5 loadout uses the 45 Round Mags, as you'll struggle to take on multiple targets with only 30 bullets. While slightly less powerful, you won't be caught out with no bullets in your gun.
The Monolithic Integral Suppressor is the best choice for Modern Warfare's MP5 as it has all the traits of the standard Monolithic Suppressor but uses both the muzzle and barrel slots. You'll stay off the radar while firing and also receive additional bullet velocity.
As the MP5 is a 'pocket' weapon, you want it to be as mobile as possible. To increase its speed, you should add the 5mW Laser and FTAC Collapsible stock, increasing your ADS speed and making you quick and unpredictable in close-range fights.
The Merc Foregrip is an excellent choice for the best Warzone MW MP5 loadout for extra recoil control and even more hip-fire accuracy. And finally, to make sure you can down and finish several targets in one fight, the 45 Round Mags will be a necessary addition.
Best Perks to use with Modern Warfare MP5 in Warzone
Perk 1: E.O.D
Perk 2: Overkill then Ghost
Perk 3: Combat Scout
When choosing which Perks to run with the best Warzone MW MP5 loadout, you want those which will benefit you in close-range engagements.
When fighting up close, enemies will often chuck a bombardment of explosives your way to get the upper hand. With E.O.D equipped, you'll be able to tank a plethora of Grenades and Semtex, allowing you to stay in the fight.
As the MP5 is most effective as a secondary, you'll want to take Overkill from your first Loadout Drop. This will allow you to take two primary weapons, such as an HDR, then you can get Ghost from your following Loadout to be concealed from UAVs and Heartbeat Sensors.
Season 5's new Combat Scout is an extremely effective choice for the third slot. Players were quick to call it "OP," as it automatically pings enemies and briefly highlights them through walls.
Most recent MW MP5 buffs and nerfs
For a short while, Modern Warfare's MP5 was incredibly powerful at close range, thanks to the 10mm Auto 30-Round Mags. These underwent a game-changing secret buff that gave the MP5 an incredibly fast TTK. However, Raven nerfed these mags in the Season 5 Reloaded update.
Submachine Gun Charlie (MW) with 10mm Auto 30-Round Mags

Maximum Damage decreased from 34 to 31
"This Maximum Damage change mirrors the adjustment to the base Submachine Gun Charlie (MW) made earlier this season," the devs explained.
How to unlock the Modern Warfare MP5
Acquiring the Modern Warfare Warzone MP5 isn't too difficult, and its requirements are easy enough.
All you need to do is reach Level 12, and it will be unlocked for you to use to make the best Warzone MW MP5 loadout.
Best alternatives to MW MP5
Need something to go with the MP5 or fancy something else entirely? We'd recommend the Bullfrog, MAC-10, Cold War MP5, or CX-9 to try instead. Or, you can take a look at the fastest killing weapon in Season 5 to melt the competition.
Try out the best Warzone MW MP5 in Season 5, and you'll be running one of the fastest-killing SMGs the game has to offer.
If you're looking for more great weapons, then you can check out some of this season's best Warzone loadouts below:

C58 | Groza | M4A1 | Milano | AK-47 
Image Credits: Activision / Raven Software
How to fix Warzone & Modern Warfare Dev Error 6178
Here are all the different fixes that you can try out for Dev Error 6178 in both Call of Duty: Modern Warfare and Warzone that will help you out.
Dev Error 6178 is an error code that various Warzone and Modern Warfare players have encountered, and this guide will cover all the different solutions you can try out.
Call of Duty: Warzone and Modern Warfare are extremely fun titles, but players can quickly encounter error issues at times. Goldflake error,  error 5476, Diver Error 6, and unknown function Fatal Error are some examples.
If Modern Warfare or Warzone crashes while loading a map on PC, you may encounter Fatal Error Dev Error 6178.
This guide will go over what this error is and how you can get around it.
How to fix Warzone & Modern Warfare dev error 6178
Disable In-Game Overlay & Nvidia Highlights
There have been various causes for this error in Warzone. Aside from the game crashing while loading a map, this can also occur when the camera returns to the player after they get killed.
Many players have reported this problem happening while they try to play the game with both In-Game Overlay and Nvidia highlights enabled at the same time, so we recommend disabling them both.
Here's what you need to do:
Open up GeForce Experience while the game is turned off
Go to the General tab and disable In-Game Overlay
Save and close Nvidia Experience
Launch Modern Warfare
Go to Options > Graphics> Nvidia Highlights
Disable Nvidia highlights and restart the game
Update your GPU drivers
If you're still encountering Dev Error 6178 then your GPU driver might need updating. This is because the in-game graphics can only be handled with the latest version of the GPU driver.
Here's how you can update it:
Open up Device Manager
Scroll

down and select

Display Adapters
Click on the GPU that you want to update select Update Driver .
Select Search Automatically for updated driver software to install the new driver
Launch the game to see if it worked.
Run the game as Administrator
The problem might be that the game requires certain permissions that you can only grant as the admin. For this reason, you can try launching the game as an Administrator and see if that fixes things.
This is a fairly simple process:
Right-click on Modern Warfare
Select Run as Administrator
Click yes to grant permissions
Wait for the game to launch and see if you encounter the error.
Increase the graphics settings
Sometimes the most straightforward solutions are the best ones, and many players have reportedly fixed the error by switching the in-game graphic settings to Medium or High.
You can get this done fairly quickly:
Launch Modern Warfare
Go to Settings.
Select Graphics
Change the texture resolution to Normal in Details & Textures
That covers all the solutions you can try to fix Dev Error 6178 in both Warzone and Modern Warfare. This error can particularly annoying and keeps players from being able to enjoy the game.
Hopefully, our guide has helped with this problem, and you can check out other cool stuff at Charlie INTEL such as the latest Call of Duty: Vanguard news and guides!
Image Credit: Activision / Infinity Ward / Raven Software
How to fix Warzone & Modern Warfare Status Goldflake error
Modern Warfare and Warzone players have been dealing with the Status Goldflake issue for a while, here is our guide on how to fix it.
The Status Goldflake error is another problem that has been in Call of Duty: Modern Warfare and Warzone for a while, and here is a quick guide on how to deal with it.
It's almost impossible for a game to steer clear of bugs and potential banana skins, particularly when dealing with complex factors such as internet connection and crossplay.
As a result, various error issues can arise and have done in Modern Warfare and Warzone with error 5476, Diver Error 6, and unknown function Fatal Error being just a few examples.
Now, it's time to try and help players who regularly deal with the "Status Goldflake error" that can disrupt sessions of Modern Warfare and Warzone.
Warzone & Modern Warfare Status Goldflake error solution
There isn't a complex set of bullet points to follow or a strict guideline you must adhere to in order to fix the Call of Duty Status Goldflake error message, thankfully.
Here's our official way to solve the Status Goldflake error problem:
You need to first encounter the Status Goldflake error
Once it happens, depending on your format, you need to select the restart option for the hardware
Wait for the system to reboot itself
The load up Modern Warfare or Warzone again
The error message should have gone away, and you're safe to resume your online gaming!
If for some reason this doesn't work, then we'd suggest you do a hard reset of your system e.g if you're on console, then unplug the console's mains, or hold down the power button for a few seconds until it completely switches off, then turn it back on again.
What is the Status Goldflake error in Modern Warfare and Warzone?
The Status Goldflake error is quite simply an error message that occurs if the user puts their system into some kind of power-saving state, such as the PlayStation's Rest Mode, and tries to go back onto the game.
The major sticking point with the error message is that there's no permanent solution for it. Unfortunately, it will keep coming back every so often, and if it does, you just need to repeat the steps that we advised above.
---
Hopefully, our guide has helped with the Status Goldflake error code, and you can check out other cool stuff at Charlie INTEL such as the latest Call of Duty: Vanguard news and guides!
Image Credit: Activision / Infinity Ward / Raven Software