Mountain Dew and Doritos partner with Activision for Call of Duty: Modern Warfare
Activision, Mountain Dew, and Doritos have announced a partnership to celebrate the launch of Call of Duty: Modern Warfare.
The partnership kicks off this weekend with the Pro Am tournament for the game with the beta.
Then in October, Mountain Dew bottles, Game Fuel cans, and Doritos packs will have 2XP codes for Modern Warfare.
Here's the press release announcement:
Bravo six, going dark. MTN DEW, MTN DEW AMP GAME FUEL and DORITOS today are joining forces with Activision's celebrated Call of Dutyfranchise, in time for the highly anticipated release of Call of Duty®: Modern Warfare®. As part of the groundbreaking program, players will be able to unlock in-game rewards inside Modern Warfare with the purchase of any participating MTN DEW AMP GAME FUEL, MTN DEW or DORITOS products, simply by entering unique codes found on the packaging. The excitement kicks off on Sept. 14 with a livestreamed, competitive event – the MTN DEW AMP GAME FUEL Celebrity PRO-AM. This special pre-release exhibition pairs gaming professionals with celebrities in an adrenaline-inducing experience that highlights the new 2v2 game mode in Call of Duty: Modern Warfare.
"We're thrilled to join forces with Activision just ahead of the hugely anticipated Call of Duty: Modern Warfare release," said Erin Chin, Senior Director, Marketing, Mountain Dew and MTN DEW AMP GAME FUEL. "We put a stake in the ground when we launched Game Fuel last year, and we're excited to continue delivering one-of-a-kind experiences, like this month's PRO-AM with Modern Warfare – sure to be one of the most exciting games of the year."
"This dynamic collaboration is a best-in-class example of the power of PepsiCo's food and beverage portfolio coming to life for consumers on one of the world's largest stages," said Leslie Vesper, Senior Director, Marketing, Doritos. "Doritos and DEW are known for providing players with unique ways to access exclusive gaming experiences, and now we're taking this to a new level by working closely with Activision for Modern Warfare." 
Published by Activision and developed by Infinity Ward, Call of Duty: Modern Warfare is scheduled for global release Oct. 25. The game delivers an epic re-imagining of one of the most iconic and thrilling video game properties in history, Modern Warfare.
Even More Rewards: Unlock Double XP with Purchase 
From Oct. 6 through Dec. 31, Modern Warfare gamers will be able to unlock 2XP** with codes found on participating DORITOS packs, MTN DEW and DIET MTN DEW as well as MTN DEW AMP GAME FUEL re-sealable cans. Beginning Oct. 6, codes can be redeemed by visiting www.mountaindew.com/callofduty, www.gamefuel.com/callofduty or www.doritos.com/callofduty.  
Additionally, with the first purchase of select MTN DEW AMP GAME FUEL coded products, gamers will receive their own #VictoryInACan – with access to an exclusive operator skin (timed exclusive until 12/31/2019.) Packaging will also display sleek Call of Duty: Modern Warfare inspired graphics. Players can purchase specially marked products across select retail partners.
Even More Access: The MTN DEW AMP GAME FUEL Celebrity PRO-AM
On Sept. 14, MTN DEW AMP GAME FUEL will bring together some of the top names in music, sports and entertainment for the first-ever Call of Duty: Modern WarfarePRO-AM tournament. Taking place at the Thunder Esports Center in Long Beach, CA – the PRO-AM will pair well-known gamers such as Shroud, H3CZ and Aydan with NBA athletes like D'Angelo Russell (Golden State Warriors) and Karl-Anthony Towns(Minnesota Timberwolves), as well as actress Ajiona Alexus (Light as a Feather, 13 Reasons Why, Empire).  Players will be able to try out a series of traditional 6v6 multiplayer matches, as well as the game's intense new Gunfight 2v2 mode, more than a month before the epic title's Oct. 25release. Gunfight 2v2 mode is an epic evolution of Call of Duty's famed overall multiplayer that players can quickly jump in and out of, streamlining battles for a thrillingly intense gameplay experience. The winning team will receive a prize of $25,000 to donate toward their choice of a participating charity; the secondary charity will also receive a $10,000 donation: 
The Call of Duty Endowment – The world's leading non-profit funding the placement of US and UK military veterans into high quality civilian careers. To date, the Endowment has funded the placement of more than 60,000 veterans into jobs with a goal of 100,000 placements by 2024.
The AbleGamers Charity – The leading charity creating opportunities that enable play, in order to combat social isolation, foster inclusive communities, and improve the quality of life for people with disabilities.
To ensure fans don't miss a second of the heart-pumping showdown, the event will be livestreamed across Twitch, Facebook and Twitter on Sept. 14 at 12pm PT. DEW Nation can tune in to cheer on their favorites and watch the teams face off on the (digital) battlefield by visiting https://www.twitch.tv/callofduty.
Even More Options: Introducing the Newest MTN DEW AMP GAME FUEL Flavor  
MTN DEW AMP GAME FUEL is committed to providing players with more options than ever before to #LVLUPTHEGAME. In addition to its four existing offerings, the brand is also introducing a new, limited-time edition flavor – Charged Orange Storm. The portfolio contains ingredients shown to improve accuracy and alertness, coupled with next-gen hardware, like a no-slip grip that mirrors the sensory design of gaming accessories.
Consumers can uncover Call of DutyOperator rewards across five game-winning MTN DEW AMP GAME FUEL flavors: Charged Cherry Blast, Charged Cherry Burst, Charged Original DEW, Charged Tropical Strike and Charged Orange Storm. They can also pick up participating DORITOS packs in Cool Ranch, Nacho Cheese, Spicy Nacho, Flamin' Hot Nacho and other flavors. Participating MTN DEW beverages include original and diet 12oz. cans, 20 oz. bottles, as well as a new 16oz Alumitek bottle – created especially for this partnership.
Stay tuned for the latest news on this partnership.
Modern Warfare & Warzone Season 6 PlayStation exclusive content
PlayStation Blog has announced the latest batch of exclusive content for PlayStation users in Modern Warfare and Warzone.
Activision has confirmed that Modern Warfare's Survival mode officially arrives on Xbox One and PC on October 1, 2020, but PlayStation gets a bonus Combat Pack exclusively for Season 6.
Survival mode gets an update with a new map: Hovec Sawmill. This map is only on PS4 until October 1, 2020.
In addition, there's a Warzone Season Six Combat Pack available only on PS4. The Warzone Season 6 Combat Pack is a timed PlayStation exclusive until December 1, 2020.
Survive the Gulag in Warzone or fight to secure the victory in Multiplayer bundle that is free for all Playstation Plus subscribers. Download the Pack by going to the Franchise section of the Store and scroll down to the Miscellaneous section. The bundle includes the following:
Epic Rodion 'Red Death' skin (This skin unlocks the Operator, if not already owned)
Epic 'Shivvie' Melee Weapon
Epic 'Slipshod' Handgun Weapon Blueprint
Epic 'Ball and Chain' Charm
Epic 'Don't Back Down' Calling Card
Epic 'Gulag' Emblem
Epic 'Inside Job' Sticker
60 Minute Double XP Token
There is also a timed exclusive Weapon Blueprint, which is available only on PS4 until October 1, 2020, per the PS Blog.
Turn the Tides and Earn the *Exclusive Tide Pool Blueprint
A sniper designed for players who lock down lanes in Multiplayer and can eliminate squads escaping the circle collapse in Warzone. The blueprint is earned in a five-step mission set, found in Missions, that requires use of multiple weapon classes and in-match skills. The weapon has a shorter barrel that other sniper rifles but can still go the distance thanks to a quality scope. Build a complete loadout with an agile and strong-secondary like the GS or Renetti and perks that help you withstand damage like Battle Hardened and EOD until the job is done.
Stay tuned for the latest news on Modern Warfare and Warzone.
SOURCE: PS Blog
Modern Warfare Survival mode available October 1 on all platforms
Activision has officially announced that Modern Warfare's Survival mode, which launched on PlayStation only, is now coming to all platforms.
Survival mode will officially be available starting October 1, 2020 on Xbox One and PC.
Activision announced the news part of the Season 6 Blog Post, which states that Xbox One players will need to download an additional compatibility pack to play Survival upon it's release on October 1.
Here's the additional compatibility pack needed for Survival access on PS4 and Xbox. PC players will not need a pack, as it is part of the overall update.
PlayStation 4 Survival Pack: 5.8 GB
Xbox One Survival Pack: 5.9 GB
Note that on October 1, Xbox and PC players can access the Survival mode. 
Survival mode launched back with Modern Warfare on October 25, 2019 exclusively on PlayStation 4. The mode was a "timed exclusive" mode for 1 year, with exclusivity ending on October 1, 2020.
Stay tuned for more information.
Modern Warfare & Warzone Season 6 Battle Pass Overview
With the launch of Season 6 in Call of Duty: Modern Warfare and Warzone comes a brand new Battle Pass for players to pick up and level through.
The new Battle Pass includes two new free weapons: the SP-R208 marksman rifle (Tier 15) and the AS-VAL assault rifle (Tier 31).
Alongside the new weapons, players who purchase the Battle Pass will get a brand new Operator for the Season immediately, alongside a new Operator Nikolai at Tier 100.
Similar to Season pass seasons, there are two tracks: the free and Premium track. Free track will include 20 tiers of content, including the two new weapons. The Premium track introduces new War Tracks, Operator Skins, Blueprints, and more for fans to unlock.
Here's a full breakdown of the new Battle Pass Content:
Two Functional Weapons, Licensed War Tracks Highlight Unprecedented Free Battle Pass Content
The Season Six Battle Pass system is one of the most unique collections of content yet, and it all starts with 20 Tiers of free content available for all players within Modern Warfare and Warzone.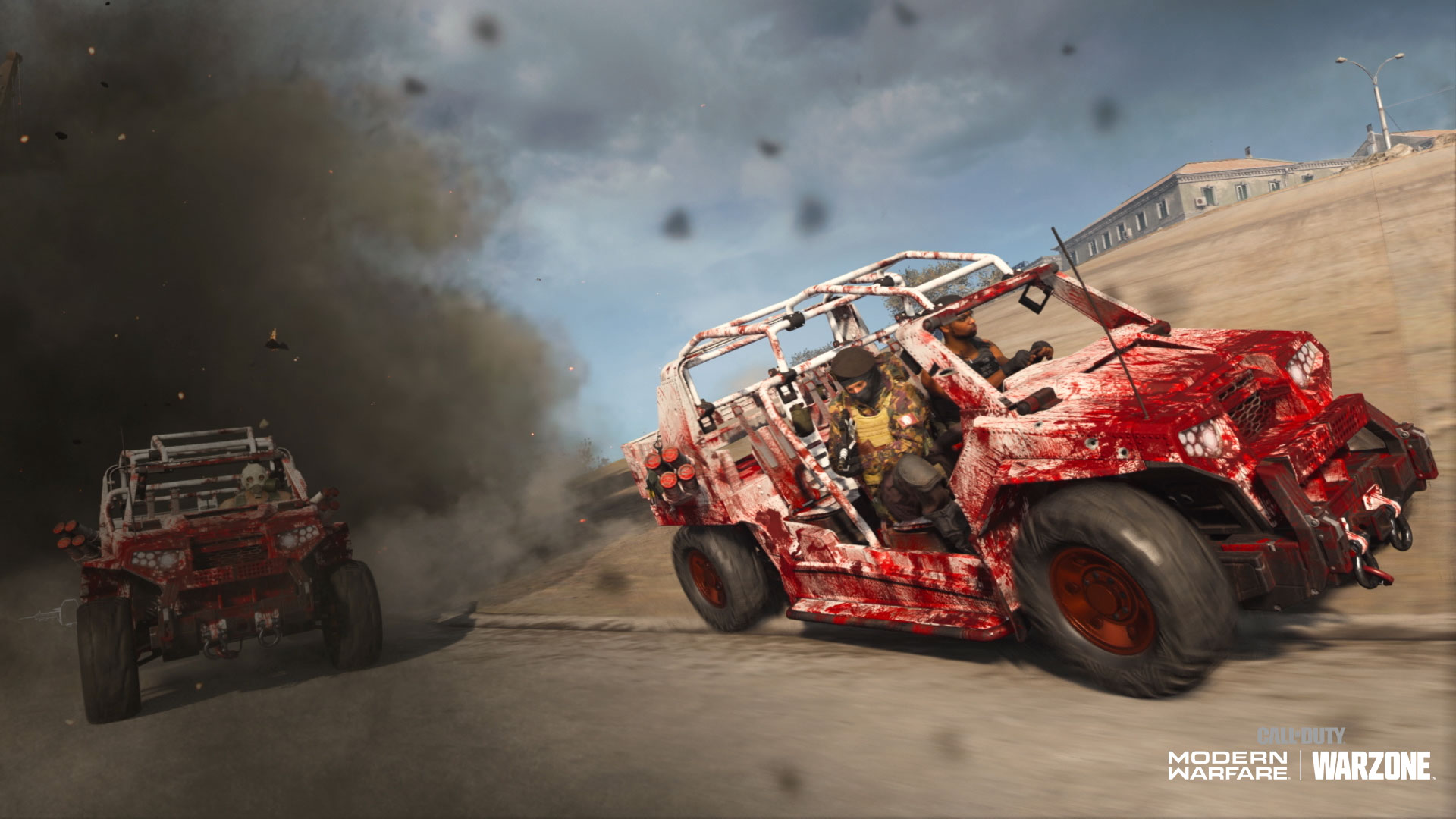 War Track Expansion Adds Classic Sounds, Modern Hits through Free Tiers
Across numerous free Tiers, players can unlock multiple new songs to be used as War Tracks, songs that play while driving vehicles in Warzone and Modern Warfare.
With these new tracks, you can blow out your speakers or even throw on music from previous Call of Duty games (Modern Warfare and Black Ops series) for a heavy dose of nostalgia that could complement an intense Battle Royale match.
Here's some of the songs outside of the Call of Duty universe that can be unlocked and played in game:
"War Track Pack: Hip Hop Edition":
Jack Harlow's "WHATS POPPIN'"
DMX's "Ruff Ryders' Anthem"
Clipse's "Grindin'"
Players can also unlock the War Track Pack: EDM Edition which includes three headbanging hits perfect for cruising around Warzone.
Like a Horn or Vehicle Skin, War Tracks can be equipped to specific vehicles within the Vehicle Customization menu. Once in-game, hop into that specific vehicle as its driver and you, as well as all passengers onboard, can listen as the squad cruises to potential victory.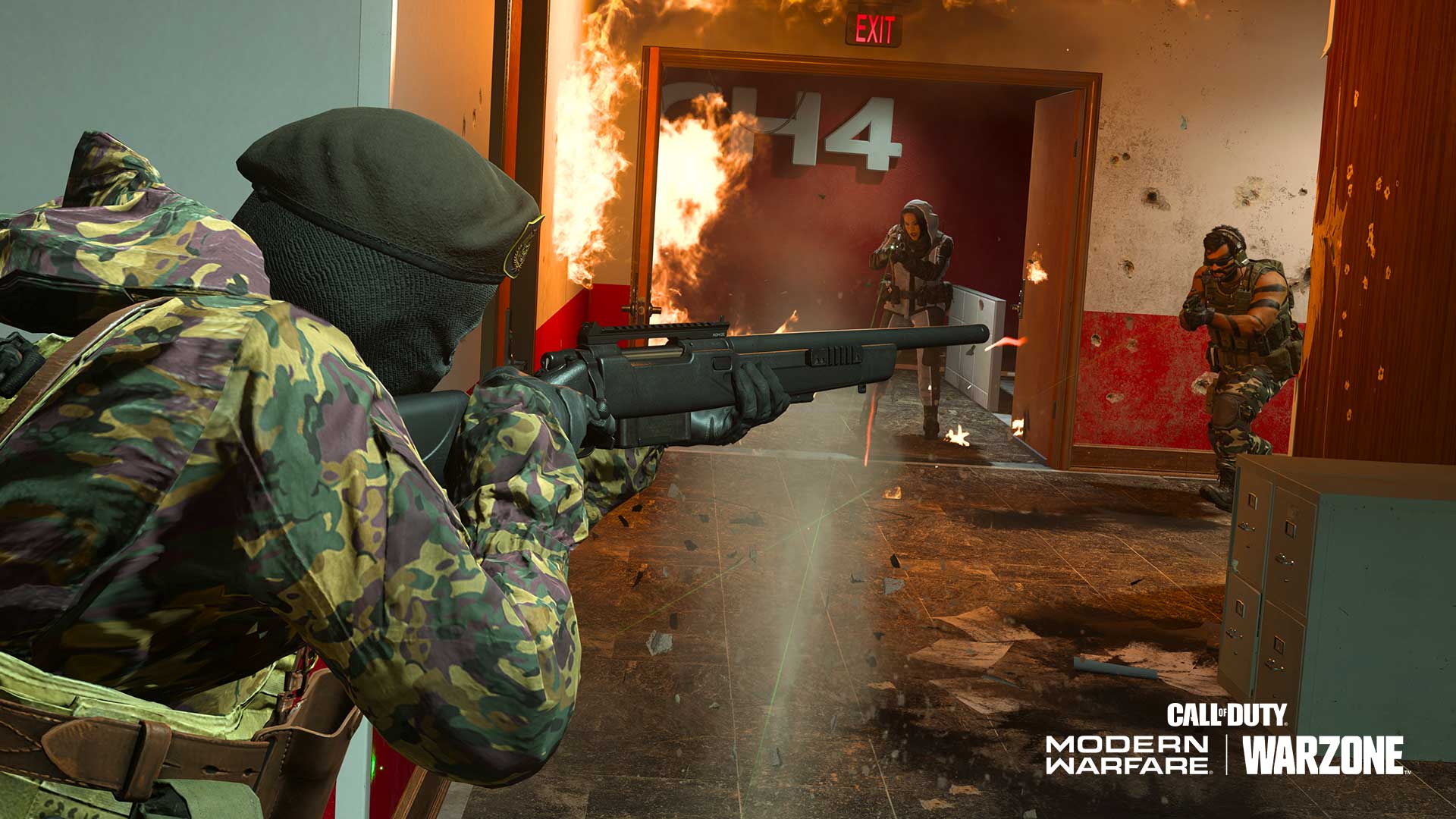 Weapons Inspection: Details of Season Six Battle Pass' System Free Weapons
Of course, there are also two new functional weapons to earn through free Tiers as well: the SP-R208 marksman rifle (Tier 15) and the AS-VAL assault rifle (Tier 31).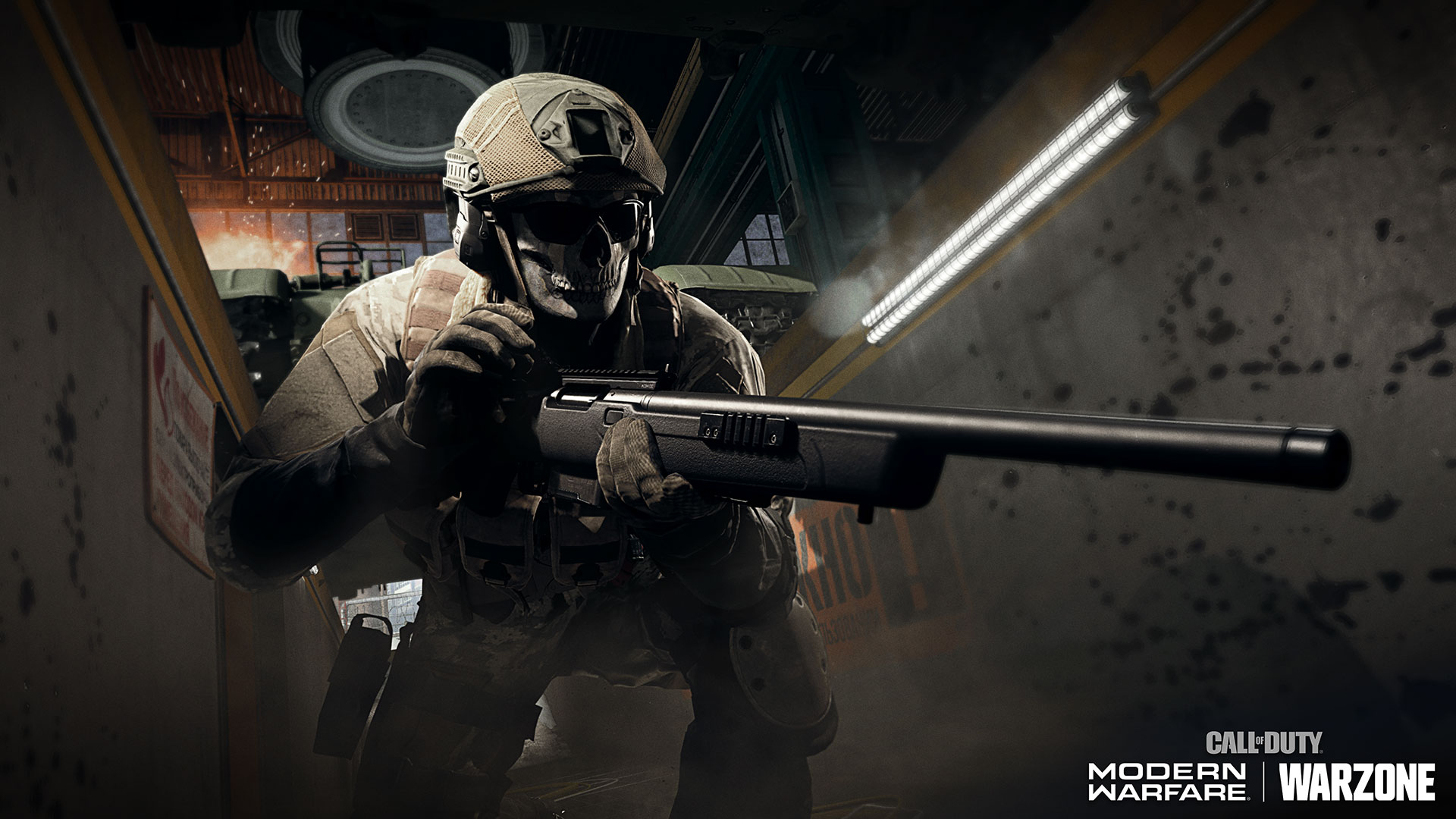 SP-R 208 Marksman Rifle (Free Battle Pass System Weapon)
This bolt-action marksman rifle comes as one of the most accurate weapons in its class and with a breadth of customization options. From alternate ammo choices to bolt assembly changes and more, no matter how this weapon is configured, it's a powerful yet mobile tool for a marksman on the go.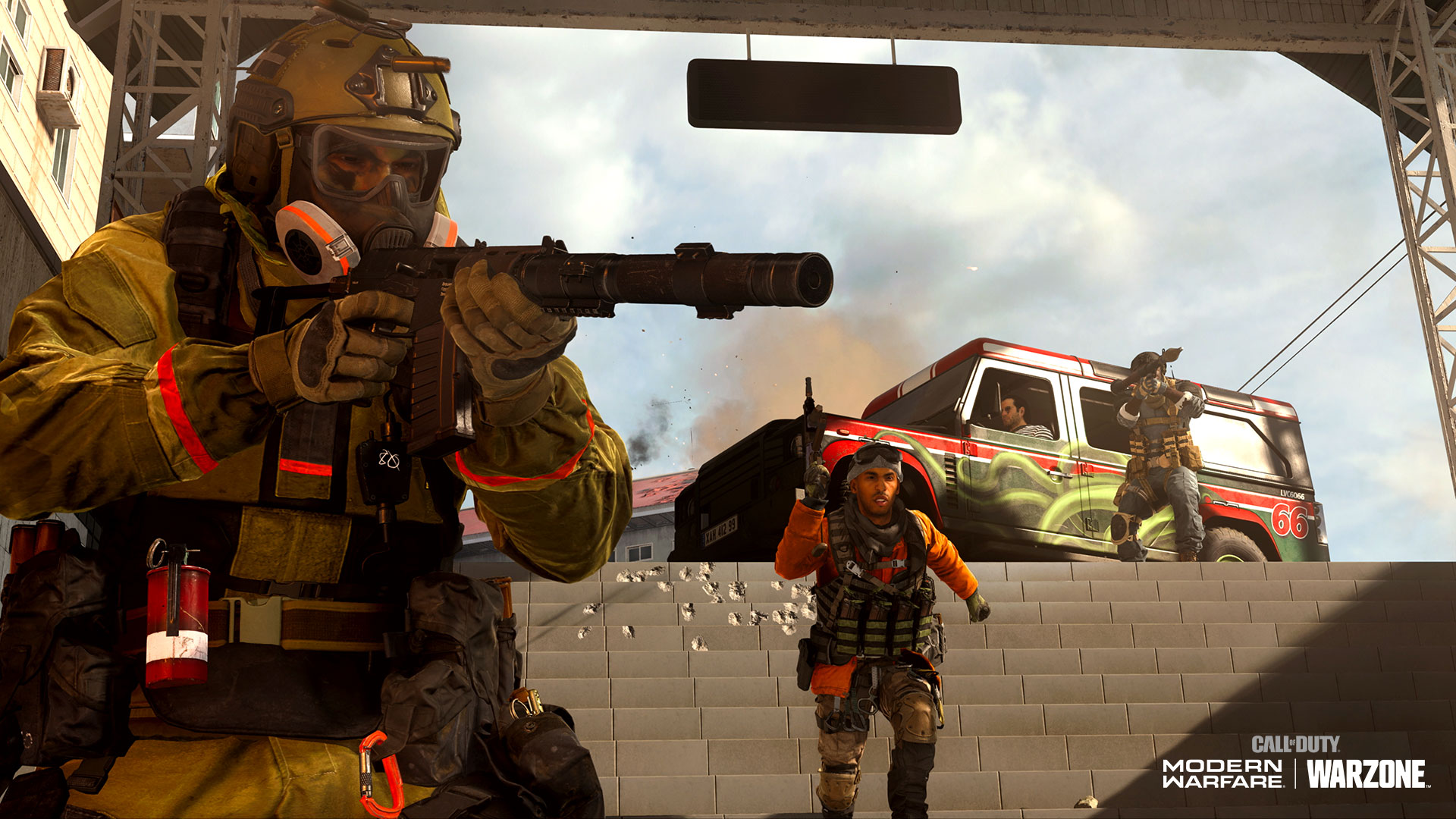 AS-VAL Assault Rifle (Free Battle Pass System Weapon)
This assault rifle, the 13th member of this weapon category, is a rare Soviet powerhouse chambered in subsonic 9x39mm ammunition and is pre-equipped with an integral suppressor. Combined with the weapon's high rate of fire, the AS-VAL is built for stealth, accuracy, and high penetration, all on a highly configurable platform.
Purchase the Battle Pass for Even More Content
Upon purchase of the Season Six Battle Pass, the system opens all 100 tiers where an exceptional, unprecedented variety of content can be unlocked.
On top of the 1,300 COD Points throughout all 100 tiers, in the Battle Pass players can unlock Operators in Farah and Nikolai, Double XP and Weapon XP Tokens, weapon charms, watches, stickers, emblems, and calling cards. There are also plenty of skins for Operators and vehicles, over a dozen additional weapon blueprints, and a new Finishing Move.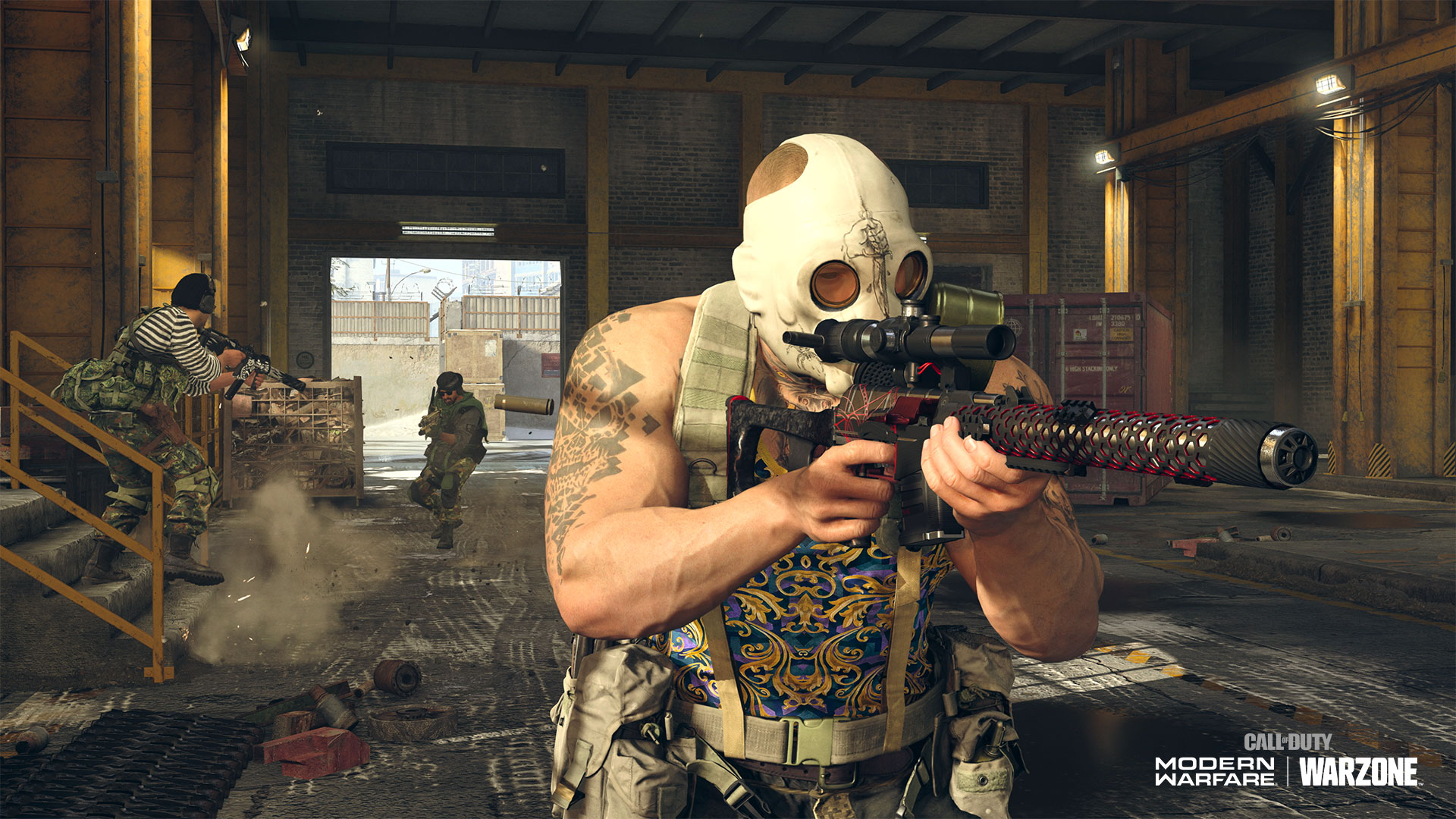 Battle Pass Instant Unlocks
New Operator – Farah: An exceptional solider who has known a lifetime of war, the founder and commander of the Urzikstan Liberation Force arrives to Modern Warfare and Warzone as a playable Operator outside of the Campaign. Immediately unlock her "Halmasti" skin upon purchase of the Battle Pass, and complete her included Operator Mission to get her "Jinn" and "Unbroken Will" skins.
Minotaur Operator Skin and Mission: Minotaur's "Poloski" skin acts as a memento to Farah's story in Modern Warfare's Campaign, with two skin variants and other rewards unlockable via the included Operator Mission.
"Gilded Arm" Epic Assault Rifle Blueprint: This blueprint for Assault Rifle Hotel replaces the standard chambered in 7.62 Soviet ammunition with a 5.25x39mm 30-Round Magazine. In addition it has a sleek red and white design, and comes equipped with multiple pre-configured attachments, including a Skeleton Stock, for a CQB-like playstyle
XP Boost (Tier 0): Get more XP for your efforts with this 10% XP boost that lasts the duration of the Season.
Skins, Blueprints, and More Highlights Throughout the Battle Pass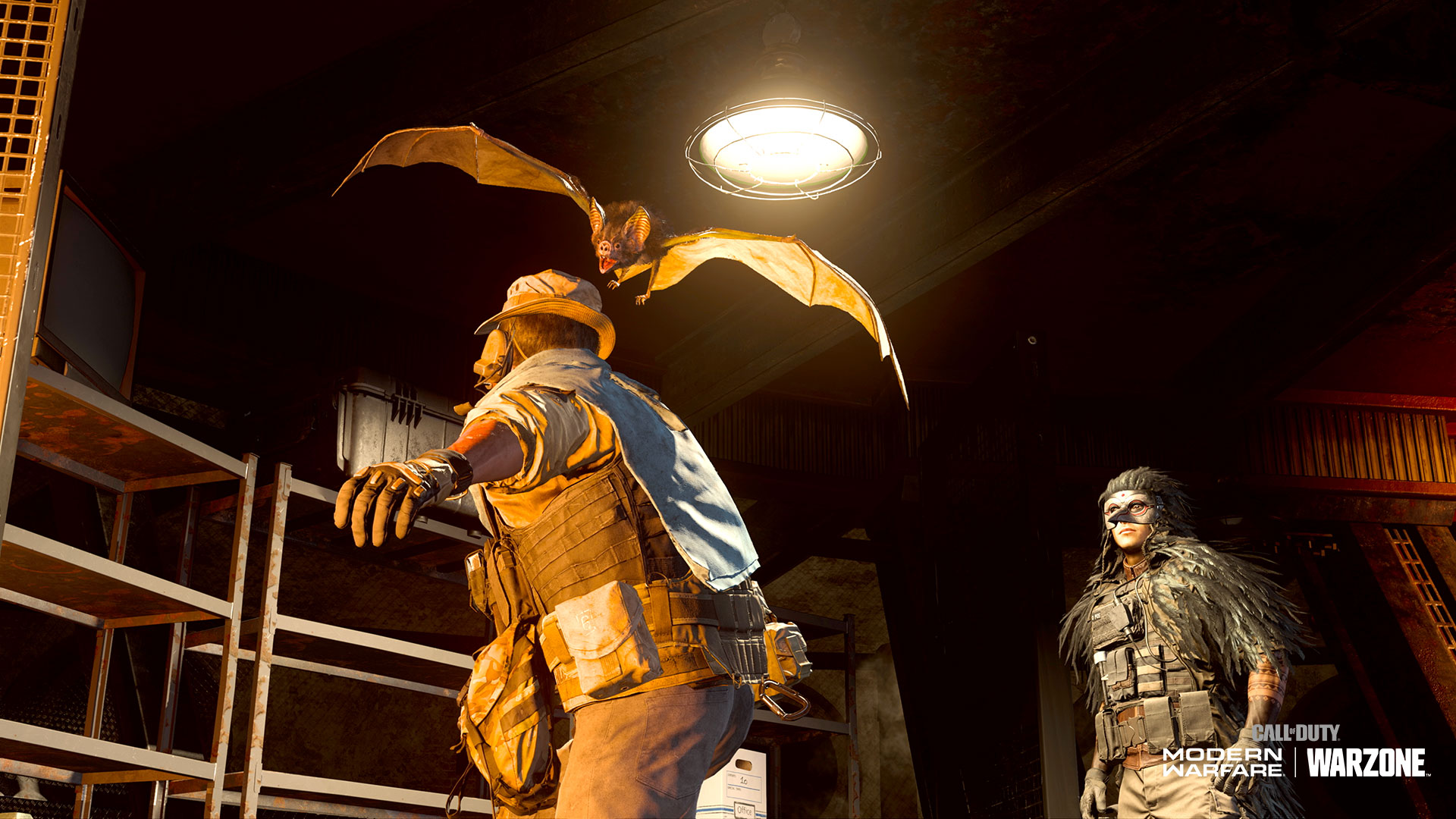 Operator Skins and Finishing Move: Expect over two dozen skins, including those available through additional Battle Pass Missions, that cover a wide range of Operators across both factions, including "On the Rocks" Gaz, "Off Grid" Domino and, at Tier 90, the "Yenisey" Bale skin. Also, prepare to sic "Edward," a pet bat, on your enemies with a Finishing Move that bears his name.
Screwdriver Combat Knife Blueprint: In tandem with the Tier 0 Minotaur skin, the "Innocence Lost" Combat Knife blueprint provides a further reference to a pivotal moment in the game's Campaign, modelling this variant after a Screwdriver Farah used to save her and her brother's lives.
Blueprints: Bolster your arsenal with new blueprint weapons in addition to the "Innocence Lost" melee weapon and the four free blueprints on offer. Blueprints available after Battle Pass purchase include three handguns, three SMGs, three assault rifles, two shotguns, three LMGs, three marksman rifles, and one sniper rifle.
Vehicle Skins: Get a fresh, Halloween-inspired exterior for four different Warzone vehicles – the "Mutated" ATV, "Flight of Torment" Helicopter, "From the Deep" SUV and "Stained" Tac Rover skins – as part of the Season Six Battle Pass.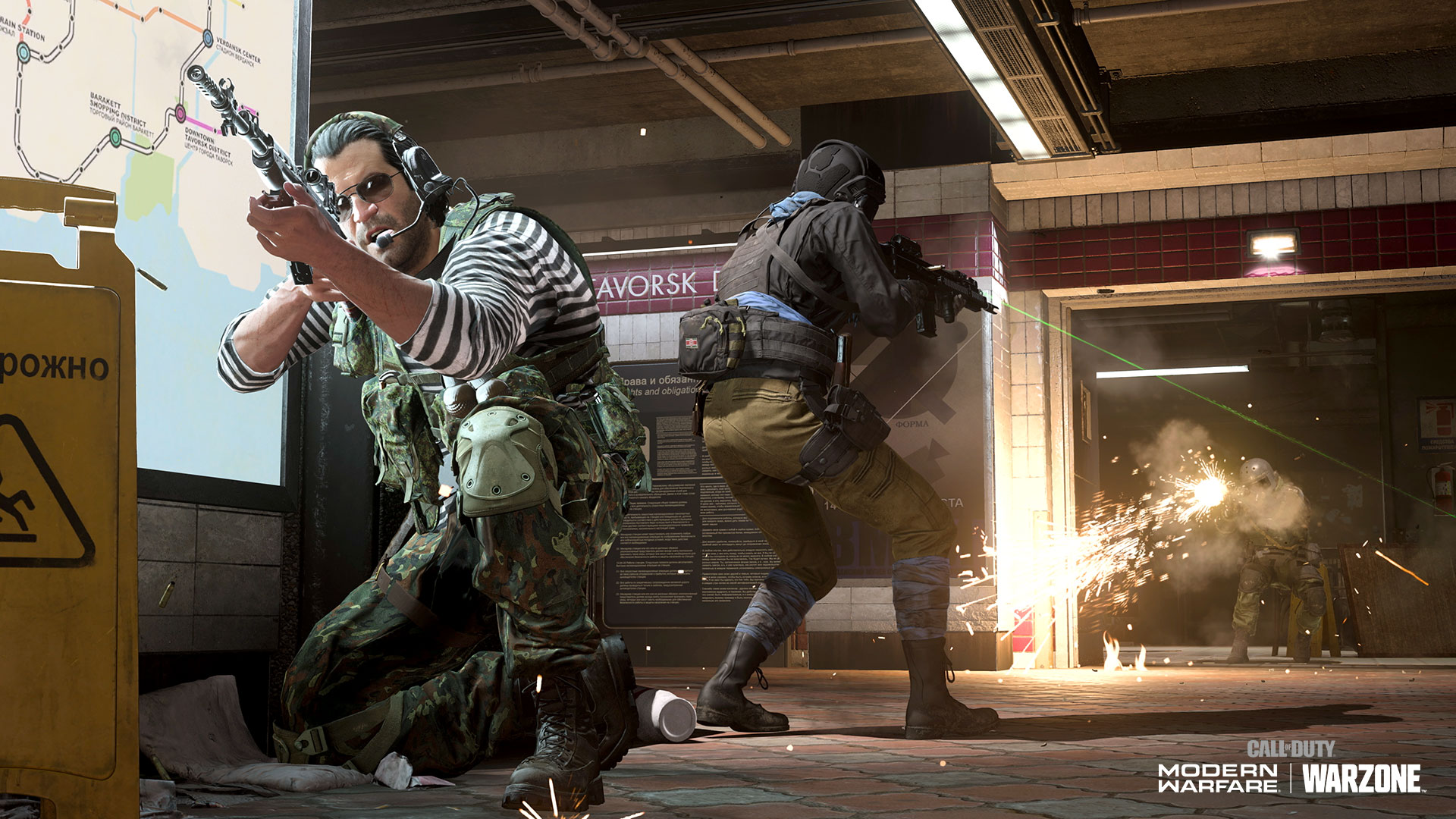 Tier 100 – The Ultimate Battle Pass Reward
New Operator – Nikolai: The leader of the Chimera PMC and now playable, Nikolai is a Russian patriot at heart with a deep love for his country only matched by his love for weaponry. A known fixer who can acquire most anything, anywhere, it's apt that his skin included at this tier is called "Arms Dealer," with his "For the Motherland" and "Carcajou" skins available via his included Operator Mission.
"VSS" Legendary Assault Rifle Blueprint: Complete with dark tracer rounds, this Legendary blueprint of Assault Rifle Mike kits it for highly accurate semi-auto fire thanks to an included high-magnification Optic and SPP 10-Round Mags, which convert the weapon to fire armor-piercing rounds with superb penetration power and damage.
"Grizzly End" Cargo Truck Skin: Strike terror and fear into your enemies with this Halloween inspired skin, exclusive to those who reach Tier 100 in the Battle Pass.
Season Six Emblem: Show off the achievement of competing the Season Six Battle Pass with this animated Emblem.
Choose your Battle Pass Path by purchasing one of the two variants:
Battle Pass: Purchase the Battle Pass for 1,000 CP, and you're granted access to unlock the new Operator Farah, up to 100 Tiers of content, and earn up to 1,300 CP (enough for next Season's Battle Pass and some) back by playing the game. Head to the Battle Pass tab at the start of Season Six to get a look at all the goods available to be unlocked this Season in the Battle Pass system.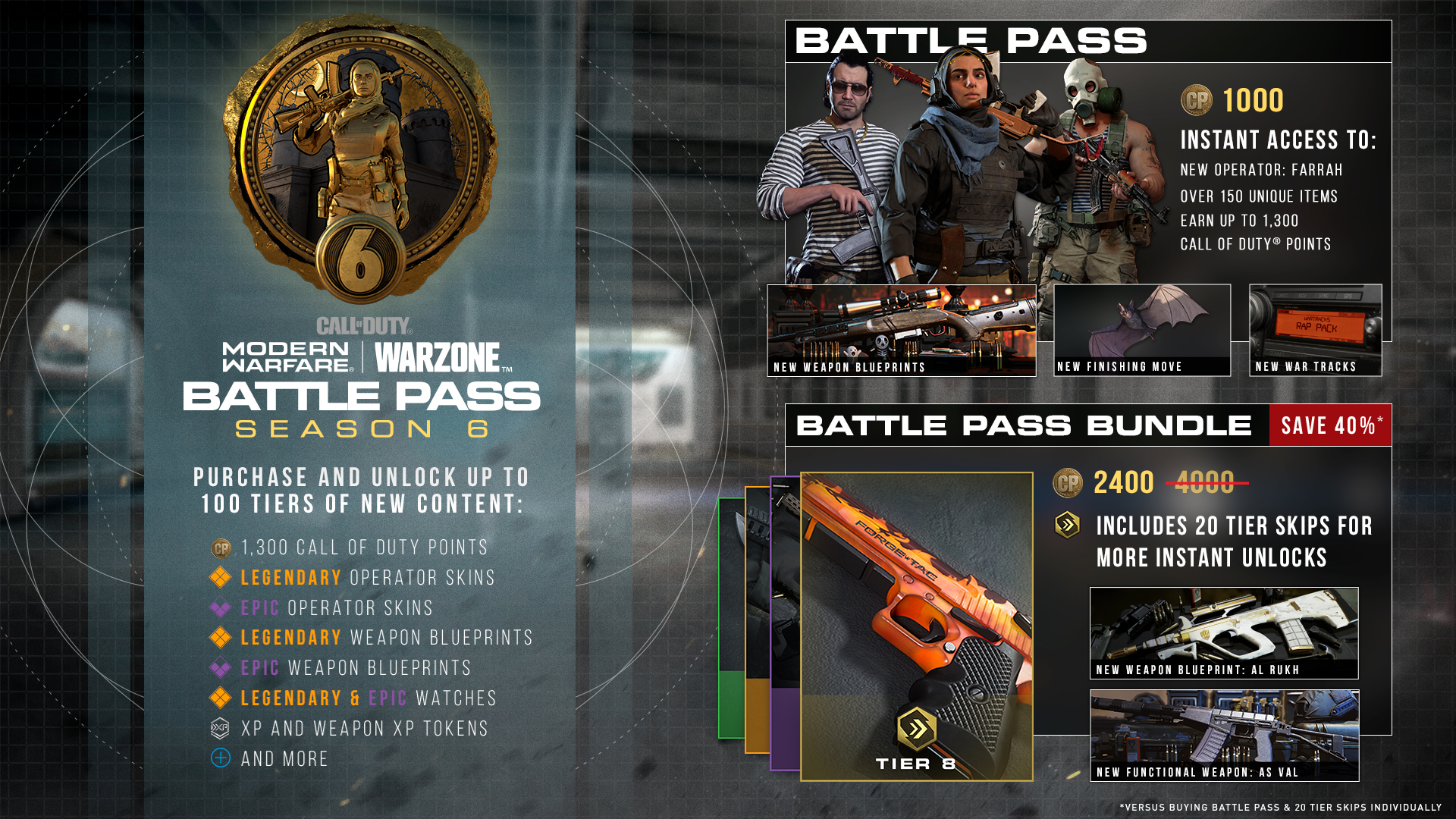 Battle Pass Bundle: Purchase the Battle Pass Bundle for 2,400 CP, which grants access to unlock all 100 tiers and gives you 20 immediately activated tier skips; a saving of 40% versus buying Battle Pass and 20 Tier Skips individually.
SOURCE: Activision