New details on Call of Duty: Mobile announced, including new MP content
Activision has announced brand new information on some of the MP content that will be available in the upcoming free to play Call of Duty Mobile game.
There's a host of fan favorite Call of Duty MP content that will be available in the mobile game, including maps, characters, and weapons, and more.
Activision also stated that a beta version of the Mobile game is currently live in India, with Australia beta testing to kick off soon. More regions for the beta will be added soon, but no details on when for now.
Here's the details directly from Activision: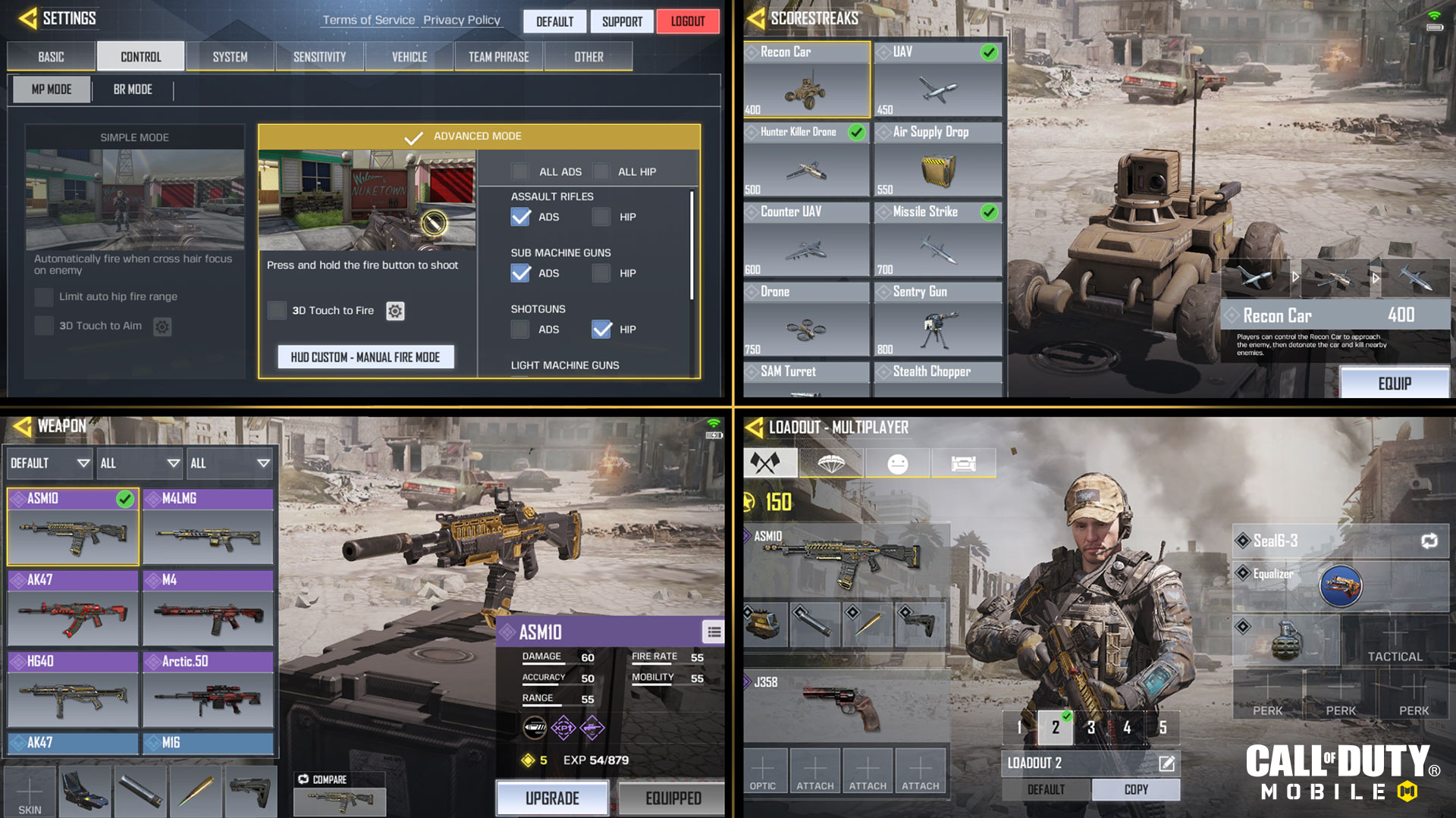 Main Menu Functionality
Tapping on the Multiplayer mode tile brings you to the Main Menu, where your character resides. The image above shows four separate menu screens. You're able to check your messages and invites from other players and friends, find and Add Game Friends, look for other players from recent games, as well as contacting them via in-game text and chat functions.
Total Control: Setting You Up For the Win
The Settings Menu offers a wide variety of ways to optimize your Call of Duty: Mobile experience: You can choose, for example, whether to always be sprinting, adjust your sensitivity, choose how the Gyroscope function works for aiming, and even tweak the Camera Field of Vision. Perhaps the biggest difference compared to Call of Duty on consoles is the ability to choose "Simple Mode" or "Advanced Mode" for your controls; allowing more optimization for mobile performance.
Simple Mode allows automatic fire when your crosshair focuses on an enemy (which sounds helpful, but eats up ammunition), with the option to limit the range of auto-firing from the hip.
Advanced Mode introduces more subtleties to your game; with manual firing, HUD customizations, and the ability to choose how you're holding each weapon type. For example, you can default your Shotguns to Hip firing, and your Assault Rifles to ADS (Aim Down Sight).
No matter which mode you utilize, you have impressive control over where almost every single interactive game element appears on your screen. You can move the vast majority of all the various HUD icons that you're used to so they're all within reach. You choose an element (like emojis, chat functions, crouching, switching to a secondary weapon, reloading, lobbing grenades, or even where your Hit Points and Armor appears), and move the HUD component around until you're comfortable.
If you're hoping for exceptional control over your weaponry, then you'll be pleased to learn the settings menu has, for example, 17 sliders just for tweaking your aiming Sensitivity! Add to that various Team Phrase choices for more rapid communication, and you can see why Call of Duty: Mobile is striving to provide an incredibly well-rounded first-person combat game on handheld devices.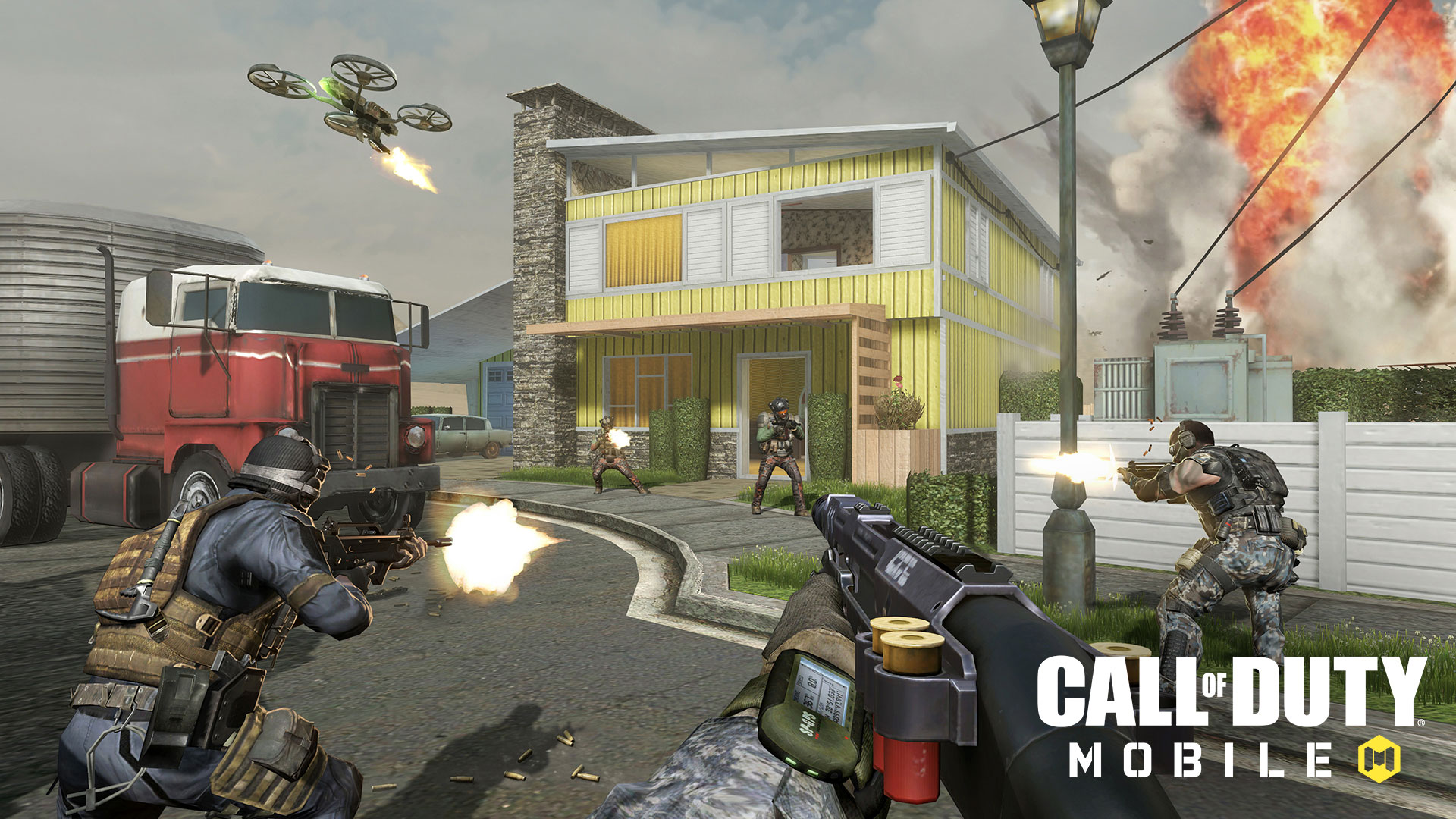 Scorestreaks Information
Before any Multiplayer match begins, it's important to choose the right tools for the job, and there's plenty of decisions to make, not least in the Scorestreaks menu: Offering a wide variety of offensive equipment, you can choose up to three of them (providing you've unlocked each of them using in-game XP) to utilize during a game. Scorestreaks include the Recon Car, UAV, Hunter Killer Drone, Air Supply Drop, Counter UAV, Missile Strike, Drone, Sentry Gun, SAM Turret, Stealth Chopper, and VTOL.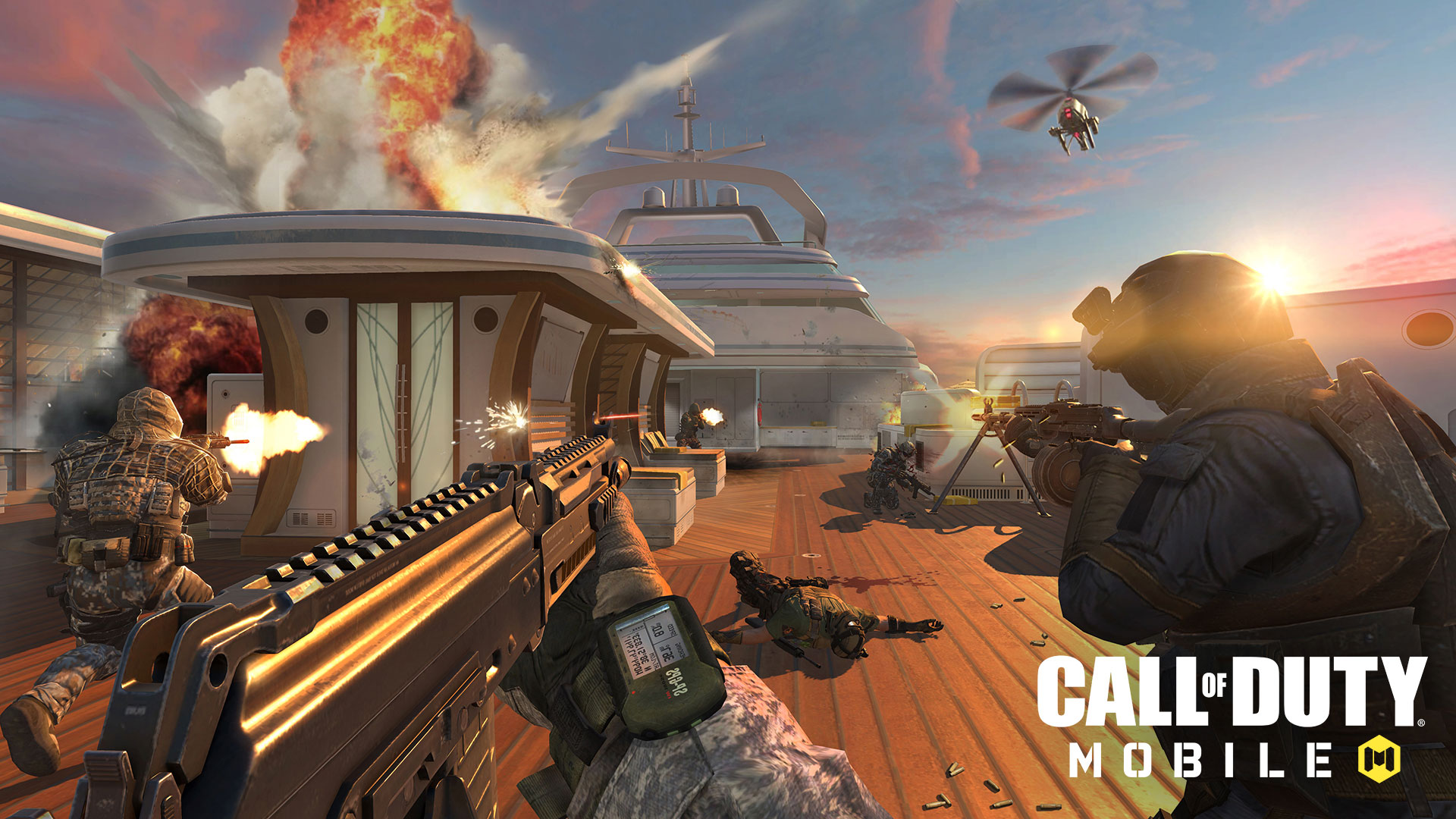 Ultimate Flexibility: Loadouts
Over at the Loadout menu, there's plenty of customization and gear choices to ponder: At the main Loadout screen (one of four separate menus), expect to pick a Primary weapon (with a separate spot for Optics and three Attachments), as well as a Secondary weapon (with the same augmentation possibilities).
Drilling down into the weapons menus, you can quickly and easily pick and add Skins, sort weapons by type (Primary Weapons include Assault, Sniper, LMG, SMG, and Shotgun, while Secondary Weapons include Pistols, Melee, and Launcher), Rarity (from Common to Legendary), or other elements (such as the time it takes to Level Up or acquire). Then you can easily compare two weapons before securing your preferred hardware, checking the Damage, Accuracy, Range, Fire Rate, and Mobility of each. Each weapon can also be Upgraded, using a Tier system. For those hoping a full complement of ordnance is available can rest easy; there are dozens of variants and different weapons within each type.
In addition to your Primary and Secondary weapon, there's a choice of an explosive grenade or tactical grenade to lob, and a devastating weapon Skill. These work similarly to the Specialist Weapons in Call of Duty®: Black Ops 4; accessible after a timer countdown, they provide a brutally impressive method of ruining a rival's day. Current Skills include the Purifier (flamethrower), War Machine (grenade launcher), Death Machine (minigun), Transform Shield (deformable shield), Sparrow (bow), and Tempest (electrical bolt rifle).
Complete your look with up to three Perks to choose from, with each perk slot offering a distinct set of ability choices, such as "Fast Recover" (a better health recovery rate), "Ghost" (enemy UAVs can't reveal your position), and "Demo Expert" (which increases the damage of explosives).
Finally, you have five Loadout slots, which you can name yourself, copy and paste into another slot, and test out across the multiplayer modes and maps.
Loadouts: Confirmed Characters
You're also able to take your pick of Soldier to play as. As well as a number of familiar faces across the Call of Duty universe making an appearance, you can choose a more anonymous entity (clad in Merc or other tactical combat gear), and customize the Headgear, Backpack, and Clothing of each. Today, we can confirm six veterans reporting for this Call of Duty:
Alex Mason, the CIA operative, special agent, and Marine Force Recon Captain (retired), from the Call of Duty®: Black Ops franchise.
David "Section" Mason, son of Alex Mason, SEAL Team member and J-SOC Commander from Call of Duty®: Black Ops II
Thomas A. Merrick, a Captain, former Navy SEAL, and Commander of the Ghosts, from Call of Duty®: Ghosts.
Simon "Ghost" Riley, the skull-textured, balaclava-wearing British special forces lieutenant from Call of Duty®: Modern Warfare 2.
John "Soap" MacTavish, the British special forces demolitions and sniping expert from the Call of Duty®: Modern Warfare franchise.
John Price, the special forces captain with the Bravo Six alias from the Call of Duty®: Modern Warfaref ranchise.
No matter who you choose to play as, expect the same level of fast, tactical gameplay as you engage enemies in the in the combat zone.
And speaking of combat zones….
Newly-Announced Game Modes
When you've chosen a Match, Rank Match (for XP and rewards), or Private Matches (for your hand-picked acquaintances), it's time to pick a game mode to play. The first modes to be revealed are:
Free-For-All*: The classic every-player-for-themselves deathmatch.
Frontline**: After spawning at a team base, defeat players on the opposing team.
Team Deathmatch**: The classic defeat-players-on-the-opposing-team mode.
Hardpoint**: Capture and hold the hardpoint to earn points.
Domination**: Capture and hold the designated positions to gain points.
(*This mode supports up to eight players. **This mode supports up to 10 players).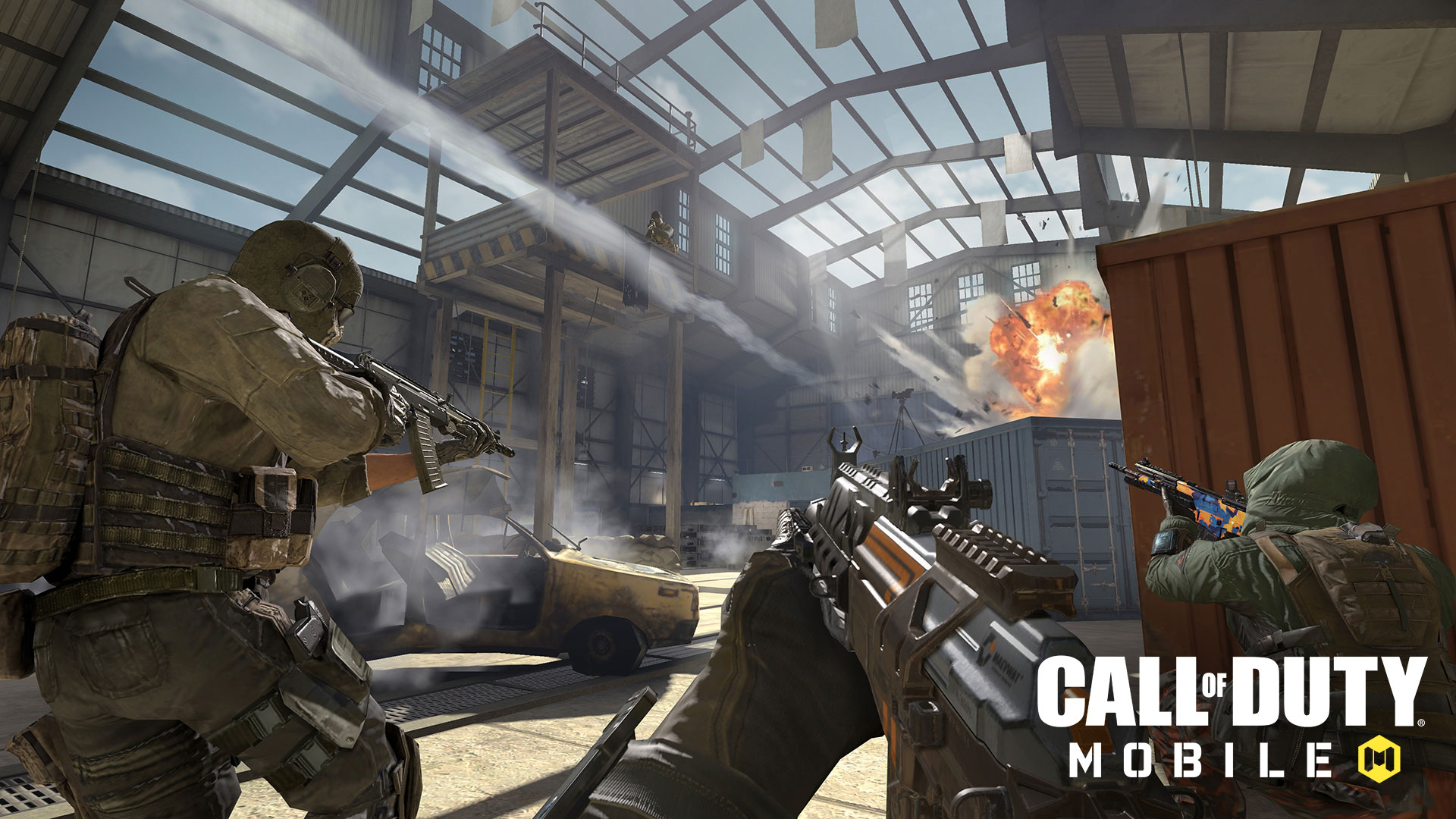 Newly-Announced Multiplayer Maps
A host of iconic Call of Duty maps across the Modern Warfare and Black Ops franchises are playable in Call of Duty: Mobile. With Nuketown, Crash and Hijacked revealed previously, prepare for combat across multiple game modes, and throughout some iconic locations. Today, we can showcase more information on five of the seven revealed Multiplayer maps:
Crossfire: "Small desert town. Intense interior fighting and strong firefights." Bring your sniper rifle in this compact street fight; the Call of Duty® 4: Modern Warfare map is revisited, with cramped and confined structures (where shotguns are a good choice) are flanked by two taller buildings at each end of this Z-shaped thoroughfare.
Standoff: "Border town between China and Kyrgyzstan. Classic engagements and desintations to fight over."Also known to Black Ops III fans as Outlaw, this map which originally debuted in Black Ops II offers a variety of tight hiding spots, upper structures that favor the long-range weapon wrangler, and a main compound with a walled perimeter to infiltrate in a variety of gameplay styles.
Crash: "Downed Sea Knight in a desert town. Fantastic team games." A classic Call of Duty® 4: Modern Warfare map, this well-loved map features blind corners, a crashed chopper, rusty barrels, narrow streets overlooked by shelled-out buildings as well as rooftop sniping positions. Expect quick and deadly action during Multiplayer matches here.
Killhouse: "Speedball style warehouse interior. Great for small teams." If you're wanting an almost symmetrical map with a central lookout tower, and have a penchant for rapid takedowns where shotguns can take precedence, practice on Call of Duty® 4: Modern Warfare's Killhouse. This warehouse offers multiple wooden and concrete hiding spots, and almost constant action.
Firing Range: "Military practice facility. Hectic Domination games." Journey to Cuba in this reworking of an original Black Ops map, seen most recently in Black Ops 4. Corrugated and wooden sheds, long, ruined structures, a muddy courtyard and rusting equipment, abandoned in the hot sun, make this a classic and chaotic map.
Other Modes
There's more to Call of Duty: Mobile than just Multiplayer matches. Consult the related Activision Games Blog posts (listed below) to discover more about the menus, loadouts, characters, and multiplayer maps, and look for further information in the coming weeks.
Pre-Registration is Open!
Offering some of the most popular maps, characters, and equipment from across Call of Duty, pre-registration for Call of Duty: Mobile is now open in select regions, including North America, South America, Europe, and other territories. Sign up and pre-register for Call of Duty: Mobile on Android and iOS at www.callofduty.com/mobile to receive all the latest game updates, information, and access to the public beta coming this summer in select regions. In addition, pre-registration is also open in China; go to codm.qq.comto sign up within this region.
The first limited-scale closed Beta test began this week in India, and a regional Beta test will kick-off soon in Australia, with more territories coming online in the coming months.
SOURCE: Activision
Best Call of Duty Zombies map: Every map ranked from World at War to Cold War
At least one Call of Duty Zombies map has a special place in player's hearts. So we've picked our best Zombies maps and ranked them.
Call of Duty Zombies has gone from a mini-game to pretty much a must-have feature in every CoD game. So we've sifted through every Zombies map ever made, settled on the absolute best ones, and ranked them.
It seems that nearly everyone has a favorite Zombies of all time, and a different top five list, such is the impact of Call of Duty Zombies on players. Treyarch's post-World at War mini-game went on to become as important to people as the online multiplayer itself.
The latest official entry into the series, Black Ops Cold War, offered up several new maps including Firebase Z and the intense Forsaken, introduced terrifying new enemies in Mimics, and produced several memorable Main Quest Easter Eggs.
Vanguard aims to carry the Dark Aether storyline on in Der Anfang, and CoD Zombies will continue to grow. But before we get to Call of Duty: Vanguard, let's go through and rank every Call of Duty Zombies map in history so far.
Every CoD Zombies ranked
In total, there have been 49 Zombies maps, and we've taken it upon ourselves to complete the difficult task of ranking them all.
Here is every CoD Zombies map ranked:
Mob of the Dead
Kino der Toten
Der Reise
Nacht der Untoten
Zombies in Spaceland
Origins
Der Eisendrache
Shadows of Evil
Moon
Ascension
Firebase Z
Five
Ancient Evil
Call of the Dead
Mauer der Toten
Shi No Numa
Die Maschine
Gorod Krovi
Buried
Forsaken
Shangri-La
Die Rise
Verruckt
IX
Nuketown Zombies
Revelations
Rave in the Redwoods
Classified
Der Rise
Attack of the Radioactive Thing
Descent
The Final Reich
Shaolin Shuffle
Outbreak
Blood of the Dead
Zetsubou No Shima
Beast From Beyond
TranZit
Voyage of Despair
Carrier
The Shadowed Throne
The Tortured Path
Infection
The Darkest Shore
Tag der Toten
Grosten Haus
The Frozen Dawn
Alpha Omega
Dead of the Night
Top 5 Call of Duty Zombies ever ranked
Now that we've managed to rank every single Zombies map ever made, it's now time to do a deep dive into our top five CoD Zombies maps of all time.
We believe each of our picks has a special quality that makes them so endlessly memorable, and while not all are as refined and packed as other maps, they are in the top five for a reason.
5. Zombies in Spaceland map – Infinite Warfare
Zombies in Spaceland moves away from the largely serious nature of Zombies and throws its players into a mad, exhilarating theme park of thrills, spills, and kills.
It carries on the novelty of Zombies maps around that time by having celebrity David Hasselhoff as the host and also demanded that players work together by having doors that needed to be opened by multiple teammates.
As well as the bright aesthetic, fun traps, and nicely divided up areas of the park, there were also the mini-games in the Astrocade. Featuring multiple, interactive arcade games, players could amass a collection of tokens to redeem for cool prizes.
To sweeten the pot further, players could also grab a bit of a breather on the Triton rollercoaster, a moving shooting gallery. As a whole, Zombies in Spaceland is a fun novelty that separates itself from a lot of the pack to form an identity.
4. Nacht der Untoten map – World at War / Black Ops III
It's entirely up to you which version of Nacht you opt for, but there's a part of us that yearns for the simplicity of its original form.
When players completed Call of Duty: World at War, after the credits rolled, many were surprised to be whisked away to a random room with creepy music and only a pistol.
So began the legacy of CoD Zombies, and unlike the Black Ops III remake, the pure nature of Nacht der Untoten still makes it a challenge to this day. No Perks, no Pack-A-Punch, just 1-4 players in a handful of confined rooms.
Given how many Wonder Weapons can be obtained in modern CoD games, the feeling of pure euphoria when you got a Ray Gun from the Mystery Box in Nacht der Untoten was unlike anything else.
3. Der Riese map – World at War
Another entry for Call of Duty: World at War in Der Riese, and the genius of some of its ideas are still at the forefront of many Zombies maps today.
Teleporters, Easter Eggs, and the aforementioned PAP and Wonder Weapon features were all introduced via Der Riese. These novel ideas were complemented perfectly by the map's extraordinary map design.
All the channels and pathways blended together seamlessly, making a smaller map, in comparison to later maps, seem big enough, fair, and keep players keep coming back for more.
2. Mob of the Dead map – Black Ops II
As a DLC-only map, it may not have been enjoyed by as many people as base maps, but the legacy that Mob of the Dead has left been is unreal.
Fans of Warzone's Rebirth Island would already have been familiar with Mob of the Dead as the map is set in the world-famous Alcatraz prison. It manages to intertwine the themes of the undead with mobsters, and create a perfect scenario in which you need to escape the island.
Action in Mob of the Dead is intense unlike any other, particularly with the tightness of the corridors and its surroundings at times. The Easter Egg for Mob of the Dead is tremendous, and we definitely need to see it reimagined in the future for all players to experience.
1. Kino der Toten map – Black Ops
Sometimes, less is more. Whereas Nacht der Untoten feels barebones and a modern map like Die Maschine is chock full of features, Kino der Toten strikes that fine balance of power, whilst delivering the best map in CoD Zombies history.
Kino's cinema is probably the most iconic setting in the franchise and its level design makes the map unbelievably accessible. Turning on the power, going through the curtains, and seeing the decimated venue is a cool feeling.
You can manipulate how the Zombies will get to you, depending on which doors you unlock, and the Projector room offers the perfect respite from the chaos. Kin der Toten never stops being a blast to play, and that's why we think it's the best CoD Zombies map in the game's history.
---
So there you have it! All 49 Zombies maps ranked, and our top five CoD Zombies maps in order as well.
For more Call of Duty Zombies content, check out everything we know so far about Vanguard Zombies.
Image Credit: Activision / Treyarch / Infinity Ward
Is Black Ops 2 being remastered? Rumors & leaks
Fans have been wondering for sometime if CoD: Black Ops 2 is going to be remastered, and we'll answer that today.
Several Call of Duty games have received the remaster treatment in recent years, and it's left fans wondering if the mega-popular Black Ops 2 will get one. Here are all the latest rumors and leaks regarding a Black Ops 2 remaster.
The popularity of Call of Duty: Black Ops 2 simply cannot be understated with the game being considered the greatest of all time by many. But fast-forward to 2021, and players want to know if this beloved entry in the CoD franchise will be remastered.
The premise of Call of Duty remasters was kickstarted by the 2016 Call of Duty 4: Modern Warfare Remastered title. Since then, we've also had the Modern Warfare 2 campaign be remastered, and there are rumors of Modern Warfare 3 being remastered, despite Activision saying it isn't.
Is Call of Duty: Black Ops 2 being remastered?
From what we understand, no, not at this time. There is absolutely nothing to suggest that any form of Black Ops remaster is in the works.
Naturally, people would think that Treyarch's Black Ops may receive the same love that the Modern Warfare franchise has gotten, but alas it doesn't seem to be the case.
Why isn't Black Ops 2 being remastered?
We believe there could be two strong reasons for Black Ops 2 not being remastered, one being that it would oversaturate the CoD market, and also that we've already seen a few of its maps recently.
If a full Black Ops 2 remaster were to exist anytime soon, it would mean that Activision would have the end of Black Ops Cold War's run, 2019's Modern Warfare, Warzone, Vanguard, and Black Ops 2.
One of the problems 2016's Infinite Warfare suffered from is that it released with the full Call of Duty 4 remaster, and consequently, the player base was divided between the two games.
Furthermore, Black Ops Cold War featured no less than seven Black Ops 2 map remasters throughout its multiple seasons, and they feel too fresh in the memory to warrant a remaster of the multiplayer.
We could see a remaster of the Black Ops campaigns, following the successful rerelease of the Modern Warfare 2 campaign.
---
Activision may have some surprises and remasters up their sleeves, but for the time being, we can only speculate and ask you to keep checking in to see if anything becomes official.
Also, check out everything we know about Call of Duty: Vanguard.
Image Credit: Activision / Treyarch
Infinity Ward announces new Austin office as studio gears up for CoD 2022
The original Call of Duty developer, Infinity Ward, is expanding its operations via a new office in Austin, Texas for CoD 2022.
One of the three developers behind the Call of Duty franchise is getting a new office. Infinity Ward is expanding its operations via a new office in Austin, Texas, in preparation for CoD 2022.
Infinity Ward is the developer behind the original Call of Duty game. Activision founded Infinity Ward in 2002, with the first Call of Duty title being released in 2003. This birthed one of the most iconic video game franchises to date.
Infinity Ward would go on to develop Call of Duty 2 in 2005 before alternating developers. Now, Infinity Ward is known for developing the Modern Warfare titles, which are released roughly every three years.
With Infinity Ward releasing the last Modern Warfare title in 2019, the developer is gearing up for another release in 2022. We don't know what CoD 2022 will be just yet, but we do know that Infinity Ward is expanding its operations with a new office.
Infinity Ward Austin Texas office
Today, Infinity Ward announced via Twitter that it would be opening a new office in Austin, Texas. This would be the fourth development hub for the company, with the other three being located in Los Angeles, Poland, and Mexico.
This also means that Infinity Ward is hiring. According to Infinity Ward, the Austin office is currently hiring for all positions, and you can find all of the available jobs posted on the Infinity Ward website.
Call of Duty: Vanguard releases in less than a month. It's taking players back to WWII, where Infinity Ward is expected to bring the franchise back to modern times, with CoD 2022 speculated to be a sequel to Modern Warfare 2019.
That being said, we have no official idea what to expect from Infinity Ward going into 2022, but with the significant success of Modern Warfare 2019, it will no doubt be a Call of Duty game plenty of players will love.
Regardless, Infinity Ward is planning something big, and the new office proves just that. So, if Vanguard isn't your cup of tea, CoD 2022 is just a year away.
For more Call of Duty, check out the insane number of weapon camos for Vanguard, and stay tuned for more news and guides.
Image Credits: Infinity Ward / Activision