New details on Call of Duty: Mobile announced, including new MP content
Activision has announced brand new information on some of the MP content that will be available in the upcoming free to play Call of Duty Mobile game.
There's a host of fan favorite Call of Duty MP content that will be available in the mobile game, including maps, characters, and weapons, and more.
Activision also stated that a beta version of the Mobile game is currently live in India, with Australia beta testing to kick off soon. More regions for the beta will be added soon, but no details on when for now.
Here's the details directly from Activision: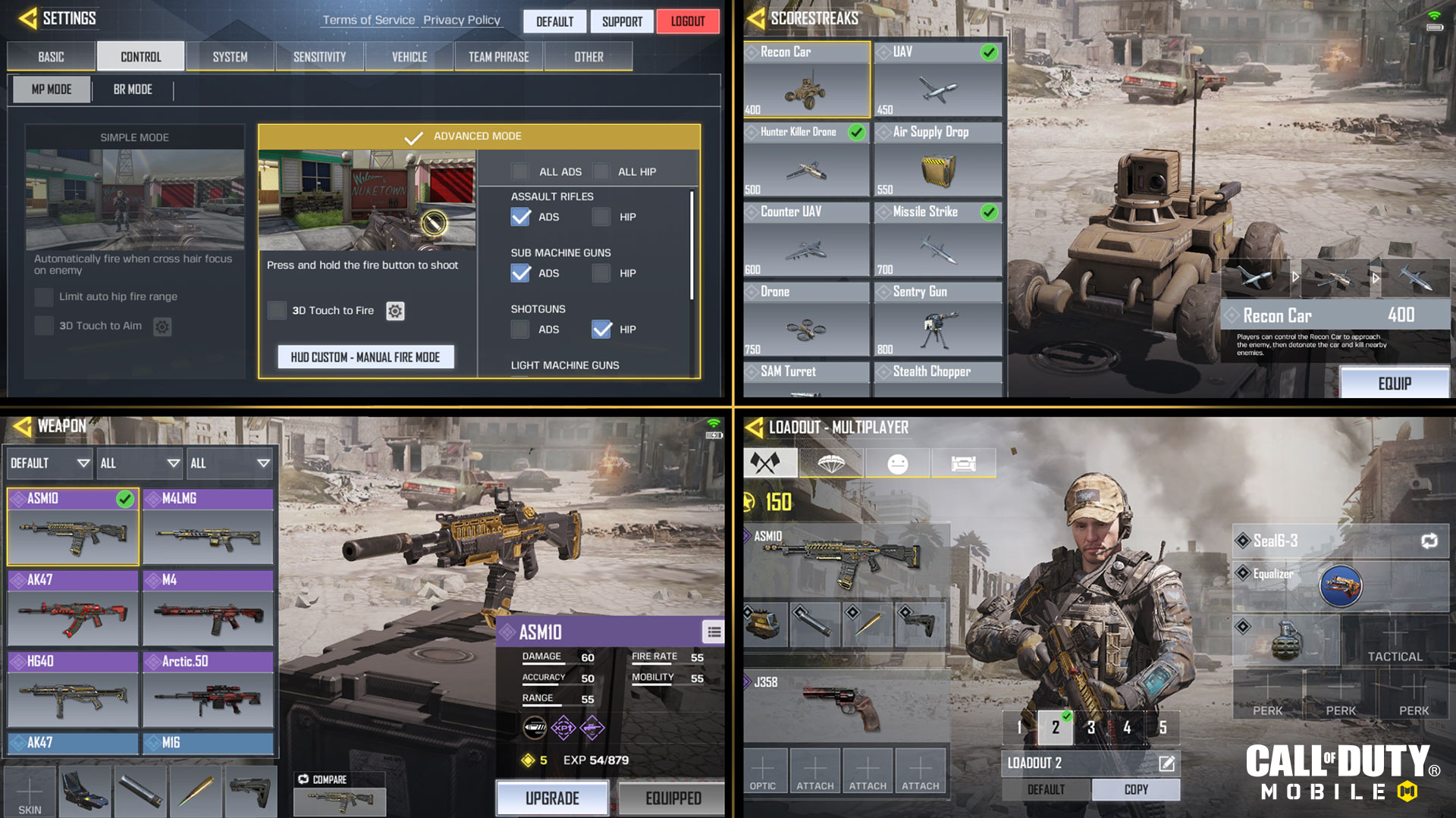 Main Menu Functionality
Tapping on the Multiplayer mode tile brings you to the Main Menu, where your character resides. The image above shows four separate menu screens. You're able to check your messages and invites from other players and friends, find and Add Game Friends, look for other players from recent games, as well as contacting them via in-game text and chat functions.
Total Control: Setting You Up For the Win
The Settings Menu offers a wide variety of ways to optimize your Call of Duty: Mobile experience: You can choose, for example, whether to always be sprinting, adjust your sensitivity, choose how the Gyroscope function works for aiming, and even tweak the Camera Field of Vision. Perhaps the biggest difference compared to Call of Duty on consoles is the ability to choose "Simple Mode" or "Advanced Mode" for your controls; allowing more optimization for mobile performance.
Simple Mode allows automatic fire when your crosshair focuses on an enemy (which sounds helpful, but eats up ammunition), with the option to limit the range of auto-firing from the hip.
Advanced Mode introduces more subtleties to your game; with manual firing, HUD customizations, and the ability to choose how you're holding each weapon type. For example, you can default your Shotguns to Hip firing, and your Assault Rifles to ADS (Aim Down Sight).
No matter which mode you utilize, you have impressive control over where almost every single interactive game element appears on your screen. You can move the vast majority of all the various HUD icons that you're used to so they're all within reach. You choose an element (like emojis, chat functions, crouching, switching to a secondary weapon, reloading, lobbing grenades, or even where your Hit Points and Armor appears), and move the HUD component around until you're comfortable.
If you're hoping for exceptional control over your weaponry, then you'll be pleased to learn the settings menu has, for example, 17 sliders just for tweaking your aiming Sensitivity! Add to that various Team Phrase choices for more rapid communication, and you can see why Call of Duty: Mobile is striving to provide an incredibly well-rounded first-person combat game on handheld devices.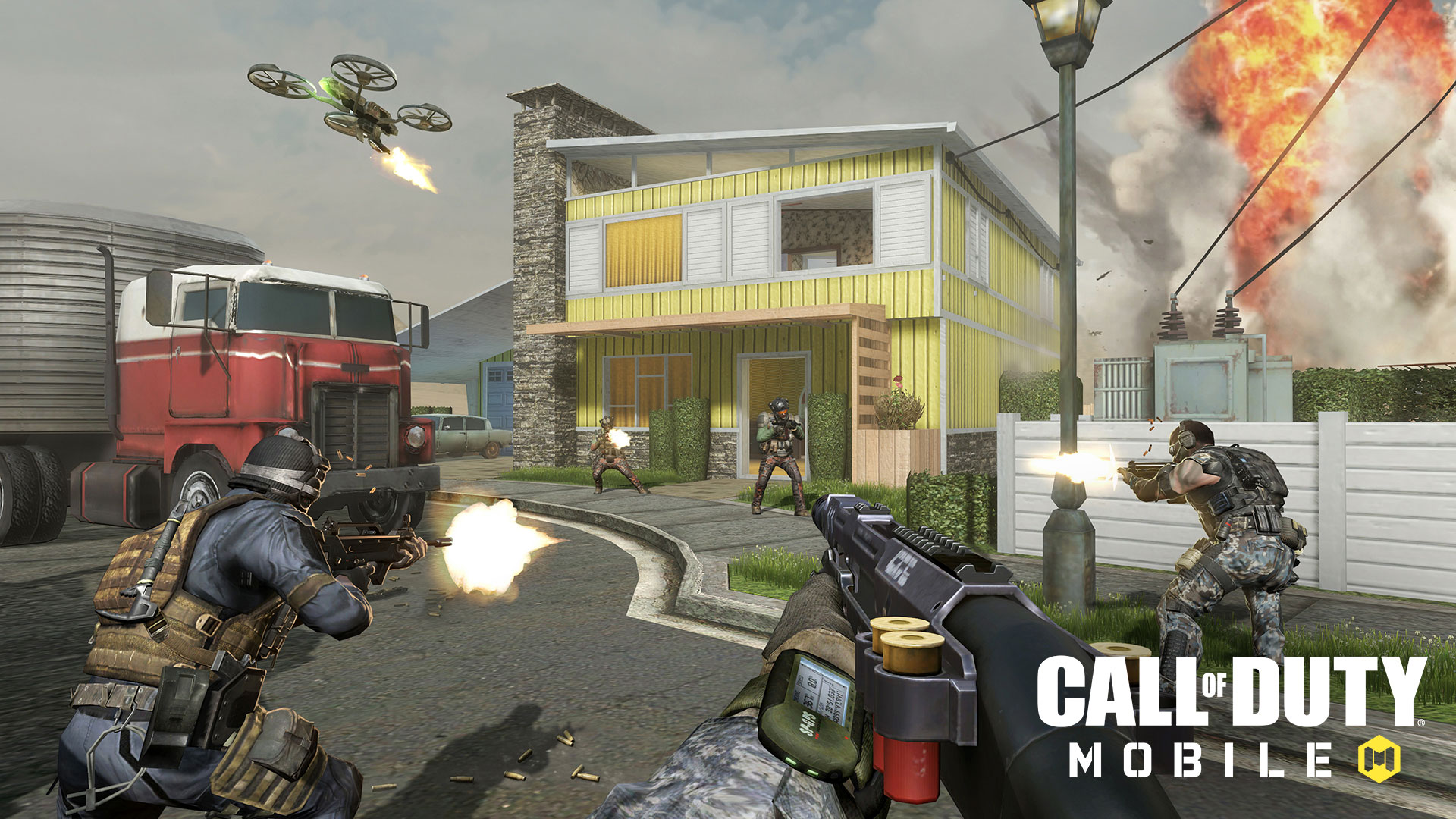 Scorestreaks Information
Before any Multiplayer match begins, it's important to choose the right tools for the job, and there's plenty of decisions to make, not least in the Scorestreaks menu: Offering a wide variety of offensive equipment, you can choose up to three of them (providing you've unlocked each of them using in-game XP) to utilize during a game. Scorestreaks include the Recon Car, UAV, Hunter Killer Drone, Air Supply Drop, Counter UAV, Missile Strike, Drone, Sentry Gun, SAM Turret, Stealth Chopper, and VTOL.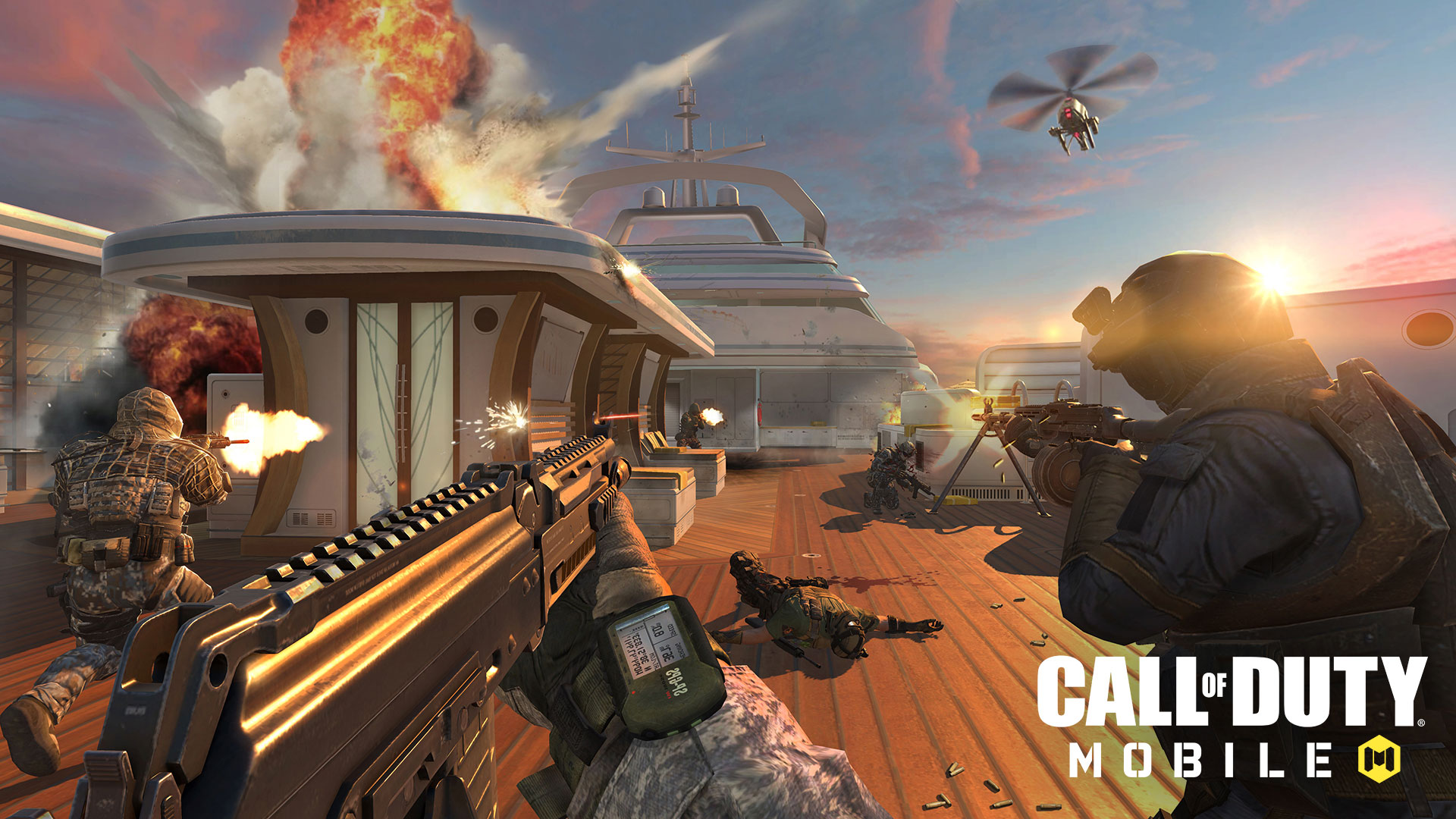 Ultimate Flexibility: Loadouts
Over at the Loadout menu, there's plenty of customization and gear choices to ponder: At the main Loadout screen (one of four separate menus), expect to pick a Primary weapon (with a separate spot for Optics and three Attachments), as well as a Secondary weapon (with the same augmentation possibilities).
Drilling down into the weapons menus, you can quickly and easily pick and add Skins, sort weapons by type (Primary Weapons include Assault, Sniper, LMG, SMG, and Shotgun, while Secondary Weapons include Pistols, Melee, and Launcher), Rarity (from Common to Legendary), or other elements (such as the time it takes to Level Up or acquire). Then you can easily compare two weapons before securing your preferred hardware, checking the Damage, Accuracy, Range, Fire Rate, and Mobility of each. Each weapon can also be Upgraded, using a Tier system. For those hoping a full complement of ordnance is available can rest easy; there are dozens of variants and different weapons within each type.
In addition to your Primary and Secondary weapon, there's a choice of an explosive grenade or tactical grenade to lob, and a devastating weapon Skill. These work similarly to the Specialist Weapons in Call of Duty®: Black Ops 4; accessible after a timer countdown, they provide a brutally impressive method of ruining a rival's day. Current Skills include the Purifier (flamethrower), War Machine (grenade launcher), Death Machine (minigun), Transform Shield (deformable shield), Sparrow (bow), and Tempest (electrical bolt rifle).
Complete your look with up to three Perks to choose from, with each perk slot offering a distinct set of ability choices, such as "Fast Recover" (a better health recovery rate), "Ghost" (enemy UAVs can't reveal your position), and "Demo Expert" (which increases the damage of explosives).
Finally, you have five Loadout slots, which you can name yourself, copy and paste into another slot, and test out across the multiplayer modes and maps.
Loadouts: Confirmed Characters
You're also able to take your pick of Soldier to play as. As well as a number of familiar faces across the Call of Duty universe making an appearance, you can choose a more anonymous entity (clad in Merc or other tactical combat gear), and customize the Headgear, Backpack, and Clothing of each. Today, we can confirm six veterans reporting for this Call of Duty:
Alex Mason, the CIA operative, special agent, and Marine Force Recon Captain (retired), from the Call of Duty®: Black Ops franchise.
David "Section" Mason, son of Alex Mason, SEAL Team member and J-SOC Commander from Call of Duty®: Black Ops II
Thomas A. Merrick, a Captain, former Navy SEAL, and Commander of the Ghosts, from Call of Duty®: Ghosts.
Simon "Ghost" Riley, the skull-textured, balaclava-wearing British special forces lieutenant from Call of Duty®: Modern Warfare 2.
John "Soap" MacTavish, the British special forces demolitions and sniping expert from the Call of Duty®: Modern Warfare franchise.
John Price, the special forces captain with the Bravo Six alias from the Call of Duty®: Modern Warfaref ranchise.
No matter who you choose to play as, expect the same level of fast, tactical gameplay as you engage enemies in the in the combat zone.
And speaking of combat zones….
Newly-Announced Game Modes
When you've chosen a Match, Rank Match (for XP and rewards), or Private Matches (for your hand-picked acquaintances), it's time to pick a game mode to play. The first modes to be revealed are:
Free-For-All*: The classic every-player-for-themselves deathmatch.
Frontline**: After spawning at a team base, defeat players on the opposing team.
Team Deathmatch**: The classic defeat-players-on-the-opposing-team mode.
Hardpoint**: Capture and hold the hardpoint to earn points.
Domination**: Capture and hold the designated positions to gain points.
(*This mode supports up to eight players. **This mode supports up to 10 players).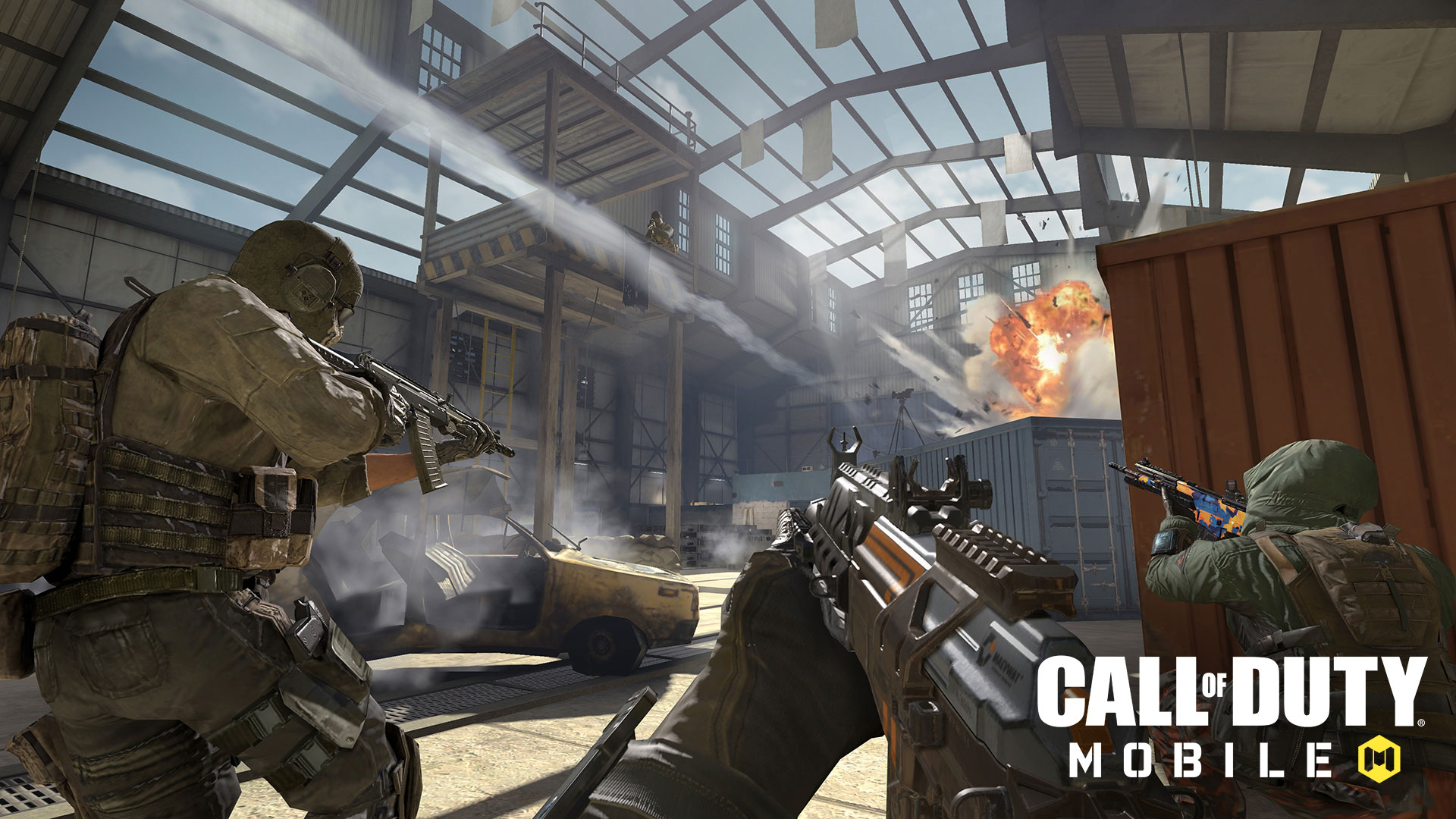 Newly-Announced Multiplayer Maps
A host of iconic Call of Duty maps across the Modern Warfare and Black Ops franchises are playable in Call of Duty: Mobile. With Nuketown, Crash and Hijacked revealed previously, prepare for combat across multiple game modes, and throughout some iconic locations. Today, we can showcase more information on five of the seven revealed Multiplayer maps:
Crossfire: "Small desert town. Intense interior fighting and strong firefights." Bring your sniper rifle in this compact street fight; the Call of Duty® 4: Modern Warfare map is revisited, with cramped and confined structures (where shotguns are a good choice) are flanked by two taller buildings at each end of this Z-shaped thoroughfare.
Standoff: "Border town between China and Kyrgyzstan. Classic engagements and desintations to fight over."Also known to Black Ops III fans as Outlaw, this map which originally debuted in Black Ops II offers a variety of tight hiding spots, upper structures that favor the long-range weapon wrangler, and a main compound with a walled perimeter to infiltrate in a variety of gameplay styles.
Crash: "Downed Sea Knight in a desert town. Fantastic team games." A classic Call of Duty® 4: Modern Warfare map, this well-loved map features blind corners, a crashed chopper, rusty barrels, narrow streets overlooked by shelled-out buildings as well as rooftop sniping positions. Expect quick and deadly action during Multiplayer matches here.
Killhouse: "Speedball style warehouse interior. Great for small teams." If you're wanting an almost symmetrical map with a central lookout tower, and have a penchant for rapid takedowns where shotguns can take precedence, practice on Call of Duty® 4: Modern Warfare's Killhouse. This warehouse offers multiple wooden and concrete hiding spots, and almost constant action.
Firing Range: "Military practice facility. Hectic Domination games." Journey to Cuba in this reworking of an original Black Ops map, seen most recently in Black Ops 4. Corrugated and wooden sheds, long, ruined structures, a muddy courtyard and rusting equipment, abandoned in the hot sun, make this a classic and chaotic map.
Other Modes
There's more to Call of Duty: Mobile than just Multiplayer matches. Consult the related Activision Games Blog posts (listed below) to discover more about the menus, loadouts, characters, and multiplayer maps, and look for further information in the coming weeks.
Pre-Registration is Open!
Offering some of the most popular maps, characters, and equipment from across Call of Duty, pre-registration for Call of Duty: Mobile is now open in select regions, including North America, South America, Europe, and other territories. Sign up and pre-register for Call of Duty: Mobile on Android and iOS at www.callofduty.com/mobile to receive all the latest game updates, information, and access to the public beta coming this summer in select regions. In addition, pre-registration is also open in China; go to codm.qq.comto sign up within this region.
The first limited-scale closed Beta test began this week in India, and a regional Beta test will kick-off soon in Australia, with more territories coming online in the coming months.
SOURCE: Activision
Best .50 GS loadout for Call of Duty: Mobile
The .50 GS is a powerful handgun. Here's you can improve it even further.
Call of Duty: Mobile's twelfth season is well underway, so players have had plenty of time to get to grips with the .50 GS handgun. Already deadly at close range, here's what you need to add to make it a truly powerful weapon.
Call Of Duty: Mobile saw plenty of additions in Season 12's. Titled 'Going Dark', maps like Hackney Yard got special night-time versions, while players also had new challenges to sink their teeth into, offering unique rewards upon successful completion.
Completing the eight states of the Small Arms challenges will grant players the .50 GS handgun, better known as the Desert Eagle. With impressive base stats, this weapon already packs a hefty punch, but using the right loadout can make it an unstoppable tool in your CoD Mobile armory.
Best .50 GS handgun loadout
Like with most handguns, you'll be using the .50 GS in close-quarters combat. For that, you need to focus on improving your ADS speed, magazine, trigger and barrel, with an added laser for good measure.
The following loadout will serve you well:
Barrel: MIP Extended Light Barrel
Ammunition: Extended Mag A
Rear Grip: Stippled Grip Tape
Laser: MIP Laser 5mW
Trigger Action: Match Grade Trigger
We'll start by improving the .50 GS handgun's accuracy with the MIP Extended Light Barrel. This will come at the cost of reducing your weapon's ADS speed, but it worth it to improve your bullet spread accuracy and damage range.
The Stippled Grip Tape will make up for the ADS speed you lost, and also boost your sprint-to-fire speed greatly. This way you'll be able to move around and change your position quickly while initiated in a gunfight. The Extended Mag A will give you a 43% increase in the maximum ammo that you can carry, and the MIP Laser 5mW improves hipfire performance significantly and gives a further boost to your ADS speed.
We'll finish up the loadout by improving your rate of fire so that you can make better use of the extended magazine. The Match Grade Trigger will give that a boost and grant you stability when aiming down sights, with slightly reduced accuracy when firing from the hip.
Equipping these attachments will significantly improve the close-range combat capabilities of the .50 GS Handgun. In addition to this, you can pick whichever perks and gear suit you best to complete the loadout.
Secondaries as often used as a last resort when you find yourself in the heat of a gunfight with no ammo left in your primary, and using this loadout will give you the best shot at taking down your enemies and keeping your streak alive.
New Nuketown map teased for CoD: Mobile Season 13
Black Ops 4's Russian version of Nuketown is coming to CoD: Mobile in Season 13, thanks to a teaser image released on November 28.
Call of Duty: Mobile Season 13 is officially on the way, and it seems a new Nuketown map is coming to the game thanks to an early teaser from the devs.
The end of the month is almost always when the game's developers start teasing what's coming in the game's upcoming seasonal update, and November is no different.
While every CoD: Mobile season receives a new map, it appears that for Season 13 we're heading to Black Ops 4 as the original title that hosted it, with the Russian version of Nuketown featured in the 2018 entry to the franchise heading to iPhones and Androids.
The image, which was tweeted by the official CoD: Mobile account on November 28, appears to be taken from the green building that sits on the left-hand side of the map, showing the interior of the top floor and the view outside the window.
Visible is the roof of the red building which sits opposite, complete with the decorative roof that sits high into the sky. If you look closely, you can also see the snow sitting on top of the vehicles parked in the middle of the map.
It appears that the CoD: Mobile version of the map will be an exact remake of the Black Ops 4 version, but we'll have to wait until Nuketown is officially in the game before we can be sure.
This isn't the first time that maps from the main Call of Duty titles have been added to CoD: Mobile, with Modern Warfare 2's Highrise and Black Ops 2's Meltdown added in previous seasonal updates.
Call of Duty: Mobile Season 13 and the new Nuketown map are yet to have an official release date, but it's likely we'll see them added to the game in the coming weeks.
Image credits: Treyarch
Call Of Duty Mobile: Best Loadout for the AGR 556 SMG
The AGR 556 is a formidable SMG in CoD Mobile. Here's the best loadout for it.
You have plenty of SMGs available to you in Call Of Duty Mobile. The AGR 556 is an incredible gun because of its short-range and medium-range combat capabilities. Here is the best loadout that you can assemble for it.
Call of Duty Mobile has a wide assortment of weapons for you to choose from. If you're up for rushing into close combat, then you can't do better than SMGs. They offer better mobility and speed than Assault Rifles, so they're the ideal choice.
The AGR 556 is a reliable SMG that you obtain at Tier 21 on the Season 12 Battle Pass. This fully automatic submachine gun can deal damage with a high rate of fire and low recoil. However, there is definitely room for improvement, and certain attachments will help with that.
Best AGR 556 Loadout
Barrel: MIP Light Barrel (Short)
Muzzle: Monolithic Suppressor
Ammunition: 60 Round 5.56mm Drum
Laser: OWC Laser – Tactical
Underbarrel: Strike Foregrip
Rear Grip: Granulated Grip Tape
The AGR 556 allows for a lot of mobility and has great range for an SMG. The only aspect that needs some tuning is the DPS, so we've prepared a loadout that prioritizes dishing out damage with minimal loss of movement Speed.
You can give the DPS a boost with the 60 Round 5.56 Drum magazine, while the Monolithic Suppressor will increase the Damage range at the cost of slightly reduced accuracy. The Strike Foregrip makes up for that and adds improved vertical recoil control to the SMG.
Combine this with the MIP Light Barrel (Short), and you'll make up for the movement speed that you lost due to the Underbarrel. This way, you won't get mowed down while running and gunning.
The Granulated Grip Tape will help further reduce bullet spread and the OWC Tactical Laser will allow you to aim down sights from a moderate distance. This makes it so that you don't really need a scope or sight – especially since you'll spend most of your time moving quickly during close combat.
Plus, the AGR 556's iron sights already have you covered in that regard.
Best AGR 556 Perks
Now that the weapon is primed for dealing high DPS, you need also to prioritize movement speed. Along with the MIP Light Barrel, you should equip The Lightweight perk. This will give a 10% boost to your sprinting speed so that you're harder to hit.
You can reduce the chances of foes hearing your movement by equipping The Dead Silence perk. If you still manage to take a hit, then The Toughness perk should help a bit by reducing the aim punch.
That sums up all you need to do to make the AGR 556 an ideal choice for close combat in Call of Duty Mobile. Get out there and drop some high-kill games with it!