Details on progression and cosmetics in Call of Duty: Mobile revealed
In new Activision Blog post, the company has provided an update as the launch of Call of Duty: Mobile draws closer.
The new Call of Duty: Mobile game launches worldwide on iOS and Android on October 1.
Here's the full details on cosmetics, progression, supply drop, currencies, and more:
Activision Games Blog (AGB): How does ranking up work in Call of Duty: Mobile?

Chris Plummer (CP): We put a lot of thought and testing into our progression system in Call of Duty: Mobile. We looked at how gamers like to play on mobile, and also what our Call of Duty fans are familiar with. Leveling up works differently in Call of Duty: Mobile in that ranks are associated with your progress in ranked play. You start at Rookie rank and progress all the way up to Legendary. Players will earn rank points for each ranked match, based not only on whether their team wins or loses a match, but also their individual performance. And of course, players will earn awesome rewards as they progress through the ranks.
AGB: How did the team approach the philosophy of progression, especially for mobile players?
CP: The experience should feel familiar to Call of Duty players in that certain items in the game can only be earned through leveling up your player level which occurs by just playing the game. These items include weapons of different tiers, scorestreaks, loadout unlocks, grenades, and perks.
Your weapons are leveled up by using them in matches, but you can speed up leveling by using weapon XP cards. As you level up your weapon, you will unlock weapon attachments as well as a weapon perk for all weapons of rare or higher tier.
Early on, player progression will unlock the different weapon classes. As they progress, players will be rewarded with higher rarity weapons that provide unique cosmetic options including those with perks for personalizing your loadout.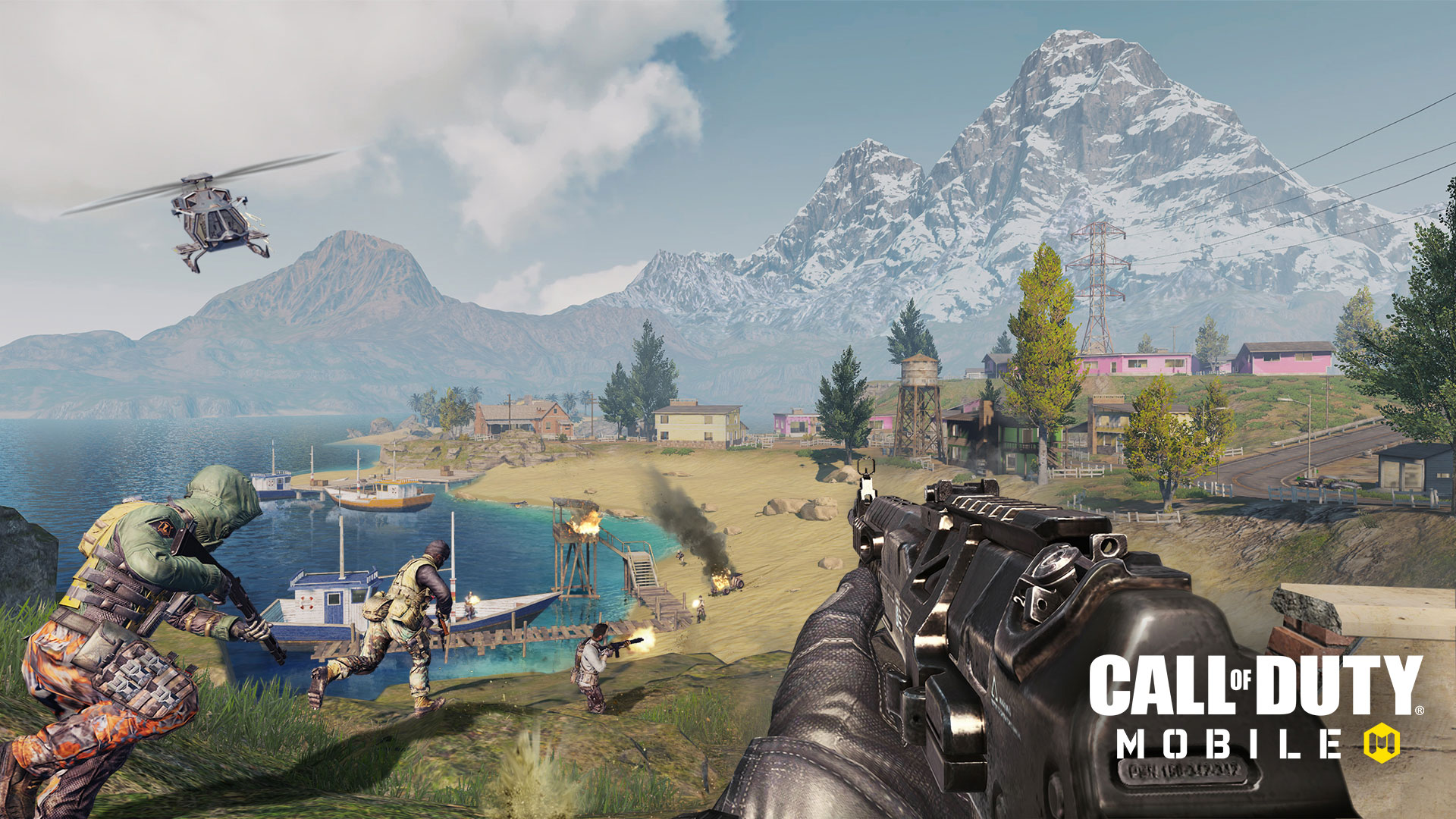 AGB: Is progression consistent across the game?
CP: Playing either Multiplayer or Battle Royale will both contribute to your player level, so you're able to carry over your progress no matter what you're in the mood to play. Most cosmetic content can be used in both MP and BR, (including character skins, weapon skins and emotes), but each game mode will also have some content suited for that mode (example: specific weapons unique to MP or parachutes which are unique to BR).
AGB: What types of things/items can I acquire in the game?
CP: In Call of Duty: Mobile, you will earn a variety of rewards just by playing the game, through player leveling as well as through the free Battle Pass track. A big part of the game is personalizing your experience and your loadouts the way you want to. Items you can acquire include weapons (and weapon skins/camos associated each weapon), character outfits, melee skins, grenade skins, backpack skins, emotes, sprays, helicopter skins, vehicle skins, parachute skins, Glider skins and weapon XP Cards.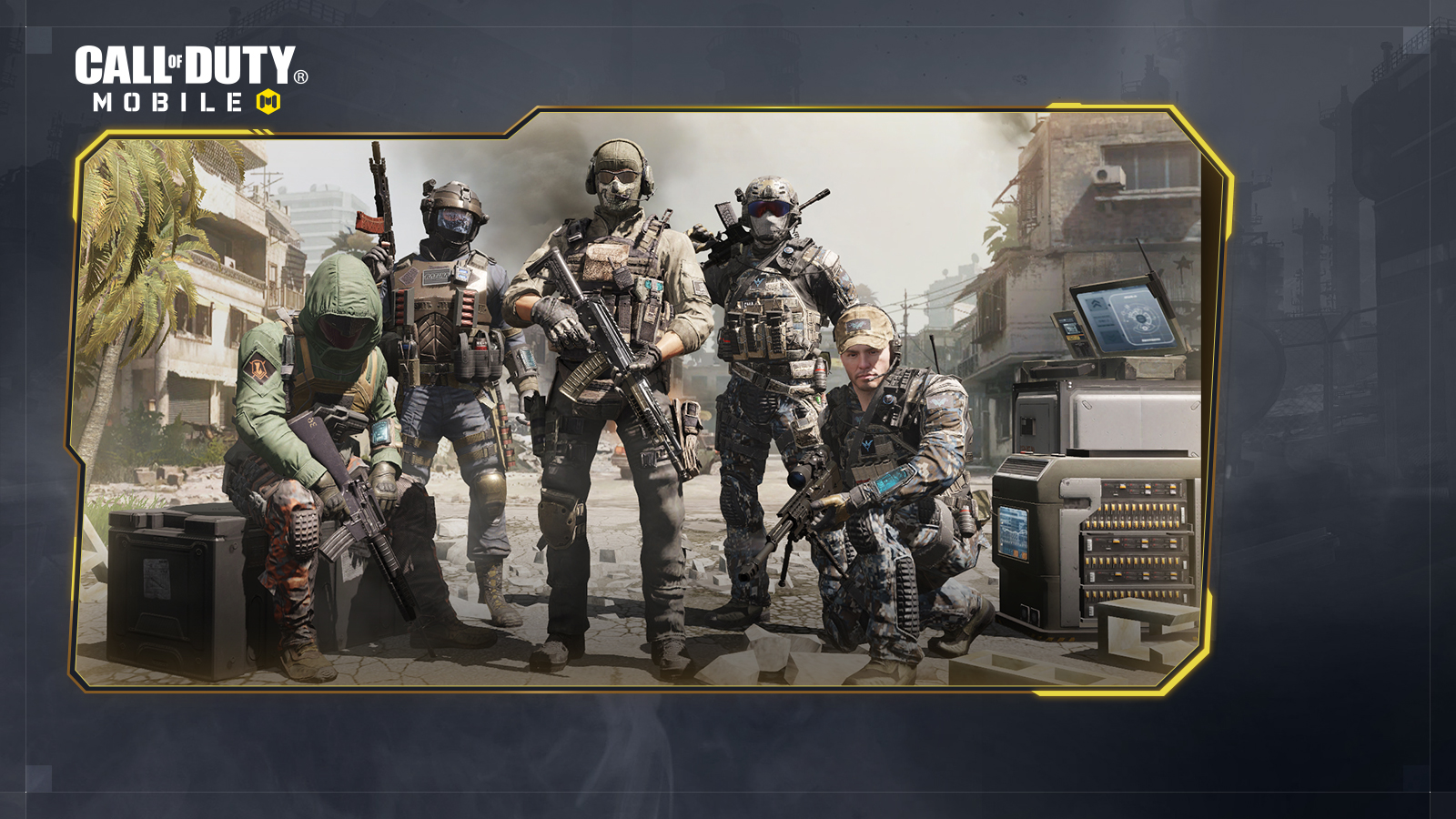 AGB: Can players purchase items in the game?
CP: There is a ton of free content you'll earn simply by playing the game. Call of Duty: Mobile features a Battle Pass, which works similarly to other mobile games in the genre. There is a free track to the Battle Pass with lots of items to unlock, and more rewards are available by purchasing the premium Battle Pass that unlocks an additional track. You can also purchase a "tier upgrade" in the premium Battle Pass to progress to the next tier to unlock everything within it immediately. It's a unified Battle Pass across modes, so both Multiplayer and Battle Royale have Battle Pass tasks that contribute progress to it. Players can purchase certain content directly through the store a la carte as well, or purchase weapon experience cards to speed up the progression of leveling weapons and unlocking attachments. These cards are earned by playing the game as well.
AGB: What types of currencies are in the game, and how do they work?
CP: As you're playing Call of Duty: Mobile, you're always earning. There are two types of currency in the game:
Credits: Credits are only earned through playing the game and can be used to purchase items in the store. Players earn credits on a regular basis from logging in, playtime, in-game events and through the free Battle Pass.
CoD points: Players can purchase CoD points to purchase tier skips in the Battle Pass, items in the store or the premium Battle Pass.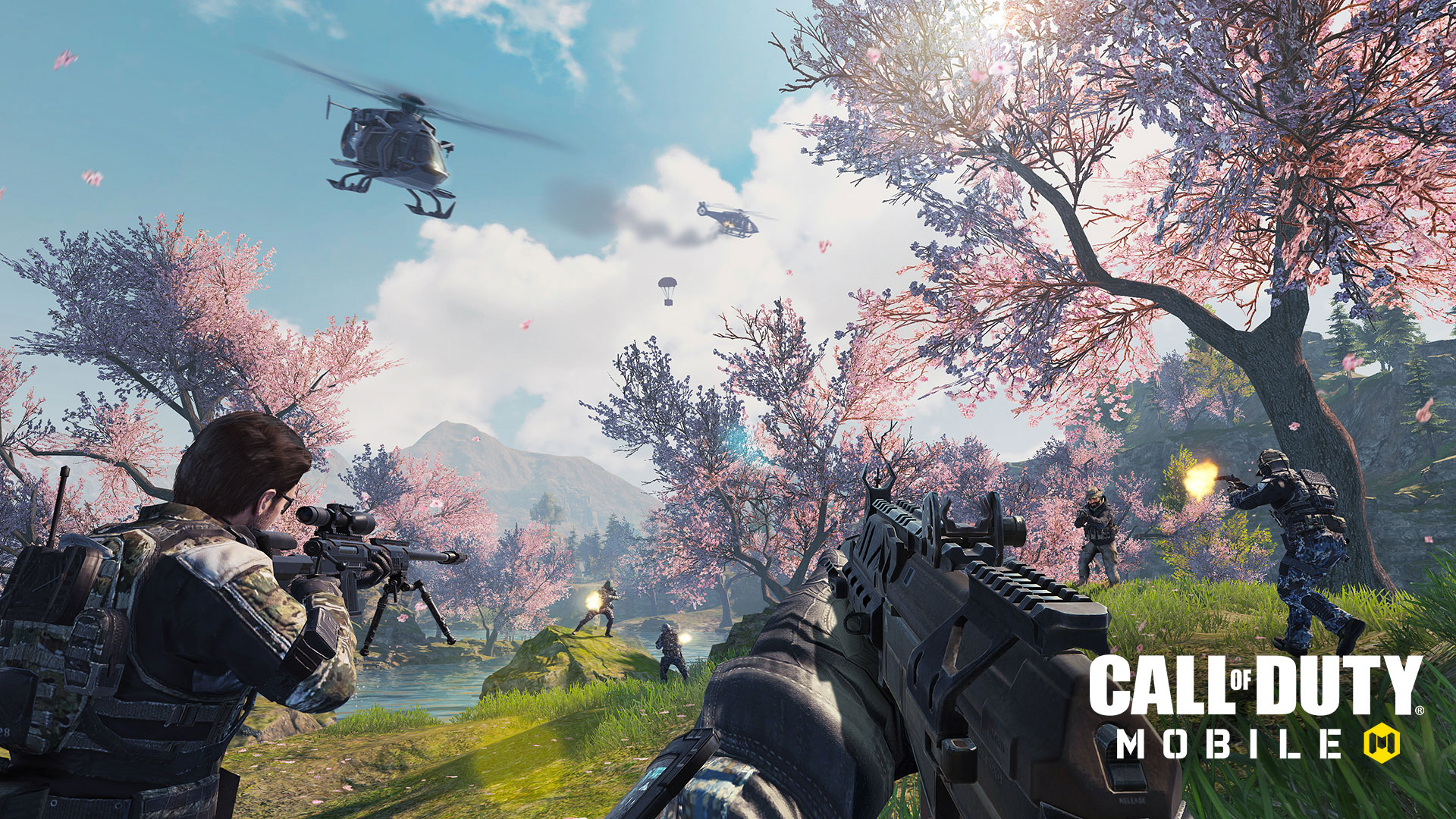 AGB: Are there supply drops in the game? How do they work?
CP: We are looking at ways to give players even more ways to engage with the content. In the coming weeks, we will begin to roll out supply drops that our Call of Duty community is familiar with in two forms:
Daily Supply Drop: A daily reward package that is given out free to all players that contains a wide set of rewards.
Premium Supply Drop: These include higher rarity items, and they are earned gradually through active play.
The top prizes for the premium supply drop are epic weapons with top-notch cosmetics compared to lower rarity items. Premium supply drops can also be purchased with CoD points.
AGB: Can I play Call of Duty: Mobile for free?
CP: Absolutely. When the game launches worldwide, you'll be able to download and play the full game for free, and you will earn plenty of rewards without purchasing anything through player leveling as well as through the free Battle Pass track. These progression tracks will reward the player with a wide variety of weapons and cosmetics.
Thank you, Chris! The soft launch is now live in Canada and Australia for Android, and available imminently for iOS!
Pre-Registration is Open
Pre-registration for Call of Duty: Mobile is now open in select regions, including North America, South America, Europe, and other territories. Sign up and pre-register for Call of Duty: Mobile on Android and iOS at www.callofduty.com/mobile to receive all the latest game updates, information, and access to the soft launch in supported regions.
How much are COD Points? How to buy, price, how to spend & more
COD Points are the currency of Call of Duty. Here's a guide on their price, how you can buy them, where to spend them, and what you can buy.
COD Points have become an integral part of Call of Duty games as they can buy some great items for you to show off. So here's a quick guide to tell you how much points cost, how you can buy them, where you can spend them, and what you can get.
The gaming landscape has changed over the years with the incorporation of microtransactions and live-gaming services. Many games offer extra content – with cosmetics being a big proponent of this. Call of Duty offers its own huge palette of extra goodies you can add to your game and requires COD Points to do so.
So with our detailed guide today we're going to run through the basics of COD Points to help you understand them, tell you what they do, and more.
What is the price of COD Points?
There are different amounts and bundles you can opt for when buying COD Points that are tailored to different needs.
Some players just need to top up their account with a few hundred points to get the latest bundle. Whereas some need a big restock with the intention of spending many points. The more points you want, the bigger the discounts grow.
Here are the different prices for the various COD Points bundles:
200 COD Points for $1.99
500 COD Points for $4.99
1,000 (+100 Bonus) COD Points for $9.99
2,000 (+400 Bonus) COD Points for $19.99
4,000 (+1,000 Bonus) COD Points for $39.99
7,000 (+2,500 Bonus) COD Points for $74.99
10,000 (+3,000 Bonus) COD Points for $99.99
How do I buy COD Points?
You can be very flexible with how you buy COD Points as there are a few different ways to do so. To make sure you're buying them for the right platform, just double-check with our guide on transferring COD Points across platforms.
These are the various ways you can procure COD Points.
Official website
This method is only for PC players.
A quick visit to the Battle.net shop will take you to the aforementioned COD Points bundles, and you can take your pick.
PlayStation Store
This method is only for PlayStation players.
Head to the PlayStation Store either on your PS4, PS5, or on the Official website and you'll find the same selection of COD Points bundles.
You will be able to purchase them using money or PSN credit.
Xbox Microsoft Store
This method is only for Xbox players.
Head to the Microsoft Store either on your Xbox One, Xbox Series X, Xbox Series S, or on the Official website and you'll find the same selection of COD Points bundles.
You will be able to purchase them using money or Xbox Gift cards.
Retailers
Online or select physical retailers will have copious amounts of COD Points vouchers and gift cards for you to purchase. There will be no difference between official sales and retails sales as they will all sell the same bundles.
Where do I spend my COD Points?
Now that you have a nice bundle of COD Points, where do you actually go to spend them? Well, the answer is rather simple: head to the in-game store for the game you're playing, browse, and buy.
That's it.
What can I buy with COD Points?
Call of Duty's currency is used to primarily buy two things: the Battle Pass for the current season and Bundles containing a variety of items.
Battle Pass
A Battle Pass is a paid Tier system that allows regular players to earn dozens of extra rewards and cosmetics for essentially playing the game.
Black Ops Cold War and Warzone are currently in Season Two of their respective lifecycles at the moment. Both titles are currently running in tandem with each other and share the same Battle Pass.
It features 100 Tiers for players to smash their way through the course of Season 2, and if players are committed enough, they can actually earn enough COD Points, through leveling up the pass, to get the next one for free.
You can buy the Cold War & Warzone Season 2 Battle Pass via a couple of different methods:
Bundles
The other main content you can buy is a wide range of Bundles and Operator Bundles. These special bundles vary in price, and each comes with its own unique items.
The collectibles you can expect to find are Calling Cards, Emblems, Operator Skins, Weapon Blueprints, Weapon Charms, and more.
For a full look at every bundle in Black Ops Cold War and Warzone, be sure to check out our detailed guide.
Image credits: Activision
5 best Call of Duty games ever ranked: Full tier list
We've gone through every single Call of Duty game ever and created a full tier list of them all, and then ranked our top 5 as well.
We've taken the difficult task of sifting through every CoD game ever, and not only are we compiling a full tier list of every game, but we are ranking our top five as well.
It's been nearly 20 years since Call of Duty released in 2003 and what a journey it has been. The franchise has explored many different eras in history and undergone countless changes. However, when you release so many games, some are bound to become lost, and some become legendary.
So it's time to dig through a history of Call of Duty games to assign them our verdict and then select the absolute cream of the crop – and rank them.
Also, check out our 10 best guns in Black Ops Cold War: Weapon Tier List
Call of Duty: Best games tier list
So many factors have gone into the decision-making process here such as the game's respective campaigns, multiplayer, side modes, themes, guns, and a lot more. With all this in mind, we were able to grade each game.
Here is our Official tier list of all of Black Ops Cold War's weapons:
S-Tier: CoD 4: Modern Warfare, CoD: World at War, CoD: Modern Warfare 2, CoD: Black Ops, CoD: Modern Warfare (2019)
A-Tier: CoD: Classic, CoD: Modern Warfare 3, CoD: Black Ops 2
B-Tier: CoD 2, CoD 3, CoD: Advanced Warfare, CoD: Black Ops 3, CoD: Black Ops 4, CoD: Black Ops Cold War
C-Tier: CoD: Ghosts, CoD: Infinite Warfare, CoD: WW2
Just to explain the system, our S-Tier games are the must-have, must-have played CoD titles, the A-Tier are superb CoD games that were just missing a certain something, B-Tier games are decent CoD games with some redeeming qualities, and C-Tier Call of Duty games just didn't cut it for us.
Ranking the Best Call of Duty games of all time
5. Call of Duty: Modern Warfare 2019
Modern Warfare yet again redefined the Call of Duty franchise, giving players one of the most polished and detailed Call of Duty titles ever created. It encompassed all that had made the series great to this point and made it feel as crisp as ever.
The campaign reintroduced classic characters, interspersed with memorable new ones, and a new storyline. The fresh but familiar feeling was sprinkled with an unsettling terrorist attack in Picadilly Circus, fights through a burning mine, and other horrifying scenes.
For multiplayer, animations were fine-tuned and weapons were overhauled to feel powerful in the hands of every player. We got exhilarating new modes such as Cyber Attack and even got the return of the much-loved Spec Ops Mode.
In March of 2020, Activision released Modern Warfare's Warzone mode, a 150 player battle royale – which was an instant hit. It since become one of the premier experiences for battle royale with Warzone now well into its second season.
4. Call of Duty: World At War
With the evolution of the Call of Duty engine during the development of CoD 4: Modern Warfare, Treyarch had the opportunity to make the most detailed World War 2 shooter experience yet. The first three Call of Duty games are rather unheralded compared to anything post CoD 4, but World at War restored that feeling and improved on it.
World At War delivered a chilling ride across the Pacific Theatre and Russian front. Gore mechanics made the game feel visceral and real, making the experience much more intense and realistic. The game's fabulous campaign crescendos into an incredible final stretch, storming the Reichstag.
The multiplayer was a great extension of the new formula the series had discovered and transferred all those properties to World at War. The most incredible aspect of World at War though has to be the sleeper-hit, now must-have feature, Nazi Zombies.
The addition of Nacht Der Untoten, a post-campaign mini-game, revolutionized the multiplayer experience even more. The mode received three more maps through DLC and has been continued in every Treyarch Call of Duty game since.
3. Call of Duty: Modern Warfare 2
Needless to say, the anticipation and excitement of a Modern Warfare sequel reached unprecedented heights. The follow-up more than surpassed expectations by delivering another jaw-dropping campaign featuring iconic figures like Captain Price, Commander Shepard, Ghost, and a playable Soap. The game become notorious for its "No Russian" mission and other controversial moments.
The multiplayer formula was in full-swing now and Modern Warfare 2 introduced a brand new set of 15 selectable killstreak rewards – including the game-changing nuke. Maps like Terminal and Rust would go onto be celebrated in CoD folklore, and the era of the 360 no-scope was born.
If all this wasn't enough, we also got "Special Ops", a mode for 1-2 players that recreated and expanded upon many scenarios from the first two Modern Warfare games, and challenged the players to get maximum stars.
2. Call of Duty: Black Ops
Instead of doing a direct sequel to World at War like Infinity Ward was doing with Modern Warfare, Treyarch slapped on a new title: "Black Ops".
In order to bring a unique experience, they set their first Black Ops game during the Vietnam era. In the Campaign, players would be part of an elite squad working alongside the CIA in covert operations around the globe. We got the historic "What do the numbers mean?" and the return of fan-favorite Viktor Reznov – played by Gary Oldman.
Zombies delivered another round, or 100, of intense undead-killing action, and introduced another new concept to the series in the form of Dead Ops. A top-down, arcade twin-stick shooter with power-ups, up to 4 players, and hours of fun.
The multiplayer front continued to deliver months of unforgettable action with a litany of unmistakable maps: including one of the most divisive maps in Call of Duty history – Nuketown.
1. Call of Duty 4: Modern Warfare
The game that started it all and began a revolution in the first-person shooter industry. After years of companies generally churning out different variations of World War games, Infinity Ward ripped up the playbook and started from scratch with a hot new take on the modern-day conflict.
The campaign was one spellbinding encounter after another taking the player on a violent journey of death, destruction, and even nuclear devastation. The one-two salvo of All Ghillied Up and One Shot, One Kill is as good as two missions come in an FPS game, and it all culminates in breathtaking fashion.
Even more remarkable than Soap's fruit-killing skills is the way in which Infinity Ward single-handedly reshaped online multiplayer as we know it. Seamlessly blending together class systems, satisfying weaponry, all-time great maps, and more.
The game would cement Call of Duty as one of the most successful video game franchises in history and is still hotter than ever thanks to Black Ops Cold War and Warzone.
---
Do you disagree with any of our selections? Be sure to let us know on our CharlieIntel Facebook Page and CharlieIntel Twitter Page!
Every Call of Duty creator code: Streamers, pros, more
Call of Duty's Support a Creator program allows players to support their favorite content creators and pros, so here's every code you can use.
Activision is enabling fans to support their favorite Call of Duty pro players and content creators with the 'Support a Creator' program, so here's everyone you can support through the Store.
With some of the biggest names in gaming playing and promoting Call of Duty, Activision has launched the 'Support a Creator' program. Here, CDL pro players, streamers, and YouTubers receive a cut of the profits made from purchases in the Call of Duty Store.
Across Modern Warfare, Warzone, and Black Ops Cold War, these creators and pros will receive $5 for every 10,000 CoD Points spent with their code inputted.
How to use CoD Support a Creator code
To support your favorite Call of Duty content creator or pro, you need to enter their code in the Store.
After purchasing CoD Points, make sure you have inputted one of the creator codes below before purchasing any bundles from the Store.
To select a creator to support:
Launch Modern Warfare, Warzone, or Black Ops Cold War
Navigate to the Store tab
Select "Support a Creator"
Input one of the creator codes below
Purchase a Bundle or Battle Pass with your CoD Points
Your selected creator or pro will now receive a portion of the profits from your purchase
These codes will expire after two weeks, so make sure to double-check you have a code inputted before making a purchase.
And as a reminder, enter these creator codes in all caps.
Twitch and YouTuber creator codes
The Support a Creator program was released in August 2020, and as it continues to develop, more and more creators are receiving codes.
Here are the creator codes for some of the biggest and most recognizable names in Call of Duty:
FaZe Swagg: "SWAGG"
TimTheTatman: "TIMTHETATMAN"
TeeP: "TEEP"
Spratt: "SPRATT"
Symfuhny: "SYM"
NuFo: "NUFO"
NoisyButters: "BUTTERS"
ShawnJGaming: "SHAWNJ"
Vikkstar123: "VIKK"
Michi: "MICHI"
GoldGloveTV: "GOLDGLOVE"
NICKMERCS: "MFAM"
Drfit0r: "DRIFT0R"
JackFrags: "JACKFRAGS"
MarleyThirteen: "MARLEY"
CouRage: "COURAGE"
Chaos: "CHAOS"
HusKerrs: "HUSKERRS"
PrestigeIsKey: "PRESTIGE"
KRNG Espresso: "ESPRESSO"
Tejbz: "TEJBZ"
Call of Duty League players creator codes
A selection of "all-star" CDL pros have received creator codes. With the program continuing to develop, expect more players to be added as the 2021 Season develops.
Here is a list of the 2020 and 2021 Season's CDL pro players creator codes:
aBeZy: "ABEZY"
Apathy: "APATHY"
Arcitys: "ARCITYS"
Attach: "ATTACH"
Blazt: "BLAZT"
Crimsix: "CRIM"
Cammy: "CAMMY"
Cellium: "CELLIUM"
Clayser: "CLAY"
CleanX: "CLEANX"
Dashy: "DASHY"
Denz: "DENZ"
Enable: "ENABLE"
Envoy: "ENVOY"
FormaL: "FORMAL"
GodRX: "GODRX"
Huke: "HUKE"
iLLeY: "ILLEY"
KiSMET: "KISMET"
Kuavo: "KUAVO"
Mack: "MACK"
Methodz: "METHODZ"
Octane: "OCTANE"
Scump: "SCUMP"
Seany: "SEANY"
Shotzzy: "SHOTZZY"
SiLLY: "SILLY"
Simp: "SIMP"
Skrapz: "SKRAPZ"
Skyz: "SKYZ"
SlasheR: "SLASHER"
Vivid: "VIVID"
Owakening: "WAKE"
Wuskin: "WUSKIN"
ZooMaa: "ZOOMAA"
If you have a creator code and aren't included here, please Tweet us @CharlieINTEL, and we'll be delighted to add you to this list.
Image Credit: Activision / Zippo / Vikkstar / NICKMERCS