Patch Update 1.13 for Modern Warfare now live
Infinity Ward has released a new patch update for Call of Duty: Modern Warfare on PlayStation 4, Xbox One, and PC. It's live now on all platforms.
The new patch is version 1.13 and is 13GB on PS4, is 18.4GB on Xbox One, 48GB on PC.
This new update includes the new Crossbow weapon, — unlocked through challenges available for all players — 5 additional loadout slots, fixes for the kill feed, fix for player collision, and more.
PATCH NOTES:
WHAT'S NEW
Playlist Update: Added Capure the Flag and Shoot the Ship (Removes Shoot House 24/7) playlists! We also added Aniyah Palace back into rotation
5 additional loadout slots!
New Weapon – Crossbow! Unlocked by using a Marksman Rifle with a Reflex Optic, get 5 kills in 25 different matches!

In some cases, players could hit an invisible kill trigger in a bush that would cause them to die instantly while near A Flag on Port. This has been fixed.
Fixed an out of bounds exploit on Aniyah Palace
Temporarily removing Krovnik Farmland out of rotation while we work on a few bugs
Fix for a bug that could lock a PC player's FOV at 60 until they respawn while in Ground War
The "Stand Together" calling card (3 Wins in Team Deathmatch) was being awarded even though this calling card is earned by default. This has been adjusted to the "Redemption" calling card.
The Daily Challenge for getting "10 Claymore Kills" was awarding the "One Shot" spray which is unlocked by default. This has been adjusted to the "Soft Serve" spray.
Fix for an issue where the playlist filter would not switch game modes, even with multiple modes selected
Adjusted the damage threshold for "Get X Kills while Injured" challenge to make it a bit easier to obtain
Various out-of-map exploit fixes
Fix for a few graphical errors that could occur on Ground War maps
Infected: Fixed a bug where the Nuke effects and audio will interrupt and overlap the final killcam if called in after death of the final survivor
Fixes to the Recent Players list appearing incorrectly on Xbox
Fixed a bug that allowed players to capture the Hardpoint while in the hotel on St. Petrograd
Adjusted the obituary to remove the oldest items first
Fixed a bug that would reset Voice Chat settings after the application was hard closed
Fix for a bug that allowed player collision. This has been fixed
Players can no longer cancel their recovery state when sliding, but will always incur the standard fire delay (visually the player will still respond)
On Shipment, players are able to set Care Packages on spawn points, causing players to die instantly when spawning in on these points. This has been fixed.
Fixed an issue where the Elite Xbox One controller had a slight bounce back with the analog sticks
Fixed a bug that could give players invincibility
Fix for some Officer Progression emblems not displaying the correct rarity
Fixed an issue that would lock Operator missions despite having the correct Battle Pass Tier
Field Upgrades:
Fixed a bug where using the 'Stopping Power Rounds' Field Upgrade with an empty C4 slot would cause the C4 detonator to appear before reloading with the Stopping Power Rounds
Fixed a bug that allowed players to reach unintended locations while manipulating the Weapon Drop Field Upgrade
Fixed a bug that allowed the Recon Drone to fly into geo if C4 was thrown onto it
Fix for Stopping Power Rounds not applying the correct damage boost to headshots
Trophy System:
Increased protection radius
Decreased the radius and the damage taken by trophy explosions
Fixed a bug where the explosion damage and effects wouldn't trigger for the third explosion
Killstreaks:
Fixed a bug that allowed the Cruise Missile to kill players while out of bounds on Shipment

Fixed a bug where the 1mW Laser would not appear equipped on the 1911 pistol while in the Gunsmith menu
M4A1 Blueprint "OG" ADS position moved forward; the viewmodel or gun's position relative to the camera or player's eye is moved forward more, so it blocks less of the line of sight
Changing the magazine capacity from 45 to 50 for the RAM-7 extended magazine.
Increasing the bullet penetration of the MK2 Carbine
Less horizontal recoil on the initial bullets of the FN Scar-17
Changed the way stats are displayed for stocks to be more consistent with other attachments (this is for the graphs only, not the actual stats)

Domination: Flags must be neutralized before being captured again. Settings for neutralization timing are now available in settings
Decreased charge time on the Trophy System
Headshot multiplier damage has been clamped; torso and headshots are now the same
Removed lightweight boost and decreased charge time on Dead Silence
COD Caster
Reworked minimap visuals (removed outside map background, removed minimap frame)
Improved readability of the killfeed and nameplate colors
Improved the quality of the colored arrows shown under players when using the Aerial Camera
Data View feature has been temporarily removed

Tweaked parts of the Battle Pass UI in order to better support higher Aspect Ratios
Fixed an issue with the sound effects on the Support Helo
Several fixes to prevent crashes and improve stability
SOURCE: Infinity Ward
Modern Warfare & Warzone Season 6 PlayStation exclusive content
PlayStation Blog has announced the latest batch of exclusive content for PlayStation users in Modern Warfare and Warzone.
Activision has confirmed that Modern Warfare's Survival mode officially arrives on Xbox One and PC on October 1, 2020, but PlayStation gets a bonus Combat Pack exclusively for Season 6.
Survival mode gets an update with a new map: Hovec Sawmill. This map is only on PS4 until October 1, 2020.
In addition, there's a Warzone Season Six Combat Pack available only on PS4. The Warzone Season 6 Combat Pack is a timed PlayStation exclusive until December 1, 2020.
Survive the Gulag in Warzone or fight to secure the victory in Multiplayer bundle that is free for all Playstation Plus subscribers. Download the Pack by going to the Franchise section of the Store and scroll down to the Miscellaneous section. The bundle includes the following:
Epic Rodion 'Red Death' skin (This skin unlocks the Operator, if not already owned)
Epic 'Shivvie' Melee Weapon
Epic 'Slipshod' Handgun Weapon Blueprint
Epic 'Ball and Chain' Charm
Epic 'Don't Back Down' Calling Card
Epic 'Gulag' Emblem
Epic 'Inside Job' Sticker
60 Minute Double XP Token
There is also a timed exclusive Weapon Blueprint, which is available only on PS4 until October 1, 2020, per the PS Blog.
Turn the Tides and Earn the *Exclusive Tide Pool Blueprint
A sniper designed for players who lock down lanes in Multiplayer and can eliminate squads escaping the circle collapse in Warzone. The blueprint is earned in a five-step mission set, found in Missions, that requires use of multiple weapon classes and in-match skills. The weapon has a shorter barrel that other sniper rifles but can still go the distance thanks to a quality scope. Build a complete loadout with an agile and strong-secondary like the GS or Renetti and perks that help you withstand damage like Battle Hardened and EOD until the job is done.
Stay tuned for the latest news on Modern Warfare and Warzone.
SOURCE: PS Blog
Modern Warfare Survival mode available October 1 on all platforms
Activision has officially announced that Modern Warfare's Survival mode, which launched on PlayStation only, is now coming to all platforms.
Survival mode will officially be available starting October 1, 2020 on Xbox One and PC.
Activision announced the news part of the Season 6 Blog Post, which states that Xbox One players will need to download an additional compatibility pack to play Survival upon it's release on October 1.
Here's the additional compatibility pack needed for Survival access on PS4 and Xbox. PC players will not need a pack, as it is part of the overall update.
PlayStation 4 Survival Pack: 5.8 GB
Xbox One Survival Pack: 5.9 GB
Note that on October 1, Xbox and PC players can access the Survival mode. 
Survival mode launched back with Modern Warfare on October 25, 2019 exclusively on PlayStation 4. The mode was a "timed exclusive" mode for 1 year, with exclusivity ending on October 1, 2020.
Stay tuned for more information.
Modern Warfare & Warzone Season 6 Battle Pass Overview
With the launch of Season 6 in Call of Duty: Modern Warfare and Warzone comes a brand new Battle Pass for players to pick up and level through.
The new Battle Pass includes two new free weapons: the SP-R208 marksman rifle (Tier 15) and the AS-VAL assault rifle (Tier 31).
Alongside the new weapons, players who purchase the Battle Pass will get a brand new Operator for the Season immediately, alongside a new Operator Nikolai at Tier 100.
Similar to Season pass seasons, there are two tracks: the free and Premium track. Free track will include 20 tiers of content, including the two new weapons. The Premium track introduces new War Tracks, Operator Skins, Blueprints, and more for fans to unlock.
Here's a full breakdown of the new Battle Pass Content:
Two Functional Weapons, Licensed War Tracks Highlight Unprecedented Free Battle Pass Content
The Season Six Battle Pass system is one of the most unique collections of content yet, and it all starts with 20 Tiers of free content available for all players within Modern Warfare and Warzone.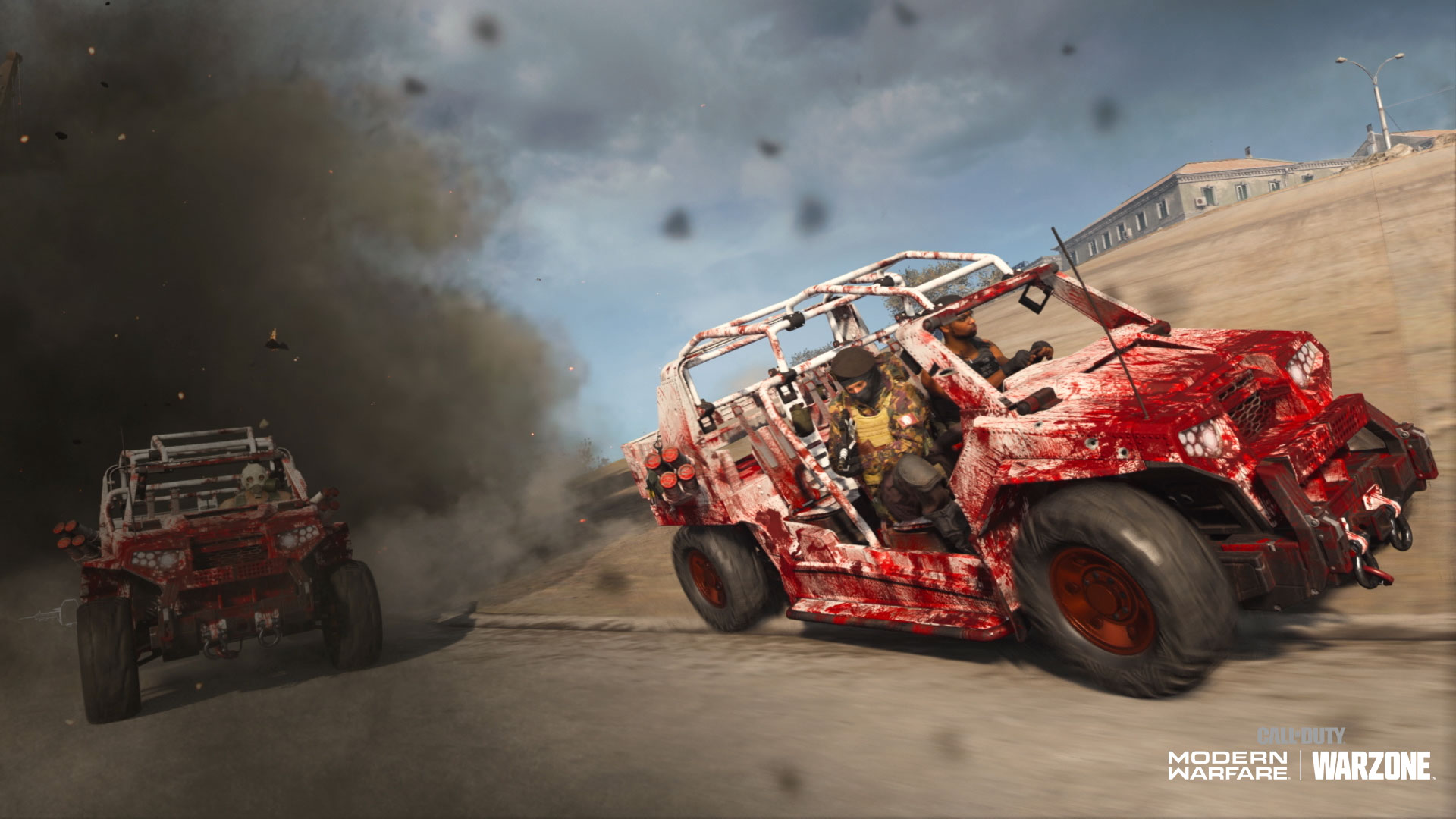 War Track Expansion Adds Classic Sounds, Modern Hits through Free Tiers
Across numerous free Tiers, players can unlock multiple new songs to be used as War Tracks, songs that play while driving vehicles in Warzone and Modern Warfare.
With these new tracks, you can blow out your speakers or even throw on music from previous Call of Duty games (Modern Warfare and Black Ops series) for a heavy dose of nostalgia that could complement an intense Battle Royale match.
Here's some of the songs outside of the Call of Duty universe that can be unlocked and played in game:
"War Track Pack: Hip Hop Edition":
Jack Harlow's "WHATS POPPIN'"
DMX's "Ruff Ryders' Anthem"
Clipse's "Grindin'"
Players can also unlock the War Track Pack: EDM Edition which includes three headbanging hits perfect for cruising around Warzone.
Like a Horn or Vehicle Skin, War Tracks can be equipped to specific vehicles within the Vehicle Customization menu. Once in-game, hop into that specific vehicle as its driver and you, as well as all passengers onboard, can listen as the squad cruises to potential victory.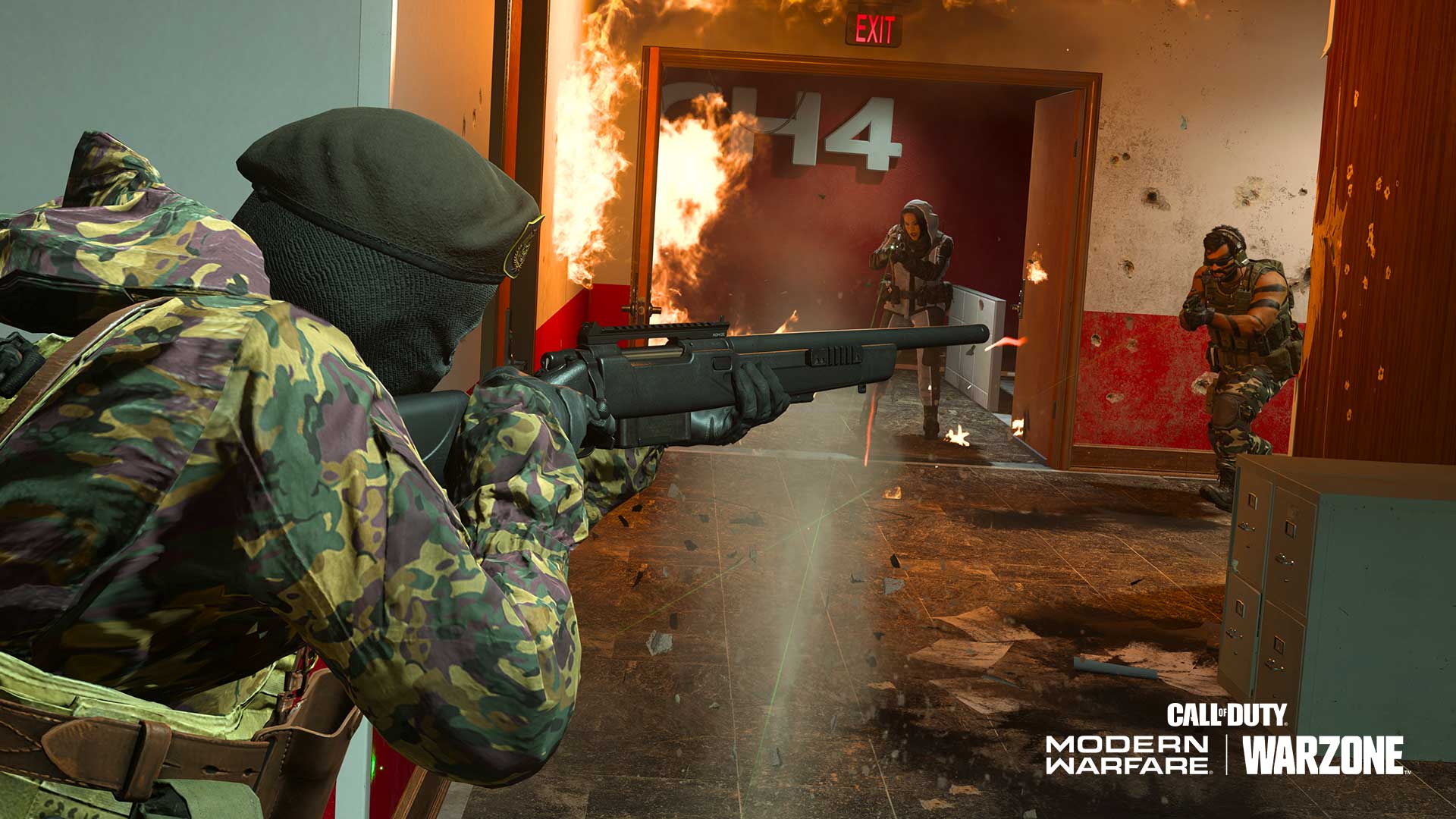 Weapons Inspection: Details of Season Six Battle Pass' System Free Weapons
Of course, there are also two new functional weapons to earn through free Tiers as well: the SP-R208 marksman rifle (Tier 15) and the AS-VAL assault rifle (Tier 31).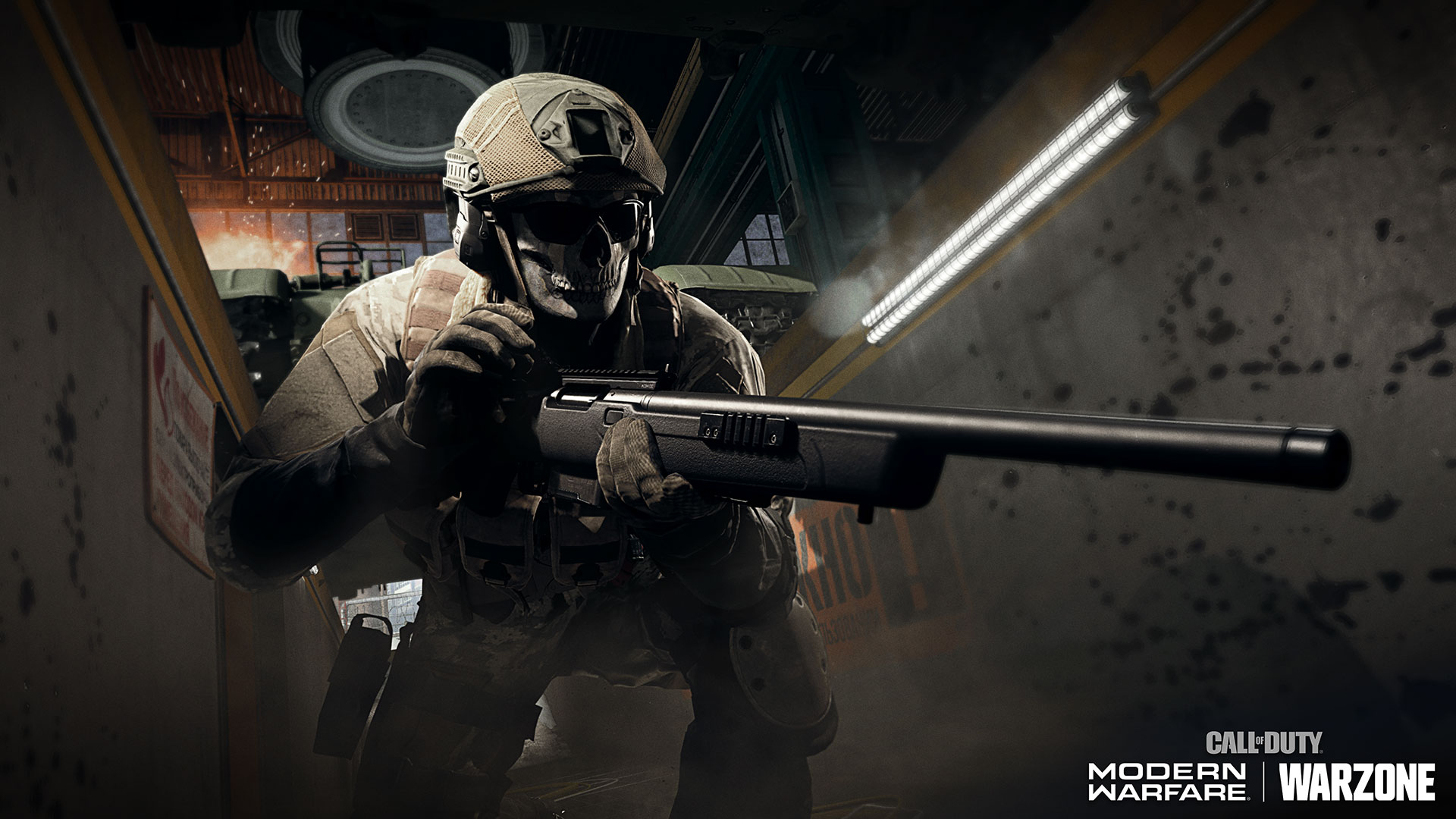 SP-R 208 Marksman Rifle (Free Battle Pass System Weapon)
This bolt-action marksman rifle comes as one of the most accurate weapons in its class and with a breadth of customization options. From alternate ammo choices to bolt assembly changes and more, no matter how this weapon is configured, it's a powerful yet mobile tool for a marksman on the go.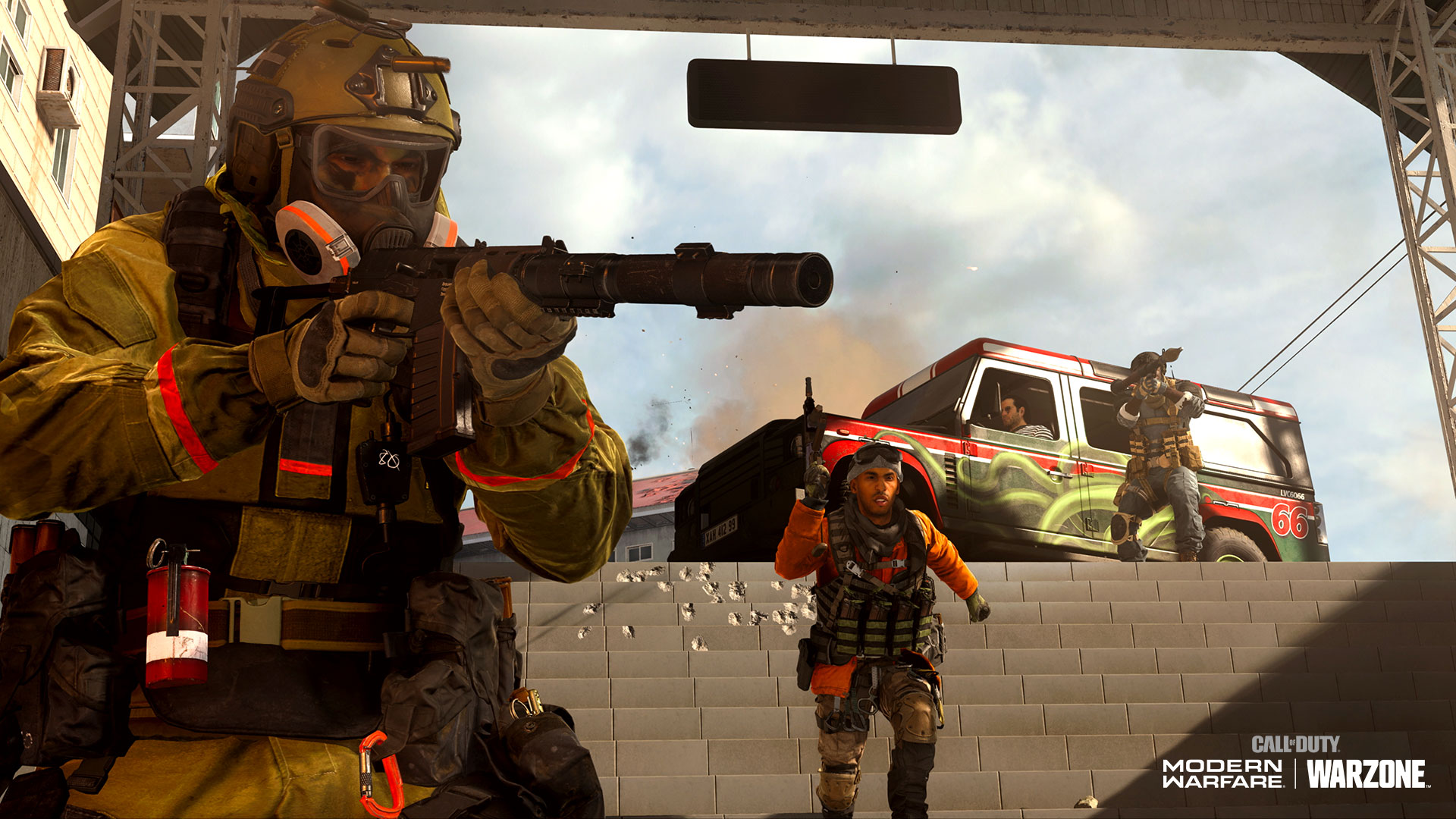 AS-VAL Assault Rifle (Free Battle Pass System Weapon)
This assault rifle, the 13th member of this weapon category, is a rare Soviet powerhouse chambered in subsonic 9x39mm ammunition and is pre-equipped with an integral suppressor. Combined with the weapon's high rate of fire, the AS-VAL is built for stealth, accuracy, and high penetration, all on a highly configurable platform.
Purchase the Battle Pass for Even More Content
Upon purchase of the Season Six Battle Pass, the system opens all 100 tiers where an exceptional, unprecedented variety of content can be unlocked.
On top of the 1,300 COD Points throughout all 100 tiers, in the Battle Pass players can unlock Operators in Farah and Nikolai, Double XP and Weapon XP Tokens, weapon charms, watches, stickers, emblems, and calling cards. There are also plenty of skins for Operators and vehicles, over a dozen additional weapon blueprints, and a new Finishing Move.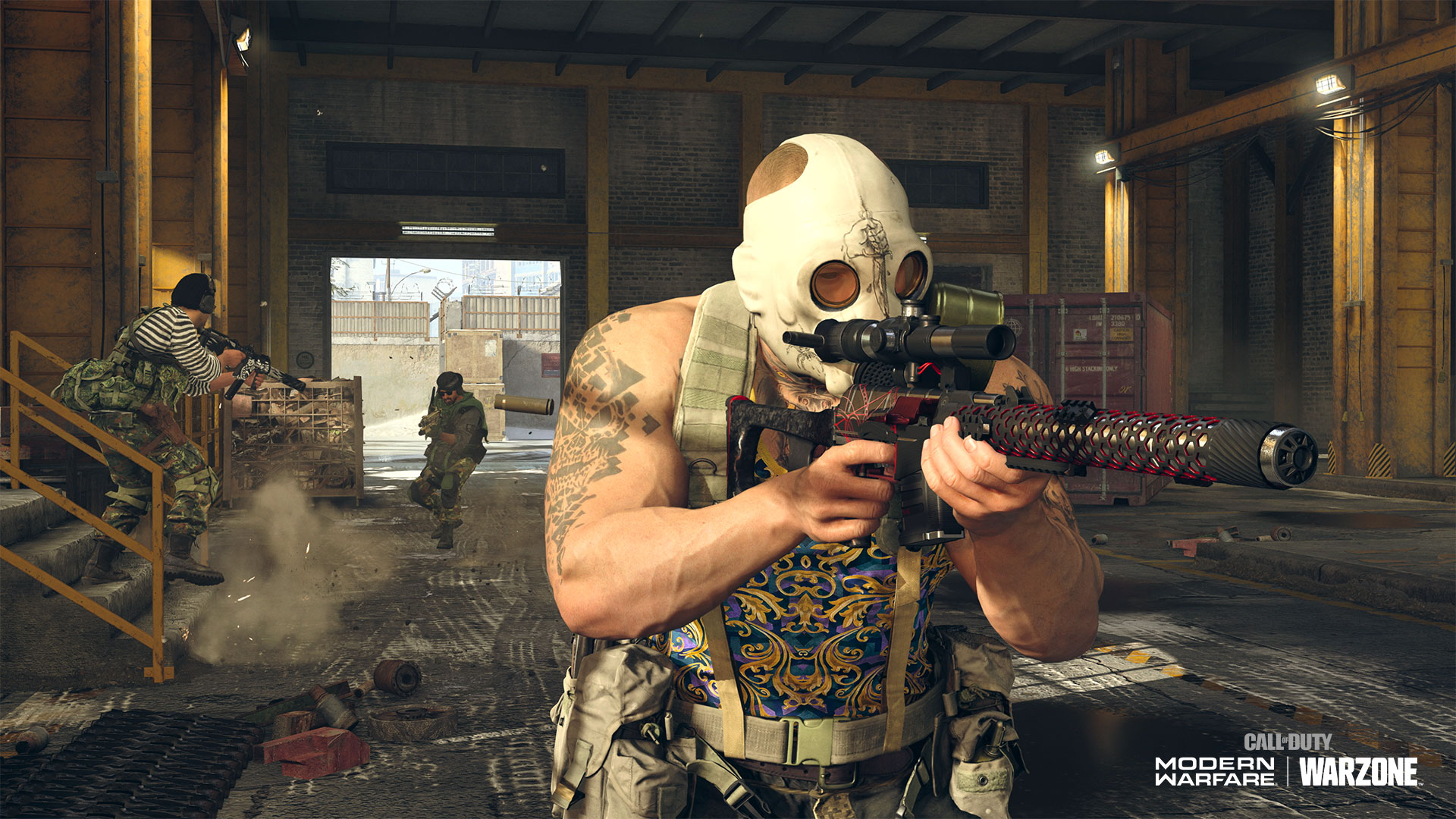 Battle Pass Instant Unlocks
New Operator – Farah: An exceptional solider who has known a lifetime of war, the founder and commander of the Urzikstan Liberation Force arrives to Modern Warfare and Warzone as a playable Operator outside of the Campaign. Immediately unlock her "Halmasti" skin upon purchase of the Battle Pass, and complete her included Operator Mission to get her "Jinn" and "Unbroken Will" skins.
Minotaur Operator Skin and Mission: Minotaur's "Poloski" skin acts as a memento to Farah's story in Modern Warfare's Campaign, with two skin variants and other rewards unlockable via the included Operator Mission.
"Gilded Arm" Epic Assault Rifle Blueprint: This blueprint for Assault Rifle Hotel replaces the standard chambered in 7.62 Soviet ammunition with a 5.25x39mm 30-Round Magazine. In addition it has a sleek red and white design, and comes equipped with multiple pre-configured attachments, including a Skeleton Stock, for a CQB-like playstyle
XP Boost (Tier 0): Get more XP for your efforts with this 10% XP boost that lasts the duration of the Season.
Skins, Blueprints, and More Highlights Throughout the Battle Pass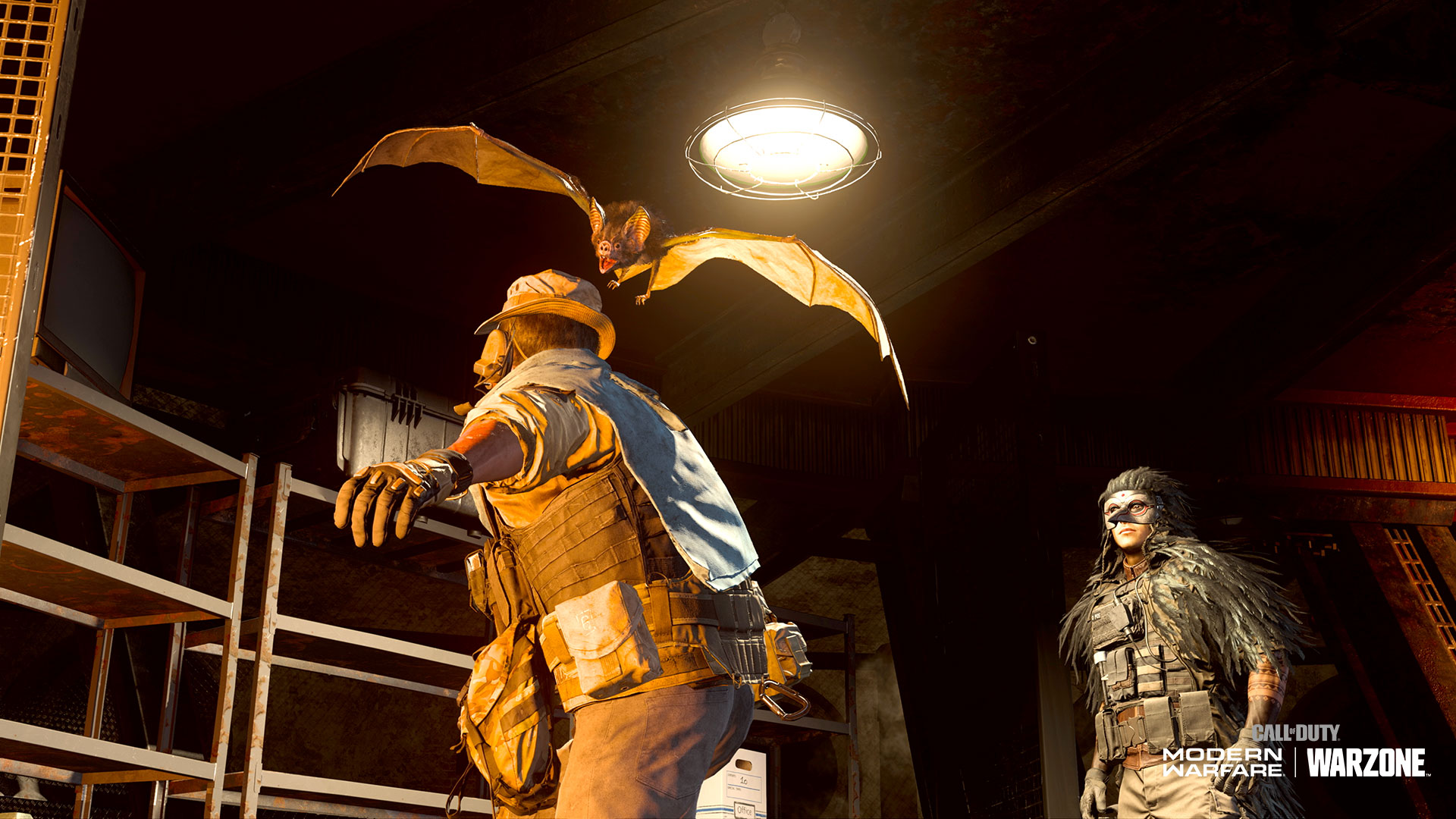 Operator Skins and Finishing Move: Expect over two dozen skins, including those available through additional Battle Pass Missions, that cover a wide range of Operators across both factions, including "On the Rocks" Gaz, "Off Grid" Domino and, at Tier 90, the "Yenisey" Bale skin. Also, prepare to sic "Edward," a pet bat, on your enemies with a Finishing Move that bears his name.
Screwdriver Combat Knife Blueprint: In tandem with the Tier 0 Minotaur skin, the "Innocence Lost" Combat Knife blueprint provides a further reference to a pivotal moment in the game's Campaign, modelling this variant after a Screwdriver Farah used to save her and her brother's lives.
Blueprints: Bolster your arsenal with new blueprint weapons in addition to the "Innocence Lost" melee weapon and the four free blueprints on offer. Blueprints available after Battle Pass purchase include three handguns, three SMGs, three assault rifles, two shotguns, three LMGs, three marksman rifles, and one sniper rifle.
Vehicle Skins: Get a fresh, Halloween-inspired exterior for four different Warzone vehicles – the "Mutated" ATV, "Flight of Torment" Helicopter, "From the Deep" SUV and "Stained" Tac Rover skins – as part of the Season Six Battle Pass.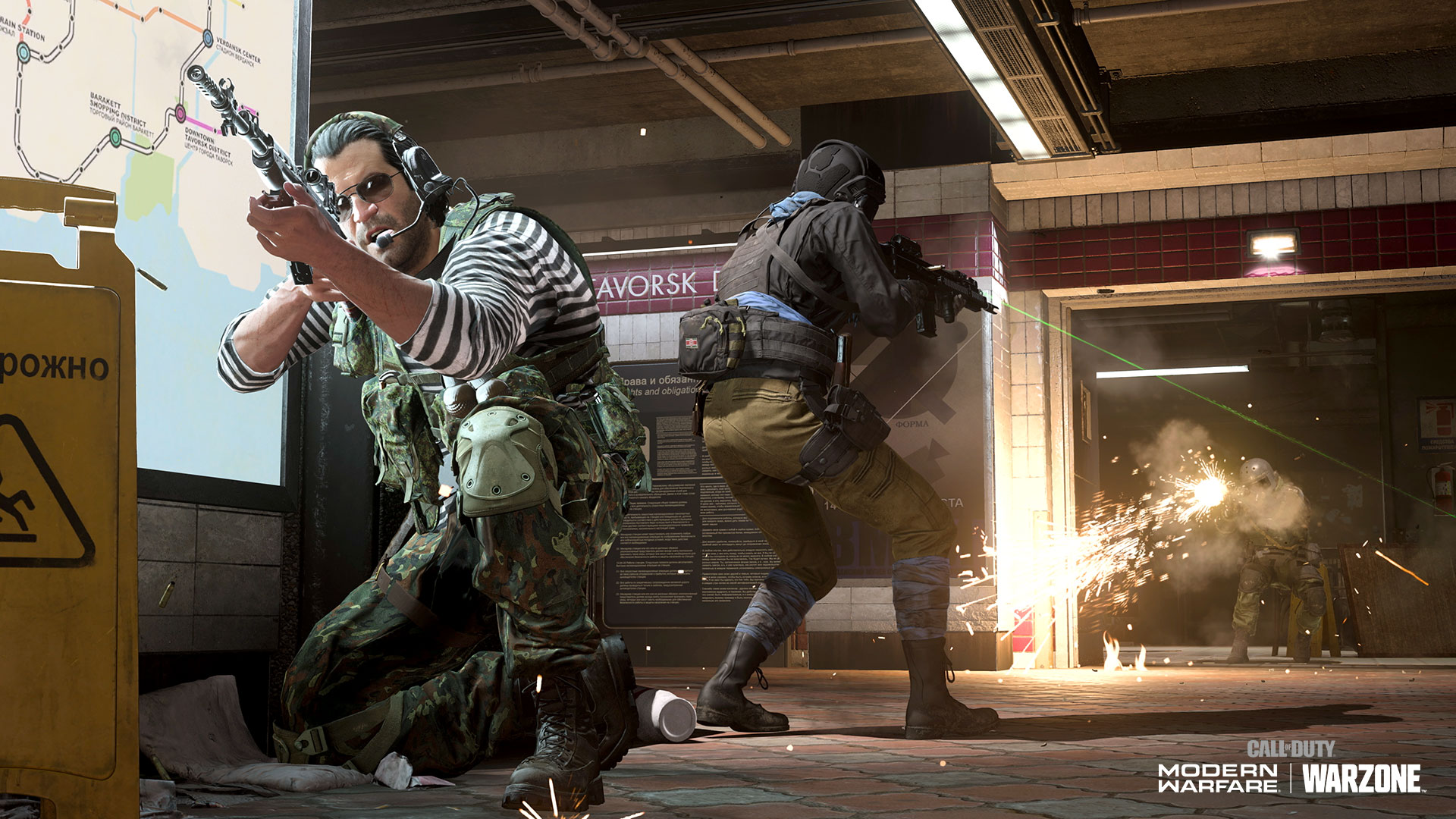 Tier 100 – The Ultimate Battle Pass Reward
New Operator – Nikolai: The leader of the Chimera PMC and now playable, Nikolai is a Russian patriot at heart with a deep love for his country only matched by his love for weaponry. A known fixer who can acquire most anything, anywhere, it's apt that his skin included at this tier is called "Arms Dealer," with his "For the Motherland" and "Carcajou" skins available via his included Operator Mission.
"VSS" Legendary Assault Rifle Blueprint: Complete with dark tracer rounds, this Legendary blueprint of Assault Rifle Mike kits it for highly accurate semi-auto fire thanks to an included high-magnification Optic and SPP 10-Round Mags, which convert the weapon to fire armor-piercing rounds with superb penetration power and damage.
"Grizzly End" Cargo Truck Skin: Strike terror and fear into your enemies with this Halloween inspired skin, exclusive to those who reach Tier 100 in the Battle Pass.
Season Six Emblem: Show off the achievement of competing the Season Six Battle Pass with this animated Emblem.
Choose your Battle Pass Path by purchasing one of the two variants:
Battle Pass: Purchase the Battle Pass for 1,000 CP, and you're granted access to unlock the new Operator Farah, up to 100 Tiers of content, and earn up to 1,300 CP (enough for next Season's Battle Pass and some) back by playing the game. Head to the Battle Pass tab at the start of Season Six to get a look at all the goods available to be unlocked this Season in the Battle Pass system.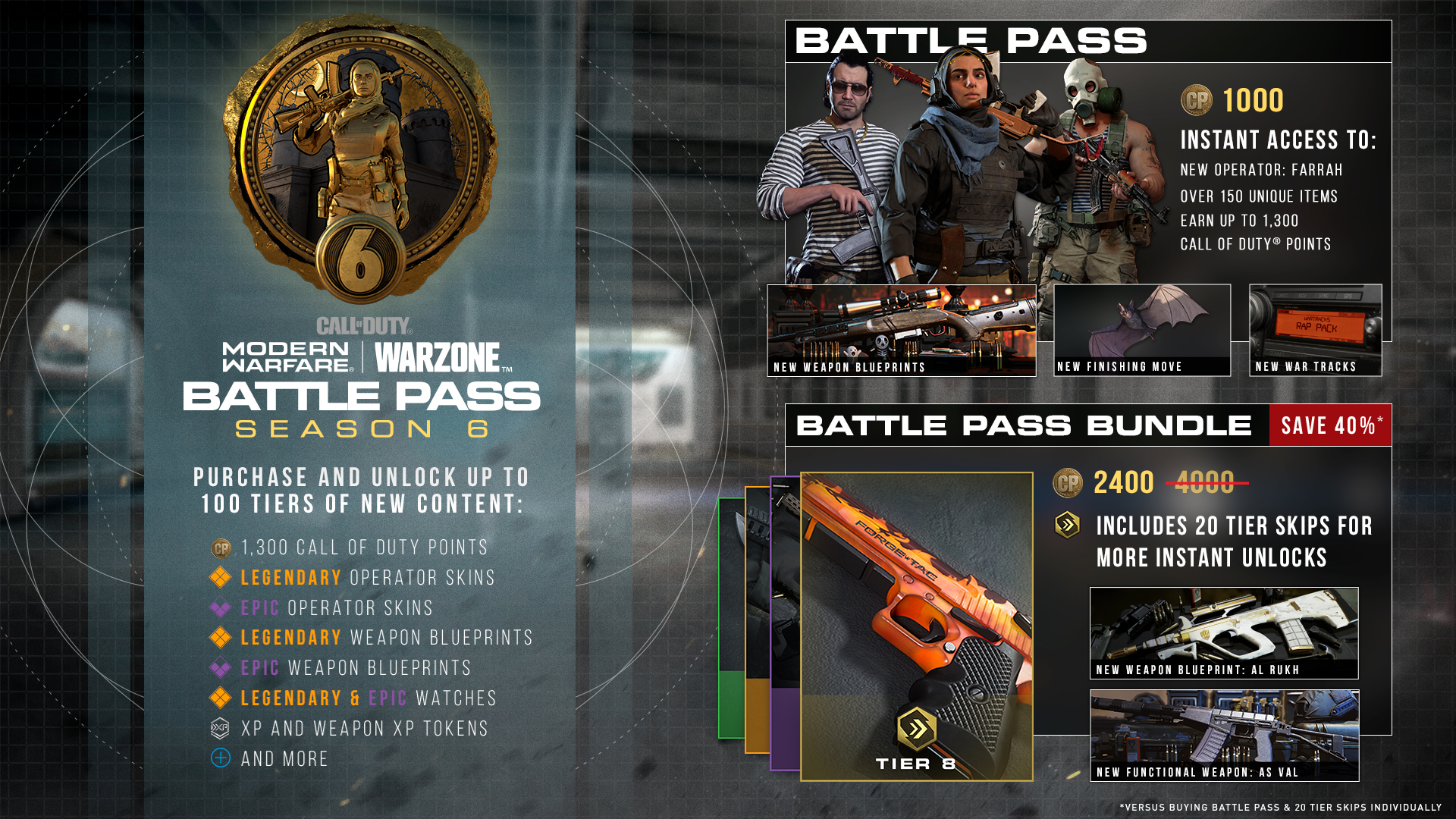 Battle Pass Bundle: Purchase the Battle Pass Bundle for 2,400 CP, which grants access to unlock all 100 tiers and gives you 20 immediately activated tier skips; a saving of 40% versus buying Battle Pass and 20 Tier Skips individually.
SOURCE: Activision