Roadmap of content for the Call of Duty: Black Ops 4 Operation Dark Divide
Treyarch has released a roadmap overview of what's happening with Operation Dark Divide for Call of Duty: Black Ops 4.
In an extensive blog post, they've been going through the MP, Zombies, and Blackout content with Operation Dark Divide for Call of Duty: Black Ops 4.
FROM TREYARCH:
Operation Dark Divide is available on September 23 on PS4, bringing out the heroes and villains in the Specialists of Black Ops 4. Plus, jump into"Tag Der Toten", the final chapter in the Zombies Aether story. Here's a preview of the Operation: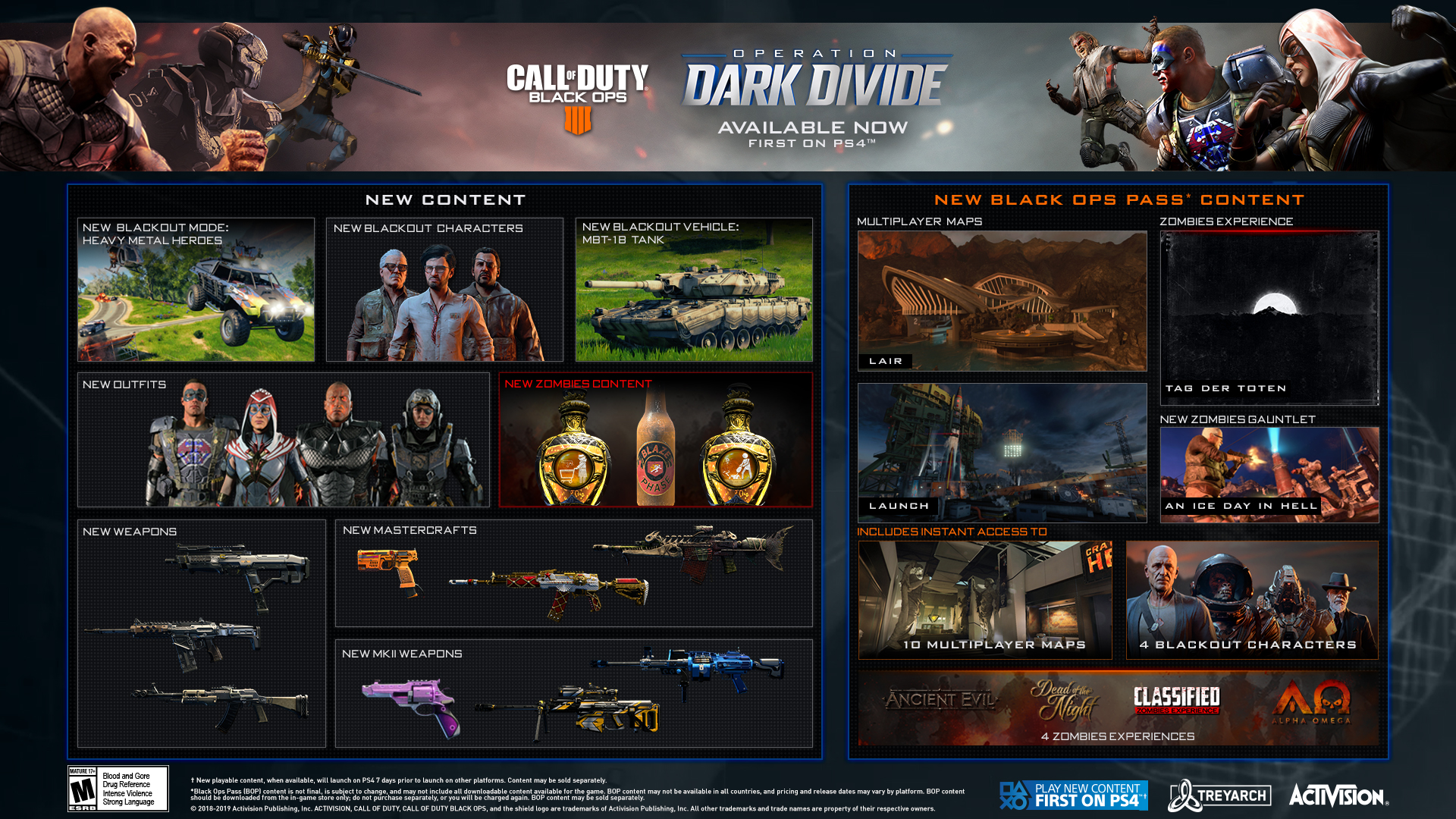 *Content Subject to Change
Multiplayer
New Maps (Black Ops Pass)
Blackout
New Game Mode: Heavy Metal Heroes
New Playable Characters

Marlton
Stuhlinger
Grigori Weaver
Zombies
New Experience: "Tag Der Toten" (Black Ops Pass)
New Elixirs:

Secret Shopper
Power Vacuum

New Perk: Blaze Phase
New Wonder Weapons

Tundra Gun
Wunderwaffe DG Scharfschütze
Black Market
50 unique and predefined Contraband Tiers
Heroes and Villains themed Specialist Outfits
New Mastercrafts
Ultra Weapon Bribe
Multiplayer
Operation Dark Divide serves up epic combat on two Multiplayer battlegrounds, available with the Black Ops Pass. First, journey to Lair where heroes battle villains against the backdrop of a deadly volcano. Then, experience a classic fight of good versus evil in the Black Ops flashback, Launch.
Wash up on the shores of an uncharted volcanic island where the evil organization, "Arkadeus" has built their ultimate weapon: a death laser that harnesses the raw power of a volcano. This Lair is a nefarious new Multiplayer map where the Specialists have arrived to take down Arkadeus operatives and secure the ultimate weapon.
Lair is a smaller-sized map that takes place primarily indoors, although players can battle around a getaway chopper or swim into the complex past a luxurious yacht. The center of the map houses the death laser surrounded by a moat and a continuous circular lane for agile engagements on the move. Lair's most distinct feature is its singular power position that is only accessible by two functional elevators or Ruin's Grapple Gun. Take a ride to the top where you can scope out opponents and activate the deadly laser. Lair's small play space provides opportunities for tactical gameplay. Utilize the levels, waterways, and environment to outsmart enemies to secure victory. Choose your Specialist, pick your side, and jump into a frenzied battle of heroes and villains on Lair.
In the Black Ops flashback map Launch, US covert operatives have gone behind enemy lines, to the heart of Russia, in order to halt a Soviet nuclear missile launch. Journey back to a heroic battle of good against evil where the Specialists fight under the cover of darkness to stop a nuclear missile launch that could have catastrophic consequences.
Make your way to Launch's hotly contested center: the top of two converging inclines which creates interesting and dynamic gameplay. The center lane is a long hump where players can make decisions on which lanes to attack, mantle up the gantry for vertical gameplay, or find and eliminate players in power positions along the southern side. Conversely, the northern path holds the missile that may launch during a match which will be fatal for any players in its blast radius. If you want to avoid the liftoff, go through the winding stairwells on either side of the missile for intense close quarters combat.
Battle on these new maps with three new Multiplayer weapons in the Black Market:
Echohawk Dual Bore: A high-damage assault rifle with a large ammo pool equipped with dual barrels to achieve a faster fire rate with a unique rhythm and feel.
AN-94: An assault rifle with solid damage, handling, and less recoil. It features a faster firing first bullet that rewards precision.
VMP: A faster firing submachine gun with extra ammo, moderate recoil, and slower handling.
Blackout
Power up for explosive vehicle combat in Blackout's latest limited-time game mode, Heavy Metal Heroes.
Enjoy the comic book aesthetic of this new game mode that emphasizes intense vehicle combat and heroics to achieve victory. Drop in with your quad and find a Heavy Metal Heroes vehicle variant: the ARAV, Motorcycle, Attack Chopper, and a new vehicle, the Tank. More vehicles are air dropped throughout the match and players can call in Tanks with Flare Guns found across the map. To combat the multitude of vehicles, players are given a thrust ability to "double jump" and can find Hellion Salvo Operators which can take out the armored fleet. Plus, the map has been outfitted with ramps for players who enjoy revving up and over the enemy.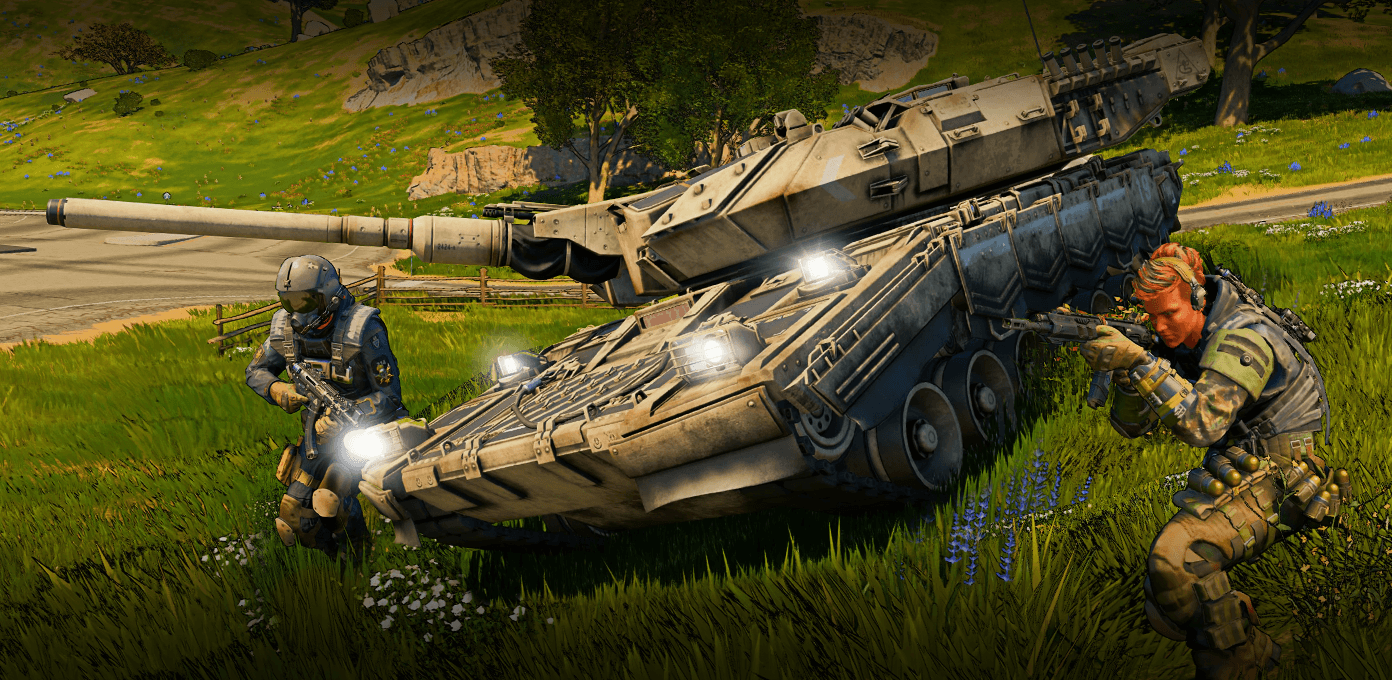 Return to the island of Alcatraz for a battle in the sunlight. Daytime has come back to the Rock, but it's no easier escaping this prison. Clear skies translates to longer lines of sight for players who choose to flock to the tops of building or the Warden's House, but the visibility could leave those players vulnerable to enemies.
This Operation has three new Blackout characters that are available in the Black Market.
Grigori Weaver – Black Ops CIA agent
Stuhlinger – Member of the Zombies Victis crew
Marlton – Member of the Zombies Victis crew
Zombies
Secrets will be revealed and destinies fulfilled as the Black Ops 4 ZombiesAether story hurtles to its epic conclusion in "Tag Der Toten".
Available with Black Ops Pass, "Tag Der Toten" takes players to the home of Group 935's twisted experiments and the birth of zombies in the frozen wastelands of Siberia. As the Primis and Ultimis crews celebrate their impending victory, the Victis crew must recover one final artifact to secure Nikolai's plans for the future. With the help of a mysterious hermit in the lighthouse, the Victis crew must brave the cliffside laboratory and subdue a sinister entity lurking in "Tag Der Toten".
"Tag Der Toten" has multiple movement mechanics like ziplines and flingers to quickly move about the map. Just be mindful, as zombies can also use these mechanics to surprise and attack unsuspecting players. There are also areas where you can platform to escape the horde. Falling won't spell instant death, but slogging through the freezing waters could prove fatal if the undead are on your tail. However, the verticality and visibility of "Tag Der Toten" means far away teammates can come to your aid in trying times.
This Zombies experience holds new and familiar equipment that take advantage of the openness of the space. The Matryoshka Dolls work like cluster grenades, containing smaller Ultimis dolls inside to decimate the undead. For a Wonder Weapon with range, pick up the Wunderwaffe DG Scharfschütze that has a sniper scope to take out zombies from a distance. Fire it into a crowd and electrocute any zombies within its radius. There's also a chilling new weapon that has been added to the Zombies arsenal courtesy of the Ascension Group: the Tundra Gun. Channel the freezing cold power of Siberia and freeze the zombie horde when the action gets too hot. And if you're looking for unique equipment, players can complete certain challenges to find a lethal item that is personal to a central Aether character…
Operation Dark Divide also brings new and returning supporting items to Zombies. The new Perk, Blaze Phase, works well when players are trapped in corners. Activate the Perk and players blast through a horde eliminating any zombies in their path. Formerly Gobblegums, Power Vacuum and Secret Shopper return as Epic Elixirs. Power Vacuum enables power-ups to spawn more frequently and lasts for five minutes, while Secret Shopper gives you the ability to buy ammo for any gun, including Wonder Weapons for the first time, from any wall buy location.
Plus, new Black Market Weapons join the Zombies arsenal in the Mystery Box at the start of Operation Dark Divide. Both the AN-94 and the VMP are reliable weapons that can keep the continual onslaught of zombies at bay – upgrade them at the Pack-A-Punch machine for the "Nightmare Awakened 49" and the "Dark Impaler" for more rounds and more power against the undead.
Black Market
Operation Dark Divide brings new weapons and heroes and villains-themed gear to the Black Market.
The Contraband stream holds 50 unique predefined tiers that culminates in an Ultra Weapon Bribe. Earn the Bribe by playing matches in Multiplayer and Blackout, and earning your Daily Tier Skips available in Multiplayer, Blackout, and Zombies.
Here's an overview of the of all the goods of Operation Dark Divide:
50 Tiers: Available on day one of the Operation, the Contraband stream features the VKM Mastercraft, Legendary and Epic outfits, and an Ultra Weapon Bribe.
New Black Market Weapons: The Black Ops 4 armory has gotten bigger with the Echohawk Dual Bore, AN-94, and the VMP.
New Melee Weapon: Get a one-hit kill with the "Outrider Series 6" action figure melee weapon.
New Epic Outfits: Channel the hero or villain within with Epic outfits for all Specialists including the "Rigor Mortis" for Crash, "Kitty Six" for Seraph, and the "Blood Moon" for Outrider.
New Legendary Outfits: Come ready for battle with the "Compost" outfit for Spectre, the "CA-K3" for Reaper, and the "Flamingo" for Torque available in the Contraband stream.
New Mastercrafts: Deck out your weapon with new Mastercrafts, like the arcade gun-styled "Game Over" for the KAP 45, the fishbone-inspired "Predator" for the S6 Stingray, or the "Desecrator" for the Rampage.
New Reactive Camos: Find the "Solar Flare" and "Future Sight" Reactive Camos in Reserves.
New Blackout Characters: Drop in as Victis characters Marlton and Stuhlinger or as the Black Ops CIA operative, Grigori Weaver.
New MKII weapons: Earn more XP with MKII variants of the VKM, Paladin HB50, and Mozu.
New Death Effects: Add a comic bang when you finish off your enemies with the "Them's Fightin' Words" Death Effect or add an electric touch with the "Ohm Theory", available in the Contraband stream and Reserves.
New Weapon Charms: Add flair to your weapons with the alien "UFO", pocket watch-esque "Time's Up", or the mini-Juneau A.K.A. the "Man's Best Friend" Weapon Charms and more.
New Jump Pack: Drop in ready to bring the pain with the "Mega Hurtz" or channel 115 with the "Aether" jump pack, available in the Black Market.
SOURCE: Treyarch
CoD devs reportedly working on "open world RPG" with Infinity Ward job listing
A job listing from Infinity Ward Poland hints at the Call of Duty developers working on a new open-world RPG.
A new job listing from the Call of Duty developers suggests that Infinity Ward's Poland office is working on a brand-new open-world role-playing game (RPG).
Open-world video games are extremely popular because of the opportunities they provide to players for exploration of large and detailed maps, with titles like Grand Theft Auto 5 being extremely successful.
Now, a new job listing from Infinity Ward Poland appeared for a short while, suggesting that the Call of Duty developers are currently developing a brand-new role-playing game (RPG) with an open-world structure.
In a now-deleted job listing on the Infinity Ward careers page, Activision were looking for someone with experience making "non-linear narratives in open-world games" to work on a "narrative and cinematic experience in an open-world RPG."
While the developers didn't reveal what his project is about, the Narrative Director position in the post placed an emphasis on "story, characters, lore, and world-building" for the game that's in development.
At the time of writing, it's unconfirmed what exactly this "unannounced AAA project" is called, and one possibility is that it might be a new Call of Duty title as Infinity Ward have never released a game outside of that series.
It's also possible that this open-world RPG might be an entirely new IP that has no connection to the Call of Duty franchise. We will probably learn more details as the game's development progresses.
As exciting as this sounds, it's worth keeping in mind that this is all just speculation based on the now-deleted job listing, and we'll need to manage our expectations until Infinity Ward officially announce the game.
---
For more on Call of Duty, check out everything we know about Warzone Pacific Season 4 as well as our hub on Warzone 2.
Image credits: Activision
Biggest AAA video games coming in 2022: PS5, Xbox Series X, Switch, PC, Stadia & Steam
2022 is a huge year for video games and here's all the biggest titles coming to PlayStation, Xbox, Switch, and more – with release dates.
2022 continues to be a massive year for video games. Between franchises such as God of War, Pokemon, and Harry Potter, the PS5, Xbox Series X, Switch, PC, and Stadia have some mammoth titles to host. Here's a look into the biggest games and potential release dates.
The start of 2022 signaled over a year since the PS5, and Xbox Series X took video games to the ninth generation of consoles. Developers have had plenty of time to chew the fat and harness the power of the consoles to create immense AAA experiences.
There's also plenty of mileage left for the Nintendo Switch, and of course, PC, Stadia, and Steam are always pushing the envelope.
With 2022 already delivering Horizon Forbidden West, Elden Ring, Pokemon Legends: Arceus, Rainbow Six Extraction, and Gran Turismo 7, the remainder of the year is also looking to bring the heat. Here's a look at the top AAA video games coming in 2022.
PS5, Xbox, Switch, PC, Steam & Stadia video games in 2022
Call of Duty Modern Warfare 2 release date: October 28
For the first in almost 20 years, the Call of Duty franchise will be breaking its annual release schedule in 2023. This means that players will be stuck with CoD's 2022 title, Modern Warfare 2 for two years.
The 2022 iteration of the iconic franchise is set to be a direct sequel to 2019's Modern Warfare. The game will be built on a brand-new engine, and the development of the game is being led by Infinity Ward. The Call of Duty team announced that Modern Warfare 2 will be released on October 28, 2022.
Gotham Knights release date: October 25, 2022
A Gotham City without the caped crusader is a strange thought, but that's the threat that faces it as Bruce Wayne is dead. In Batman's place, his former proteges need to step up and protect Gotham, batting away any threats of crime perpetrated by some of its most evil supervillains.
Featuring co-operative mode, players can take control of these plucky heroes and hopefully do Batman proud when the game releases on October 25, 2022.
Hogwarts Legacy release date: Holiday 2022
There have been many Harry Potter movie tie-in games, but there still hasn't been an authentic RPG experience that lets you become your own wizard – until now.
Hogwarts Legacy will let fans worldwide finally live out their dream of attending Hogwarts, and the game allows players to select their House, the classes they do, and customize their character, all the while fighting monsters and completing quests.
God of War: Ragnarok release date: 2022
Players got a juicy look at the next epic adventure in Santa Monica's God of War franchise during the 2021 PlayStation Experience. Kratos and Atreus are set to battle with Freya, possibly Thor, and their own demons.
God of War Ragnarok looks like it's expanded upon the reboot to incorporate more NPCs, more spectacular gameplay, and a gripping narrative that will test the bond between father and son.
Final Fantasy XVI release date: late 2022
The hype surrounding Final Fantasy XVI is beginning to mount as we get deeper into 2022. It's the collaboration between Square Enix and the combat designer of Devil May Cry 5, Ryota Suzuki that has fans of the franchise excited.
The developers have confirmed that they would release additional information about the sixteenth game in the mainline Final Fantasy franchise around Summer 2022. Hopefully, this will include a release date giving RPG fanatics something to look forward to.
Pokémon Scarlet and Violet release date: November 18
2022 is a great year to be a Pokemon fan. Shortly after the release of Pokemon Legends: Arceus, Nintendo wasted no time announcing their newest mainline titles. Pokemon Violet and Pokemon Scarlet will introduce players to the ninth generation of Pokemon games.
Nintendo has already shared details about the game including the implementation of open-world areas as well as the three starter Pokémon: Sprigatito, Fuecoco, and Quaxly. On June 1, a trailer confirmed November 18 as the official release date for Pokemon Scarlet and Violet.
Zelda: Breath of the Wild 2 release date: delayed to 2023
It wouldn't be a stretch to say that Zelda: Breath of the Wild 2 could easily be one of the most anticipated games of all time.
Breath of the Wild took the world by storm in 2017 with its rich, expressive world that deviated from the conventions of traditional Zelda games. Many millions of copies sold later, and fans everywhere are desperate for the next chapter for Link in this gorgeous, sprawling version of Hyrule.
Unfortunately on March 29, 2022, Nintendo announced that Zelda: Breath of the Wild 2 would be pushed back to a 2023 release date.
---
That completes our guide to the biggest and most anticipated video games that are due to arrive in 2022. For all the latest news and guides on these games and more, stay tuned to Charlie INTEL!
Image Credit: Avalanche Software / WB Games Montreal / Nintendo / Game Freak / Square Enix / Santa Monica Studios / Ubisoft / Activision
CoD Points price: How to buy, spend & do they carry over
CoD Points are the official currency of Call of Duty. Check out CoD Point prices, where to buy them, and whether they transfer between games.
Activision's in-game currency lets players purchase cosmetics for their characters, and we've got everything you need to know about CoD Points prices, how to buy them, and all the items you can spend them on.
Call of Duty offers a huge palette of extra goodies you can add to your game, requiring players to spend their own currency named CoD Points to acquire them.
CoD Points can be purchased using the menu systems in games like Vanguard or Warzone or through console marketplaces like the PS Store or Xbox Marketplace.
The gaming landscape has changed over the years with the incorporation of microtransactions and live-gaming services. Many games offer extra content – with cosmetics being a big proponent of this. With Vanguard and Warzone offering special Attack on Titan and Snoop Dogg skins as well as unique weapon Blueprints for popular weapons, it becomes easy to see why players would want to spend CoD Points.
CoD Points prices
There are different amounts and bundles you can opt for when buying CoD Points that are tailored to different needs.
Some players just need to top up their account with a few hundred points to get the latest bundle. Whereas others need a big restock with the intention of spending many points. The more points you want, the bigger the discounts grow.
Here are the different prices for the various CoD Points bundles:
200 CoD Points: $1.99 / £1.79
500 CoD Points: $4.99 / £4.31
1,000 (+100 Bonus) CoD Points: $9.99 / £8.49
2,000 (+400 Bonus) CoD Points: $19.99 / £16.79
4,000 (+1,000 Bonus) CoD Points: $39.99 / £34.99
7,000 (+2,500 Bonus) CoD Points: $74.99 / £69.99
10,000 (+3,000 Bonus) CoD Points: $99.99 / £84.99
15,000 (+6,000 Bonus) CoD Points: $149.99 / £123.99
How to buy COD Points
You can be very flexible with how you buy COD Points as there are a few different ways to do so. To make sure you're buying them for the right platform, just double-check with our guide on transferring COD Points across platforms.
There are four ways you can buy COD Points:
PC players can purchase CoD Points on the Battle.net website
PS4 & PS5 players can purchase CoD Points in the PS Store on their console, or on the PlayStation website
Xbox Series X, Series S, or One players can buy CoD Points on the Xbox Marketplace on their console, or the official Microsoft Store website
Select physical retailer's stock vouchers and gift cards with a code that players can redeem for CoD Points.
Where to spend CoD Points
Spending your CoD Points is incredibly easy, with players able to purchase cosmetic bundles and Blueprints in the in-game store.
The stores are available in Vanguard, Warzone, Black Ops Cold War, and Modern Warfare, so you can kit out your Operator regardless of your preferred title.
Do CoD Points carry over across games?
The good news is that your CoD Points will transfer across your Call of Duty games, as they are linked to your Activision account.
Players who will still have CoD Points in their account from Vanguard don't need to worry, as they will automatically be in your account when Modern Warfare 2 releases.
What can I buy with COD Points?
Call of Duty's currency is used to primarily buy two things: the Battle Pass for the current season and Bundles containing a variety of items.
Battle Pass
A Battle Pass is a paid Tier system that allows regular players to earn dozens of extra rewards and cosmetics for essentially playing the game.
Vanguard and Warzone Pacific are approaching Season 3 at the moment. Both titles are currently running in tandem with each other and share the same Battle Pass.
It features 100 Tiers for players to smash their way through the course of a season, and if players are committed enough, they can actually earn enough CoD Points, through leveling up the pass, to get the next one for free.
You'll be able to buy the Vanguard & Warzone Season 3 Battle Pass via a couple of different methods on April 27, 2022:
Bundles
The other main content you can buy is a wide range of Bundles and Operator Bundles. These special bundles vary in price, and each comes with its own unique items.
The collectibles you can expect to find are Calling Cards, Emblems, Operator Skins, Weapon Blueprints, Weapon Charms, and more.
---
Also, check out how Vanguard is officially getting a round-based Zombies map after Season 3 or how Warzone players are begging for Godzilla & King Kong Operator skins.
Image credits: Activision / Sledgehammer Games / Raven Software