Season 2 arrives in Modern Warfare with Patch Update 1.14
Season 2 has arrived in Call of Duty: Modern Warfare with the latest patch update for the game on PlayStation 4, Xbox One, and PC.
Patch Update 1.14 is live now now for the game on PS4, Xbox One, and PC and has activated Season 2. Patch Update 1.14 is 51GB on PS4, 68GB on Xbox One, and 67GB on PC. The update is at these sizes because, according to Activision, the game is re-downloading existing files and over writing them for a better optimization push.
"The community response to Modern Warfare since launch has been incredible and we're thrilled to bring back some legendary fan-favorite maps and an iconic beloved Modern Warfare character Ghost," said Patrick Kelly, Co-Studio Head and Creative Director, Infinity Ward. "We're committed to continuously fueling the fun with more and more content for everyone and can't wait for players to experience what's to come with Season Two."
Season 2 brings new content, including new maps, modes, and more, alongside an all new Battle Pass.
PATCH NOTES:
WHAT'S NEW
New Operator: Ghost!
New Weapons: Grau 5.56 and Striker 45
Playlist Update!
CDL Playlist (Hardpoint, Domination, Search and Destroy)
Realism Ground War (previously Realism Mosh Pit)
Adding Boneyard into Ground War rotation
"I have Rust Issues" – 6v6 Mosh Pit
Gunfight Snipers 3v3
Rust: available in 2v2 and 6v6 playlists
Atlas Superstore: available in 6v6 and 10v10 playlists
Regiments! (check them out in the Social menu!)
New Trials!    
Special Ops Survival: Azhir Cave (Sony Exclusive!) 
Akimbo Weapon Perk! (available in Gunsmith)
* A note from the team: Bazaar and Gunfight Tournaments will go live later in the season!
GENERAL FIXES:
Fix for the "Focused" challenge not tracking properly
Krovnik Farmland

Added back into rotation
Removed access to the second floor in a handful of centrally located houses (see the locations below marked in red)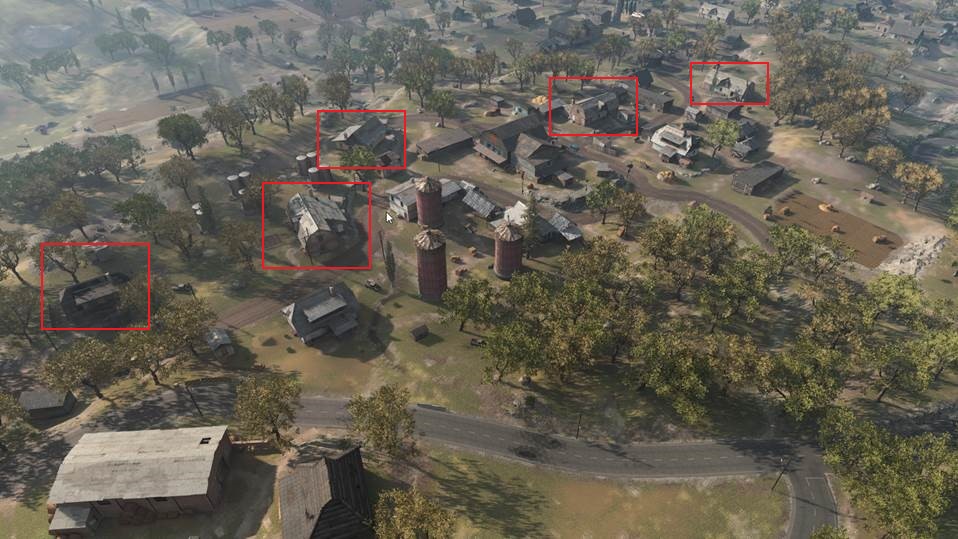 Fixes for various exploits across Ground War maps
Fixed an issue where players could team kill Care Package owners and teammates capturing Care Packages
Fix for Platinum and Damascus camos sometimes having a blinding glare when in certain areas that contain sunlight
Fix for a rare bug that could prevent players from accessing the barracks, weapons, and/or Operators tabs after matches
Disabled the "Copy Loadout" feature
Field Upgrades:
Trophy System: Deploy time has been reduced by about half a second
Fixed a bug that allowed players to get infinite Weapon Drops by cancelling Killstreaks. Killstreaks are no longer usable when the Weapon Drop grenade is equipped
Fixed a bug where objectives were not giving Field Upgrade progress
Perks – Rebalancing
Perk 1 Slots

Overkill: Switched places with Killchain and will now be in Perk 2
E.O.D.: Removed hacking ability (added to Spotter perk)
Double Time: Double the recharge rate of Tactical Sprint
Quick Fix: Reduced health regeneration delay – any kill will immediately start regeneration

Perk 2 Slots

Ghost: Remove Snapshot grenade immunity (moved to Battle Hardened)
Restock: Change the equipment recharge rate from 30 to 25 seconds
Killchain: Switched places with Overkill In Perk 1
Pointman: Increase the score gain for Scorestreaks across all modes

Perk 3 Slots

Tune Up: Increase Field Upgrade cost reduction
Spotter: Added hacking ability (from E.O.D.); we're currently working on the ability to hack through walls.
Battle Hardened:

Added Snapshot grenade immunity (moved from Ghost)
Added Gas grenade resistance:

Cough is no longer played when a player enters gas
Reduced slowdown under gas effect
Reduced blur when under gas effect
Weapons:
Crossbow:

Fix for some kills not tracking properly when attempting to unlock the Crossbow
Fixed explosive Fury crossbow bolts to not kill Juggernauts in one hit
Very slight tuning to the reload speed. We're still fine tuning this one, so more adjusting is in the works!
Fixed a bug where the Crossbow did not do any melee damage to Deployable Cover

SA87– Smoothed out recoil, increased damage
Increased RAM-7 extended mags ammo count from 45 to 50
*A note from the weapons team! The Solozero NVG Enhanced is supposed to see through smoke, but a rendering bug broke this one optic temporarily. We'll have it fixed shortly!
Special Operations:
Operation Harbinger: Fixed an issue with a checkpoint that could cause players to spawn under the map
Keyboard and Mouse
Added Change to Loadout keybinds for Custom Loadouts 6 to 10, allowing players to quickly switch to any of their favorite Loadouts with the press of a button.
Fixed a visual issue where highlighting the usernames of multiple people in a lobby with the mouse cursor could lead to multiple Emblem/Player Card/Level UI elements appearing and overlapping each other.
Call of Duty League:
Removed Specialist restrictions
COD Caster
For Keyboard & Mouse Codcasters, it is now possible to bring up player Field Upgrades by pressing a key in the same way as they can with Killstreaks. This also shows the exact progress until each player unlocks their respective Field Upgrade.
Player health levels are displayed in the background of their portraits
Player numbers are now displayed in the minimap and are larger when viewed on the full map
PC
When using the Tracker perk, footprints are now visible even when the Bullet Impacts & Sprays option is disabled in the Graphics tab
Several fixes to prevent crashes and improve stability
SOURCE: Infinity Ward
Best CX-9 loadout for CoD: Warzone Season 6
Here are the attachments and Perks you can run with the highly-anticipated CX-9 SMG in Warzone and Modern Warfare to make its best loadout.
The CX-9 SMG finally arrived last season and is still a great option in Season 6, so here is how to make the best Warzone CX-9 loadout to dominate your enemies.
The CX-9 was released alongside the Sykov Pistol in Season 4, and in Season 6, it's still a very viable SMG that can shred at close range.
Although it may be considered a weaker weapon in the meta, the CX-9 is very powerful in both Warzone and Modern Warfare multiplayer and is well-worth unlocking.
Here are the attachments and perks to run with this SMG to make the best Warzone CX-9 loadout.
Table of Contents
Best Warzone CX-9 loadout
Best Warzone CX-9 loadout attachments
Barrel: CX-38S
Laser: Tac Laser
Stock: CX-FR
Underbarrel: Merc Foregrip
Ammunition: 50 Round Drums
The best Warzone CX-9 loadout is excellent in those close-quarters engagements, but due to the random nature of Warzone, we've built it to be a little bit more versatile.
The CX-38S barrel has two significant benefits. It's already got a Monolithic Suppressor attached, which frees up a slot, and it improves almost every aspect of the weapon. You'll see the CX-9 has a more effective range, recoil control, and your shots will be hidden from the minimap.
Next, we've added the Tac Laser and CX-FR stock to the best Warzone CX-9 loadout. Your CX-9 will now be much quicker, allowing you to snap onto enemies even if they take you by surprise.
The Merc Foregrip is always a solid choice for Modern Warfare SMGs, as it improves both recoil control and hip-fire accuracy for the best Warzone CX-9 loadout. And finally, the 50 Round Drums will allow you to down and kill multiple enemies without reloading when using the best Warzone CX-9 loadout.
Best Modern Warfare CX-9 loadout
Best Modern Warfare CX-9 loadout attachments
Barrel: CX-38S
Laser: Tac Laser
Stock: CX-FA
Ammunition: 30 Round Mags
Perk: Sleight of Hand
This CX-9 is built almost purely for speed but with a larger magazine and longer barrel for taking out targets at medium range.
To start, we've opted for the CX-38S barrel, which improves almost every aspect of the CX-9. You'll see a huge boost in damage range, bullet velocity, and even recoil control – while having your shots suppressed. The only downside is a slower ADS speed, which we'll correct with the rest of the attachments.
Modern Warfare's engagements usually take place in the confines of 6v6 maps, so you want a bit more speed with your weapon. To do this, we've opted for the Tac Laser and CX-FA stock. With these, your ADS speed, movement, and weapon stability will see a welcome improvement.
And finally, we've added the 30 Round Mags and Sleight of Hand Perk. The 30 Round Mag gives a solid boost to magazine size without slowing you down too much, and Sleight of Hand vastly increases your reload speed to keep you in the fight. If you want more bullets in your mag, you can always take the 50 Round Drums instead.
Best perks to use with CX-9 class
Best Warzone CX-9 Perks
Perk 1: E.O.D
Perk 2: Overkill then Ghost
Perk 3: Amped
E.O.D will help you survive a barrage of explosives, keeping you in the fight at all times. Overkill will allow you to take the CX-9 alongside a long-range weapon such as the Krig 6, and then you can take Ghost from your next loadout to hide from UAVs and Heartbeat Sensors.
Finally, the Amped Perk allows you to switch between weapons quickly, so you're never caught defenseless.
Best Modern Warfare CX-9 Perks
Perk 1: E.O.D
Perk 2: Ghost
Perk 3: Battle Hardened
Again, E.O.D is vital to ensuring you don't get taken out by a well-placed Frag Grenade or Semtex.
Then, the Ghost Perk will make sure you can always remain stealthy when an enemy pops a UAV.
Last but not least, Battle-Hardened significantly reduces the effect of Stuns and Flashbangs, so you're never rendered defenseless by Tactical Grenades.
Most recent CX-9 buffs and nerfs
The best Warzone CX-9 loadout was on the receiving end of a bug and nerf in the August 5 update for the Call of Duty battle royale, which caught plenty of players by surprise, considering the weapon had only been in the game for a short time before Raven Software rolled out an update for it.
You can find all of the changes the August 5 update made to this SMG below:
Increased mid damage range from 20 to 21
Increased Headshot Multiplier from 1.4 to 1.45
How to unlock the CX-9 in Warzone & Modern Warfare
The CX-9 is a Modern Warfare weapon, so you won't be able to unlock or use it in Black Ops Cold War. Luckily, it has an easily unlock requirement: Get 2 Longshot Kills while using an SMG in 5 different matches.
Because this is Modern Warfare, you don't need to finish the match either. You can get two longshot kills with an SMG, back out, and repeat until you've unlocked the weapon.
Best alternatives to the CX-9 in Warzone & Modern Warfare
If you're looking for another SMG in Warzone, the MAC-10 or Black Ops Cold War's MP5 are regarded as the Season 5 meta SMGs.
For Modern Warfare, the MP7 remains a solid choice, or you could opt for the PP19 Bizon thanks to its large magazine size.
If you're looking for more great weapons, then you can check out some of this season's best Warzone loadouts below:

C58 | Groza | M4A1 | Milano | AK-47 
Image Credits: Activision / Raven Software
CoD 2022 reportedly titled 'Call of Duty: Modern Warfare II'
New rumors appear to have revealed the name of Call of Duty 2022, which is expected to be a sequel to Modern Warfare 2019.
A new rumor claims to reveal the name of the 2022 Call of Duty title, which is set to be a sequel to Call of Duty: Modern Warfare 2019.
The new rumor, from leaker Tom Henderson, states that the name of the 2022 Call of Duty game will be 'Call of Duty: Modern Warfare II.'
This information lines up with what CharlieIntel has also heard about the 2022 Call of Duty game, although we'd caution that Activision can change the name at any point leading to the reveal.
The 2022 Call of Duty title from Infinity Ward is set to be a sequel to Modern Warfare 2019 and feature a story that focuses on the Colombian drug cartels.
The game is currently codenamed Project Cortez, according to leaked NVIDIA files.
Infinity Ward's last title, Modern Warfare 2019, has gone on to become the most successful Call of Duty game of all time. It was the title that also introduced the free to play Warzone experience.
Infinity Ward recently announced the opening of a new studio in Austin, Texas to compliment their California, Poland, and Mexico offices.
Official information on the Call of Duty 2022 title is very sparse and not official announcement is to be expected until late Summer 2022.
The next Call of Duty game is set to be Call of Duty: Vanguard from Sledgehammer Games, releasing on Friday, November 5. Vanguard includes a WWII-based campaign, multiplayer, and Zombies experience.
RAAL LMG returns to Warzone & Modern Warfare in October 8 update
The RAAL LMG was mistakenly removed from Warzone and Modern Warfare, but Raven Software has now returned it to the Gunsmith.
Warzone and Modern Warfare fans were left baffled after the RAAL LMG was removed in the Season 6 update. But Raven Software added it back on October 8, confirming it was a mistake.
It was months ago that the RAAL LMG briefly appeared in Warzone as loot and was quickly removed soon after. Then after much waiting, players finally got their hands on the RAAL in Warzone and Modern Warfare, but it was then secretly removed in the Season 6 update.
Players were obviously left baffled as to why it would be removed. But, Raven Software released an update on October 8 that made changes to Iron Trials and also added the RAAL LMG back to the game, confirming it was a mistake.
Whilst Warzone guru JGOD doesn't believe the RAAL LMG is a meta weapon that all players should be using, he still thinks it's a viable gun. Which is even more of a reason why players were so shocked to see it disappear without warning.
The removal was made very public knowledge thanks to a Tweet from ModernWarzone, and it took some players off-guard.
But, RAAL fans can relax, as the LMG has been added back to Warzone in the October 8 update. At the end of the patch notes, Raven Software said "Oops," and confirmed that "the RAAL MG (MW) is back."
It didn't quite disappear for everyone, as it seemed that if you had the RAAL MG in a loadout, then you could still use it, but couldn't alter the attachments on it.
---
In the meantime, why not check out our loadouts for the new Season 6 weapons: the Grav and .410.
Image Credit: Activision / Raven Software