Season 2 arrives in Modern Warfare with Patch Update 1.14
Season 2 has arrived in Call of Duty: Modern Warfare with the latest patch update for the game on PlayStation 4, Xbox One, and PC.
Patch Update 1.14 is live now now for the game on PS4, Xbox One, and PC and has activated Season 2. Patch Update 1.14 is 51GB on PS4, 68GB on Xbox One, and 67GB on PC. The update is at these sizes because, according to Activision, the game is re-downloading existing files and over writing them for a better optimization push.
"The community response to Modern Warfare since launch has been incredible and we're thrilled to bring back some legendary fan-favorite maps and an iconic beloved Modern Warfare character Ghost," said Patrick Kelly, Co-Studio Head and Creative Director, Infinity Ward. "We're committed to continuously fueling the fun with more and more content for everyone and can't wait for players to experience what's to come with Season Two."
Season 2 brings new content, including new maps, modes, and more, alongside an all new Battle Pass.
PATCH NOTES:
WHAT'S NEW
New Operator: Ghost!
New Weapons: Grau 5.56 and Striker 45
Playlist Update!
CDL Playlist (Hardpoint, Domination, Search and Destroy)
Realism Ground War (previously Realism Mosh Pit)
Adding Boneyard into Ground War rotation
"I have Rust Issues" – 6v6 Mosh Pit
Gunfight Snipers 3v3
Rust: available in 2v2 and 6v6 playlists
Atlas Superstore: available in 6v6 and 10v10 playlists
Regiments! (check them out in the Social menu!)
New Trials!    
Special Ops Survival: Azhir Cave (Sony Exclusive!) 
Akimbo Weapon Perk! (available in Gunsmith)
* A note from the team: Bazaar and Gunfight Tournaments will go live later in the season!
GENERAL FIXES:
Fix for the "Focused" challenge not tracking properly
Krovnik Farmland

Added back into rotation
Removed access to the second floor in a handful of centrally located houses (see the locations below marked in red)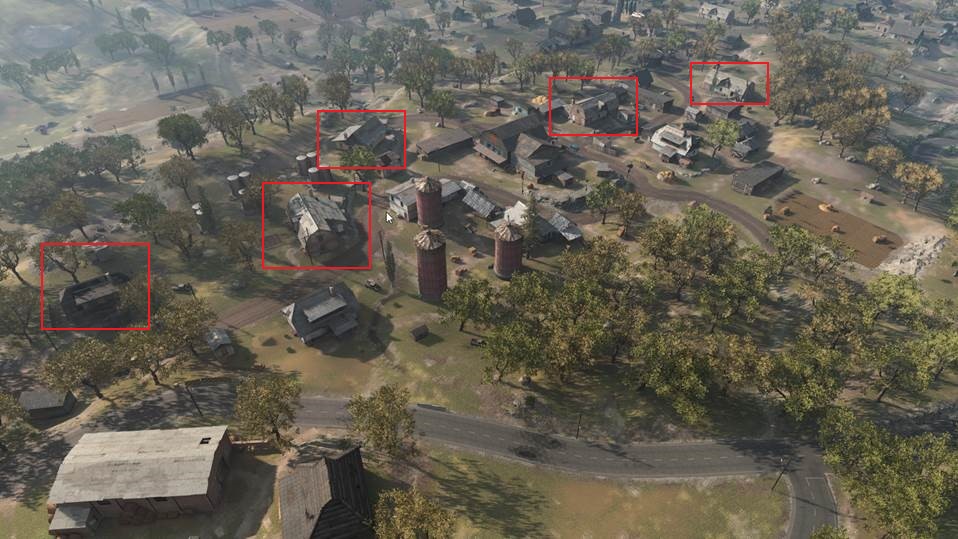 Fixes for various exploits across Ground War maps
Fixed an issue where players could team kill Care Package owners and teammates capturing Care Packages
Fix for Platinum and Damascus camos sometimes having a blinding glare when in certain areas that contain sunlight
Fix for a rare bug that could prevent players from accessing the barracks, weapons, and/or Operators tabs after matches
Disabled the "Copy Loadout" feature
Field Upgrades:
Trophy System: Deploy time has been reduced by about half a second
Fixed a bug that allowed players to get infinite Weapon Drops by cancelling Killstreaks. Killstreaks are no longer usable when the Weapon Drop grenade is equipped
Fixed a bug where objectives were not giving Field Upgrade progress
Perks – Rebalancing
Perk 1 Slots

Overkill: Switched places with Killchain and will now be in Perk 2
E.O.D.: Removed hacking ability (added to Spotter perk)
Double Time: Double the recharge rate of Tactical Sprint
Quick Fix: Reduced health regeneration delay – any kill will immediately start regeneration

Perk 2 Slots

Ghost: Remove Snapshot grenade immunity (moved to Battle Hardened)
Restock: Change the equipment recharge rate from 30 to 25 seconds
Killchain: Switched places with Overkill In Perk 1
Pointman: Increase the score gain for Scorestreaks across all modes

Perk 3 Slots

Tune Up: Increase Field Upgrade cost reduction
Spotter: Added hacking ability (from E.O.D.); we're currently working on the ability to hack through walls.
Battle Hardened:

Added Snapshot grenade immunity (moved from Ghost)
Added Gas grenade resistance:

Cough is no longer played when a player enters gas
Reduced slowdown under gas effect
Reduced blur when under gas effect
Weapons:
Crossbow:

Fix for some kills not tracking properly when attempting to unlock the Crossbow
Fixed explosive Fury crossbow bolts to not kill Juggernauts in one hit
Very slight tuning to the reload speed. We're still fine tuning this one, so more adjusting is in the works!
Fixed a bug where the Crossbow did not do any melee damage to Deployable Cover

SA87– Smoothed out recoil, increased damage
Increased RAM-7 extended mags ammo count from 45 to 50
*A note from the weapons team! The Solozero NVG Enhanced is supposed to see through smoke, but a rendering bug broke this one optic temporarily. We'll have it fixed shortly!
Special Operations:
Operation Harbinger: Fixed an issue with a checkpoint that could cause players to spawn under the map
Keyboard and Mouse
Added Change to Loadout keybinds for Custom Loadouts 6 to 10, allowing players to quickly switch to any of their favorite Loadouts with the press of a button.
Fixed a visual issue where highlighting the usernames of multiple people in a lobby with the mouse cursor could lead to multiple Emblem/Player Card/Level UI elements appearing and overlapping each other.
Call of Duty League:
Removed Specialist restrictions
COD Caster
For Keyboard & Mouse Codcasters, it is now possible to bring up player Field Upgrades by pressing a key in the same way as they can with Killstreaks. This also shows the exact progress until each player unlocks their respective Field Upgrade.
Player health levels are displayed in the background of their portraits
Player numbers are now displayed in the minimap and are larger when viewed on the full map
PC
When using the Tracker perk, footprints are now visible even when the Bullet Impacts & Sprays option is disabled in the Graphics tab
Several fixes to prevent crashes and improve stability
SOURCE: Infinity Ward
Modern Warfare devs make secret TTK change with major health boost
Modern Warfare players believe Infinity Ward have made a major TTK adjustment, adding health to players in Ground War.
Modern Warfare players have discovered that Infinity Ward have made a secret change to the game's Ground War mode, giving players a major health boost.
Modern Warfare dropped all the way back in 2019, yet remains popular with fans even three years later. With the next Call of Duty title set to be Modern Warfare 2, it's no surprise that people are jumping back onto Infinity Ward's last offering.
Even though the developers are hard at work finishing up MW2, it seems that Infinity Ward isn't finished with Modern Warfare just yet, and still drops updates on the game fairly regularly.
The game's last update dropped alongside Warzone Season 3 Reloaded, but didn't include extensive patch notes for players to read. After playing the game though, YouTuber and CoD expert JGOD has discovered a secret change that changes Ground War massively.
In a tweet posted on May 29, JGOD revealed that after playing Ground War, he believed that Infinity Ward had raised the base health in the mode.
To prove this, he used the RAM-7, explaining that at 100HP, it should kill in four shots. In Ground War though, it took six bullets. This suggests that the mode's base health has been increased to 150HP.
JGOD wasn't the only player who noticed this change, with many replying that they had felt something was different too. "I knew they did something with the recent update," tweeted one, while TrapGodTO admitted he felt the "time-to-kill had went up" too.
A higher TTK means it is harder to kill opponents, as you need to hit more shots accurately to wipe them out. The reason for this change remains unknown, but that hasn't stopped players from speculating.
Some believe this change is directly linked to Warzone, where Raven buffed HP in Rebirth Island with the Reloaded patch. Others think Infinity Ward are testing different base healths for Modern Warfare 2. If that is the case, it's likely we will have to wait for a multiplayer beta for confirmation.
Image credit: Infinity Ward
Which packs are needed for Modern Warfare Multiplayer? Full list
Modern Warfare is a huge game that players need a lot of storage for. Luckily, only certain Modern Warfare packs are needed for Multiplayer.
Knowing what data packs you need to download to play Call of Duty: Modern Warfare's Multiplayer can be quite confusing, so we put together a detailed list of what you need and how much space it takes up.

Call of Duty's Multiplayer has been a fan favorite mode of the franchise pretty much since it was released, and although Modern Warfare isn't the latest installment, players are still enjoying it.
With the Call of Duty games evolving every year, it's only natural that the data needed is larger. Therefore, some players may be wondering what data packs they need solely for the Multiplayer mode.
What packs are needed for Modern Warfare Multiplayer?
In recent history, the developers have allowed players to pick and choose what data to download due to the huge amount of storage that the games take up.
This way, players who only play the Multiplayer can uninstall the data for the campaign and any other extra modes. This is great, as it prevents storage from being taken up modes you don't play.
Luckily there isn't much that players actually need to play Modern Warfare's Multiplayer.
Here's a list of all the Modern Warfare Multiplayer packs you need to have downloaded:
Base Game: 88.7 GB
Multiplayer pack: 6.0 GB
Multiplayer pack 2: 19.9 GB
Multiplayer and Special Ops Pack: 21.3 GB
In total, this comes to 135.9 GB big and will require a sizable amount of your console storage.
For those on Xbox One, you will need all three of the Modern Warfare Multiplayer packs mentioned above to run the Multiplayer mode.
For those on PC or PlayStation, you only need Data Pack 1 and the Multiplayer Pack 2 in order to run Modern Warfare's Multiplayer.
So, for those who are either bored of Warzone like some popular streamers have been lately, you may want to head back over to the classic Multiplayer and give the new CX-9 SMG a try. With that being said, these are the data packs you'll need to do so.
---
For more on Call of Duty, stay tuned on Charlie INTEL and check out our article on the best PC Settings for Warzone Pacific Season 3.
Image Credits: Raven Software / Activision
Modern Warfare 2 shown to NFL prospects: Title confirmed & first impressions
As top prospects prepare for the NFL draft, they're getting a first look at Call of Duty: Modern Warfare 2 during a private CoD event.
NFL draft prospects are giving their first impressions of Modern Warfare 2 as they get an exclusive look at the new Call of Duty title.
Although Vanguard Season 3 has only just begun, Call of Duty players are already looking forward to the next installment in the franchise. The Modern Warfare series is beloved by many players across the globe, thus the excitement for Modern Warfare 2 is high.
There are certainly a ton of rumors beginning to swirl but thanks to a private CoD event for some of the NFL's top draft prospects, we received an official title for the game as well as first impressions from the players lucky enough to sneak a peek.
We've known for a while that the next Call of Duty title is set to be a sequel to 2019's Modern Warfare. Given the sequel association, most people began calling it Modern Warfare II. While this was in the right ballpark, the event finally confirmed that the title will be Modern Warfare 2.
In addition to title confirmation of the Infinity Ward developed game, several top prospects from the upcoming NFL draft took to social media to share thoughts and opinions on their first look at Modern Warfare 2.
The list of NFL prospects who got a glimpse of Modern Warfare 2 includes Ahmad Gardner, Aidan Hutchinson, and Bo Melton. Both Melton and Hutchinson posted pictures of themselves at the Las Vegas event.
Meanwhile, Gardner offered more details concerning the footage and claimed that "it was so realistic, it's insane." This lines up with a statement from an Activision briefing that claimed Modern Warfare 2 would be "the most advanced experience in franchise history."
Only time will tell if this positive perception will hold up but CoD fans have a lot to be excited about.
---
For more on the upcoming CoD title, check out how a leaker claims SBMM will be reworked in Modern Warfare 2 or potential major changes to Perks.
Image Credit: Activision