Six weapons including PPSH arrive in Cold War & Warzone with Season 3
Six new weapons, including fan favorite PPSH SMG & Ballistic knife arrive in Season 3.
Treyarch has unveiled six new weapons are coming to Call of Duty: Black Ops Cold War & Warzone with Season 3.
As part of the announce blog post for Season 3, the studio revealed a look at the new weapons planned for Season 3 of Cold War & Warzone.
Some of the weapons will be part of the Battle Pass and be included at launch, while others will come during the season and unlocked via bundles or challenges.
Here's a breakdown of the 6 new weapons:
Six New Weapons
PPSh-41: SMG (Launch Week)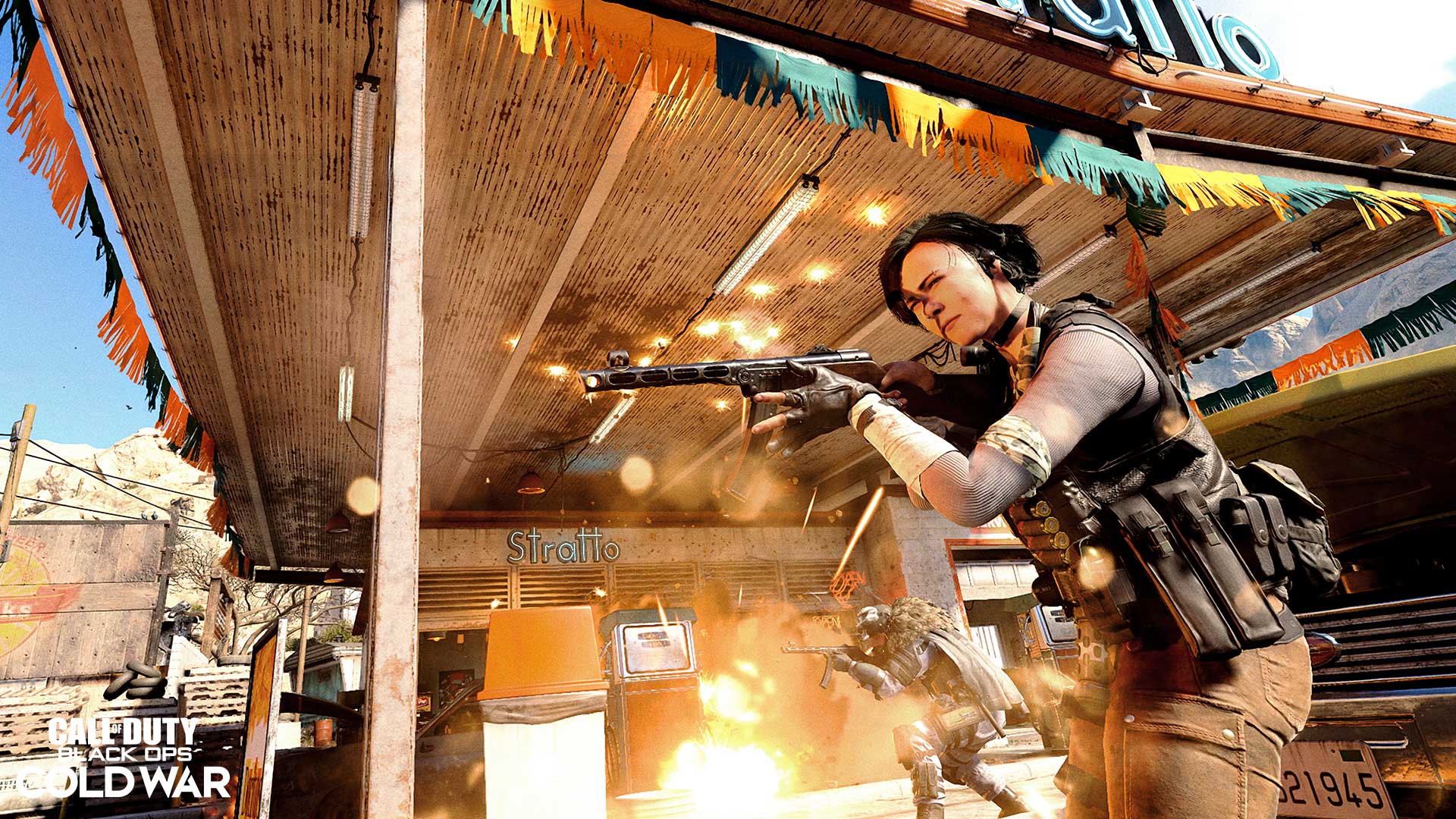 When you need to spit fire, pick up the PPSh-41 SMG, an absolute classic in the series. Though its damage per shot is moderate, its rapid-fire, high-capacity capabilities encourage an aggressive playstyle ideal for leading the charge in objective modes and clearing out tight spaces in Warzone.
Obtain the PPSh-41 for free, ready to use in Black Ops Cold War and Warzone at Tier 15 of the Season Three Battle Pass.
Swiss K31: Sniper Rifle (Launch Week)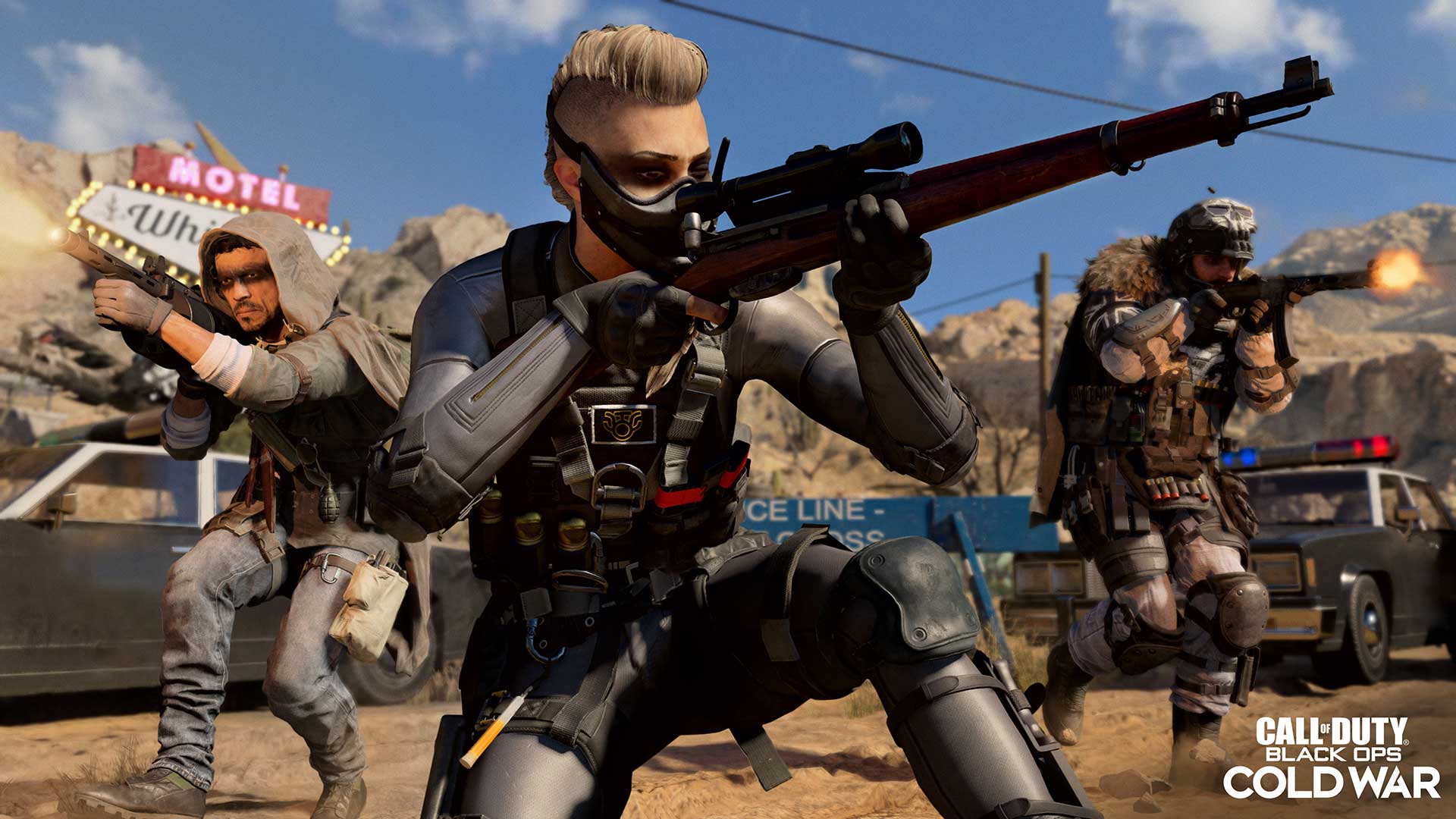 Precision and power. The Swiss K31 Sniper Rifle was made for one neutral country ready to rearm for world war, but will now find itself in the arsenals of the NATO and Warsaw Pact forces. This bolt-action sniper rifle boasts exceptional accuracy, as well as fast rechamber and aiming speeds with a large ammo capacity. Aggressive sharpshooters will be in their element with this new rifle, whether it's sniping out in the wilds of Warzone or pushing forward on objectives in Black Ops Cold War.
Ballistic Knife: Melee (Launch Week)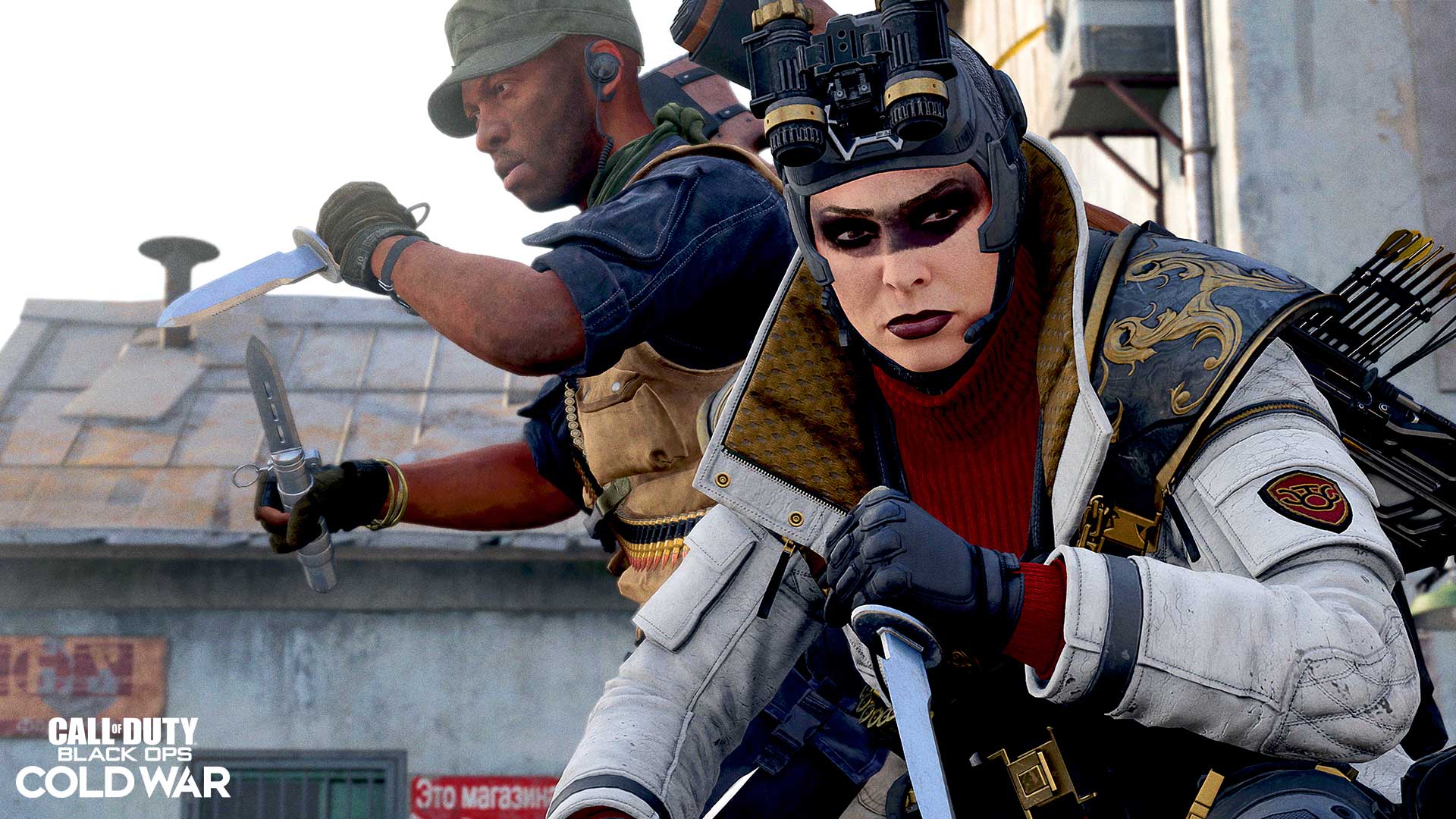 A versatile weapon first introduced in the original Call of Duty: Black Ops, this iteration of the Ballistic Knife is a rare piece of spy technology developed in the late 1970s by Soviet Forces.
The spring-action knife launcher can either be used as a melee weapon or to silently fire lethal retrievable blades. It is most effective at short ranges, but the most skilled Operators could theoretically land a deadly hit from extreme distances. Available in Black Ops Cold War at the launch of Season Three and in Warzone mid-season.
CARV.2: Tactical Rifle (In-Season)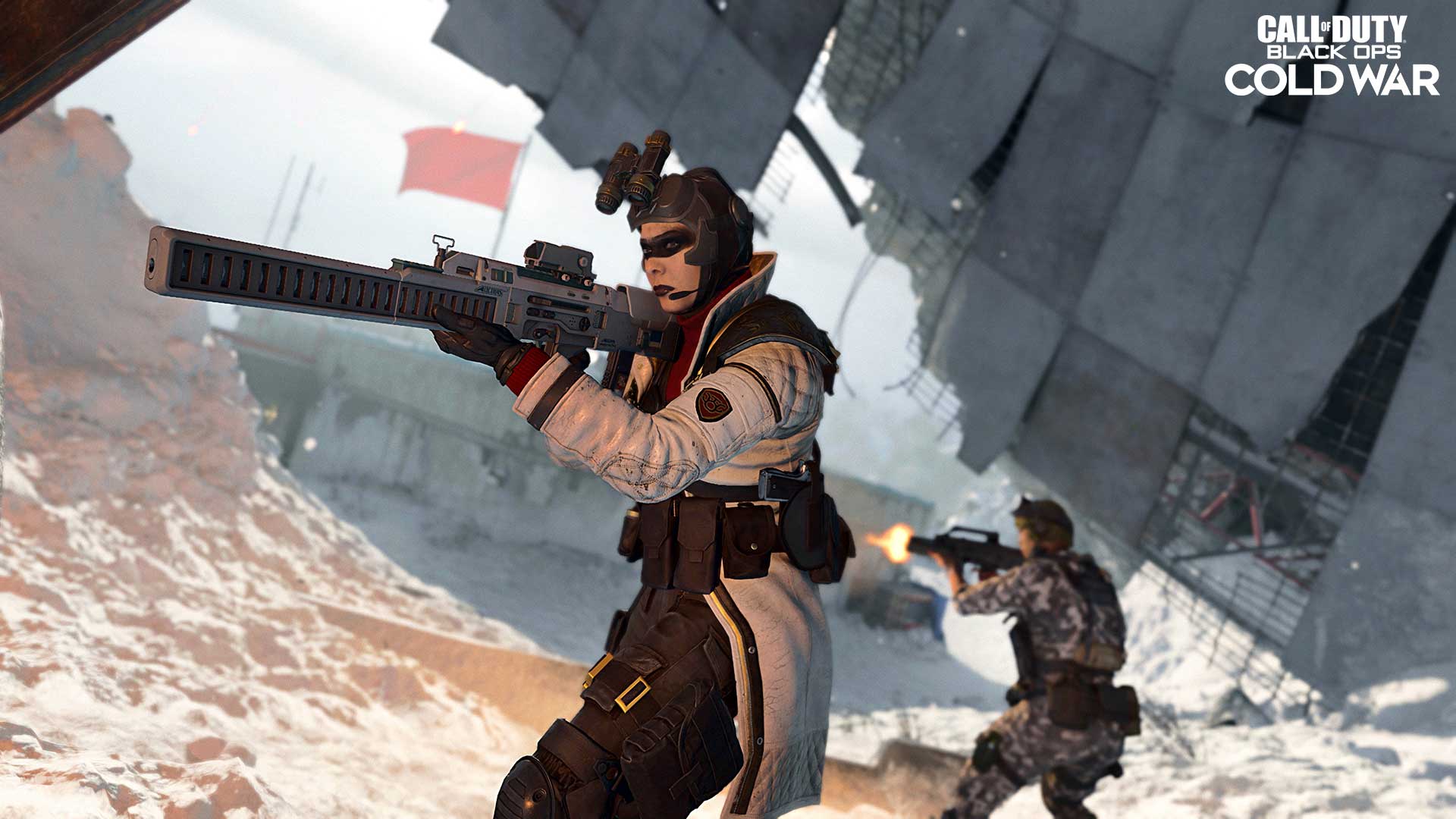 Carve through the competition with this burst-fire tactical rifle, joining the ranks of the M16 with its high-damage, high-bullet-velocity output. Boasting moderate firepower with solid recoil control and a large ammo pool, the CARV.2 cuts the deepest when used for mid- to long-range engagements.
AMP63: Pistol (In-Season)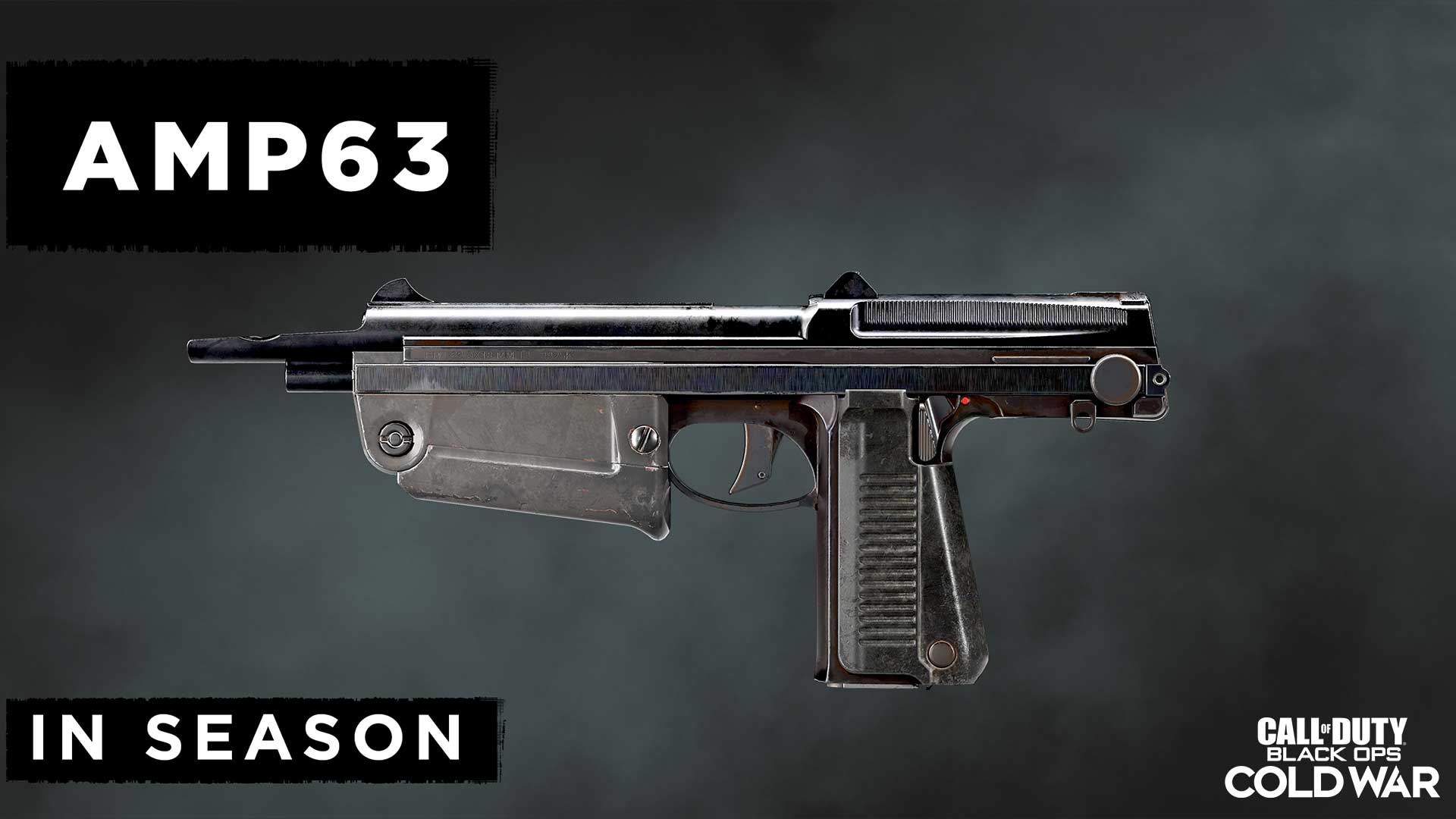 The Secondary category gets even deeper later in Season Three thanks to the AMP63 pistol. Slotting in as the fourth sidearm in Black Ops Cold War's arsenal, this personal defense weapon is a cross between a self-loading pistol and a fully automatic SMG. Expect this weapon to output high amounts of damage in a short period of time thanks to its full-auto nature, which makes it highly effective in close quarters.
Baseball Bat: Melee (In-Season)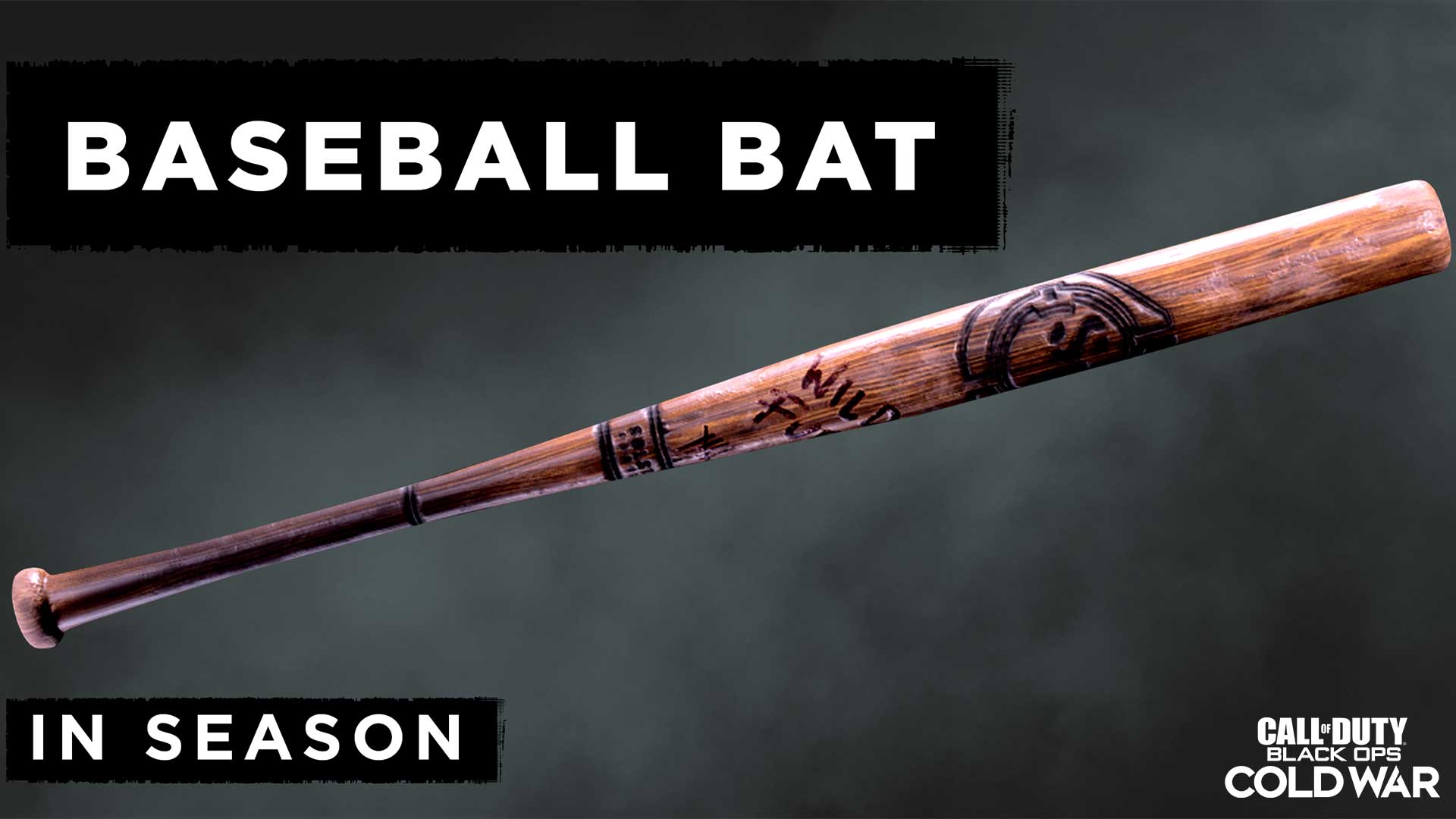 A classic bruiser's weapon of war, and Black Ops Cold War's newest addition for one-hit melee fans. Unlock the Baseball Bat in Season Three, and get out there and crack some skulls in Multiplayer, Zombies, and Warzone.
Obtain the Ballistic Knife, CARV.2, AMP63, and Baseball Bat during Season Three in one of two ways: complete an in-game challenge to obtain the free base weapon, or pick up a bundle with a Blueprint version when it appears in the Store.
SOURCE: Call of Duty Blog
Best KSP 45 loadout for CoD: Cold War Season 5
Buffs have made the KSP 45 a fearsome Cold War SMG, so here's the best loadout with perks and attachments to complement it.
The KSP 45 has become of CoD: Black Ops Cold War's best weapons. Treyarch did buff it, and this SMG has been a must-use gun since then. Here is the best Cold War KSP 45 loadout in Season 5, including attachments and Perks.
At the beginning of Cold War, the likes of the MP5, Krig 6, and the FFAR were tearing up lobbies, so guns like the KSP 45 never had a chance.
A burst-fire SMG is a weird hybrid to begin with, but weak stats didn't help it. But now, it has increased viability as a lobby-owning laser beam.
To ensure that players get the most out of it, we've gone through and kitted it out with the best attachments and Perks to discover its best self in Black Ops Cold War Season 5.
Best Cold War KSP 45 loadout
Best Cold War KSP 45 loadout class attachments
To ensure you get the most of Cold War's KSP 45, ensure you have the Gunfighter wildcard equipped to increase your maximum attachments.
Optic: Visiontech 2x
Muzzle: Muzzle Brake .45 APC
Barrel: 10.2″ Rifled
Body: Steady Aim Laser
Underbarrel: Field Agent Foregrip
Magazine: 45 Rnd Drum
Handle: Serpent Wrap
Stock: Wire Stock
The improved effectiveness of the best Cold War KSP 45 loadout means we want to use this at different distances, so the Visiontech 2x will cover that. The gun's accuracy is now a big factor in its efficiency, so instead of favoring one or the other, we've applied the Muzzle Brake .45 APC to give its vertical recoil a tiny boost.
The 10.2″ Rifled barrel makes the best Cold War KSP 45 loadout even more deadly at range, and the Steady Aim Laser makes it equally deadly at close range. The trusty Field Agent Foregrip bolsters vertical and horizontal recoil whilst the Fast Mag offers super-quick mag changing.
We're going to give the KSP much faster ADS time thanks to the Serpent Wrap, and the Wire Stock lets us more around more freely with less penalty to sprinting.
Best Perks to use with Cold War KSP 45 class
Perk 1: Flak Jacket
Perk 2: Assassin
Perk 3: Ghost
Staying alive is the name of the game with the KSP 45, as its power can help you to achieve some insane scores. So Flak Jacket provides immunity to the litany of explosive devices that Cold War has in store for players.
Assassin supports this idea by rewarding you with more points for killing enemies on a Scorestreak, and Ghost makes you invisible to tracking devices.
Most recent AK-47 buffs & nerfs in Cold War
Treyarch has tinkered with the KSP 45 in Cold War Season 5, just giving it a couple of minors adjustments for players to consider.
Here are the most recent changes to the KSP 45:
Reduced Effective Damage Range from 25.4m to 22.86m
Slowed burst fire delay from 0.066 to 0.083
How to unlock the KSP 45
The KSP 45's newfound power can only be utilized once you reach Level 37.
Doing so allows you to create the best Cold War KSP 45 loadout class, and you can also access it in Warzone Season 5 as well.
Best alternatives
The Milano 821 is another weapon that has become more popular in Black Ops Cold War, making it a fun alternative, especially after it also received recent buffs.
If you need something a bit meatier, then the Krig 6 or Stoner 63 could do wonders as well.
Image Credit: Treyarch / Activision
Warzone & Cold War Season 6 cinematic teases Mason's return
Warzone and Black Ops Cold War have a new Season 5 outro cinematic hinting at Mason's importance in the story for Season 6 of the Call of Duty games.
The latest cinematic for Black Ops Cold War and Warzone Season 5 has been released, and players are excited about the reference towards Mason returning.
Black Ops Cold War and Warzone have had a successful season so far, keeping players entertained with the ongoing story, new weapons, and new modes like the Iron Trials for Warzone Season 5 Reloaded.
As we enter the final season for Black Ops Cold War before Vanguard's release, which will inevitably integrate with Warzone, players have been given a hint towards Mason's return in a brand new cinematic.
Treyarch released a new Season 5 outro cinematic on their YouTube channel on September 23, carrying on the ongoing story that has spanned the last five seasons.
For those still keeping up to date with the details, this outro cinematic plays a pivotal role in setting up the final season for Black Ops Cold War.
Black Ops Cold War will enter its final season soon, and players are desperate to find out who the last operator will be. It seems the last operator could be a fan-favorite character from the Black Ops series, Mason.
Although the cinematic is only a minute long, players can gain some critical information from it. Hudson and Woods are having a conversation about Adler's disappearance, discussing what they should do next.
Ultimately, they decide that Woods should go after Adler, who is in Verdansk, while also mentioning the return of Mason, whose experience with the numbers could give them the edge.
You can find the official description of the new Warzone and Black Ops Cold War cinematic below:
"The news is flooding in: more Operators have abandoned their missions. Mounting evidence suggests that Adler has gone rogue. Disturbed, Hudson sends Woods to find Adler and bring him in… along with the one person whose Numbers Program intel could provide the edge they need.
The showdown begins in Season Six."
We'll have to wait for Season 6 to see where the story will go, but it's set up to be an exciting end to what's been a great seasonal story.
Image Credits: Activision / Treyarch / Raven Software
New Cold War Sai weapon exploit lets Zombies players skip doors
Black Ops Cold War players have discovered an exploit with the Sai melee weapon that lets them skip doors in Zombies mode.
A new exploit has been discovered with Black Ops Cold War's new Sai melee weapon which lets players skip through the first door in the Firebase Z map in Zombies.
Black Ops Cold War Zombies received some new content in the Season 5 Reloaded update, including a new Black Chest World Event in Outbreak, a Rampage Inducer for round-based maps, and a brand-new weapon.
A new melee weapon called the Sai became available for players as part of The Numbers event. Now, players have discovered that this weapon actually lets them skip through doors in Zombies mode.
Various players reported being able to go through the first door at Firebase Z while they had the Sai equipped. This led to a response from lead developer Mark Maestas, who was well aware of the situation.
Surprisingly, the developer talked about this exploit with enthusiasm. "Dear Zombies players, yes you can skip the first door in Firebase Z," tweeted Maestas. "Zombies can come and greet you too. GLHF!"
While these kinds of things are often addressed in update patches, Mark's response makes it seem like the developers aren't currently planning on doing anything to fix this exploit.
With this exploit, players will be able to access greater levels of Zombies much quicker than before, and the undead will be able to come to them as well.
It's possible that the developers are going to avoid fixing this one exploit so that they can focus on fixing the Zombies' pathfinding instead, ensuring that the exploit doesn't ruin the game.
---
For more on Black Ops Cold War, stay tuned to Charlie INTEL, and check out our guide on the new Hardcore Cold War Outbreaks Zombie mode.
Image credits: Treyarch