This Week in Call of Duty – Modern Warfare Playlist Updates And More
Activision Blog has posted the latest This Week in Call of Duty post highlighting what fans can expect in Call of Duty: Modern Warfare for this week.
This week will see updated playlists, including a 10v10 Atlas Superstore Playlist, Mercenary Moshpit, and Cranked Kill Confirmed. There will also be a St. Patrick's Day themed bundle available in Call of Duty: Modern Warfare and Call of Duty: Warzone.
Here's some additional info from the Activision Blog: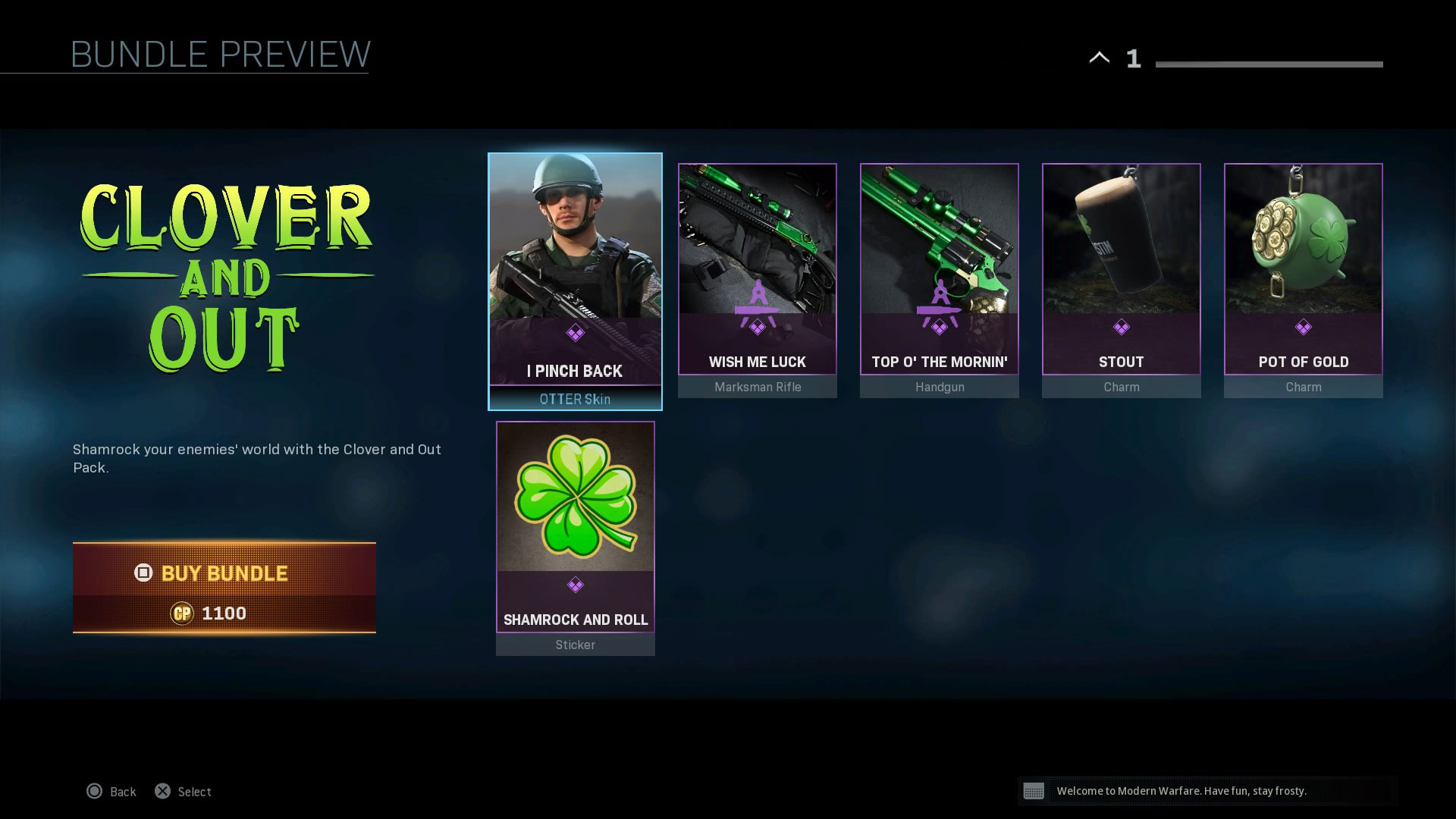 Celebrate St. Patrick's Day with two new bundles in the Store. First make sure your enemies are wearing green and give them a pinch with distinct green tracer rounds courtesy of the Tracer Pack Green bundle. Or go all out with the Clover and Out bundle featuring a host of St. Patrick's Day themed items.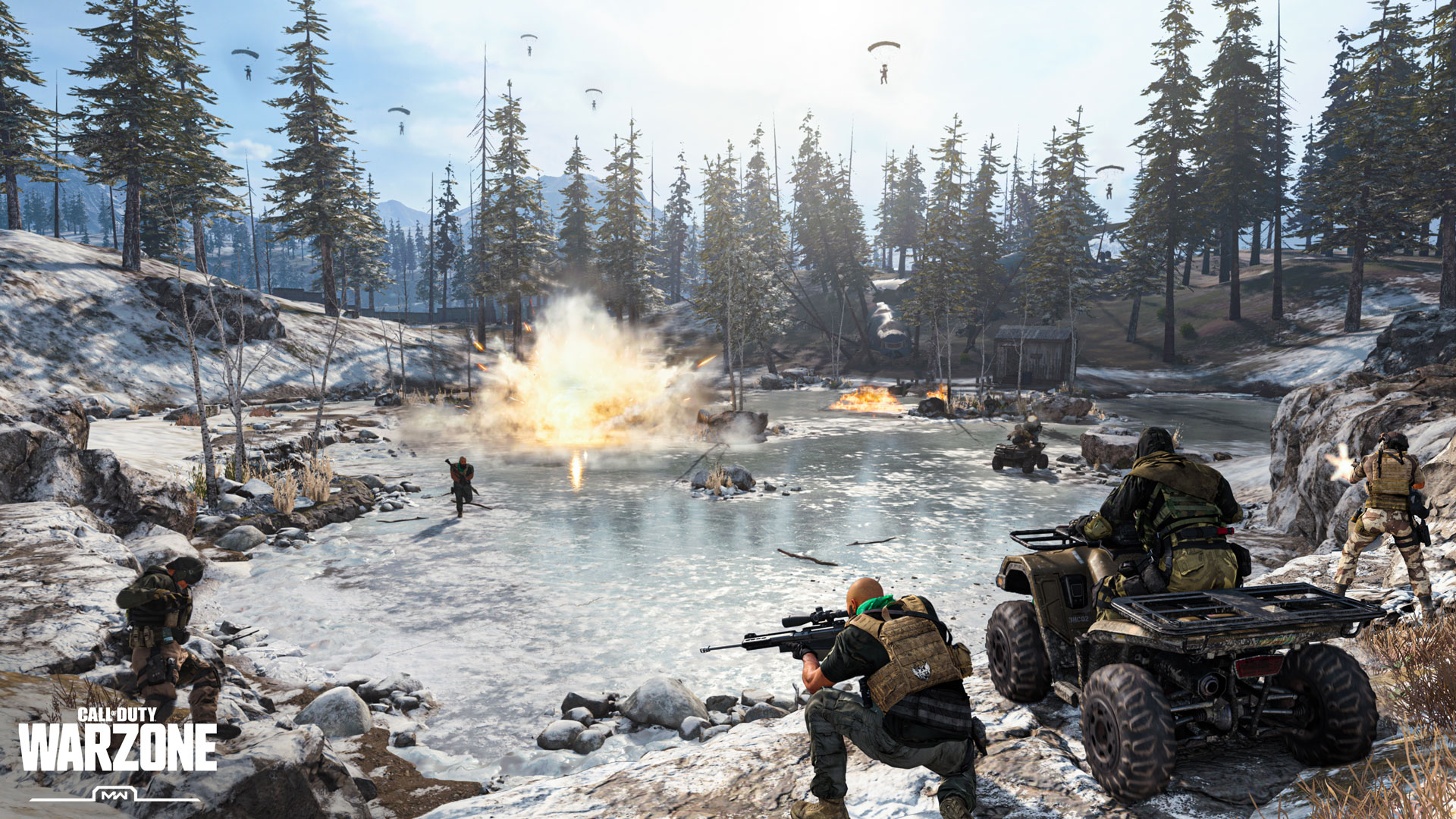 Players new to Warzone should consider ranking up by completing Missions found in the Barracks tabs. Missions reward XP and help you progress through the ranks faster. Completing all the Enlisted Ranks gives you access to more weapons and other armaments to add to your loadouts used in Plunder and Loadout Drops in Battle Royale. There are daily and weekly missions alongside mission sets that can be completed at any time. Complete them now during the final day of Double XP, Double Weapon XP, and Double Battle Pass tier progression to get the most bang for your buck or use XP tokens to maximize your earnings.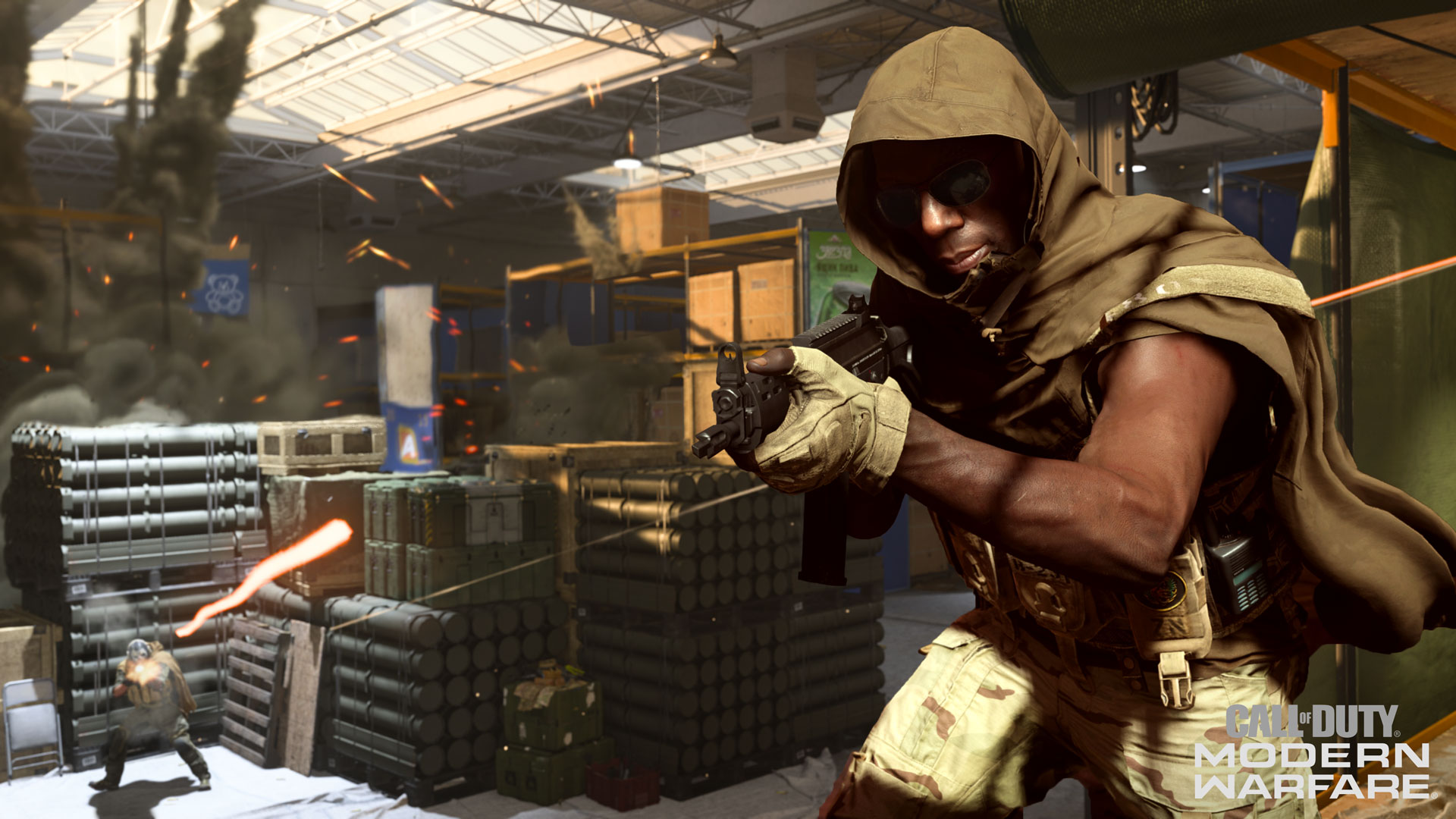 Time to shop till you drop…someone. Welcome to Atlas Superstore, your warehouse that houses a little bit of everything: gardening supplies, frozen food, and an all-out battle between the Allegiance in the Coalition during any Multiplayer match. Experience one of the new maps in Season Two in this 24/7 playlist and get the complete lay of the land and tips for mastering this one-stop shop from our Tactical Map Intel, then jump in and clean up the aisles.
Get more tiers at a discount! Players can purchase one tier for only 100CP starting on March 17 at 10AM PT until March 24 at 10AM PT. If you're getting tiers, get them now during the limited time Tier Sale. 
SOURCE: Activision Blog
Modern Warfare devs make secret TTK change with major health boost
Modern Warfare players believe Infinity Ward have made a major TTK adjustment, adding health to players in Ground War.
Modern Warfare players have discovered that Infinity Ward have made a secret change to the game's Ground War mode, giving players a major health boost.
Modern Warfare dropped all the way back in 2019, yet remains popular with fans even three years later. With the next Call of Duty title set to be Modern Warfare 2, it's no surprise that people are jumping back onto Infinity Ward's last offering.
Even though the developers are hard at work finishing up MW2, it seems that Infinity Ward isn't finished with Modern Warfare just yet, and still drops updates on the game fairly regularly.
The game's last update dropped alongside Warzone Season 3 Reloaded, but didn't include extensive patch notes for players to read. After playing the game though, YouTuber and CoD expert JGOD has discovered a secret change that changes Ground War massively.
In a tweet posted on May 29, JGOD revealed that after playing Ground War, he believed that Infinity Ward had raised the base health in the mode.
To prove this, he used the RAM-7, explaining that at 100HP, it should kill in four shots. In Ground War though, it took six bullets. This suggests that the mode's base health has been increased to 150HP.
JGOD wasn't the only player who noticed this change, with many replying that they had felt something was different too. "I knew they did something with the recent update," tweeted one, while TrapGodTO admitted he felt the "time-to-kill had went up" too.
A higher TTK means it is harder to kill opponents, as you need to hit more shots accurately to wipe them out. The reason for this change remains unknown, but that hasn't stopped players from speculating.
Some believe this change is directly linked to Warzone, where Raven buffed HP in Rebirth Island with the Reloaded patch. Others think Infinity Ward are testing different base healths for Modern Warfare 2. If that is the case, it's likely we will have to wait for a multiplayer beta for confirmation.
Image credit: Infinity Ward
Which packs are needed for Modern Warfare Multiplayer? Full list
Modern Warfare is a huge game that players need a lot of storage for. Luckily, only certain Modern Warfare packs are needed for Multiplayer.
Knowing what data packs you need to download to play Call of Duty: Modern Warfare's Multiplayer can be quite confusing, so we put together a detailed list of what you need and how much space it takes up.

Call of Duty's Multiplayer has been a fan favorite mode of the franchise pretty much since it was released, and although Modern Warfare isn't the latest installment, players are still enjoying it.
With the Call of Duty games evolving every year, it's only natural that the data needed is larger. Therefore, some players may be wondering what data packs they need solely for the Multiplayer mode.
What packs are needed for Modern Warfare Multiplayer?
In recent history, the developers have allowed players to pick and choose what data to download due to the huge amount of storage that the games take up.
This way, players who only play the Multiplayer can uninstall the data for the campaign and any other extra modes. This is great, as it prevents storage from being taken up modes you don't play.
Luckily there isn't much that players actually need to play Modern Warfare's Multiplayer.
Here's a list of all the Modern Warfare Multiplayer packs you need to have downloaded:
Base Game: 88.7 GB
Multiplayer pack: 6.0 GB
Multiplayer pack 2: 19.9 GB
Multiplayer and Special Ops Pack: 21.3 GB
In total, this comes to 135.9 GB big and will require a sizable amount of your console storage.
For those on Xbox One, you will need all three of the Modern Warfare Multiplayer packs mentioned above to run the Multiplayer mode.
For those on PC or PlayStation, you only need Data Pack 1 and the Multiplayer Pack 2 in order to run Modern Warfare's Multiplayer.
So, for those who are either bored of Warzone like some popular streamers have been lately, you may want to head back over to the classic Multiplayer and give the new CX-9 SMG a try. With that being said, these are the data packs you'll need to do so.
---
For more on Call of Duty, stay tuned on Charlie INTEL and check out our article on the best PC Settings for Warzone Pacific Season 3.
Image Credits: Raven Software / Activision
Modern Warfare 2 shown to NFL prospects: Title confirmed & first impressions
As top prospects prepare for the NFL draft, they're getting a first look at Call of Duty: Modern Warfare 2 during a private CoD event.
NFL draft prospects are giving their first impressions of Modern Warfare 2 as they get an exclusive look at the new Call of Duty title.
Although Vanguard Season 3 has only just begun, Call of Duty players are already looking forward to the next installment in the franchise. The Modern Warfare series is beloved by many players across the globe, thus the excitement for Modern Warfare 2 is high.
There are certainly a ton of rumors beginning to swirl but thanks to a private CoD event for some of the NFL's top draft prospects, we received an official title for the game as well as first impressions from the players lucky enough to sneak a peek.
We've known for a while that the next Call of Duty title is set to be a sequel to 2019's Modern Warfare. Given the sequel association, most people began calling it Modern Warfare II. While this was in the right ballpark, the event finally confirmed that the title will be Modern Warfare 2.
In addition to title confirmation of the Infinity Ward developed game, several top prospects from the upcoming NFL draft took to social media to share thoughts and opinions on their first look at Modern Warfare 2.
The list of NFL prospects who got a glimpse of Modern Warfare 2 includes Ahmad Gardner, Aidan Hutchinson, and Bo Melton. Both Melton and Hutchinson posted pictures of themselves at the Las Vegas event.
Meanwhile, Gardner offered more details concerning the footage and claimed that "it was so realistic, it's insane." This lines up with a statement from an Activision briefing that claimed Modern Warfare 2 would be "the most advanced experience in franchise history."
Only time will tell if this positive perception will hold up but CoD fans have a lot to be excited about.
---
For more on the upcoming CoD title, check out how a leaker claims SBMM will be reworked in Modern Warfare 2 or potential major changes to Perks.
Image Credit: Activision