This Week in Modern Warfare and Warzone – New Playlists and Operator
Activision Blog has posted the latest This Week in Call of Duty post highlighting what fans can expect in Call of Duty: Modern Warfare and Warzone.
This week sees the continuation of Season 3 in Call of Duty: Modern Warfare and Warzone, which will feature new playlists updates and more across the game. In MP, there will be Cabin Fever Playlist, 3v3 Gunfight Tournaments, and Cranked. For Warzone, BR Solos, Trios, and Quads will remain available, but Plunder Duos will be replaced with Plunder Trios.
This week will see new store bundles, alongside the debut of Ronin Operator in Modern Warfare and Warzone.
Activision has also announced the latest Live From Warzone events featuring many different streams and more this week for fans to watch throughout the week on both YouTube and Twitch.
Here's the new details:
Available this week, get your hands on the latest Operator, Ronin. An ex-Special Forces Operative and master of multiple fighting systems, you'll want Ronin on your side when you head into battle. Get Ronin in his self-titled bundle for play in Modern Warfare including Warzone in the Store. 
Jump into the Cabin Fever moshpit to experience some small to medium sized 6v6Multiplayer action. The playlist includes Rust, Shipment, Shoot House, Hideout, and Hackney Yard and features a variety of deathmatch and objective game modes. Experience a mix of engagements and test out strategies to secure the win. Previous
This week in Store for Modern Warfare including Warzone two new weapon bundles have arrived: 'Fool's Gold II' and 'Toxic Ooze'. Both of these bundles are headlined by Legendary weapon blueprints, but they each have a style of their own. The 'Fool's Gold II' 'Deep Pockets' blueprint may not have the shine of gold, but you can still royally dust your enemy. Get the blueprint alongside the 'Bankroll' epic weapon blueprint, a calling card, emblem, and spray.
For those desiring a green Legendary 'Sludge' weapon blueprint that's a powerful assault rifle, check out the 'Toxic Ooze' bundle. You'll also pick up an Epic SMG blueprint, emblem, and calling card. Check the Store this week to find these two bundles and more available in Modern Warfare including Warzone. 
Get the trio together for more Gunfight Tournaments. Gunfight Trios is a single elimination bracket style tournament where you must best your opponents and come out on top out of 16 teams. Get more details on the mechanics of Gunfight Tournament on the Games Blog, and practice your trio communication now by playing matches in Multiplayer.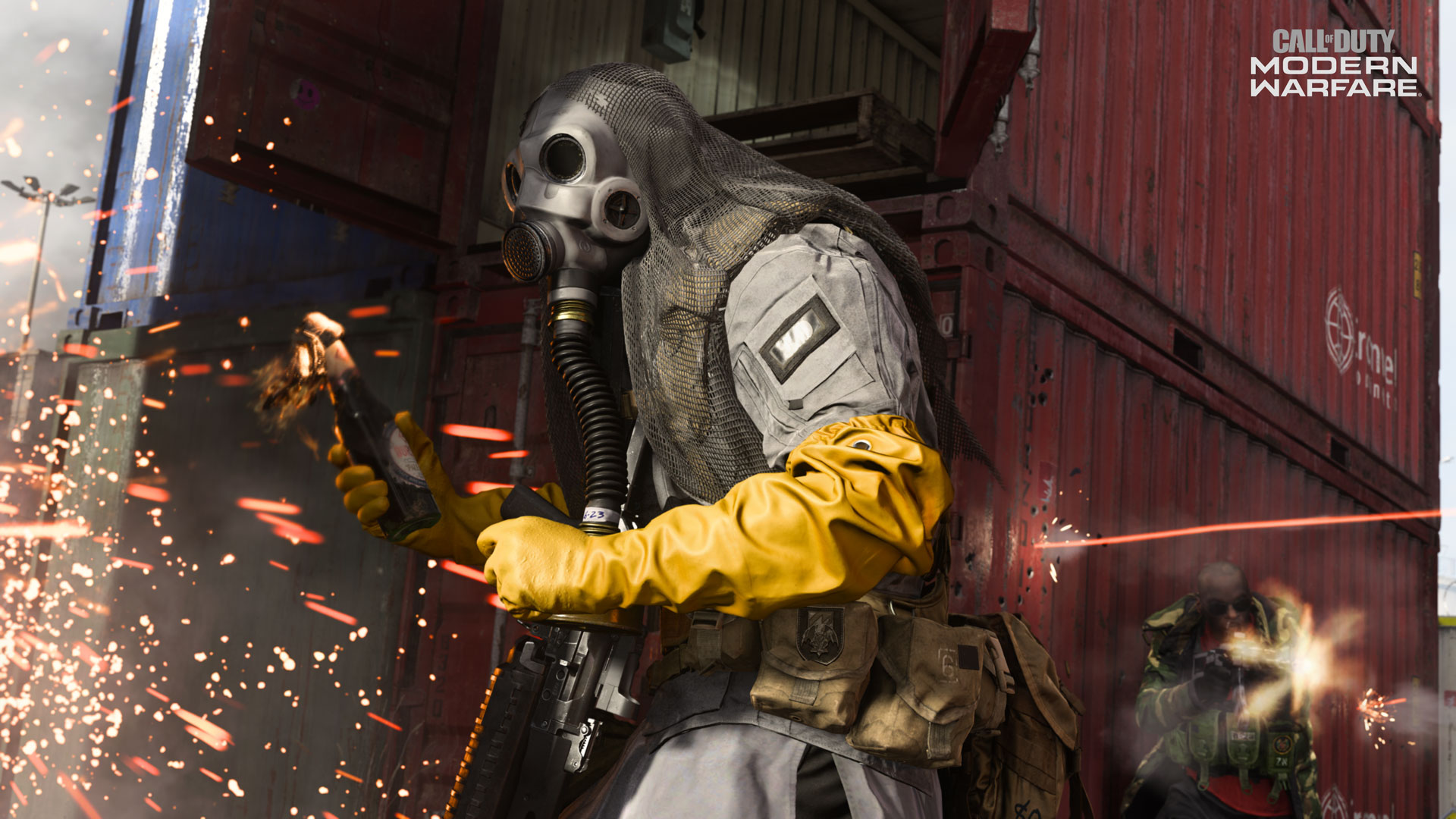 Get kills in quick succession in Cranked. Want to make sure your Operator doesn't go boom? After you get your first kill, get another one before the timer runs out or you'll explode.
Need a boost to help you advance through the Battle Pass? Then get your tiers this weekend during the tier sale. Staring on April 24 at 10AM PT until April 27 at 10AM PT players can purchase individual tiers at a discount for 100CP. Head to the Battle Pass tab and select the next tier (or more) and get them for only 100CP each. 
Tune into multiple tournaments hosted by streamers and more. See the full schedule below: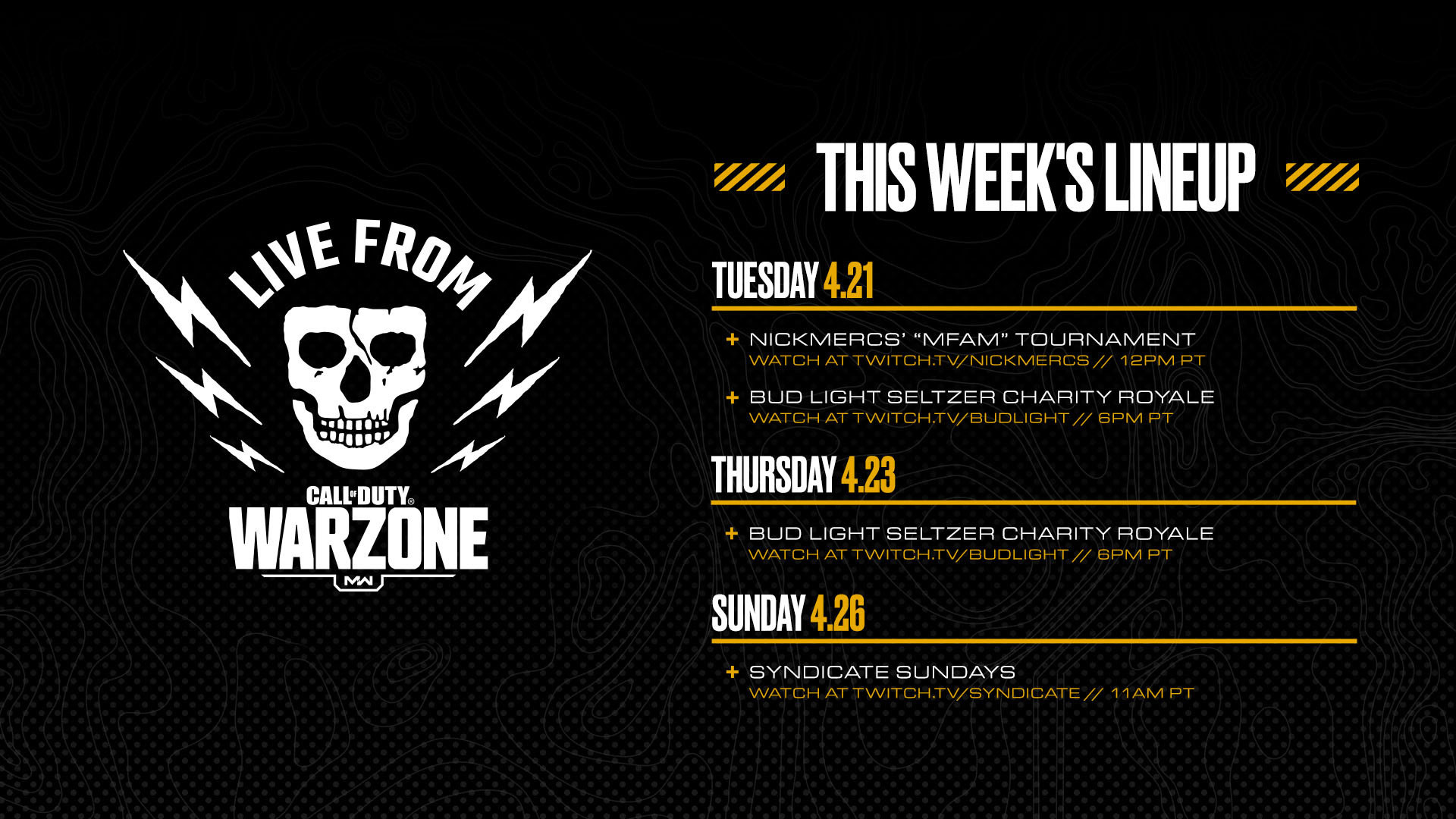 This week Warzone players can jump into Battle Royale Quads, Trios, or Solos. Or collect Cash and take out the enemy in Plunder Trios. With unique teamwork or dreamwork (for Solos) strategies to win each mode, you may pick up some tips for your next match in Warzone that might help you secure victory. Watch this week with the community and see epic highlights that might be worthy of a Call of Duty top play (#CODTopPlays) in #LivefromWarzone.
SOURCE: Activision Blog
Modern Warfare players frustrated after mid-game loadout edits disabled after Warzone glitch
Modern Warfare players have been left frustrated after a Warzone glitch has forced devs to remove the ability to edit classes mid-game.
Modern Warfare players can no longer edit their loadouts mid-game, thanks to the feature being disabled in Warzone after it caused several bugs and exploits.
The Warzone Season 4 update gave battle royale players the option to edit their loadouts in the pre-game lobby. This was a highly requested feature, but Raven Software was forced to remove it after players could bring their loadouts into the start of the match, get infinite Dead Silence, and even exploit the game to get access to Weapon Blueprints and camos.
However, the solution has left Modern Warfare players frustrated as they can no longer edit their classes during multiplayer matches.
Call of Duty's new joint progression system has allowed 2019's Modern Warfare to stay alive and active long after its content cycle ended. However, MW players have been frustrated that the game has become a 'Cold War advertisement' and want the game to become separate once Vanguard releases.
Raven Software were forced to disable the ability to edit loadouts in Warzone's pre-game lobby and in matches of Plunder after players found an exploit that gave them free camos and Blueprints, even getting Dark matter on Modern Warfare weapons. However, this also affected Modern Warfare.
Posting to Reddit on July 22, BeneficialOstrich69 pointed out that they could no longer edit their loadout during matches of Modern Warfare following this change. This wasn't a glitch on their end, as several other players reported the same issue.
Players were frustrated, saying they were taking the system, which has been in Call of Duty for years, for granted. "So people who play only multiplayer suffers cuz of warzone," stated one player.
While the camo swap glitch was much more common in Warzone because of Cold War weapons being there, it could still be accomplished in Modern Warfare's multiplayer.
Once Raven Software figures out how to prevent the glitch, the ability to swap loadouts and camos should appear back in Modern Warfare's multiplayer alongside Warzone, Plunder, and the new Payload game mode.
Image Credit: Activision
What is the average Call of Duty: Modern Warfare K/D ratio?
Despite how long Modern Warfare has been out, players still wonder how their K/D compares to everyone else, and we have a solid answer.
Modern Warfare is still a very popular game in 2021, and we've gathered some data to see what makes the cut as an average K/D ratio.
Despite releasing in November 2019, Call of Duty: Modern Warfare has managed to retain quite a bit of its fan base. Some players haven't gotten on board with Treyarch's Black Ops Cold War, or enjoy Modern Warfare and use it to unlock guns, camos, and attachments for Warzone.
In any event, tons of games of Call of Duty: Modern Warfare are still being fought out each day, and K/Ds are changing all the time. For those who don't know, a kill-to-death ratio is how many kills a player manages to achieve for every death e.g if you finished a game with 2 kills and 1 death you'd finish with a 2 to 1 K/D.
But what is the average K/D in Modern Warfare? Let's find out.
Modern Warfare 2019 average kill-to-death ratio
It needs to be said that lobbies and K/Ds have been greatly affected by the controversial matter of SBMM.
SBMM has been looked on negatively by the majority of the Call of Duty community as it has taken some of the mystery and fun away from matchmaking.
It's also meant that better players will be punished more regularly by being placed in better lobbies. As such, the average K/D is basically lower than it has been in recent games.
The general consensus is that if you are in the 0.85-1.05 K/D region, then you're in a decent spot in Modern Warfare. In early years, a solid 1.00-1.05 could be considered the minimum for a KD ratio.
It becomes quite self-explanatory after this as if you're under 0.85 then you're probably falling a bit below the average K/D ratio. However, if you're above 1.05, then you're definitely doing better than the average Modern Warfare player.
If you're massively well below 0.85, then you might want to reconsider the strategy and weapons you're using. Conversely, if you're smashing well above a 1.05 K/D ratio, then you know what you're doing.
Also, check out the average K/D in Warzone and the average K/D in Black Ops Cold War.
Image Credit: Activision / Infinity Ward
Best MW MP5 loadout for CoD: Warzone Season 4
The Modern Warfare MP5 is still one of the best SMGs in Warzone Season 4 Reloaded, so here is how to make the best Warzone MW MP5 loadout.
Modern Warfare's MP5 SMG has long been a popular choice in Call of Duty: Warzone, so here are the attachments and perks to make the best Warzone MW MP5 loadout to maximize its slaying potential in Season 4.
Various secondary weapons have been top dogs in the many metas that have been used by players in the life of Call of Duty: Warzone, with one of the most consistent being the Modern Warfare MP5.
If you're looking for a well-balanced and reliable SMG, the best Warzone MW MP5 loadout is your best companion for the task to rack up eliminations and victories in the Call of Duty battle royale.
This is especially true after a massive wave of nerfs in the Season 4 Reloaded update allowed this weapon to rise again as a premiere secondary option for players.
Here are the attachments and perks to make the best Warzone MW MP5 loadout for Season 4 Reloaded and dominate all of your enemies.
Best Warzone MW MP5 loadout
Best Warzone MW MP5 loadout attachments
Barrel: Monolithic Integral Suppressor
Laser: 5mW Laser
Underbarrel: Merc Foregrip
Ammunition: 45 Round Mags
Stock: FTAC Collapsible
The best Warzone MW MP5 loadout has an emphasis on speed and utility. You'll be able to take down enemies at medium range and close in the gaps quickly with great mobility and accuracy.
The Monolithic Integral Suppressor is the best choice for Modern Warfare's MP5 as it has all the traits of the standard Monolithic Suppressor but uses both the muzzle and barrel slots. You'll stay off the radar while firing and also receive additional bullet velocity.
As the MP5 is a 'pocket' weapon, you want it to be as mobile as possible. To increase its speed, you should add the 5mW Laser and FTAC Collapsible stock.
The laser will give you a sprint-to-fire speed boost and vastly improve your hip-fire accuracy, and the stock will allow you to aim down sights quicker and move faster. With these attachments combined, you can be quick and unpredictable in close-range fights.
For extra recoil control and even more hip-fire accuracy, the Merc Foregrip is an excellent choice for the best Warzone MW MP5 loadout. You'll not only be able to hit more accurate shots on enemies at medium distance, but you'll be able to land much more hip-fire shots at point-blank.
And finally, to make sure you can down and finish several targets in one fight, the 45 Round Mags will be a necessary addition.
Best perks for Modern Warfare MP5 in Warzone
Perk 1: E.O.D
Perk 2: Overkill then Ghost
Perk 3: Amped
When choosing which perks to run with the best Warzone MW MP5 loadout, you want those which will benefit you in close-range engagements.
When fighting up close, enemies will often chuck a bombardment of explosives your way to get the upper hand. With E.O.D equipped, you'll be able to tank a plethora of grenades and Semtex, allowing you to stay in the fight.
As the MP5 is most effective as a secondary, you'll want to take Overkill from your first Loadout Drop. This will allow you to take two primary weapons, such as an HDR, then you can get Ghost from your next Loadout to be concealed from UAVs and Heartbeat Sensors.
To be able to change guns mid-fight quickly, Amped will almost eliminate this weapon swap delay. Whether your primary weapon is out of ammo or you get ambushed at close range, Amped will be vital to your survival.
How to unlock the Modern Warfare MP5
Acquiring the Modern Warfare Warzone MP5 isn't too difficult, and its requirements are easy enough.
All you need to do is reach Level 12, and it will be unlocked for you to use to make the best Warzone MW MP5 loadout.
Best alternatives
Need something to go with the MP5 or fancy something else entirely? We'd recommend a solid Bullfrog to try instead, or the Oden for something very different but effective.
Try out the best Warzone MW MP5 in Season 4, and you'll be running one of the game's most reliable and powerful weapons.
If you're looking for more great weapons, then you can check out some of this season's best loadouts below.

C58 | Groza | M4A1 | Milano | AK-47 | SP-R 208
Image Credits: Activision / Raven Software