This Week in Modern Warfare and Warzone – New Update
Activision Blog has posted the latest This Week in Call of Duty post highlighting what fans can expect in Call of Duty: Modern Warfare and Warzone.
This week sees the launch of a brand new update for Season 3 in Call of Duty: Modern Warfare and Warzone, which will feature new playlists updates, new features (new weapon camo + Gunsmith Customs), and a new LMG (earnable via challenges.
This week will see new store bundles, including a new outfit for Operators, and more.
Activision has also announced the latest Live From Warzone events featuring many different streams and more this week for fans to watch throughout the week on both YouTube and Twitch.
Here's the details:
This week add a new weapon to your arsenal – the MK9 Bruen LMG, create insane new hybrid blueprint weapons with the update to Gunsmith, get on the path to earn a Mastery camo, experience close quarters action in the return of the 'Shoot the Ship' playlist, level up with a Double XP, Double Weapon XP, and Double Tier Progression earn rate, and more!
Download Instructions
For this week's update, owners of the full version of Modern Warfare will have two separate downloads in order to complete the update. Once the update is live, players will download the patch as normal. Once that is completed, when an owner of the full version of Modern Warfare tries to access Multiplayer, Special Ops, or Campaign they will be prompted to download the Data Pack DLC. During the Data Pack DLC download, you'll have access to Warzone so, jump into a match of Battle Royale or Plunder. When the download is complete, players must restart the game to access all modes of Modern Warfare. Free-to-play Warzone users will not have a secondary download to download the Data Pack DLC with this update.
Gunsmith Customs
Expand your creativity to build lethal weapons from blueprints in your Armory with Gunsmith Customs. This update allows you to mix and match attachments from blueprints of the same weapon to create epic hybrid blueprints that have unique looks, styles, and capabilities. Get more details on Gunsmith Customs and suggestions on building your ultimate hybrid blueprint this week on the Games Blog.
MK9 Bruen LMG and Store Bundles
Add some more firepower to your arsenal with the MK9 Bruen LMG. This high accuracy and reliable damage weapon can be acquired via the 'Encryption' bundle or by completing a challenge found in the Weapons menu. Head to the LMG tab to find LMG Foxtrot and complete the associated challenge to earn the weapon or get the Legendary 'The Glitch' blueprint in the 'Encryption' bundle in the Store.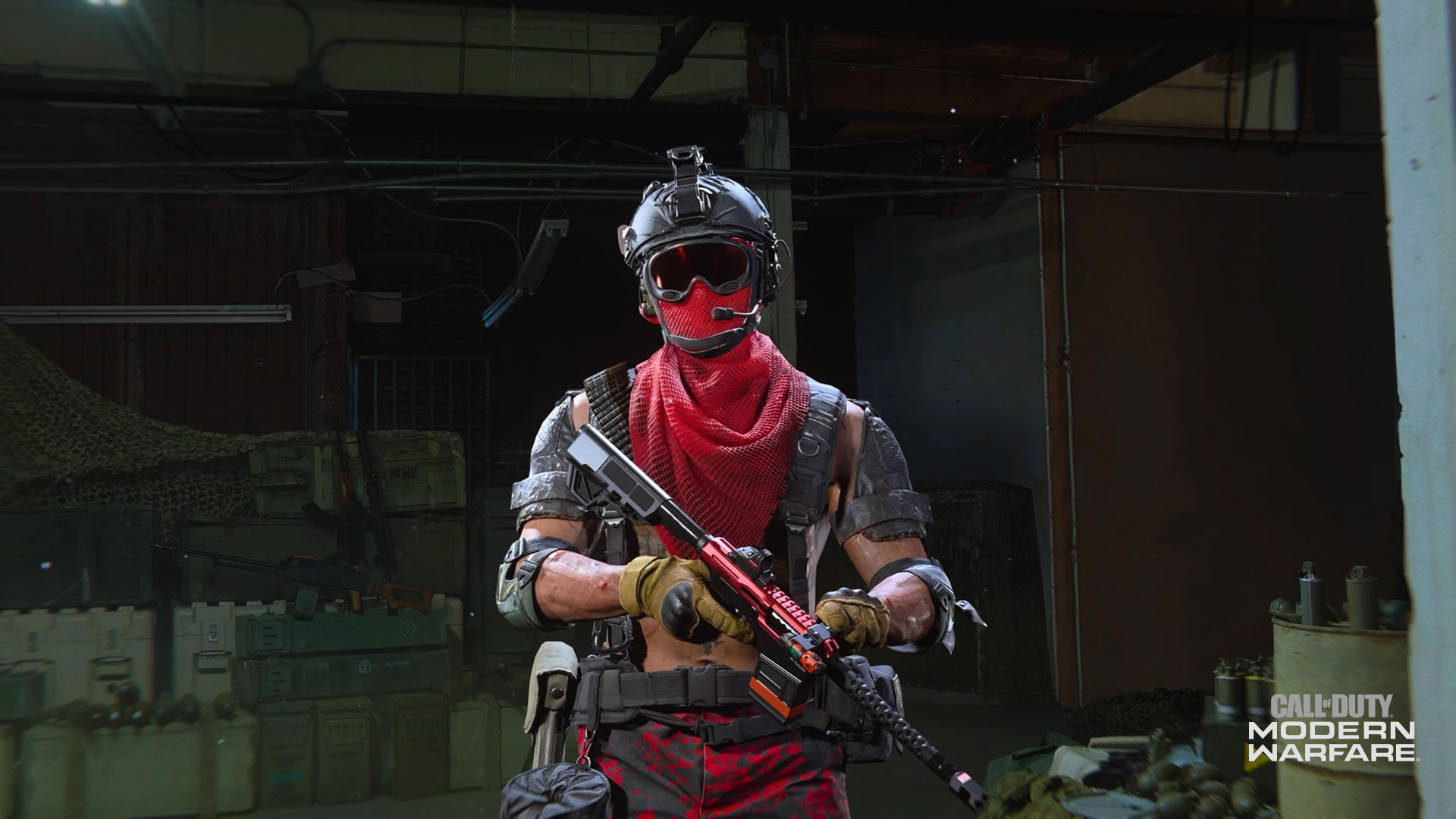 Get some goods that you can claim as "fire" in the Pyromaniac bundle. This bundle includes a Legendary 'Firestarter' skin for Krueger, the fiery Caldera Legendary blueprint, a new Finishing Move, flaming Throwing Knives to swap out your standard lethal equipment, and more. Get the bundle for Modern Warfare including Warzone in the Store, then flame out your enemies.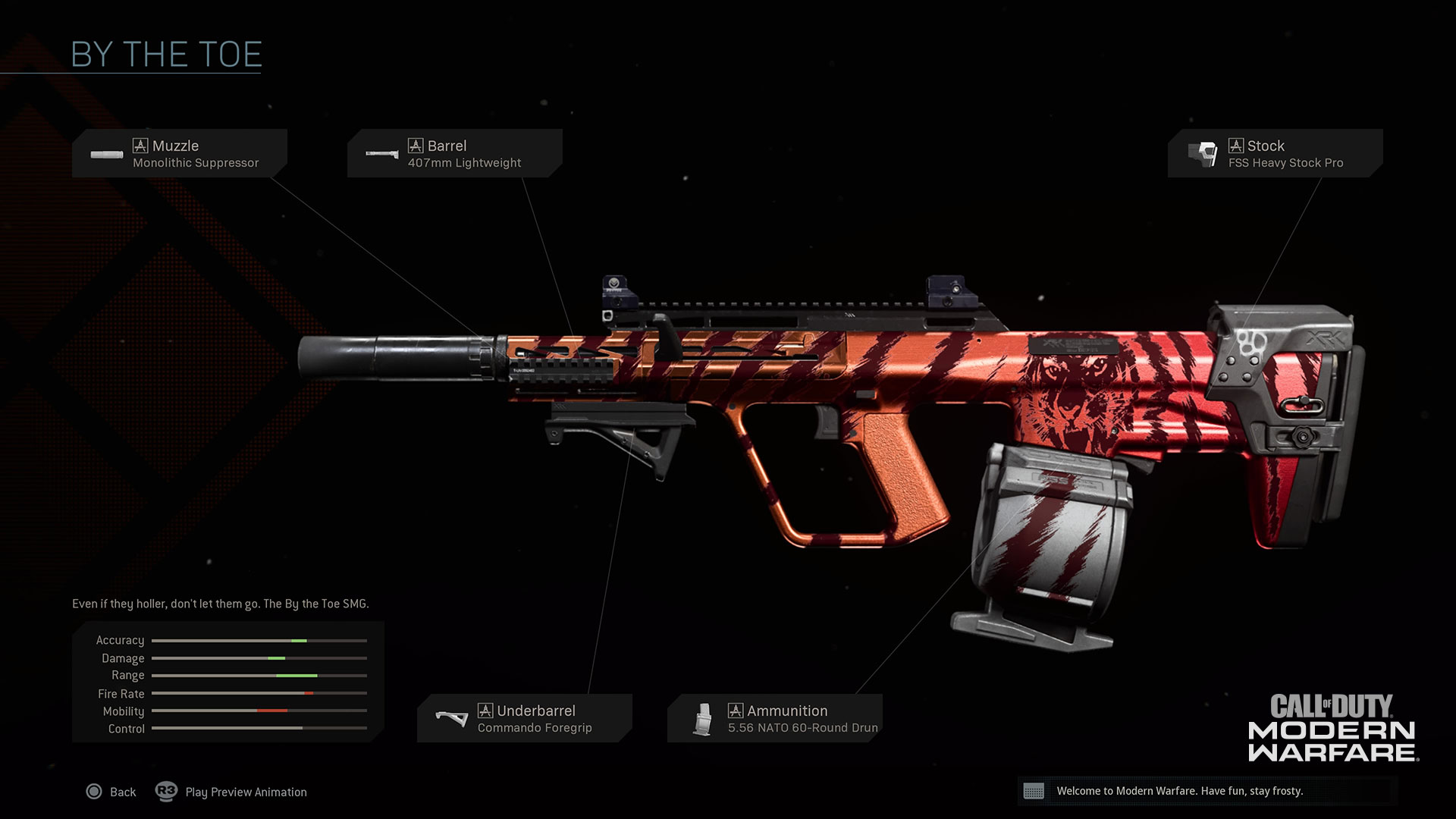 Find the 'Fire Claw III' bundle in Store this week. The Legendary SMG 'By the Toe' is a striped masterpiece that's highly capable in taking out your enemies. The bundle is complete with a crown themed spray and tiger themed charm, so you'll have the look to claw your way through the competition. Look for the 'Fire Claw III' bundle later this week.
True Mastery: Obsidian Weapon Camo
Show off your skills by earning the Obsidian camo – a true sign of mastery. This prized camo will be a challenge to earn but equip it in battle and your enemies will know an elite Tier One Operator is fighting on the other side. Get the details and tips on how to earn Obsidian for all your weapons this week on the Games Blog.
A New Warzone Contract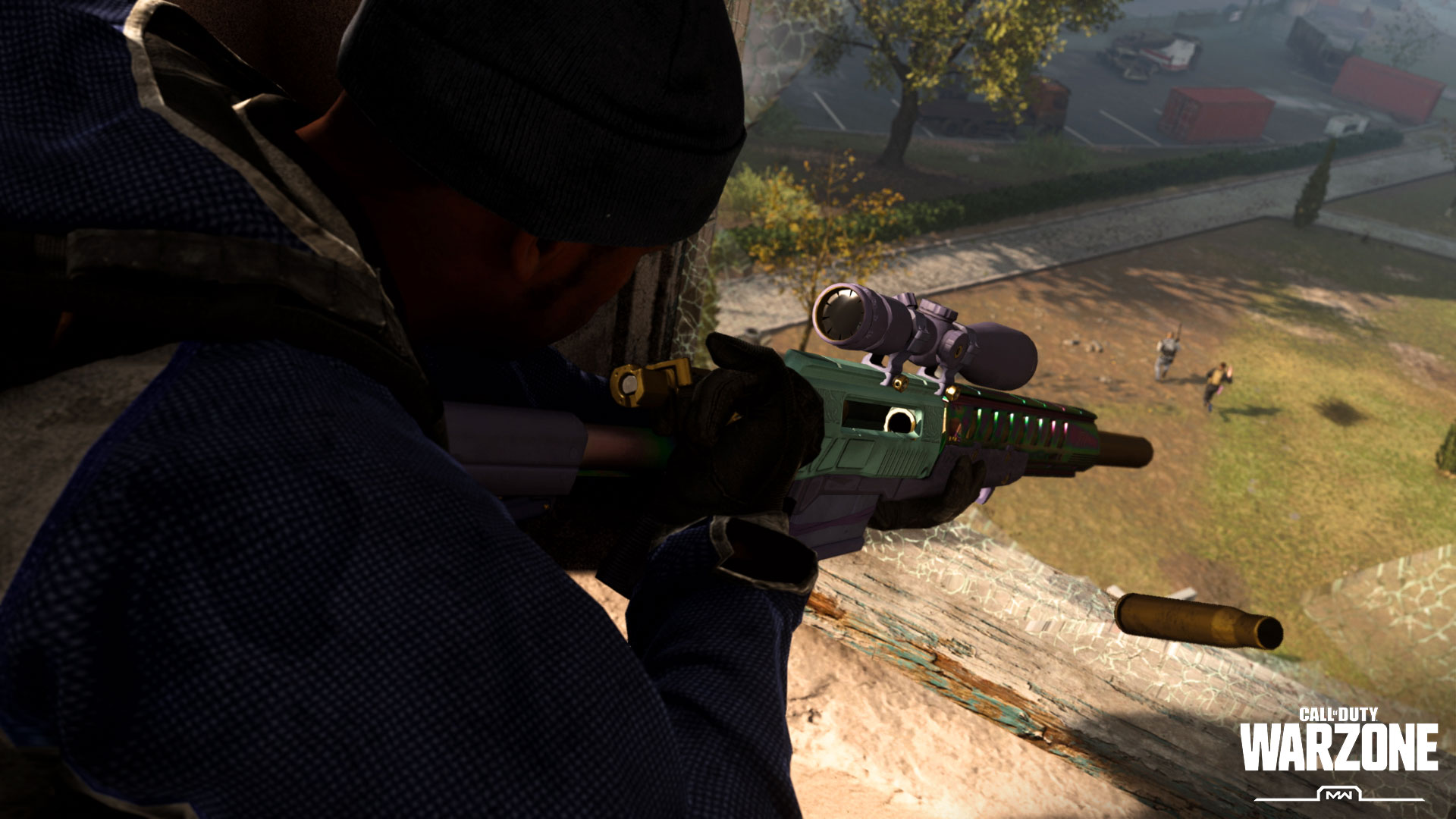 A new Contract has been added to Warzone – Most Wanted. Make yourself a Bounty Target for all teams in Verdansk when you activate this Contract and survive to get the ultimate reward – a redeployment for all of your fallen teammates. Learn some tips to master this Contract and what it means to be Most Wanted this week on the Games Blog. Pick up this Contract in a game of Battle Royale (Solos, Trios, or Quads) or Plunder Trios this week!
Shoot the Ship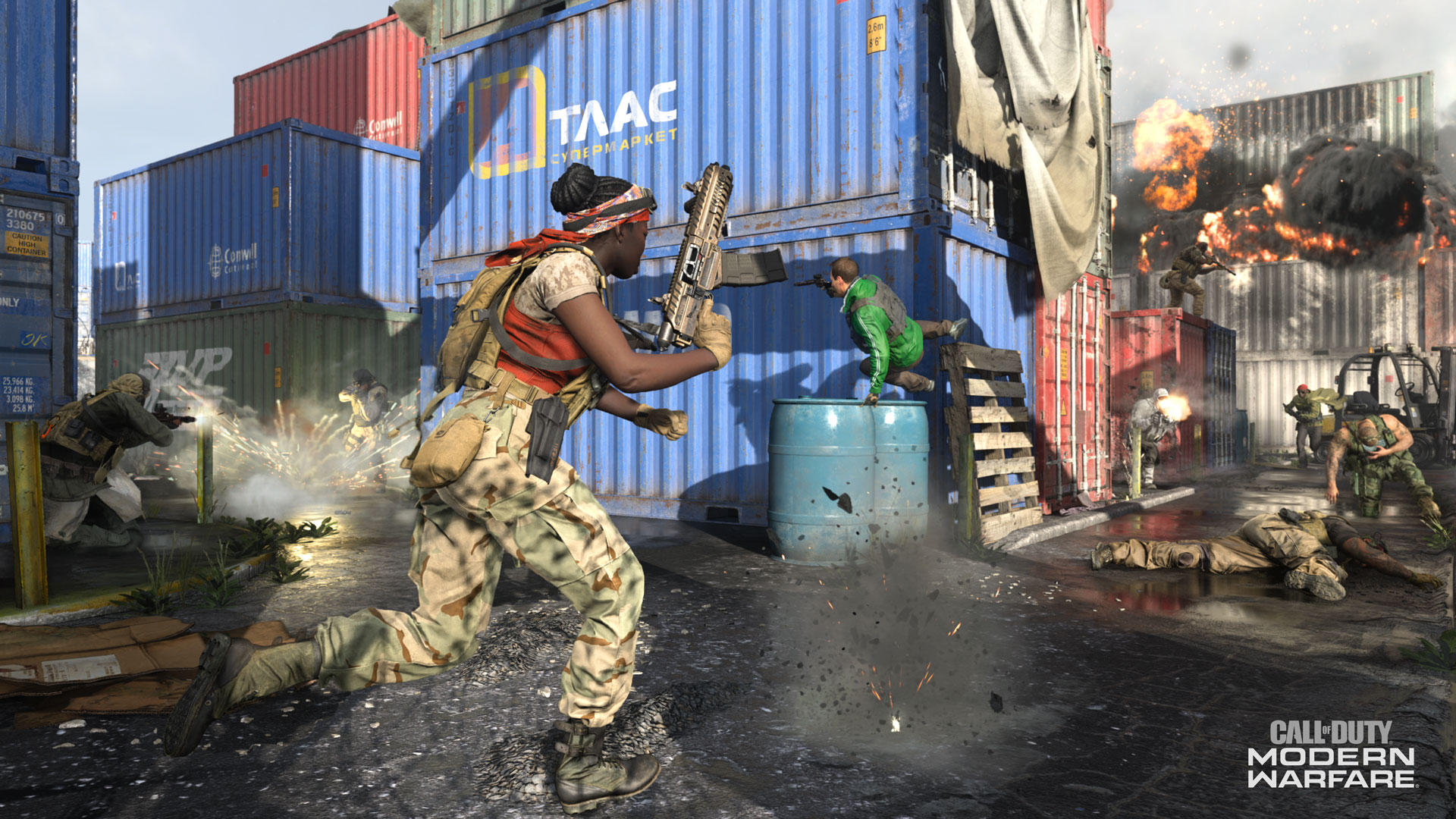 Shoot the Ship is back! This double the fun small map specialty playlist is a fan-favorite and features Shoot House and Shipment. Get more insight on both Shoot House and Shipment on the Games Blog and jump into this playlist to experience fast-paced, chaotic, and fun combat.
Level up and progress through the Battle Pass System this weekend with Double XP, Double Weapon XP, and Double Battle Pass Tier Progression earn rate. Jump into any playlist available in Modern Warfare including Warzone starting on May 1 at 10 AM PT until May 4 at 10AM PT.
#LiveFromWarzone
We're back this week with more intense competitions in Verdansk. From CDL pro hosted events, charity tournaments, international battles, and more. There's a lot you can watch this week #LiveFromWarzone. Get a full look at the schedule below: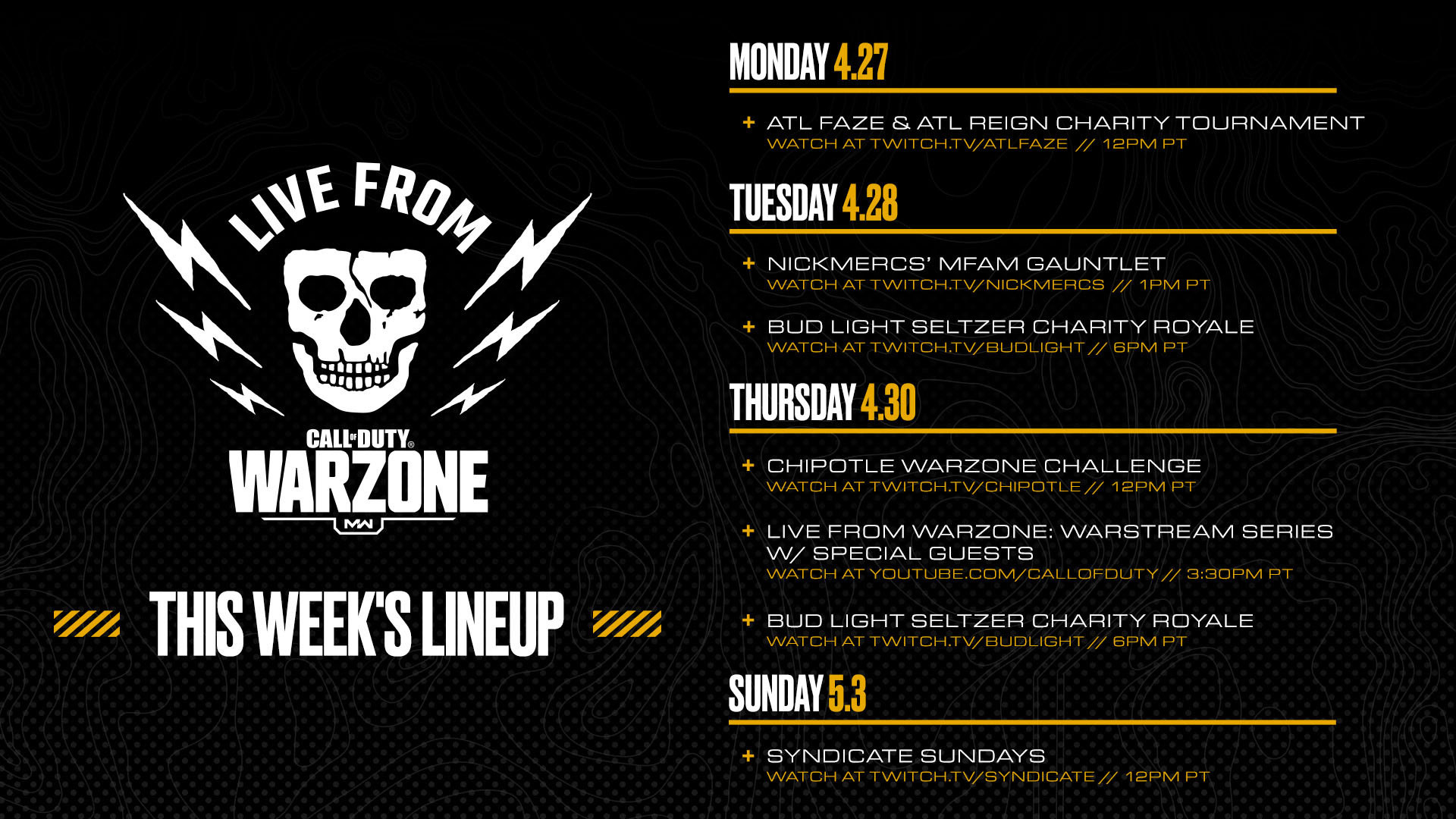 Tune in today at 3PM ET for an Atlanta FaZe hosted tournament to see some of the best in CDL bring the heat to Verdansk. Get more intel on the Call of Duty League™ in Verdansk and in other events in the Call of Duty League section below. And check out all the happenings streaming #LivefromWarzone to see the some of the best battle it out, learn new strategies, tips, and maybe pick up a few tricks to help you survive the Gulag.
SOURCE: Activision
Modern Warfare devs make secret TTK change with major health boost
Modern Warfare players believe Infinity Ward have made a major TTK adjustment, adding health to players in Ground War.
Modern Warfare players have discovered that Infinity Ward have made a secret change to the game's Ground War mode, giving players a major health boost.
Modern Warfare dropped all the way back in 2019, yet remains popular with fans even three years later. With the next Call of Duty title set to be Modern Warfare 2, it's no surprise that people are jumping back onto Infinity Ward's last offering.
Even though the developers are hard at work finishing up MW2, it seems that Infinity Ward isn't finished with Modern Warfare just yet, and still drops updates on the game fairly regularly.
The game's last update dropped alongside Warzone Season 3 Reloaded, but didn't include extensive patch notes for players to read. After playing the game though, YouTuber and CoD expert JGOD has discovered a secret change that changes Ground War massively.
In a tweet posted on May 29, JGOD revealed that after playing Ground War, he believed that Infinity Ward had raised the base health in the mode.
To prove this, he used the RAM-7, explaining that at 100HP, it should kill in four shots. In Ground War though, it took six bullets. This suggests that the mode's base health has been increased to 150HP.
JGOD wasn't the only player who noticed this change, with many replying that they had felt something was different too. "I knew they did something with the recent update," tweeted one, while TrapGodTO admitted he felt the "time-to-kill had went up" too.
A higher TTK means it is harder to kill opponents, as you need to hit more shots accurately to wipe them out. The reason for this change remains unknown, but that hasn't stopped players from speculating.
Some believe this change is directly linked to Warzone, where Raven buffed HP in Rebirth Island with the Reloaded patch. Others think Infinity Ward are testing different base healths for Modern Warfare 2. If that is the case, it's likely we will have to wait for a multiplayer beta for confirmation.
Image credit: Infinity Ward
Which packs are needed for Modern Warfare Multiplayer? Full list
Modern Warfare is a huge game that players need a lot of storage for. Luckily, only certain Modern Warfare packs are needed for Multiplayer.
Knowing what data packs you need to download to play Call of Duty: Modern Warfare's Multiplayer can be quite confusing, so we put together a detailed list of what you need and how much space it takes up.

Call of Duty's Multiplayer has been a fan favorite mode of the franchise pretty much since it was released, and although Modern Warfare isn't the latest installment, players are still enjoying it.
With the Call of Duty games evolving every year, it's only natural that the data needed is larger. Therefore, some players may be wondering what data packs they need solely for the Multiplayer mode.
What packs are needed for Modern Warfare Multiplayer?
In recent history, the developers have allowed players to pick and choose what data to download due to the huge amount of storage that the games take up.
This way, players who only play the Multiplayer can uninstall the data for the campaign and any other extra modes. This is great, as it prevents storage from being taken up modes you don't play.
Luckily there isn't much that players actually need to play Modern Warfare's Multiplayer.
Here's a list of all the Modern Warfare Multiplayer packs you need to have downloaded:
Base Game: 88.7 GB
Multiplayer pack: 6.0 GB
Multiplayer pack 2: 19.9 GB
Multiplayer and Special Ops Pack: 21.3 GB
In total, this comes to 135.9 GB big and will require a sizable amount of your console storage.
For those on Xbox One, you will need all three of the Modern Warfare Multiplayer packs mentioned above to run the Multiplayer mode.
For those on PC or PlayStation, you only need Data Pack 1 and the Multiplayer Pack 2 in order to run Modern Warfare's Multiplayer.
So, for those who are either bored of Warzone like some popular streamers have been lately, you may want to head back over to the classic Multiplayer and give the new CX-9 SMG a try. With that being said, these are the data packs you'll need to do so.
---
For more on Call of Duty, stay tuned on Charlie INTEL and check out our article on the best PC Settings for Warzone Pacific Season 3.
Image Credits: Raven Software / Activision
Modern Warfare 2 shown to NFL prospects: Title confirmed & first impressions
As top prospects prepare for the NFL draft, they're getting a first look at Call of Duty: Modern Warfare 2 during a private CoD event.
NFL draft prospects are giving their first impressions of Modern Warfare 2 as they get an exclusive look at the new Call of Duty title.
Although Vanguard Season 3 has only just begun, Call of Duty players are already looking forward to the next installment in the franchise. The Modern Warfare series is beloved by many players across the globe, thus the excitement for Modern Warfare 2 is high.
There are certainly a ton of rumors beginning to swirl but thanks to a private CoD event for some of the NFL's top draft prospects, we received an official title for the game as well as first impressions from the players lucky enough to sneak a peek.
We've known for a while that the next Call of Duty title is set to be a sequel to 2019's Modern Warfare. Given the sequel association, most people began calling it Modern Warfare II. While this was in the right ballpark, the event finally confirmed that the title will be Modern Warfare 2.
In addition to title confirmation of the Infinity Ward developed game, several top prospects from the upcoming NFL draft took to social media to share thoughts and opinions on their first look at Modern Warfare 2.
The list of NFL prospects who got a glimpse of Modern Warfare 2 includes Ahmad Gardner, Aidan Hutchinson, and Bo Melton. Both Melton and Hutchinson posted pictures of themselves at the Las Vegas event.
Meanwhile, Gardner offered more details concerning the footage and claimed that "it was so realistic, it's insane." This lines up with a statement from an Activision briefing that claimed Modern Warfare 2 would be "the most advanced experience in franchise history."
Only time will tell if this positive perception will hold up but CoD fans have a lot to be excited about.
---
For more on the upcoming CoD title, check out how a leaker claims SBMM will be reworked in Modern Warfare 2 or potential major changes to Perks.
Image Credit: Activision