This Week in Modern Warfare and Warzone – New Playlists and Double XP
Activision Blog has posted the latest This Week in Call of Duty post highlighting what fans can expect in Call of Duty: Modern Warfare and Warzone for this week.
This week is the first full week of Season 3 in Call of Duty: Modern Warfare and Warzone. This week will see Double XP and Double Weapon XP live in Modern Warfare and Warzone, alongside a new playlist in Warzone which restricts the loot to just shotguns and snipers.
Activision has also announced the Live From Warzone events featuring many different streams and more this week for fans to watch.
Here's the details from Activision Blog:
A new mode is available for Warzone that limits the weapons to snipers and shotguns and changes up the strategies required to win – Scopes and Scatter Guns Trios. Grab your merry band of three in this twist on Battle Royale that brings you into new ranges of play. Will you get up close and pack a devasting punch with a shotgun? Or decide to deal death at distance with a sniper? Make your choice or do a mix of both, just try to outlast the enemy and the collapse in this Battle Royale variant to claim victory.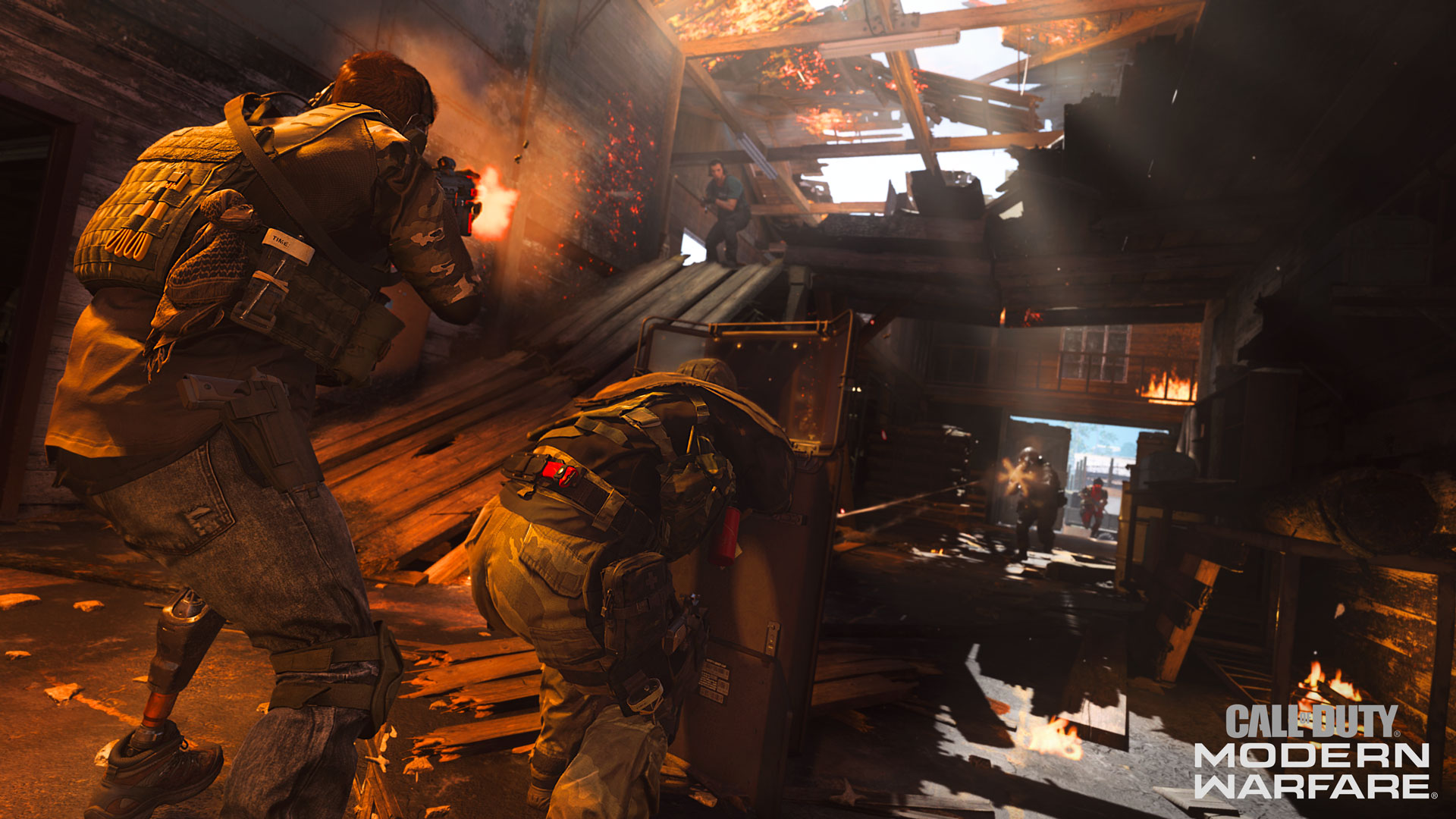 Looking to move up the Enlisted or Officer Ranks? This weekend level up your weapons and your rank with Double Weapon XP and Double XP. Starting on April 17 at 10AM PDT until April 20 at 10AM PDT, jump in a match of Multiplayer, Special Ops, or Warzone and boost your rank to expand your loadout options. Use this time to finish off challenges, missions, ribbons, and test your skills in Trials to get the most XP and Weapon XP for your efforts.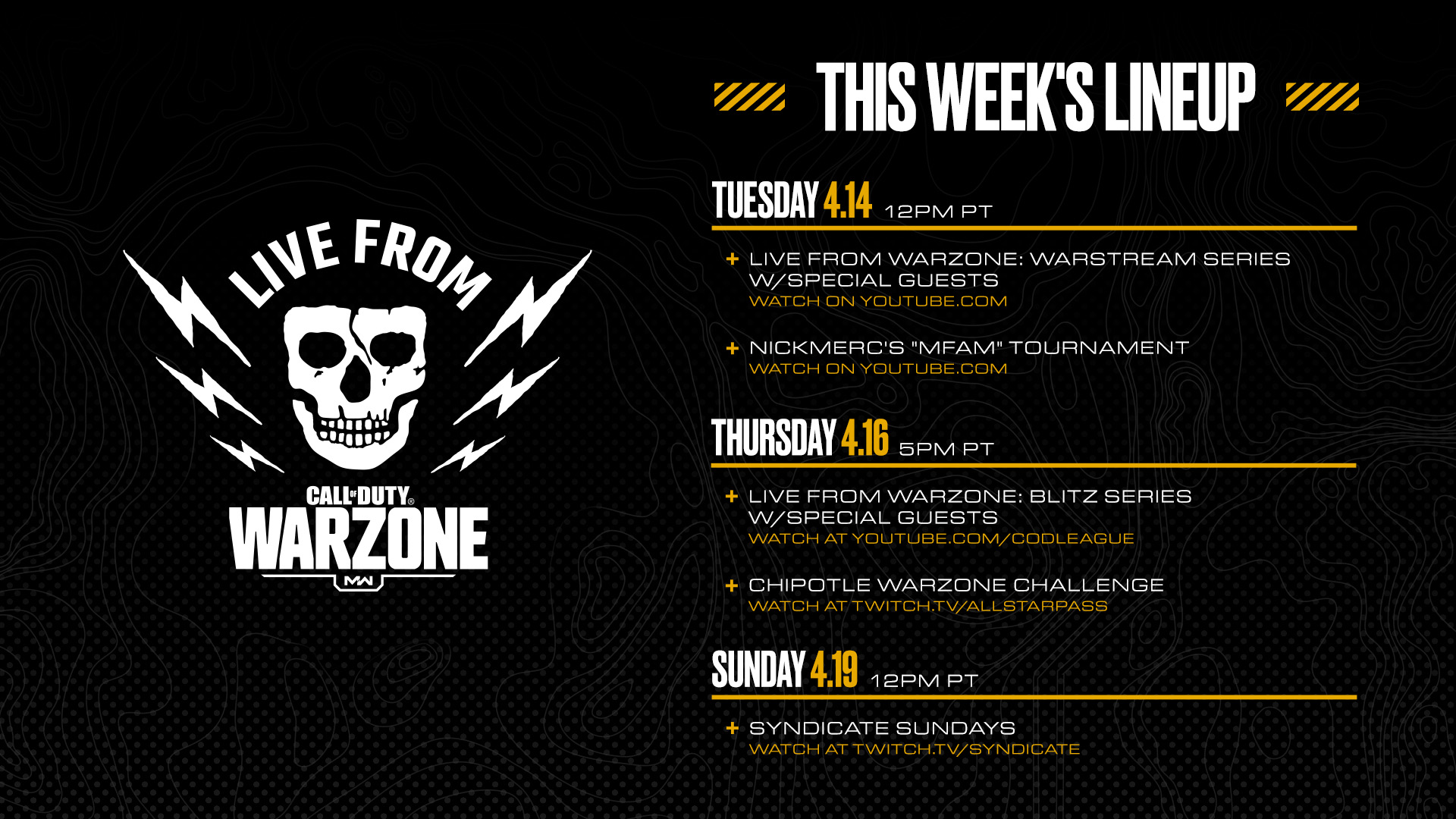 Announcement: Live From Warzone
Starting this week, tune in to catch your favorite streamers, athletes, and celebrites squad up with Call of Duty League pros to go #LiveFromWarzone. Expect new tournaments, entertainment, and surprises all around the game you love. Check back here every Monday for the latest news, list of events and announcements so you don't miss out. Check the image above for this week's lineup.
Highlights: Tune into the "Live From Warzone: Warstream" weekly livestream series which kicks off this Tuesday, April 14 at 12 PT, to watch Call of Duty League pros captain a squad of some familiar celebrity faces in Call of Duty®: Warzone. Each team will stream for two hours to rack up wins, kills, and #CODTopPlays worthy highlights for the ultimate bragging rights. Keep an eye on these teams' social channels, so you know exactly when and where to tune in. The April 14 stream times (all in PT) are below:
12PM – Paris Legion
2PM – London Royal Ravens
4PM – Toronto Ultra
6PM – Dallas Empire
8PM – Los Angeles Guerrillas
On Thursday, April 16, Call of Duty League players will return to Warzone live on the Call of Duty League YouTube channel. Five teams – Atlanta FaZe, Florida Mutineers, New York Subliners, Minnesota RØKKR, and the Seattle Surge will battle for victory in Verdansk. Take in the action with play by play commentary courtesy of two CDL casters and see which celebrity guest can help their squad claim the ultimate bragging rights. Tune in to the "Live From Warzone: Blitz" livestream at 5pm PT to learn from the pros streaming from Warzone. Get the details on when and where to watch every week on the Games Blog.
SOURCE: Activision Blog
'More content' coming to Modern Warfare as Season 6 ends
While November 23 marks the end of the Season 6 Battle Pass in Call of Duty: Modern Warfare, fans have been wondering about new content for the title.
There has been no official news on what's next in terms of content for Call of Duty: Modern Warfare after Warzone's integration with Black Ops Cold War.
The confirmation we have so far is that Modern Warfare will receive a new progression system to match the new system in Black Ops Cold War starting on December 10. Fans can learn more about the Progression system in a detailed blog post.
Now, an Infinity Ward developer has confirmed on Twitter that there is more content planned for Modern Warfare. He says that he's not aware of the 'official name' of the new content, but more is coming.
It's not clear at this time what the new content will be for Modern Warfare. Modern Warfare continues to be a very popular Call of Duty game, selling over 30 million copies in its first year. Activision has not outlined future plans for the game itself.
Season 6's Battle Pass officially ended in Modern Warfare & Warzone on November 23. The pass reset timer says 0seconds left.
Warzone will officially be tied to Call of Duty: Black Ops Cold War's system starting on December 10 with a new Classified Experience. Players playing Modern Warfare MP can continue to level up their overall player rank and access the Seasonal Prestige system. They can also contribute toward's ranking up the Black Ops Cold War & Warzone Battle Pass, but content unlocked is only usable in Black Ops cold War & Warzone.
We'll keep you updated as more information is announced.
How Modern Warfare progression will change after Season 6
Modern Warfare will integrate with Cold War in December. Here's how that will work.
Season 6 of Modern Warfare ends on November 23, so what's next for the title after integration with Black Ops Cold War?
Season 6 appears to be the final season of Modern Warfare. With the launch of Black Ops: Cold War, the focus has been shifted to the new title and Warzone.
It's not the end of Modern Warfare, however. Season 6 ends on November 23. After that, fans will have to wait until December 10, when Modern Warfare and Warzone integrate with Black Ops Cold War.
This integration will bring a new progression system to the game. Read on to find out how the new progression system works and what's next for Modern Warfare.
Modern Warfare progression
On December 10, progression will become unified between Black Ops Cold War, Modern Warfare, and Warzone. This means that you'll now have one rank for all three titles. No matter which game you're playing, you will rank up on all of them.
This new progression system combines Modern Warfare's seasonal progression with the classic Prestige system. Every season, once you hit the maximum season level, you will begin your Prestige levels. Season levels will reset every Season, but your progress will resume from the highest Prestige you achieved in the previous Season.
Your current level on Modern Warfare will be scrapped once integration begins. Your Black Ops Cold War rank will now become your rank on Modern Warfare. As you play either Cold War, Warzone, or Modern Warfare, your rank will increase.
Future of Modern Warfare
usually, once a new Call of Duty launches, the population of the previous game begins to dwindle. The majority of players move onto the new game, and only a hardcore few remain on the previous title.
Unified progression might change this. With Warzone being the connecting mode between Modern Warfare and Black Ops Cold War, weapons from both titles can be used in Warzone.
Warzone is free-to-play and allows players to use weapons from both games, even if they don't own them. Leveling up weapons and unlocking camos is much easier in multiplayer, so players may return to Modern Warfare's multiplayer to get attachments for use in Warzone.
Although Black Ops Cold War has released, it's certainly not the end for Modern Warfare.
Black Ops Cold War UK opening week sales lower than Modern Warfare
The first full week data from the UK on Call of Duty: Black Ops Cold War sales are out, and the numbers are not as high as 2019's sales.
The UK game charts, via GamesIndustry, reveals that Call of Duty: Black Ops Cold War's digital downloads were up 39% over Modern Warfare's 2019 opening.
However, the game's physical sales were down almost 64% compared to Modern Warfare.
The first week UK charts saw Assassins Creed Valhalla debut at #1 in terms of physical game sales. Some report that this is due to Black Ops Cold War's digital purchase incentives, and that the game's physical edition was not available in certain retailers.
Combining the digital and physical sales from launch week, Black Ops Cold War debuts at #1 in the UK charts. But the game's overall sales didn't match Modern Warfare's opening week in the UK.
Data shows the game's first week sales are down 16% compared to Modern Warfare. Modern Warfare is one of the best selling Call of Duty games of all time. The game's opening weekend in October 2019 saw $600 million in revenue. The title has gone on to sold well over 30 million copies to date.
And it's become clear that Warzone's success could've impacted sales for the new titles. Warzone's integration with Black Ops Cold War is set for December 10. It could be that after the integration, Activision will see higher premium upgrades from players interested in the entire game's experience.
Activision has not released opening week data for Call of Duty: Black Ops Cold War. The company only has said that the game's day one digital sales were the 'highest' in franchise history.