This Week in Modern Warfare – New Playlists, 2XP, And More
Activision has shared a new blog post detailing what's coming to Call of Duty: Modern Warfare this week.
This week in the game includes new playlists – Snowfight and Drop Zone; Holiday celebrations including Double XP & 2X Tier Earn Rate, and more.
Drop Zone returns to Call of Duty since Call of Duty: Modern Warfare 3 this week – starting on December 24 at 10AM PT, alongside Snowfight – a variation of Gunfight on the Winter Docks map.
There will also be Double XP and Double Tier Earn Rate starting December 24 at 10AM PT and ends on December 27 at 10AM PT.
From Activision:
The Holidays from Modern Warfare continue with an epic new limited time Gunfight game mode – Snowfight and the debut of Drop Zone for standard Multiplayer. Both new modes will be available on December 24 at 10AM PT until December 31 at 10AM PT.
In celebration of the Holidays, global Double XP and Double Tier earn rate will be active on December 24 at 10 AM PT! Raise your rank and accelerate your tier progression during this event until December 27 at 10AM PT. Following this, there will be a tier sale for those looking to make even further progress on the Battle Pass.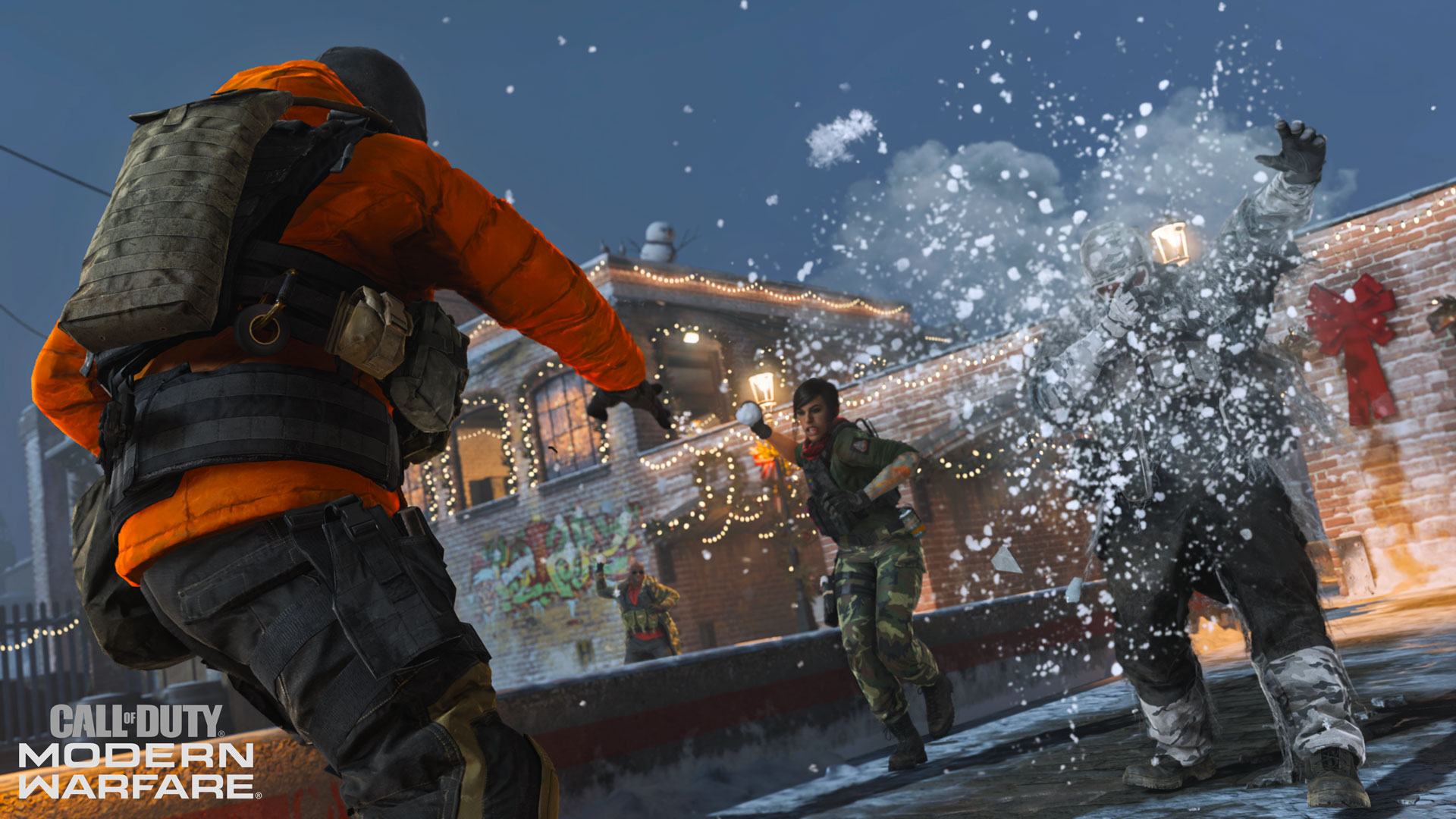 Available on the Holiday-themed map Winter Docks, grab a partner and enjoy a classic snowball fight in this new game mode, Snowfight. Players will have only snowballs instead of weapons to eliminate their opponents.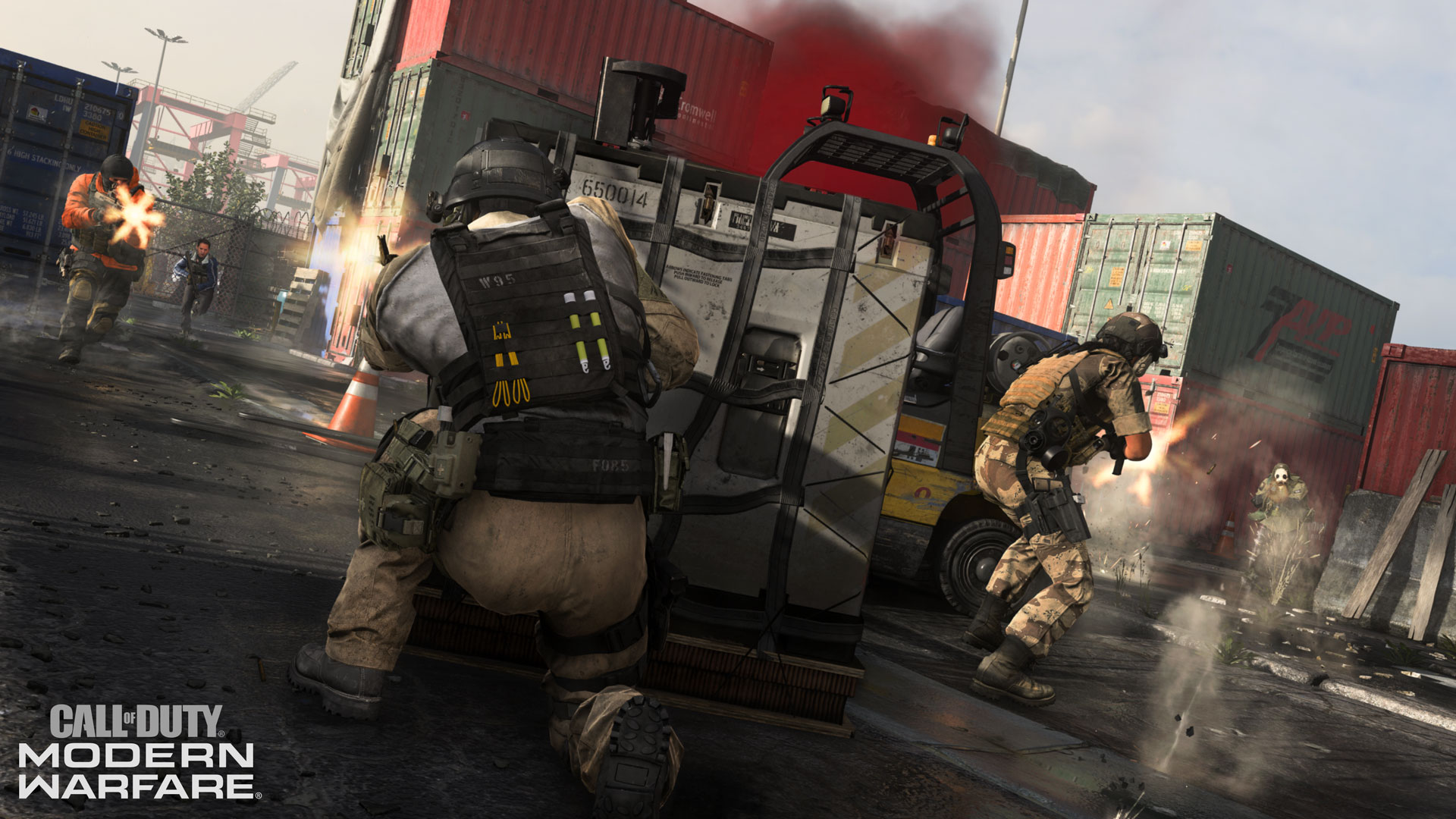 Drop Zone comes to Modern Warfare with its distinct objective play that rewards players even more than standard game modes for playing the objective. The only way to earn Killstreaks is by continually holding the drop zone to have a Care Package delivered to your location.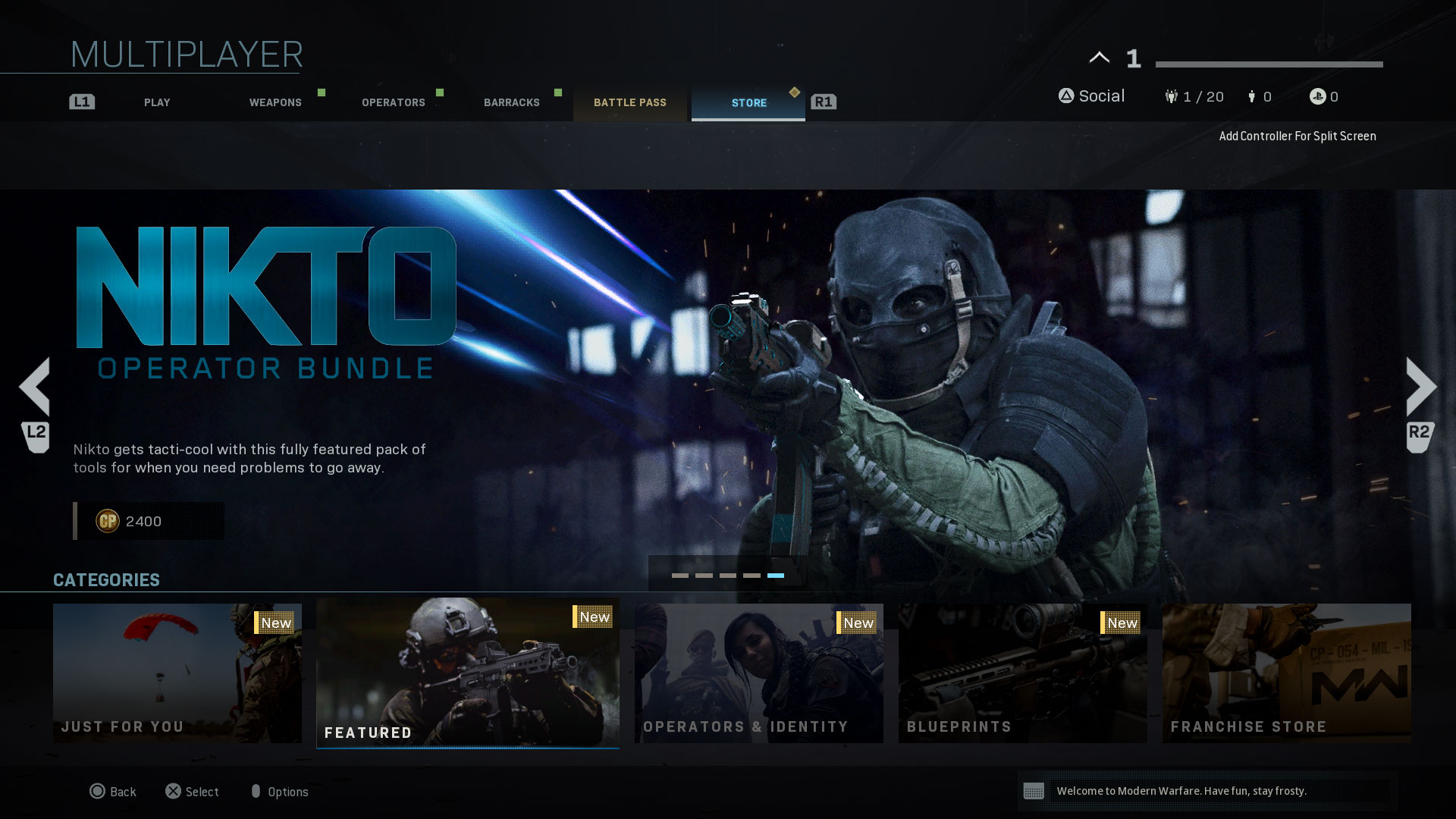 Alongside, the Nikto Operator Bundle which launched last week there's another new Featured Bundle coming to the Store: the 'Mad Chemist'.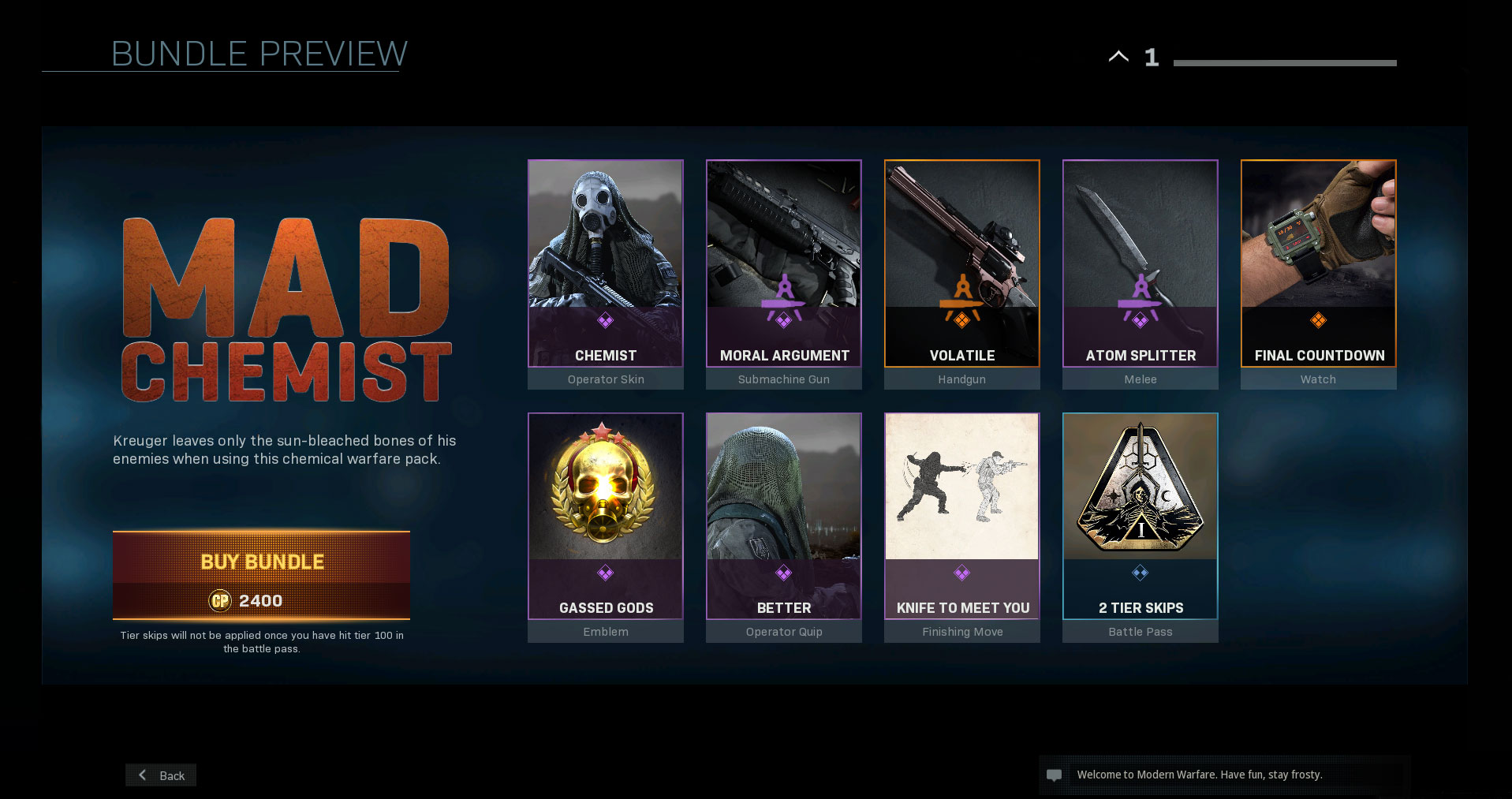 The 'Mad Chemist' ups Krueger's already menacing look with a gas mask ready for an experiment gone wrong. The bundle includes the 'Final Countdown' watch, two tier skips, the 'Moral Argument' weapon blueprint, a Legendary handgun weapon blueprint the 'Volatile' and more. Go to the Store to see all the goods available this week. 
Stay tuned for the latest news and more.
Call of Duty: Modern Warfare players call for White Phosphorus killstreak to be removed or buffed
Modern Warfare's White Phosphorus is a deadly killstreak, so much so that it is even making players call for its removal due to the frustration it causes.
Some Call of Duty: Modern Warfare players have been calling for the developers to remove or buff the White Phosphorus killstreak.
Call of Duty fans are still very much enjoying Modern Warfare in 2021, with the player base even being gifted with new updates and maps every so often.
As the player base is still strong, of course, fans are continuing to give feedback to the development team, with the recent calls for changes to the Ground War mode. However, now it seems players have an issue with the White Phosphorus killstreak.
Reddit user joshua-esaw put up a post with the idea to: "Remove white phosphorus or improve the visibility for your teammates."
White Phosphorous is a killstreak in Modern Warfare that places a huge area of white smoke across the map that damages the enemy team.
The killstreak is really powerful. However, it can be disorientating for the teammates and the user, especially as you can take damage from it.
The full post is pretty explicit, with the player clearly being frustrated about the issue. The player even states that it is the "worst killstreak" in the game, purely because its negatives outweigh the positives, seeing no reason to use it "except to just annoy people."
Players in the comments also agree, with one stating that "the coughing is the most annoying part."
Another user shared their negative experience with the killstreak as well, saying:
"I had a Ground War once where every few minutes someone would call it in. It's more an inconvenience than anything else when it was enemy, and it just pissed me off when it was friendly. It felt more like a detriment than anything else when I couldn't see more than a few meters in front of me. For nearly the whole bloody game…"
The killstreak has been in the game since launch, so we doubt it'll be going anywhere soon. Unfortunately, players who love this game are just going to have to deal with it and hope no one else uses the killstreak.
For more on Modern Warfare, stay tuned via Charlie INTEL, and check out how to fix the reticle menu not working.
Image Credits: Raven Software / Activision
How to fix Modern Warfare reticle menu not working
An annoying glitch with Modern Warfare's menu system won't let players change their weapon reticle. Thankfully, a clever workaround exists.
A frustrating glitch with Modern Warfare's menu system is leaving players unable to change the reticles on their guns. Thankfully, we've got everything you need to work around the problem.
Having the right reticle on your weapons can be super important. Using sights like a Red Dot or Holographic can make it easier to target enemies, but the wrong reticle can make it an even bigger challenge than before.
Unfortunately, an annoying glitch with the Modern Warfare menu system is making it impossible to change them. When players select the option, it immediately launches them into the "Play" menu, and is affecting players on PC and PlayStation.
Modern Warfare reticle menu workaround
While this is incredibly frustrating, the good news is that there is a workaround for those struggling to change the reticle on their weapons.
Some players have managed to use the game's Blueprint system to change their reticles, and while not ideal, does let players choose which one they want to use.
Affected players may want to try:
Open Warzone, and go to the Weapon Gunsmiuth.
Choose your optic, then select the reticle you want.
Go back to the main Gunsmith screen, and create a new Weapon Modiciation.
Once saved, go back to multiplayer and select the gun you modified.
While this is a lengthier process, it will allow you to make any changes to the reticle that you want.
The good news is that this issue has been added to Activision's "known issues" page, which means developers Infinity Ward are aware of it.
When the team will drop a fix for this problem remains unknown, but with around 2 million people playing the game daily, fans will be desperate to see this bug squashed in the near future. With major updates set to drop with Warzone Season 5, it's possible the fix may come then.
Image Credits: Infinity Ward
Warzone players call for boycott over Blizzard lawsuit and hacking problems
Due to the Blizzard lawsuit and endless hacking, Warzone, and other Call of Duty players, are calling for a boycott of Store purchases.
Warzone players are encouraging all Call of Duty gamers to boycott the purchase of skins and bundles from the store in response to the recent Activision Blizzard lawsuit and constant Warzone hacking.
It's been an unsettling time for Call of Duty and its respective titles – Warzone, Black Ops Cold War, CoD: Mobile, and Modern Warfare. The ongoing Activision Blizzard lawsuit has impacted the franchise, and fans are calling for fellow players to stop buying goods from the CoD store in protest.
This includes everything from skins to Operator Bundles to even the Seasonal Battle Pass. Warzone players are citing the lawsuit, "empty updates," and hackers as the driving force behind this movement.
The lawsuit is dealing directly with an "alleged toxic workplace," and has even lead to a full walkout by employees in response to the unfortunate situation.
Added to this is the purported series of empty updates "full of microtransactions in order to milk the players," and the ever-increasing threat of hackers, and players have seemingly had enough.
Reddit user Jaszs has lead the charge by saying: "I'm writing this as someone who has played every. single. COD since COD2, and WZ since day 1 until yesterday, and also a former Blizzard fan. Yes, I know it may sound bad, but based on what's going on (sexual harassment lawsuit, suppressing and abusive treatment of their employees…) I really think those guys don't deserve anything from us, their customers.
"You can even keep playing the game if you want (there are some cool alternatives though; if you need some just ask in the comments!), just don't spend any money in their store. In any case, you should also remember that they are the same guys that are releasing empty updates full of microtransactions in order to milk the players, releasing over and over the same game and not giving a single f*ck about the increasing number of hackers."
The very passionate statement received over 300 comments and counting, and it's universally in favor of boycotting Activision's Store ahead of the Warzone Season 5 launch.
Given that there are many responses, here are a selection of replies:
"I've got 900 COD points and level 90 on the battle pass. Not spending a penny more on this game. They don't respect their employees, they don't respect the players (anti-cheat lmao) they aren't getting anymore of my money."
"Once all this sh*t came to light, my entire friend group collectively uninstalled the game and swore off of it for good. We were already mad at the game for being poorly managed with hackers and constant glitches/crashes. I suppose this was the lead straw that broke the metaphorical camel's back."
"Based on the way they've handled cheating, the CW integration, and the general state of the game in the last year, I'm shocked than any of you have been buying cosmetic items from them. Do you realize what kind of message you're sending by making the worst CoD their highest-earning one?"
At the time of writing, the post has nearly 1.8K upvotes and rising. Given the player count of Warzone far exceeds this, it's hard to imagine this boycott would do too much damage.
Conversely, Producer at Sledgehammer Games Alayna Cole has Tweeted an important message concerning the circumstances.
Boycotting the Activision store will have an obvious knock-on effect in terms of sales revenue, and would ultimately disrupt the salaries and jobs of many employees who are not involved in this lawsuit.
It's a hard position for all involved and for players who engage in Call of Duty games. The lawsuit is still long ongoing, and we'll continue to update you at Charlie INTEL with any breaking developments.
Image Credit: Activision Blizzard