Treyarch reveals teaser images for the Season 2 Black ops Cold War Zombies Map
Treyarch has begun to tease images of the new Black Ops Cold War Zombies map, which is expected to release in season 2.
Treyarch has started the teasers for the Black Ops Cold War Season 2 zombies map.
In a series of teaser tweets, Treyarch has shared images of the new Black Ops Cold War zombies map. The map is expected to drop with Season 2.
We are unsure if the map will be completely new or have a resemblance to an older map like Die Maschine had with Nacht Der Untoten.
The first teaser was released on January 12, which included a top-down view of the supposed new Zombies map. The caption reads "Projekt Endstation was only the beginning", in reference to the Die Maschine map.
According to the photo captions, this area is Omega Outpost 25 and is addressed to someone named "M." This map also has a Dark Aether portal, similar to Die Maschine. If this is true for the release of the map, we should expect to see the return of the Dark Aether.
The message ends with "More soon, R". We are unsure of exactly who "R" is.
Following this post on January 13, Treyarch posted another image captioned "Omega Group will stop at nothing."
The image is once again addressed simply to "M" and depicts an image of a bedroom. It claims that this room is the personal quarters of a Doctor Peck, who is the scientist in charge of Outpost 25.
Additionally, Treyarch posted a final teaser image to their official Facebook page, captioned "The Dark Aether breaches are spreading…" The image depicts a room where the scientists of Outpost 25 review Dark Aether intelligence, which points the new map's significance story-wise could point to revealing more information regarding the mysterious Dark Aether.
We expect more information from Treyarch regarding this map in the coming weeks. Stay tuned.
Image Credit: Activision
Cold War players show off insane power of new Season 4 Hand Cannon Scorestreak
Season 4's Hand Cannon is the latest Scorestreak to arrive in Cold War, and players have already demonstrated its insane power.
The Hand Cannon is the latest Scorestreak for Cold War players to get their hands on in Season 4, and early footage shows that it's a strong contender for the Scorestreak meta.
Although Black Ops Cold War Season 4 hasn't officially launched yet, players have access to some of the new features with the pre-update. This includes the weapon balance changes but made some of the previous season's DLC weapons disappear.
The brand new Scorestreak has also entered the game, the Hand Cannon. This powerful Desert Eagle can one-shot enemies at any range, and players have quickly realized its power.
Gained at a Scorestreak of 2800, the Hand Cannon is middle of the pack in terms of requirement. But while the Artillery and Cruise Missile is somewhat luck-based, the Hand Cannon is the definition of a 'skill cannon' weapon.
With 10 shots in the mag, if you're accurate, you can easily one-tap any enemy unfortunate enough to get in your way. Since the weapon released in Cold War ahead of Season 4, players have already demonstrated its insane power.
Reddit user iwant60fpsplease got an effortless ten-piece using the Hand Cannon, even getting a cheeky collateral for extra style points. Impressed with its power, they said that it was "really fun to pull this off but didn't feel very fair either."
iwant60fpsplease expects that the Cold War Hand Cannon will be nerfed eventually, with either the cost increasing or the number of shots reduced.
Our Reddit user isn't the only one taking advantage of the Hand Cannon to get high killstreaks. User MR_R3D_AD clipped their first time using the new Scorestreak and said it's already their "favorite streak in the game."
Apart from missing a couple of shots, they use the Cold War Hand Cannon to effortlessly rack up a killstreak, even in the chaos of Nuketown '84.
What makes the Cold War Hand Cannon even more useful is that it still counts towards a regular killstreak, so if you're chasing the Nuclear Medal or the Tactical Nuke in Cranked Hardpoint, the Hand Cannon is one of the best options you can take.
For more Black Ops Cold War, check out how to unlock the new C58 Assault Rifle or the MG 82 LMG, and stay tuned for future news and guides.
Image Credit: Activision
When is the next Cold War & Warzone Double XP event?
We have the dates and times CoD: Cold War and Warzone Season 3's Double XP event to help rank, weapon, and Battle Pass progression.
With so many Prestige levels, different weapon levels, and Battle Pass levels in Cold War and Warzone in Season 3, it's only natural to want more XP. Here's when the next CoD Double XP event is going to be.
XP has been a vital component of Call of Duty's multiplayer for many years. It's the quintessential upgrade mechanic that allows you to increase your in-game level and provide you access to better gear and attachments.
Cold War and Warzone Season 3 has offered multiple Double XP events throughout its duration, allowing players to level up the various aspects of the game faster. It's nearly time for Season 4 of Call of Duty, and we have new weapons and vehicles to look forward to.
Also, use our guide on the fastest way to level up Black Ops Cold War & Warzone Season 3 Battle Pass.
How to get Double XP in CoD: Cold War & Warzone Season 4
It's been announced that Call of Duty's next Double XP and Double Battle Pass XP promotional event will be for Black Ops Cold War and Warzone and will officially start on June 18 and conclude on June 21.
This event will help players earn plenty of extra XP to level up their account and Season 4 Battle Pass this weekend following the official launch of when Season 4 of Black Ops Cold War and Warzone.
What time does CoD: Cold War & Warzone Double XP start?
Here's a full list of the Double Weapon XP event's start time & dates in some of the key timezones:
EST – 1 PM
CST – 12 PM
PST – 10 AM
GMT – 5 PM
Double XP will be available on Black Ops Cold War and Warzone playlists.
These special Double XP Events usually occur during a weekend, and this one is no different. It naturally gives players the most free time as it's away from school hours and generally when people are off work.
This will be a great way to level up the new Season 4 weapons, the C58 Assault Rifle, MG 82 LMG, and Nail Gun, and get them ready to use in all of your Cold War and Warzone battles.
Also, check out all the details on Call of Duty: Vanguard including its release date, gameplay, and more.
Image Credit: Activision / Treyarch / Raven Software
Warzone & Cold War Season 4 Battle Pass overview: All 100 tiers
Warzone and Black Ops Cold War Season 4 is upon us, and there's a brand-new Battle Pass to sort through. Here's all of the tiers withevery new weapon and reward.
There is a brand new Battle Pass to sort through in Season 4 of Black Ops Cold War and Warzone. Here are all the new rewards you can unlock, including Operator skins and weapon blueprints.
Black Ops Cold War and Warzone Season 4 is finally here, and every new season brings a new set of premium and free rewards to unlock. This includes various Operator skins, weapon blueprints, and more.
The new Battle Pass comes with 100 Tiers to progress through, similar to the previous ones. Here's everything you need to know about it, including how much it costs and what it contains.
How much does the Cold War & Warzone Season 4 Battle Pass cost?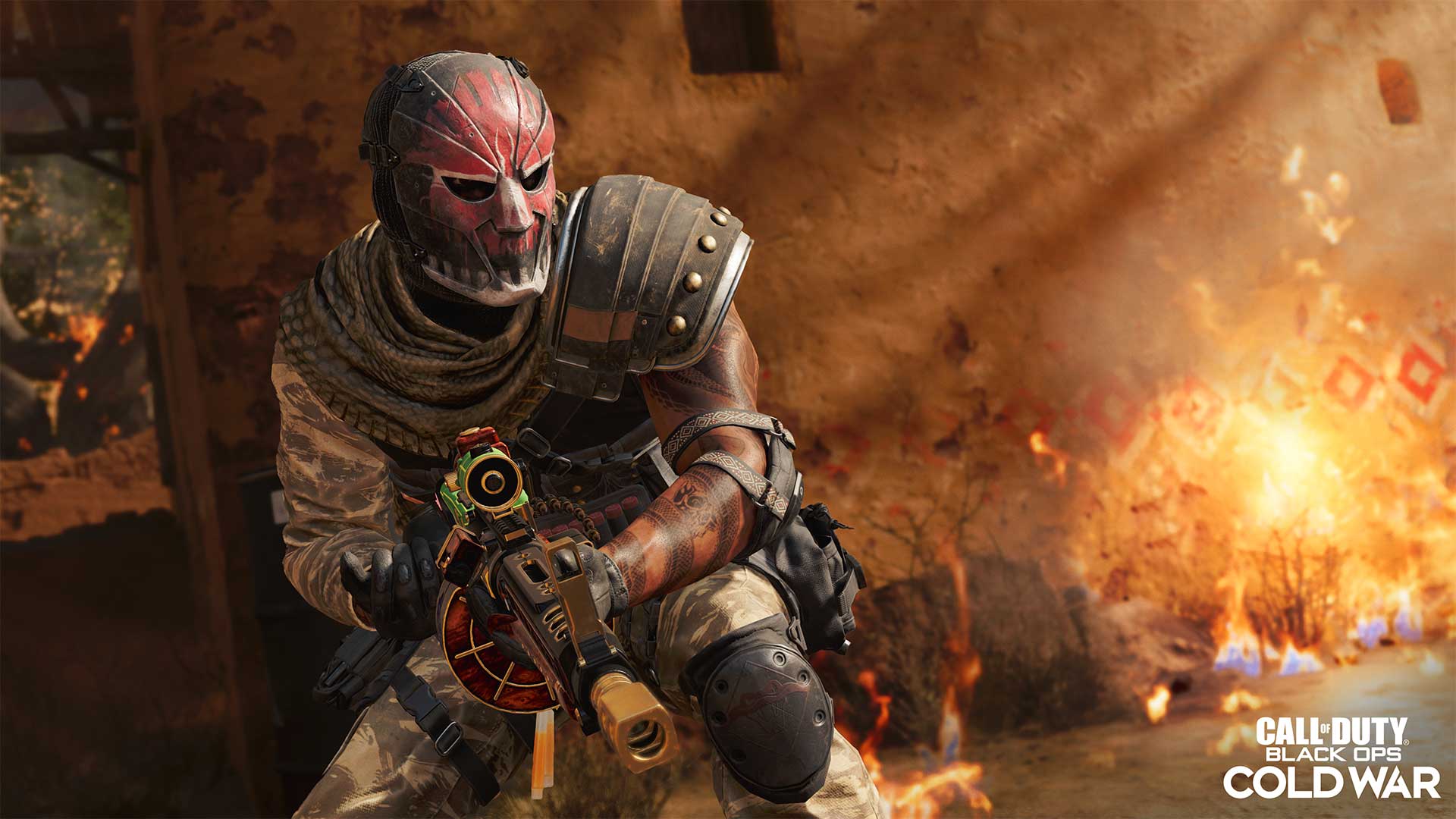 As with previous seasons, there are different versions of the Cold War and Warzone Season 4 Battle Pass. The most straightforward way to earn these rewards is to play the game and unlock items as you progress.
There are also some premium options that you can try out. The standard one will cost you 1,000 CoD Points, granting you immediate access to all Tier 0 items. You'll then progress through the following 100 Tiers.
If you want to speed this process up, you can try out the Battle Pass Bundle for 2,400 CoD Points. This option will unlock every item available within the first 20 Tiers right away.
New weapons in Cold War & Warzone Season 4 Battle Pass: MG 82 LMG and C58 Assault Rifle
There are two new weapons to unlock exclusively in the Season 4 Battle Pass of Black Ops Cold War and Warzone. The first is the MG 82 LMG which you can claim after reaching Tier 15.
This full-auto light machine gun has the highest fire rate in its class with improved ADS, moderate recoil, and damage with increased ammo capacity.
The C58 Assault Rifle is the next gun up for grabs, and you can get it by reaching Tier 30. According to the official description of this new weapon, it is a "full-auto assault rifle. High damage at close range with a slower fire rate. Fast bullet velocity and reliable recoil control with less ammo capacity."
New Weapon Blueprints in the Season 4 Battle Pass
There are 20 custom Weapon Blueprints available in the Season 4 Battle Pass, as many popular guns have been given new looks. This includes an Ultra-Rare variant of the MG 82.
Here are just a few of the Weapon Blueprints in Battle Pass:
Tier 5: Monochrome – Legendary Assault Rifle Blueprint
Tier 55: Ancient Scarab – Legendary SMG Blueprint
Tier 85: Ancient Spear – Legendary Sniper Rifle Blueprint
Tier 95: High Stakes – Ultra-Rarity LMG Blueprint
Ultra-Rarity Iridescent Jackal Operator Skin in Black Ops Cold War & Warzone Season 4 Battle Pass
The Battle Pass also introduces the first Ultra-Rarity Operator Skin in Warzone and Black Ops Cold War. The Iridescent Jackal skin comes with a "mesmerizing" light pattern across his entire jumpsuit and mask.
This Call of Duty skin changes its appearance as you play, with a varying color scheme that makes your playing experience even more fun.
All Cold War & Warzone Season 4 Battle Pass Tiers
The Season 4 Battle Pass isn't live yet, but we'll be sure to update this article with every Tier and reward when they are officially revealed on June 16.
Image credits: Activision