CoD: Vanguard Season 2: Patch notes, release date, more
Here's everything we know about Vanguard's Season 2 update, including the release date, content, Ranked Play and patch notes.
Call of Duty: Vanguard's next major content drop will arrive with Season 2, so here's everything about it including the patch notes, start date, and expected content.
Vanguard has carried on Call of Duty's live service approach to content, bringing new maps, weapons, and Operators with seasonal updates. Season 1 has come and gone leaving players looking forward to what's arriving in Season 2.
Here's everything we know about Vanguard Season 2, including its start date, expected content, Ranked Mode, and official patch notes
Vanguard Season 2 release date & time
Following the announcement of a slight delay, Vanguard Season 2 will arrive on February 14, 2022.
Vanguard's Season 2 update will be available for download on February 10 at 9 AM PT / 12 PM ET / 5 PM GMT. However, the new season will only start on February 14.
Three new Operators in Vanguard Season 2
Three new Operators will be joining the fight in Vanguard under Task Force Yeti. Austrian assaulter Anna Drake will make her appearance at the start of Season 2 while Thomas Bolt and Gustavo Dos Santos will arrive during the new season.
All three Operators look like fearsome additions to the current selection. Players should expect some cool new skins to accompany these new faces throughout Season 2.
New weapons coming to Vanguard Season 2
Four new weapons will be making their way to Vanguard during Season 2 "Unlock the KG M40 Assault Rifle and Whitley LMG on day one through the Battle Pass; then prepare to add the Ice Axe and a prototypical SMG as you settle into Season Two."
The SMG is called the Armaguerra 43 and it boasts an incredibly high rate of fire. New weapons often shake up the existing meta so keep your eyes peeled for these additions.
Vanguard Season 2 new maps
Vanguard continues to take players around the world as it provides two new Multiplayer maps. Gondola will take players to frigid European mountains, while Casablanca will transport players to the African desert.
Both maps are being advertised as medium-sized three-lane maps and players are excited to test them out.
New game modes coming to Vanguard Season 2
It seems as though, Vanguard Season 2 will add two new games modes to the Multiplayer experience. The first is the highly-anticipated Ranked Play that players have been waiting for since launch. Ranked Play will launch in Beta at the start of the season and receive any necessary tweaks along the way.
Players will also receive a mysterious "Arms Race" mode later in Season 2. As of now, we don't know what this new mode will entail but players who were hoping for Ground War may receive a tweaked version instead.
Gameplay adjustments & additions in Vanguard Season 2
Season 2 of Vanguard will add two new Perks, a new killstreak, and a new piece of lethal equipment to the Multiplayer experience.
The Armory Perk is "A direct counter-Perk to Engineer, Armory is ideal for Operators who use more than just their weaponry in combat, namely placeable Demolition Charges, concussion mines, and placeable Field Equipment pieces."
While the Mechanic Perk adds a buff to Field Upgrade recharge time. The Sticky Bomb equipment returns to CoD and veteran players will remember just how devastating it can be.
Lastly, the Ball Turret Gunner is also returning to Vanguard from CoD WWII. This killstreak will allow players to operate a deadly Turret if they manage to land 12 kills in a row.
Vanguard Season 2 update patch notes
New Maps:
New Mode:
Ranked Play Beta.
Arms Race (more to come later in the season!)
New Killstreak:
Ball Turret Gunner for 12-kill streak
New Lethal Equipment:
Sticky Bomb: A grenade that sticks to surfaces before detonating.
New Perks:
Armory – Perk 1: A direct counter-Perk to Engineer, Armory is ideal for Operators who use more than just their weapons in combat, namely placeable Demolition Charges, concussion mines, and placeable Field Equipment pieces.
Mechanic – Perk 3: Mechanic provides a reasonable buff to Field Upgrade charge time, making it a must-have for completing challenges related to them or for Operators who love using them.
Upcoming Seasonal Event:
Valentine's Event – Feb. 11-17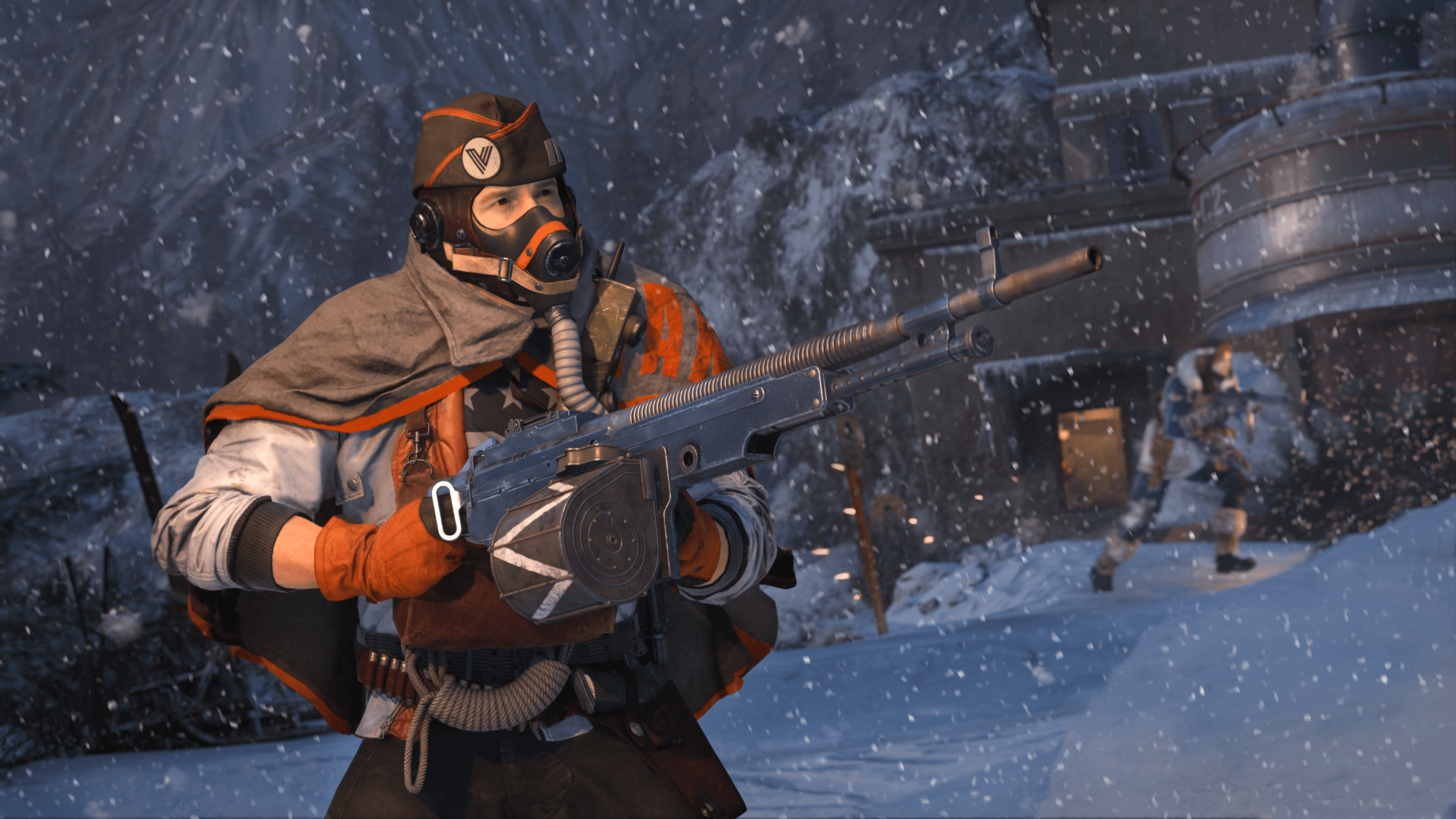 MULTIPLAYER UPDATES
Stability
Made several improvements to player textures and animations that resulted in Packet Burst spikes.
Stability improvements should result in better connectivity and lower crash rates. The time to connect to Online Services should also be reduced.
Fixed a bug that resulted in disconnecting during MVP Highlight Animations.
Maps
General

A thorough pass on map environments has been completed to fix objects with unintended collision, issues with portaling through the ground, and to remove out-of-map exploits.

Champion Hill

There will no longer be two consecutive buy rounds at the beginning of every Champion Hill Duos 2v2 private match.
A bug has been resolved that resulted in players losing Perk and Field Upgrade functionality in Private Matches if they played a match in Champion Hill previously.
Spawn improvements have been made for teams of three.
Modes
Control

Fixed a bug that resulted in matches ending prematurely after a spectator disconnects.
Late match joiners are now able to spawn in when lives are available.
Swapping to spectate/different teams now consistently updates the lives left.
The last player alive warning now consistently appears.

Private Matches

Silent Plant Option now works in Search and Destroy Private matches (fixed Feb 3rd).
Progression
Seasonal Challenges

All players can now unlock Season 1 Mastery Cards after completing all challenges.
Field Specialist challenge is now tracking for all players.
Counter Measures challenges are now tracking consistently for all players.

Operator Challenges

The Diamond operator skins will now unlock for Barbarian and Shadow operators.

Welgun

Gold and Diamond camos are now unlockable after completing all weapon Challenges.

Launchers

Ground based Killlstreaks now count towards the 'Deadeye' camo.
Weapon Adjustments
Combat Shield

Fixed a bug that exposed player's heads to damage above the shield.

Throwing Knife

Distortion VFX have been removed.
Equipment
Incendiary Grenade

Fixed a bug that caused additionally visuals to appear when Incendiary Grenades are used.
Number of Incendiary Grenade uses are now tracked in your combat record.
Perks
Dauntless

Suppression no longer applies to players with the Dauntless perk when the player is hit by shots.

Engineer

Players are no longer able to see an enemy Goliath's diamond through walls without the Engineer perk.
Killstreaks
Glide Bomb

Fixed a bug that resulted in graphical corruption when Attack Dogs were killed by a Glide Bomb.

Mortar Barrage

Fixed a bug that resulted in the flare and smoke VFX from previously called-in Mortar Barrages temporarily re-appear.
Deploying the Mortar Barrage will no longer force-switch the player's weapon.

Flamenaut

Activating the killstreak and getting killed at the same time will now grant you the killstreak.
Field Upgrade
Fix a bug with Deployable Cover that resulted in constant screen shake.
Bundles & MTX
Attack on Titan

Fixed a bug that resulted in missing VFX on the Kar98k.

Year of the Tiger

Players who purchased this Bundle but did not receive the Tiger Blueprint, should now have the item.

Red Reactor Mastercraft

Tracers are now displayed on weapons as intended.

Graveyard Shift Mastercraft

"Ashed" tracers will now display correctly when applied to the Ore Sniper Rifle.

Animalistic

Fixed a lighting bug with the Aquatint SMG that cause unintended lighting effect.

Santa Slay

The Lucas Operator outfit, "Yarn Burner", is no longer invisible for some players.
UI/UX
A bug has been fixed that stopped players being unable to select a weapon when editing Prestige weapon classes.
Prestige player progression is now viewable and tracking properly.
Watch preview is no longer missing from the Battle Pass menu.
Misc
A bug resulting in Play of the Game not playing or ending early has been fixed.
Quips no longer play after an Operator is dead.
Free Trial players should no longer encounter the error "This content is only available in the full game.
---
Also, if you prefer battle royale or Vanguard Zombies to classic multiplayer, you can check out everything we know about Warzone's Season 2 update and Vanguard Season 2 Zombies.
Source: Call of Duty blog / Sledgehammer Games
Image Credit: Activision
Vanguard August 11 update patch notes: Dev Error & attachment exploit fixes
Vanguard's August 11 update patch notes delivered bug fixes for an attachment exploit and a Dev Error issue in Season 4 Reloaded.
Sledgehammer Games have provided a Vanguard update on August 11 that patched a weapon attachment exploit and fixed a Dev Error bug in Season 4 Reloaded.
Vanguard devs Sledgehammer Games continue to update the game and provide players with fresh content. In addition to a playlist update arriving on August 11, players were also treated to a new update that provided a fix to several of the game's latest bugs.
The update covers both multiplayer and zombies game modes as certain bugs were hampering the fun. A particularly annoying Dev Error should no longer plague players following the August 11 Vanguard update.
Vanguard Dev Error & attachment exploit fixes
Vanguard Season 5 is fast approaching, but before we get a brand-new season of content with new weapons, maps, and Operators, Sledgehammer are dedicated to fixing current issues.
It seems an unintended exploit was allowing players to combine attachments from other weapons to achieve combinations that should not be possible. This would result in overpowered weapons running amok and the devs were quick to nerf the issue.
In addition, players will no longer have to deal with DEV ERROR 10308 that occurred on the USS Texas map.
Vanguard August 11 update patch notes
Multiplayer
Maps
USS Texas 1945

Addressed an issue that caused DEV ERROR 10308 to occur.
Progression
Seasonal Challenges will no longer be marked as complete if the requirements are unmet.
Weapons
Addressed an exploit that allowed players to achieve unintended Attachment combinations.
Zombies
Weapons
Vargo-S

Addressed an issue that prevented the Survivalist camouflage challenge from tracking when using specific magazine attachments.

Push Dagger

Addressed an issue that prevented the Plague Diamond and Dark Aether camouflage and challenge requirements from being visible in the loadout menu.
Stability
Addressed a rare issue where players could become stuck in spectator mode when joining a match in progress as the joined player leaves.
---
For more, check out Activision apologized for using an artist's design in a now canceled Vanguard & Warzone skin.
Source: Sledgehammer Games
Image Credit: Activision
Activision apologize for using artist's design in now canceled Vanguard & Warzone skin
Activision have scrapped an unreleased Warzone and Vanguard skin after using an artist's work without permission.
Activision admitted to the major misstep of using an artist's work without permission. The original art was to feature in an upcoming Vanguard and Warzone skin that has since been axed.
Major content drops like new seasons or midseason updates deliver weapons, maps, and changes to Call of Duty games, but they also tend to bring brand-new skins to enjoy. Vanguard and Warzone have seen some noteworthy skins that certainly got players talking.
After all, who could forget the Armored Titan, or Godzilla and King Kong skins? At the start of Season 4 Reloaded, players also received a new Terminator crossover. However, teasers for Season 4 Reloaded also hinted at a mysterious wolf-like skin.
After the wolf skin was teased in an official Call of Duty blog post, it was later inexplicably removed and replaced from the very same post. It turns out, Activision used content that did not belong to them in order to create the aforementioned skin.
When the wolf skin was first teased, it certainly generated a ton of buzz, or rather raised a ton of eyebrows. The anthropomorphic Operator definitely sticks out in a WWII-era Call of Duty game. Nonetheless, fans were excited at the prospect of running around as a wolf in Warzone.
Unfortunately, that idea won't come to fruition as Activision have confirmed that they completely removed the skin from their planned content drop for Season 4 Reloaded.
It seems Activision overstepping bounds is the reason behind the skin's cancelation.
An artist claimed that the wolf skin, also known as Samoyed skin, was stolen without their permission. In a strange turn of events, Activision has issued an apology, seemingly confirming the artist's claims.
In a statement, Activision admitted that they "regrettably erred in our process and have removed this imagery from the game," apologizing for the misstep.
While fans may be disappointed to lose their chance at slaying in a furry wolf skin, most would agree that if the artist's claims are legitimate, the greater injustice was corrected as nobody should have their work stolen without credit.
---
For more, check out how CoD players are thrilled with the rumored change to Modern Warfare 2's movement.
Image Credit: Activision
When is the next Vanguard & Warzone Pacific Double XP event?
We have the dates and times for the next CoD: Vanguard and Warzone Pacific Double XP event to help you rank up weapons and the Battle Pass.
We're past the Season 4 halfway point of Call of Duty action, and there's still plenty of time to level up, prestige, and unlock weapons before Modern Warfare 2. Here are the full dates for the next Warzone and Vanguard Double XP weekends.
XP has been a vital component of Call of Duty's multiplayer for many years. It's the quintessential upgrade mechanic that allows you to increase your in-game level and provide you access to better gear and attachments.
Vanguard and Warzone Pacific carried on from where Cold War and Warzone left off by giving players limited-time windows of opportunity to increase the XP they can earn.
Vanguard & Warzone Double XP dates
Call of Duty players can get Double XP by taking advantage of the Double XP promotional events that Activision put on.
Thanks to the Raven Software Trello board, we know when the next Warzone & Vanguard Double XP events are:
Double XP event – All platforms:

 Thursday, August 4 – Thursday, August 11

Double Weapon XP and Double Battle Pass XP
These special Double XP events are coming as part of Vanguard & Warzone's Season 4 Reloaded. With major weapon buffs and nerfs, changes to the Fortune's Keep map, and the new Vargo-S AR there is plenty of new content for players to sink their teeth into.
What time does CoD: Vanguard & Warzone Pacific Double XP start?
Here's a full list of the usual Double XP event's start time & dates in some of the key timezones:
PT – 10:00 AM
CT – 12:00 PM
ET – 1:00 PM
BST – 6:00 PM
These special Double XP events usually occur during a weekend, as it naturally gives players the most time as it's away from school hours and generally when people are off work.
If you're worried about slow progression for Vanguard and Warzone's Battle Pass, the active Double XP event will no doubt give you a great boost to unlock all the Season 4 Reloaded rewards.
---
For more Call of Duty, find out everything you need to know about the next release in the legendary franchise, Modern Warfare 2.
Image Credit: Activision / Sledgehammer Games / Raven Software