Vanguard Zombies update "Day 115": Round-based Shi No Numa, new Support weapons, & more
The "Day 115" Vanguard Zombies update is bringing some classic gameplay back as fans will be able to relive the classic Shi No Numa map.
Vanguard Zombies will be getting a new update on January 11 in anticipation for "Day 115," which looks to bring some exciting new content for the mode.
In celebration of January 15, which Treyarch and fans are calling 115 Day, the devs are putting out a pretty significant update for Vanguard Season 1 Zombies just prior to the special date.
Those who had hoped the classic survival mode would return just might be in for a treat, as the update sees the return of Shi No Numa. Further, the update will also bring various changes to Artifacts, Pack-a-Punch, and more.
Here are all the details.
Vanguard Zombies "Day 115" update release date
The Vanguard Zombies "Day 115" mid-season update will be released at 9 PM PT Jan. 11 / 12 AM ET Jan. 12 / 5 PM GMT Jan 12.
This update is in celebration of January 15 or "Day 115," which is the number of the element that started the Zombies lore all the way back in World at War.
With lots of content coming for Vanguard Zombies, players will be most excited to hear that this lore-inspired "Day 115" update will also be bringing back a classic way to play on a familiar reimagined map.
Here are the details surrounding the return of Call of Duty: World at War's Shi No Numa Zombies map.
Round-based Shi No Numa
To add to the nostalgia of Day 115, players will get to revisit Shi No Numa in a new Objective called "Void." This new objective will be available through unlocking access to Von List's Office and finding a new portal.
Go through the portal to travel to Shi No Numa, where Treyarch states "you'll advance through rounds by defeating increasingly difficult endless waves of the undead, just like in traditional Zombies from previous games."
In this Objective, players will be able to clear wave after wave, advancing through rounds while using the Pack-a-Punch machine to upgrade their weapons. After completing three rounds, players are given the choice to either Flee or Survive. Choosing to survive will mean you'll earn 5,000 bonus Essence every three rounds you complete, with unique rewards after surviving 12 or more.
Further, "Once the portal to the Void has been opened, it will never close during your match. When you're ready to head back to Stalingrad to upgrade your Perks and Covenants, you can leave after surviving 3 rounds and return at any time."
Tome of Rituals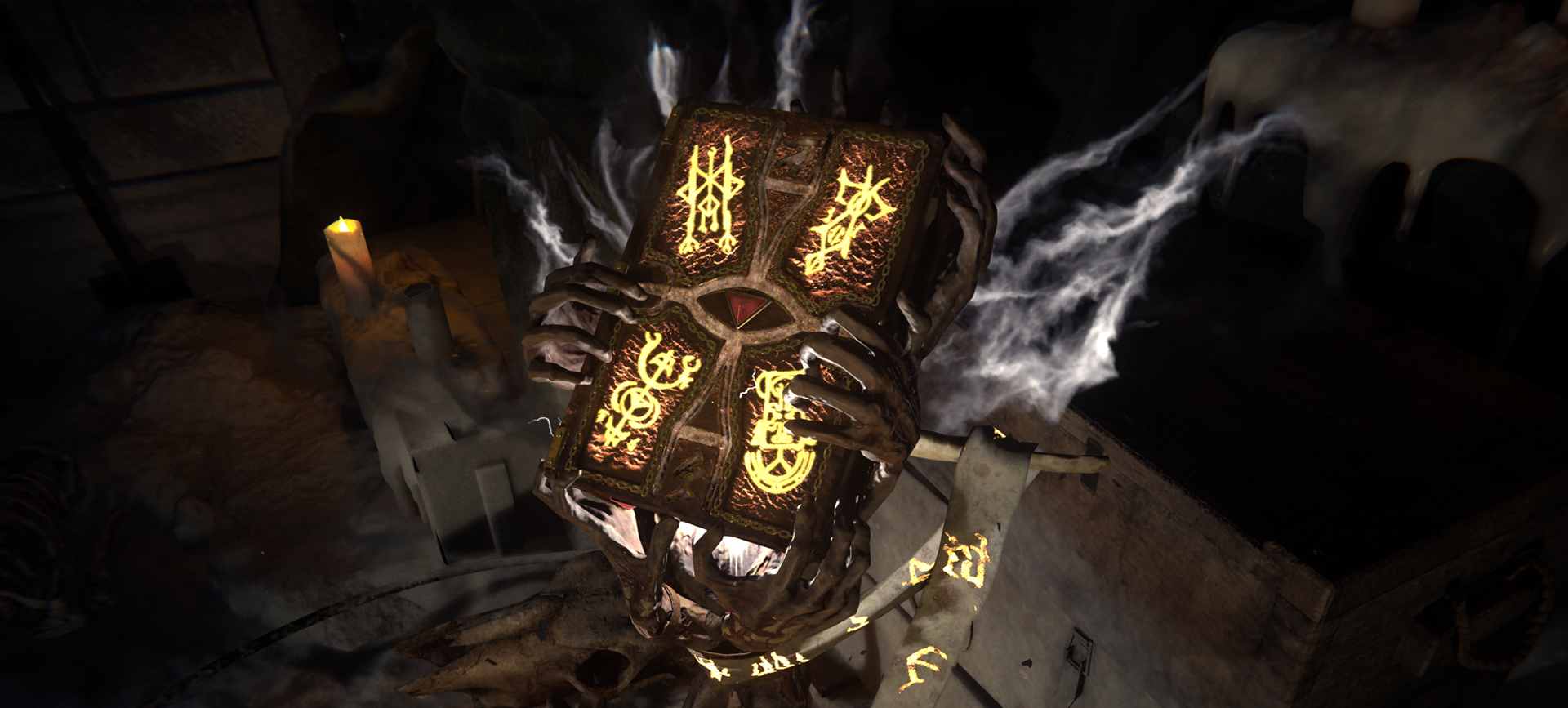 You'll earn a Sacrificial Heart for every three rounds you manage to survive in the Void, which can be spent back in Stalingrad to buff your Dark Aether powers. The new Tome of Rituals in Stalingrad is exactly where players can do that.
Invest your Sacrificial Hearts at the Tome of Rituals to unlock the following upgrades during a match:
Frost Blast
Tier I – Freezes normal and Special enemies for 3 seconds once they have been in the Frost Blast zone for 0.5 second.
Tier II – Increases the Frost Blast radius by 100%.
Tier III – Increases the number of charges from 1 to 3.
Tier IV – Frozen normal enemies are insta-killed when damaged.
Energy Mine
Tier I – Stuns normal and Special enemies hit by Energy Mine for 3 seconds.
Tier II – Explodes 3 times in a row with a 0.75 second delay between explosions.
Tier III – Increases the number of charges from 1 to 3.
Tier IV – Increases the explosion radius by 66%.
Aether Shroud
Tier I – Automatically reload weapons when activated.
Tier II – Deal 500% bonus melee damage while active.
Tier III – Gain 50% move speed while active. Duration extended from 5 seconds to 8 seconds.
Tier IV – Increases the number of charges from 1 to 2.
Ring of Fire
Tier I – Normal enemies inside the ring take damage equal to 2% of their max HP every second.
Tier II – Players within the ring use ammo from stock.
Tier III – Staying within the ring for up to 10 seconds increases the duration from 15 seconds to 20 seconds.
Tier IV – Staying within the ring for up to 10 seconds increases your damage bonus from +50% to +75%.
New Pack-a-Punch Camos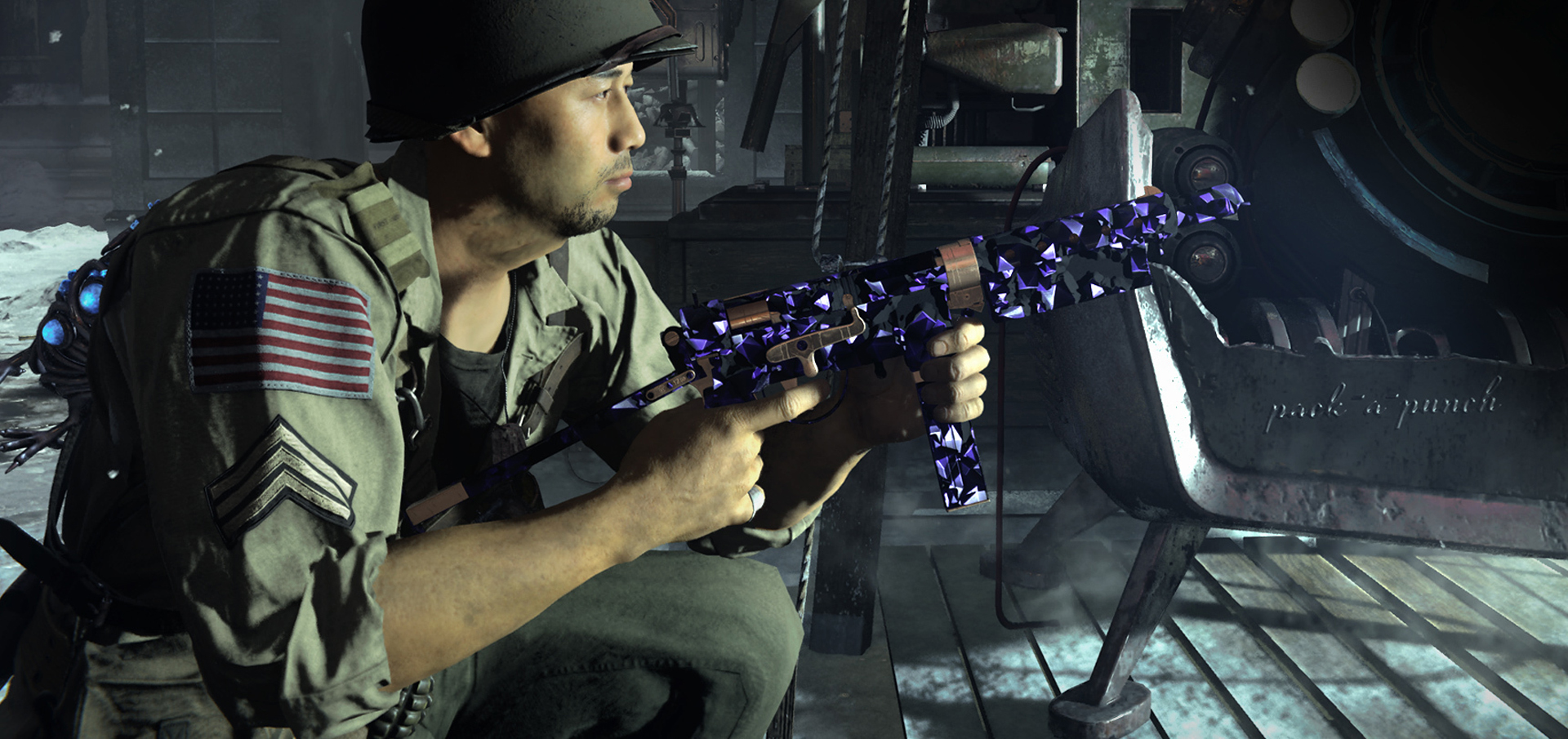 This update brings another classic Zombies feature to Vanguard: three new camos will now be available at the Pack-a-Punch machine.
Each time you upgrade your weapon of choice at the Pack-a-Punch, it will be wrapped in a unique camo to visually set it apart from the weapon's base version. Your camo will change in appearance with each new Pack-a-Punch upgrade up to Tier III, and pre-Packed loot weapons will also display these new camos once you pick them up from the Mystery Box or defeated Sturmkreigers.
New Support weapons
Killstreak weapons are joining the Support menu at the Crafting Table. When you need some extra firepower against the undead or you find yourself cornered in the Void, bring out the big guns and cause some carnage.
Once you've collected enough Salvage, you'll be able to build the explosive Warmachine or the devastating Deathmachine at the Crafting Table.
New Mystery Box weapons
The Day 115 update for Vanguard Zombies sees new items added to the Mystery Box. These include the Combat Shield, Katana, and brand-new Welgun SMG. However, to unlock the Katana and Welgun SMG players will need to complete the following challenges in the new update:
Katana: In Zombies, get 5 rapid kills with a Melee weapon during 50 different Portal Objectives.
Welgun SMG: In Zombies, get 5 rapid Critical Kills with an SMG during 50 different Portal Objectives.
As for the Combat Shield, it will mitigate a portion of damage from the direction you're facing when it's raised, and protect your back from partial rear damage when it's stowed as an added bonus. The shield can't break, but you'll still take some damage when using it, so you'll need to stay on your toes.
Dedicated server pause
In Black Ops Cold War, players were able to pause the game effortlessly, allowing them to take a break while retaining progress. Unfortunately, as Treyarch has stated in their latest blog, implementing this feature has "taken longer" than expected.
Having said that, they have confirmed that they are working hard at getting the feature implemented into Zombies for an "upcoming update."
Extended Double-Double Weekend
In the spirit of 115 Day, Treyarch has decided to kick off a four-day Double-Double Weekend in Black Ops Cold War starting this Friday at 10 AM PT Jan. 14 through 10 AM PT Tuesday, Jan. 18! This includes Double XP and Double Weapon XP in Zombies and will run alongside an extended 2XP weekend in Vanguard and Warzone as well.
---
That's all for the Vanguard Zombies "Day 115" mid-season update. For more, check out Vanguard's most popular weapons.
Image Credits: Activision / Treyarch / Sledgehammer Games
Vanguard players furious with "broken" Attack on Titan bundle
The highly-anticipated Attack on Titan bundle is leaving Vanguard players feeling frustrated with the unfinished product they purchased.
Just one day after the release of the highly-anticipated crossover and Vanguard players are already frustrated with the "broken" Attack on Titan bundle.
There's a ton of overlap between fans of both franchises therefore a crossover between brands checked a lot of conceptual boxes. However, early feedback from Vanguard players has been incredibly disappointing as they've highlighted major flaws with the cosmetics.
The Attack on Titan bundle already received its fair share of negative feedback prior to release due to the poor design of the Survey Corps Operator skin but some new flaws are leading players to claim the bundle as "broken".
It didn't take long for things to go sour with the Vanguard Attack on Titan bundle and given the fact that the bundle costs around $20 it's easy to understand why players feel shortchanged. Paying customers expect a finished product and the bundle is clearly failing to deliver on this promise.
The bundle consists of one Operator skin, three weapon blueprints, three in-game animations, one emblem, one sticker, and one charm. Players have already called out the skin for its poor design and now it seems like two of the weapon blueprints and some animations are not working as advertised.
As you can see in the clip posted to the Vanguard subreddit, the weapon blueprints that advertise Orange Tracers actually boast lackluster "cartoonish muzzle flash." Without the Tracers working as intended the weapon blueprints look and feel like half-finished products.
A separate post detailing issues with the bundle's animations is additional proof that the bundle is broken "Dunno if it's just me but the MVP highlight is broken, just shows every character beating someone with an invisible gun."
Once again, the most significant selling point fails to work as intended. Without the iconic AoT blades, the MVP highlight animation is meaningless.
Ideally, the bundle would work as intended from the getgo instead of presenting an unfinished product to paying customers.
As this bundle isn't cheap, costing players $20, hopefully Sledgehammer Games will look into these issues and ensure that they work as intended moving forward.
---
For more Vanguard news check out our guide to the best Assault Rifles in Vanguard as well as a ranked list of the best SMGs in Vanguard.
Image Credit: Raven Software / Sledgehammer Games / Activision / MAPPA / Wit Studio / Funimation
Vanguard graphics glitch makes CoD Zombies "unplayable"
A new Vanguard graphics glitch appeared after the January 20 update, and it's making CoD: Zombies "unplayable."
CoD: Vanguard's January 20 update brought a new graphics glitch to the game, and players are frustrated as it has made the game's Zombies mode "unplayable."
Sledgehammer Games released a major Vanguard update on January 20 to address the game's problems. This patch finally nerfed the Double Barrel Shotgun and fixed some frustrating glitches.
However, this update also brought some frustrating new issues for players to deal with. A new visual glitch has been ruining the graphics in Vanguard's Zombies mode and making the game unplayable.
Reddit user 'SecretlyHiddenSelf' showcased this glitch in the CoD: Vanguard subreddit. The image they posted showed missing textures in the game's Zombies mode, with large polygons taking up most of the screen.
This isn't the first time that Vanguard players have had to deal with frustrating graphics issues. The Redditor called these new graphical glitches "insane," claiming that they're making Zombies "unplayable."
The commenters were equally frustrated with these texture issues and some of them came to the conclusion that this glitch is a result of the NVIDIA Drivers update on PC. So, they began looking for ways to fix it.
How to fix Vanguard Zombies graphics glitch
A few of the commenters in this thread stated that reverting the NVIDIA Drivers update on your PC will fix this graphics glitch. "If you're on PC roll your NVIDIA Driver back to 497.29," suggested one user.
You can get this done by going on NVIDIA's website and manually choosing a specific driver version to download and install. If you already have the latest driver installed then you can simply uninstall it.
Ultimately, this is a game-breaking glitch that the developers will need to address soon. At the time of writing, it's unclear whether or not they're aware of the issue, but we'll be sure to update you if they announce a fix.
---
For more Vanguard content, check out this Ranked mode that's been confirmed for Vanguard Season 2 as well as the best SMGs to use in Vanguard's multiplayer.
Image Credits: Activision / Sledgehammer Games
Vanguard Ranked mode confirmed for February's Season 2
The latest Vanguard patch notes have teased players about a highly anticipated Ranked Mode, suggesting it could be coming soon.
Vanguard players have been calling for a Ranked mode for some time now, and those prayers have finally been answered with confirmation that it is on the way.
Vanguard's January 20 update delivered bug fixes after the delay of Season 2, which is great for the community who have recently been highlighting the abundance of issues in both Vanguard and Warzone.
As well as this, players were also given an update regarding Ranked Play, with an update from the Call of Duty League confirming its arrival isn't too far away.
In a blog post on the official CDL website, General Manager Daniel Tsay confirmed that the mode will release in the near future, marking down February as its likely date.
"Ranked Play is planned to roll out alongside new Call of Duty: Vanguard game content in February," he wrote. "We're all very excited about the future of Ranked Play here and can't wait to share more details as we get closer to its release."
While Tsay didn't go as far as giving an exact date, it's likely that it will drop with Vanguard Season 2, which has been delayed to February 14.
In the January 20 patch notes, fans were given a teaser about the mode, with one bullet point mentioning killstreaks in Ranked matches.
All Killstreaks, except Artillery Strike and Cruise Missile, are restricted and not able to be used while in Ranked matches
We know that players have been calling for a Ranked mode to be added for some time now. A new competitive mode would be great for the players wanting more from the game, as some may feel as if the casual playlist is not enough.
---
As more information is released regarding a Ranked mode, we'll be sure to keep you updated. For now, check out the best SMG's to use in Vanguard's multiplayer.
Image Credits: Activision / Sledgehammer Games