Vanguard Zombies update "Day 115": Round-based Shi No Numa, new Support weapons, & more
The "Day 115" Vanguard Zombies update is bringing some classic gameplay back as fans will be able to relive the classic Shi No Numa map.
Vanguard Zombies will be getting a new update on January 11 in anticipation for "Day 115," which looks to bring some exciting new content for the mode.
In celebration of January 15, which Treyarch and fans are calling 115 Day, the devs are putting out a pretty significant update for Vanguard Season 1 Zombies just prior to the special date.
Those who had hoped the classic survival mode would return just might be in for a treat, as the update sees the return of Shi No Numa. Further, the update will also bring various changes to Artifacts, Pack-a-Punch, and more.
Here are all the details.
Vanguard Zombies "Day 115" update release date
The Vanguard Zombies "Day 115" mid-season update will be released at 9 PM PT Jan. 11 / 12 AM ET Jan. 12 / 5 PM GMT Jan 12.
This update is in celebration of January 15 or "Day 115," which is the number of the element that started the Zombies lore all the way back in World at War.
With lots of content coming for Vanguard Zombies, players will be most excited to hear that this lore-inspired "Day 115" update will also be bringing back a classic way to play on a familiar reimagined map.
Here are the details surrounding the return of Call of Duty: World at War's Shi No Numa Zombies map.
Round-based Shi No Numa
To add to the nostalgia of Day 115, players will get to revisit Shi No Numa in a new Objective called "Void." This new objective will be available through unlocking access to Von List's Office and finding a new portal.
Go through the portal to travel to Shi No Numa, where Treyarch states "you'll advance through rounds by defeating increasingly difficult endless waves of the undead, just like in traditional Zombies from previous games."
In this Objective, players will be able to clear wave after wave, advancing through rounds while using the Pack-a-Punch machine to upgrade their weapons. After completing three rounds, players are given the choice to either Flee or Survive. Choosing to survive will mean you'll earn 5,000 bonus Essence every three rounds you complete, with unique rewards after surviving 12 or more.
Further, "Once the portal to the Void has been opened, it will never close during your match. When you're ready to head back to Stalingrad to upgrade your Perks and Covenants, you can leave after surviving 3 rounds and return at any time."
Tome of Rituals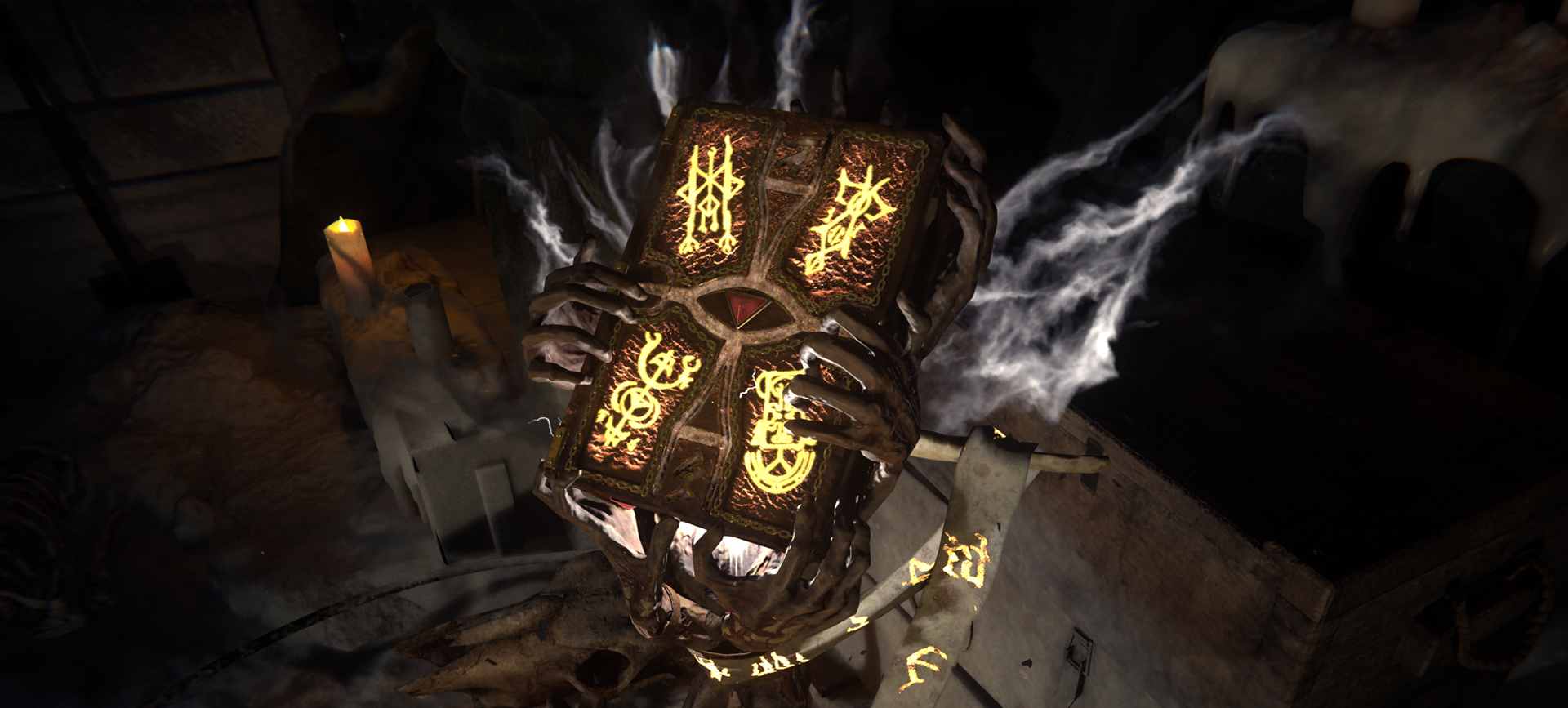 You'll earn a Sacrificial Heart for every three rounds you manage to survive in the Void, which can be spent back in Stalingrad to buff your Dark Aether powers. The new Tome of Rituals in Stalingrad is exactly where players can do that.
Invest your Sacrificial Hearts at the Tome of Rituals to unlock the following upgrades during a match:
Frost Blast
Tier I – Freezes normal and Special enemies for 3 seconds once they have been in the Frost Blast zone for 0.5 second.
Tier II – Increases the Frost Blast radius by 100%.
Tier III – Increases the number of charges from 1 to 3.
Tier IV – Frozen normal enemies are insta-killed when damaged.
Energy Mine
Tier I – Stuns normal and Special enemies hit by Energy Mine for 3 seconds.
Tier II – Explodes 3 times in a row with a 0.75 second delay between explosions.
Tier III – Increases the number of charges from 1 to 3.
Tier IV – Increases the explosion radius by 66%.
Aether Shroud
Tier I – Automatically reload weapons when activated.
Tier II – Deal 500% bonus melee damage while active.
Tier III – Gain 50% move speed while active. Duration extended from 5 seconds to 8 seconds.
Tier IV – Increases the number of charges from 1 to 2.
Ring of Fire
Tier I – Normal enemies inside the ring take damage equal to 2% of their max HP every second.
Tier II – Players within the ring use ammo from stock.
Tier III – Staying within the ring for up to 10 seconds increases the duration from 15 seconds to 20 seconds.
Tier IV – Staying within the ring for up to 10 seconds increases your damage bonus from +50% to +75%.
New Pack-a-Punch Camos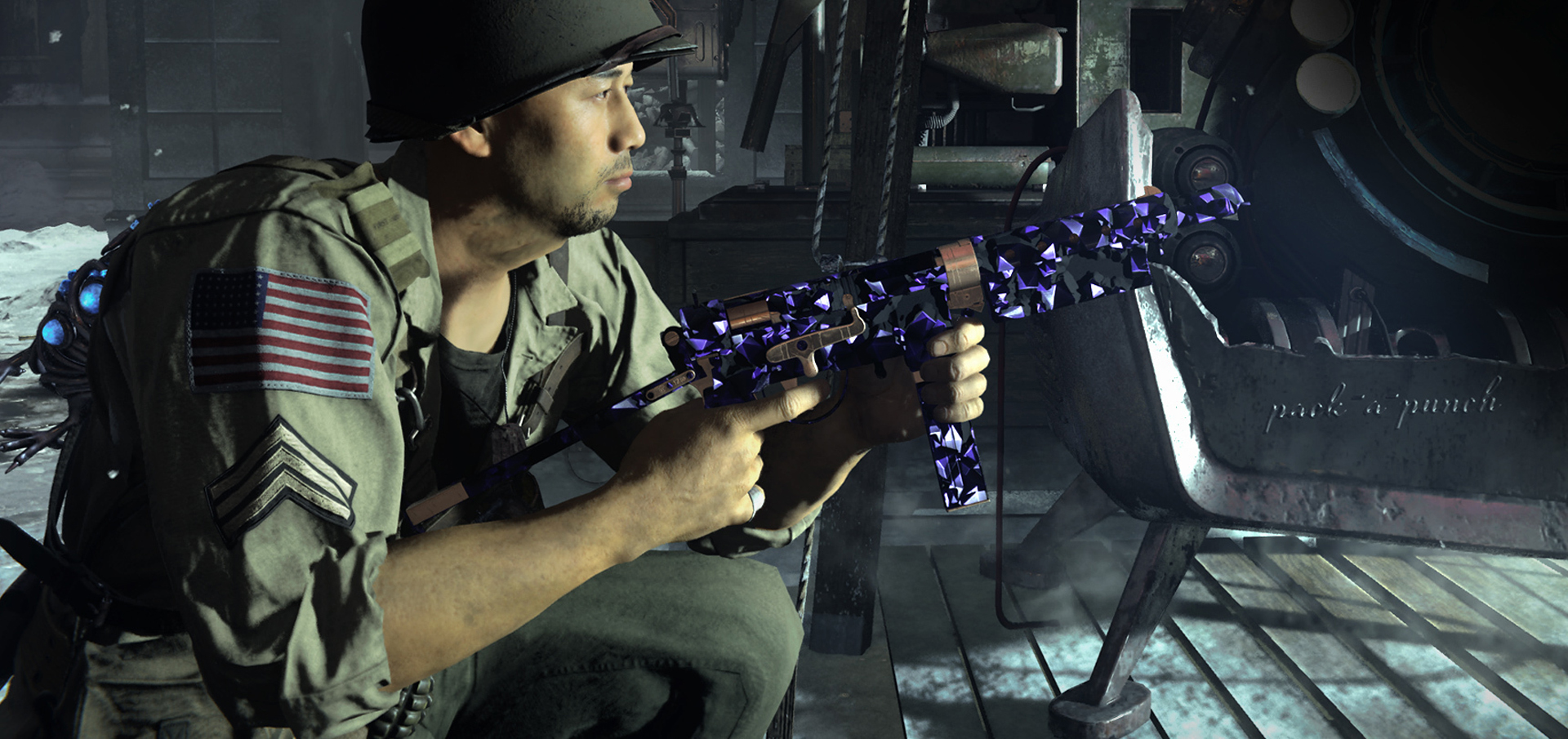 This update brings another classic Zombies feature to Vanguard: three new camos will now be available at the Pack-a-Punch machine.
Each time you upgrade your weapon of choice at the Pack-a-Punch, it will be wrapped in a unique camo to visually set it apart from the weapon's base version. Your camo will change in appearance with each new Pack-a-Punch upgrade up to Tier III, and pre-Packed loot weapons will also display these new camos once you pick them up from the Mystery Box or defeated Sturmkreigers.
New Support weapons
Killstreak weapons are joining the Support menu at the Crafting Table. When you need some extra firepower against the undead or you find yourself cornered in the Void, bring out the big guns and cause some carnage.
Once you've collected enough Salvage, you'll be able to build the explosive Warmachine or the devastating Deathmachine at the Crafting Table.
New Mystery Box weapons
The Day 115 update for Vanguard Zombies sees new items added to the Mystery Box. These include the Combat Shield, Katana, and brand-new Welgun SMG. However, to unlock the Katana and Welgun SMG players will need to complete the following challenges in the new update:
Katana: In Zombies, get 5 rapid kills with a Melee weapon during 50 different Portal Objectives.
Welgun SMG: In Zombies, get 5 rapid Critical Kills with an SMG during 50 different Portal Objectives.
As for the Combat Shield, it will mitigate a portion of damage from the direction you're facing when it's raised, and protect your back from partial rear damage when it's stowed as an added bonus. The shield can't break, but you'll still take some damage when using it, so you'll need to stay on your toes.
Dedicated server pause
In Black Ops Cold War, players were able to pause the game effortlessly, allowing them to take a break while retaining progress. Unfortunately, as Treyarch has stated in their latest blog, implementing this feature has "taken longer" than expected.
Having said that, they have confirmed that they are working hard at getting the feature implemented into Zombies for an "upcoming update."
Extended Double-Double Weekend
In the spirit of 115 Day, Treyarch has decided to kick off a four-day Double-Double Weekend in Black Ops Cold War starting this Friday at 10 AM PT Jan. 14 through 10 AM PT Tuesday, Jan. 18! This includes Double XP and Double Weapon XP in Zombies and will run alongside an extended 2XP weekend in Vanguard and Warzone as well.
---
That's all for the Vanguard Zombies "Day 115" mid-season update. For more, check out Vanguard's most popular weapons.
Image Credits: Activision / Treyarch / Sledgehammer Games
Vanguard August 11 update patch notes: Dev Error & attachment exploit fixes
Vanguard's August 11 update patch notes delivered bug fixes for an attachment exploit and a Dev Error issue in Season 4 Reloaded.
Sledgehammer Games have provided a Vanguard update on August 11 that patched a weapon attachment exploit and fixed a Dev Error bug in Season 4 Reloaded.
Vanguard devs Sledgehammer Games continue to update the game and provide players with fresh content. In addition to a playlist update arriving on August 11, players were also treated to a new update that provided a fix to several of the game's latest bugs.
The update covers both multiplayer and zombies game modes as certain bugs were hampering the fun. A particularly annoying Dev Error should no longer plague players following the August 11 Vanguard update.
Vanguard Dev Error & attachment exploit fixes
Vanguard Season 5 is fast approaching, but before we get a brand-new season of content with new weapons, maps, and Operators, Sledgehammer are dedicated to fixing current issues.
It seems an unintended exploit was allowing players to combine attachments from other weapons to achieve combinations that should not be possible. This would result in overpowered weapons running amok and the devs were quick to nerf the issue.
In addition, players will no longer have to deal with DEV ERROR 10308 that occurred on the USS Texas map.
Vanguard August 11 update patch notes
Multiplayer
Maps
USS Texas 1945

Addressed an issue that caused DEV ERROR 10308 to occur.
Progression
Seasonal Challenges will no longer be marked as complete if the requirements are unmet.
Weapons
Addressed an exploit that allowed players to achieve unintended Attachment combinations.
Zombies
Weapons
Vargo-S

Addressed an issue that prevented the Survivalist camouflage challenge from tracking when using specific magazine attachments.

Push Dagger

Addressed an issue that prevented the Plague Diamond and Dark Aether camouflage and challenge requirements from being visible in the loadout menu.
Stability
Addressed a rare issue where players could become stuck in spectator mode when joining a match in progress as the joined player leaves.
---
For more, check out Activision apologized for using an artist's design in a now canceled Vanguard & Warzone skin.
Source: Sledgehammer Games
Image Credit: Activision
Activision apologize for using artist's design in now canceled Vanguard & Warzone skin
Activision have scrapped an unreleased Warzone and Vanguard skin after using an artist's work without permission.
Activision admitted to the major misstep of using an artist's work without permission. The original art was to feature in an upcoming Vanguard and Warzone skin that has since been axed.
Major content drops like new seasons or midseason updates deliver weapons, maps, and changes to Call of Duty games, but they also tend to bring brand-new skins to enjoy. Vanguard and Warzone have seen some noteworthy skins that certainly got players talking.
After all, who could forget the Armored Titan, or Godzilla and King Kong skins? At the start of Season 4 Reloaded, players also received a new Terminator crossover. However, teasers for Season 4 Reloaded also hinted at a mysterious wolf-like skin.
After the wolf skin was teased in an official Call of Duty blog post, it was later inexplicably removed and replaced from the very same post. It turns out, Activision used content that did not belong to them in order to create the aforementioned skin.
When the wolf skin was first teased, it certainly generated a ton of buzz, or rather raised a ton of eyebrows. The anthropomorphic Operator definitely sticks out in a WWII-era Call of Duty game. Nonetheless, fans were excited at the prospect of running around as a wolf in Warzone.
Unfortunately, that idea won't come to fruition as Activision have confirmed that they completely removed the skin from their planned content drop for Season 4 Reloaded.
It seems Activision overstepping bounds is the reason behind the skin's cancelation.
An artist claimed that the wolf skin, also known as Samoyed skin, was stolen without their permission. In a strange turn of events, Activision has issued an apology, seemingly confirming the artist's claims.
In a statement, Activision admitted that they "regrettably erred in our process and have removed this imagery from the game," apologizing for the misstep.
While fans may be disappointed to lose their chance at slaying in a furry wolf skin, most would agree that if the artist's claims are legitimate, the greater injustice was corrected as nobody should have their work stolen without credit.
---
For more, check out how CoD players are thrilled with the rumored change to Modern Warfare 2's movement.
Image Credit: Activision
When is the next Vanguard & Warzone Pacific Double XP event?
We have the dates and times for the next CoD: Vanguard and Warzone Pacific Double XP event to help you rank up weapons and the Battle Pass.
We're past the Season 4 halfway point of Call of Duty action, and there's still plenty of time to level up, prestige, and unlock weapons before Modern Warfare 2. Here are the full dates for the next Warzone and Vanguard Double XP weekends.
XP has been a vital component of Call of Duty's multiplayer for many years. It's the quintessential upgrade mechanic that allows you to increase your in-game level and provide you access to better gear and attachments.
Vanguard and Warzone Pacific carried on from where Cold War and Warzone left off by giving players limited-time windows of opportunity to increase the XP they can earn.
Vanguard & Warzone Double XP dates
Call of Duty players can get Double XP by taking advantage of the Double XP promotional events that Activision put on.
Thanks to the Raven Software Trello board, we know when the next Warzone & Vanguard Double XP events are:
Double XP event – All platforms:

 Thursday, August 4 – Thursday, August 11

Double Weapon XP and Double Battle Pass XP
These special Double XP events are coming as part of Vanguard & Warzone's Season 4 Reloaded. With major weapon buffs and nerfs, changes to the Fortune's Keep map, and the new Vargo-S AR there is plenty of new content for players to sink their teeth into.
What time does CoD: Vanguard & Warzone Pacific Double XP start?
Here's a full list of the usual Double XP event's start time & dates in some of the key timezones:
PT – 10:00 AM
CT – 12:00 PM
ET – 1:00 PM
BST – 6:00 PM
These special Double XP events usually occur during a weekend, as it naturally gives players the most time as it's away from school hours and generally when people are off work.
If you're worried about slow progression for Vanguard and Warzone's Battle Pass, the active Double XP event will no doubt give you a great boost to unlock all the Season 4 Reloaded rewards.
---
For more Call of Duty, find out everything you need to know about the next release in the legendary franchise, Modern Warfare 2.
Image Credit: Activision / Sledgehammer Games / Raven Software