Warzone Season 4 weapon buffs & nerfs: AMAX, Streetsweeper, Milano, DMR, more
Warzone's Season 4 update includes significant balancing changes to a number of weapons, including AMAX, shotguns, and more.
Call of Duty: Warzone Season 4 is here, and the team at Raven Software have made big changes to the overall weapons and weapon balancing within Verdansk, with buffs and nerfs for a number of guns.
Raven Software's goal is to keep the weapon meta and balancing fresh as part of new updates, allowing more weapons to shine. Balancing allows the developers to move underperforming weapons to the front and bring down over-performing weapons in the Verdansk world.
With the launch of the Season 4 patch in Warzone, Raven Software has made a number of adjusments to the weapons in the game, across both Cold War and Modern Warfare weapons, with more big changes to come in a future patch update.
At a high level, here's all of the weapons that Raven Software has adjusted in Warzone with the Season 4 update.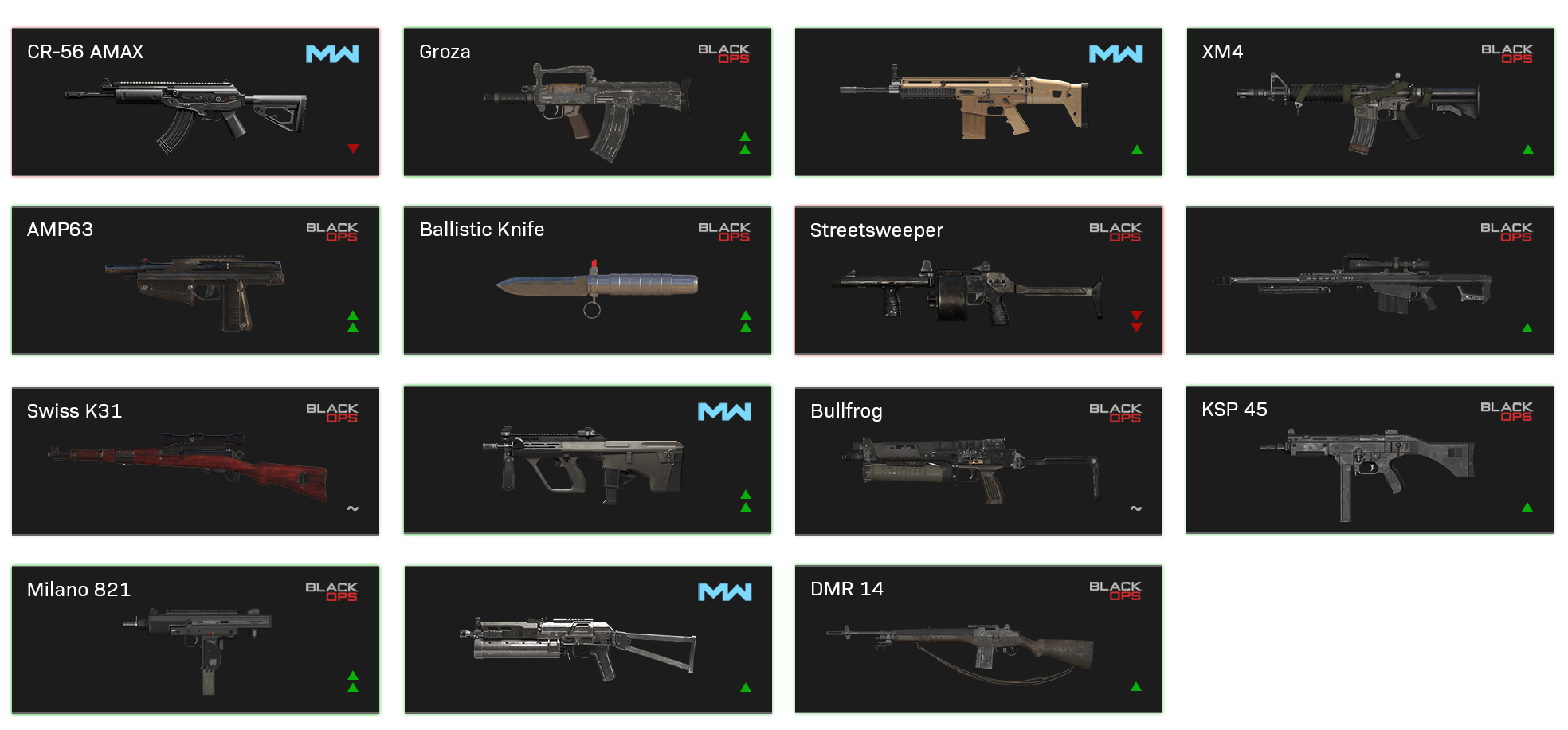 Assault Rifle changes in Warzone Season 4
Raven Software continues to make changes to the Assault Rifle weapons in Warzone with Season 4.
The newest update includes more nerfs for Modern Warfare's AMAX, which continues to be one of the most powerful weapons in Verdansk.
Other Assault Rife changes in Season 4 include updates to Cold War's Groza, the AR Golf (MW), and the XM4 from Cold War.
Here's the full list of Assault Rifle Changes:
Assault Rifles

CR-56 AMAX (MW)

Upper Torso Damage multiplier decreased from 1.2 to 1.1

The real strength of the CR-56 AMAX (MW) layed in its long-range viability and the consistency of its Time to Kill. While we have made several moves to reduce its power level, the third time is in fact, the charm. We love the CR-56 AMAX (MW) and we will likely see it return in the future when the massive balance overhaul takes place. Though for now, we would like to shake up the long-range space and see what rises to the top.


Groza (BOCW)

Minimum Damage increased from 18 to 23
Upper Torso Damage Multiplier increased from 1.1 to 1.2
Lower Torso Damage Multiplier increased from 1 to 1.1
Maximum Damage range decreased by 12%

As a relatively slow-firing, low damage Assault Rifle, it is no surprise that the Groza (BOCW) has underperformed since its preemptive balance adjustment at the beginning of Season Three. This tune up should put it in a solid position in short to mid-range mobility based AR builds.


Assault Rifle Golf (MW)

Neck Damage Multiplier increased from 1 to 1.5
Upper Torso damage multiplier increased from 1 to 1.2

We would like to avoid increasing the power level of a Qeapon to a point where we would need to reduce it shortly after in the following balance overhaul. With that being said, the Assault Rifle Golf (MW) may soon see another power increase in the near future, but we think an improvement to its average Time to Kill is a good place to start.


XM4 (BOCW)

Neck Damage Multiplier increased from 1 to 1.5

We consider increases to Neck Damage Multipliers a small buff realistically, as they make landing headshots only slightly more likely. We feel the XM4 (BOCW) is close to being in a great spot and we are aiming for this change to get it there.
Streetsweeper updates in Warzone Season 4
The most powerful shotgun in Warzone is getting a change. Raven Software has further nerfed the Streetsweeper shotgun in Season 4 update, bringing it more in line with other shotguns.
Here's the exact changes & reasoning from Raven:
Streetsweeper (BOCW)

Maximum Damage range decreased by 24%
Second Damage range decreased by 18%
Third Damage range decreased by 7%
Move Speed decreased by 1%

The Streetsweeper (BOCW) has one of the best short-range kill death ratios of any Weapon in Warzone. The issue is with the right Attachments that lethal range could be stretched out further than we would like. The Streetsweeper (BOCW) will still be very deadly, but will now require you to be a few steps closer to your target to maximize its effectiveness.
Additional Season 4 changes – SMGs, Snipers, More
Season 4 weapon changes continued with some notable changes to the SMG class in Warzone.
The update includes changes to Modern Warfare's SMG Alpha & Echo, with Alpha seeing a nerf to its torso damage and Echo getting a bump to better line up with the entire class.
Raven also made changes to the Sniper Rifles, Handguns, and the infamous DMR.
Check the list of additional changes from the studio:
Submachine Guns


Submachine Gun Alpha (MW)

Upper Torso Damage Multiplier increased from 1 to 1.1
Maximum Damage range increased by 10%

The Submachine Gun Alpha (MW) has a ludicrously fast Time to Kill when landing all headshots within its Maximum Damage range. However, outside of those two conditions, it performed far less reliably than its peers. While we do not expect this change to jettison the Submachine Gun Alpha (MW) to the top of SMG viability, we are positioning it to excel in our upcoming balance overhaul.


Bullfrog (BOCW)

Ironsights ADS position adjusted

These changes should allow for better ADS visibility without optics.


KSP 45 (BOCW)

Maximum damage range increased by 16.6%
Extremities multipliers increased from .9 to 1

The KSP 45 (BOCW) has a fast Time to Kill potential. Insomuch that when considering how to increase its effectiveness, we were concerned not to push it too hard, for fear of making it dominant. It is understandable why one would steer clear of a short to mid-range burst-fire Weapon considering how low the margin for error is in that engagement range. However, two well placed bursts with the KSP 45 (BOCW) will put someone out of commission faster than you might expect.


Milano 821 (BOCW)

Maximum Damage increased from 34 to 36
Minimum Damage increased from 25 to 30
Maximum Damage range increased by 23%
Upper Torso Damage Multiplier increased from 1 to 1.2
Lower Torso Damage Multiplier increased from 1 to 1.1
Extremities Damage Multipliers increased from .9 to 1

The Milano 821 (BOCW) needed a lot of love for it to reach a semi-viable state. We will see how it shapes up over the first half of Season Four and make any necessary changes at that time.


Submachine Gun Echo (MW)

Maximum Damage increased from 34 to 35
Extremities Damage Multipliers increased from .9 to 1

Much like its BOCW counterpart, the Submachine Gun Echo (MW) relies heavily on well-placed shots. These changes should make it a tad more forgiving.

Handguns


AMP63 (BOCW)

Maximum Damage increased from 30 to 33
Second Damage range increased by 14.3%
Upper Torso Damage Multiplier increased from 1 to 1.1
Extremities Damage Multipliers increased from .9 to 1
Head Damage Multiplier decreased from 1.4 to 1.3

The AMP63 (BOCW) did not have its fastest Time to Kill improved by these changes. Rather, its TTK breakpoints were shifted around and its Second Damage range was pushed out. A move we felt was necessary to help offset its limited magazine capacity and rate of fire. These changes should provide another compelling Secondary Weapon option alongside the Sykov (MW) to complement non-Overkill loadouts.


Melee


Ballistic Knife (BOCW)

Projectile Velocity increased by 25%
Neck Damage Multiplier increased from 1 to 1.3
Upper Torso Damage Multiplier increased from 1 to 1.23
Move Speed increased by 1.3%

The Ballistic Knife will become a desirable selection for melee aficionados following these changes. With additional mobility, improved Projectile Velocity, and more generous locational multipliers—letting someone wielding the Ballistic Knife get too close is a mistake you will only make once… or twice per game.


Sniper Rifles


Sniper Rifle Charlie (BOCW)

Bullet Velocity increased by 7.7%
Upper Torso Damage Multiplier increased from 1.1 to 1.25
Lower Torso Damage Multiplier increased from 1 to 1.15

In a previous patch, the Sniper Rifle Charlie (BOCW) underwent a change to its identity. Now, as a slower firing Sniper Rifle, we feel it is necessary to increase its Damage and Bullet Velocity to compensate more adequately. We will be keeping a close eye on it to ensure it occupies this role successfully.


Swiss K31 (BOCW)

Base Optic functionality improved
Base Reticle updated

Tactical Rifles


DMR 14 (BOCW)

Recoil magnitude decreased

Even after its falling out, the DMR 14 (BOCW) is still a respectable choice with the right Attachments. A little bump to help stay on target at a distance should help the DMR 14 (BOCW) hold its own in the face of fierce mid to long-range competition.
Future Updates – Raven teases massive change
Raven Software indicated in the patch notes that they also plan to make significant changes to Warzone's overall meta in an upcoming update to the game.
The biggest changes include how all weapon classes balance each other out, including the average TTK.
You can check their full note on this here:
"In a future patch, we will be making sweeping balance changes to Weapons. Let us take a moment to discuss the philosophy behind that decision. At a high level, Warzone is a game about engagements. The more time we allot to mechanical and strategic expression within engagements, the higher the 'skill ceiling' and the longer our personal journey of mastery. We believe the frequency of those engagements and how we navigate them heavily contributes to the overall level of fun."
"We want to enable more escapes from impossible situations, moments of finesse, epic outplays, and opportunities to flex exquisite marksmanship. Due to some Weapons being far more lethal than others in their class, we feel a reduction in the efficacy of those outliers is necessary. We expect these changes will bring the average Time to Kill up by approximately 60 to 100 milliseconds. These changes will not only increase the overall capacity for skill expression, but should also introduce some Weapons into viability that have not yet had a chance to shine."
For more information on the all of the changes, check the Warzone Season 4 patch notes and stay tuned for updates!
Image Credit: Activision / Raven Software
Best FARA 83 loadout for CoD: Warzone Season 4
Warzone Season 4 made big changes to the FARA 83 Assault Rifle, so take advantage by making and dominating with the best Warzone Fara 83 loadout.
The FARA 83 Assault Rifle is one of the weapons that got changes in Call of Duty: Warzone Season 4 Reloaded, and you can make it a formidable force by selecting the right attachments and perks to make the best Warzone FARA 83 loadout.
Season 4 brought a whole host of major weapon buffs and nerfs to the world of Warzone, with some of the most significant changes coming to the barrels for Black Ops Cold War Assault Rifles.
These changes have helped boost weapons like the Krig 6 and the FARA 83 to be top-tier long-range weapons that will mow down enemies with ease in CoD: Warzone. The FARA has become an absolute monster in Warzone Season 4, with NICKMERCS offering his unbeatable loadout.
While this Assault Rifle was on the receiving end of some nerfs in Season 4 Reloaded's massive weapon balancing update, it is still a very formidable weapon for players to use.
With this in mind, check out the attachments and perks you should use to make the best Warzone FARA 83 loadout and maximize its potential following the Season 4 update.
Best Warzone FARA 83 loadout
Best Warzone FARA 83 loadout attachments
Muzzle: Gru Suppressor
Barrel: 18.7″ Spetsnaz RPK Barrel
Optic: Axial Arms 3x
Underbarrel: Spetsnaz Grip
Ammunition: Spetsnaz 60 Rnd
We'll start this loadout with the Gru Suppressor, which will help you avoid enemy detection on their radars while also drastically increasing the damage range of this Assault Rifle. This will allow you to dish out heavy amounts of damage at further distances.
The 18.7″ Spetsnaz RPK Barrel will improve both the Assault Rifle's effective damage range, horizontal recoil control, vertical recoil control, and bullet velocity. This helps prime the weapon for mid to long-range combat, where you need to pick off enemies from a distance by having the largest damage increase and recoil control of all of the gun's available barrels.
You can use the Axial Arms 3x to have a very clear and precise view of the battlefield and help improve your accuracy at farther ranges.
The Spetsnaz Grip will give you the biggest boost in accuracy when it comes to the underbarrel attachments and will help you land more of your shots than without it. Thanks to the boost, it provides your vertical and horizontal recoil control.
We'll complete the best Warzone FARA 83 loadout by equipping the Spetsnaz 60 Rnd Mag so that you can take advantage of the weapon's incredible fire rate and have enough ammo to take down multiple enemies before having to reload.
Best perks for Warzone FARA 83 class
Perk 1: E.O.D
Perk 2: Overkill / Ghost
Perk 3: Amped
It doesn't matter how skilled you are with the best Warzone FARA 83 loadout if you're caught off-guard by foes carrying explosives. Other players will attempt to blow you up while you're in a good position during battle, so you'll want to equip E.O.D to survive.
This Perk allows you to tank huge amounts of explosive damage while you have your armor equipped. While you'll mostly be fighting in medium to long-range combat situations, it still helps to be prepared for any surprises and protect your plates.
Warzone matches can have various tactical requirements, so you can equip Overkill which allows you to select two primary weapons from any category. This means that you'll be able to keep guns that are ideal for different situations.
You can then snag Ghost from a second loadout drop to keep yourself hidden from enemy UAVs and Heartbeat Sensors.
If an enemy can sneak up on you in close quarters, you'll want to swap to your secondary weapon before they have a chance to eliminate you. This perk makes switching weapons almost instant, which can be the difference between victory and defeat.
How to unlock the FARA 83
You can unlock this Assault Rifle by getting 2 headshot kills in 15 different matches while using Assault Rifles in Cold War Multiplayer or Warzone.
Players can also unlock this Assault Rifle by going into Black Ops Cold War Zombies and killing 30 or more enemies consecutively without getting hit 25 times.
Once you do either of these challenges, you will have the weapon available to use in the popular Call of Duty battle royale and make the best Warzone FARA 83 loadout.
Best alternatives
The FARA 83 is now one of the most impressive weapons in Warzone following the Season 4 update. But it's very SMG-like, and if you want something a bit more rapid, then Warzone has some fabulous SMGs: MAC-10, LC10, PPSH-41, AK-74u, and Bullfrog.
If you're looking for more great weapons, then you can check out some of this season's best loadouts below.

C58 | Groza | M4A1 | Milano | AK-47 | SP-R 208
Image Credits: Activision / Raven Software
Warzone player encounters hilarious Sentry Turret glitch
After coming up with a high IQ play, one Warzone player was severely punished for their clever use of a Sentry Turret with a glitch.
Creative use of a Sentry Turret Scorestreak ended in disaster for one Warzone player as the game seemingly rejected their inventive idea and blew it up instead.
We've all seen a Trophy System thrown onto a vehicle before as it allows a player to roam around freely in their vehicle, and the equipment will blow up any incoming projectile threats.
However, one Call of Duty: Warzone player decided to go one step further and place their Sentry Turret Scorestreak on a Big Bertha. The results were probably not what the player was expecting at all.
AdamMarsdenUK is the name of our unlucky player who thought they were onto a cool new play in Warzone Season 4.
In the middle of a game of Plunder, they climbed onto the hood of their Big Bertha truck and slapped down a fearsome Sentry Turret to guard it.
Instead of defensive hardware that will swat away any grenades or lethals, the Sentry Turret would be looking to chop down any enemies with a relentless barrage of bullets.
Strangely, when they entered the vehicle, the whole truck began to glitch uncontrollably, and it was as if the truck had been hit by the world's most deadly earthquake.
Instead of driving around normally, the truck was throwing itself around the vicinity rather violently, to the point the player had to quickly get out of the sentient vehicle.
In one last act of defiance, the truck rolled itself up a tree, came back to the ground, and exploded in amusing fashion.
One reply to the Reddit thread said: "This could be a good trap if you let someone come up behind it to steal it."
It's unknown if this was a one-off, isolated incident. We would suggest you err on the side of caution if you intend to put down a Sentry Turret on your Bertha and attempt to drive with it.
Also, check out our Warzone Payload guide with tips & tricks on how to win.
Image Credit: Activision / Raven Software
Best Streetsweeper Shotgun Loadout for CoD: Warzone Season 4
The streetsweeper is an insanely powerful shotgun in Warzone Season 4 Reloaded, so here is the best loadout for this close-quarters monster.
Having a strong close-quarters weapon can be the difference between losing and winning a 1v1 in Call of Duty: Warzone, which is why you need the best loadout for the Streetsweeper Shotgun in Season 4 Reloaded.
After becoming ground loot in Warzone Season 3, players began to realize the absolute ruining potential of the Streetsweeper Shotgun. For an automatic Shotgun that can unleash one hammer blast after another, it has next-to-no recoil and is simply devastating. While it is no longer ground loot, it is still an extremely powerful close-quarters weapon.
With enough trigger discipline, you can take out entire squads with just one magazine. Be careful when firing, though, as the reload time for the Streetsweeper is one of the longest in any Call of Duty game, ever. With enough time and patience, it's a crucial weapon that can lead to plenty of Warzone Victories.
Here is the best loadout for the Streetsweeper Shotgun for Warzone Season 4 Reloaded.
Best Warzone Streetsweeper loadout
Best Warzone Streetsweeper loadout attachments
Muzzle – Agency Choke
Barrel – 13″ Reinforced Heavy
Laser – Ember Sighting Point
Ammunition – STANAG 18 Round
Stock – Marathon Stock
The Agency Choke provides this loadout with a great deal of damage range, which will make sure that the damage falloff for this Shotgun does not lead to your demise in medium-range fights.
Combined with the 13″ Reinforced Heavy barrel, this setup will give you the best damage range possible and will allow you to take down enemies even if they are not straight in front of you.
Hip-firing is one of the most important aspects of using a Shotgun, and the Ember Sighting Point will give you an insane boost to hip-firing accuracy allowing you not even to have to aim down the sights to hit accurate shots on targets.
Having the STANAG 18 Round magazine will give you all of the ammo you need to wipe out an entire enemy team without having to worry about reloading.
Finally, the Marathon Stock will provide you with a beneficial boost in mobility, which will allow you to move quickly around the map and get in close to destroy enemies.
Best perks to use with Warzone Streetsweeper class
Perk 1: E.O.D.
Perk 2: Overkill/Ghost
Perk 3: Amped
You will find that many gunfights in Warzone start with enemy players throwing different kinds of explosives at you to break armor before they rush. Using E.O.D. will reduce the amount of damage you take from enemy explosives and make sure you are not as weak if you get hit.
While the best Streetsweeper Shotgun Warzone loadout will be a vital asset in close-quarters fights, you will want to use Overkill to makes sure you have a longer-range weapon as well.
A second loadout can then be used to attain Ghost and make yourself undetectable by UAVs and Heartbeat Sensors.
Getting caught switching between weapons can result in you getting eliminated, which is why using Amped will help greatly by increasing your weapon swap speed and make sure you have the right weapon for the job as fast as possible.
How to unlock the Streetsweeper
Players who would like to add this shotgun to their inventory will have to get 3 kills without dying using shotguns in 15 different matches.
You can complete this unlock challenge in either Black Ops Cold War or Warzone, but we recommend Black Ops Cold War, as it will be much easier in multiplayer matches than battle royale games.
Best Alternatives
If you are looking for something else besides the best Warzone Streetsweeper loadout, be sure to check out the top 10 loadouts that are dominating Call of Duty: Warzone in Season 4 or the best loadouts for the Cold War MP5, FARA 83, or Bullfrog.
If you're looking for more great weapons, then you can check out some of this season's best loadouts below.

C58 | Groza | M4A1 | Milano | AK-47 | SP-R 208
Image Credit: Activision / Raven Software