Warzone Season 4 weapon buffs & nerfs: AMAX, Streetsweeper, Milano, DMR, more
Warzone's Season 4 update includes significant balancing changes to a number of weapons, including AMAX, shotguns, and more.
Call of Duty: Warzone Season 4 is here, and the team at Raven Software have made big changes to the overall weapons and weapon balancing within Verdansk, with buffs and nerfs for a number of guns.
Raven Software's goal is to keep the weapon meta and balancing fresh as part of new updates, allowing more weapons to shine. Balancing allows the developers to move underperforming weapons to the front and bring down over-performing weapons in the Verdansk world.
With the launch of the Season 4 patch in Warzone, Raven Software has made a number of adjusments to the weapons in the game, across both Cold War and Modern Warfare weapons, with more big changes to come in a future patch update.
At a high level, here's all of the weapons that Raven Software has adjusted in Warzone with the Season 4 update.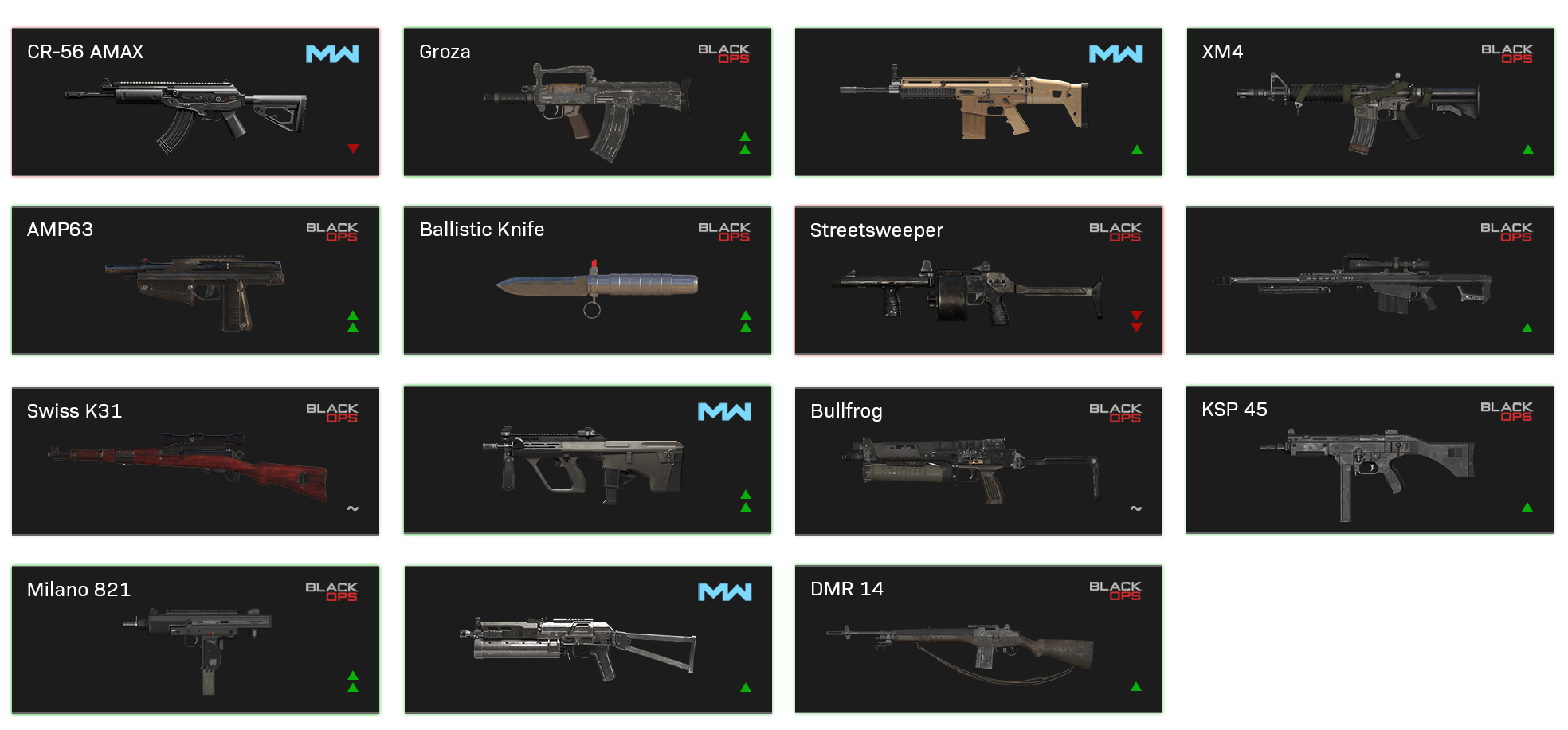 Assault Rifle changes in Warzone Season 4
Raven Software continues to make changes to the Assault Rifle weapons in Warzone with Season 4.
The newest update includes more nerfs for Modern Warfare's AMAX, which continues to be one of the most powerful weapons in Verdansk.
Other Assault Rife changes in Season 4 include updates to Cold War's Groza, the AR Golf (MW), and the XM4 from Cold War.
Here's the full list of Assault Rifle Changes:
Assault Rifles

CR-56 AMAX (MW)

Upper Torso Damage multiplier decreased from 1.2 to 1.1

The real strength of the CR-56 AMAX (MW) layed in its long-range viability and the consistency of its Time to Kill. While we have made several moves to reduce its power level, the third time is in fact, the charm. We love the CR-56 AMAX (MW) and we will likely see it return in the future when the massive balance overhaul takes place. Though for now, we would like to shake up the long-range space and see what rises to the top.


Groza (BOCW)

Minimum Damage increased from 18 to 23
Upper Torso Damage Multiplier increased from 1.1 to 1.2
Lower Torso Damage Multiplier increased from 1 to 1.1
Maximum Damage range decreased by 12%

As a relatively slow-firing, low damage Assault Rifle, it is no surprise that the Groza (BOCW) has underperformed since its preemptive balance adjustment at the beginning of Season Three. This tune up should put it in a solid position in short to mid-range mobility based AR builds.


Assault Rifle Golf (MW)

Neck Damage Multiplier increased from 1 to 1.5
Upper Torso damage multiplier increased from 1 to 1.2

We would like to avoid increasing the power level of a Qeapon to a point where we would need to reduce it shortly after in the following balance overhaul. With that being said, the Assault Rifle Golf (MW) may soon see another power increase in the near future, but we think an improvement to its average Time to Kill is a good place to start.


XM4 (BOCW)

Neck Damage Multiplier increased from 1 to 1.5

We consider increases to Neck Damage Multipliers a small buff realistically, as they make landing headshots only slightly more likely. We feel the XM4 (BOCW) is close to being in a great spot and we are aiming for this change to get it there.
Streetsweeper updates in Warzone Season 4
The most powerful shotgun in Warzone is getting a change. Raven Software has further nerfed the Streetsweeper shotgun in Season 4 update, bringing it more in line with other shotguns.
Here's the exact changes & reasoning from Raven:
Streetsweeper (BOCW)

Maximum Damage range decreased by 24%
Second Damage range decreased by 18%
Third Damage range decreased by 7%
Move Speed decreased by 1%

The Streetsweeper (BOCW) has one of the best short-range kill death ratios of any Weapon in Warzone. The issue is with the right Attachments that lethal range could be stretched out further than we would like. The Streetsweeper (BOCW) will still be very deadly, but will now require you to be a few steps closer to your target to maximize its effectiveness.
Additional Season 4 changes – SMGs, Snipers, More
Season 4 weapon changes continued with some notable changes to the SMG class in Warzone.
The update includes changes to Modern Warfare's SMG Alpha & Echo, with Alpha seeing a nerf to its torso damage and Echo getting a bump to better line up with the entire class.
Raven also made changes to the Sniper Rifles, Handguns, and the infamous DMR.
Check the list of additional changes from the studio:
Submachine Guns


Submachine Gun Alpha (MW)

Upper Torso Damage Multiplier increased from 1 to 1.1
Maximum Damage range increased by 10%

The Submachine Gun Alpha (MW) has a ludicrously fast Time to Kill when landing all headshots within its Maximum Damage range. However, outside of those two conditions, it performed far less reliably than its peers. While we do not expect this change to jettison the Submachine Gun Alpha (MW) to the top of SMG viability, we are positioning it to excel in our upcoming balance overhaul.


Bullfrog (BOCW)

Ironsights ADS position adjusted

These changes should allow for better ADS visibility without optics.


KSP 45 (BOCW)

Maximum damage range increased by 16.6%
Extremities multipliers increased from .9 to 1

The KSP 45 (BOCW) has a fast Time to Kill potential. Insomuch that when considering how to increase its effectiveness, we were concerned not to push it too hard, for fear of making it dominant. It is understandable why one would steer clear of a short to mid-range burst-fire Weapon considering how low the margin for error is in that engagement range. However, two well placed bursts with the KSP 45 (BOCW) will put someone out of commission faster than you might expect.


Milano 821 (BOCW)

Maximum Damage increased from 34 to 36
Minimum Damage increased from 25 to 30
Maximum Damage range increased by 23%
Upper Torso Damage Multiplier increased from 1 to 1.2
Lower Torso Damage Multiplier increased from 1 to 1.1
Extremities Damage Multipliers increased from .9 to 1

The Milano 821 (BOCW) needed a lot of love for it to reach a semi-viable state. We will see how it shapes up over the first half of Season Four and make any necessary changes at that time.


Submachine Gun Echo (MW)

Maximum Damage increased from 34 to 35
Extremities Damage Multipliers increased from .9 to 1

Much like its BOCW counterpart, the Submachine Gun Echo (MW) relies heavily on well-placed shots. These changes should make it a tad more forgiving.

Handguns


AMP63 (BOCW)

Maximum Damage increased from 30 to 33
Second Damage range increased by 14.3%
Upper Torso Damage Multiplier increased from 1 to 1.1
Extremities Damage Multipliers increased from .9 to 1
Head Damage Multiplier decreased from 1.4 to 1.3

The AMP63 (BOCW) did not have its fastest Time to Kill improved by these changes. Rather, its TTK breakpoints were shifted around and its Second Damage range was pushed out. A move we felt was necessary to help offset its limited magazine capacity and rate of fire. These changes should provide another compelling Secondary Weapon option alongside the Sykov (MW) to complement non-Overkill loadouts.


Melee


Ballistic Knife (BOCW)

Projectile Velocity increased by 25%
Neck Damage Multiplier increased from 1 to 1.3
Upper Torso Damage Multiplier increased from 1 to 1.23
Move Speed increased by 1.3%

The Ballistic Knife will become a desirable selection for melee aficionados following these changes. With additional mobility, improved Projectile Velocity, and more generous locational multipliers—letting someone wielding the Ballistic Knife get too close is a mistake you will only make once… or twice per game.


Sniper Rifles


Sniper Rifle Charlie (BOCW)

Bullet Velocity increased by 7.7%
Upper Torso Damage Multiplier increased from 1.1 to 1.25
Lower Torso Damage Multiplier increased from 1 to 1.15

In a previous patch, the Sniper Rifle Charlie (BOCW) underwent a change to its identity. Now, as a slower firing Sniper Rifle, we feel it is necessary to increase its Damage and Bullet Velocity to compensate more adequately. We will be keeping a close eye on it to ensure it occupies this role successfully.


Swiss K31 (BOCW)

Base Optic functionality improved
Base Reticle updated

Tactical Rifles


DMR 14 (BOCW)

Recoil magnitude decreased

Even after its falling out, the DMR 14 (BOCW) is still a respectable choice with the right Attachments. A little bump to help stay on target at a distance should help the DMR 14 (BOCW) hold its own in the face of fierce mid to long-range competition.
Future Updates – Raven teases massive change
Raven Software indicated in the patch notes that they also plan to make significant changes to Warzone's overall meta in an upcoming update to the game.
The biggest changes include how all weapon classes balance each other out, including the average TTK.
You can check their full note on this here:
"In a future patch, we will be making sweeping balance changes to Weapons. Let us take a moment to discuss the philosophy behind that decision. At a high level, Warzone is a game about engagements. The more time we allot to mechanical and strategic expression within engagements, the higher the 'skill ceiling' and the longer our personal journey of mastery. We believe the frequency of those engagements and how we navigate them heavily contributes to the overall level of fun."
"We want to enable more escapes from impossible situations, moments of finesse, epic outplays, and opportunities to flex exquisite marksmanship. Due to some Weapons being far more lethal than others in their class, we feel a reduction in the efficacy of those outliers is necessary. We expect these changes will bring the average Time to Kill up by approximately 60 to 100 milliseconds. These changes will not only increase the overall capacity for skill expression, but should also introduce some Weapons into viability that have not yet had a chance to shine."
For more information on the all of the changes, check the Warzone Season 4 patch notes and stay tuned for updates!
Image Credit: Activision / Raven Software
Best controller settings for Warzone Pacific Season 3 Reloaded
To improve your accuracy and movement in Warzone, here are the best controller settings after the Season 3 Reloaded update.
Call of Duty: Warzone offers players many controller settings to fine-tune, such as Aim Assist and movement. We've put together a guide to help you find the best settings to use in Warzone Pacific's Caldera and Rebirth Island.
Warzone Pacific Season 3 Reloaded has been one of the most game-changing updates Warzone has ever received, with Raven Software introducing a ton of weapon buffs and nerfs, even more ways to respawn, reducing the player count, and giving the squad HUD a highly-requested overhaul.
Despite the update, aim and movement remain the most important mechanics to master, so you'll need the best settings in order to dominate. Whether you play with a controller on PC or consoles, here are the best Warzone controller settings to improve your accuracy and movement in Caldera and Rebirth Island.
Best Warzone controller settings
General
BR Button Layout: Tactical flipped
Stick Layout Preset: Default
Invert Vertical Look: Disabled
Deadzone: 0 (then increase as required)
Horizontal Stick Sensitivity: 7
Vertical Stick Sensitivity: 7
ADS Sensitivity Multiplier (Low Zoom): 0.75
ADS Sensitivity Multiplier (High Zoom): 0.85
Aim Response Curve Type: Standard/Dynamic
Controller Vibration: Disabled
For your button layout, Tactical is the best choice. When playing Warzone, you'll constantly be crouching, slide canceling, and going prone. Tactical maps your crouch/slide button to the thumbstick, so you don't need to move your thumb and can be as quick as possible when using the best Warzone controller settings.
You also want Deadzone to be as low as possible for maximum response time while aiming. Start with your Deadzone set to 0 and keep increasing it until you no longer have any stick drift. This depends entirely on how old your controller is.
Weapons
Aim Assist: Precision
Scale Aim Assist with FOV: Enabled
Weapon Mount Activation: ADS + Melee
Weapon Mount Movement Exit: Enabled
Aim Down Sight Behavior: Hold
Equipment Behavior: Hold
Use/Reload Behavior: Tap to use
Depleted Ammo Weapon Switch: Enabled
Armor Plate Behavior: Apply One
Tap to use is a godsend. Your game will prioritize whether you reload or interact based on your situation. You'll be able to instantly open crates and reload, making it a vital setting to enable.
Movement
Slide Behavior: Hold
Auto Move Forward: Disabled
Automatic Sprint: Auto Tactical Sprint
Vehicle Camera Recenter: Enabled
Parachute Auto-Deploy: Disabled
When using Parachute Auto-Deploy, you want to get comfortable with having it Disabled. You'll be able to pull your chute lower to the ground, meaning you can reach the ground as fast as possible. It can be daunting knowing there's no safeguard, but pulling your chute close to the ground is extremely worthwhile.
Best Warzone Aim Response Curve
Warzone has separate Aim Response Curves, so you can fine-tune your aim to something you're comfortable with. Their titles can be confusing, so we'll break down exactly what they mean and what's best for you.
Standard: Standard curve from aim stick to aim rate. When you initially aim, there will be a slight delay in speed when the stick is pressed all the way in a specific direction.
Linear: Removes initial speed delay when the stick is pressed all the way in a direction. More for aggressive, fast movements at the cost of precision.
Dynamic: Hybrid system between linear and standard. Your aim will speed up slightly when initially moving the stick.
The majority of players use Standard. Whether you're new to Call of Duty or a returning player, this will feel the most natural to you.
If you're confident in your aim and can transition between targets quickly, we'd recommend using Dynamic. Many of the top players use this response curve because of the fine aim rate control it provides.
Best Warzone Aim Assist Type
Warzone offers four Aim Assist types, so you can find what comes most naturally to you. We would never recommend turning Aim Assist off, but here's a breakdown of the options available to controller players when it comes to the best Warzone controller settings.
Disabled: You will have no Aim Assist.
Standard: Traditional aim slowdown near the target. A wider area where your aim will slow around an opponent. Best for regular Call of Duty players who want some extra time to lock on the target.
Precision: Strong aim assist slowdown that only kicks in when close to an enemy player. Only use this option if you're a skilled and accurate player. The slowdown area is minimal and casual players will not like this.
Focusing: Strong aim slowdown that kicks in when narrowly missing targets. If you're new to Call of Duty, this is your best bet to improve on a controller.
The majority of players should use Standard Aim assist. It provides the perfect aim slowdown near targets while still allowing for precise adjustments if you need to make them.
If you're new to FPS games and aren't used to aiming with a controller yet, you should use Focusing until you feel the Aim Assist is stronger than you need, then use Standard.
Best Aim Assist for Sniping in Warzone
Some of the Warzone community believe that to be an accurate sniper. You need to play on a mouse and keyboard. This isn't true, as with the right settings, you can down players from miles away and quickscoping with precision up-close.
For your Aim Response Curve, you should use Dynamic. You'll be able to have finer control over how fast your crosshair is moving, allowing for easier flick shots and tracking far-off players.
For your Aim Assist Type, it's the same situation as any other weapon. If you're a confident player and need to make micro-adjustments to hit sniper headshots, you should use Precision. And if you're comfortable with your aim and don't have an issue sniping with Aim Assist, Standard will be the perfect choice.
You should also check out our ranked list of the best snipers to use in Warzone.
Does FOV affect Aim Assist?
Warzone PC players have the option to adjust the game's field of view. Console players still don't have this option as the devs announced it won't be coming to console.
Increasing your FOV allows you to see much more of what's in front of you. Console's FOV is set to around 80 by default, while PC players can crank that value all the way up to 120. This gives PC players a major advantage in seeing more players off to the side of their screen.
Using such as high FOV will stretch and shrink everything in front of you, which can throw off your Aim Assist.
Activision has added a setting to combat this, which is well worth using if you play Warzone with a high FOV on a controller. It would be best if you had Scale Aim Assist with FOV set to Enabled, as this will keep your Aim Assist consistent, no matter your field of view.
How to find the best Warzone controller settings
Although we've provided the best Warzone controller settings you should try, there's no setting that works perfectly for everyone. It's tempting to find your favorite pro player or content creator and copy their settings, but they might not be the best for you.
We'd recommend jumping into a Custom Game of Modern Warfare and testing out some different controller settings to find the best Warzone controller settings for you, as they both use the same engine. If you don't own MW, then Plunder, or any other respawn game mode will work well.
To maximize your time while testing out the settings, here's what we'd recommend:
Map: Shoot House
Mode: Free-for-All
Rules:

Time limit: Unlimited
Score limit: Unlimited

Bots and players:

Number of bots: 6
Bot difficulty: Recruit
With these custom game settings, you'll be able to practice shooting for as long as you like. Shoothouse is small enough that you'll be able to fight constantly, and the Recruit level bots will hardly shoot back at you.
While you're in this private mode, you should also try getting your Minimum Input Thresholds as low as they'll go. Start at 0, and move it up one until you no longer receive stick drift.
---
For more in-depth Warzone guides, check out the best PC settings and FOV settings for Pacific Season 3 Reloaded.
Image Credit: Activision / Raven Software / Sledgehammer Games
Warzone May 26 update patch notes: Stim nerf, Whitley & Type 11 buff, bug fixes
Here are Warzone's full May 26 patch notes which bring the Stim nerf, bug fixes, and confirm buffs to the Whitley and Type 11.
Warzone Pacific's Season 3 Reloaded brought one of the most change-changing updates the game has ever seen, but the devs have brought more changes with the May 26 update. Here are the full patch notes.
Warzone Pacific Season 3 Reloaded is here, bringing the new Underground Transit System, reducing the player count, and changing up the weapon meta with buffs and nerfs.
However, it appears that a few issues made their way into the Season 3 Reloaded update, with the new H4 Blixen SMG being given the wrong name. Raven Software have released another patch on May 26 that fixes these issues, nerfs the Stim, and confirms buffs made to the Whitley and Type 11.
Although the patch notes said that the H4 Blixen SMG would arrive with the update, it hit Warzone under the name 'Carl Gustav M/45.' This was an error, and the new SMG will now be called the H4 Blixen in both Warzone and Vanguard.
Although Warzone's Stim nerf was confirmed to arrive later in the season, players noticed the effects immediately after the update. This change has now been confirmed, with the Stim no longer healing you while you take damage, and the slide's speed and duration have also been reduced.
You can check out the full patch notes below.
Warzone May 26 patch notes
RICOCHET ANTI-CHEAT
Update to the PC kernel-level driver detection systems and server-side security. Learn more about RICOCHET Anti-Cheat here.
GAMEPLAY
» Tactical Equipment «
Stim

Effect now removed when taking damage from Weapon attacks
Slide Speed reduced by 40%
Max Slide Time reduced from 1.9 to 1.3 seconds
BUG FIXES
Fixed collision issues with various elements across Caldera allowing Players to exploit/peek/shoot through them.
Fixed an issue causing the Fast Travel Tac Map icons to not appear correctly in certain game modes.
Fixed the rarity label on various Blueprints, Calling Cards, and Charms.
Fixed an issue causing the H4 Blixen (VG) Submachine Gun to appear ingame under the wrong name.
Fixed an issue causing the "Enhanced Risk" Weapon Blueprint to not have the correct Gunsmith functionality.
Fixed an issue causing the Axial Arms 3x Reticle Challenge to not track correctly.
Fixed an issue causing the Swap Attachment options in the Gunsmith menu to not show the correct stat changes.
WEAPONS
Weapon Adjustments
The following changes went live with the initial release of Season Three Reloaded on May 25th, 2022.
» Light Machine Guns « 
Whitley (VG)

Min Damage increased to 32, up from 31
Max Damage Range increased to 38.1 meters, up from 33 meters
Headshot Damage Multiplier increased to 1.7, up from 1.5
Neck Damage Multiplier increased to 1.3, up from 1.24

.303 British 45 Round Mags

Firerate Scaler to decreased 5%, down from 18%
Damage Penalty removed
Bullet Velocity increased to -8%, up from -12%


.50 BMG 150 Round Boxes

ADS Time Scaler increased to 0.93, up from 0.88
Bullet Velocity increased to 25%, up from 10%
Damage Range increased to 30%, up from 20%


CGC R4 Stock

ADS Time Scaler increased to 0.97, up from 0.96
Horizontal Recoil Control Increased by 3%

Type 11 (VG)

Max Damage increased to 26, up from 24

Sakura 261mm
Sakura 487mm Shrouded

Bullet Velocity increased to 50%, up from 40%


Warubachi 352mm

Damage Range now increased by 10%
Bullet Velocity now increased by 20%
---
For more on Call of Duty, be sure to check out all of the actors set to appear in Modern Warfare 2 so far!
Source: Raven Software
Image Credit: Activision
Warzone players baffled by "most brutal" nerf in the game's history
Players cannot understand the decision to deliver the most brutal nerf in Warzone history with the Season 3 Reloaded update.
While the Season 3 Reloaded update brought several weapon balancing changes to the game, one nerf in particular has been deemed the "most brutal" in Warzone history.
On May 25, players received the Warzone Pacific Season 3 Reloaded update that introduced an abundance of changes to the battle royale. New features like the Underground Transit System and Squad HUD were added to the game, alongside justifiable nerfs to Stims and the Roze skin.
While most players agreed with the devs' various nerfs and buffs in an attempt to further balance the game, one weapon nerf isn't sitting right with players.
The strange decision to nerf the CR-56 AMAX has left players stunned and utterly baffled following the Season 3 Reloaded update. The update's Assault Rifle changes essentially buffed Vanguard ARs once again while nerfing some Modern Warfare and Cold War weapons.
The AMAX had its max damage decreased from 35 to 31, and its minimum damage decreased from 31 all the way down to 24. These are some pretty major nerfs that have essentially made the weapon "completely useless" as one Reddit user points out.
Since the AMAX had its damage decreased so heavily, players are questioning if it's the "most brutal, unnecessary nerf in Warzone history?" While having its damage nerfed to such an extent is certainly brutal, the unnecessary nature of the nerf has also left players baffled.
The AMAX wasn't exactly dominating the meta and it was far from a popular choice with a WZ Ranked pick rate hovering at around 0.68%. Players in the comments can't seem to understand the odd decision to nerf the AMAX, "Were that many people even using the Amax that it needed a nerf? Haven't seen one in a while."
Other players were left wondering why an overpowered weapon like the STG44 with a pick rate of 16.21% was completely ignored in the latest update, "Meanwhile you will absolutely get lasered by an stg at any range."
Whether you agree that the Season 3 Reloaded nerf to the AMAX is the most brutal in Warzone history or not, the weapon is sure to go from rarely used to never used by players.
---
As a result of these baffling Season 3 Reloaded weapon changes, Warzone players have also slammed the devs for forcing Vanguard weapons into the game's meta.
Image Credit: Activision