Warzone Verdansk '84 revealed: Summit, Standoff, updated locations & season, more
Introducing Verdansk 84, the new & refreshed battle royale map for Warzone, featuring a ton updates across every landing spot.
Call of Duty: Warzone Verdansk '84 map has arrived! After a year of the same Verdansk locale, Raven Software has debuted a brand new, overhauled version of the iconic battle royale map.
Verdansk '84 features a total of seven new POIs across the map, with five current locations receiving big updates to create a fresh, new experience.
Every building, locale, and more have also been retouched and updated, with improved lighting for a better player experience across the entire map.
The map now takes place during springtime in 1984, a big change from the original Verdansk map that was set in winter. Springtime has brought new lighting aesthetics, new greenery across the map, and more full, finished areas.
Worlds finally collide in Season 3, as Black Ops Cold War's story and theme is front and center in Verdansk '84. The map features fan favorite Black Ops locales, including Summit and Standoff. Updates to favorite drop locations are also included in the experience.
It's spring of 1984, and Verdansk has never looked so vibrant. But underneath the surface, the chill of the Cold War looms, as Perseus' masterplan is revealed. Get your squad together and explore Verdansk as it was in the spring of 1984 — hold down seven new points of interest and discover secrets in a lush new landscape. Welcome to Verdansk '84.
Take a look at the breakdown of Verdansk '84 as you drop into the new experience in Call of Duty: Warzone.
Warzone Verdansk '84 Map
Here's a look at the new locales & updated places in Call of Duty: Warzone's Verdansk 84.
New Locations
Gora Summit
The Gora Summit location now officially replaces Dam.
Gora Summit, as you could've guessed from the name, is the iconic Summit map from the Black Ops universe brought to life in Warzone. The location no longer has a massive barrier between it's high ground and the low ground below.
At the Gora Summit, there's a working cable car system that allows you to go from the top of the Summit to the end of it. The cars also let you move between certain buildings of the Summit allowing for quicker transportation around the area.
Players will also be able to use vehicles to get from the lower areas up to Gora Summit quickly, which is a welcome change after being blocked off by the Dam wall in the original map.
Airplane Factory
A new location Raven added to Verdansk '84 is the Airplane Factory (or 'Factory' on the mini map). This POI is located in almost the center of the map.
For players who love the hot drop of Superstore, Factory is located directly next to the Superstore with quick in and out access. The Factory features an airplane in the center.
Raven believes this location will help fill out areas of the map that felt under utilized in the original Verdansk. Airplane Factory becomes a great place for transitioning between Superstore to other parts of the map as you progress on, even with close access to the main Airport.
The location is almost always in the circle, has a good variety of loot, and will consistently have some action going on to get better loot and upgrade. 
This brand-new area features four large warehouses – one big enough to store most of a plane fuselage inside, including cockpit, fuselage, and engine sections – and an underground passage to a secondary warehouse with more plane parts to spot. Attached to the biggest warehouse is a pair of chimneys (which you can ascend to gantry platforms). Outside is a large hangar, numerous outbuildings, a parked plane, and a fuel tower and pipeworks, all of which are climbable.
Grid Array
Grid Array is a new area that replaces the previous Array location in the Warzone Verdansk map.
This new Grid Array has a massive grid based tower that players can access certain points of to get high vantage points across Verdansk 84 map.
Players can climb up the ladders to get to the top of the Grid Array, allowing for high sniper vantage points with a major risk. Players will be easy to be spotted at the top, especially with sniper glint. The surroundings of Array are updated with new buildings to access.
Verdansk Stadium
The stadium in Verdansk has gone through more iterations than really any other original part of the Verdansk map.
It started off enclosed, with no inside access. Players were only available to get to the top of the Stadium via helicopters. Raven then updated the stadium with Season 5 of Warzone x Modern Warfare to blow it wide open, allowing players to enter from multiple angles and use grapple hooks to get to the top of it.
Now, with Verdansk 84, Stadium sees another change. The stadium features a classic, 1980s feel. Raven describes it as the "old school" feel of stadiums from that area.
Raven also made note of that fact that there's no longer a roof top of this stadium, meaning players can't camp at the top waiting for end circles to move.
The new Stadium also no longer features an underground portion.
Updated Locations
Airport
The Airport of Verdansk is getting a makeover in Verdansk 84.
In the previous map, the Airport was destroyed with no proper access or areas on the second level. Now, the airport is fully reconstructed with full access to all of the floors.
The second floor in particular is more useful now thanks to new cover areas, better loot, and advantages over the Airport Tower. The Airport Tower does not have a clear line of sight into the Airport itself anymore, allowing for more tactical plays to occur.
The outer areas of the Airport are also changed to no longer have smoke or fire raging from them. The locales are put back together and clearer entry and exit points are now marked.
Farmhouse
The Farmhouse in Warzone's Verdansk has been updated to become the classic Black Ops 2 map Standoff in Verdansk '84.
Standoff replaces the Farmhouse area, but Raven assures that some of the outer Farm buildings are still available for players to traverse as they move between locations on this side of the map.
Fans who love Black Ops 2's Standoff will be in for a treat at this location. Farmhouse has a clean, classic Standoff feel that is easy to traverse and offers more versatile gameplay than before.
Superstore
Verdansk 84 brings some new and fun changes to the Superstore. Superstore remains one of the most popular landing spots on the map, and has high action with some of the best loot you can get.
With the new map, Raven has updated it to be a more finished up location. The original version had a lot of destruction, broken boxes, and areas on fire. Now, it's all cleaned up and an actual store.
Players will have to use different routes to get across the store as more areas are now filled in in the center areas of the store itself.
Downtown
While the majority of Downtown will remain the same, Raven has made some changes to it in Verdansk '84 to allow for a better player experience overall.
Downtown in Verdansk 84 has less density of buildings to not feel as packed up as it currently does. Raven does want to ensure the area feels like a downtown, but also wanted to lighten it up a bit to change some buildings to be under construction.
Raven notes that these changes allow for less players to camp in certain areas of downtown, and rather, have to engage in fights as they move across the updated POI. 
One of the biggest changes Downtown is the towering Broadcast building.
The interior is now more accessible, with an interior stairwell running to the top of three unfinished floors where views and long-range takedowns are spectacular.
Karst Salt Mines 
Karst Salt Mines updates and expands upon the Quarry area of Verdansk in new ways.
There were many buildings around the River Quarry that were not previously accessible, and also caused many players to just ignore the location overall.
Now, this updated POI has newly accessible buildings and updated layout for more access. Salt Mines also have changed the overall height of different places to allow for better vehicle access.
Old Mine
The Old Mine is another way Raven is filling up the Warzone map with better areas to search for versus having open forest.
This Old Mine is located in the north west section of the map, close to Gora Summit (which used to be a Dam). Previously, there was nothing in this area. Now, the area has been updated with new buildings and accessible alley points to get loot as you traverse between Summit and the north west of Verdansk 84. 
Updates to Apartments
Over at the Barakett Promenade, one of the five-floor apartment complexes hasn't quite been finished, turning this tenement block into a maze of half-constructed rooms and hallways.
This changes up this side of the map dramatically from rows of the apartment complexes to a more asymmetrical situation where there are both pros and cons to taking a position up on the finished or unfinished apartments.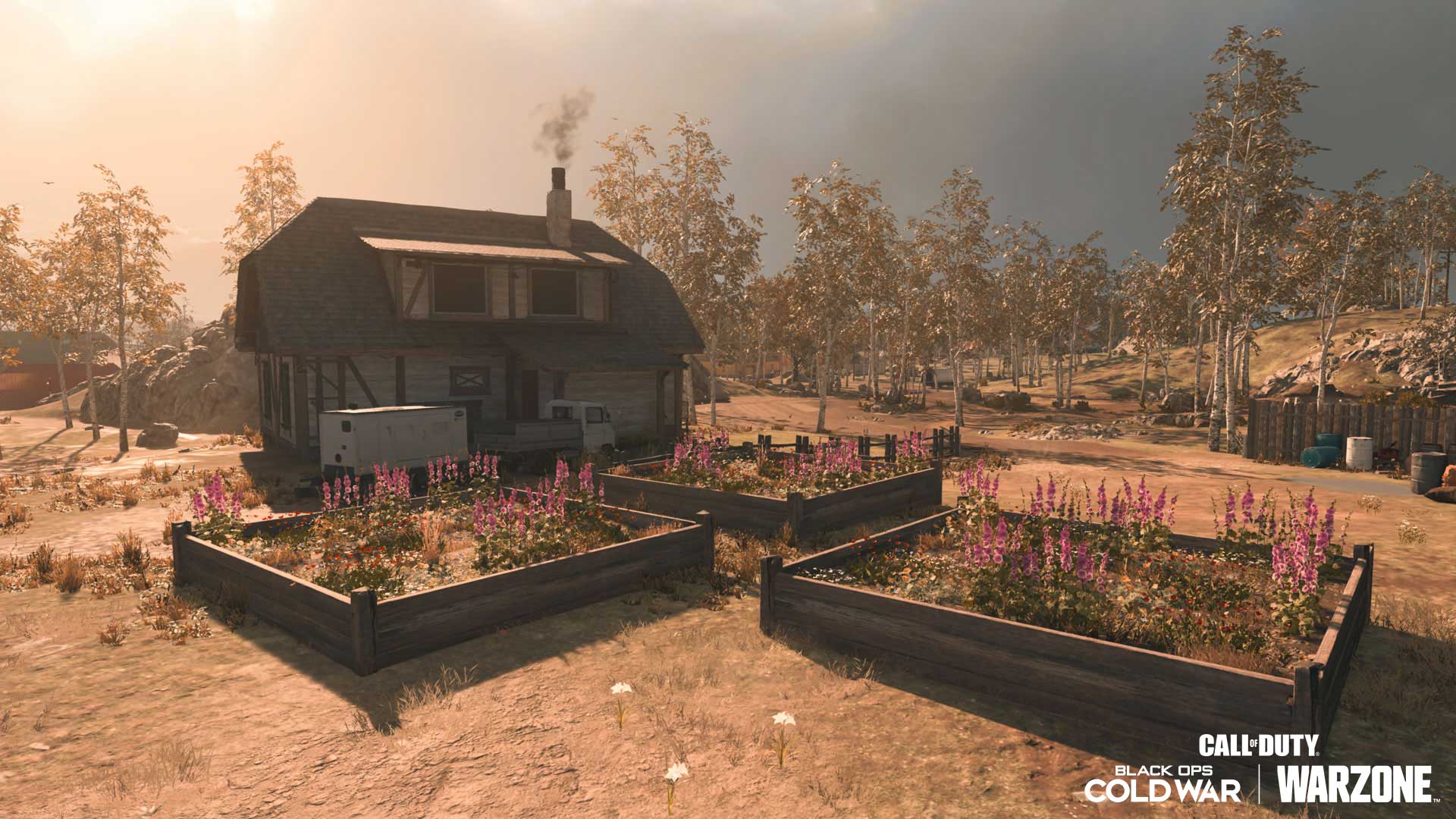 Updates to Hills
Verdansk has plenty of "retro-fitted" areas to show what life was like back in 1984, and a prime example of this is the Novi Grazna Hills.
In modern day, parts of the Novi Grazna Hills were leveled to make way for a new housing development. But what was there before the bulldozers moved in?
Come to this side of the map, and you'll find a lush, wooded plateau with a farm smallholding. Specifically, there is a tiny windmill, a barn, and a cottage, which offer new combat opportunities within the immediate area.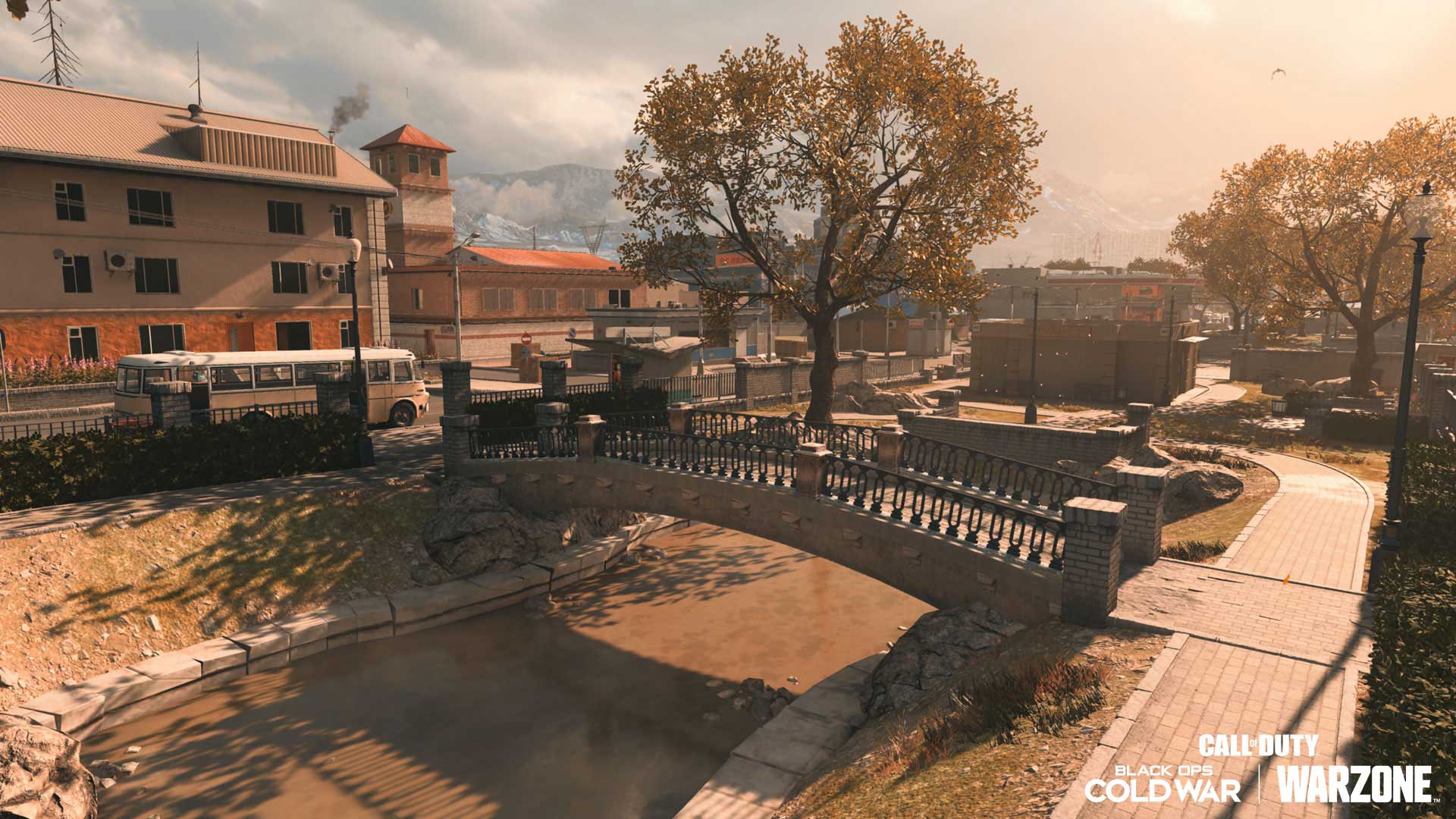 Changes to Promenade
Sometimes, less is more – and the Barakett Promenade is a good example of some building removals to improve the flow of the game in terms of movement and combat.
The library North of the Ferris Wheel has yet to be constructed, and in its place for now is a charming recreation area.
Also, the Market adjacent to the School further west along the Promenade is now a parking lot, and the entirety of the West Promenade between the parallel roads is now a long section of park with trees, tables, fountains and bridges. Don't stop to admire this scenery… you have a war to win!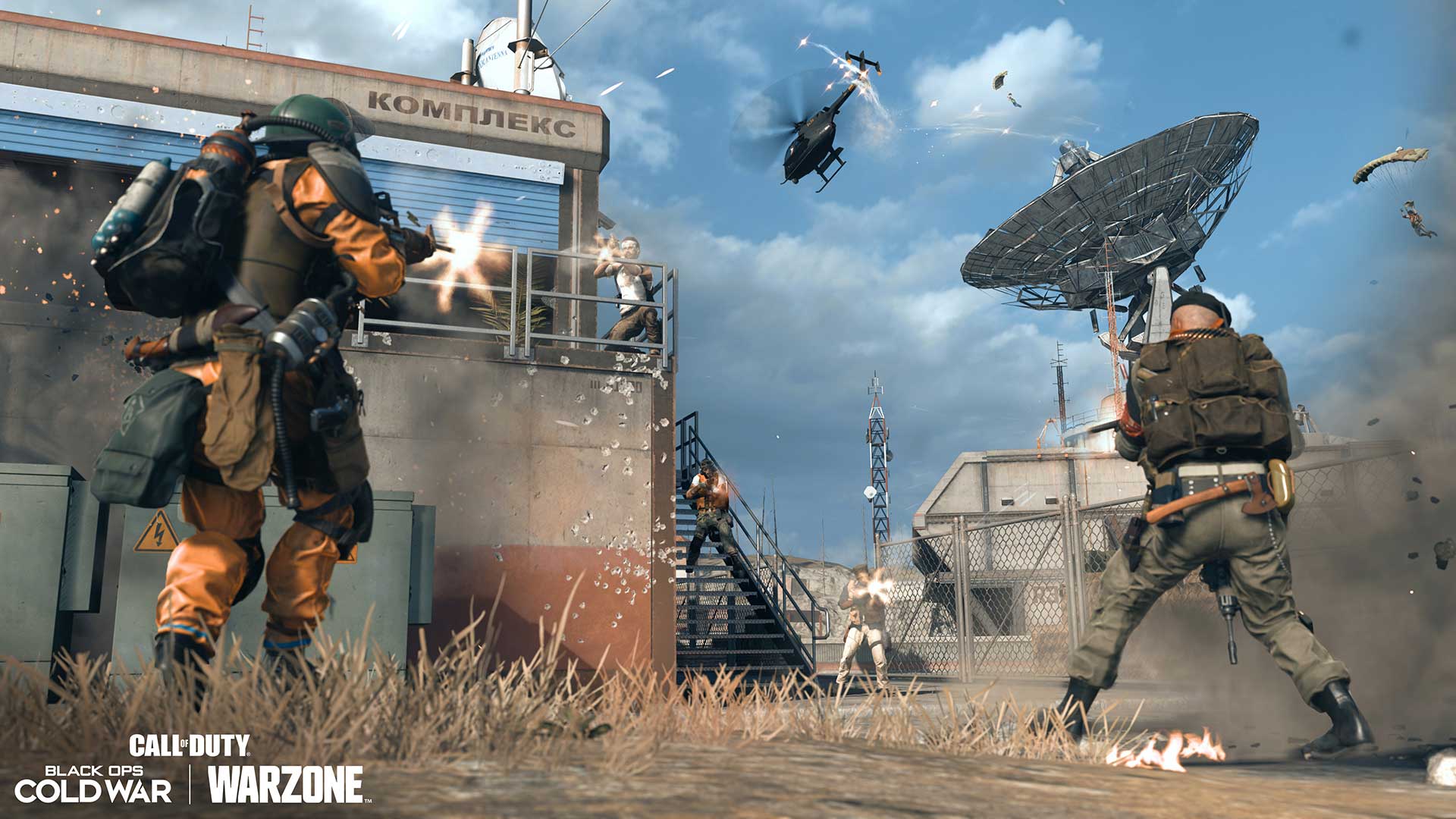 Additional Interior & Exteriors for Common Locations
An open-door policy exists inside every Police Station across Verdansk as additional upstairs offices are accessible (with windows to shoot through), meaning more escape or entrance options are available, and sightlines across previously familiar areas (like Airport Maintenance, for example).
Similarly, each of the Fire Stations has a new exterior (adjacent to the tower) enabling lower roof access, and for those with the necessary dexterity, access to the main upstairs interior via a spot of parkour.
Also look for additional subtle changes throughout the map, such as newly accessible windows on stairwells throughout the Downtown buildings and certain tenement blocks, like the freshly-cladded one at Lozoff Pass.
That's a look at the new locations & updated locations in Verdansk 84 in Call of Duty: Warzone.
Trailer
Drop in now and let us know your thoughts on the new map! 
SOURCE: Call of Duty Blog
Warzone players want Raven to switch two POIs on Caldera
A Warzone player has rearranged the POIs on Caldera after the community has expressed their discontent with the map design.
Warzone's new map hasn't exactly been received very well by players and now the community is suggesting that Raven should switch around two of the POI's.
Warzone's new map Caldera hasn't exactly been getting positive reviews since it was introduced. As well as bugs and glitches on the map, players have also not been happy with the layout, with many missing Verdansk.
With that being said, one player decided to come up with a way to make the map better by rearranging the POIs.
Reddit user ARES_GOD put a post up in the Warzone subreddit of the Caldera map. The post is captioned: "Hey @RavenSoftware just a thought about Caldera think this would feel better… (Changing POI location)."
Upon inspection, players will notice that the map of Caldera in the post is slightly different from the actual layout of the map. In fact, two of the most popular POIs have switched positions with each other, which the player feels would make Caldera "feel better."
The two POIs in question are Peak and Capital, which have been switched in this version of the Caldera map. Peak is usually right in the center of the map, which many players aren't too fond of, as one of the comments states: "Yeah i just dont like peak in the middle."
The massive mountain directly in the middle of Caldera makes it hard to rotate, as traversing up rocky terrain is notoriously difficult in Warzone.
The idea is to switch this massive height with Capital, a more level POI that would likely make it easier for players to rotate through. Players seem to like the idea, as the post has over three hundred upvotes, with comments expressing their fondness of the change: "The way you edited the map like this is incredible…more buildings at the center for strategizing."
However, one comment has pointed out that the logistics of the change won't make much sense: "But whos going to go to an island resort NOT on the beach. And the capital needs a water way for trade. Not very feasible. Though I agree, peak dead center, not my favorite."
This probably won't be the way in which Raven updates Caldera, however, they have confirmed that changes are coming.
---
For more on Warzone Pacific, check out JGOD's favorite "no recoil" XM4 loadout.
Image Credits: Activision / Raven Software
How to fix Warzone Status Savannah error
The Savannah error message is a regular problem for Warzone Pacific players, and we have some fixes to help get rid of it.
Follow our quick and easy guide to help you fix the Savannah error message in Call of Duty: Warzone Pacific and get back into the battle royale action.
Every now and again, an annoying Warzone error message will pop up during your Warzone experience and prevent you from playing the game. Warzone Pacific has had multiple run-ins with error messages such as error code 47, error code 48, and dev error 6039.
The "status: SAVANNAH" notice prevents you from joining up with friends and fortunately, we have a few quick fixes with one of them likely to fix your version of Call of Duty: Warzone Pacific.
How to fix Warzone Status Savannah error
You'll know if this error happens to you as you'll receive an error message saying "Unable to join game session, the host cannot be joined or gameplay is paused. status: SAVANNAH."
This frustrating error will leave you unable to play Warzone with friends, and it will require one of several fixes to make it go away.
How to fix Warzone Status Savannah error on PC
For PC players, you have a couple of key fixes that are simple enough to perform and seem to resolve the issue.
Update Warzone
Lots of players either forget to update Warzone or, for whatever reason, have their updates set to manual, meaning their version isn't current.
So simply:
Load up Battle.net
Select 'Call of Duty: Warzone'
Hit the cog button beside Warzone, and click on 'Check for Updates'
Make sure any outstanding updates are installed
Retry the game and try and join up with friends
Delete files
If the solution above didn't work, then we'd encourage you to dive into Modern Warfare's data and delete folders that may have become corrupted.
To do this:
Go to Modern Warfare's game files
Delete the following files:

code_post_gfx.psob
data0.dcache
data1.dcache

techsets_captive.psob
techsets_common.psob
techsets_common_base_mp.psob
techsets_common_mp.psob

techsets_global_stream_mp.psob

techsets_mp_frontend.psob

techsets_stpetersburg.psob

Go to Battle.net
Hit the cog button beside Warzone
Choose 'Scan and Repair'
Launch the game after it's finished
How to fix Warzone Status Savannah error on PS4 & PS5
PlayStation users on either the PS4 or PS5 have it even easier than PC players for their fix as it only requires a few simple steps.
Here's how to fix the Savannah error on PlayStation:
Go to your respective console's home screen
Scroll along the game bar until you get to 'Call of Duty: Warzone'
Press the 'Options' button on your controller
Now select 'Checking For Updates'
Once your system is fully up-to-date, Warzone should now work properly
How to fix Warzone Status Savannah error on Xbox One / Xbox Series X|S
Similar to the PlayStation fix, we are looking to make sure that Call of Duty: Warzone is as up-to-date as can be.
Xbox users will need to do the following:
Go to 'Call of Duty: Warzone'
Find the game's reserve data and uninstall it
The game will now need to update itself
Once this is done, start up Warzone and try to join a friend or two
---
We hope these solutions will be of use to you, and if you are suffering from the Savannah error, then one of these fixes should hopefully cure that.
Also, check out everything we know about the rumored Warzone 2 that's reportedly set for a 2023 launch.
Image Credit: Activision / Raven Software
When is the next Vanguard & Warzone Pacific Double XP event?
We have the dates and times for the next CoD: Vanguard and Warzone Pacific Double XP event to help you rank up weapons and Battle Passes.
With so many Prestige levels, different weapon levels, and Battle Pass levels in Vanguard and Warzone Pacific, it's only natural to want more XP. Here's when the next CoD Double XP event is going to be.
XP has been a vital component of Call of Duty's multiplayer for many years. It's the quintessential upgrade mechanic that allows you to increase your in-game level and provide you access to better gear and attachments.
Vanguard and Warzone Pacific carried on from where Cold War and Warzone left off by giving players limited-time windows of opportunity to increase the XP they can earn.
How to get Double XP in CoD: Vanguard & Warzone Pacific
Call of Duty players can get Double XP by taking advantage of the Double XP promotional events that Activision put on.
Thanks to the Raven Software Trello board, we know that there will be a few Double XP events upcoming:
PlayStation Exclusive Double XP from Feb 17 – 18
Double XP, 2x Weapon XP, and 2x Battle Pass XP from Feb 18 – 21
These regular occurrences will help players to level up their ranks, weapons, and Battle Passes much faster than normal.
What time does CoD: Vanguard & Warzone Pacific Double XP start?
Here's a full list of the usual Double XP event's start time & dates in some of the key timezones:
PST – 10:00 AM
CST – 12:00 PM
EST – 1:00 PM
GMT – 6:00 PM
These special Double XP events usually occur during a weekend, as it naturally gives players the most time as it's away from school hours and generally when people are off work.
With Season 2 of Warzone Pacific and Vanguard coming on February 14, this upcoming Double XP event will give players a great opportunity to rank up the new Battle Pass.
---
Also, check out some of the newest Call of Duty news and guides such as the best Warzone Pacific weapons and the current Warzone server status.
Image Credit: Activision / Sledgehammer Games / Raven Software