Warzone Verdansk '84 revealed: Summit, Standoff, updated locations & season, more
Introducing Verdansk 84, the new & refreshed battle royale map for Warzone, featuring a ton updates across every landing spot.
Call of Duty: Warzone Verdansk '84 map has arrived! After a year of the same Verdansk locale, Raven Software has debuted a brand new, overhauled version of the iconic battle royale map.
Verdansk '84 features a total of seven new POIs across the map, with five current locations receiving big updates to create a fresh, new experience.
Every building, locale, and more have also been retouched and updated, with improved lighting for a better player experience across the entire map.
The map now takes place during springtime in 1984, a big change from the original Verdansk map that was set in winter. Springtime has brought new lighting aesthetics, new greenery across the map, and more full, finished areas.
Worlds finally collide in Season 3, as Black Ops Cold War's story and theme is front and center in Verdansk '84. The map features fan favorite Black Ops locales, including Summit and Standoff. Updates to favorite drop locations are also included in the experience.
It's spring of 1984, and Verdansk has never looked so vibrant. But underneath the surface, the chill of the Cold War looms, as Perseus' masterplan is revealed. Get your squad together and explore Verdansk as it was in the spring of 1984 — hold down seven new points of interest and discover secrets in a lush new landscape. Welcome to Verdansk '84.
Take a look at the breakdown of Verdansk '84 as you drop into the new experience in Call of Duty: Warzone.
Warzone Verdansk '84 Map
Here's a look at the new locales & updated places in Call of Duty: Warzone's Verdansk 84.
New Locations
Gora Summit
The Gora Summit location now officially replaces Dam.
Gora Summit, as you could've guessed from the name, is the iconic Summit map from the Black Ops universe brought to life in Warzone. The location no longer has a massive barrier between it's high ground and the low ground below.
At the Gora Summit, there's a working cable car system that allows you to go from the top of the Summit to the end of it. The cars also let you move between certain buildings of the Summit allowing for quicker transportation around the area.
Players will also be able to use vehicles to get from the lower areas up to Gora Summit quickly, which is a welcome change after being blocked off by the Dam wall in the original map.
Airplane Factory
A new location Raven added to Verdansk '84 is the Airplane Factory (or 'Factory' on the mini map). This POI is located in almost the center of the map.
For players who love the hot drop of Superstore, Factory is located directly next to the Superstore with quick in and out access. The Factory features an airplane in the center.
Raven believes this location will help fill out areas of the map that felt under utilized in the original Verdansk. Airplane Factory becomes a great place for transitioning between Superstore to other parts of the map as you progress on, even with close access to the main Airport.
The location is almost always in the circle, has a good variety of loot, and will consistently have some action going on to get better loot and upgrade. 
This brand-new area features four large warehouses – one big enough to store most of a plane fuselage inside, including cockpit, fuselage, and engine sections – and an underground passage to a secondary warehouse with more plane parts to spot. Attached to the biggest warehouse is a pair of chimneys (which you can ascend to gantry platforms). Outside is a large hangar, numerous outbuildings, a parked plane, and a fuel tower and pipeworks, all of which are climbable.
Grid Array
Grid Array is a new area that replaces the previous Array location in the Warzone Verdansk map.
This new Grid Array has a massive grid based tower that players can access certain points of to get high vantage points across Verdansk 84 map.
Players can climb up the ladders to get to the top of the Grid Array, allowing for high sniper vantage points with a major risk. Players will be easy to be spotted at the top, especially with sniper glint. The surroundings of Array are updated with new buildings to access.
Verdansk Stadium
The stadium in Verdansk has gone through more iterations than really any other original part of the Verdansk map.
It started off enclosed, with no inside access. Players were only available to get to the top of the Stadium via helicopters. Raven then updated the stadium with Season 5 of Warzone x Modern Warfare to blow it wide open, allowing players to enter from multiple angles and use grapple hooks to get to the top of it.
Now, with Verdansk 84, Stadium sees another change. The stadium features a classic, 1980s feel. Raven describes it as the "old school" feel of stadiums from that area.
Raven also made note of that fact that there's no longer a roof top of this stadium, meaning players can't camp at the top waiting for end circles to move.
The new Stadium also no longer features an underground portion.
Updated Locations
Airport
The Airport of Verdansk is getting a makeover in Verdansk 84.
In the previous map, the Airport was destroyed with no proper access or areas on the second level. Now, the airport is fully reconstructed with full access to all of the floors.
The second floor in particular is more useful now thanks to new cover areas, better loot, and advantages over the Airport Tower. The Airport Tower does not have a clear line of sight into the Airport itself anymore, allowing for more tactical plays to occur.
The outer areas of the Airport are also changed to no longer have smoke or fire raging from them. The locales are put back together and clearer entry and exit points are now marked.
Farmhouse
The Farmhouse in Warzone's Verdansk has been updated to become the classic Black Ops 2 map Standoff in Verdansk '84.
Standoff replaces the Farmhouse area, but Raven assures that some of the outer Farm buildings are still available for players to traverse as they move between locations on this side of the map.
Fans who love Black Ops 2's Standoff will be in for a treat at this location. Farmhouse has a clean, classic Standoff feel that is easy to traverse and offers more versatile gameplay than before.
Superstore
Verdansk 84 brings some new and fun changes to the Superstore. Superstore remains one of the most popular landing spots on the map, and has high action with some of the best loot you can get.
With the new map, Raven has updated it to be a more finished up location. The original version had a lot of destruction, broken boxes, and areas on fire. Now, it's all cleaned up and an actual store.
Players will have to use different routes to get across the store as more areas are now filled in in the center areas of the store itself.
Downtown
While the majority of Downtown will remain the same, Raven has made some changes to it in Verdansk '84 to allow for a better player experience overall.
Downtown in Verdansk 84 has less density of buildings to not feel as packed up as it currently does. Raven does want to ensure the area feels like a downtown, but also wanted to lighten it up a bit to change some buildings to be under construction.
Raven notes that these changes allow for less players to camp in certain areas of downtown, and rather, have to engage in fights as they move across the updated POI. 
One of the biggest changes Downtown is the towering Broadcast building.
The interior is now more accessible, with an interior stairwell running to the top of three unfinished floors where views and long-range takedowns are spectacular.
Karst Salt Mines 
Karst Salt Mines updates and expands upon the Quarry area of Verdansk in new ways.
There were many buildings around the River Quarry that were not previously accessible, and also caused many players to just ignore the location overall.
Now, this updated POI has newly accessible buildings and updated layout for more access. Salt Mines also have changed the overall height of different places to allow for better vehicle access.
Old Mine
The Old Mine is another way Raven is filling up the Warzone map with better areas to search for versus having open forest.
This Old Mine is located in the north west section of the map, close to Gora Summit (which used to be a Dam). Previously, there was nothing in this area. Now, the area has been updated with new buildings and accessible alley points to get loot as you traverse between Summit and the north west of Verdansk 84. 
Updates to Apartments
Over at the Barakett Promenade, one of the five-floor apartment complexes hasn't quite been finished, turning this tenement block into a maze of half-constructed rooms and hallways.
This changes up this side of the map dramatically from rows of the apartment complexes to a more asymmetrical situation where there are both pros and cons to taking a position up on the finished or unfinished apartments.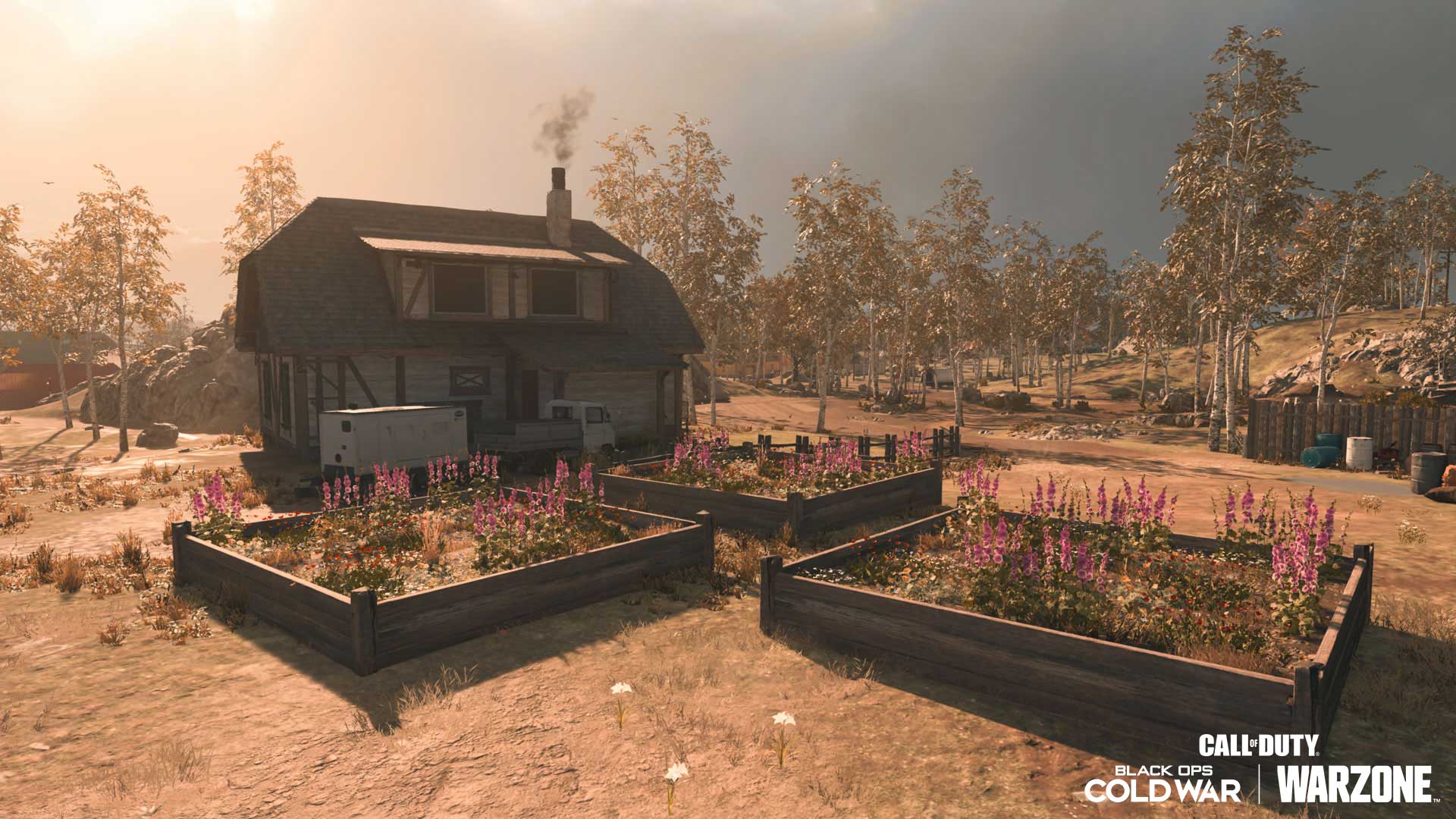 Updates to Hills
Verdansk has plenty of "retro-fitted" areas to show what life was like back in 1984, and a prime example of this is the Novi Grazna Hills.
In modern day, parts of the Novi Grazna Hills were leveled to make way for a new housing development. But what was there before the bulldozers moved in?
Come to this side of the map, and you'll find a lush, wooded plateau with a farm smallholding. Specifically, there is a tiny windmill, a barn, and a cottage, which offer new combat opportunities within the immediate area.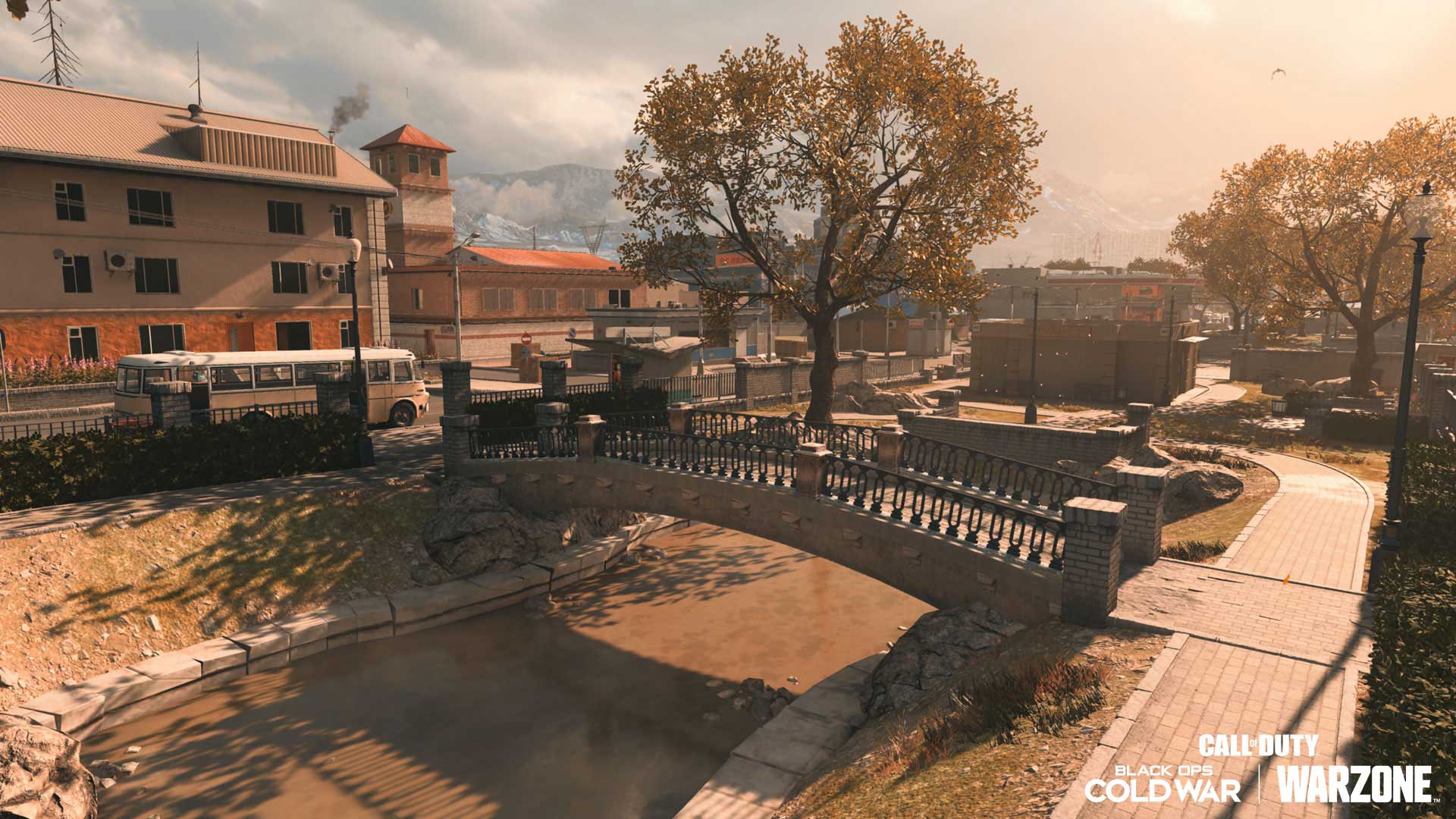 Changes to Promenade
Sometimes, less is more – and the Barakett Promenade is a good example of some building removals to improve the flow of the game in terms of movement and combat.
The library North of the Ferris Wheel has yet to be constructed, and in its place for now is a charming recreation area.
Also, the Market adjacent to the School further west along the Promenade is now a parking lot, and the entirety of the West Promenade between the parallel roads is now a long section of park with trees, tables, fountains and bridges. Don't stop to admire this scenery… you have a war to win!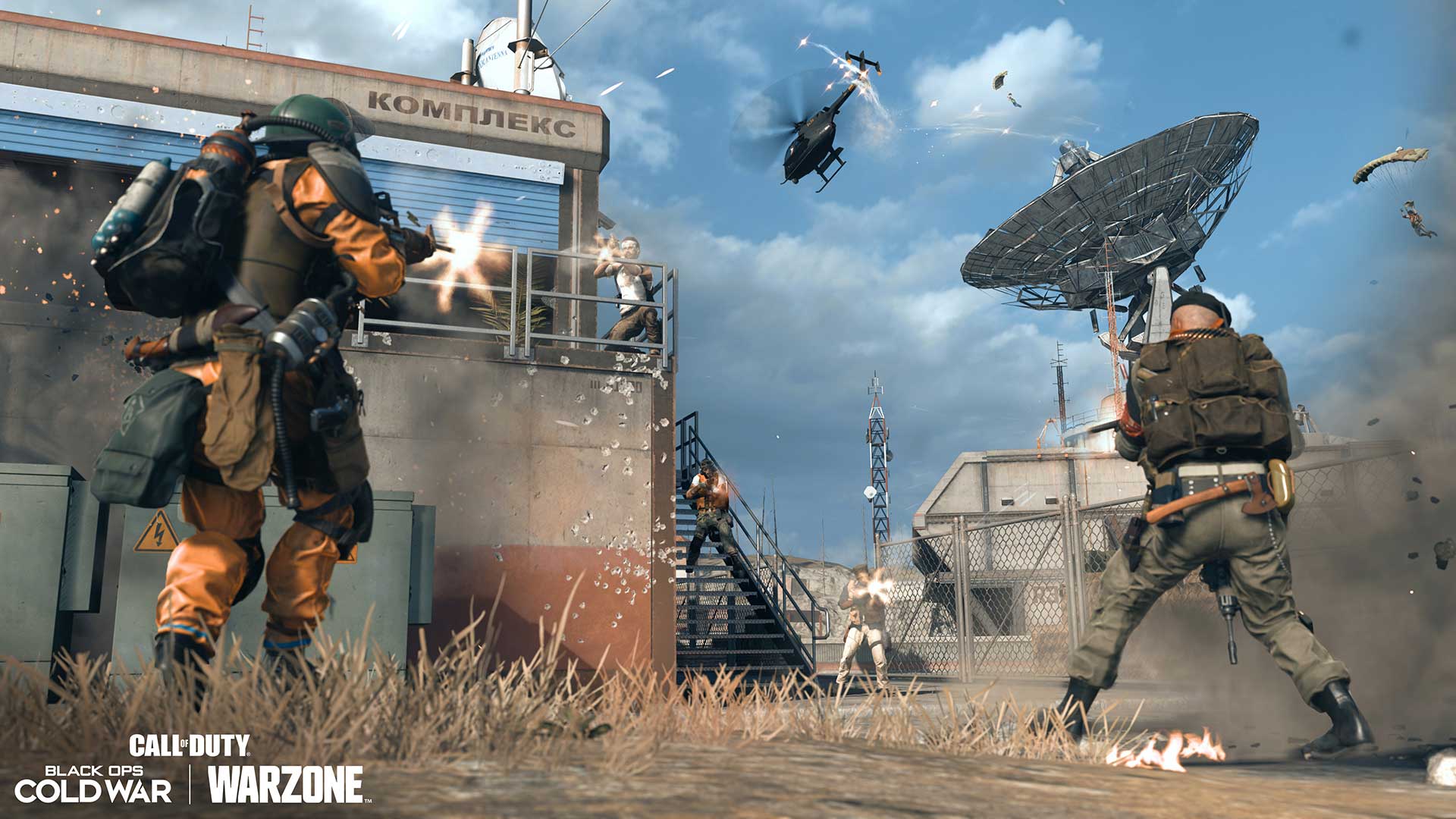 Additional Interior & Exteriors for Common Locations
An open-door policy exists inside every Police Station across Verdansk as additional upstairs offices are accessible (with windows to shoot through), meaning more escape or entrance options are available, and sightlines across previously familiar areas (like Airport Maintenance, for example).
Similarly, each of the Fire Stations has a new exterior (adjacent to the tower) enabling lower roof access, and for those with the necessary dexterity, access to the main upstairs interior via a spot of parkour.
Also look for additional subtle changes throughout the map, such as newly accessible windows on stairwells throughout the Downtown buildings and certain tenement blocks, like the freshly-cladded one at Lozoff Pass.
That's a look at the new locations & updated locations in Verdansk 84 in Call of Duty: Warzone.
Trailer
Drop in now and let us know your thoughts on the new map! 
SOURCE: Call of Duty Blog
Best FFAR 1 loadout for CoD: Warzone Season 3
The FFAR is an Assault Rifle with an incredible fire rate, so here's the attachments and perks to make the best Warzone FFAR loadout in Season 3.
The FFAR 1 is a Black Ops Cold War Assault Rifle with an exceptional rate of fire, so here's the best Warzone FFAR loadout to maximize its potential in Season 3.
Although being an Assault Rifle, the FFAR is one of the strongest close-range weapons in Warzone, thanks to its excellent rate of fire and manageable recoil. It also acts similarly to Modern Warfare's RAM-7, a popular choice in previous seasons. It can melt armor and health at close range thanks to its exceptional damage profile.
Here are the attachments and perks to make the best Warzone FFAR loadout for Verdansk '84 and Rebirth Island.
Best Warzone FFAR loadout
Best Warzone FFAR loadout attachments
Muzzle: Agency Suppressor
Barrel: 21.2″ Ranger
Underbarrel: Field Agent Grip
Ammunition: STANAG 50 Rnd Mag
Stock: Raider Stock
We've built the best FFAR Warzone loadout to dominate at medium range and close range, as this gun is still one of the go-to weapons for close-quarters combat in Warzone Season 3.
For attachments, we're starting with Raider Stock. Slap this beast of an attachment on for increased strafe speed and aim-down-sight speed for medium and close-range engagements. The 21.2″ Ranger Barrell has the best bullet velocity for the FFAR, making medium-range and even some longer-range engagements a breeze.
Thanks to the fix for Cold War suppressors, the Agency Suppressor is now a must-have, making sure you stay off enemy maps. The STANAG 50 Rnd Mag will give you much more bullets to take down multiple enemies without a big hit to your ADS speed.
Best perks for FFAR Warzone loadout class
Perk 1 – E.O.D.
The best Warzone FFAR loadout dominates up close, so you'll be most likely have a ton of explosives coming your way. To combat this, E.O.D will allow you to tank plenty of explosives and stay in the fight.
Perk 2 – Overkill/Ghost
Overkill will allow you to have a more suitable weapon for longer ranges, such as the Kar98k or HDR, while Ghost is always useful to stay hidden from enemy UAVs and Heartbeat Sensors.
Perk 3 – Amped
Getting caught switching your weapons can mean certain death in the Call of Duty battle royale, so having Amped will increase your weapon swap speed and help you avoid being caught in between switching weapons.
How to unlock the FFAR 1
Thankfully, there are no challenges to unlock the FFAR for Warzone Season 3, but you will need to reach level 40 in either Warzone or Black Ops Cold War for the Assault Rifle to become available.
The good news is that progression carries over between Warzone and Black Ops Cold War, so no matter which game you're playing, you're always gaining XP that can go towards getting the FFAR.
Best alternatives
The best Warzone FFAR loadout is extremely powerful up close, but if you're finding it difficult to control, the MAC-10 or MP5 are strong SMGs that would make excellent substitutes.
If you're finding that the FFAR is tough to get kills with at long range, then the Krig 6 is the go-to long-range Assault Rifle in Season 3, and running these together with Overkill makes for one of the strongest Warzone classes.
If you're looking to refresh your loadouts for Warzone Season 3, you can check out our guides on some of the weapons dominating the meta so far.

Fara 83 | PPSH-41 | Swiss K31 | Cold War AK-47 | Krig 6 | CR-56 AMAX | Kar98k
Image Credits: Activision / Raven Software
Warzone May 7 patch notes: shotgun updates & bug fixes
Raven Software has released a new Game Settings Update for Call of Duty: Warzone on all platforms on May 7.
This new update brings some adjustments to ground loot for shotguns in Warzone, to better balance the loot poll in game.
Patch Notes:
GAMEPLAY
Loot that spawns across both Verdansk and Rebirth Island has been adjusted as follows…


Streetsweeper

Common variant removed from ground loot
Uncommon variant removed from ground loot
Rare variant removed from Supply Boxes
Epic variant removed from Supply Boxes


Hauer 77

Common variant added to ground loot
Uncommon variant added to ground loot
Rare variant added to Supply Boxes


The Streetsweeper's wide availability fostered a dynamic where passive play was incentivized and rewarded. We do not think this type of play is particularly compelling for either party when players do not have the necessary tools in the early-game to effectively counter it.
BUG FIXES
Fixed additional map locations in Verdansk that allowed players to reach out-of-bounds areas. This is on top of the locations that we addressed last week.

Fixed a bug causing Player models to initially load as low resolution at the start of a BR match.

Fixed a bug with the Cold War AK-47, FARA 83, XM4, and RPD where they were having their ADS Move Speed and Firing Move Speeds decreased with the Tactical and SAS Combat/Spetsnaz Stocks rather than increased.
WEAPONS
We would like to preface the following Weapon changes by providing you with some insight on our thought process.

There are millions of you, and when we reduce the effectiveness of a weapon, we are bound to make a change to someone's favorite gun. As players of this game ourselves, it pains us just as much. However, we remain torn. We are the custodians of this game—we make it for you. In the same light, we are charged with maintaining the health and integrity of the game. In some instances, this requires us to reduce the effectiveness of some universally cherished weapons. When we make a change like this, our intent is the promotion of diversity. We believe what makes a game truly engaging is choice. When we diminish that choice, we take away the agency to play the game your way. This can happen when a weapon becomes so effective that simply not utilizing it puts you at a disadvantage.

With that being said, we feel we are close to a 'balance homeostasis' where most options are at the very least viable. Which leaves us to address Time to Kill. The following balance changes are part of our ongoing efforts to raise TTK or at least the individual skill required to reach extreme ones. We ask that you consider these changes not as targeted attacks, but rather as part of a larger initiative to raise the skill ceiling.
We want to give you the runway and the platform to show us your epic plays and proudest moments. We hope that journey of mastery brings you as much enjoyment as it does us.

Assault Rifles


CR-56 AMAX

Minimum Damage decreased from 32 to 31 (Warzone Only)

With a great damage profile, locational multipliers, and manageable recoil, the CR-56 AMAX was able to reliably reach extreme TTKs at long-range. This change reduces its fastest minimum damage TTK by about 17% in addition to its slowest minimum damage TTK by an additional shot. Its fastest maximum damage TTK however, remains intact—which is a risk we feel is equal to the reward considering how unforgiving its rate of fire is and how many other weapons it has to contest with in the mid-range engagement space. The CR-56 AMAX is just a tad more dominant than we would like it to be and with this change, our aim is to widen the selection of viable long-range assault rifles.


FARA 83

Headshot Multiplier decreased from 1.5 to 1.35
Base ADS Move Speed decreased by 7%

When combined with a mobility-based stock, the FARA 83 was capable of reaching exceedingly fast ADS firing speeds. We like how the FARA 83 plays, but it is a bit too versatile currently. As part of our efforts to increase the overall Time to Kill, we are reducing the FARA 83's fastest TTK by 16.6% to compensate for its generous rate of fire and recoil control.


Shotguns


Streetsweeper

Base Hip Spread increased
Recoil increased slightly
ADS speed reduced slightly

While shotguns tend to have limited viability outside of early game, we find the Streetsweeper is a tad too effective given its rate of fire and ammo capacity when compared to other weapons of its class. This change will decrease its lethal range slightly, punish inaccurate sustained fire, and give a little more time to react.


Submachine Guns


Bullfrog

Maximum Damage decreased from 34 to 32
Maximum Damage Range increased by 11%
Base Move Speed increased by 1%
Sprint Out Speed increased by 13%

The Bullfrog's exceptional headshot multiplier has allowed it to reach one of the fastest TTKs in the game. While this change does not directly affect that multiplier, it does diminish its output. This change reduces the Bullfrog's ability to consistently achieve extreme TTKs, while not removing it entirely. We felt it was too easy to consistently reduce the TTK to these ranges, so we are asking for a bit more accuracy in exchange for the Bullfrog's attractive stat line. We are hesitant to label this an outright 'nerf' as we believe there is more value to a weapon than its damage alone.


PPSh-41

Maximum Damage Range increased by 4%
Open Bolt Delay decreased by 80%

We would like to push SMGs in different and interesting directions to distinguish them from one another. Ideally, we are providing a myriad of options within each weapon category that are supplementary to a multitude of diverse playstyles. In that vein, we are going to push the PPSh-41's identity in a way that continues to diversify it from its competition in meaningful ways. To us, the PPSh-41 is the quick to fire, high-capacity, short-to-mid range SMG. Not every weapon needs to have the highest TTK potential, but every weapon should at least feel viable and have a niche where it excels given a complementary playstyle.
ATTACHMENTS
Barrels


Combat Recon (Snipers)

Bullet Velocity multiplier increased by 12%
ADS Idle Sway multiplier decreased by 33.3%

As we continue assess the place of Cold War snipers within Warzone, we realize there is much work to be done. In addition to improving the overall efficacy of these weapons and attachments, we will also be taking a close look at their optics. This includes addressing attachment pros where there are few, if any, use cases. In specific… we may see a Cold War equivalent to an immensely popular Modern Warfare sniper attachment very soon.


Optics


Axial Arms 3x (Cold War AK-47)

Stocks


Raider/KGB Skeletal Stock (Assault Rifles, Light Machine Guns, Shotguns, Snipers)

ADS Firing Speed multiplier decreased by 75%
ADS Move Speed multiplier decreased by 10%


Raider/KGB Skeletal Stock (Submachine Guns)

ADS Firing Speed multiplier decreased by 50%
ADS Move Speed multiplier decreased by 10%


SAS Combat/Spetsnaz Stock (Assault Rifles, Light Machine Guns, Shotguns, Snipers)

ADS Firing Speed multiplier decreased by 75%
ADS Move Speed multiplier decreased by 10%


SAS Combat/Spetsnaz Stock (Submachine Guns)

ADS Firing Speed multiplier decreased by 50%
ADS Move Speed multiplier decreased by 10%


Tactical Stock (Assault Rifles, Light Machine Guns, Shotguns, Snipers)

ADS Move Speed multiplier decreased by 75%
Tactical Stock (Submachine Guns)
ADS Move Speed multiplier decreased by 50%


It is crucial to maintain an engagement space where each weapon type can excel, lest we risk guns becoming analogous. In that regard, some weapon types were able to elude mobility as a core weakness given the right attachments. We believe this is in part why assault rifles have been able to assume the role of submachine guns. While it is a priority for us to maintain and embrace gameplay differences between Modern Warfare and Cold War guns, we felt movement speed modifiers in their current state would undermine gameplay integrity and overall weapon diversity if left unchecked. These stocks are still a solid choice, even with such a substantial reduction—which we believe speaks to just how strong they were.
Finally, we would like to address concerns that we are only going to be making changes to Cold War weapons. In the future, we fully intend on taking a closer look at some of the Modern Warfare weapons that have been struggling.
And as always, please continue to share your feedback. We are always listening!
SOURCE: Raven
Best AUG loadout for CoD: Warzone Season 3
The AUG is one of the best weapons in Warzone Season 2, so here are the meta attachments and perks to run with it.
The AUG has been one of the most dominant weapons in Call of Duty: Warzone, and we have the right attachments and perks to make it a powerful tool in your arsenal in Season 3.
Warzone has seen plenty of metas come and go throughout its first year, but the AUG might be the most powerful weapon to ever dominate Verdansk. With crazy power and insane accuracy, the AUG's burst fire was wiping out players across the map.
With the release of Season 3, Raven Software attempted to tone down the power of the assault rifle, and while it doesn't dominate the game like it once did, it can still be a powerful tool in the right hands.
Of course, using the right attachments and perks are paramount to getting the most out of the gun, so we've included everything you need to create the perfect Warzone Season 3 AUG class.
Best AUG Warzone class
Muzzle: Agency Silencer
Barrel: 18″ Rapid Fire
Optic: Axial Arms 3x
Underbarrel: Field Agent Foregrip
Ammunition: 45 Rnd Drum
With the right attachments, the AUG is capable of downing a fully-armored player in only a couple of bursts. We wouldn't recommend spam-firing this weapon, you would be better off concentrating on landing every shot of each burst to take advantage of this gun's damage potential.
The Rapid Fire Barrel increases the AUG's fire rate without affecting its damage range. You'll be able to fire several bursts quickly, and only a couple of these bursts will be required to take down a player.
The Agency Silencer will completely transfrom the AUG, making it infinitely better. The weapon's bullet velocity, damage range, and recoil control will all receive a significant buff with this suppressor equipped. And as an added bonus, you'll be hidden from the mini map and radar when firing.
To make sure you can land two or three bursts consecutively, you should run the Field Agent Foregrip. Giving extra control to both horizontal and vertical recoil, you'll be able to accurately follow up on your shots.
For optics, the most effective scope is the Axial Arms 3x. It's relatively unobtrusive and provides decent magnification for hitting targets at medium-long range, which is extremely important when using the AUG in Warzone.
And finally, the 45 Round Drum mag is a solid choice. The only penalty it gives is a slower reload time, but 45 rounds will be enough to take out multiple enemies.
Best perks to use with Warzone AUG
Perk 1: E.O.D
Perk 2: Overkill then Ghost
Perk 3: Amped
For perks, E.O.D is one of the best choices available. You'll be able to tank a barrage of explosives, which will be invaluable in staying alive in the chaos of Warzone.
When using the AUG, you'll want to run a close-range secondary such as the MAC-10 or FFAR 1. Overkill will allow you to carry two primary weapons, then you can hide from UAVs by taking the Ghost perk from your next loadout. And to change these weapons quickly, you should run the Amped perk in the third slot.
---
How to unlock the AUG in Warzone Season 3
To get your hands on the AUG, you'll need to reach level 28 in Warzone. This may seem like a bit of a climb, but you can rank up pretty quickly if you play game modes like Plunder.
Warzone Season 3 AUG alternatives
If you're looking to refresh your loadouts for Warzone Season 3, you can check out our guides on some of the weapons dominating the meta so far.

Fara 83 | PPSH-41 | Swiss K31 | Cold War AK-47 | Krig 6 | CR-56 AMAX | Kar98k
Image Credits: Activision / Raven Software
Image Credit: Activision